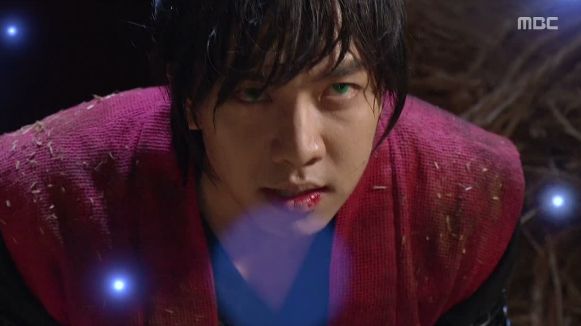 It's an episode all about Kang-chi's family—the people who took him in and raised him, the people who abandoned him, and the people who accepted him for who (or what) he is. There's heartbreak and angst in that tale, but also a lot to be gained, because this story has never been about the family you come from, but the family you make for yourself.

EPISODE 19 RECAP
Seo-hwa's narrow escape from death finally gets revealed, though obviously it isn't a surprise by now that she did survive. After giving birth to Kang-chi, she attacks Jo Gwan-woong and his minion cuts her down with one swing of his sword.
The Japanese man who was just making a deal with Jo Gwan-woong watches her fall to the ground in horror. He's struck with sympathy, or love, or both, and stoops down to check her pulse. She's still alive.
He lies to the minion that she's dead and pays off the men who carry away her body, recovering her in time to save her life.
Meanwhile her baby grows up to be Kang-chi, who is currently chained, drugged, and being gumiho-outed by Jo Gwan-woong… to the mother who's been searching for him desperately.
Seo-hwa tries to contain her reaction, but when they pull Kang-chi's bracelet off, familiar blue lights float in, and she watches his eyes change. Flashback to her tears of shock after he was born: "He's not a monster! He wasn't a monster! He wasn't a monster! Child!!"
Jo Gwan-woong waits for her reaction and prods—is this the thief who stole her map? But before she can answer, Kang-chi keels over and faints.
Soo-ryun finds out what she can through Chung-jo's maid (who was threatened into bringing Kang-chi here under false pretenses) and quickly sends word to Master Dam. Yeo-wool hears that Kang-chi might be in trouble and goes straight for her sword, and Gon protests that they don't know what the situation is yet, and that no matter how much trouble Kang-chi is in, he can heal and he can't die.
Yeo-wool: "Just because he can't die doesn't mean he can't hurt! Kang-chi feels pain too! If he's stabbed he bleeds, and if he's hit he bruises! He doesn't die, but he feels that pain just as we do! Do you know that? So don't stand in my way. Not that it would stop me."
I like that Chung-jo is around to see Yeo-wool's reaction. She finally says what she came here to say, which stops Yeo-wool in her tracks: Kang-chi's mother might still be alive.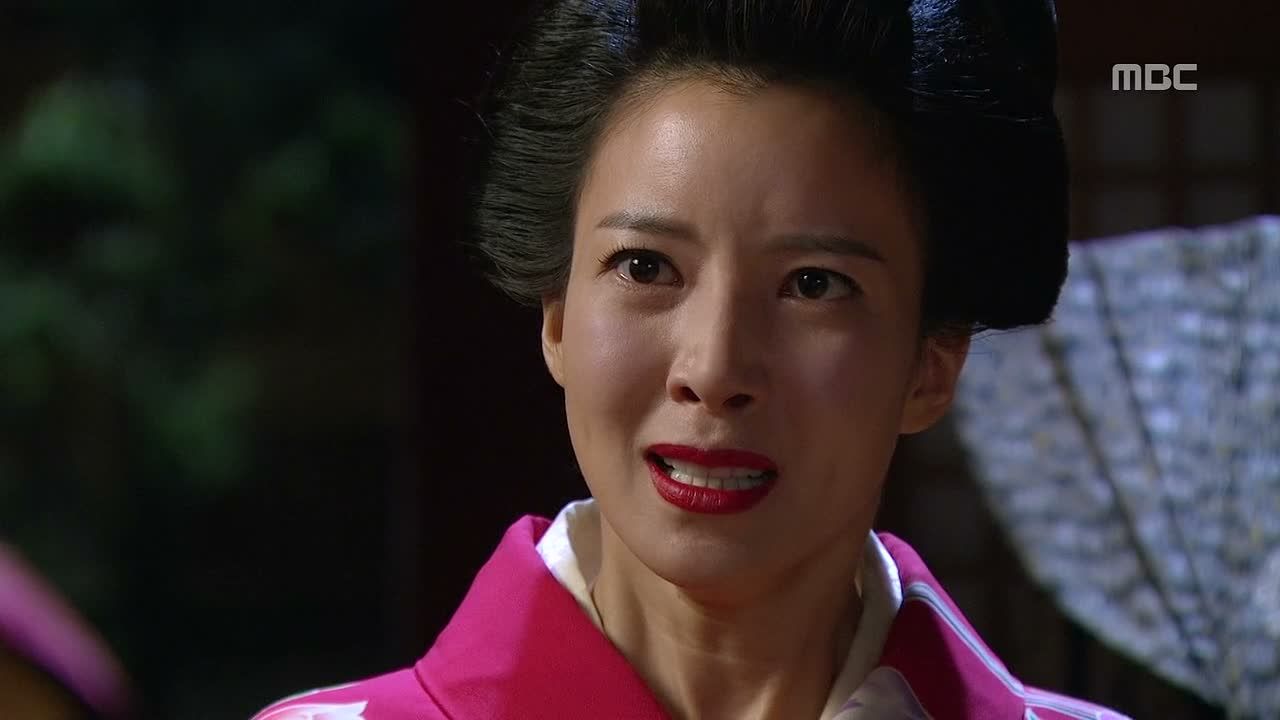 Kang-chi comes to, just in time to watch as Seo-hwa grits her teeth and tells Jo Gwan-woong that he can do whatever he wants with this not-a-person. Eek, I know you're just putting on an act, but I'm still not over the last time you scarred a gumiho for life by calling him a monster.
Jo Gwan-woong is baiting her, naturally, wanting her to admit that she's Seo-hwa and run to her son's rescue. But she forces herself to act like she couldn't give a damn whether he stomps Kang-chi to death, and maintains her cover.
She's already trembling, but when Kang-chi looks up at her with his puppy eyes, she nearly breaks. She leaves him behind and walks away, and makes it to her room before the tears come.
Jo Gwan-woong starts to interrogate Kang-chi for the map, and tells him to stop struggling—he drank enough poisoned liquor to kill him, and struggling will only make the process more painful.
Kang-chi roars and fights back in his chains, and Jo Gwan-woong jumps back, startled. He calls Kang-chi a monster, musing that this is why his mother abandoned him in a river. Augh. You bastid!
He continues: "That's why after twenty years she could be so cold and indifferent to you." Kang-chi stops cold at the mention of his mother, and asks who she is. Jo Gwan-woong says his question is wrong—he should be asking if that's really her, because that's what HE wants to know.
Thankfully Soo-ryun has an antidote to the poison, which she hands over to Tae-seo with instructions to feed it to Kang-chi before sunset today. Servant Choi takes responsibility for feeding it to Kang-chi somehow, declaring that he's still the boy's father by name, and it's his job.
Yeo-wool's teacher comes to see her in the morning, and finds her dressed for archery instead of needlepoint. This time Yeo-wool doesn't even pretend to be coy about it and just confronts her directly, with no intention of backing down.
Yeo-wool: "Have you never liked someone sincerely? Where your head and your heart are so filled with that one person that you laugh when he laughs, and cry when he cries. Being next to him is enough to fill my world, and feel safe. Have you ever had a person like that?"
The hilarious part is, her speech only makes the teacher more head over heels for Gon, and when he comes by and discovers Yeo-wool missing, the teacher bats her eyelashes and recites Yeo-wool's speech. Heh.
Yeo-wool heads into town and beelines for gang leader Ma Bong-chul, who remembers her as Kang-chi's friend (and a boy). She asks if he doesn't want to rob the Hundred Year Inn with her, and he asks warily what they might steal. She leans in with a mischievous smile: "Choi Kang-chi."
Servant Choi comes into the shed where they're keeping Kang-chi, and offers each of the guards a rice ball. He has one left in his basket, and asks if he can't give it to Kang-chi since he brought one for everyone, and the guard picks it up. Uh-oh.
He tosses it on the ground at Kang-chi's feet like he's throwing him table scraps, and Choi runs to pick it up. Kang-chi finally gets it together long enough to recognize him and ekes out, "Father, it hurts so much. It hurts so much I think I'll die."
Dad can barely contain his sobs, and just picks up the rice ball and bites away the dirt-covered outside to feed to his son. It's so instinctively parental, it breaks my heart. Kang-chi doesn't seem interested in eating, but Dad keeps insisting that he take just one bite, and Kang-chi finally notices the antidote peeking out.
He understands and opens his mouth to take a bite… when the guards knock Choi over and drag him out, kicking and screaming. They say that a beast should eat like one, egging him on to eat off the ground like an animal.
But it's too far for him to reach, and they just kick it away even further, cackling to themselves. The antidote just sits there in the middle of the room, taunting him.
Meanwhile Jo Gwan-woong has thought up a fun new way to torture mother and son, and tells Seo-hwa that he plans to string up Gumiho Baby in the middle of town so people can throw stones at him.
He walks out grinning at his own cleverness, knowing it's just a matter of time before she breaks and reveals her identity as Seo-hwa. Inside, she seethes with rage, and tells her assistant that it's time Jo Gwan-woong dies. He urges her to calm down—they still need him for their plan. She fumes, wondering how much longer they have to endure this.
Bong-chul brings his gang and storms into the inn, demanding payment for the time he played snitch and found Kang-chi. They lie down in the middle of the courtyard in protest, which draws the bulk of the guards out to deal with them, and buys Yeo-wool the time she needs to rescue Kang-chi.
It's a good plan, and Yeo-wool swoops in like a badass to save him. I like that as she fights the guards, Kang-chi just keeps his eye on that damned antidote-laced rice ball, which gets kicked around like a soccer ball with his lifeline attached—it's both funny and tense.
Bong-chul does a good job of stalling, except he betrays a look of worry with a sideways glance that Jo Gwan-woong catches. Dammit. Yeo-wool is one strike away from winning the fight, just as the rice ball finally rolls over to within Kang-chi's reach. Suddenly the doors swing open, and Jo Gwan-woong throws Bong-chul down at her feet, bloody and bruised.
He says he's sorry and passes out, and the guards surround Yeo-wool with swords. But Kang-chi swallows. Did he get it? Please tell me he got the friggin' antidote.
Yeo-wool stands up to Jo Gwan-woong and asks what he's doing to an innocent person, but he says he's just treating a monster like a monster. She scoffs that the only monster here is him, which is awfully satisfying to hear spoken to his face.
He slaps her, and Kang-chi screams, fighting against his chains in fury. He's still struggling to regain his strength, but the rice ball is now missing its chewy hulk-juice center.
At the same time, Tae-seo gets word that Jo Gwan-woong plans to string Kang-chi up publicly, and his face falls. Soo-ryun had warned him that if it came to the point where Jo Gwan-woong was using Kang-chi to bring Lee Soon-shin down, they would have to step in. Oh noes. He looks over at his sword with a dark expression.
Kang-chi gets brought out in his chains for all the inn workers to see him in his gumiho form, and everyone gasps. Jo Gwan-woong tells his men to string him up for people to throw stones, and Choi rushes to his knees before Jo Gwan-woong.
"The late Lord Park took him in and I raised him as my own!" He pleads and cries, "Please, save my son! Let him live!" Aww—it's not just that he intervenes to save Kang-chi, but that he calls him his son, even in this moment.
Jo Gwan-woong orders his men to get this nuisance out of the way, so they drag him away and start kicking him, over and over. Kang-chi begs them to stop, but it gets worse and worse, until it finally pushes him over the edge.
He hulks out and busts through his chains, and fights off the minions handily. But the poison is still taking its toll and he starts coughing up blood. Jo Gwan-woong doesn't think he's long for this world, but Kang-chi growls that it's plenty of time to kill him first, and attacks.
But suddenly Seo-hwa's bodyguard jumps in to defend him, or rather, to stop Kang-chi from killing him. Kang-chi is brought to his knees, and then Seo-hwa enters, dressed in a hanbok.
Jo Gwan-woong smirks to see her and orders his men to string Kang-chi up, and she finally erupts: "Enough! Stop! You win. I am the woman you killed twenty years ago. I am Yoon Seo-hwa."
She challenges him: "Now that you know who I am, what will you do about it?" It's a good question. In the background, Tae-seo breathes a sigh of relief, his sword gripped tightly in his hand.
Master Dam thinks it's time to go after Jo Gwan-woong, but Lee Soon-shin says there's a right time for everything. Sure, 'cause we still have five episodes to go, and what would we do then? Oh is that not what you meant?
Master Dam tells him that So-jung came to visit him. He warns Master Dam about Wol-ryung having very little time left. If he loses the last bit of his humanity, he'll become nothing but a demon hell-bent on destroying everything, and the only person who can kill him is Kang-chi.
Lee Soon-shin sighs that having to kill his own father is too tragic a fate for Kang-chi, as we see Wol-ryung get taken over by black energy that fills his veins.
So-jung returns to find his library empty, and then we see Wol-ryung in the woods, sucking the life out of an entire group of travelers. Yikes.
Seo-hwa sits by Kang-chi's bedside as he sleeps, and asks Choi about his childhood. Choi tells her that they found him in a river, and that he just clothed and fed him, but it was Lord Park who was really his father.
She balls up her hands in fists to keep from crying, and gets up abruptly. She tells Choi to keep all this from Kang-chi because it's for the best, and they walk out. But Kang-chi isn't asleep, and he opens his eyes as soon as they walk out. Poor thing.
Seo-hwa goes to see Tae-seo, and says she knows he's been playing for Lee Soon-shin's team this whole time. She asks him to make good on his promise to be her son, and be loyal to her side alone.
He sees it as treason, which she thinks is just semantics. She asks what this country ever did for him when his family was stripped of everything and his sister sold as a gisaeng. She tells him to give up putting his hope in Joseon, and focus on reclaiming the inn and saving his sister, and in exchange, she'll kill Jo Gwan-woong.
Ah, see this is interesting—she actually feels betrayed by her country, and isn't only fueled by her hate for one evil man. Jo Gwan-woong rails against Pil-mok, the man always at Seo-hwa's side, and demands that he choose between their deal or Yoon Seo-hwa, and that both is not an option.
Kang-chi gets up to go, and runs into Seo-hwa on his way out. They remain so tragically polite with one another as he thanks her and she says goodbye, like he's just the young man she met the other night, and nothing more.
But then he turns back, and her words come rushing back—when she said that Jo Gwan-woong can do whatever he wants to this thing that isn't even human, that Choi shouldn't tell Kang-chi the truth because it's better this way.
His eyes fill with tears and he asks cautiously like a little boy, "I'm just really curious is all… Did you hate me that much?" Augh. Stabstabstab. "…Enough to throw me away in a river as soon as I was born… was I that awful?"
Ohmygod, Mom, say no. She struggles to hold it together, and he says he just wanted to ask it, just once.
She can't say anything, so he takes her silence as his answer, which is even worse. He turns to go, and I'm screaming at her to go after him, but she doesn't. She watches him walk away from her and only then betrays tears, pounding her chest in agony.
Chung-jo offers Wol-sun gifts and a drink to make peace, and Wol-sun sticks her nose up saying that this is the last time she'll let things slide, and takes the drink. Chung-jo just waits for her to take a sip and then puts her icy veneer back on, warning her not to mess with her again.
Wol-sun grabs her throat and starts choking, and Chung-jo tells her she gave her the same drink she fed Kang-chi. She says she'll give her the antidote tomorrow night, so she can feel the same pain Kang-chi felt. Badass.
She tells her maid that she won't ever be threatened by anyone, and that she'll rise to the top to become untouchable—so don't fall for that kind of manipulation again.
Yeo-wool wakes up tied to a post (ah, so we didn't just forget about you), still held hostage at the inn along with Bong-chul. But soon after they wake up, Kang-chi arrives to knock some heads together and rescue them.
He bursts in and unties Yeo-wool, and they're so relieved that they have this entire conversation with Bong-chul still tied to his post. She asks why he looks so terrible—did something happen?
He just hugs her and says nothing happened, even though he sighs like he's just been through hell, and she pats him on the back to comfort him.
Bong-chul calls out for help but they don't hear him, so he twists himself around to the other side of his post, and gapes to see them hugging (remember he still thinks she's a boy). He awkwardly turns back, even though he can't bring himself to look away. Hee.
Kang-chi and Yeo-wool come home to find Gon and Sung waiting for them outside, and despite the fact that it defies all logic that he wouldn't have gone after Yeo-wool to rescue her, it's cute that he seems happy to see both of them.
He swears he wasn't worried about Kang-chi, but Sung totally calls him out and says he was worried sick. Aw. They all run in to eat dinner together, and Teacher Gong sits down with them to eat.
Kang-chi looks around the table, and after the day he's had, it just moves him to tears. He tries to cover it up by chitchatting that everything is tasty, but Yeo-wool notices and just silently puts a hand on his knee. He smiles at her gratefully.
Even Gon jokes (he jokes!) that the food can't possibly be tasty enough to move him to tears, and they all laugh. Yeo-wool's teacher joins them with bottle of liquor, and they eat and drink happily, like a little family.
Bong-chul is busy downing drink after drink, and when his buddy asks what's wrong, he wails, "My dongseng Kang-chi… likes men!" Hahahaha. He actually cries into his bowl out of concern for Kang-chi's future, and drunkenly warns the other guy not to spill the secret.
Kang-chi sits in his room contemplating Soo-ryun's homework, but he's plagued with thoughts of Wol-ryung after hearing from the other students that there have been scores of desiccated bodies found lately.
He goes out to find Gon practicing late at night, and asks how he can do that too. "I need to become stronger. There are more and more things I want to protect now." Gon says, "Becoming stronger means that you will have more to endure." Kang-chi: "For instance?" He averts Kang-chi's gaze, not knowing how to answer.
But Kang-chi finishes the sentence for him: "Like killing my father by my own hand? Like that?" He's startled that Kang-chi knows, and asks if he's okay with that. Kang-chi admits he isn't, but what can he do—he's the only one who can do it.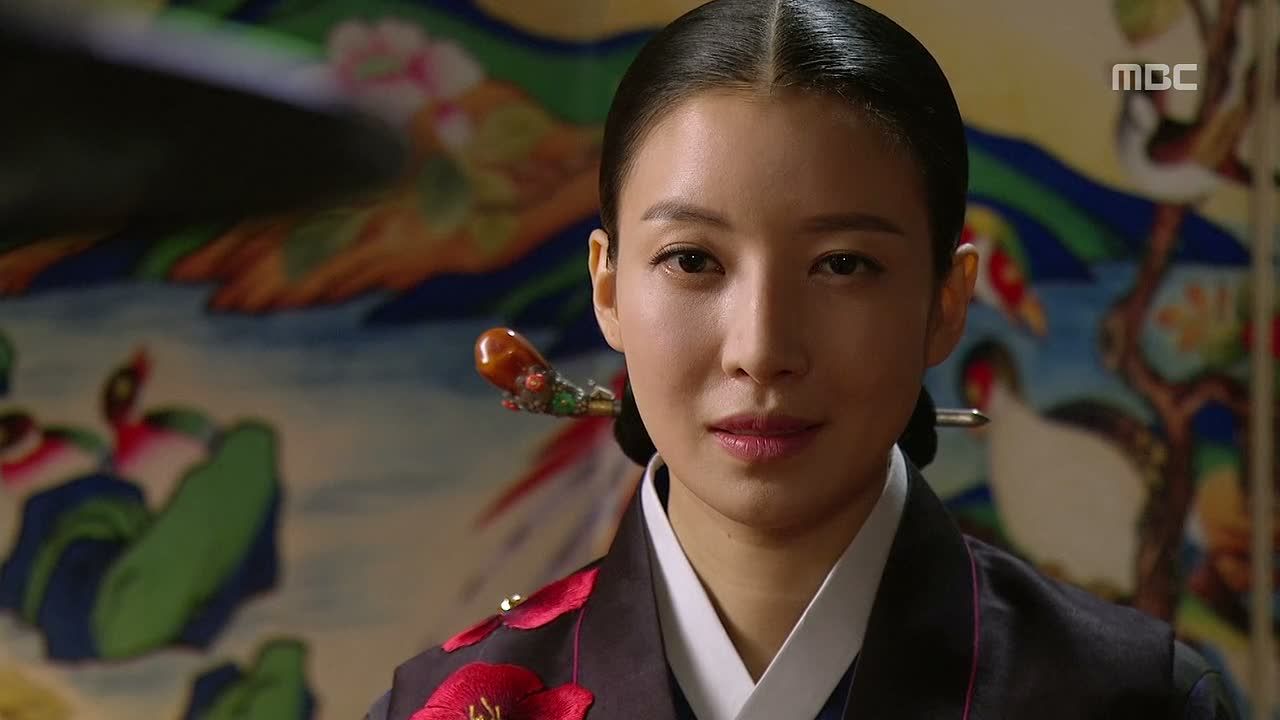 Gon seems impressed with him for the first time ever, and tells Kang-chi to follow him. Yay, Gumiho Grasshopper time?
Tae-seo asks Seo-hwa what he gets in exchange for helping her, and she offers him the inn and his sister's freedom. All she wants is for him to steal her maps back. "And when does Jo Gwan-woong die?"
She smiles, "He dies tonight."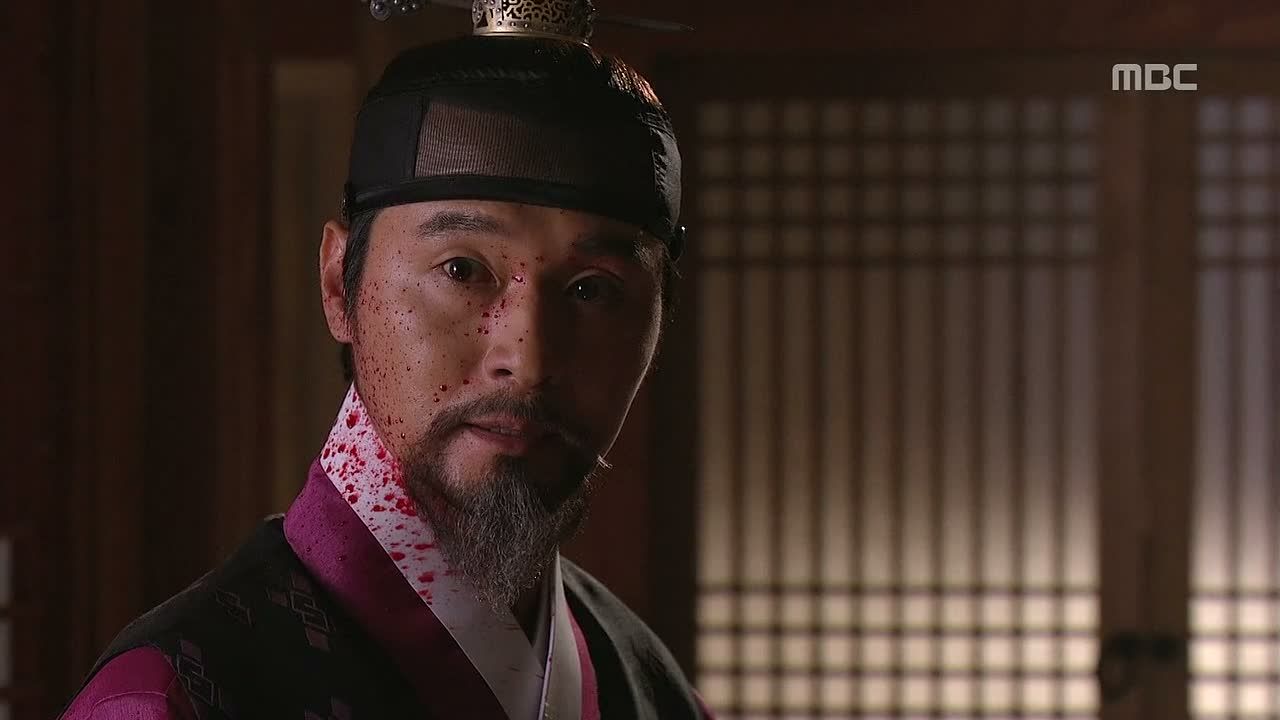 Jo Gwan-woong hears a thud outside his room that night, and goes out to find his guards all lying on the floor. A masked assassin slides a sword under his chin, and then raises it to strike.
Jo Gwan-woong's eyes widen, and then all we see is his face splattered with blood, but something tells me that it's not his.
Gon brings Kang-chi to Master Dam, who's waiting in the courtyard, sword in hand.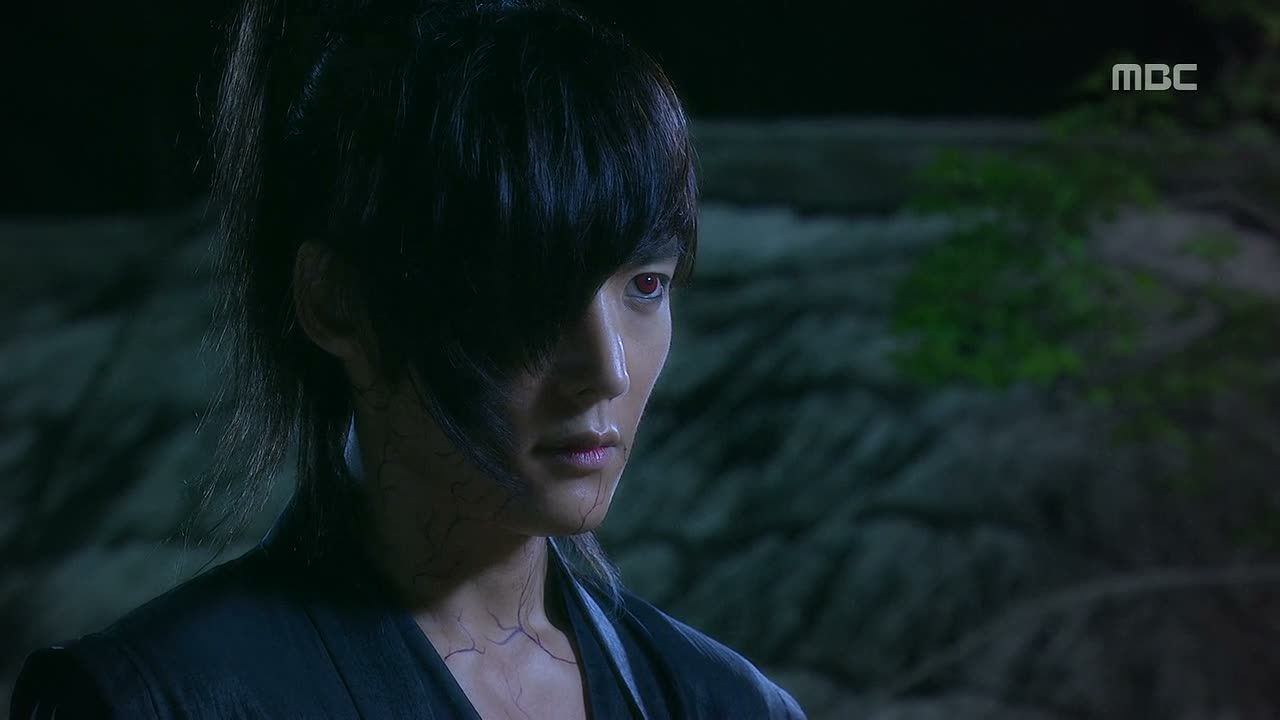 Wol-ryung walks through town and stops outside the gate of the Hundred Year Inn. He thinks to himself: "Who called me here?"
And Seo-hwa greets a late-night visitor… who turns out to be Yeo-wool. She introduces herself and says she's here to say something about Kang-chi.
Back at the school, Kang-chi gapes at Master Dam and asks him to repeat what he said. Master Dam unsheathes his sword: "Take off your bracelet and receive my sword."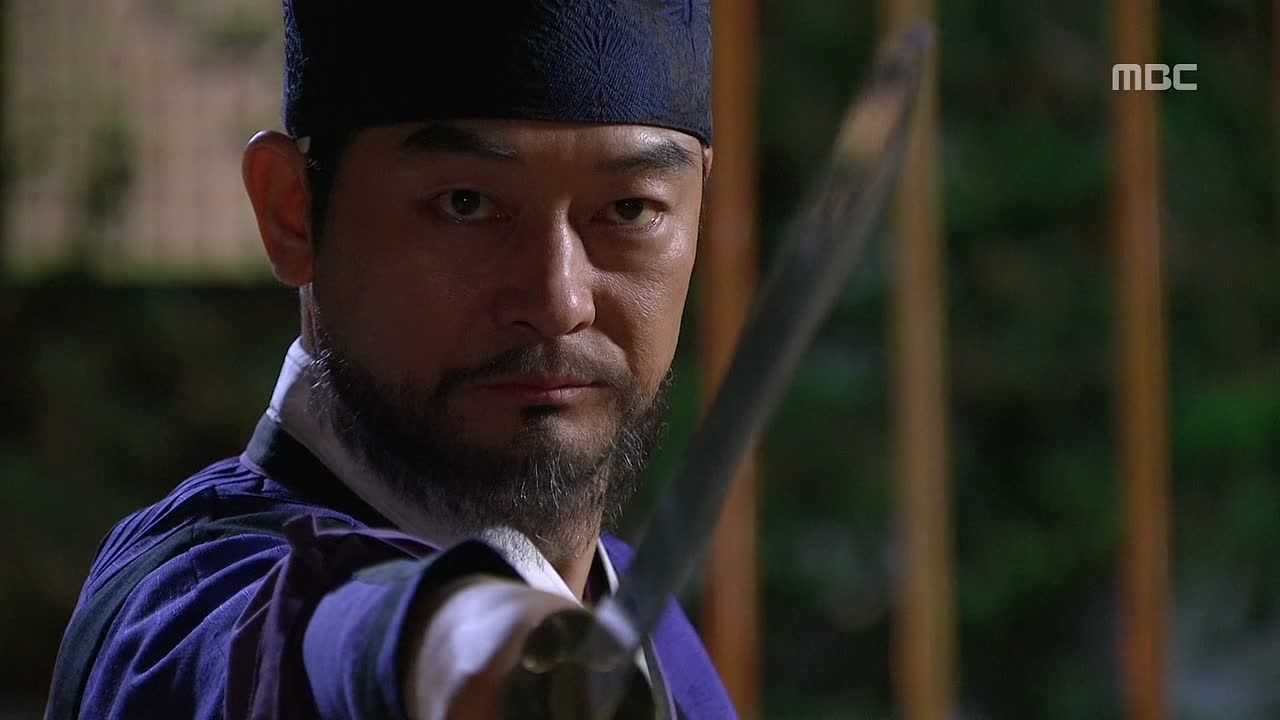 COMMENTS
I hope you don't mean the pointy end, sir. I'm taking it as a sign that Master Dam intends to train Kang-chi, given that this is the answer to the question he asked Gon. Gon learned to fight that way from Master Dam, and Kang-chi will need to be trained by the best in order to kill his father. It's twisted enough that Master Dam had to kill Wol-ryung the first time, but now he has to train Kang-chi to kill him the second time? Not that it trumps Kang-chi's angst, of course. We've only scratched the surface of that dilemma, and I hope there's a lot more Wol-ryung angst and ambiguity to come. Is he a lost cause or isn't he? And is Kang-chi killing him really the only way that this can end?
The so-called war between Jo Gwan-woong and Lee Soon-shin (and now Seo-hwa too) really needs to just happen already, because the more we spin our wheels with that, the show starts to feel like it's too long for its story. The bizarre thing is, it wouldn't have felt that way if the focus had been more on Kang-chi's journey to become human, but that got tossed aside for storylines that we've been milking for weeks. Plotwise, we really need to get a move on. I didn't feel like Kang-chi's round of kidnapping/torture at Jo Gwan-woong's hands did anything to move the story forward, but I do like what we got out of it in terms of parental reactions.
I know the focus of the episode was Kang-chi and Seo-hwa, but I was grateful that Servant Choi got as much attention here. It's late in the game, but I appreciated it, because this is a relationship I really wish we'd spent more time on. I understood that the early focus was on Lord Park as his father figure, but it was nice to see the man Kang-chi actually calls "Father" being acknowledged for his love and care. As far as the parent-child relationship goes, it's much more emotionally engaging than Seo-hwa or Wol-ryung's connection with Kang-chi—they get the epic tragedy, the fated course that can't be corrected—but Choi gets to stand up for Kang-chi and risk his life to feed him, and that tugs at my heartstrings more.
While I get Seo-hwa's place in the story and see why she's chosen revenge (or even treason), she moved me far more when we knew her twenty years ago. I find her current version sad but frustrating, because she's got Big Plans… but is crushing Kang-chi's heart to get her revenge. I just can't get behind that, no matter what she's got planned down the line. At least what it does from a story point of view is highlight the massive difference in Kang-chi's families, between the people who threw him away to the people who would now risk their lives to save him. His tears at the dinner table were so touching, not just because he's crying puppy tears after being rejected by his mommy, but because he's grateful for the family he has—the one he's found because of Yeo-wool. At the end of the day, he's far better adjusted than he has any right to be, which keeps his spirits up, and ours too.

RELATED POSTS
featured
,
Gu Family Book
,
Lee Seung-gi
,
Suzy