I Hear Your Voice: Episode 8
I feel like all I do is talk about how I love this show, but hell, I LOVE THIS SHOW. It's got my heart locked away in a steel box, and I'm pretty sure I know who's got the key. The story barrels on ahead into darkness, and our characters start to crack under the weight of it all. Suddenly everything comes into question: truth and lies, right and wrong, and head and heart.

EPISODE 8: "For whom is this life"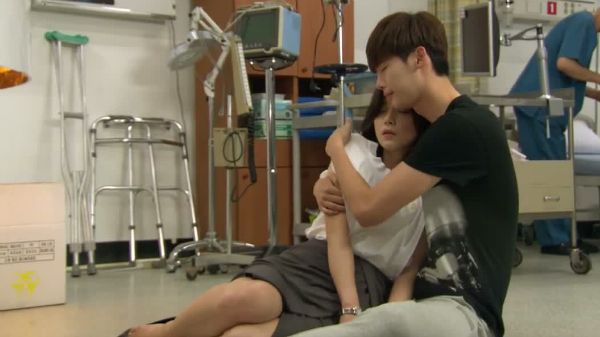 We open on a news report, which can only mean the worst. Mom's chicken shop went down in flames… and she didn't survive. Noooo! Mom! I knew in my gut we were headed here, but damn.
Hye-sung faints in Su-ha's arms at the hospital, and he just holds her close in the middle of the chaos.
Min Joon-gook survives with minor burns, and gets questioned as a suspect. But he asks the police specifically for a district change. We find out why, a few weeks later—Judge Kim arrives at Mom's funeral and his colleagues tell him that Min Joon-gook's case will be tried in his courtroom, of all places.
Hye-sung's colleagues are all present at the funeral, where she just stands numbly, receiving condolences but hardly registering anything at all.
Lawyer Shin asks Judge Kim a favor, and requests that he and Kwan-woo be kept from having to defend the man who killed Hye-sung's mother. Judge Kim says he'll do what he can, but then adds that it's unlike Lawyer Shin to even ask for such a thing—he's a suspect awaiting trial, which means we don't know if he's guilty or not.
At the same time, Do-yeon is the prosecutor assigned to the case, and she listens sympathetically as Min Joon-gook tells her this is all a terrible misunderstanding, and that he ran into the fire to rescue his manager, who was only ever sweet to him and gave an ex-con a second chance and made him birthday food and everything.
She points out that he has an unusual connection to the victim's daughter, which he also swears is a misunderstanding—he didn't kill that man ten years ago.
And at that, Do-yeon turns on a dime. She reminds Joon-gook that there were two eyewitnesses to his murder that night… and she's the other one. That's an answer he was not expecting.
She looks him right in the eye and says that's the thing about liars—once you find out there's been one lie, you start to question whether anything else they said was true. She tells him they'll meet in court. Excellent. Suddenly I'm so very grateful for you, Seo Do-yeon.
He gets transferred back to jail from the courthouse, and there's Su-ha, waiting for him to come out of the building. Please tell me you're not armed with a knife right now. There are so many ways this could go wrong.
Just as Joon-gook is about to get on the bus, Su-ha charges at him and starts throwing punches. He's so enraged that three guards can't separate them. He screams, "WHY?! Why did you kill an innocent person?"
Joon-gook swears he didn't do it. But Su-ha reads his thoughts, and starts to strangle him. The guards finally put him down and put Joon-gook on the bus, and he turns to give Su-ha one last menacing look.
At the funeral, Kwan-woo finds Hye-sung mindlessly writing lists and wondering if she has enough relatives to carry the coffin. He brings her food and urges her to eat, promising to take care of the details.
She thanks him for everything and tells him to go home, but he argues that he can't: "I don't want to. I'm your boyfriend now. If I leave you alone I know you'll cry, so how can I go?"
But she says, "Let me be alone… so I can cry. You can do that for me, right? Since you're my boyfriend."
She sits alone that night in the dark room, wondering what's wrong with her that she can't cry, thinking maybe she really is that cold-hearted.
Su-ha arrives and sits down next to her, and she asks where he's been. "To see Min Joon-gook." She asks for the truth, and he gives it—Min Joon-gook killed Mom. She asks cautiously if he saw in Joon-gook's mind what Mom's final moments were like.
Su-ha nods, barely holding back his tears. He says that Joon-gook let Mom call Hye-sung in her final moments. It only now occurs to her what that phone call with Mom really was.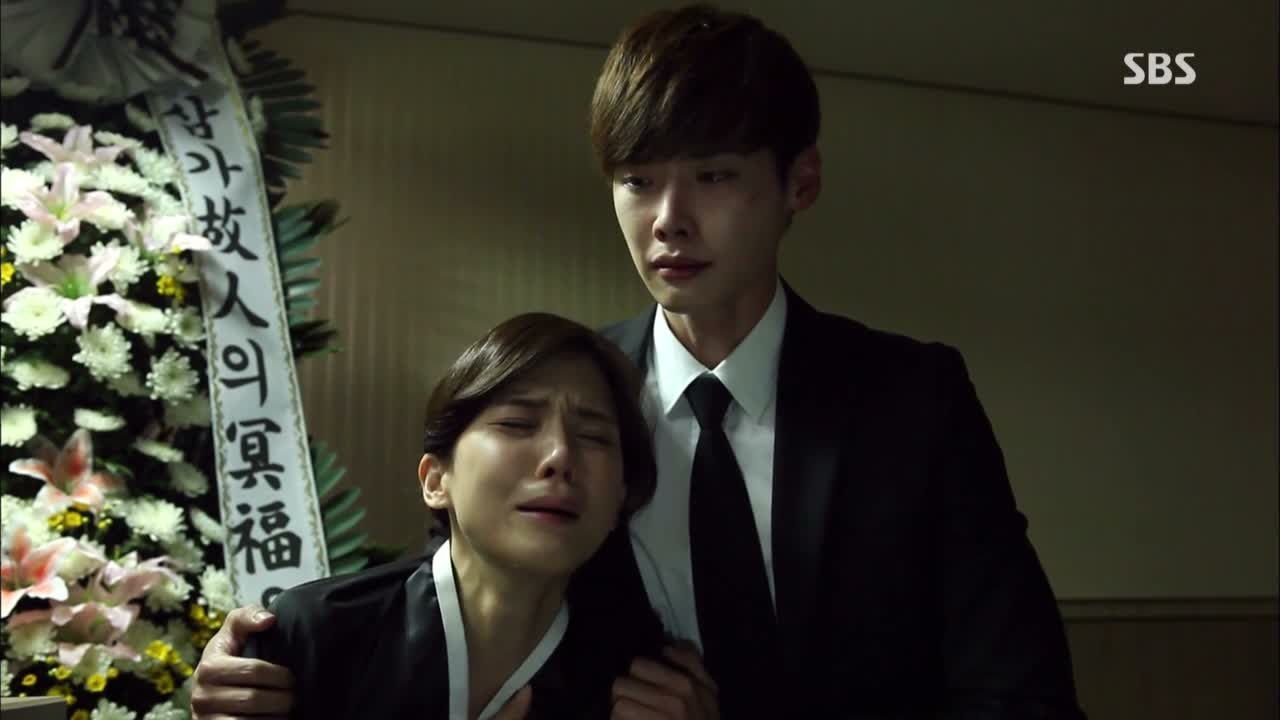 As she plays it back in her mind, she starts to pound her chest. Now Mom's words not to spend her life hating, her strange tone of voice, her wanting the call to linger… it hits her like a wave, and she bursts into sobs, crying: "Mom! Mom! I didn't know! Mom, I didn't know! I didn't know it was the end!" She breaks down in uncontrollable tears, and Su-ha just silently stands behind her for her to lean on as she cries.
The next thing we know, Kwan-woo storms into Judge Kim's lunch to ask for someone else to be assigned to Min Joon-gook's case. What. Judge Kim says he did everything he could, but all the other public defenders rejected the case, and Min Joon-gook also applied to have Kwan-woo be his lawyer. Bastard.
Pretty the Paralegal freaks out that the office mood will go straight into the toilet, and asks Lawyer Shin to do something to keep this from happening. He cringes to think how Hye-sung will react… which is when she walks into the office and overhears the whole thing.
She comes outside, where Kwan-woo is wrestling with how to handle this. But she surprises him by saying that this is better—she was worried that Lawyer Shin would get the case, and he'd be a lawyer before a friend, but Kwan-woo will be different right? "You're always on my side, right?"
Oh no, you can already see that this is going to rip him up. She asks, "You believe me, right?" He says yes. She leans on his shoulder and thanks him, but the look on his face betrays worry.
He steels himself with the reminder that he's on Hye-sung's side, and goes to see Joon-gook. But a guard comes out to say that he's not available for a consult because he tried to commit suicide.
Kwan-woo rushes to the hospital, where he reads Joon-gook's suicide note—a heartfelt sob story about wanting to make amends with Hye-sung and Su-ha but just causing them more pain, and seeking out Mom as a means of making up for his sins.
He describes how gracious Mom was to accept him and forgive him, and how caring she was. He says maybe it was his fault she died after all, because he knew she had been fainting lately, but didn't do anything about it.
We see the version of his story play out, where he found her lying in the shop as the fire was going, and carried her out on his back. He writes that he doesn't mind giving his life to have his sincere feelings conveyed, and that he'll go now to join Mom, the only person who was ever kind to him. AUGH. YOU RAT BASTARD.
He wakes up, and Kwan-woo says he doesn't believe this letter or the suicide attempt, but it doesn't faze Joon-gook, who says that it could seem that way. Kwan-woo demands to know, "Why me?!"
Joon-gook: "Because if it were another lawyer, she wouldn't believe it. If you—the person not on my side—can prove my innocence, then Jang Hye-sung will have to believe me." Damn. He's pouring on the heartfelt sincerity, and you can see it start to get to Kwan-woo.
He investigates the case, going over the crime scene and digging into recent events like the altercation with Su-ha. It's starting to look bad…
The day of the trial rolls around, and Su-ha contemplates his switchblade. But he remembers Hye-sung asking him to promise no revenge, and he puts it away in his drawer. Phew.
He finds Hye-sung thinking at Mom's picture that it'll be okay—Kwan-woo will be on their side, and they head to the courthouse together. She pauses at the door, unable to bring herself to turn the knob. "Min Joon-gook is in there, right?" She says it's just like ten years ago, and this time Su-ha opens the door for her and leads her inside.
Do-yeon presents the charge—murder by arson—and then the judge asks Kwan-woo for the defendant's plea. But he's lost in thought, and he looks over at Hye-sung. And that's when Su-ha hears what he's about to say before he says it aloud. Su-ha: "No…"
Kwan-woo stands up, and pleads not guilty. Min Joon-gook gives Hye-sung a chilling look.
After the hearing, Hye-sung rips into Kwan-woo, asking how he could defend the man who killed her mother.
He urges her to listen and gives Joon-gook's account, from seeking Mom out as a means of making amends, to all the circumstantial evidence—the head wound that Joon-gook claims was due to a fall, or the lack of CCTV footage.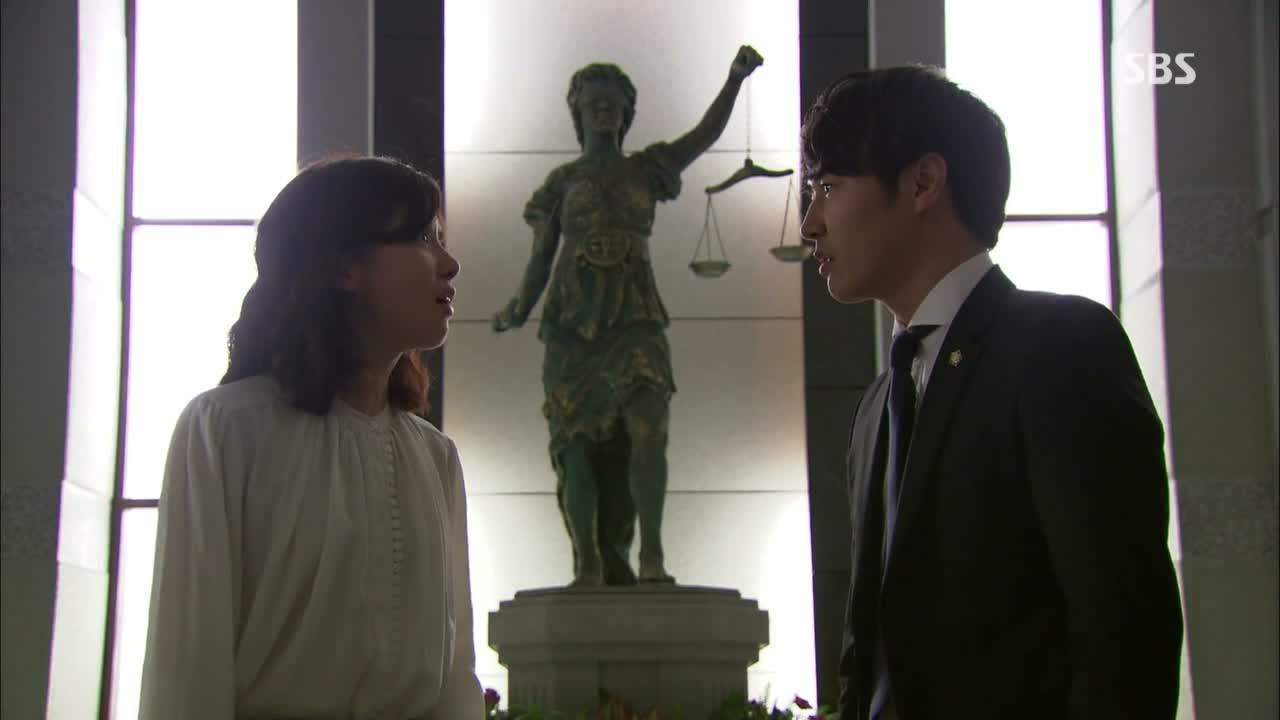 She spits right back that there's no footage because he cut the feed, pointing out that the last thing on that security tape is Min Joon-gook walking towards it. But Kwan-woo says that's all speculation.
Su-ha's been standing by, and he finally erupts to say that the head wound is from Min Joon-gook beating her. And ohgodohgod—we see it in flashback as he bludgeons her to death.
Kwan-woo says he could be right, but so could the other possibility, where Min Joon-gook is innocent and tried to save Mom. Su-ha turns to Hye-sung, who's just thinking with pleading eyes at Kwan-woo, "Please, don't do this. You're not supposed to be like this. You're supposed to be on my side." Su-ha can't handle watching her heartbreak and tells Kwan-woo to stop, finally punching him in the gut just to make him shut up.
Kwan-woo starts to dig into Su-ha's dad's case as well, and sighs toward Hye-sung's empty chair and says that he feels lately like he's become the guard to an evil king.
Su-ha comes home to find Hye-sung cleaning, which alarms him, and she tells him to go home now, since Min Joon-gook's in jail and there's no need for him to live here anymore. Su-ha: "No, I don't want to." She flares up at him that she hates everybody right now, and even wants to pick fights with the dirty dishrag in her hand. She begs him to leave her alone before she says things she'll regret. Su-ha: "No." She asks if he's a child, so he retorts, "That's right, I am a child. I don't understand what you're saying, so go ahead and say anything." Aw, are you letting yourself be her punching bag?
She rails at him: "I'm hating you thousands, tens of thousands of times a day—that all this is because of testifying in that courtroom ten years ago; that all this is because of you!" Oof. She asks with tears in her eyes if he wants to hear worse, and even though it clearly upsets him, he says, "Go ahead. I'll listen to it all." He walks over to start helping her clean, and adds: "Say it. You can swear too. I'll sit by your side and listen to it all."
She wipes away a tear and comes up next to him as he starts washing dishes. After a long meaningful pause, she says, "Su-ha-ya… that's cooking oil." HA. She asks if he read the judge's mind during the trial, and he says he's split 51-49, leaning more towards acquitting.
The next day Hye-sung spins and spins in her revolving door, going 'round in circles between "I can do it. I can't. I can do it. I can't." She decides she can, and then goes to Do-yeon's house. Just standing in the street reminds her of Mom coming to her defense when it mattered most to her, and she struggles to even ring the doorbell. Judge Seo watches from the balcony as the two girls meet on the lawn.
Hye-sung asks how Do-yeon thinks the trial will go, and Do-yeon says it's difficult with nothing but circumstantial evidence. Hye-sung reminds her who Min Joon-gook is, adding that if she had testified that day, she'd be suffering the same fate. Do-yeon says she wants to put the guy away too, but the evidence…
Hye-sung shocks her as she blurts: "Then falsify it." She gets down on her knees and pleads, "Please help me, Do-yeon-ah. I didn't know a day like this would come. I didn't know the day would come when I'd kneel in front of you and beg like this. But I've sold my pride—I'll sell it all, because I have to catch him."
She says she'll do anything, even apologize for ten years ago. And she does—she says it was all her fault and that she's sorry. That really catches Do-yeon off-guard, and then Dad comes out to ask if she really means it. Hye-sung struggles against her pride, and thinks to herself, "I'm sorry, Mom," as she cries a tear. But she steels herself and says yes—she's sorry for all of it, and asks for his help.
They sit down together and Judge Seo says they have to make evidence, and asks if there's someone else they can get to testify like a cellmate from prison. Hye-sung remembers that Lawyer Shin's friend shared a cell with him, and says she can find him.
Judge Seo says the man will be dying for parole, so he'll put in a word to leverage that for a deal. Do-yeon turns to him in shock: "Are you saying we should get him to perjure himself?" He says that to catch the killer, this is what they have to do, and says baldly, "You've done it before, ten years ago." Damn. So he knew all along that Do-yeon was lying when she swore Hye-sung shot a firecracker in her eye.
He says they have to be willing to do anything to catch a killer, and turns to Hye-sung: "You agree, right?" Oh man, did she just sell her soul to the devil or what? She answers yes.
Su-ha finds her on another cleaning spree when he comes home, and she says she got on her knees to beg Do-yeon for help, and even sank so low as to take the blame for the fireworks. She starts to cry, and he reaches up to wipe the tear from her face, but she pulls away.
Do-yeon questions Joon-gook's cellmate Hwang Dal-joong, but he says there must be a misunderstanding—Min Joon-gook was nothing but sweet and good-natured. He did mention Jang Hye-sung once, but all he said was that he owed her a debt.
Do-yeon gets him right where he's vulnerable though, and asks if he doesn't want to hurry and get paroled so he can search for the daughter he lost twenty-eight years ago. He asks if that's possible, and she says it can be, depending on how he answers her questions.
Lawyer Shin goes to play celebrity bingo with his friend Dal-joong and looks up in surprise at the news that he's going to testify for the prosecution—didn't he always say Min Joon-gook was a nice man? He hedges and says that's not all there was to him, and Lawyer Shin raises an eyebrow.
Hye-sung gets ready for the next day of the trial, and holds up Mom's picture to tell her that if it goes well she can get a conviction. She thinks back to what Mom had said about why she stood up for her—because she was right.
"I'm right this time too, right? Tell me that I am." She hugs Mom's picture close, lip quivering to keep her tears in check.
She runs into Lawyer Shin outside the courthouse and he says he came to ask her something—did she make a request of his friend Dal-joong that she shouldn't have? She denies it, but then turns back to challenge him. "And what if I did?"
He asks if she's really breaking the rules, and she admits, "By following the rules I'll lose everything." He says that doing so will just bring misfortune back around on her, even bigger than before—doesn't she know that?
Hye-sung: No! I don't! Have you ever been a victim? In this country, a victim can do nothing. I never got to ask Min Joon-gook why he killed my mother, because I'm not allowed to see the defendant. In the courtroom, the judge listens to Min Joon-gook's words more than mine. The victim can't breathe from the injustice, but can't do a single thing! Innocent plea? Rational rules? That's all dog shit. Now that I'm the victim, rules and means are all dog shit. And all lawyers are sons of bitches. And I'm a dog just like them.
She yanks off the scales of justice pin she always wears on her lapel and chucks it to the ground as she walks away. Lawyer Shin picks it up and wonders—if Min Joon-gook gets acquitted, will Hye-sung remain a public defender?
It's time for the cellmate to testify, and Su-ha confirms that the judge is split 50-50. Hye-sung says that's enough for the testimony to give them an edge. They watch as the man testifies that Joon-gook talked about his plans to get revenge on Hye-sung.
Joon-gook lights up in anger, and Su-ha flips the locket on his phone: Heads, for guilty. They're sure the case is all but won, but then Kwan-woo gets up to cross-examine him, and tears his testimony to shreds.
It's horrible in so many ways—what they're doing is wrong in the first place, but he's clawing Hye-sung's heart out with every word. Su-ha flips the locket back the other way, and Hye-sung cries into her hands.
And then Min Joon-gook leers at Su-ha the exact same way he did ten years ago, and thinks the exact same thing—that all these morons believe him this time too. And that his next targets are Su-ha and Hye-sung.
Hye-sung clutches a picture of her and Mom as she lies in bed that night, thinking back to the time she fixed a computer and Mom called her a genius and told her to go be a computer science major, or the time she did Mom's makeup and Mom called her Picasso and told her to go to art school. *tears* Mom just always thought the best of her, no matter what.
Su-ha calls her out to dinner, but she doesn't answer, and he sees the millionth ignored text from Kwan-woo on her phone. This time it says that he's waiting outside until she comes out to see him.
Su-ha goes out instead and says she's hanging in there, but it might be hard to see her for a while. He hears Kwan-woo think that he really doesn't want to give up on Hye-sung, so he says that Hye-sung likes him very much, and that's why she's having such a hard time with all this.
"So give her time, and wait for her." Aw, kid, you're killing me.
Kwan-woo thought Su-ha didn't like him, but Su-ha just turns to go without answering either way. He calls out to ask if he hates him too for taking Min Joon-gook's side. Su-ha pauses, changes his face into a smile, and turns around to say not at all, and thanks him…
And then when he turns back away, he thinks to himself: "Thank you… for giving me the chance." Oh noes. To what? To kill him yourself? Gaaaah. My heart can't take this.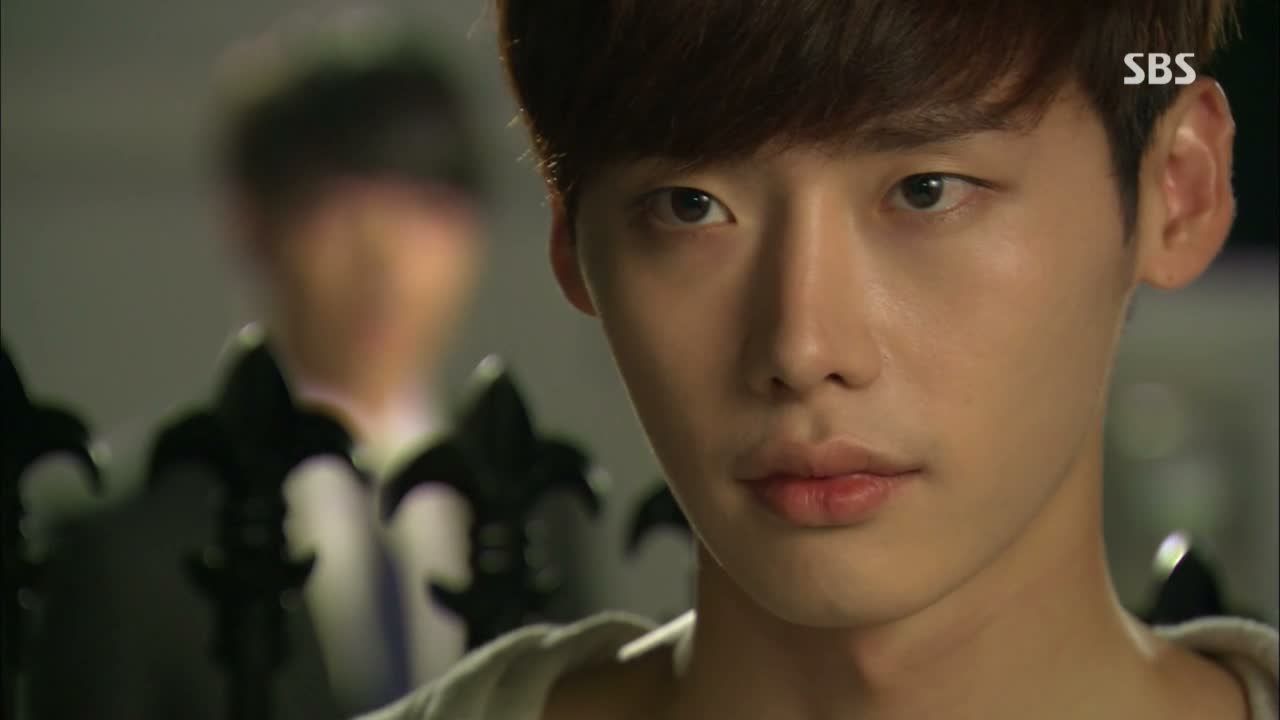 Su-ha puts the date of Joon-gook's verdict into his phone, and looks down at his knife. He's absent from school yet again, and then we see him look around Hye-sung's apartment for stuff to fix. No, are you leaving? He changes all the light bulbs and fixes the little things that he can, and then he picks up his bags and takes one last look around. He puts the shoes back in place—the men's shoes she didn't need while he was living there—and then heads out.
Hye-sung visits Mom's memorial and says that ten years ago she was really scared, but she testified because Mom told her she was always right. "But I was wrong. Life isn't a fairytale. I should've run away like Do-yeon did."
Su-ha shows up behind her with a flower for Mom, and says he read her mind this morning and knew she was coming here. He asks if she's not going to work, and suggests they go somewhere else instead.
So they go to the aquarium like they promised, and he says he says he finally got to come after four tries—he was supposed to come with Dad but he died, and then a school field trip but he got sick, and then with Hye-sung the last time. She points out that he's the one who didn't answer his phone that day, and he just brushes it off. She asks why he wanted to come here so badly, and he says, "You know that my world is noisier than other people's. I thought it'd be quiet here, and peaceful." She agrees that it is.
After a while he turns to her and says he packed and moved out today, but she needn't worry because Min Joon-gook won't ever hurt her again. You're making my stomach churn right now. She asks how he knows, and he lies that he read Joon-gook's mind and she can trust him. She wonders if he brought her here to say goodbye, and he nods, adding that there are a few things he wanted to say to her first. She looks up at him nervously, "What is this? Are you never going to see me again?" He lies (again!) that he's a senior in high school and has to study.
The first thing he wanted to tell her is that Mom was proud of her until the very end—he read it in Joon-gook's mind. Flashback to Joon-gook telling Mom why she's about to die: because her daughter testified against him ten years ago. Joon-gook: "Don't you regret it?" Mom: "I do regret it. If I had known she was that brave, I should've praised her more." Hye-sung's eyes fill with tears, and Su-ha adds: "And she said that she'd be dancing up in heaven."
The second thing is for her not to be so hard on Kwan-woo, because he likes her a lot, and really believed this was the right thing to do. He doesn't know the truth, and he did the best he could. She nods that she knows.
He takes a breath before saying, "And this is obvious but… you like him a lot too, which is why you're having such a hard time. So don't hide too long, and go see him. It'll be better for both of you." *whimper*
He says that's it (THAT'S IT?!) and turns to go. She calls out after him, but trails off, unable to finish her sentence. She just says "thank you" for everything, and tells him to study hard.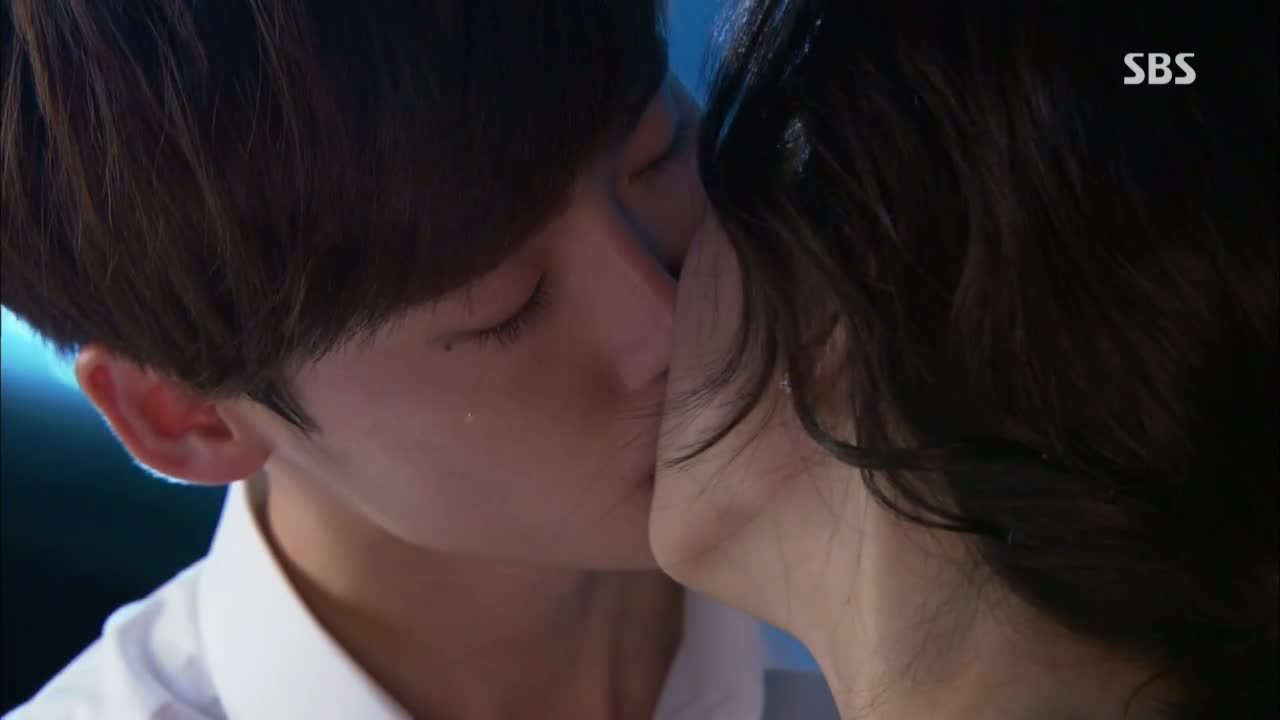 A tears trickles down his cheek as he stands there, stuck between coming and going, and then he turns back. Omo.
"There's one more thing you don't know." Omo.
And then he puts his hand around her waist and pulls her in close for a kiss. Omo.
Another tear falls as he kisses her, and then he smiles one last time before turning to walk away, into the dark. Ohmygah, I'm a blubbering mess. Why am I crying? It's not even over. Stop crying.
An epilogue as the credits roll:
In the scene where Kwan-woo had confessed his feelings, he had asked for a re-do on their date. But she remembers that she made plans to go to the aquarium with Su-ha and says she can't push it because he'll be really disappointed.
"I'm sorry, but my promise* to Su-ha comes first." …which he never heard because he walked away heartbroken.
*["Promise" is the same word as "plans" in this context, so it's a play on both: I made plans with Su-ha first, but also My promise to Su-ha comes first.]

COMMENTS
This episode left me dead. Gah, I knew Mom would probably die in service of the story, and even though I hate that she's gone (not to mention that when you get a confluence of top-notch character and actress, it's doubly painful to let go), I'm with this story and where we're going. Mom's murder takes the stakes to a place that'll carry so much of what comes after this, and there's a new depth and darkness in Hye-sung's character to explore.
I love the conflict this sets up between right and wrong, Kwan-woo and Hye-sung, and Hye-sung and the Seo Family. And because we loved Mom so, we feel the same exact struggle—she does the wrong thing, but why does it feel satisfying when we think it might work? She shouldn't have sacrificed her morals for revenge, but why do our hearts sink when it fails and the killer will go free? I like that I'm conflicted, because my heart is with Hye-sung even if I know that she's hitting a low point and making the wrong choices.
It was a great conflict for Kwan-woo as well, and fitting for his character to do the right thing, even if we're screaming at him that he's wrong. It's almost tragedy-proportions of bad fate—he does the right thing, but has the wrong information, and she knows what's right but chooses the wrong way to get that result. And the fact that she gave up her conviction to join forces with the Dark Lord of Relative Truths is just extra salt in the wound. I hated that she gave into the fireworks thing. It has pretty much come to define her—the fact that she never let them win even when they levied her schooling and Mom's job at her—that it really felt like she was giving up everything when she caved to the lie. The whole thread of lies worked really well in this episode, from Su-ha's white lies as he said goodbye, to Hye-sung's choice to declare lies as truth, to Kwan-woo not knowing truth from lies when it came to Joon-gook.
I'm terrified that Su-ha's going to do something stupid, which is pretty much a given at this point. I don't actually think the story's going to let him be a killer, but I do think he'll go as far as trying, and he's going to end up in a deep vat of trouble when it goes south. I like that he walks that dangerous line, but now that Hye-sung really does feel like she's out of options, there's nothing holding him back from throwing himself into the fire. That kiss broke my heart more than made me swoon (okay, but it did make me swoon), because it's goodbye. Realistically, of course, I don't expect the hero of our story to go down in flames halfway through the show, so we'll focus on the future, which will come to pass as long as nobody goes stabbing anyone, right? Right?
I've always felt that Hye-sung's relationship with Kwan-woo was more head than heart—he's the guy you want to date and marry, so duh, she accepts his confession and they start to date. But when he wants to stay by her side at the funeral she asks him to leave, and when she asks him to leave he really goes. When she tells Su-ha to get out, that she hates him and blames him, he refuses to go and insists on staying, even if it's to be her punching bag. That just says everything, and that's before he actually plays cupid to mend their relationship because it would make her happier. Gah. How are we not to swoon?

RELATED POSTS
Tags: featured, I Hear Your Voice, Lee Bo-young, Lee Jong-seok, Yoon Sang-hyun