Mandate of Heaven: Episode 15
Romances take another step forward, and it's a nice day for our good guys, who are forced to step up the strategy in circumventing their thwarters. I worried that we were spending too much time on a plot point that seemed predictable, but we end up moving the story along significantly, which I'm always happy about. I coulda used some more of my rugged investigator and his sweetly awkward romance, but I suppose I shouldn't be too greedy. I mean, I'm still going to be greedy, but I can recognize when I'm being demandy. *practices restraint*
SONG OF THE DAY
Yellow Monsters – "Cold Rain" [ Download ]
Audio clip: Adobe Flash Player (version 9 or above) is required to play this audio clip. Download the latest version here. You also need to have JavaScript enabled in your browser.

EPISODE 15 RECAP
Won buries Merchant Jang for Da-in, who mourns her loss.
The three bandits return home nursing wounds all around, after engaging with the mysterious Pretty Boy Assassin who killed Do-moon. Geo-chil wonders who the assassin was, having never encountered anyone with his level of fighting skill before.
The prince receives the report about the ambush, though there's hope in the fact that neither Da-in's nor Merchant Jang's bodies were among the corpses. The assassin's peculiar dagger was retrieved at the scene, and was the same as the one thrown at Jung-hwan. Though there is no proof connecting them, Lee Ho suspects that the assassin stole the confession to take to the queen.
But the queen doesn't have it, and she throws a cup in anger when her assassin returns. Deducing that Won took it, she rages at the nerve of that measly doctor who dares to continually cross her. Well, in the interest of being fair, you started it.
She orders Pretty Boy to watch all comings and goings into the prince's quarters, because there's no way they can allow Won to hand it over to Lee Ho.
Won treats the bandits' wounds and apologizes for getting them hurt. Keok-jung snaps that he was fighting for himself, not Won—to avenge his own grievance—and Rang takes issue with his meanness. If he keeps this up, she's gonna tell So-baek that he may be good-looking but he's got a tiny little… heart.
So-baek wants her wounds treated too, pointing to her chest. Won tells her to ask Da-in, but she starts to disrobe anyway, leading to a group chorus of "Nooooo!" At least she agrees to let Da-in take a look, though she'd really rather Won treated her.
Get your squeeing hats on, because Jung-hwan is also being tended to his wounds by Woo-young, and that has him moaning and topless. Not in a happy way, granted, but I'll take what I can get.
He mumbles that even though he said he was fine, she overrode him and stripped off that top anyway, to which she says he makes it sound like she had ulterior (read: dirty) motives with the stripping. Even while he's groaning in pain, he manages to ask, "So are you saying you had none?" Haha. You so wish. And so do I.
She says she there's a time and place for that, and today he's a feeble lump of skin and bones. He takes issue with her wording, so to keep him calm she says she'll do it his way and harbor indecent thoughts. If he insists. Hee.
But his condition is too dire for flirting, and a tear drops onto his back. She denies that she's crying over him, muttering that she's just sad because she was looking forward to leaving this slave life behind. He sits up to assure her of his earlier promise, that he can't die before he frees her.
He holds out his hand to her, telling her to use it to wipe her tears. Then he goes ahead and wipes them himself.
For now, the confession is safely in Won's hands, but the trouble is in getting it to the prince. He decides that he can't risk Jung-hwan's life again after the last time almost got him killed—but knowing Jung-hwan, he'll try extra hard to recover the confession since it was taken from his hands.
Sure enough, Jung-hwan is back on the job despite still being in visible pain. He hears that Merchant Jang packed up to go to China, but didn't board the boat, which suggests something happened en route. He seeks out the bandits' contact in the city to ask for Banditville's whereabouts, but when he's denied he settles for passing along a message. Which goes duly noted by Assassin Boy. Aw, crap.
Jung-hwan is detained on his way to see the prince and subject to a patdown. Lee Ho interrupts, displeased to hear of the queen's meddling. He warns Jung-hwan to be careful, because he's also been marked as the queen's target—and those words make him think of the message he just left. Phew, at least he's on the ball.
He excuses himself to hurry back to the contact, only to find that he left with a "pretty young man." D'oh!
Won finds Da-in by the gravesite, mourning the loss of the man she now refers to as father. She couldn't bring herself to use the word before, knowing that her biological father was killed as a traitor, but now regrets not saying it before Merchant Jang died. Thankfully for her (and really, for us), she puts on her brave face and cuts the self-pity session short. (I know that she has to mourn his loss and that she'd be a bad daughter if she didn't, but for story purposes I really don't want to witness the wallowing.)
Won offers her a hand to get up, then keeps holding it as they walk away together. He shares his idea to approach the prince with the letter while the king goes on his annual processional to the hot springs, which will be attended by the queen.
So-baek is out looking for Won for no reason other than that she likes him, and Rang points out that this means Keok-jung will be soon following them, because he likes her. Hee. I have visions of one unending wild goose chase that goes around in circles.
They run into Keok-jung and Geo-chil on their way back from running errands, which includes giving Rang a new pair of pretty shoes. (Which she makes sure to ask weren't stolen, right?) Geo-chil is so cute with Rangie; just one more daughter to dote on.
Just then, So-baek catches a glimpse of Pretty Assassin making his way through the forest, having coerced their town contact into leading him to Banditville. Keok-jung leaps in to challenge him, and Geo-chil joins after ordering So-baek to take the child back.
They clash in a brief skirmish, not able to land any serious blows, and then are joined by another fighter—Jung-hwan. Ack! Three injured fighters do not add up to one healthy one!
Jung-hwan escapes getting sliced again, but blows to the body reopen previous wounds and he's down for the count. Assassin Boy raises his sword… and gets thrown off-course by a rock hurled into his arm. It's Won, who rushes to help Jung-hwan while the bandits jump back into the fray. They manage to land a few hits before Assassin Boy calls it a day and disappears into the woods.
Jung-hwan feels responsible for bringing the assassin to the thieves and is rarin' to get right back to work. It's fortunate for his health that Won already has the confession, and although he insists on taking it to the prince straightaway, Won shoots that idea down. It isn't that he doesn't trust him, he says, but that he can't put his life in danger again.
Therefore, he has figured out a plan to deliver it to the prince without risking more lives. We don't hear the details, but Won does urge him to get the king's upcoming visit to the hot springs moved up as soon as possible. Jung-hwan shares the plan with Lee Ho, who swings into motion.
It's Jang-geum who proposes the trip, citing the king's health. The queen has no choice but to get onboard, though she looks suspicious about being maneuvered into it.
Lee Ho regards his new doctor distrustfully, asking if this bowl of medicine has been poisoned. Such a direct question has the doctor flustered and scared, and Lee Ho delivers a dire warning that poisoning him would earn him the same fate as Do-saeng.
And so, when the doctor is then presented with a vial of poison, he blubbers to Minister Yoon that he can't do it. Minister Yoon promises him a promotion, but the doctor replies that he'd probably die before that deal is fulfilled. Plus, with Vice Premier Kim currently jailed for treason, he isn't around to hand out promotions.
Furthermore, Vice Premier Kim's bail appeal is looking unlikely. The weaselly official they've been bribing in the police department is unable to pull any more strings, and the public sentiment has swung in the prince's favor.
Jung-hwan doesn't appreciate the baddies' attempt to go over his head and warns that if further attempts are made to get Kim out of prison, his accomplice will land in jail right next to him.
This has the queen fuming, and she and Minister Yoon wonder how to get Jung-hwan out of their hair. Minister Yoon has good news to share: He overheard Lee Ho and Jang-geum talking, and caught wind of their plan to use the king's upcoming absence to transport the letter. Gahhh! Why does nobody talk in whispers in this palace?
The queen orders her assassin to find Choi Won and recover the confession. Again. By this point I almost feel for her, having to give the same order so many times. Good help these days…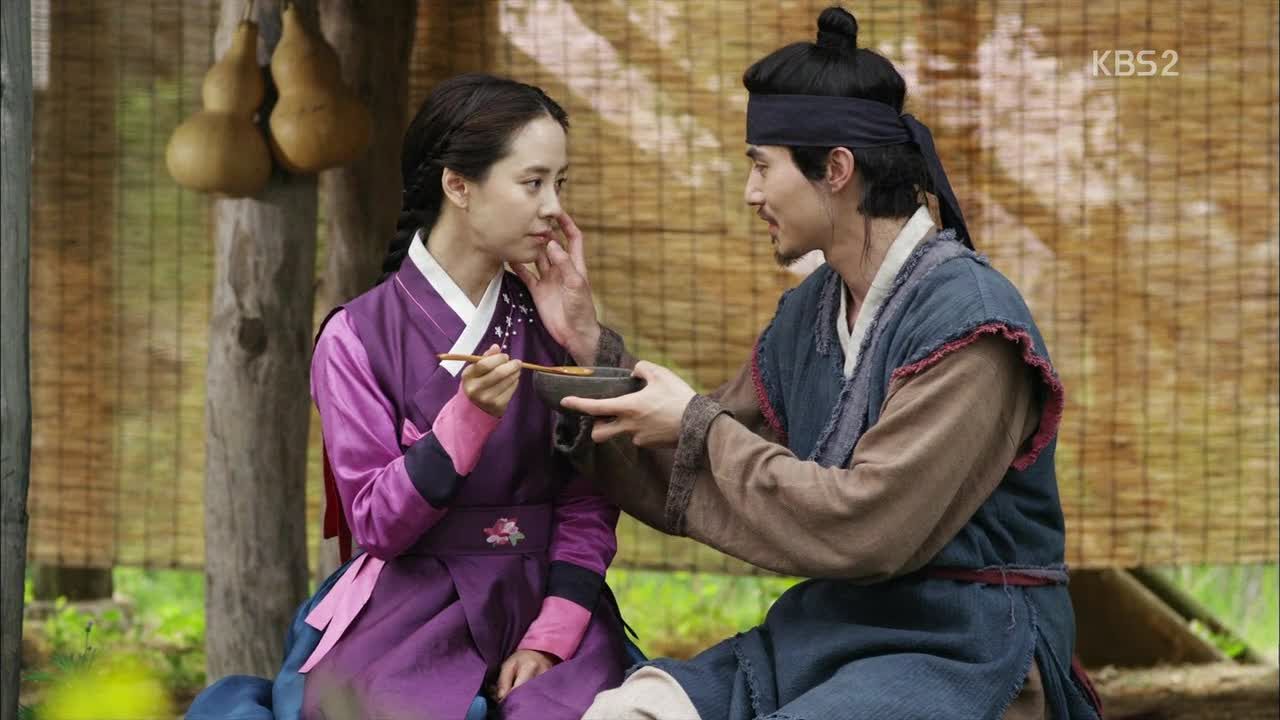 At Bandit Town, Won bides his time until his meeting with the prince. He's playing this one close to the vest and deflects the bandits' inquiries with vague answers. Gotta love that heroic sense of nobility: Nobody can suffer but me!
Noting how Da-in interacts with Rang, Geo-chil makes a pointed comment about how motherly she is. Grandma plainly wonders if she and Won have a little somethin' somethin' going on. It's So-baek who protests most loudly.
Da-in leaves the meal with her food untouched, and Won follows to urge her to eat. He adds cheekily, "If you don't eat, I'll take that to mean you want me to feed you." She complies, he wipes a stray morsel from her lip, and they end up holding hands. So-baek watches from a distance, heartbroken, though it just may be worse for Keok-jung watching her.
That night Won smiles to see his two ladies snuggled up together and tucks them into bed. He thinks of Jung-hwan's warning that his plan risks his own life, though in his eyes that's better than risking everyone else's.
In the morning, So-baek tries on a hanbok, thinking that she'll try looking as pretty as Da-in to win Won's heart. Poor dim thing. Da-in compliments her and says she'll look even prettier with hair ornaments, and So-baek decides to go buy some right away.
So the ladies head out to the marketplace, and on the way back Da-in senses So-baek itching to ask something and opens up the topic herself. So-baek asks if she and Won have fallen for each other—when she sees him, does her heart pound? Da-in says no, but So-baek doesn't seem convinced.
Won heads to an appointed spot in the forest and finds a white cloth tied to a branch. It's the signal from Jung-hwan that the king has set a date for his excursion.
Lee Ho is expected to go too, so he fixes on the excuse of ill health to remain behind. He asks his brother to go with the king, and shares that his real reason is to attend to an important matter. Uh, this makes me nervous. Isn't it dangerous to make him privy to your plans? I do trust that Prince Gyeongwon is on his brother's side, but I just don't have faith that it'll stay a secret.
Queen Munjeong drops by and is displeased to see Gyeongwon visiting his hyungnim without her knowledge. She smirks when he gives his illness excuse, having predicted he would as an alibi.
She takes Gyeongwon aside to give him the stern eye and ask him what his brother said. She threatens to harm herself if he lies to her, and while I might argue that she can't exactly prove that he's lying, Gyeongwon is a lonely little boy who loves his scary momma and is emotionally manipulable. He agrees to talk.
Da-in fears for Won's dangerous plan, though he tells her that having her with him makes him feel safer. He means emotionally, not literally, since he refuses to let her come with him. For now they Vice Premier is behind bars, but they're both aware that his faction will be doing what they can to release him on bail.
Keok-jung interrupts to announce his intention of killing Kim before that happens, intent on avenging his family's grievances. Geo-chil has a similar reaction to Kim's possible release, and a fight ensues over who gets to storm the prison to kill him. Won begs them both not to—they can't become murderers because of him—but they're too enraged to care.
So-baek comes into the discussion late and doesn't know what the point of contention is, but she sees Keok-jung fuming at Won and leaps to her crush's defense. Oh, it's got to hurt for Keok-jung to see her begging on Won's behalf when she doesn't even know what she's begging about.
Keok-jung barks at her that Won doesn't recognize her feelings, and "He's different from us." He's never been hungry like them, so desperate that he had to eat grass and steal to stay alive. Privileged guys like him give no thought to their feelings, only fixated on their own.
Won apologizes for the trouble he has brought them and promises he will leave soon, asking for their patience. Da-in chimes in and hands over a pouch containing gold, taken from her home. Keok-jung turns down her charity. "We don't need it," he snarls. "Your adoptive father was in league with [Vice Premier Kim]."
This is news to Geo-chil, who gets all fired up. Won hastens to explain that Merchant Jang is already dead, and makes one last plea. Getting on his knees, he says that if this effort does not keep Kim in prison, he won't stop them. But he asks for this one chance.
Chun-bong observes and approves of Won's approach, knowing that it was a big deal for a man of his background to kneel before thieves. Won asks once more for information about his grandfather that Chun-bong keeps alluding to, and is told to deliver that confession first. Then Chun-bong will tell him what he wants to know and more.
A dark mood hovers over the bandits, who have agreed to Won's plea for now, though not without misgivings. Keok-jung still stews, and No. 2 Bandit growls that he won't put up with this for much longer.
So-baek assures Won that she'll help him, and seeing her eagerness, Won sighs and tells her to care for Keok-jung's injuries. She shouldn't spend any more of her thoughts on him, he says, adding, "You are like a sister to me. But if you don't think of me as a brother…"
She bursts out that she doesn't, that she wants his affection like Da-in. He tells her that he can't accept her feelings, and that the man who can love her best is Keok-jung, not him. She cries that she doesn't feel that way about Keok-jung, that it's Won in her heart.
She runs to her room sobbing, and angrily throws her pretty hanbok to the ground.
It's time for Won to leave on his mission, and he bids Da-in goodbye with a smile and a promise to return. She reminds him that he must come back for Rang's sake, but he adds that he has another reason: "You."
Accompanied by his loyal right-hand man, the prince makes his way through the forest to the rendezvous point. Unfortunately, his departure goes noted by courtiers who report to the queen. Minister Yoon whispers that this is the perfect opportunity to kill off the prince, but she fires back that he's getting ahead of himself again. The confession comes first.
Pretty Boy is on it, and watches Lee Ho arriving to meet Won. One whip of the wrist and a dagger flies into Won's back.
The prince and his guard rush to Won's side, just as the three of them are surrounded by a group of assassins. Yet Won gets up without difficulty… because this isn't Won. Aha! It's Jung-hwan in disguise, and they've clearly anticipated this twist. He removes his outer layer to reveal that he's wearing armor, and then whistles for reinforcements. Soldiers come pouring out of hiding (woohoo) and surround the gathering.
The assassins start retreating as the soldiers attack. Jung-hwan sets his sights on Pretty Boy and engages him, although that may be getting ahead of himself since he's still injured. And also, Pretty Boy's still awesome. Jung-hwan finds himself taking more blows than landing them.
The prince's guard joins in, which frankly makes me nervous (protect the prince!). The two men work together to double-team the assassin.
The guard manages to slice through the assassin's sleeve, and while he draws no blood, that does reveal a very telling tattoo: a blood-red peony flower. Well, if that isn't proof of his allegiance. The assassin runs away unharmed.
The king returns from his dip in the hot springs feeling refreshed. Jang-geum offers a particularly gifted doctor to tend to the boils that have been plaguing the king, explaining that this exceptional physician took a while to track down.
Said renowned physician is brought to the king's chamber and bows in respect, and gee doesn't he look familiar. It's Won, and once the king registers his identity, he's befuddled and a little offended. How dare the criminal come forth to see him?
Won states his case for innocence, and with the queen looking on in horror, he offers up the confession. This is proof of the villains' plot to kill the prince, he says, and the king takes the letter. He reads. His face grows dark.
Won swears that the confession is true, explaining how Do-saeng left this document behind to save the prince's life. Jang-geum adds that the royal inspector has already confirmed the legitimacy of the letter and deemed it authentic.
The queen snaps at her to shut up, but the king instructs her to leave the room. She protests and tries to cast aspersions on Won's character, but Won merely says that he risked his life to prove those charges false. Why would he be here if he were truly guilty?
Then he tells the king, "There is someone acting behind Vice Premier Kim Chi-yong." As the queen stews in silence, he turns to face her and says, "It is the Queen Majesty herself."

COMMENTS
Yay to outsmarting the bad guys! I was worried there for a bit when Team Won seemed to so easily get found out by the evildoers, but at least this time it was a purposeful misdirect. Get overheard on purpose, send them out with misinformation, and surprise them with a last-minute switcheroo. Good to see them using their brains and getting around the roadblocks with canniness, not mere brute force.
This show has been really working for me in past weeks, so it was a little disappointed to have this episode feel flatter than usual. I blame this on two factors: First, it had a lot of Won and Da-in romance, and now that the loveline is front and center, I realize how little I care for it. It's fine. They're fine. I just don't feel anything so I don't love when they take up too much time. The all-too-brief scene between Jung-hwan and Woo-young was leagues more interesting, and I'm not just saying that because he was topless in it. I just buy their attraction and their feelings. Our main couple, on the other hand, just feel like they ought to be in love, so okay they are.
I find that dull for the same reason I find noble idiocy dull (which we also saw a bit of in this episode), which is that the characters become prescribed in very fixed ways because of the type of person they are. Then for some reason the drama feels they have to keep their good natures pristine, and therefore you can't have these characters acting selfishly. Only I think selfishness makes for way more interesting people.
The second reason is that I feel like this episode was conceived around the cliffhanger, and in order to get us there by the end of the episode, they had to whip up stuff to lead up to it. All fine and good, only there wasn't enough stuff to cram in there and so the scenes started to meander. We had several repetitive scenes, mostly with Won stating "I can't let anybody get hurt because of me" and I got the point.
Since the cliffhanger is a pretty good one, I'm pushing aside my discontent this time, since at least we were leading somewhere. It was just paced strangely, I thought, because it felt like we were spinning our wheels for a long while with a lot of talk, and then suddenly shit was goin' down.
I didn't think we'd get the queen outed as evil yet—I was fully expecting that to wait till finale week—so I'm pleased as punch to have it show up early. No doubt she'll find a way to wriggle free of this coil temporarily, and maybe even Vice Premier Kim will find a second wind, but if I had to spend another whole hour waiting for people to get their hands on that damn confession, I might've lost my patience. Thank goodness for the king finally getting in on the loop.
So now we've got our nameless assassin to ponder (whose "name" is given as No Name, ha), and I suspect Chun-bong's explanation of Won's grandfather's story will open up some new conflicts as well. I hope there's enough story left to keep us going—and at a brisk pace, none of that draggy filler stuff—till the end. Though I wouldn't say no to an episode of fanservicey Jung-hwan and Woo-young, come to think of it. Preferably topless, and with plenty of ulterior motives.
RELATED POSTS
Tags: featured, Im Seul-ong, Lee Dong-wook, Mandate of Heaven, Song Ji-hyo, Song Jong-ho, Yoon Jin-yi