Shark: Episode 7
Our hero keeps stringing our dogged prosecutor along the path he's laid out for her, though the reward waiting at the end of her journey is a little more personal to him this time around. I like that he's not having to shove her toward the truth—he only has to lightly goad her in the right direction before Hae-woo takes care of the rest. You can't help but love her at the same time you worry for her, because you just know things'll only get worse for her from here on out. Hopefully she's up to the challenge. Yi-soo seems to think so, anyway.

SONG OF THE DAY
Explosions in the Sky – "Human Qualities" [ Download ]
Audio clip: Adobe Flash Player (version 9 or above) is required to play this audio clip. Download the latest version here. You also need to have JavaScript enabled in your browser.

EPISODE 7 RECAP
Cold open: Hae-woo drags her feet along a forest path, clutching the wooden shark pendant she made for Yi-soo as she cries.
Back at the bar where we left them last week, Yi-soo asks Hae-woo if she would understand the kiss even if he meant to do it, refusing to let her brush it off as a mistake.
With both of them unaware that Joon-young is watching, Hae-woo makes her stance clear: "To be honest, I have no interest in whether or not it was a mistake." Yi-soo tells her that he's the calculating kind down to the last detail so that he never makes mistakes, but meeting her at the restaurant was something he didn't plan.
"Coming up with plans may be a work of the head," Yi-soo says. "But mistakes are the work of the heart." Hae-woo asks for clarification, echoing my own thoughts, but he doesn't really give it. So, the kiss was/wasn't a mistake that maybe was/was not part of a greater plan. Got it.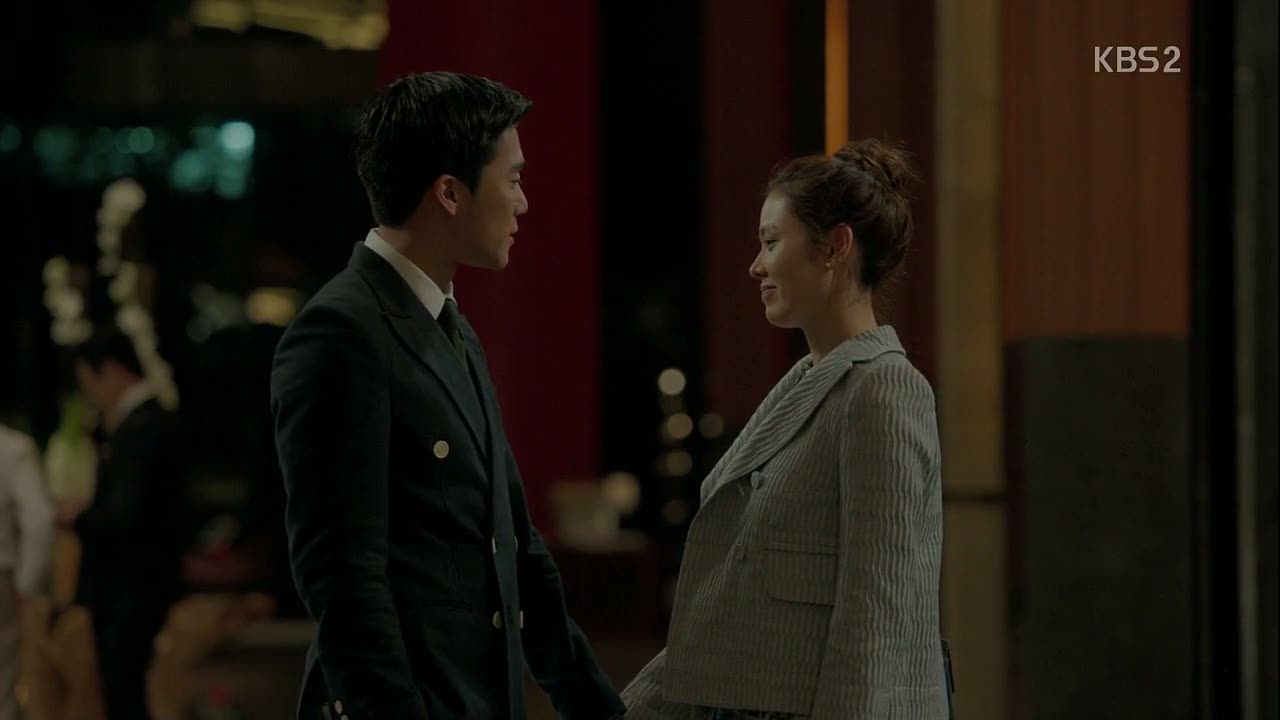 Joon-young finally makes his presence known, though it's not clear how much he heard. He seems to be testing the waters as he tries to get Hae-woo to stay for his drinking date with Yi-soo, but she refuses and puts on a happy face to ease Joon-young's worry that something's wrong.
He knows that's not the case, but he can't get the image of her standing with Yi-soo out of his mind. Similarly, she can't get Yi-soo's words out of her thoughts either, and pointedly ignores a call from Soo-hyun on the way home—even though he's calling her about a package on her desk, one we know Yi-soo sent.
Joon-young and Yi-soo talk business, with the former accepting the latter's invitation to attend a hotel opening in Japan, even though he's not sure if Hae-woo can make time for it. He manages to get Yi-soo to agree to play basketball with him that weekend, as a team. It's so hard to tell whether Joon-young is being sincere or calculating these days.
He does note that Yi-soo reminds him of "that friend," which apparently Yi-soo is supposed to know by now. (He's talking about Yi-soo when they were friends.) He clarifies that it's not that the CEO before him looks like his old friend, but that they have the same vibe. That's an odd thing to say to someone who, for all intents and purposes, never knew your dead friend.
Now that Hae-woo knows that Prosecutor Oh was involved in a cover-up, she confronts her father-in-law directly to ask for the truth about what happened twelve years ago, since she already knows that he's done shady things to protect her family. Now she wants to know why.
At least he doesn't deny everything wholesale, but he does advise Hae-woo to keep the past where it belongs, because hashing it up again could not only hurt her family, but also her. He claims he only knew about the hit-and-run and the plan to pin the blame on Yi-soo's dad (which we know is a lie), and firmly denies Hae-woo's request to be put back on Detective Jung's murder case.
"That's beyond my power," Prosecutor Oh claims.
"You've already done a lot that's beyond your power," Hae-woo fires back. Burn.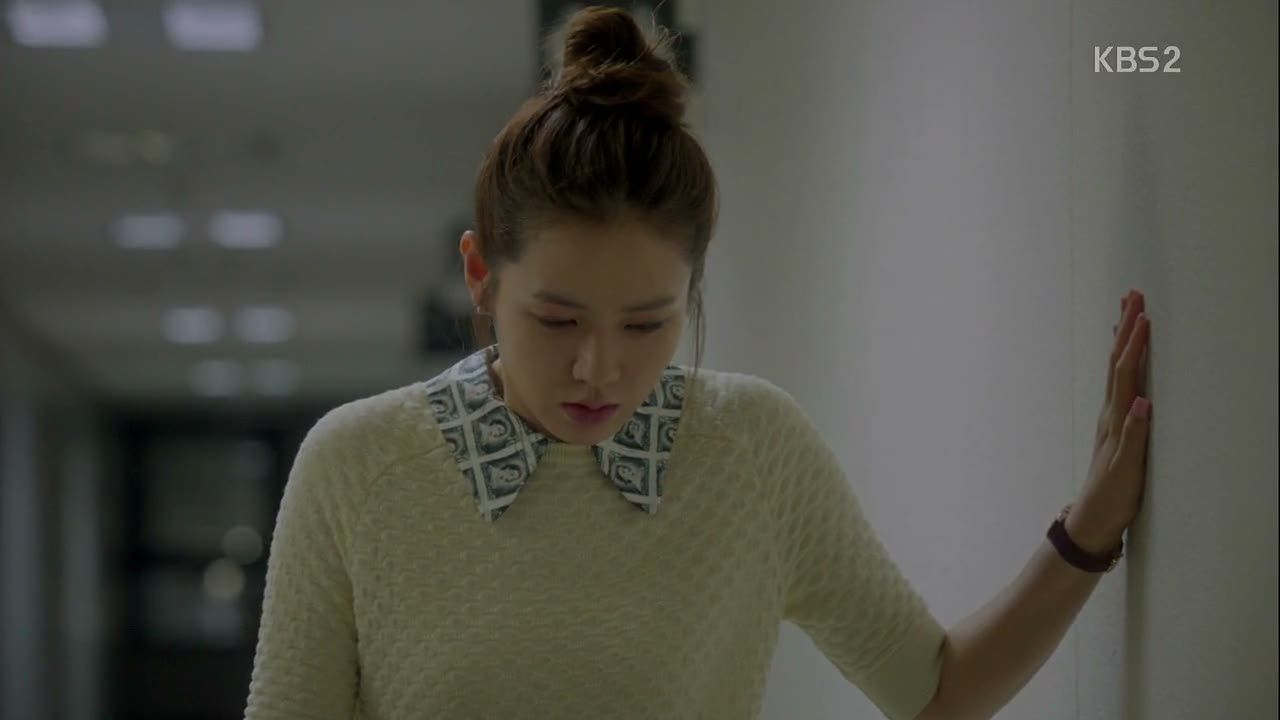 He reminds her that the case has passed the statute of limitations, but she can't help the emotion that springs to her voice when she stresses that the truth to the present is in the past: "In order to uncover the truth from the past, someone is committing murder. We have to stop it. Before there is another victim, we have to stop it."
Her words don't change his hardline stance that if she refuses to back off from the case, he'll have to force her. She nods, even while defying him by saying that she can't let the case go.
Afterward, Grandpa Jo presumably gets a call detailing the conversation.
Yi-soo and Joon-young part ways, but not before a handshake that reminds Yi-soo of the good old days. His smile toward Joon-young seems very genuine, as though he's actually happy to be around his former friend.
But Joon-young is still bothered by seeing Hae-woo with him in the bar. Not good.
Hae-woo finds Soo-hyun waiting for her outside her home, there to give her a formal apology and a truthful explanation. He knows what he said about lying to protect her was an excuse, and reveals that he was just selfish—he did what Prosecutor Oh told him to do because he wanted to earn his favor.
But, after witnesses Hae-woo's staunch adherence to her principles firsthand, he realizes how wrong he was and wants to do right again by helping her in any way he can. He all but melts into a puddle of goo when Hae-woo agrees to take him back. All is forgiven.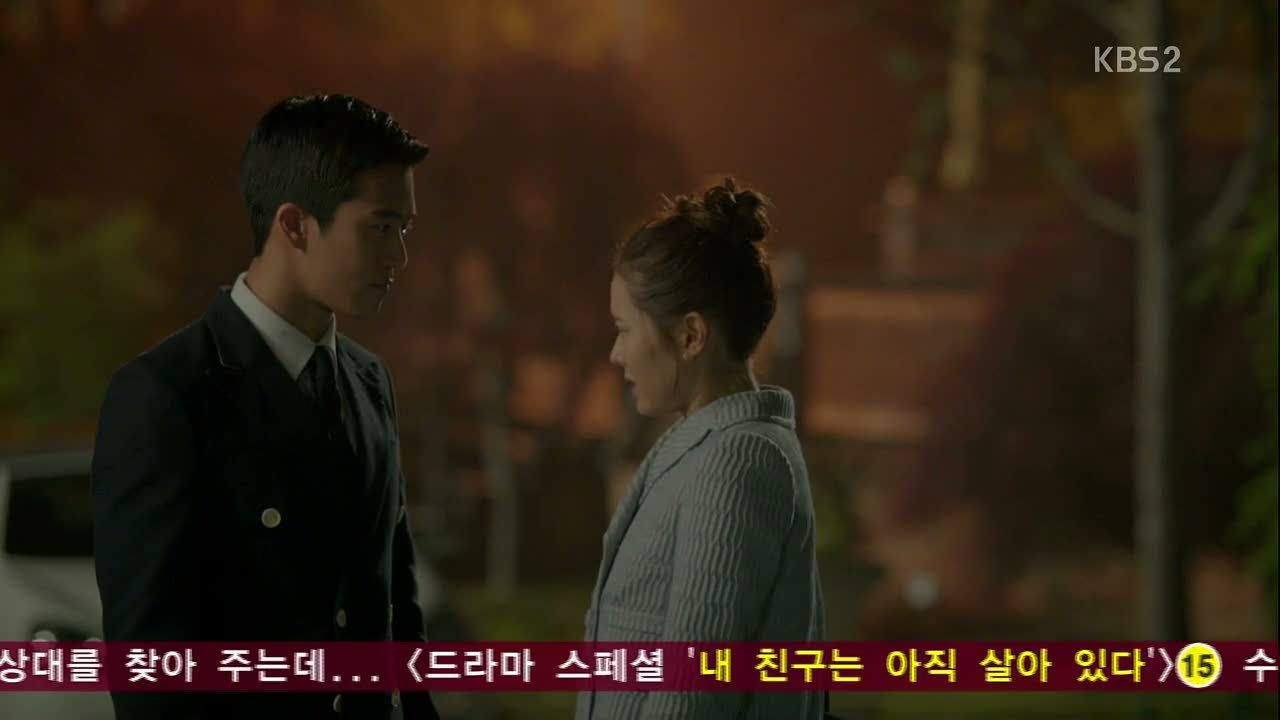 He leaves her with the mysterious package just as Joon-young arrives, ever-supportive as always. Hae-woo finds herself having to lie about having been at work rather than reveal the truth that she saw his father, though she ends up snapping at him when he jokes that his father should give her an easier job.
At least he guesses that it must be hard for her when his father probably knows about her father's involvement. At least he's sharp.
Yi-soo goes to his sister's coffee shop and stands right across from her at the counter. Oof, the look on his face. THERE'S the old Yi-soo, there's his gentlest of gazes.
He hesitates to place an order, just because ordering is the last thing on his mind—he's only there to see her. So his stuttering and lack of assuredness is actually endearing, even though he ends up buying way more than he needs.
After running into Detective Byun on the way out, Yi-soo awkwardly delivers all the drinks he bought to Secretary Jang, who invites him in despite his obvious misgivings about the whole situation.
She ignores a call from Junichiro while he's there, and though she's nothing but cordial by inviting him to stay for a meal, he looks for the first and easiest way out. At least he's not giving her mixed signals?
Seeing Yi-soo seems to have reminded Yi-hyun of her brother's voice, which she mentions aimlessly on the ride home with Daddy Detective Byun. He and Hae-woo are purposefully keeping her in the dark about the case, but she does suspect something when dad asks if she's received any weird messages lately.
Hae-woo declines the invitation to go to Japan for Junichiro's resort opening, and makes Daddy Jo extra angry when she has to remind him that she has no plans on succeeding his hotel empire. Grandpa Jo acts like the benevolent middle man (as always) and asks Hae-woo to go for his sake, which gives her no way out when Joon-young promises to convince her.
But, as it turns out, he was just trying to help her out and has no plans on forcing her to go. I'm at this weird stage with Joon-young where I can't help but be suspicious about how perfect he is. He promises to explain her stance to Grandpa Jo as he pulls her into a hug, advising her at the same time not to rush the case so she won't falter.
Hae-woo opens the mysterious package to find a locker key with the same number Yi-soo's father had, which leads to a locker at the same train station he stored the documents in. All the while Yi-soo clutches his metal shark and looks contemplative.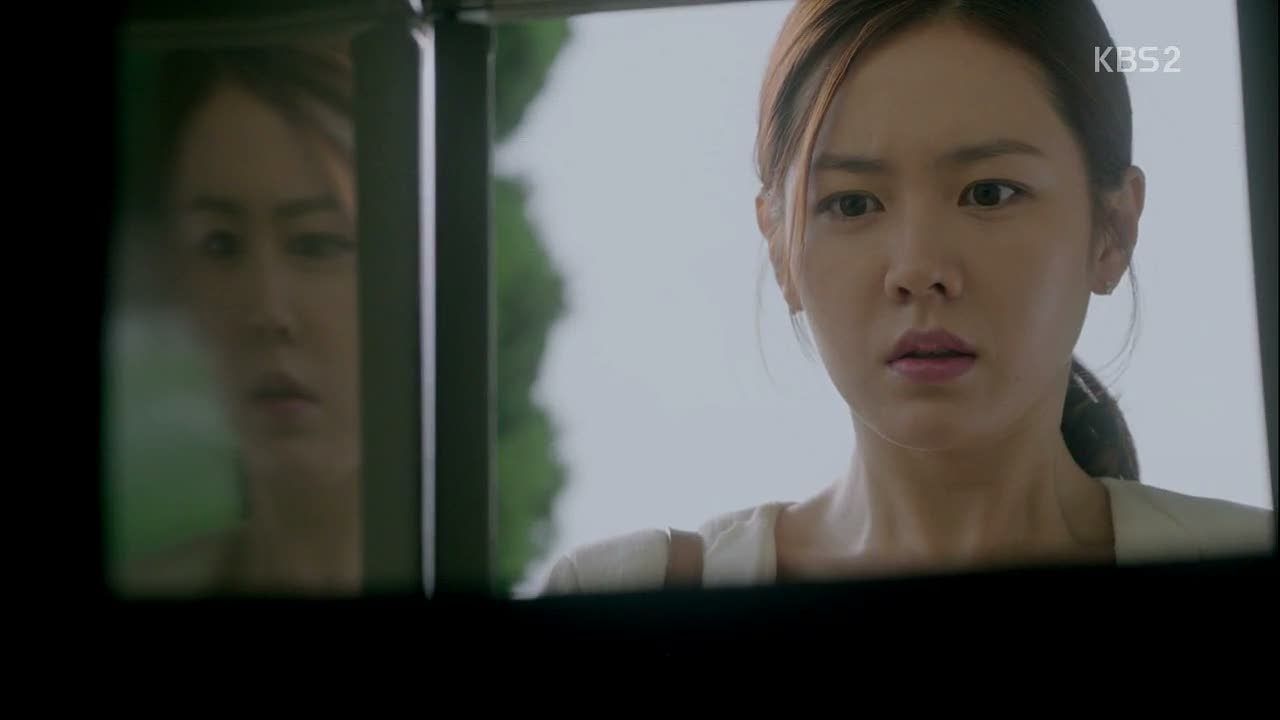 She opens the locker to find a photo of a rural village inside—another clue, another place she has to find. She sends it to Detective Byun and Soo-hyun, charging him with finding the place if he wants to prove he's sincere. He can only peg it as being somewhere in Japan.
Secretary Jang gives Dong-soo a parcel to deliver to Joon-young, only to be surprised when he reveals that he was friends with Joon-young, Hae-woo, and Yi-soo in high school. He's got starry eyes for Secretary Jang, that's for sure. (I know they're just barely hinting at this possible loveline, but it's already so adorable. Rooting for these two.)
She does stop him to ask whether he still sees Yi-soo. He nods his head, then points to his heart: "Yi-soo is here. He's in here." Aww. "Even though he's dead, he's alive and breathing in my heart."
But she seems shocked(?) to hear that Yi-soo is dead, or she's just fishing for more info. She guesses that Hae-woo and Yi-soo were close, only for Dong-soo to cut in that they were so close that they would've been married by now were he still alive. Ah, I wonder if Yi-soo kept his past with Hae-woo a secret, maybe that's why she's so curious.
Hae-woo hands the new clues over to Detective Byun, who finally releases some frustration over being led on a merry chase by someone they don't know. She's not as phased, and compares their mysterious puppet master to the North Star: "I don't know who he is, but he's guiding me. We won't know whether the final destination is heaven or hell until we go to the end."
"Whether it's heaven or hell, just remember that I'll always be by your side," Detective Byun says. Awwww.
Mrs. Park uses Yi-soo's business card (that she pilfered from Daddy Jo a couple episodes back) to call him out to ask, after much hesitation, whether their first meeting at the lake was a coincidence. Ruh roh.
Even though Yi-soo claims it was pure coincidence, Mrs. Park lists why it really can't be, considering the isolated location and the very specific date of Yi-soo's father's death anniversary. "Is there any chance that you know a person named Han Yi-soo?" she finally asks.
"Do you know him?" she repeats. Yi-soo is clearly nervous, but he hides it well as he chooses to answer that he does know Yi-soo… but that he's never met him. Sigh. What a fake-out.
Basically, he's just "heard" of Yi-soo from various people, but that's it. Mrs. Park heaves a sigh, since she'd clearly been holding onto the hope that Yi-soo was alive since they never found his body. It's clear that she really cares for Yi-soo, and though it's subtle, you can see his eyes filling with tears as she talks about the Yi-soo she knew fondly.
Hae-woo and her small task force (including Soo-hyun) work on tracking down the location of the Photo Clue, only to be interrupted when Joon-young delivers food for Hae-woo. And because he's so thoughtful, he even had food delivered to her two pals in the office. Gah. Why do I feel like his perfect-ness is bound to implode in a bad way? Stop making me paranoid, dramaland!
And then he takes her to a romantic nighttime picnic spot in the park? C'mon, that's not even fair. At least Hae-woo counts her blessings when she looks at him.
But it's only when Soo-hyun calls her with the location of the Photo Clue that she decides to join her husband on his trip to Okinawa. Why? Because that's where the photo was taken.
In Japan, Yi-soo stands outside the lavish residence Junichiro calls a home. We momentarily flash back to Young Yi-soo as he took his first steps into the home, but rejoin Adult Yi-soo just as he passes the threshold.
Junichiro greets him with a big hug, which Yi-soo doesn't seem all that into. He does most of the catching-up with Yi-soo and seems surprised that no one recognized that Kim Jun and Han Yi-soo are the same person. Yi-soo's not as surprised, because he made sure he became a totally different person.
His benefactor agrees while giving us some useful information, like how Yi-soo never spoke to Junichiro about his life before he was saved (which might explain why Secretary Jang was shocked to find out about his relationship with Hae-woo), and that he left the house for a whole month before he returned with new determination and a proclamation: "Han Yi-soo is dead."
Junichiro wants to keep going on about the past, but Yi-soo eventually cuts him off by saying that he's forgotten all about his former life and that he just wants to focus on the hotel. I don't think Junichiro buys his lie.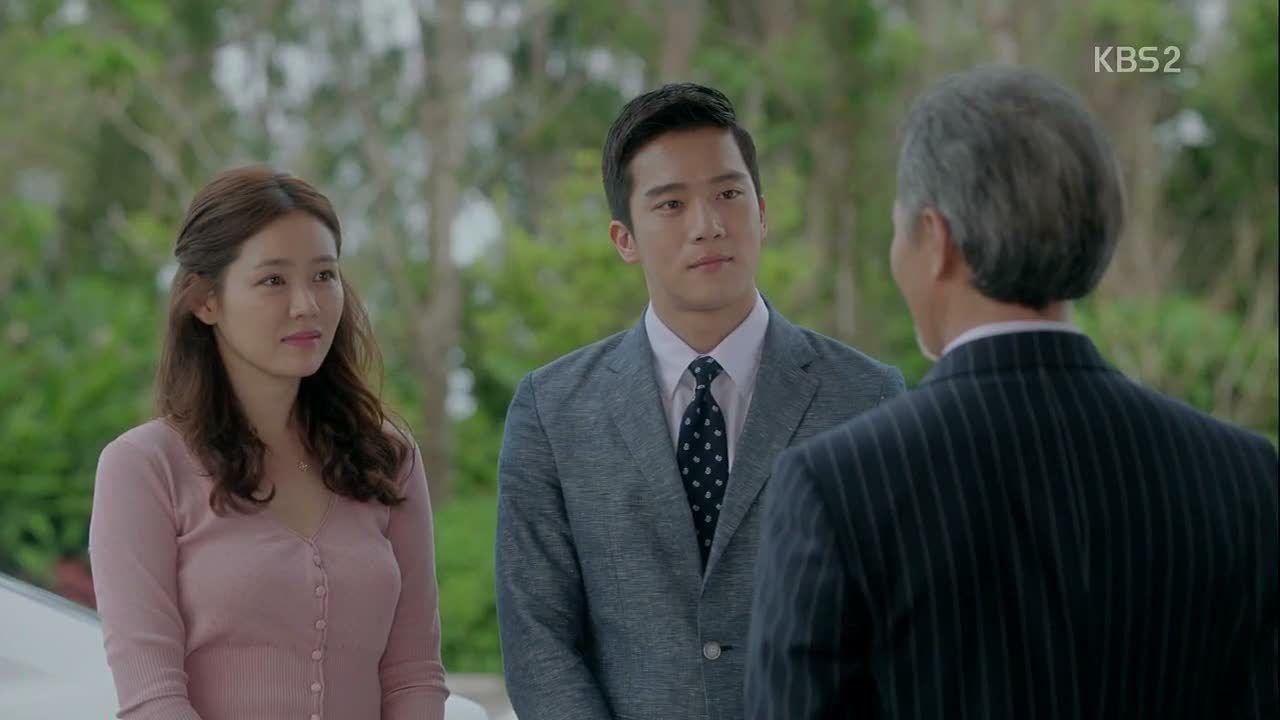 Hae-woo and Joon-young arrive in Okinawa for the opening and are greeted by Junichiro, who claims to recognize Hae-woo from twelve years prior even though she doesn't remember him. No matter, that's what gratuitous resort product placement is for.
Junichiro nabs Joon-young's attention by dangling an important resort CEO VVIP meeting in front of him, which means Joon-young won't get to join Hae-woo as she searches for the Photo Clue. Hmm. That's some oddly convenient timing.
Hae-woo convinces him that she'll be fine on her own, though she's taken by surprise when Yi-soo arrives outside. Once he finds out where she's going, he pretty much forces her to accept him as her driver—for safety purposes, of course.
Needless to say, she's not all that thrilled to be spending alone time with him, and the car ride is awkwardly silent. They don't even speak even as he follows her on foot through the rain only to supposedly leave her once she finds herself standing in the spot where the photo clue was taken.
Luckily, the man who owns the house in the photo is from Korea, so Hae-woo is able to talk freely with him… even though her reason for being there is as vague as it gets: I came from Korea to find why someone sent me this photo of your house. He invites her in.
Meanwhile, Yi-soo goes for a Very Meaningful Walk and holds his hand out to block the sun like Hae-woo did in their library so long ago. He seems to try to grab something… I want to say that he tries to grab some intangible sunlight, but that would just be silly… right? (Yes, it could be some deep metaphor. But then it could also be nothing.)
The old man tells Hae-woo that she's his second ever visitor, and that the first was a teenage boy who stayed for a short period around twelve years ago, one who never said a word while he was there.
According to the man, he was found on the side of the road babbling something-like-Korean, which is why the boy was brought to him. Hae-woo seems to know that this was Yi-soo, and asks if he had any scars that might have come from a car accident, to which the man says no. The boy had pain in his limbs, but no wounds he could see.
The boy's sleeping habits were bizarre until the one day he seemed to come to his senses, after which he threw himself into work. That's when the camera cuts to Yi-soo, so we know who the boy was.
Hae-woo barely suppresses her tears as the realization starts to hit her that Yi-soo could be very much alive, but she's still not sure. The old man tells her that he could tell that the boy suffered terrible grief that couldn't be spoken of: "That child's eyes were filled with despair."
He shows her the room where the boy stayed. On one wall is an enormous circle, hand-drawn with hundreds and hundreds of repetitive strokes. It's the same symbol Hae-woo saw on Detective Jung's body, and the same one painted on the wall in the Envelope Professor's apartment.
The boy only left one thing behind, which the man now hands to Hae-woo in an envelope. She pulls out the contents…
…It's the wooden shark pendant she made for Yi-soo. She crumples to the ground in an instant, sobbing as she holds undeniable proof that Yi-soo was alive, and he was right where she is now.
Now we return to the scene from the cold open, with Hae-woo stumbling numbly along that road. She doesn't see the real Yi-soo standing at the end of it and cries out the name of the boy she once loved.
"Yi-soo-ya… Yi-soo-ya… Yi-soo-ya…"
Yi-soo turns around.

COMMENTS
On paper, Yi-soo is a pretty interesting character. A morally upright and no-nonsense boy who had to suffer through the murder of his father only to be almost murdered himself, one who then gets a new face, a new name, a new life, and a new purpose to make the love of his life seek the truth at the cost of herself, her husband, and her family—that's all good stuff. We may not know the exact details of his face-switcheroo and of his twelve years spent in Japan, but we have enough to go on to figure out (roughly) what Yi-soo's probably thinking during any given scene.
The problem isn't that we have to fill in those blanks in the absence of dialogue, but that we have to keep doing so for almost every scene where Yi-soo isn't interacting with another warm body only for the net result to stay the same. It's literally beneficial to no one that Yi-soo is a walking paradigm of repressed human emotion. Here's why:
Since most of Yi-soo's life after the accident is kept vague, what we know as an audience—at the moment—is that Yi-soo had a breaking point during his recovery and chose to shed the bonds of being Han Yi-soo so he could become Kim Jun, Revenge Seeker. (Or Jun Yoshimura, whichever.) Fine. He also runs a hotel. Cool. We can deduce that he's the one leaving a trail of breadcrumbs for Hae-woo to find in order to reveal the truth.
And…?
What does he get to do between those scenes? What does he have to do? Nothing. So what does he get to do? Nothing. In his scenes alone, he gets to stare at an aquarium like it's a crystal ball, or stare at—(wait for it)—nothing. It's clear that he's either brooding or contemplating revenge or imagining Hae-woo as she finds his clues, but that's not enough to drive his solitary scenes forward. It's barely enough to drive his interactive scenes forward, because he's always holding back.
In order for a character to really feel real, you have to believe that they're doing something when they're not on screen. Something that feels organic to them, a decision that we'd nod our heads to if we were told about it later: "That's something he'd do for sure!" But because we're not being allowed to take the smaller steps with Yi-soo and only see a repeat of the larger ones, most of what I take away from what's shown is that he's a very unrealistic human being in his spare time.
He's supposed to be dead inside, and plays most scenes with a stern poker face. But in almost every single scene where he's supposed to be an emotionless robot, we can see those emotions he tries to suppress bubbling beneath the surface, usually emerging in the form of teary eyes. There are moments where this is played well, like every scene Yi-soo's had with his sister—those are scenes he manages to make moving with only a gaze. The problem is that when he's normally hiding the fact that he wants to cry in so many other scenes, there's not a delineation for his various levels of grief. He's either holding back tears, or he's not. Maybe he'll smile, and those smiles will feel precious. (And they do.)
But in constantly showing us that the real Yi-soo is stuck inside just waiting to burst out, it seems like the show is revealing where his arc will lead (the merging of his past and present selves, rebirth, redemption) while forgetting that they have to make the character he is in the meantime mean something. This doesn't apply to all his scenes and there's plenty of room for growth and change, so maybe all this just means that I'm really looking forward to seeing that change. It's not like he's a beached character whale with no hope of ever being returned to sea. There's plenty of hope and lots to go on—I'm just selfish. I want a little more.
The episode was good though.

RELATED POSTS
Tags: featured, Kim Nam-gil, Shark, Sohn Ye-jin