I Hear Your Voice: Episode 10
It's the first episode in a while that isn't a total heart-stopper, but maybe I should just be grateful for my nerves. Not that it's a reprieve from the heartbreak, mind you. Oh, there's still plenty of that. There are big reunions all around, and though we wish it were something other than a murder trial that brought them all together, the worst-case scenario really does come to pass. Now it's time to find out who'll come to the hero's rescue when he's vulnerable and alone, and at the end of his rope.
Ratings hit another high today at 19.7% (Queen's Classroom followed with 9.5% and Sword and Flower came in at 6.4%).

SONG OF THE DAY
Kim Yeon-ji – "In Two Eyes Two Cheeks and Heart" from the OST [ Download ]
Audio clip: Adobe Flash Player (version 9 or above) is required to play this audio clip. Download the latest version here. You also need to have JavaScript enabled in your browser.

EPISODE 10: "Why am I lost searching for painful memories"
Hye-sung races to the police station to see Su-ha for the first time in over a year. Coming to get him at the precinct—some things never change. She runs inside and calls his name, and he looks at her curiously as she checks him for wounds and rattles off worried questions.
Su-ha: "Park Su-ha? Is that my name? Do you know me?"
Oh, hello there, ton of bricks. Nice to see you.
After the wave of initial shock at the fact that Su-ha doesn't remember her, Hye-sung takes up arguing with the detective that Su-ha is no killer, while the detective says he admitted to the fact that he could have killed someone, because he doesn't remember. Dude, seriously, that's what you're going with?
As he sits silently and watches Hye-sung fight for him, Su-ha thinks to himself: "I'm sorry but I don't remember that person. Even though she's fighting so hard for me, that voice, those eyes… I don't remember them. From what they're saying, I must've killed someone a year ago…"
His eyes start to show panic—is this who he is? The cop says there are plenty of signs that point to premeditated murder, like the fact that Su-ha went after the victim a week before his death with a knife. Don't you people have to find the rest of the body before you call it murder? Su-ha thinks: "I don't want to recover my memory. I don't want to know that I'm that cruel a person."
But then Hye-sung rages right back that Su-ha is a first-rate student who could have his pick of colleges, a kid who saves other people, and throws himself into harm's way to protect others. "And he promised! He promised me he would never kill anyone. He keeps his promises. He keeps promises he made ten years ago!!"
He looks over at her and thinks: "But then… I'm curious too… about the me that she's defending so earnestly… what kind of person was I?"
They're moved into a visitation room with a plexi-glass wall between them, and Hye-sung thinks at him, asking where he's been for a year. "You can read my thoughts, right? Answer me." Nothing. Dammit.
She finally says aloud, "Can't you hear what I'm thinking?" He looks curiously at her and she sighs, "You've lost your powers too?" She decides not to explain, and thinks to herself that maybe this is better and the world has gotten quieter for him now.
He asks how old he is, and when she says twenty, he's surprised that he's younger than he looks. Ha. She agrees that his face is rough around the edges for twenty. The sudden formal jondaemal makes her feel awkward, and she points it out.
He's pretty shocked that he used banmal with a lawyer, and she says he never ONCE used jondae with her, from beginning to end. He hangs his head: "I must be a rude kid with no manners." Hahahaha. I know the circumstances are dire, but this conversation is cracking me up.
He says meekly that he might be a bad person after all. She asks if he has a scar on his shoulder. "You got that while protecting me." He wonders why. She blurts, "Why? Because you're a good person, that's why!"
She slams her hand on the glass and orders him not to ever say that he's a bad person or that he might've killed someone because it can all be used against him. She goes into fixer mode and plans to bring him fresh clothes so that he makes a good impression, and tells him to brace himself for the things ahead.
He's going to face a crime scene reenactment, and she tells him to just do exactly as she says. She stays up late to prepare herself with the details of the case, and then in the morning, she breaks her one-year silent treatment of Lawyer Shin and butters him up with iced tea.
She requests to be put on Su-ha's case, and he doesn't seem interested in helping her, until she pleads: "No one else knows Park Su-ha as well as I do, and no one else will believe in him like I do." Awww. He complies gruffly, but smiles to himself to see that spark back in Hye-sung.
So when Su-ha is put in the police van to go back to the crime scene, Hye-sung shoves her way in too, declaring that she's his lawyer. The detectives all gape, "Are all public defenders like this now?"
She puts a mask on Su-ha's face and takes off her jacket to cover his handcuffs, and tells him to answer everything with, "I don't remember." Once they arrive, it's a brutal frenzy of reporters and detectives, all screaming and barking orders and accusations. His fear is palpable.
The detectives put a prop knife in his hand and make him stab at the stand-in for the victim, asking horrible questions assuming he's guilty. Augh, it's terrifying. But Hye-sung fights through the crowd to stick to his side the whole time, and blocks them from trying to unmask him. She protects him fiercely through it all.
As this goes on, we see it on television as we catch up to Su-ha's classmates. Sung-bin now works in a nail shop, and Choong-ki is a car mechanic, and of course Kwan-woo is still at his parents' jjimjilbang. All three stop cold at the news report, and Sung-bin starts to cry.
At the office, Pretty the Paralegal is impressed with Hye-sung's devotion to the case, which he's never seen before. Lawyer Shin is reminded of a time when he fought so relentlessly, and a flashback shows us that it was Hwang Dal-joong's case—his friend now in prison, who was put away by Do-yeon's father.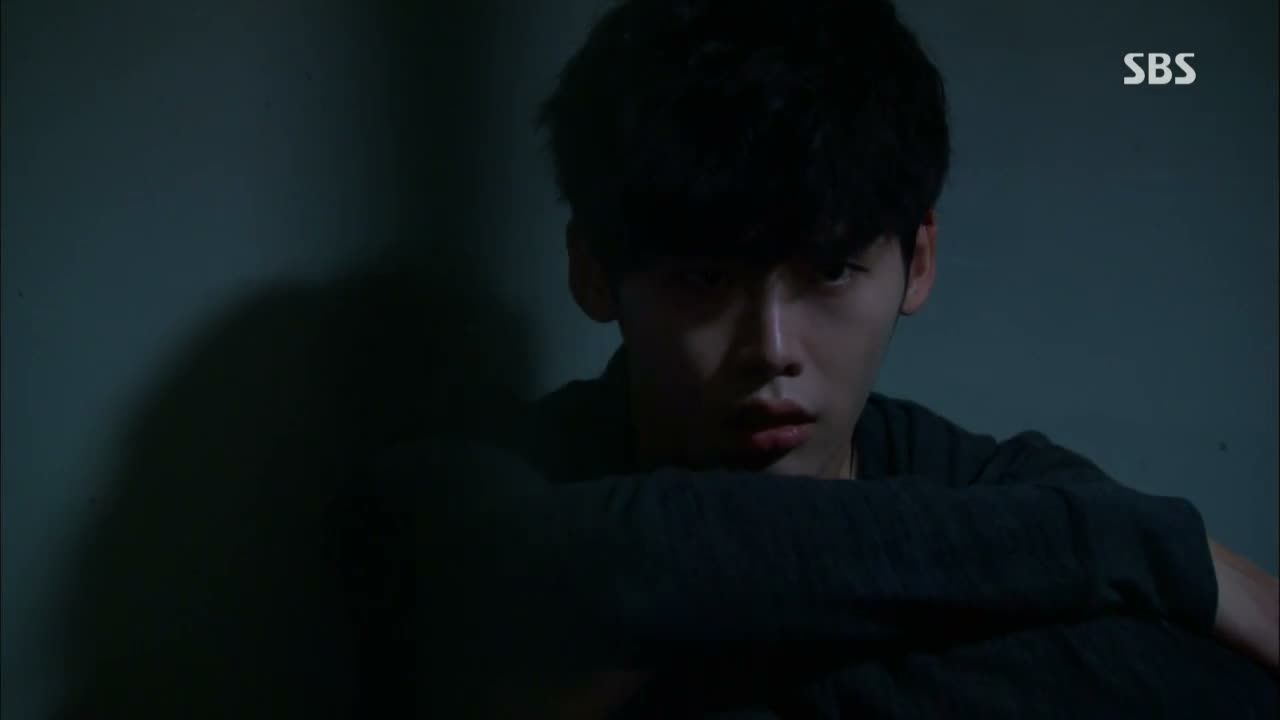 Su-ha sits in his holding cell in the dark, flashes of today's events going by and shaking him to his core. He huddles in the corner and feels the scar on his back as if to remind himself of Hye-sung's words, and then wonders: "What kind of person am I?"
Do-yeon comes by the office to show Hye-sung all the evidence that's stacked up against Su-ha. She says she feels indebted to Hye-sung because of her loss in Min Joon-gook's case, and says she understands why Su-ha would have killed him. She offers up a deal—the best she can do in this circumstance—for a 10-year sentence if he pleads guilty.
She means it sincerely when she says this is a good deal, when the alternative is 20 to life and there's so much evidence against him. Hye-sung knows she's serious, and says she'll think about it.
Pretty the Paralegal goes hiking with Kwan-woo, which is clearly not his idea of a good time. But he uses the opportunity to tell Kwan-woo about Su-ha's case (in hilariously incoherent gasps which Kwan-woo deciphers in perfect synchronicity, ha). When Kwan-woo wonders if he can get a copy of the case files, he busts them out of his backpack, already prepared. Cute.
Hye-sung headdesks all day over Do-yeon's plea bargain, crying that she's always coming around with some new torment cooked up just for her. Lawyer Shin digs up a giant stack of case files and tells her they're for Hwang Dal-joong's case, which was very similar to Su-ha's in that he didn't remember the night of the murder.
He says that he didn't take the plea bargain and Dal-joong is spending his twenty-sixth year in prison. But his point is that whichever way she decides to go, this old case will prove to be a good learning tool. She asks if he could go back twenty-six years, would he plead guilty? We don't get to hear his answer.
Hye-sung goes to see Su-ha, and tells him about the deal. He understands, and asks what he should do. She says they're going to plead not guilty. He says okay. And then immediately she changes her mind—they're going to plead guilty, because he could spend the rest of his life in jail. He says okay again.
She yells at him to think before answering, but he says she knows him better than he knows himself, so he'll let her decide. Whatever it is she chooses, he'll go with that and take responsibility.
The blind faith is appalling, even coming from him, and she asks if he knows what she is. He answers that she's a public defender, and that he gets the general feeling of what that is. "When no one else will take my side, you're the one who will." Awwwwww. I… have something in my eye.
She's shocked by his words, and he asks if he's wrong. She says he's right, but it's the part that he doesn't know that kills me—that she IS that person, but only for him and him alone.
She thinks back to her conversation with Lawyer Shin, and this time we hear his answer—he's asked himself the same question a million times for the last twenty-six years, but every time his answer is the same. He'd still plead not guilty.
She tells Su-ha that they're going to plead not guilty, and he nods. He still doesn't remember anything yet and apologizes for it, but she just holds his hand and says it's okay. I love the moment when he looks down at her hand—she thinks nothing of it because that's normal between them, but he's discovering it for the first time.
She goes for a spin in her revolving door, wondering if she did the right thing and if she can win this, and when she comes around, there's Kwan-woo smiling back at her. He's back in his spiffy suits, though I wish he'd keep the glasses. Is it too much to ask for one remnant of his grand dorkiness?
He greets her warmly, though she's still a little distant with him. He suggests a trial by jury for Su-ha's case, because a jury is more prone to being swayed and Su-ha is young and a first-time offender. She agrees it's a smart play.
He says that she'll need another defense lawyer then, and asks to join the team. He says he's been living in a hell for the past year, but that he still wants to believe in the law.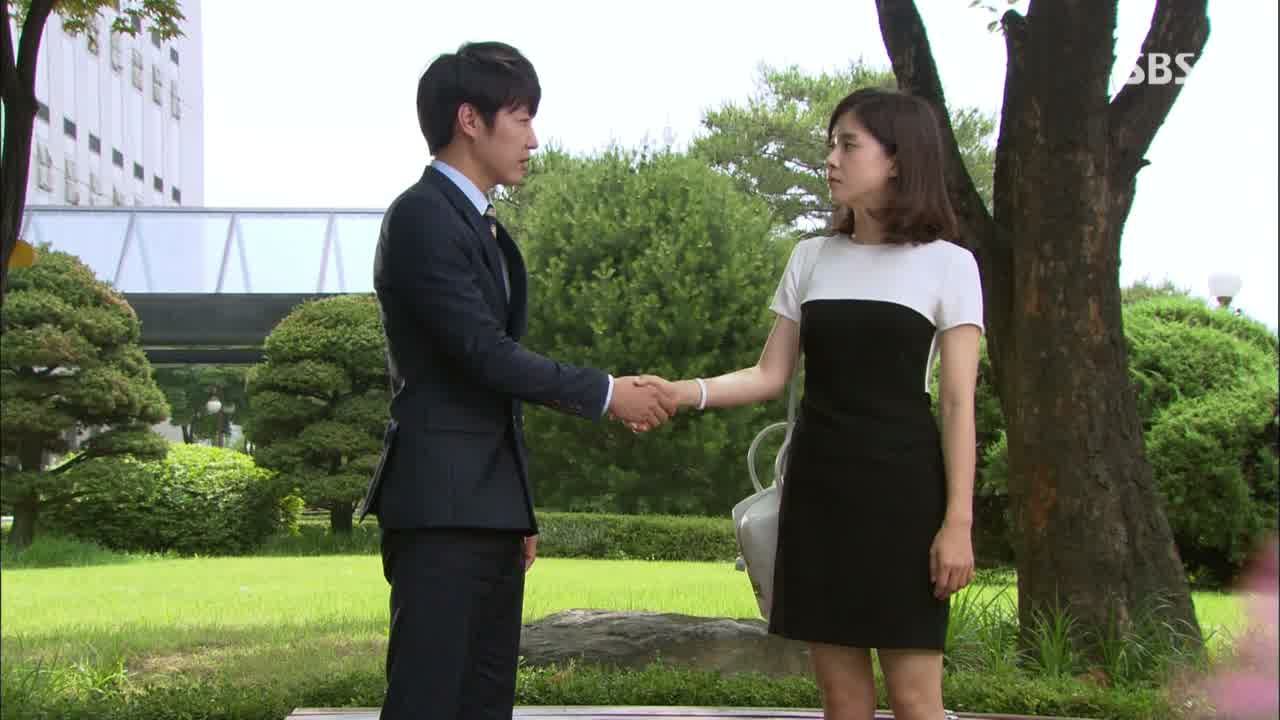 She agrees right away to let him join the case, but makes it clear that she doesn't care what his beliefs are or what the law is or isn't: what she needs is somebody with the skill to get an acquittal for a guilty man. Dayum. She speaks the truth but it is brutal.
The meaning isn't lost on him, but he thanks her for letting him help, and she offers up a handshake. He takes it, and notes that it took a year to reach this hand.
Choong-ki goes to visit Su-ha in jail, and struggles with the "relationship" blank on the visitor's form, finally landing on "friend." Yay. He tells Su-ha to cut out the jondae, saying they're classmates, even joking that the prison uniform is fitting for him.
He's here to deliver Su-ha's journal, so that it might help him recover his memory. The guard says he's not allowed to give Su-ha anything, so if he wants to read it, Choong-ki will have to read it to him in little bits each day.
Choong-ki gets nauseated at the thought (he already read some of it and calls it disgustingly touchy-feely) and gets up to leave. But Su-ha calls out to him desperately to ask if he'll stay, so Choong-ki sits back down and starts to read.
He starts reading the first entry from the third grade in this hilariously deadpan tone, all while inserting his own commentary. I luff this. So much.
Meanwhile, Kwan-woo gets reinstated on a temporary basis just for Su-ha's case, and Pretty the Paralegal actually does a movie-slo-mo run at him with open arms when he returns. Hee. Sadly for him, Kwan-woo is more interested in getting to work and dodges him. Throw the sidekick a bone, man. Would a running hug kill you?
Sung-bin goes to visit Su-ha, but gets turned away for the umpteenth time because of the rule that he can only have one visitor a day. Turns out it's because Choong-ki's been here every day to read more from the journal.
He reads an entry where Su-ha talks about wanting to go to the aquarium with this mystery noona that he keeps writing to in the journal, and laughs calling him a kid. But the mention actually brings back a real memory—just a flash of Hye-sung's face at the aquarium. Su-ha urges him to continue.
He writes in the next entry that it's the day of his father's memorial, and that he always thinks of her especially on that day. He says that she came to the courtroom to rescue him when he was so frustrated and scared that he couldn't breathe—she made it so that he could breathe again.
Choong-ki asks if this woman he keeps writing to is one woman—the same one over ten freaking years. Su-ha nods, agreeing that it is. I love that they're deciphering it together. Choong-ki thinks it's that lawyer noona, and Su-ha agrees, but he can't remember.
Sung-bin waits outside until Choong-ki comes out to give him a kick in the shins and piece of her mind for taking up all of Su-ha's visitor time when they're not even that close. He tells her to give up already, knowing what he does now about Su-ha's devotion to Hye-sung, and says he'll never come around.
Sung-bin bursts into tears and screams that she knows it too, and runs off crying. Choong-ki feels like an ass and goes after, which hey, is slight progress since high school, though you're still kind of pulling on her pigtails to show that you like her.
Hye-sung is back for another consult, and there's a sticking point that I hope they uncover in the trial—the last thing Su-ha remembers is waking up in that grandpa's house, and the man said he was a relative, which is a flat-out lie.
Su-ha asks why she's working so hard—are all public defenders like this, or is he special to her? She pauses, and then answers, "Yes, you are special to me." But she clarifies that it's because Min Joon-gook killed his father and her mother, and used the law to go free and turn Su-ha into a killer.
She's fighting tooth and nail because she needs to win this case—otherwise she'll stop believing in the law altogether and have to quit her job. So yes, he's special to her.
He asks what about her, to him? Was she special to him? Did he like her? She hesitates, remembering the kiss. He waits expectantly for her answer, but she says (without making eye contact) that he dislikes her, actually.
He says it sounds like a lie, but she insists it isn't, and that's what she hopes is the truth anyway. Augh, don't say things like that. That's gonna hurt later.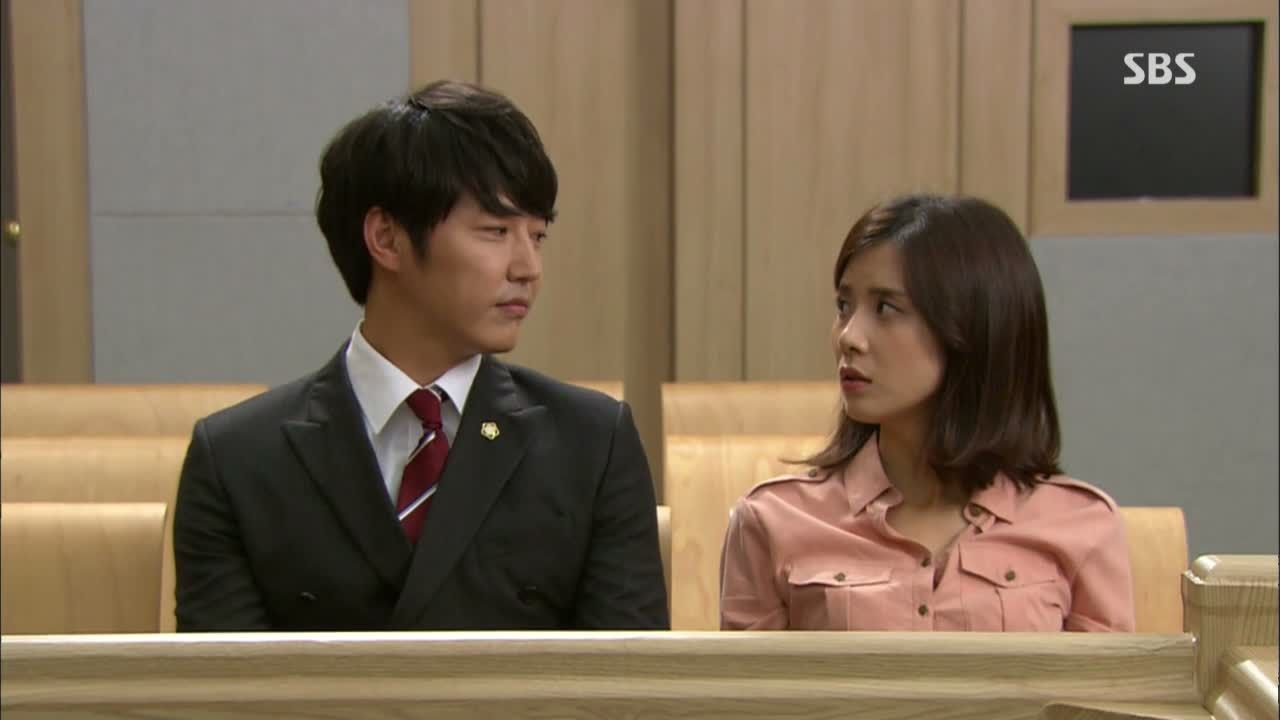 Kwan-woo finds her sitting in an empty courtroom the day before the trial, and he admits that he's nervous too because Su-ha's future rides on their every word.
He tells her he's going to win this case no matter what, and that once he does, he's going to ask her again if she'll be with him. She starts to answer, but he tells her that he hasn't asked yet, so she can't answer.
Trial day rolls around and each side prepares for the big day. Pretty the Paralegal hands Hye-sung her scales of justice pin, saying that he's been saving it for her for a year. She puts it back on.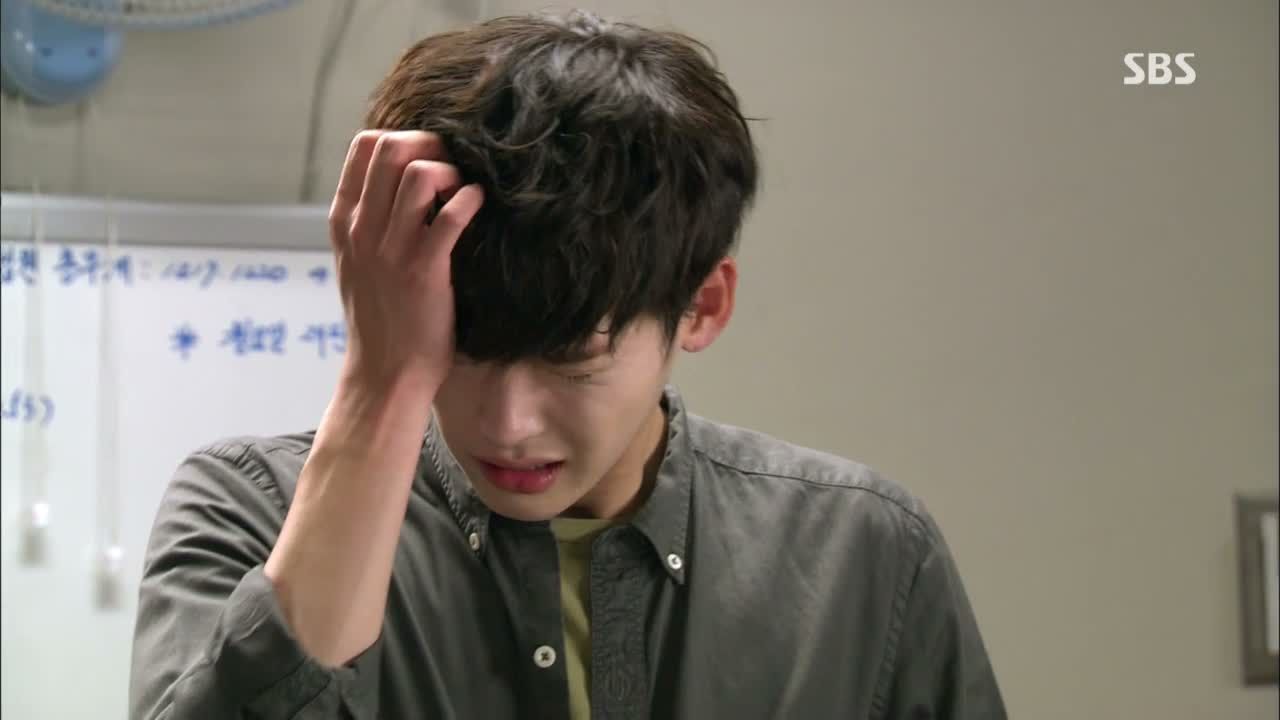 Su-ha puts on the plain clothes that Hye-sung gave him for the trial, and then suddenly grabs his head. A searing pain brings back another memory: Su-ha and Min Joon-gook, standing by a river. It's late at night, and Joon-gook cries. Craaaaap.
Su-ha doesn't know what it means, but it freaks him out, and he's a ball of nerves when he enters the courtroom. Hye-sung smiles at him and it calms him down, and she thinks to herself, of all the times for him not to have his powers…
The prosecution starts, and as Do-yeon describes the crime, Su-ha starts to have another flash of the crime scene. This time we see Min Joon-gook wince in pain, and Su-ha stagger backwards in shock. Bloody hell.
He starts to panic, and then the judge asks how he pleads. He freezes up, and looks over at Hye-sung who nods to urge him along. So he says not guilty, as they rehearsed… but he doesn't look convinced that it's the truth.
As the battle goes back and forth between the defense and the prosecution, we see each side discussing their tactics beforehand. It's not strictly necessary, but it does reiterate the motivation behind each move. Not that anyone could be confused by your Sesame Street Law, but whatever.
The prosecution goes for violent imagery to make an impact, like Su-ha's attack on Min Joon-gook caught on camera, or the severed hand. The defense in turn shows a video of Kwan-woo at a butcher shop, hacking a giant hunk of meat to pieces using the same-sized knife found at the scene. It took him seven hours to cut up the body, well outside the time frame.
The defense knows it's a long shot to find another suspect, but their goal is to provide reasonable doubt, and they suggest two possible suspects—the owner of the fishing dock where the crime took place, and the grandpa who lied and took Su-ha in.
Do-yeon pokes a hole in that right away though, given that both men are too small in frame to have committed the crime. Kwan-woo decides this isn't going their way and hurries to request a recess to break the prosecution's rhythm.
The defense team struggles with what to do next, quickly running out of options. Kwan-woo has sent the paralegal to hunt down the person who called to turn Su-ha in, thinking it suspicious that someone who lives so far away in another town could have happened to know exactly where Su-ha was living.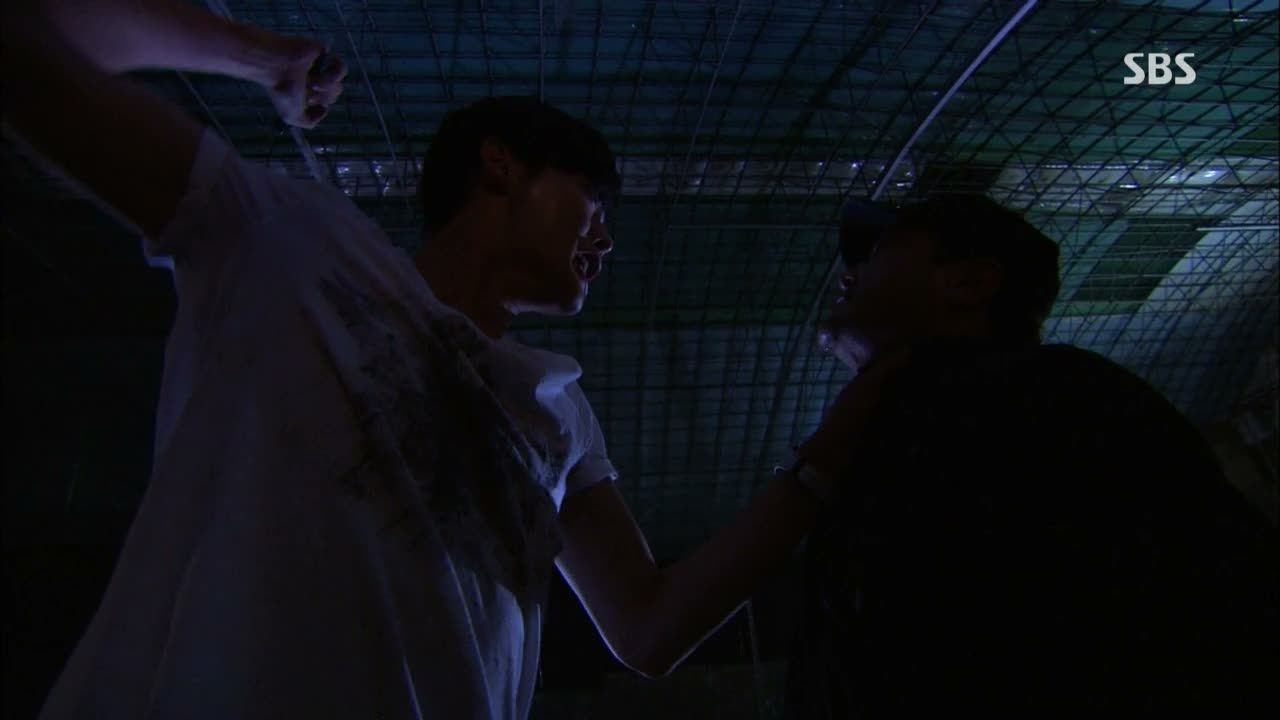 But when he gets there he finds that it's just an ajumma who runs a fruit stand, and not so much a possible killer. What, like she couldn't have been tipped off by a third party? And the reason we're doing this on the day of the trial is?
As Su-ha sits and waits for the trial to reconvene, he has another flash of that night: he's choking Min Joon-gook, and then he raises his fist to strike him… This is looking bad.
Hye-sung wonders if they need to just cut their losses and plead guilty now, and starts to get desperate that there isn't any other way to plant a seed of doubt. There aren't any other suspects, and Laywer Shin sighs that this is just like Hwang Dal-joong's case. "The Left Hand Murder Case."
Both Hye-sung and Kwan-woo repeat his words, and they share a eureka are-you-thinking-what-I'm-thinking moment. OH. That took me a minute, but are they thinking that Min Joon-gook could've staged a copycat murder having learned of the case when he shared a cell with Dal-joong? That's smart.
The trial reconvenes and when Hye-sung sees how nervous Su-ha is, she clasps his hand. He looks over at her in surprise and she smiles back at him reassuringly, squeezing his hand.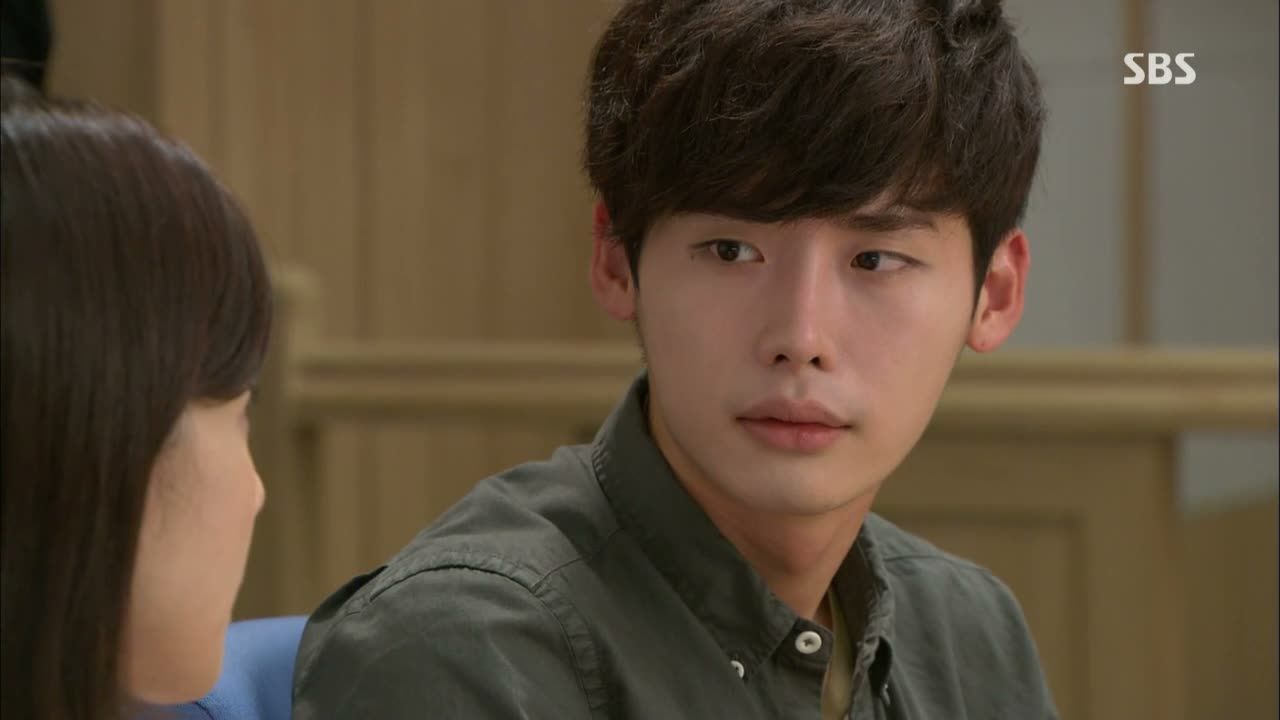 She gets up to say that there is one possibility that they've left out—a suspect who was present at the scene of the crime, had opportunity, and motive. Min Joon-gook. The judge points out the absurdity of fingering the murder victim as a suspect, to which she says:
"The defense contends that Min Joon-gook is still alive."
Well, DUH.

COMMENTS
Well I guess one lackluster ending in ten episodes isn't the worst track record in the world. But that was a pretty obvious thing to end on, especially when you could've saved Su-ha's flashback for the cliffhanger to make us doubt his innocence. I haven't nitpicked too harshly when it came to the lawyering on this show because it's mostly just a platform for character growth and an exploration of moral quandaries, not a tutorial on the legal system. And obviously TV law is going to be about as complex and accurate as, well, TV medicine, but this show sometimes takes the cake for skipping the obvious steps of investigation—more the realm of cops, sure, but if your universe has cops and medical examiners and people testing DNA, then don't you also have a Bones who can tell you whether or not a hand was cut off a corpse or a living, walking, talking killer? And wouldn't the first thing you'd want to argue be that the so-called murder victim was never found dead?
I think the particulars of the case are interesting, and we're emotionally invested because it's Su-ha, but we either need to spend less time on the case or do a better job with the forensic particulars if we're going to give it this much screen time. The way the trials are written, it always makes the lawyers look like they're scrambling for last-minute ideas, which I get for the purposes of narrative surprise, but you also want to put more faith in the main characters' skill set. I want to trust that you're going to win because you're good, not because you got lucky, and right now you're leaving me somewhere in hope-and-pray-land.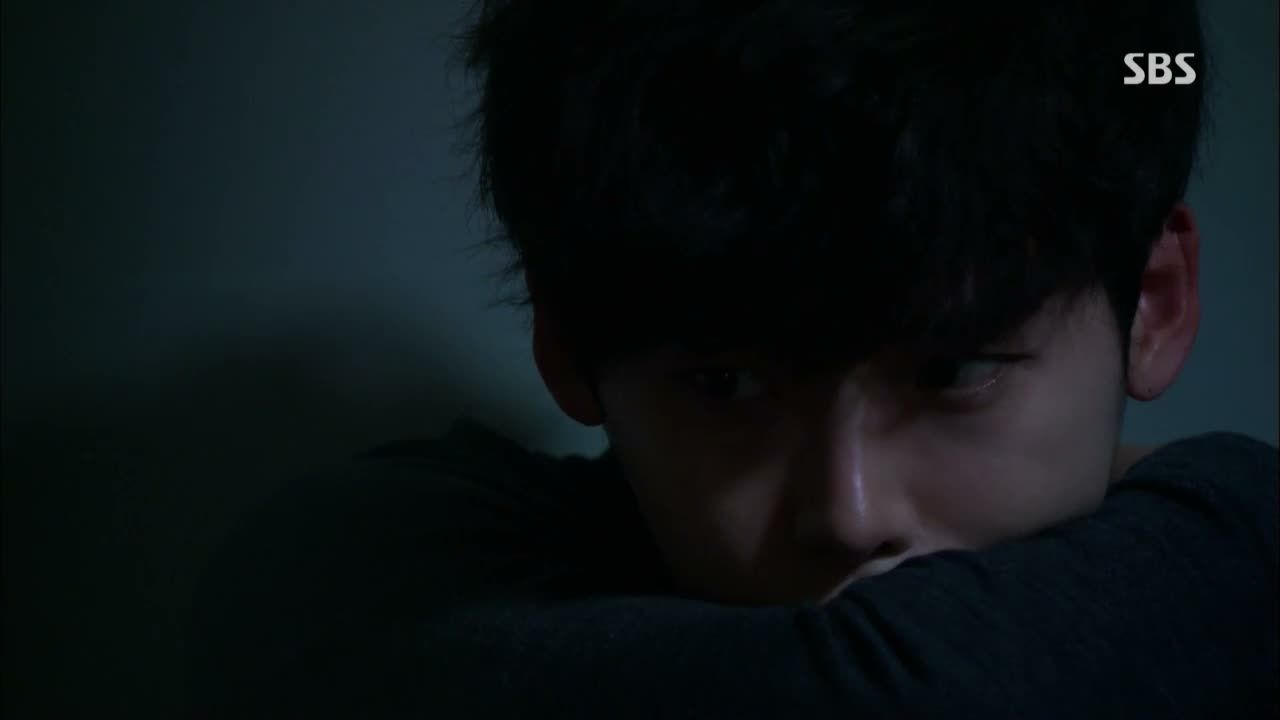 The one thing that keeps it interesting is Su-ha's vulnerability (so stirring) and his fragmented memory, which is done really well. The memories come back at the worst times, and in pieces that look fairly damning, even to us. I still don't believe in my heart that he's a killer, but it's kind of amazing that he's in a situation where he believes himself to be guilty with every recovered memory. That's a great conflict, especially when he's desperately trying to figure out which person he is, and hoping against hope that he's the Su-ha in Hye-sung's eyes, and not the rest of the world's.
And that I think makes the amnesiac arc worth it (I admit begrudgingly), though I really don't want it to outlast its usefulness. There are things we gain, like his rediscovery of his past self with Choong-ki (so cute), or the personal struggle to know what kind of person he was. I love that she's his tether to the good Park Su-ha, despite everything else pointing to the worst. And that's the setup that gets me—that he was the one who believed in her when no one else did, and now she's doing the same for him.
Not having his powers along with that is the kicker, because it makes him vulnerable in a way we've never seen, where he has to ask for the truth, decipher lies for himself, and take people's words at face value. Hye-sung can lie to him now, which is a huge reversal in their relationship, where she was always forced to be honest with him by default, and he got to lie whenever it suited him. Now he really has to go by faith alone, and what's great is that he still trusts her blindly anyway, almost to a fault. I like that in the new dynamic there's more confusion and searching for clues too, and that Hye-sung communicates through touch what she can't through her thoughts anymore. I love that constant thread with them—that no matter if he has a superpower or not, their connection is through something other than words.

RELATED POSTS
Tags: featured, I Hear Your Voice, Lee Bo-young, Lee Jong-seok, Yoon Sang-hyun