I Hear Your Voice: Episode 15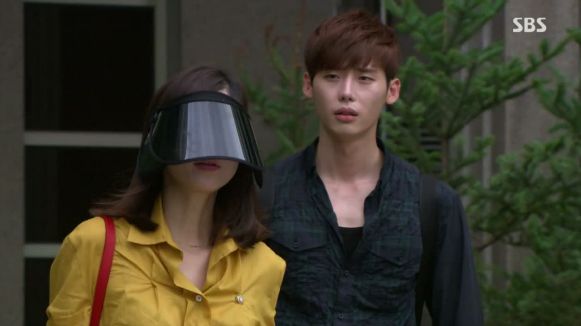 It's kind of funny, but today the second lead gets between our couple… just not in the way you'd think. Everyone has to choose a side today—Su-ha between two frenemies and Do-yeon between two fathers—and Su-ha finds that he identifies with Do-yeon in more ways than one. One guess as to how much Hye-sung likes that.

SONG OF THE DAY
커피소년 (Coffee Boy) – "내가 니편이 되어줄게 (I'll Be On Your Side)" [ Download ]
Audio clip: Adobe Flash Player (version 9 or above) is required to play this audio clip. Download the latest version here. You also need to have JavaScript enabled in your browser.

EPISODE 15: "I don't ruin anything"
Hye-sung drops the bomb right in Do-yeon's lap: she's adopted, and her biological father is none other than Hwang Dal-joong, the man she's trying to put away for attempted murder.
Do-yeon refuses to believe it, and says defiantly that Judge Seo is her father. She calls Hye-sung a liar and kicks her out, even as Hye-sung apologizes and pleads with her to listen to the truth. Easier said than done.
Cut to: Hye-sung at home, smarting from a slap. Ha. Okay, if that had happened onscreen I'd be madder, but the cut makes it funny. Su-ha fills an ice pack and holds it to her cheek with a grimace, and demands to know where Do-yeon lives.
Hye-sung: "Why, so you can try to convince her to listen?" Su-ha: "No, so I can reprimand her." Hee. He gets all huffy and insists she bring him along the next time she meets Do-yeon, and Hye-sung just looks over at him for a long moment.
"You're just like Mom." She says that's how Mom always reacted when she came home after a fight—broomstick in hand, sputtering about, demanding to know where the other kid lived. Of course, because she was awesome.
She asks what his mom was like, and Su-ha freezes up at the question. She wonders if it was too invasive to ask, and he says it is, without elaborating.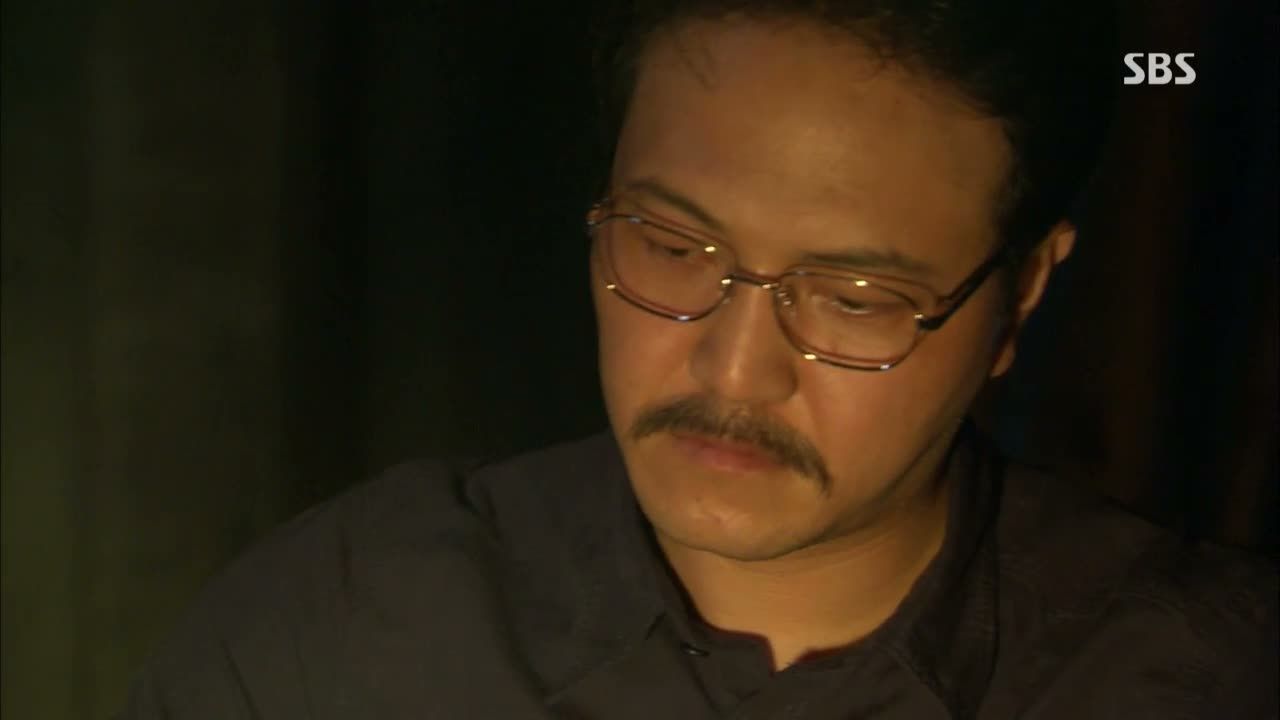 The detectives on watch take turns napping down in the car, and start to get grumpy about how long Min Joon-gook is taking to show himself. They sigh that he should just hurry it up.
Speak of the devil. It looks like Min Joon-gook has been living in a corner of an abandoned warehouse, at least for some time based on the mound of food wrappers nearby. He folds a mystery letter in a mystery envelope.
Do-yeon can't get over the suspicion that Hye-sung might actually be telling the truth, and she starts to see her father's coldness toward her in a new light. She casually tells her father that Hye-sung came by with the ridiculous story that she's Hwang Dal-joong's daughter, and requested a DNA test.
Judge Seo panics and asks if she agreed to take the test. Do-yeon stops cold at the words, admitting that what she expected was for Dad to call the accusation ridiculous and demand that she bring Hye-sung here to apologize. "Isn't that what dads do?" Ouch.
She walks out, and he realizes he just gave her the answer to the question. She curls up with her head in Mom's lap like a little girl and just asks to stay this way for a little while, as tears fall.
Su-ha offers to go talk to Do-yeon to see if he can mind-read anything that would help Hye-sung convince her to take the DNA test. He picks up his mail on their way out to work, and gets a mystery letter…
Inside is a copy of an old newspaper article with the headline, "Legendary 100% Success Rate in Heart Transplants." And highlighted is the byline: Reporter Park Joo-hyuk. Eep, so Dad was a reporter. Su-ha's eyes widen, and he conspicuously hides the letter from Hye-sung, saying it's nothing.
And then in the office, both Hye-sung and Kwan-woo get copies of the exact same story in the mail. She thinks nothing of it, while Kwan-woo knows exactly what this is. He surreptitiously takes her copy away before she can give it a second glance, and brings both copies down to the detectives.
He only hands over the envelopes, saying that he has a hunch they were sent by Min Joon-gook. It's very little to go on so the cop obviously has lots of questions, but Kwan-woo just uses his best pweeeze, hyung, for meeeeee aegyo, and Cop Hyung agrees to investigate just to make him stop.
Hye-sung asks Su-ha about his high school equivalency exam score, and gapes at his 98 percent. He didn't think much of it until her reaction, and asks what she scored. She races to shut her eyes, but he catches her thinking 84. She blusters that standards were way tougher back then, heh.
Do-yeon arrives just as Su-ha is leaving, and he decides to follow her into the office. It cracks me up that the first thing Hye-sung does at the sight of her is cover her cheeks just in case she gets slapped again.
Pretty the Paralegal is the only one who's dying of curiosity over the frenemy encounter, and Lawyer Shin has to drag him away. Do-yeon asks where Hye-sung heard her version of the story, and says that even on the tiniest sliver of a chance that she's right, her only father is Judge Seo and he did nothing wrong.
Hye-sung doesn't give up her source, since she can't exactly explain that Su-ha heard her father thinking it, but she does convey the story—that her father wasn't to blame for the trial itself, but when faced with the truth after the fact, he chose to take the deal and cover it up. And the deal in exchange for silence was to raise Do-yeon.
From outside, Su-ha hears voices being raised, and another slap. He races inside to find Hye-sung clutching her other cheek, and grabs Do-yeon's arm to yell at her.
But in that split second he hears her thoughts: "Father, father, please tell me it isn't true. Father." It immediately makes him empathize with her, as we see him in flashback running as he thought the same: "Please tell me it isn't true, Father."
He lets go, and stops Hye-sung from chasing her down. She insists there isn't time and they have to convince her to listen, but Su-ha is firm with her: "Go slow. It must feel like her world just crumbled. She just found out the sins of the father she trusted for twenty years. Give her time."
She starts to resent him for taking Do-yeon's side, and trying to cover up the truth (if you only knew how many ways that statement applied). He pleads sincerely, as if for himself as much as Do-yeon: "I'm not trying to cover up the truth. I'm asking you to look at the person—the person—first."
Do-yeon leaves the meeting cursing at Hye-sung for being an awful girl, and then remembers how she used the hope of Hwang Dal-joong seeing his daughter as bait to get him to give false testimony against Min Joon-gook.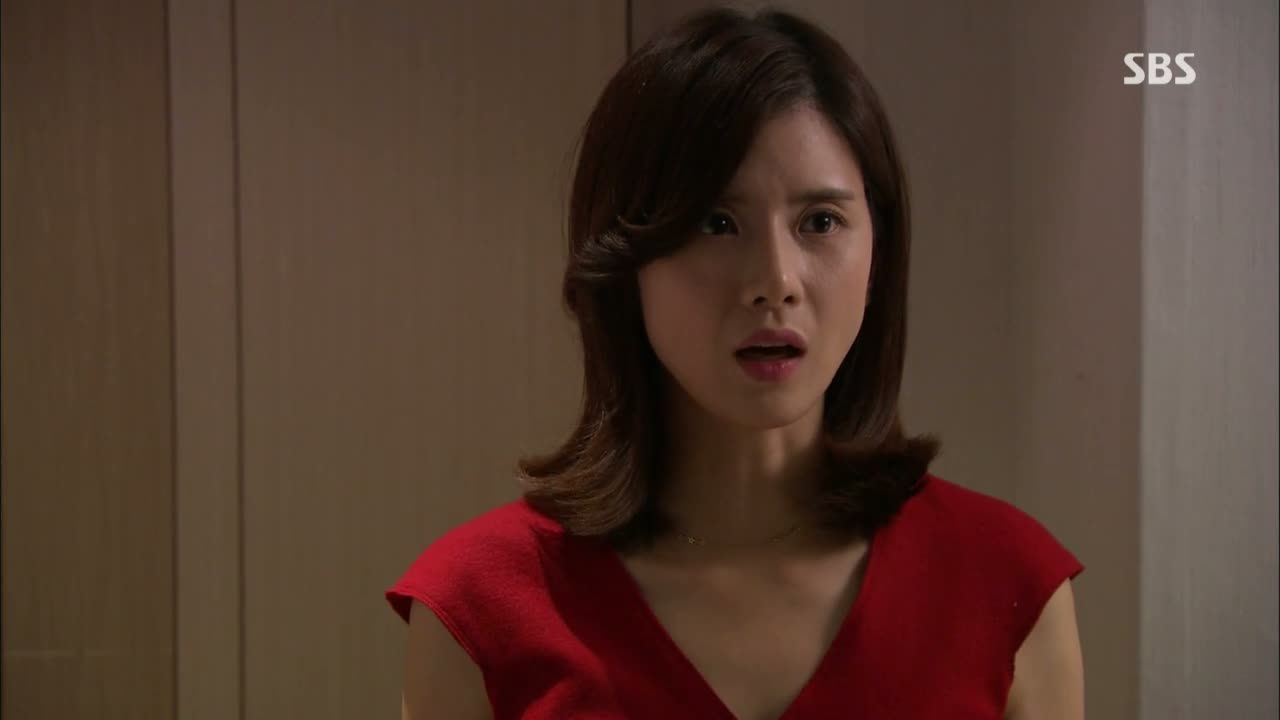 She pulls over to the side of the road to cry, and man, Do-yeon is just killing me in this episode.
Hye-sung is still mad by the time they get home, and she shuts the door to her room, and then asks Su-ha to talk. He reaches for the knob, but it's locked, and she says she's thinking lots of horrible thoughts right now so it's best they talk through the door.
She asks how he can take Do-yeon's side, and he argues that Judge Seo is the one to blame here—Do-yeon didn't do anything wrong, and she's his daughter. Not wanting to believe her father did wrong, not accepting his evil, those things are all natural.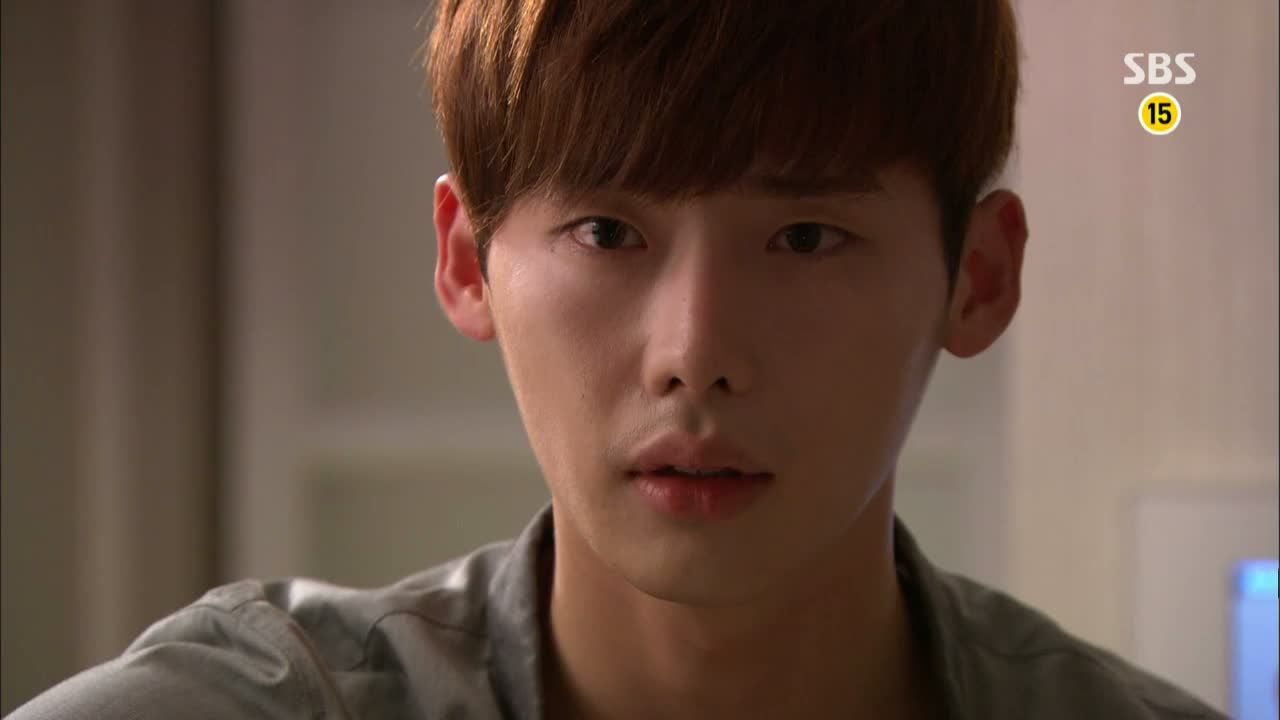 Hye-sung scoffs that in the end, Do-yeon will take her father's side, just wait and see. Su-ha: "She's his daughter. How can a child accuse a father of wrong?"
But Hye-sung's reply startles him: "Then Do-yeon becomes the same kind of person as that father. Covering up a father's crime is the same as being an accomplice." Oh noes. Stop it. Stop it. He pulls his hand away from the door. With every word Hye-sung says, he backs away farther and farther.
She says that makes Do-yeon just as guilty and no different from her father, and declares that this time it's not just that they're different—she's right, and Do-yeon is wrong. She realizes there's no answer, and when she opens her door, Su-ha isn't there.
He sits in his dark room, shaken to his core by Hye-sung's reaction. Augh, he's never gonna tell the truth now. You just confirmed his worst nightmare.
In the morning, Su-ha checks his mail and finds another news clipping from Min Joon-gook. It's another story about the university hospital's success in heart transplants, written by his father. He hurriedly rips it up and hides it before Hye-sung gets downstairs. This can only end in tears, man. Are you just going to be intercepting mail for the rest of your life?
Pwahahaha, she finally arrives downstairs wearing a giant black sun visor on her head. To keep him from reading your thoughts? Or are you going to be a robot for a day?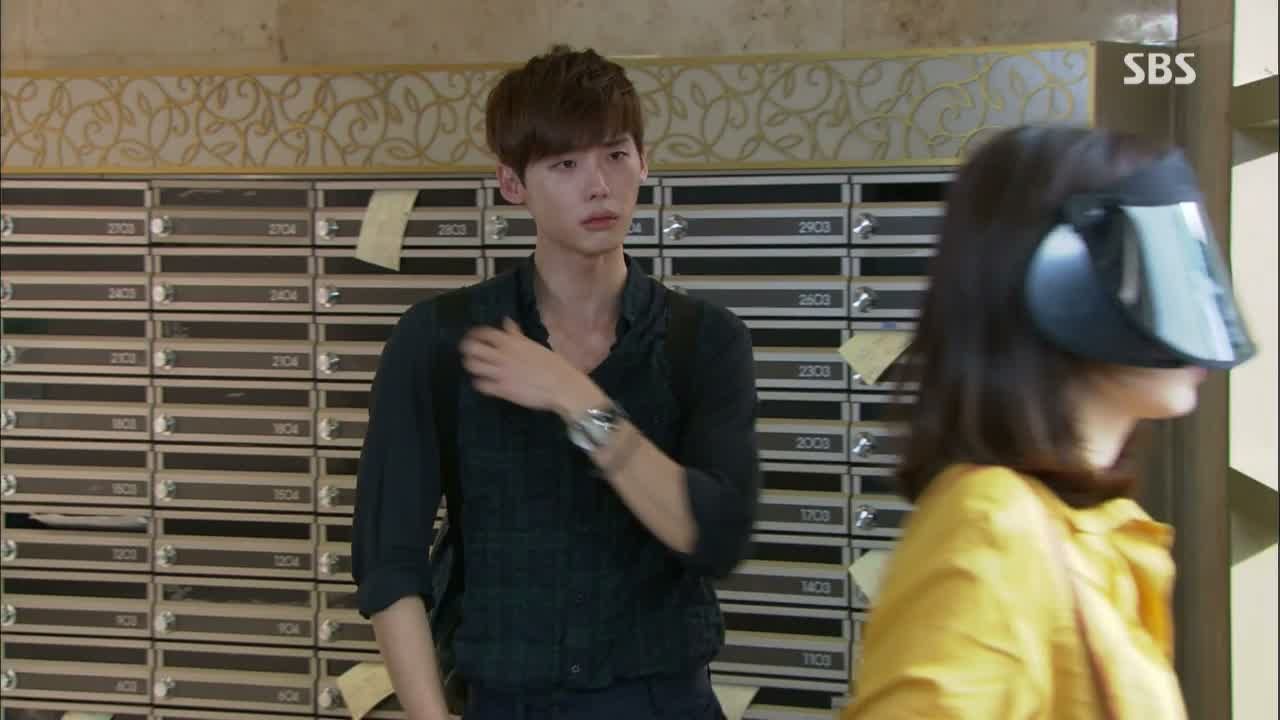 Mostly he's embarrassed to be seen with her, and she gets called ajumma by random people, but she insists on wearing it all the way to work. Kwan-woo runs up and calls her Darth Vader (gotta keep up his geek creds) and Su-ha frowns to see her open up her visor to speak to Kwan-woo.
He's here to talk to Su-ha though, and hands him pictures of Min Joon-gook at the mailboxes where the letters were dropped off. Su-ha is panicked at the news that the same letters are being sent to Kwan-woo and Hye-sung.
Kwan-woo reassures him that she doesn't know what any of it means, and that he'll intercept the rest of the mail from now on. Su-ha breathes a sigh of relief, but then he can't contain his petty jealousy, and whirls around to ask Kwan-woo why he's doing all this.
Su-ha: "You like Jjang-byun too, so why do you keep helping me? Are you bragging in front of me? That you're a good person, that you have a career, that you have parents, that you're an adult—that you have it all, and I don't even compare?! Are you showing off?"
Oh, Su-ha. Kwan-woo decks him in reply.
Kwan-woo: "Park Su-ha, get it together. The more you act badly, the more pathetic I become. Jjang-byun left no margin for me and chose you. So stop being anxious and show me why she chose you. Because right now based on the way you're acting, I can't understand why." Oof, that's a sobering speech to hear.
Meanwhile Do-yeon finds Hye-sung in the courthouse. She instinctively covers up her cheeks, and then lowers her hands when Do-yeon says she'll take the DNA test. But she asks for a favor in exchange, which we don't hear.
Do-yeon takes the test, and Lawyer Shin tells Hwang Dal-joong that they found his daughter Ga-yeon. His eyes fill with tears and he asks how she grew up, and when he can see her. Lawyer Shin takes his friend's hand and says that might be difficult—she's having a hard time accepting all of this.
Dal-joong realizes he only thought of his longing, and not about his daughter's perspective. Lawyer Shin says that if the DNA test confirms that his wife is alive, they can ask for a retrial. It's a long shot, especially given how little time Dal-joong has left.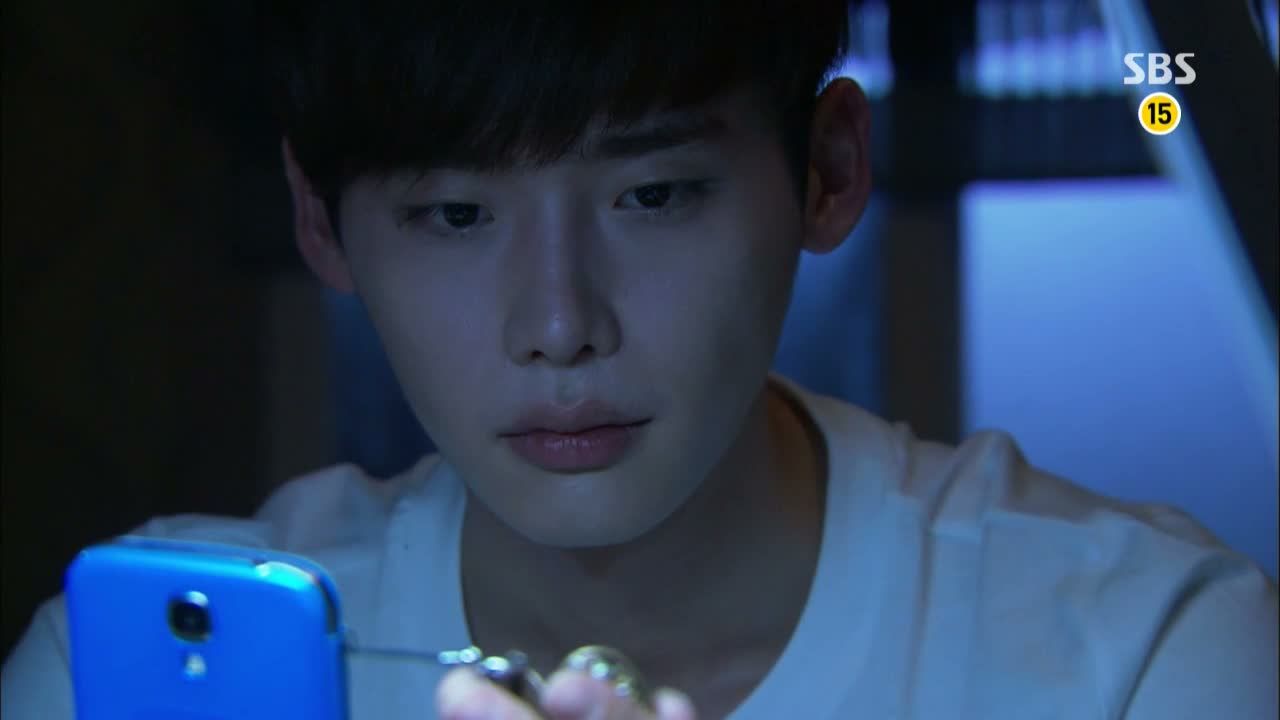 Su-ha stops by Hye-sung's apartment to check her mail, and sure enough there's another letter in her stack. That night both Kwan-woo and Su-ha start researching the hospital at the center of the heart transplant stories, and the professor who's performing the transplant surgeries.
Su-ha comes across a story that gives him pause. It's the announcement of his mother's funeral, in 2001. Her funeral was held at that same hospital. (It means she likely died there, too.) He gazes at the photo of Mom in his locket with a sigh.
Do-yeon gets a call from the testing center and braces herself for the news. We don't hear it but it's written all over her face, and she breaks down in tears while trying to type up a report for Hwang Dal-joong's case.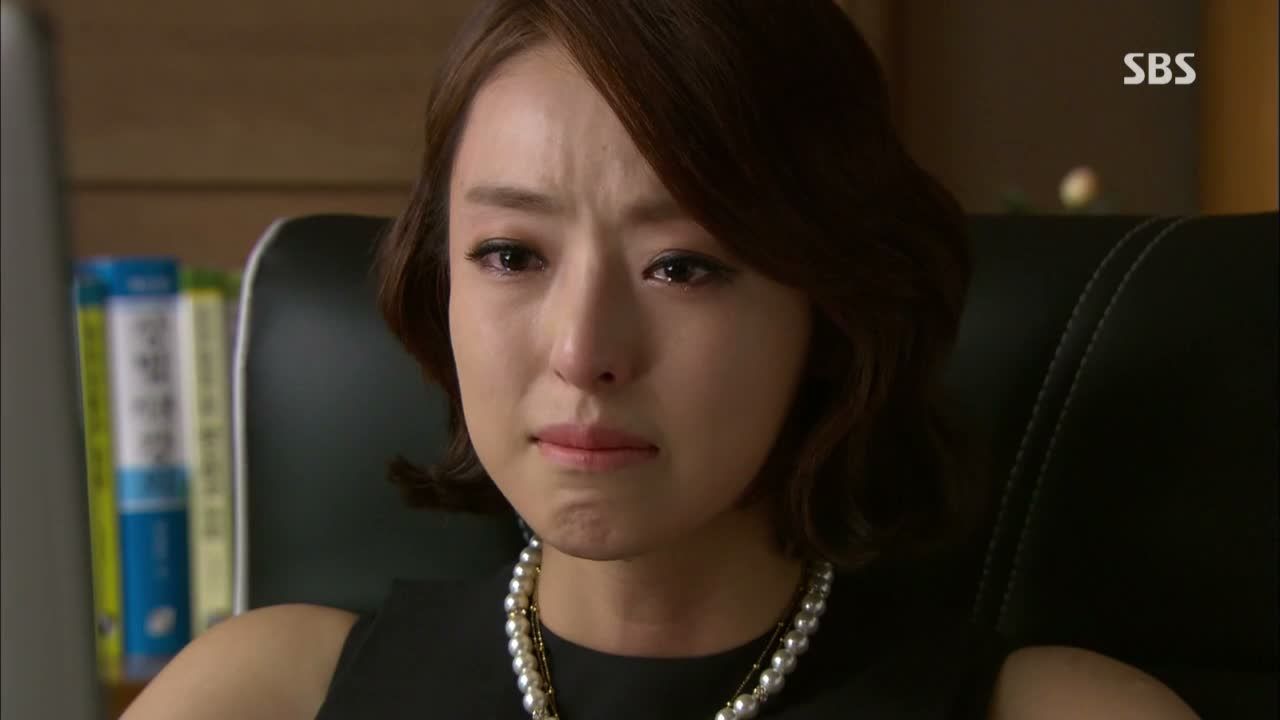 Hye-sung spins in a revolving door while thinking over Su-ha's words to think of the person first, and goes to confront Judge Seo. She says that she intended to make him testify, to show the whole world what he did. But she says that Do-yeon agreed to take the DNA test, and made a deal in exchange.
We see now what her request was to Hye-sung. She made her promise not to ruin her father through this trial—not a single thing in her father's life was to be torn down by this. "The reason I'm taking the test is not for Hwang Dal-joong. It's for my father."
Hye-sung tells Judge Seo everything that Do-yeon said, and adds, "For the first time in my life, I felt sorry for her. If it were me, I'd hate a father like you." She says she won't be forcing him to testify, because of her promise.
And even after all that, he holds his head up high and declares that he did nothing wrong. Gah, you give new meaning to the word shameless.
As Su-ha waits for Hye-sung to get off of work that night, he mulls over Kwan-woo's challenge. Hye-sung comes out wearing her visor armor, and he taps the faceplate to tell her to take it off.
She says she's still mad, but he says there's nothing she can think or say that'll hurt him. He points out that he didn't hold a grudge when Uncle abandoned him, when she called him an ankle-grabbing gum wad, or when she said it was all his fault that her mom died.
He says that he's seen the worst of her and heard the worst she could think, and accepted all of it. "And no matter what you show me or say to me in the future, I'll never be disappointed in you."
He reaches to take the visor off, and she clasps it to her head frantically. He spins her around to face him and says again, "I told you, no matter what thoughts you have, I'll never—" He opens the visor hood and stops mid-sentence.
Hye-sung's brain: "What do I do? My heart won't stop racing." Hahaha. She cringes, mortified, and runs away. He catches up to her again and she cries (visor back on), "What woman would want these thoughts known?!"
So he holds both of her hands and tips her visor back up with a smile. She squeezes her eyes shut to keep him from listening in, which just gives him an opportunity for a kiss.
He leans in… and bumps into her giant hood. Augh, cockblocking visor from hell. I hate you, visor!
She catches him thwarted on his way to a kiss, and knocks him in the head on purpose with her giant hat. Heh. He holds her hands again and repeats what he said about never being disappointed in her, and she says she gets it.
But then he adds, "So no matter what I say, or what kind of person I am, don't be disappointed in me either." He leans in close and makes her answer him (just like she always does), and she agrees. He takes her visor off and chucks it in the trash before they head home.
The next day Kwan-woo goes to the hospital and asks to see the professor in all the articles. He's told that the professor died in a car accident about eleven years ago. Su-ha arrives just behind him, and they're both surprised to see each other.
They realize they followed the same article trail that led them here, and exchange what they know. Su-ha confirms that he doesn't know the how or why behind Min Joon-gook's insistence that Dad killed Joon-gook's wife, but his guess was that it had to do with an article he wrote.
Min Joon-gook told Kwan-woo that nobody listened to him and nobody took his side, which is where all of this began. Su-ha wonders if Joon-gook killed the professor eleven years ago, and Kwan-woo agrees that he has a bad feeling about it.
He's impressed that Su-ha is doing research and not just running scared, and Su-ha says yes with no resentment this time. "I have to know what Min Joon-gook is planning so I can protect her."
Kwan-woo watches him go and smiles to himself that the little punk actually listened to him. Aw, are you genuinely proud?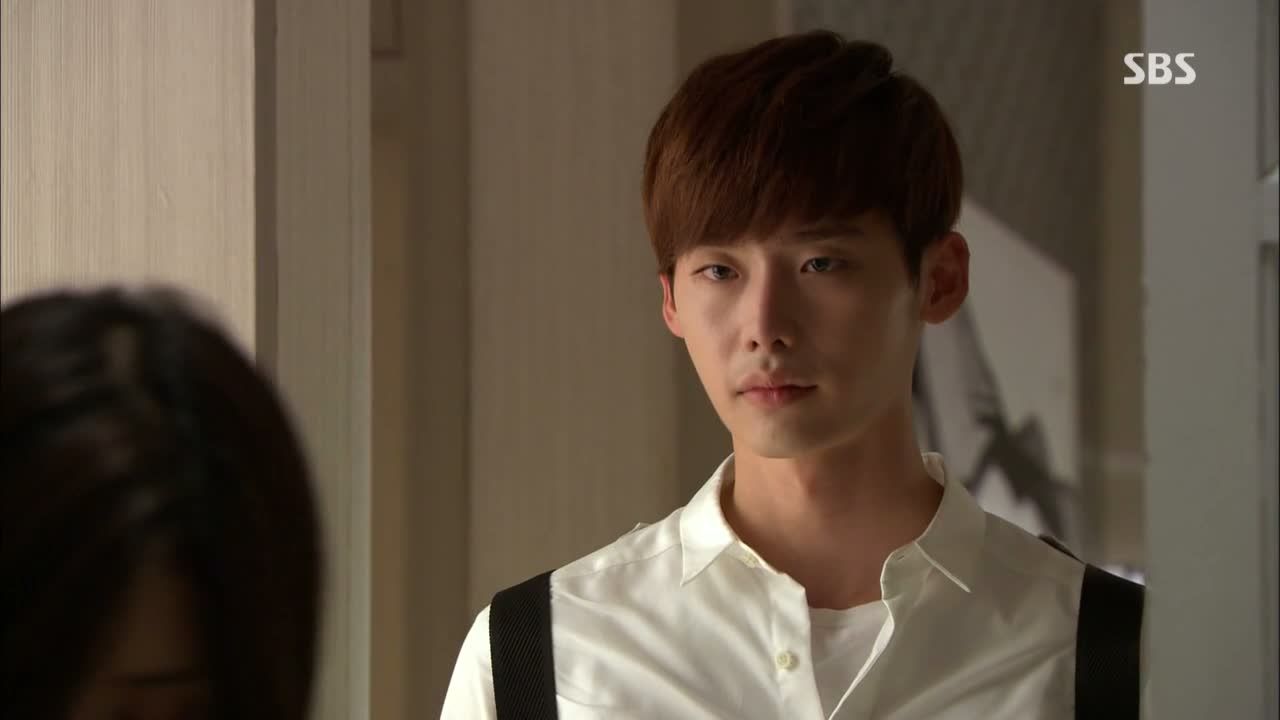 The first day of Hwang Dal-joong's case rolls around, and Su-ha asks what time Hye-sung wants him there. She tells him not to come this time, which shocks him. She figures that she can't rely on him forever, and she's a lawyer—she's going to have to learn how to win cases without him.
She says proudly that she did a good job on his case when she didn't have his eyes, and that her eyes aren't as rotten as she thought.
Su-ha doesn't look as pleased, and we hear him think in voiceover: "The greedier I get, it's not your harsh words, or your biting words, but words like the ones you just spoke that hurt the most. The words that presuppose I won't be here someday. Why is it that you keep assuming such things?" Stop terrifying me with your insights, Su-ha. I'm paranoid enough for the both of us.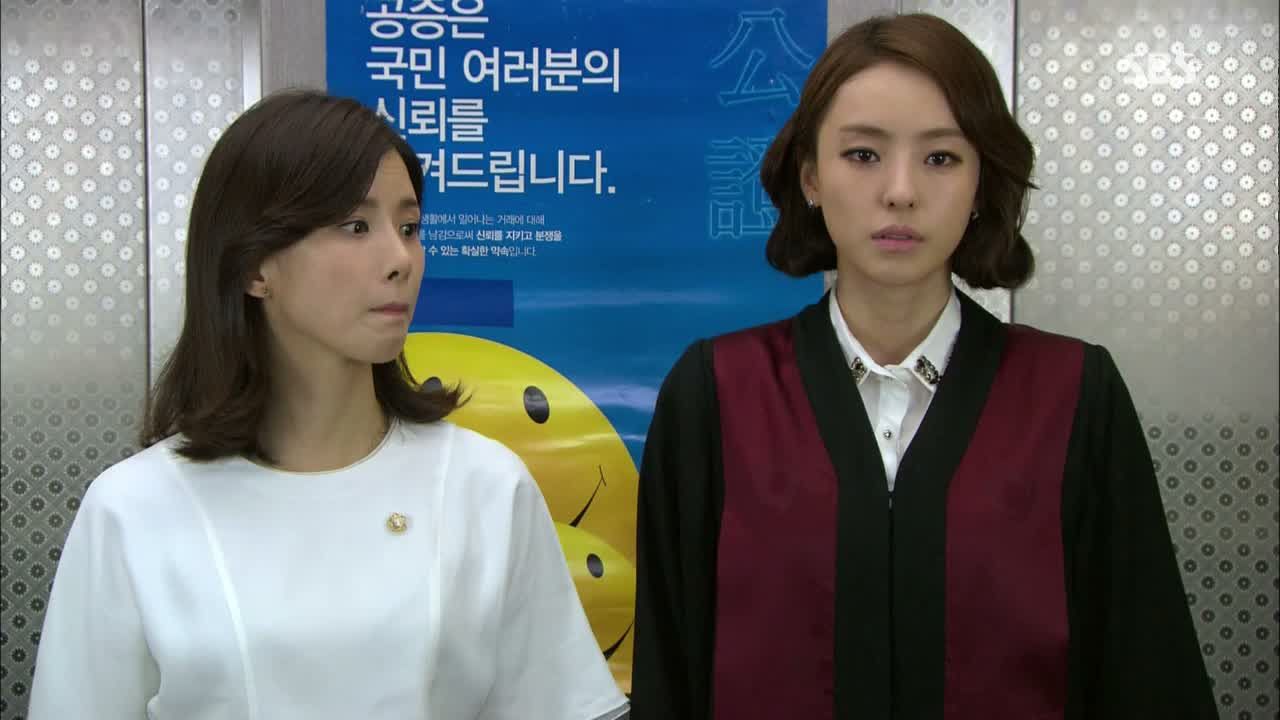 Do-yeon arrives at the courthouse elevator just behind Hye-sung, and this time she pushes the button to hold the door for her. Ha, that's a pretty momentous thing between these girls.
Hye-sung asks if she's really going to go through with the trial against her biological father, and Do-yeon says coldly that it doesn't change a thing. To her he's still a criminal and blood doesn't make him her father. Er, that's exactly what it does, but I get your denial-related semantics.
Hye-sung watches her go with a sigh, declaring to herself that she's one cold-hearted girl, "even more than me, and that's hard." Ha, at least you know it?
As the trial begins, it's intercut with Choong-ki's visit to Sung-bin's nail shop (he's come under the pretense of needing a manicure just so she'll hold his hand, aw) and they play dueling exposition fairies to outline the basic arguments, and give the layman version each step of the way. It's needless but cute.
Hwang Dal-joong spent twenty-six years in jail for murdering his wife, only to find that she wasn't really dead. So then he stabs her this time, only is she a ghost or a person? Should he be sent to prison for stabbing her, after serving the first sentence unjustly?
Do-yeon begins the opening arguments for the prosecution, and nearly trips over her words when she stops to look at Hwang Dal-joong. But she wills herself to go on.
When it comes time for the defense to argue that Dal-joong's wife is the same woman in both cases, Hye-sung can't name the daughter, so she decides to call her Shim Chung, as in the mythical ideal of filial piety. Lol, way to needle at her conscience there. Hye-sung shows the results of the DNA test, pointing out with extra zeal the 99.9999997 percent match to both parents.
I don't know how long the defense's ghost argument will hold up though. Logically, the prosecution is right in this case, which mostly makes me sorry for Do-yeon. Yes, the first case was all wrong, and that twenty-six-year sentence was unjust. But he didn't stab a ghost. He stabbed a living person, and this case isn't the original one.
It comes time for Hwang Dal-joong to testify, and Su-ha arrives in the courtroom. Do-yeon gets up to start questioning him, but then he asks the judge if he can say something on record.
He gets up to thank his daughter Shim Chung for taking the DNA test. "I don't know who or where she is, but I wanted to tell her to keep living happily, and beautifully." He's the only one who doesn't know, of course, that Do-yeon is standing right in front of him, and she struggles to hide her tears.
She begins her questions in a shaky voice, and Su-ha picks up on something as she hesitates. She points out that attempted murder will turn into murder if the victim dies in her coma, but both Hye-sung and Lawyer Shin jump up to argue that she's still alive.
Do-yeon can't continue with her questions, and stops there. It surprises everyone, and Su-ha catches a glance at Hwang Dal-joong's eyes in the midst of it all.
The trial breaks, and Su-ha hears Do-yeon thinking as she walks past him: "I'm sorry, Father."
Hye-sung runs out to ask him how many jurors are on their side, and he points out that she was all gung-ho about doing this herself. I only noticed this now, but did you guys match your outfits today? She figures there's no harm in asking if he's here, but he says Do-yeon is the more important question right now.
She scowls, calling her a machine. But Su-ha says she isn't as cold as she's letting on, and that Hwang Dal-joong knows she's his daughter. Ohhh. Hye-sung wonders how he found out.
We see in flashback that Do-yeon went to see him in jail. He received her coldly, only knowing her as Judge Seo's daughter and thinking it a cruel fate to face off with that family in court again.
She says that her father will never apologize for the case twenty-six years ago, so Dal-joong gets up to go with nothing more to say. But then she says, "I'm sorry. I'm really sorry. I'll apologize in my father's place."
She says that she knows her father is really sorry, but he's not able to admit his faults. She asks for his forgiveness and gets up to go, saying that when she sees him in court tomorrow, it won't be as Judge Seo's daughter but as a prosecutor.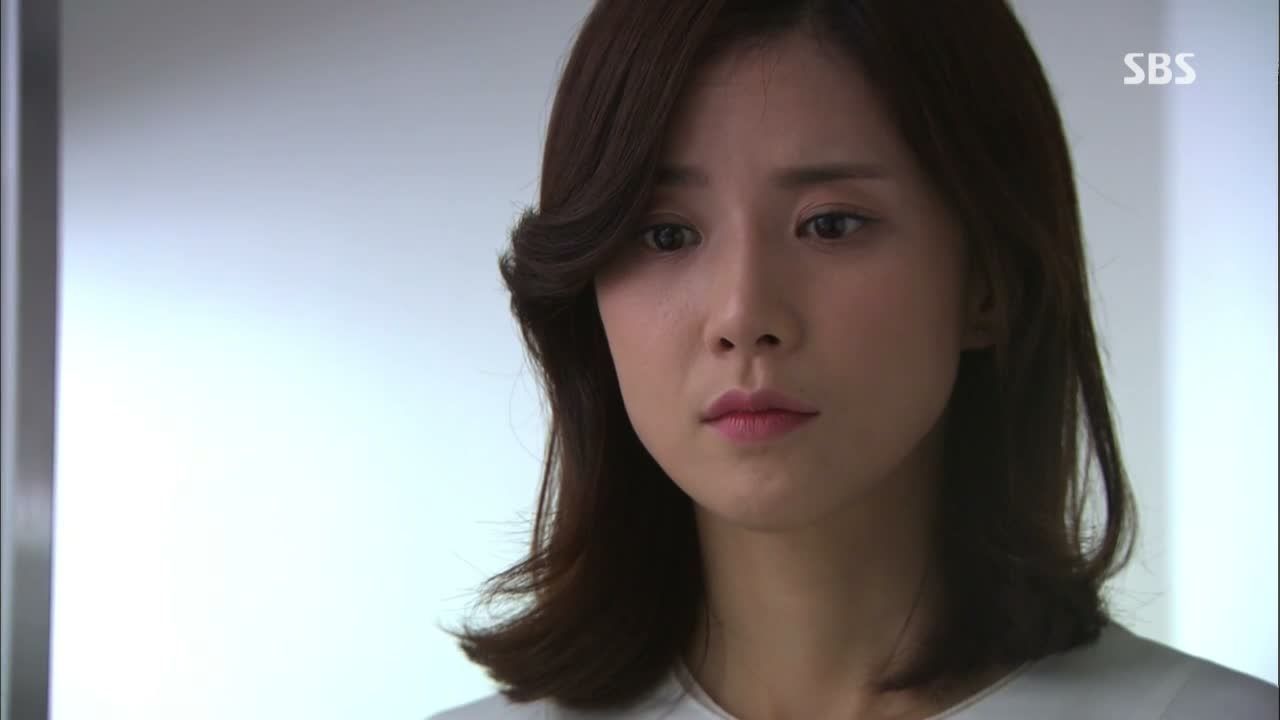 Hwang Dal-joong calls out to her with a hand on the glass to ask how old she is. When she says twenty-nine, he asks, "Ga-yeon, is that you?" Without turning around to face him, she says, "No, I'm Seo Do-yeon." He doesn't see her tears, then, or now in bathroom of the courthouse.
She breaks down in sobs, and Hye-sung runs into the bathroom, utterly shocked to find Do-yeon so vulnerable.
She pleads through her tears, "Hye-sung-ah, I-I-I feel like I'm going to die. Save me. Save my dad, please."

COMMENTS
Aw, you just can't hate that girl, no matter how nasty she is sometimes. I honestly didn't expect that the episode would end with the two girls being aligned—now there's a twist for ya. I love how much Hye-sung hated that Su-ha empathized with Do-yeon (the whining that he kept taking her side was so adorably juvenile, but so completely her through and through), only to be the one she comes to in the end. The fact that their frenemy-ship is so bristly makes the turnaround just that much more satisfying, and a mark of maturity for both of them. Because as much as everyone else tells Su-ha he has to grow up, the two girls aren't exactly stellar examples of adulthood. It's also why we love them, because everything they say or do is punctuated with this schoolgirl pettiness that's honest and lovable in all its flaws.
I did earnestly empathize with Do-yeon today, and I like that she didn't get a sweet-girl personality change to suit the story turn. She remained her proud, dogged self, and showed just how similar she is to Hye-sung. Both girls so desperately want their parents' approval, but the difference is that Hye-sung always had that in Mom (because she was the best mom ever), while Do-yeon struggled her whole life to live up to Dad's standards, seeking something he was never going to give her. It wasn't that she found out she was adopted, but her desperation to still earn Dad's love that killed me. This episode felt a lot like the last, where I appreciate all of the character development, but I'm seriously getting antsy for Min Joon-gook to stir shit up. I was afraid of you, and then you started sending chain letters, and now I've forgotten why you were scary. Let's get a move on with the mayhem, please.
All the parallels worked well in this episode, and I especially loved that Hye-sung compared Su-ha to Mom, her constant cheerleader and the one person she could count on to always take her side. That's been a consistent character trait of Hye-sung's from Day 1 and I enjoy how it's brought back time and again, no matter how big or how little the matter. When Su-ha starts to see things from Do-yeon's point of view, he's right, but it almost doesn't matter. To her he's just not on the side he's supposed to be on, no matter what. I think I like that about her because it's something we all universally want, but she voices it loud and clear, in plain words.
Su-ha's starting to show his weaknesses too, and I like that his little speech about never being disappointed in her seemed like he was being the bigger person… but was actually just begging for her to say it to him. Her reaction to Do-yeon helped put into words what he feared most, so despite making him retreat, I appreciated the push in reasoning. It's not an unfounded fear, but in the end it's just that—fear. For once I agreed with Kwan-woo's tough love speech to Su-ha, even if I disagree with both of them that she needn't know the truth. As for his worries about a future where they're not together, well I don't even want to think about that. *throws salt, does rain dance*

RELATED POSTS
Tags: featured, I Hear Your Voice, Lee Bo-young, Lee Jong-seok, Yoon Sang-hyun