Sword and Flower: Episode 7
Whoever thought that our princess would be the literal sword in this title, leaving our hero as the delicate flower? Political tensions come to a head this episode as everyone plans to make heads roll, and I wish I could say that how it all turns out is anyone's guess, but alas, history made that decision for us. (Darn you, history!) If there's a silver lining, at least the process doesn't feel like we're just waiting for the other shoe to drop… because we know that shoe will squash all dreams of happiness our star-crossed lovers might've ever dared to dream.

EPISODE 7 RECAP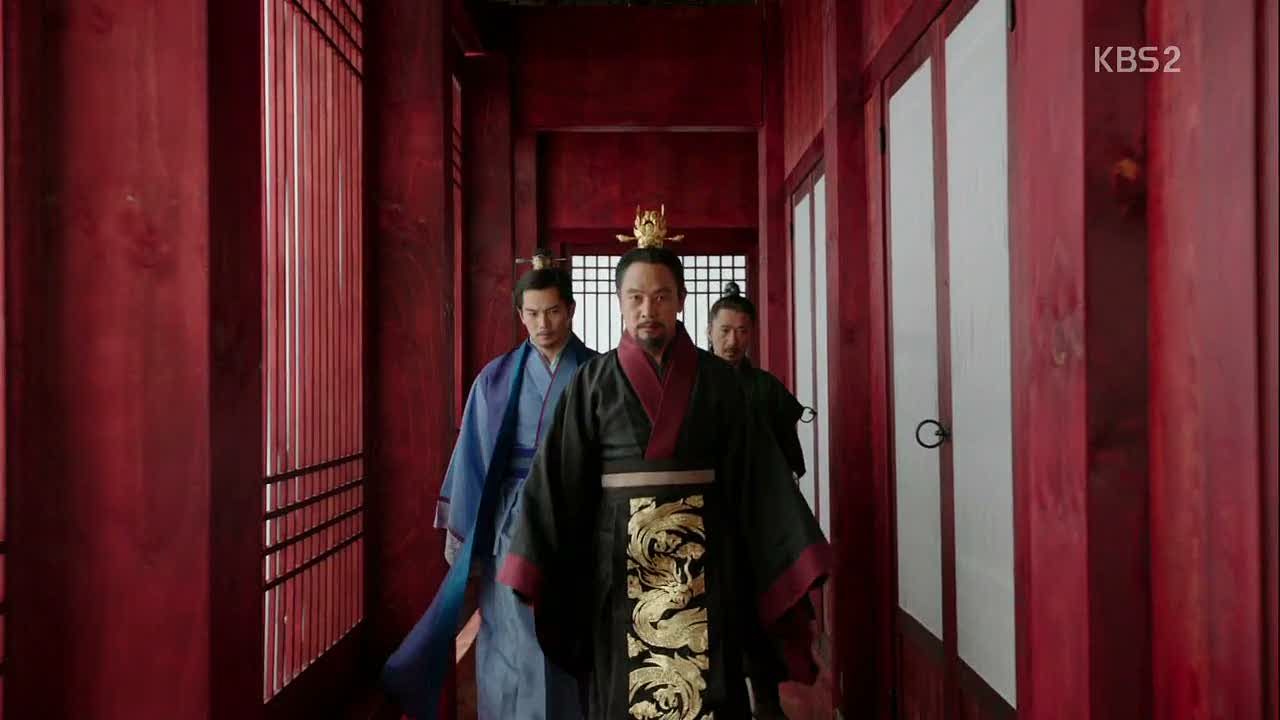 The king worries about the fact that they haven't found the royal guard impersonator (aka Choong), and he doesn't buy that he could have escaped before security was tightened.
He makes an educated guess that the impersonator must be a member of Team Yeon to have known the rebellion plans, and even though the mystery man stopped the rebellion, the king still thinks he's a spy planted by General Yeon.
Since the only place that hasn't yet been searched is Mu-young's room, the king beelines for it, worried that the impersonator is there and that she could be in danger.
Of course, that's exactly where Choong is, and as Mu-young drinks him in with tears in her eyes she asks, "Is it truly you? What happened? How… did you survive?"
Choong knows how she feels, and explains how he wanted to see her as soon as he regained consciousness, but refrained because he knew how dangerous it would be. Their conversation is intercut with scenes of the king making his way toward her quarters, which, eek.
"Maybe my life was spared because I'm destined to change the relationship between His Majesty and my father," Choong adds hopefully. That's why he infiltrated the palace to stop his father's plot.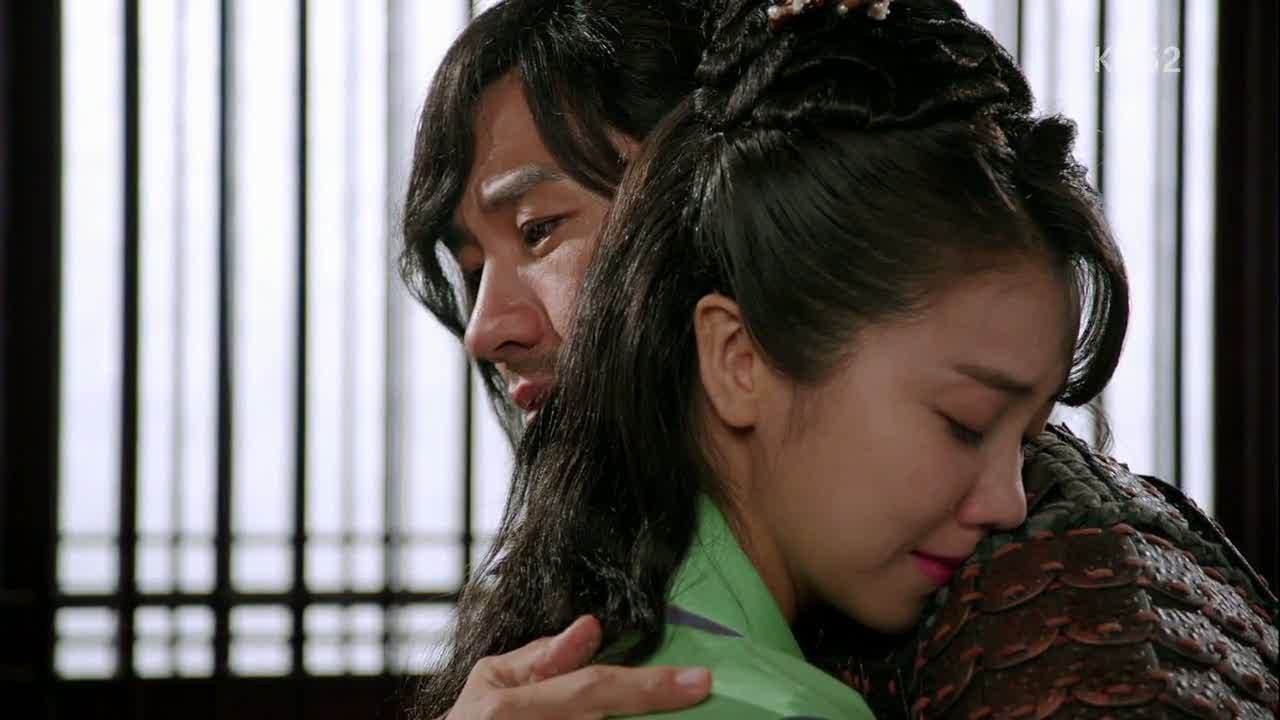 It's only when he asks about the crown prince's ceremony that Mu-young tearfully admits that her brother fell off his horse and may never walk again. Choong offers her a comforting embrace. Gah, I love these two. So supportive.
He hugs her even closer when she tells him that the ceremony was cancelled, and now the Yeon family and the royal family can never be together. Which means they can never be together now either.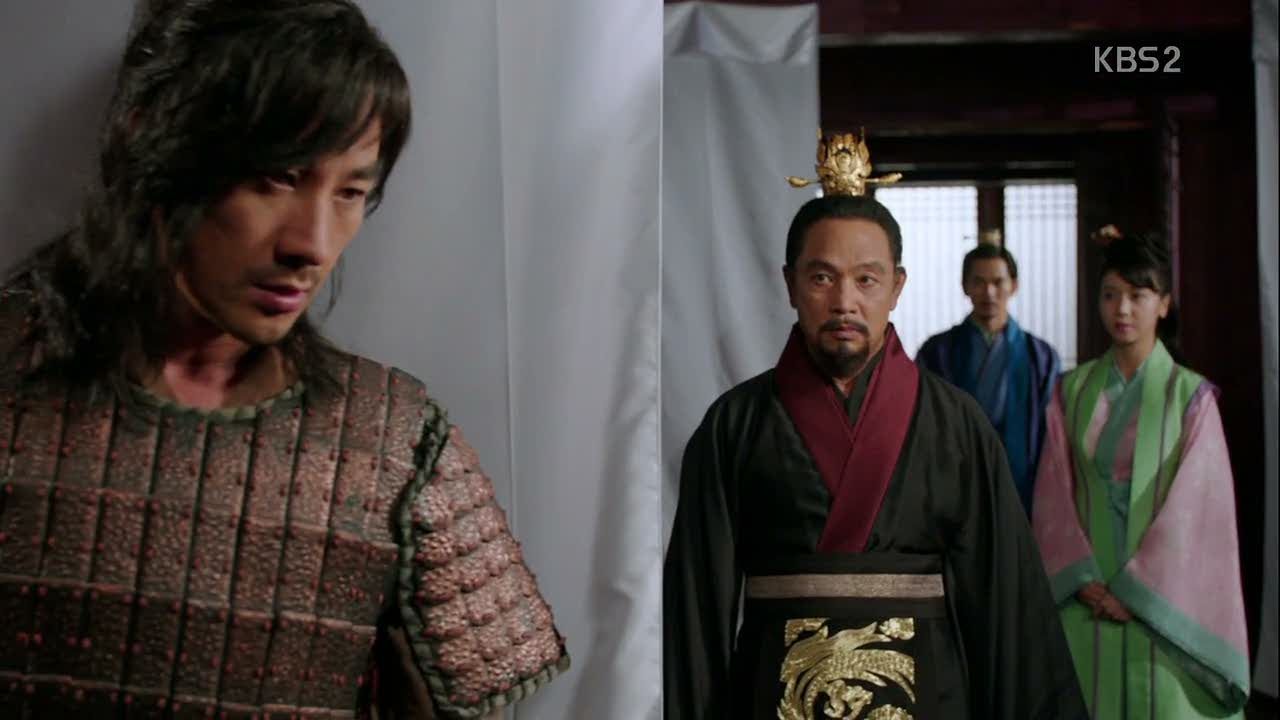 Her father's arrival is announced, and Mu-young and Choong exchanged panicked looks before he enters. Choong hides himself behind one of the silk draperies before the king enters, and it's because he notices that Mu-young is acting strangely that he decides to do a cursory inspection of her room.
He comes this close to discovering Choong, but Mu-young draws his attention away at just the right moment. He then tells her, in plain earshot of Choong, that he plans to end things with General Yeon and kill him first. "Don't be afraid and trust your father," he reassures her before he leaves.
Mu-young reaches for her sword as he approaches Choong. "Since you know what my father is thinking, I can't let you go." Tears well up in her eyes, as fiercely as her determination. "Be on my side, or else I'll have to kill you now. That is my destiny and my choice." Whoa, this escalated fast.
Choong keeps looking at her with the same adoration and understanding as he replies that she should kill him, because he can't choose either side.
Choong: "Please kill me now, as my destiny has deserted me. Ever since I met you, Your Highness, you became the whole world to me."
Mu-young shakes her head that they should have never met, she should have never asked him to stay… and then she draws her sword and points it at his neck. "Consider this the end of our relationship." You can tell how much it hurts them both, even though she's letting him go.
The king muses to Jang that they must prepare a new heir in case the crown prince isn't able to stand again, and asks his nephew for suggestions on who. It seems obvious that Jang is the only choice, but he pays lip service to the fact that they shouldn't give up on the crown prince all while thinking that his chances of becoming heir will disappear if the king finds out he spared Choong.
Jang marches back into Mu-young's quarters where he knew Choong was hiding and draws a sword against him: "I can't spare your life again." Mu-young steps into view to ask why her cousin spared Choong's life in the first place, and Jang lies that he did it because Choong saved her and her brother and he felt pity for him.
Ha, I love the little eyebrow furrow Choong sends his way, all, Bitch, please. But then Jang comes (kind of) clean by admitting that he wanted to prevent a civil war between General Yeon and the king, and because he knew how dear Choong was to her.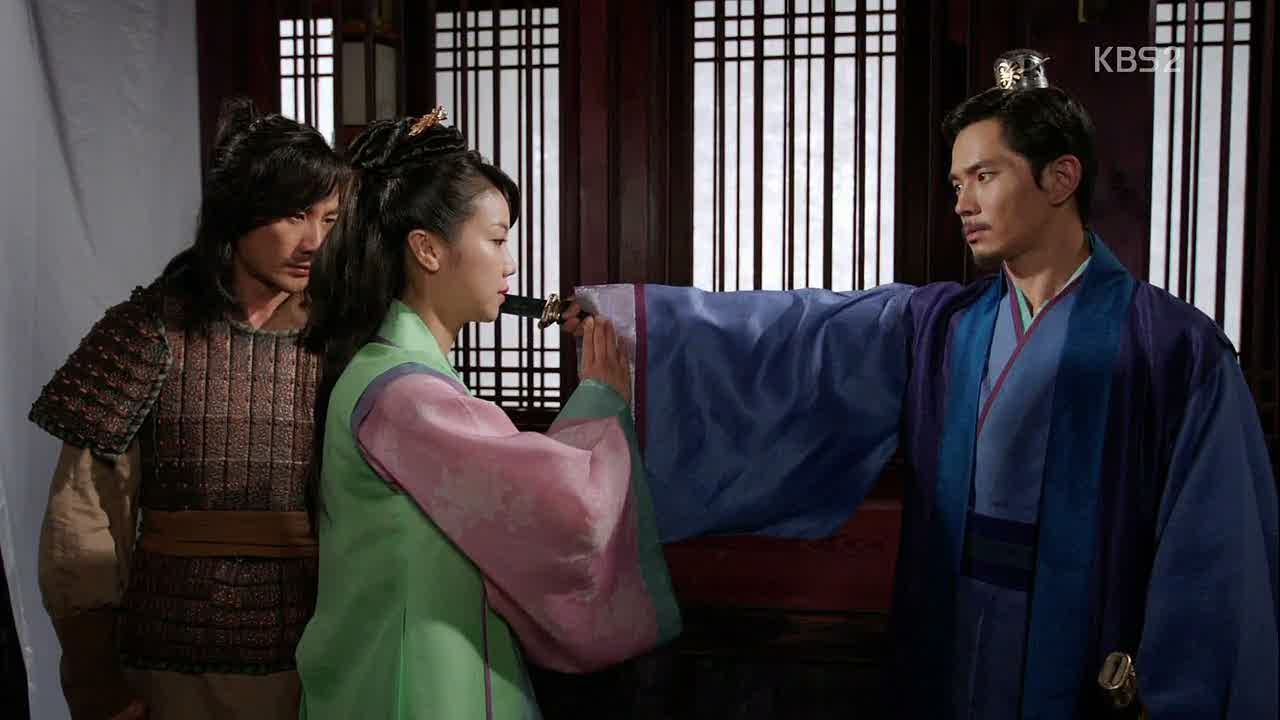 Since Jang will be executed if the truth is found out, he wants to kill Choong to right his wrong. But Mu-young steps between him and Choong and forces him to lower his blade with the promise that Choong will never betray her, and that she'll make sure none of it gets traced back to her cousin—which is why she'll need his help getting Choong safely out of the palace.
The king introduces the Geumhwadan gang to Jang, and leaves it to them to explain General Yeon's failed rebellion plot and their subsequent plan to catch Yeon and his cohorts during the upcoming military parade.
It's a strategic choice that calls for patience, as Leader So explains, because they have to catch all the conspirators at once in order to minimize the backlash. The only way to do that is by waiting until they're all gathered in the palace again to trap them there.
The king plans for a council meeting tomorrow to announce a new heir to the throne, since the crown prince's condition is still uncertain. Jang looks secretly hopeful that it'll be him, while Leader So reminds the king that General Yeon might make a move then, in which case the king orders that the palace be kept in a state of emergency until the day of the military parade.
In the meantime, Geumhwadan is to keep an eye on General Yeon's residence while the army is called in to fortify the city, not including the king's personal army which will be arriving in secret that night.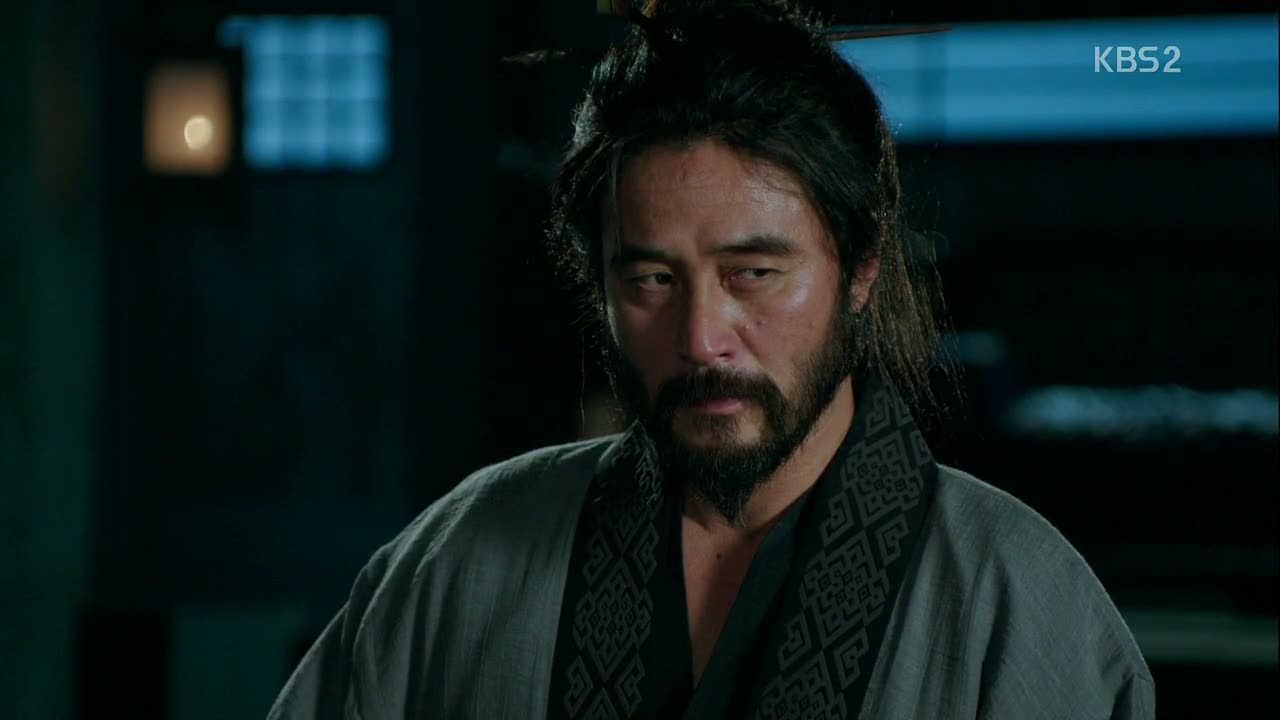 General Yeon tasks his minion with finding Choong, since there's no way he escaped out of the palace yet. He seems shocked to hear that the prince is seriously injured from falling off a horse, since that means his scheme might have been exposed.
His supporters fret about the same thing and want to strike the king as soon as possible, but General Yeon updates them with the news of the crown prince and the upcoming heir selection. The obvious choice is Jang, which would potentially be good news for Yeon because he'd been working to get the royal cousin on his side. Plus, he believes that Jang would be a good ruler.
Their treasonous meeting is interrupted by the king's arrival, so General Yeon has no choice but to sit down with him and act like he doesn't want to kill him right then and there.
The king tells him about the crown prince's fall and asks for his support in establishing a new heir to the throne, only without telling General Yeon who he's thinking of. Either way, he kind of backs Yeon into a corner so that he's compelled to offer his support for whatever the king decides.
Jang is revealed to have been inside General Yeon's house only after the king leaves. Once it's time for their meeting, Yeon guesses that Jang wants his support for the heir appointment tomorrow.
But methinks Jang goes about getting it the wrong way when he reveals to General Yeon that Choong is inside the palace and therefore his hostage, because he's kept his presence a secret from the king. Is that a thinly-veiled threat I smell? And if so, is Jang insane?
I love that General Yeon brings up the completely valid point that Jang's chances of becoming the next heir would disappear if he were to reveal Choong, since he betrayed the king by keeping him alive. So basically, he just took Jang to school.
Jang then agrees to get Choong safely out of the palace, but reminds General Yeon that he will have saved his son twice now. As in, You owe me.
Once night falls, Mu-young and Jang work together to escort Choong out of the palace by disguising him as her carriage driver. When the guard refuses to allow her to leave on the king's orders, Jang is there to claim responsibility. (Coolest. Princess. Ever. She just gets to leave when she feels like it? No one asks her where she's going? This is awesome.)
Outside the palace gates, Mu-young says her goodbyes while Choong just stares at her, all sad puppy eyes. She makes him promise (with a noncommittal nod) to leave the capital, because his father won't forgive him for what he's done.
She hands him a bracelet off her wrist as a keepsake, and tells him which city to go to (Jolbon, the first capital of Goguryeo). "I promise you that I'll come find you later," she says. "Please stay alive." Well, at least it's not their final goodbyes, right?
The look of longing they share before they part speaks volumes, but Mu-young only turns back once she's reached her carriage before she leaves. Aww. I was half expecting her to turn back and run to him, or for him to do the same.
Poor Choong, he looks absolutely heartbroken holding just her bracelet. And… oh! He does start running after her carriage. Run, Choong! That horse may as well be lame for how fast it's going!
As he runs, there's a montage of the memories they've shared. Mu-young is eventually overcome by tears and pulls her horse to a halt, disembarking just in time to see Choong not too far behind her. They both run toward each other…
Choong strides right up to her, wraps her in his arms, and holds tight. Aww. I was hoping for a kiss, but I guess a hug is like third base in Goguryeo anyhow.
The king notices how extra-eager Jang is to please, acknowledging how faithful his nephew has been all these years. "Maybe the prince was not destined to rule Goguryeo from the beginning," the king muses. Is he giving Jang hope that he'll become the new heir?
Choong looks devastated now that he's left with nothing but Mu-young's bracelet, but the stillness of the moment is suddenly broken when a shadow darts out and knocks Choong unconscious from behind. It's his father's minion.
Cut to: General Yeon watching over his unconscious son in his house.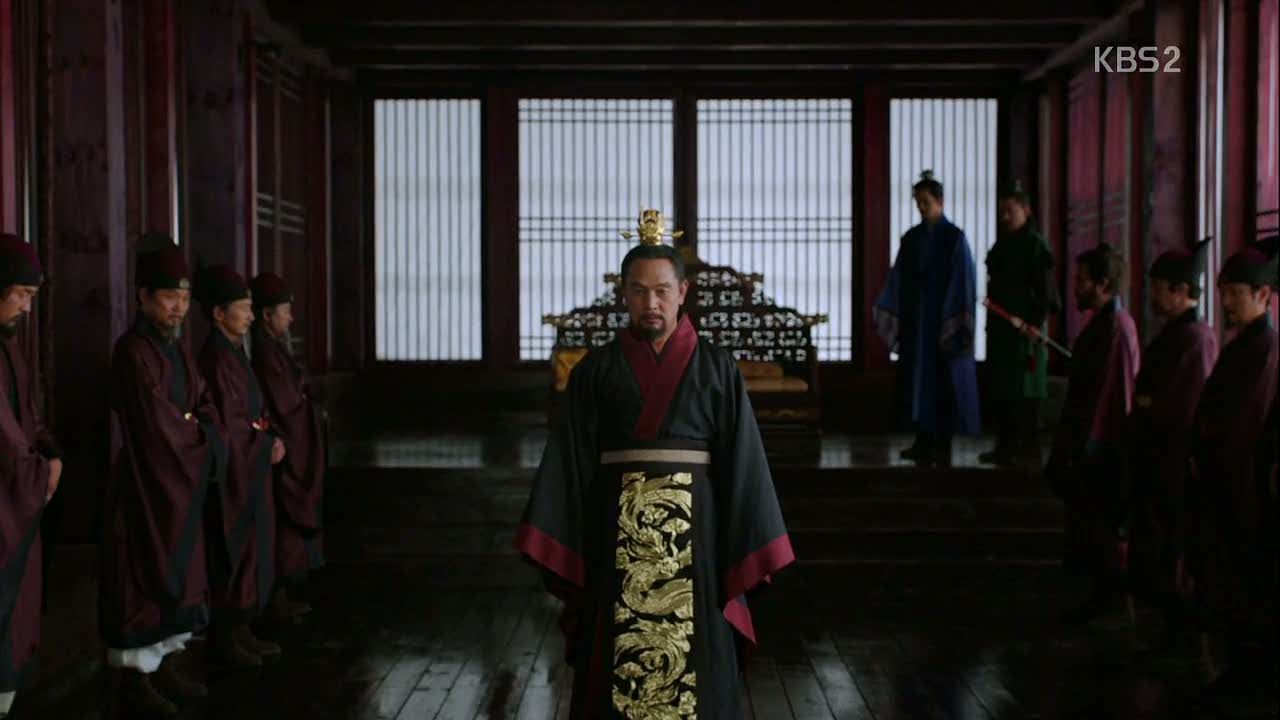 It's assembly day, and the king tells the assembled councilmen that he'll have to pick a new successor because of the crown prince's condition. "Goguryeo's new successor is…" he draws it out. Jang looks hopeful. This moment is strangely tense, even though there's kind of only one guy for the job. "Goguryeo's new successor is…" Another drawn out pause…
"The princess," the king announces.
JAW. DROP.
Naturally, all the councilmen start to voice their dissent to having a queen of Goguryeo, to which he replies that Silla had queens, so there's no reason why they can't. (Silla was one of the Three Kingdoms of Korea, along with Goguryeo and Baekje. Fun bit o' trivia: In this drama timeline, which places us around the year 642, Queen Seondeok would actually be the current reigning queen of Silla, so it's possible that King Young-ryu is using her as his reference.)
To add fuel to the fire, the king tells General Yeon that he'll be leaving to oversee construction on The Wall after tomorrow's military parade, so he won't be around for the princess' installation ceremony. Such a shame.
General Yeon's supporters bitch and moan as usual afterward, but Yeon is actually happy with the new development—because of the king's move, they'll gain an ally. And everyone knows that ally will be Jang.
The king gives Mu-young the news that she's now heir to the throne, but she's not all that happy about it since she doesn't want to give up on her little brother. "You and I must never give up hope even when all others will."
Her father reminds her that time is of the essence with their brewing conflict with Tang and that they can't afford to wait. "The fate of the country comes before brotherly love." Jang just seethes in silence.
The king meets with Geumhwadan to discuss the options for the military parade the next day, and Leader So informs him that the palace is prepared for all-out war in case General Yeon decides to make a move.
The royal doctor they arrested still hasn't confessed to being General Yeon's spy, so the king wants any method used to make him confess during the parade tomorrow so that everyone can hear. "When tomorrow comes, it will be the last day in this lifetime for those traitors."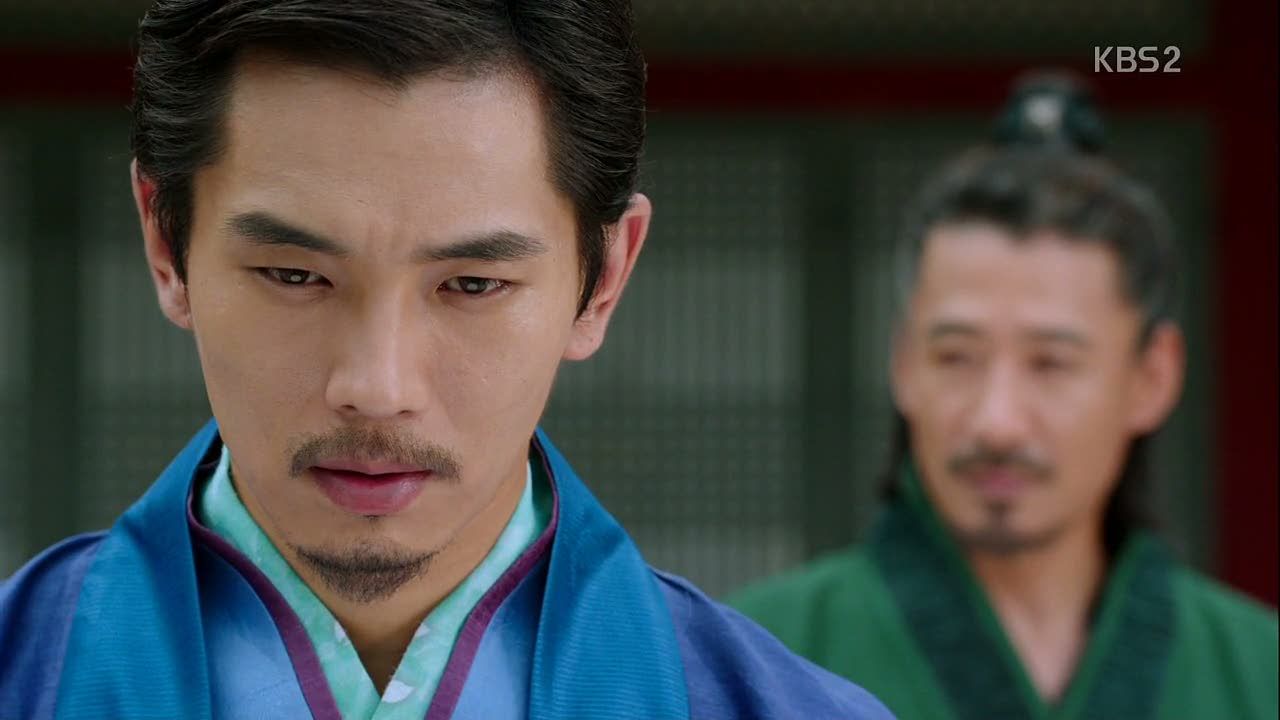 The king's loyal bodyguard offers condolences for Jang about the whole heir situation, but Jang just sighs cryptically that men must always answer to their own desires first—and that goes for him as well as the king. "Didn't I tell you that I was never destined to become crown prince?" Yeah, but when you put it that way, it sounds like you think you're destined to just bypass that step and be king.
Mu-young is the next one to offer her cousin condolences, though she's got as optimistic a viewpoint as any, thinking that her father wouldn't have made such a bold decision if he wasn't sure that Jang would protect the royal family like he always has.
"A bold decision that could lead to danger," Jang warns. Mu-young: "Yes, but I have you, cousin." She really does trust him wholeheartedly. She has no reason not to, I guess. (Yet.)
General Yeon's supporters have already devised a scheme to get their weapons through palace security for the parade. We're spared another "plans in motion" scene when Jang comes to pay Yeon a visit.
"Aren't you afraid?" Jang asks. General Yeon chuckles, "How could I not be afraid?" He knows his life was spared because the crown prince fell off his horse and because Choong infiltrated the palace—but in Yeon's worldview, shit happens.
A quick cut takes us to the next scene, with Choong having regained consciousness at last. Choong defends his actions at the ceremony, because he was protecting the princess and his father, which causes him to ask dear ole dad what his philosophy is when it comes to the people he holds dear. Does he just keep them in his heart without letting that have any bearing on the decisions he makes?
This gets to General Yeon, because his eye twitches ever so slightly. Then he makes his stance clear: "I cannot coexist with the royal family. Tomorrow, at the parade, I will cut off the king's head."
Parade day. Mu-young visits her sleeping brother in all her finery, urging him to not give up and recover. "Today, General Yeon will be punished for doing this to you," she vows. "This is all I can do for you."
Meanwhile, Choong and General Yeon sit across from each other in complete (and I mean complete) silence, with a suit of armor on display between them.
The crown prince regains consciousness even though he's still bedridden, and praises his father's decision to make his sister the heir to the throne. He means it too, since he knew he was never cut out for ruling. But he also looks like death, so his father and sister just want him to focus on walking again.
The king plans a feast with a reticent-looking Jang and their recently-named bodyguard, TAE-KYUNG, in order to cheer the place up. But the world's best dongsaeng makes sure to tell his sister that looks beautiful in her formal attire, "But I think you'd be even prettier in a wedding gown. I'd really like to see that." Was that a little suggestive eyebrow wiggle? I luff him.
Mu-young promises him that he'll see her in a wedding dress as long as he recovers, and the two siblings share a silent but sweet moment.
Mu-young finds her father alone later, lost in thought. "What kind of king is a good king?" he asks, though I don't think he's expecting an answer. General Yeon's betrayal is wearing on him as he notes the irony that it wasn't the neighboring Tang or even the Silla kingdom who betrayed Goguryeo, but General Yeon, one of its most loyal subjects.
Ah, this is a great bit of introspective dialogue from the king, because he basically knows that he must have failed General Yeon and his camp enough to make them hate him like they do. So he realizes that he shoulders part of the blame, which is why he seems to think that it's unfair that he has to kill them for his failure to be a good king.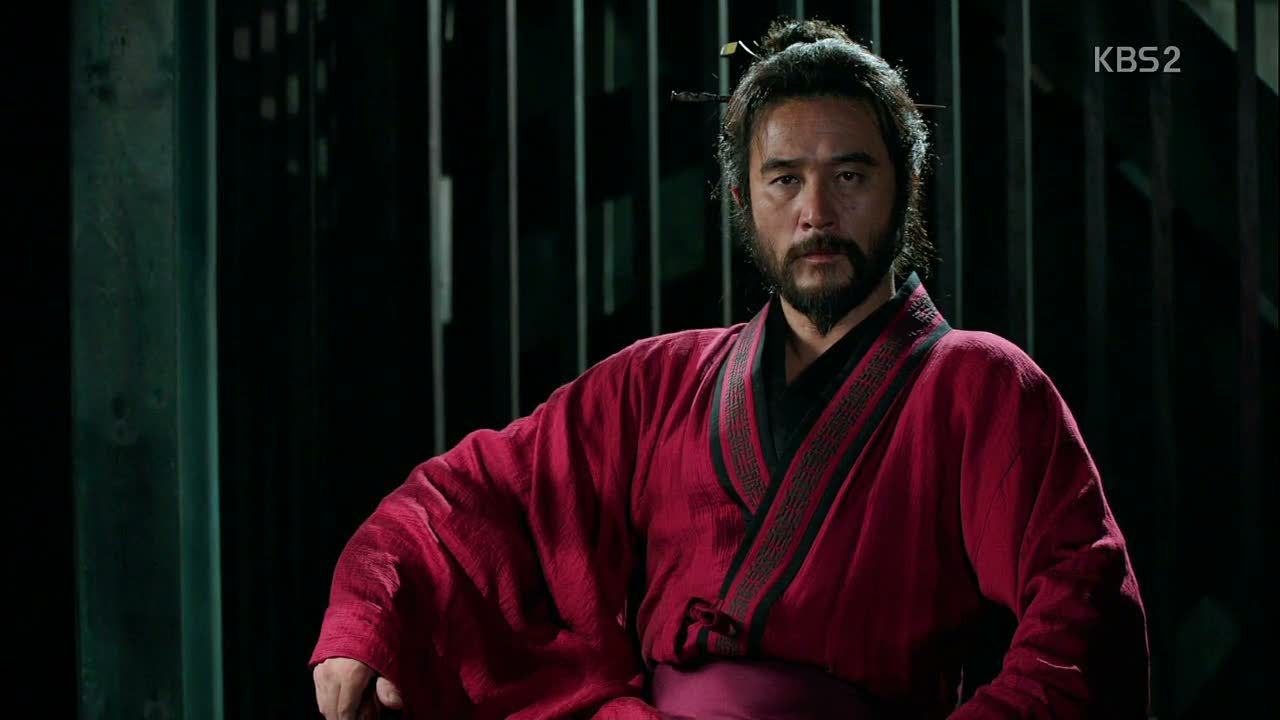 General Yeon gives Choong a choice: "The princess, or filial piety? You can't have both." The royal family as Choong knows it will soon be no more, so Yeon asks him once more. "Will you come with me or die here?"
Choong doesn't even know what to say, probably because he knows that his dad is dead serious about his options.
As Mu-young readies for the parade, she thinks of the embrace she shared with Choong and hopes that he left the capital by now.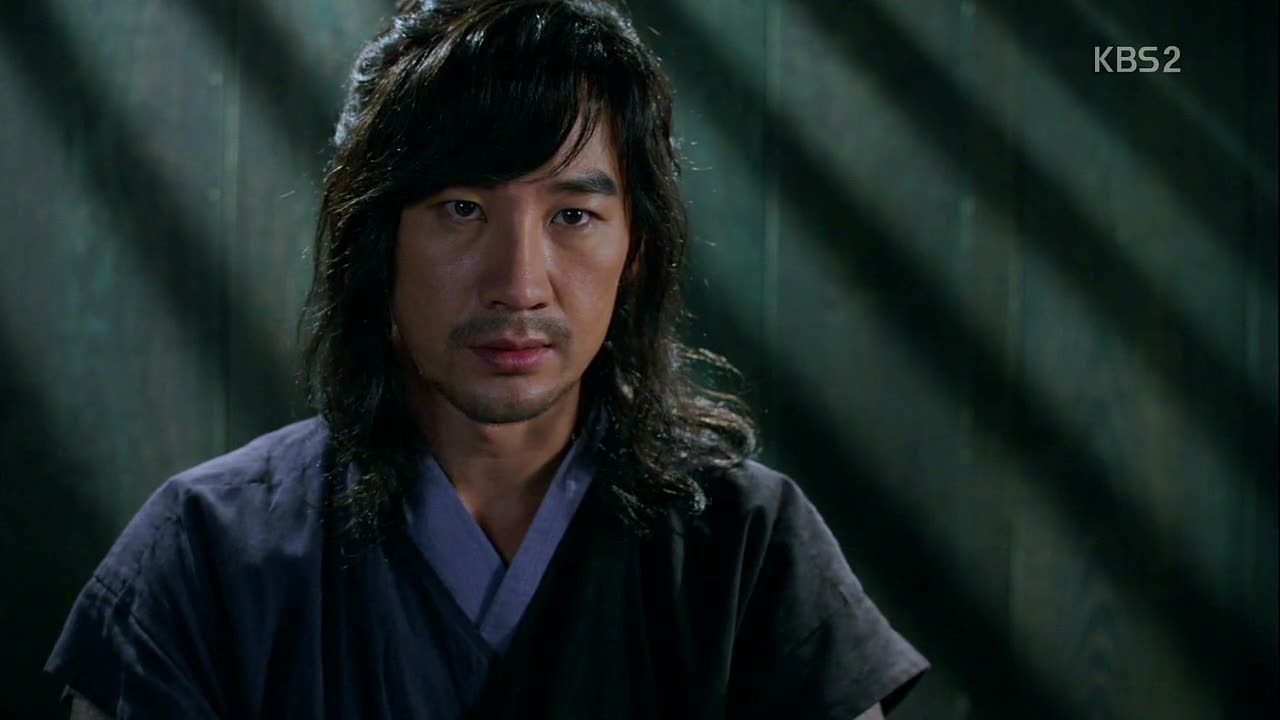 "I will come with you," Choong decides.
"I'm really sorry," Mu-young thinks.
General Yeon isn't just content with Choong's pledge to join him, because he gives Choong another task: "Bring the princess' head to me." DAYUM. Wanna slow your roll there, Pops? Asking your son to behead his one true love is a bit much for this stage of the bonding process.
"If I bring her to you, will everything be resolved?" Choong asks, his expression unchanging.
The scenes are intercut so it looks as though Mu-young and Choong are walking toward each other, so that when they both draw their swords it's as if they're drawing them against each other.
Mu-young aims her blade straight ahead. "It's not that I'll be killing your father. I'll be killing a traitor of Goguryeo!"

COMMENTS
You know, it made sense when the king provided historical precedence as part of the reason why he appointed his female daughter as heir to the throne. So it wasn't like he was totally reinventing the wheel with the idea of a female queen—but I can't deny that it wasn't just about the coolest thing ever to see Mu-young's awesomeness be validated in such a big way.
Rather than basing a sageuk heroine's arc off the 892389 things she can't do, this drama keeps showing us all the things she can do, leaving the results up to her free will or external forces realistically out of her control. This show has done a fine job of setting up the kind of world our characters inhabit, one that's refreshingly not overrun with the kind of small-mindedness that I wish other shows hadn't made me so accustomed to.
In this world, a slave can become a palace guard if he only tries hard enough, and a princess can become heir to the throne if only she tries hard enough. I can't stress how much I like that aspect of this dramaverse enough. It opens up a slew of dramatic possibilities for the future, too—especially if you know how the rebellion attempt is going to shake out (or if you've read the premise). I'm ready to get to that stage of the story yet terrified of it at the same time, because I can see no way for any of this to end well. I'm excited to see how Choong and Mu-young will surmount their ever-growing odds, or if they ever will. And even if they don't, I just want to see more of them, period.
I'm extra curious to know what Choong has up his sleeve by agreeing to this whole "I'll behead my girlfriend for you, Dad!" thing, because that's something you kind of can't fake. Not to mention, it's very unlike Choong to make a deal like that, so I can only assume he's not actually making it. While I can buy that Mu-young would be enough of a badass to sacrifice Choong if that's what her country truly called for (since she strikes me as the type of gal who loves her man but loves her family more), Choong seems to have the opposite problem. His love for Mu-young is what sustains him, because the only family member he has left is, frankly, a crazy person.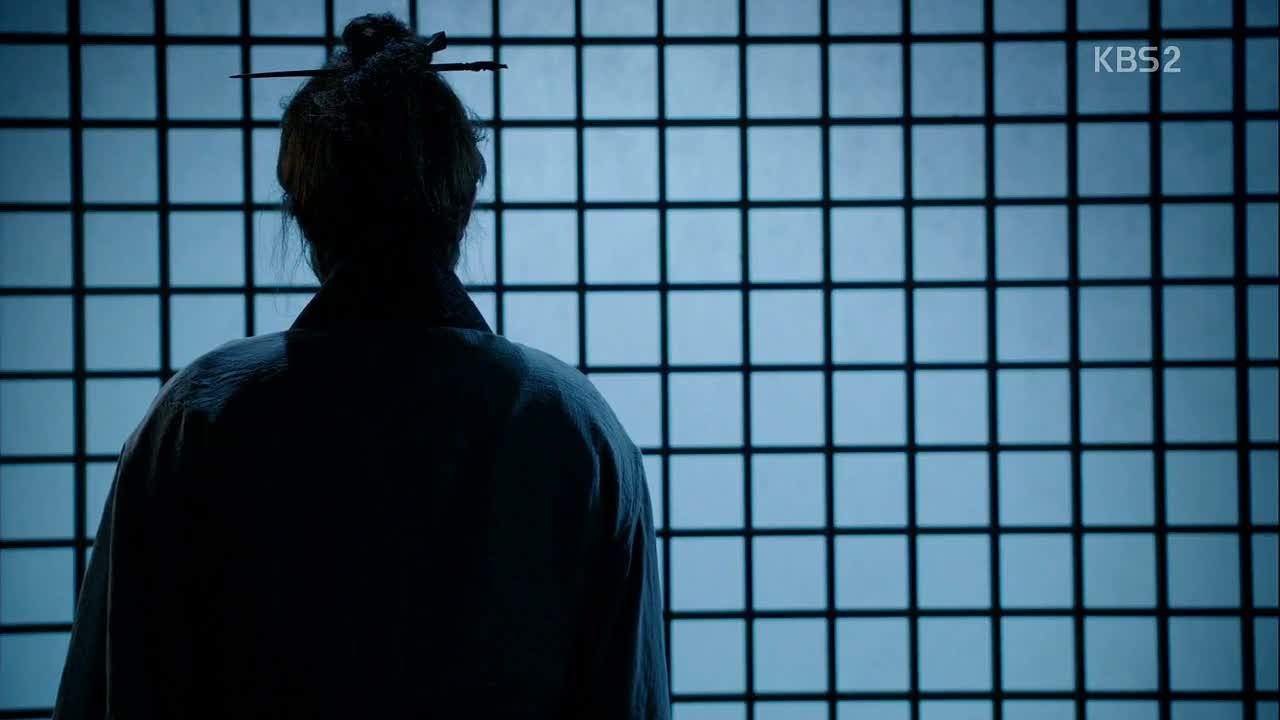 RELATED POSTS
Tags: featured, Kim Ok-bin, Sword and Flower, Uhm Tae-woong