Master's Sun: Episode 4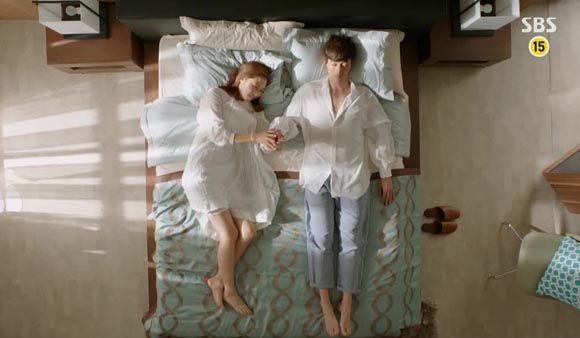 So much cheeky wordplay, so much touchy-feely (of the literal kind). I'm a happy camper with that setup. Plus, the drama's ghost-story format gets a different treatment today, and I think it's for the better.
Ratings are going strong for Master's Sun, which climbed to 16.8% with this episode. Two Weeks held steady in second with 9.2%, while Sword and Flower brought in a 4.6%.
SONG OF THE DAY
Gummy – "낮과 밤" (Night and Day) from the Master's Sun OST [ Download ]
Audio clip: Adobe Flash Player (version 9 or above) is required to play this audio clip. Download the latest version here. You also need to have JavaScript enabled in your browser.

EPISODE 4 RECAP
In the morning, Gong-shil wakes up in bed… lying next to Joong-won and holding his hand. Why hellooooo there. That's one way to put me in a good mood right off the bat.
Gong-shil just chuckles to herself, "How much did you want to sleep with this guy that you'd dream about it?" She hugs his hand to her and says that since she's dreaming, she might as well get greedy and take his ki (energy) like unni said, ha.
Then Joong-won wakes up (she wheedles, "Let's sleep a little more, I don't want to wake up yet") and gives her the big ole stinkeye, asking who she is: "Are you really Tae Gong-shil?" She confirms it, then wonders, "Isn't this a dream?" (I love that this means he's a grumpypants even in her hypothetical dreams.)
When he tells her she's at his place, I love that he's all, Aren't you going to play the demure miss? And instead Gong-shil just laughs it off and says it's happened to her before—she even woke up once in a graveyard. She asks if he's showing concern for her welfare, and he huffs that of course not, he's worried about the people she freaked out at the graveyard.
In a flashback, we see Gong-shil waking up on a grassy hillside and stretching—right in front of a burial mound being visited by family members. Gong-shil concedes that they sure were shocked to see her, and then belatedly asks after him. He bites out that thanks to her, he had quite the number of "guests" come and go last night.
Flashback to last night: Babyish Gong-shil sits on the ground whining and crying, "Where's my mommy? Ajusshi, find my mommy!" The moment he touches her, the ghost poofs away and exits her body, and Gong-shil pleads for water. But when he comes back carrying water, there's a new possession in progress and Ballerina Gong-shil twirls in circles around the room. Then there's Doggy Gong-shil, crawling on his bed and barking.
She still doesn't recall getting drunk, but says that they sometimes take over when she's not in full command of her mind. Hence her lack of sleep and excessive cautiousness. But last night, she slept soundly next to him, and the thought brings a huuuuge grin to her face as she sidles closer to him. He recoils as she tells him, "Last night was really good." Ha. I love this drama's bald sexual innuendoes, so much.
Gong-shil retraces last night's steps, still confused as to how this began. The last she recalls… was seeing him outside… and Hee-joo standing there behind him. She wonders if he met Hee-joo last night, and that takes us back to their encounter last night:
In Gong-shil's body, Hee-joo tells him he must have hated her quite a lot all these years. Joong-won says bitterly that because she died on him, he couldn't repay her betrayal, nor could he admit to anybody that she'd fooled him. All she did was leave him with his first love curse, which he asks her to take with her as she goes.
Hee-joo says, "I didn't lie to you—I really liked you. I hope you can return to how you used to be." He growls that he wants to find her partner in crime and the money they took, after which he'll forget cleanly.
Teary-eyed, Hee-joo raises a hand to Joong-won's face, only the moment she makes contact her spirit is forced out. As she leaves Gong-shil's body to collapse on his chest, she says, "I love you."
But naturally, Joong-won isn't about to share any of this with Gong-shil now, and he just says that Hee-joo spouted nonsense and left.
On the other hand, Joong-won has now found a use for keeping Gong-shil next to him, and her value has a literal price: 10 billion won. Hm, is he thinking to use her to nab his kidnappers?
He explains that Hee-joo's the only one who knows where the ransom went, and she's the only one who can communicate with Hee-joo. Gong-shil reframes the question: "So you're going to lend me your body for money?" HA.
He calls this a mutually beneficial arrangement where she'll be his Hee-joo radar in exchange for him being her emergency shelter. "Then I can touch you and everything? I like it!" Yes, I like it too.
She suggests a place where she can be "stationed"—say, right next to Secretary Kim, who gets to be right next to Joong-won. He shoots that down and orders her to stay in janitorial services till he figures it out.
Gong-shil gets Joong-won's number, which she assures him she won't call—it'll just be nice to have! (Let's see how long that lasts.) She wonders at his 10 billion won value, which he sniffs is even higher these days. She gets a little misty-eyed as she calls herself worth 100 billion won, which is the amount of money her sister poured into her medical bills to save her life after her accident. It's a thought that makes her terribly sorry now, especially because she "came out weird," and she says that while ghosts frighten her, it was worse to live as one, shut in all the time.
That's why meeting him is such a huge comfort, she says, and even his bastard façade is no match for that. He admits the number he gave her was Secretary Kim's, then takes her phone to punch in his own. Which, awwwww. He warns her gruffly not to send text because he won't read them, but since we know that's because of his dyslexia, there's no bite to it.
Auntie Joo asks her husband, Uncle VP, about the woman who interfered with Yi-ryung's wedding. Uncle VP says that there are rumors that Gong-shil is in a special relationship with Joong-won, which Auntie Joo dismisses as baseless rumor, just as he sees Gong-shil emerging from Joong-won's building. Of course, the moment he calls his wife's attention to it, he loses sight of her.
As Yi-ryung chats with her manager at a salon, they see another actress sitting nearby, primping in the mirror. The actress, Kim Hee-jin, is the jittery manic type who assures herself she's going to be the prettiest woman EVAR, and we see that there's a ghost hovering over her shoulder as if to imbue her spirit into the human. (The ghost wears red lipstick, like she's got ambitions—or delusions, rather—of grandeur.)
Yi-ryung's manager notes that Hee-jin has changed lately, but chalks it up to plastic surgery. Heh. Yi-ryung smirks that she's still prettier. Oh honey no. Now you're just tempting fate.
Sure enough, the ghost considers Yi-ryung instead, then makes the switch. She whispers into her ear, "You're the most beautiful," and now it's Yi-ryung who changes. Lord, like we needed her to be any more vain.
Kang Woo knocks on Gong-shil's door, since they've agreed to be commuting buddies. There's no answer but her door is unlocked, so he steps inside to have a looksee. Judging from how he's equipped with white gloves, I'm guessing a secret shady search was part of the plan anyway. He snaps photos and looks at her things, and wonders why a woman who went to a top school and had lots of friends is living like this.
Kang Woo emerges from Gong-shil's apartment to find the two neighbor boys giving him the suspicious side-eye. His attempt to explain his presence doesn't go over well, so Kang Woo moves on to bribery: "Do you like ice cream?" And therefore when Gong-shil comes home, the boys tell her that ajusshi's a nice dude and she should date him. Ha. Boys are so easy.
She's blushing and flattered to hear he likes her, and thus bashful when Kang Woo asks about the ice cream she's eating and how she likes it. He says he was worried when she disappeared yesterday and plays the part of the gallant suitor, and when she heads inside, he smiles to himself: "She believes the kids." Let's crank up that shady-meter even higher.
She goes inside thrilled that a man likes her ("Not a ghost, but a pretty man!"), while Kang Woo resumes his spy ops to report to his superior. He's decided that Gong-shil isn't a problematic person, and suggests that he back off from getting any closer to her.
We finally get to see who he's talking to—the mysterious "chairman"—and yup, there's Joong-won's dad.
At work, Joong-won receives notice that the Giant Mall's president will be present at Kingdom's upcoming charity ball, which gives him a bad feeling—surely he'll be up to something. He also asks Secretary Kim to find a job opening for somebody, one that is physically close to him but out of his eyeline, that requires no important work and keeps the employee out of others' sights. Ha.
Meanwhile, the security guards continue to suck up to Gong-shil, eager to grease the wheels in the event her so-called relationship with the boss keeps progressing. The lead guard-gossip gives his name, but I think we're safe calling him Security Gossip for now. He describes his strategy as falling in line with the king's concubine to secure his own future, which, ew.
Security Gossip gets called in to Uncle VP's office to explain the relationship between the president and the janitor, and is happy to spill all the juicy details. At first he's nervous that he's about to get reprimanded, but on the contrary, Uncle VP encourages him to spread the news far and wide. First of all, it confirms that he wasn't seeing things earlier today, and secondly, well, it's fun to see his boss made the butt of jokes. Uncle VP laughs his head off at Gossip's nickname for the couple: The Master's Cleaning Lady.
Possessed Yi-ryung flips through dresses to wear to the charity event, and catches a glimpse of a strange figure sitting in the dark, stabbing at a photo of Gong-shil. It's her teenaged self, bitter and awkward with braces and glasses. She freaks out to confront her past, then whirls right into the red-lipsticked ghost. With a scream, she wakes up from the nightmare.
She seems back to herself, albeit more jumpy than usual. When her manager picks out the same dress that her dream-self had chosen, she flashes back to the nightmare where Red Lipstick (Drag Queen?) had told her, "You're prettier now." Yi-ryung decides that she must still be comparing herself to Gong-shil and heads off to confront her.
She struts into the shopping center dressed to the nines (hello there, inferiority complex) and finds Gong-shil at work. The moment Yi-ryung steps aside, Gong-shil spies Red Lipstick standing behind her, and runs off in a panic. Kang Woo witnesses the scene and assumes Yi-ryung is to blame for her sudden exit, and he's pricklier than ever when Yi-ryung realizes he knows Gong-shil and starts to pump him for info about her.
Yi-ryung says he won't have such chances to sit down to dinner with a beautiful woman like herself, and he replies flatly, "I don't find you beautiful." Booyah. Although I suppose this makes it perfect timing for her ghost to lean in and exert its pull again.
Gong-shil huddles outside Joong-won's office in mortification, guessing that Kang Woo won't like her anymore since he saw her "being weird" (in the presence of the ghost). Joong-won finds her there and orders her away, but she chases after him to marvel at the thought that she's feeling ashamed for the first time in ages—now that she's recovered a little breathing room for herself, she's able to have the mindspace to feel shame again. She says giddily, "I feel so ashamed right now!" Haha.
He congratulates her sarcastically for getting in touch with her shame, then shuts her down when she angles for a position in his secretary's nice office. She leaves just as Uncle VP arrives with Secretary Kim, and that's one more bit of confirmation in his eyes.
Kang Woo spies Gong-shil as they both leave work that night, though she doesn't notice him watching her because she's preoccupied with what appears to be dodging nothing. She ducks and maneuvers around air, shrinking back nervously and finally taking the long way home, where she asks the landlady whether the supermarket lady died recently.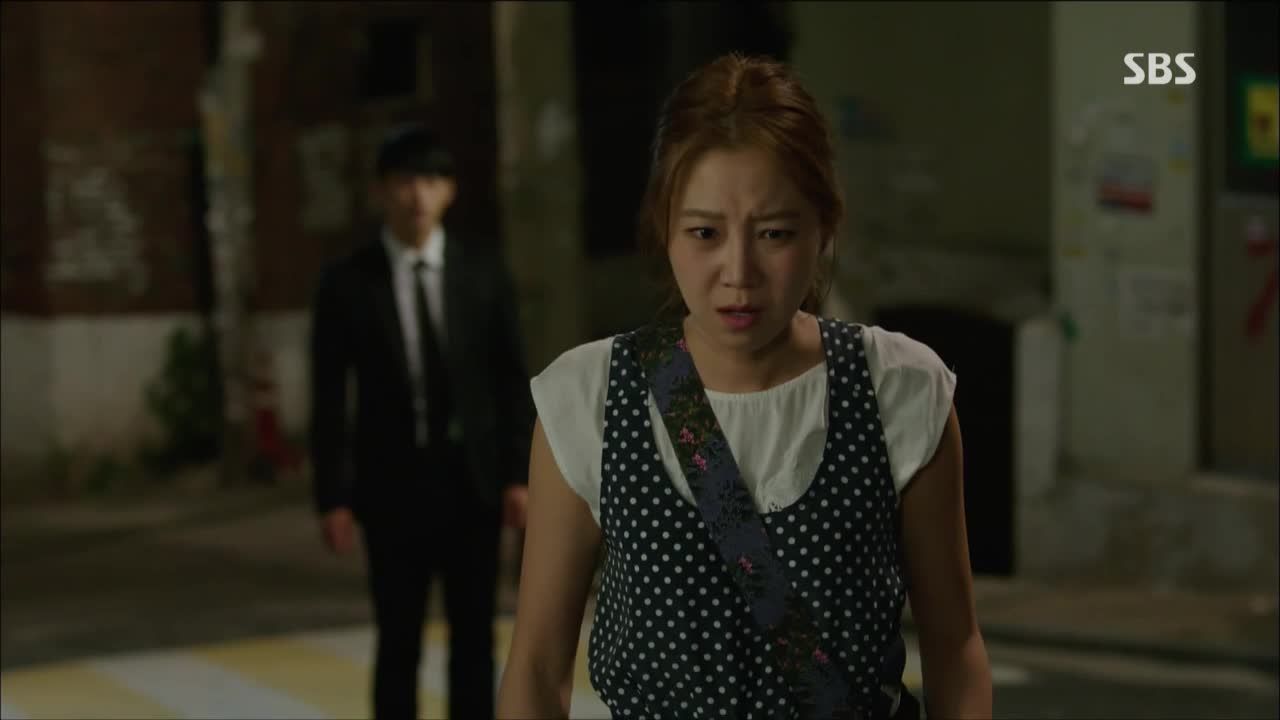 Kang Woo stays one step behind her and hears the landlady tell her to clear out the rubbish bins—and when Gong-shil changes and comes down to take care of them, she finds that they've already been emptied. So he's not a total jerk.
It's a pesky problem, but I'd say she's got it better than Yi-ryung, whose ghost is a lot more malicious. Yi-ryung has another dream where she hears her younger self crying and screams at Little Sun. Little Sun gives her a demented smile and says, "But you're the Little Sun." Creepy.
Yi-ryung jerks awake in her van, in a foul mood, and checks her mirror. Red Lipstick whispers, "You have to become prettier." And then Yi-ryung asks her manager if a trip to the hospital is in order.
Gong-shil huddles in her apartment swatting at the air next to her, talking pleadingly to the ajumma ghost who appears to be complaining about the convenience store that popped up next to her market.
Cut to: Joong-won asking, "You want to sleep with me here?" Gong-shil: "Just holding hands!" Hee. She spent all night awake thanks to that market ghost and thinks longingly of their one night together when she got a good night's sleep, reaching out a hand to touch him.
Joong-won recoils from her touch every time she tries to get a piece of him and tells her to find Hee-joo if she wants some of that action. He holds out his hand temptingly like a pusher dangling crack under an addict's nose, then jerks it away. He's such an ass, and it's so hilarious.
The thing is, Gong-shil can't just summon Hee-joo at will, so she decides to try looking at the place of her death, which ghosts often frequent. She asks Secretary Kim about it, and gets more of the story, albeit skewed—he still thinks of Hee-joo as co-victim, not co-conspirator.
In flashback, we see Chairman Joo preparing the ransom, which came in the form of diamond jewelry that once belonged to Joong-won's mother. Joong-won was forced by his captors to read out of a book (hm, it's Agatha Christie's murder mystery And Then There Were None) to regularly confirm that he was still alive, which led to the trauma he still suffers today. (Ah, the source of his dyslexia?)
Once the ransom was given, Joong-won was released, but the captors kept Hee-joo hostage as they made their high-speed getaway from the cops. In the chase, the kidnapper swerved off the highway and onto a dirt road, where the car collided with a truck and tumbled into a ditch. The kidnapper walked away and when the police (and Joong-won) caught up to the car, Hee-joo was the only one inside. And then the car exploded.
Yi-ryung causes a stir as she sashays through the shopping mall, to the confusion of Joong-won and Secretary Kim. Joong-won recalls Gong-shil's comment about a scary thing hovering around Yi-ryung and wonders, "Has she turned into a dog too?" Secretary Kim interprets that the standard way and shoots him this scandalized look, like, Omg, you did not just say that. It's great.
Over dinner, Auntie Joo asks Joong-won about that cleaning lady he's been seen associating with, and Uncle VP slips in a little innuendo about him keeping her close so she can clean his office, and his company, and his house. Joong-won cuts to the chase by saying that yes, he's keeping her close, but no, not for cleaning. Hee. He says he knows what they're thinking, but their relationship is actually "a lot more shocking than that." Double hee.
Auntie Joo asks incredulously if he plans to marry her, and he says of course not: "All she wants is my body." LOL. "We've agreed to only exchange meaningless skinship."
Despite the nonchalance with which he drops those bombs on Aunt and Uncle (not without a little satisfaction to purposely lead their imaginations astray), Joong-won finds himself musing about that so-called skinship. Then he shakes his head and tells himself firmly, "No, just think of my money. She will find my money, she's a 10 billion won radar."
With that, he comes up behind her as she's cleaning (and trying to shoo away a ghost) and claps a hand on her shoulder, sending the harasser into a puff of smoke. He informs Gong-shil that Yi-ryung has "turned into a dog" (haha) and sends her along to check on it. She shrinks from the task, saying the ghost is really scary, shaking her head no even when he offers to stay nearby so she can run into his arms. (Dude. All this wordplay is just making my day.)
So he supposes that she's really more worried about her old classmate seeing her this way, and she admits that Yi-ryung purposely sought her out to rub her nose in it. She confides that she was once the Big Sun next to Yi-ryung's Little Sun, but he just says she looks like a hunched-over sun now. Not sparing much sympathy for her, he waves her away.
Kang Woo finds her outside and asks why she acted funny the other day, and she explains that while she had a different reason then, now she's avoiding Yi-ryung because she's embarrassed. Kang Woo supposes that she's not feeling low because of Yi-ryung, but to her former self, which is a nicer way to think of it. He shares some words of wisdom he'd once received: "Don't compete with your past self. Look forward to your future self and love your present self." Wise words.
The light turns green, and they take the direct route home today.
Annnnnd suddenly Kang Woo is working the charity gala and Gong-shil is on cleanup duty. Continuity not so great this scene, no?
Yi-ryung has been spiraling all episode into an abyss of one-upping herself (grander fashions! Bigger hair! Bolder makeup!) so it's no surprise that by the time she arrives, she looks like something the cat dragged in. Literally. It's feathery and shiny and glittery, like Cruella de Ville mated with Beetlejuice.
Uncle VP clocks Gong-shil's presence here and decides to have a little fun meddling with Joong-won, and asks her to help with an internal matter. The next thing we know, Gong-shil is dressed in a nice dress uniform and ordered to just stand at a table.
Gong-shil can't ignore Yi-ryung's plight, though, and approaches hesitantly. She asks Yi-ryung not to take this the wrong way… but don't listen to those words telling her she's the prettiest. Haha. She advises her to "look only at yourself, and don't get taken in by the words that you have to become prettier." Yi-ryung scoffs that Gong-shil just insulted her, while a couple of snide models mock Yi-ryung's unhinged appearance and figure they're better than her.
…which are just the words to attract Red Lipstick away. Yi-ryung comes back to herself, realizes she looks a fright, and yanks off the crazy feathers.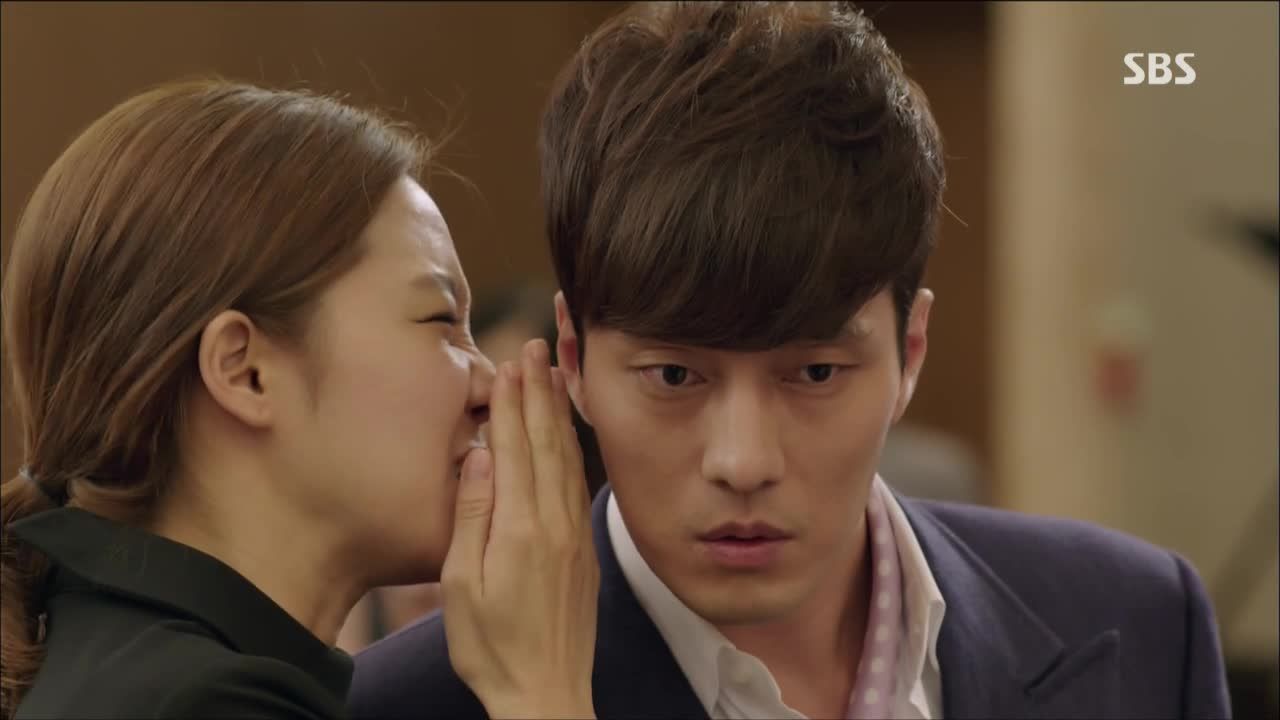 Joong-won comes up to Gong-shil to wonder what she's doing here, and she assures him that she took care of the Yi-ryung situation. He actually scoffs that she helped a pain in the ass, which is sweet, if contradictory to his whole demand ordering her to do it. He tells her to perk up her radar antennae for the Giant president's arrival, suspicious that the guy's got something strange going on that she ought to pick up on.
Then Gong-shil spots something with the lady Joong-won had been chatting up earlier and whispers in his ear. Joong-won's eyes widen and he thanks her for helping him dodge a bullet. Then he puts in a request for a dead person meeting—with Steve Jobs. Pffft. He suggests going to Steve Jobs' house and giving Gong-shil a drink to see what happens (did Stuffypants Jerkface make a funny? Haha), joking that he ought to find more uses for his expensive radar.
Kang Woo catches a glimpse of the two of them looking chummy and clenches his jaw.
Joong-won gets word that the Giant president would like a private word before joining the gala, so Joong-won tells Gong-shil to follow him to his office and gives the instruction to have the president escorted there. Once in the office, Joong-won jumps nervously when something falls over, thinking it a ghost, while Gong-shil is all, It just fell. Ha. She apologizes for not being able to find Hee-joo yet, though, and he wonders if she might have just disappeared after getting to say her piece. But that can't happen, he says, "because then I can't forgive her."
Gong-shil just now recalls something Hee-joo said as her consciousness was fading away, and informs Joong-won that Hee-joo had told him she doesn't hate him and that it wasn't his fault. Oh no, is she making this up? Bad idea beans!
Sure enough, Joong-won's eyes narrow as she tells him Hee-joo said not to feel any more pain, and that he should let go of the past. His face hardens as he tells her not to lie, because she never would have said that. Chastened, she hangs her head and says she just wanted to give him some breathing space, but he yells at her to leave.
Gong-shil leaves in tears and trudges home as Joong-won waits for the Giant president, who is running late due to a large traffic accident with multiple deaths. It's the same accident Gong-shil encounters, and Joong-won's mind is heading in that direction too, as he asks whether anybody has called.
Secretary Kim offers to call the Giant president. Joong-won asks why. Secretary Kim: "Was that not who you were worried about?"
WHY NO IT IS NOT. Go after her! Save her from the ghosts!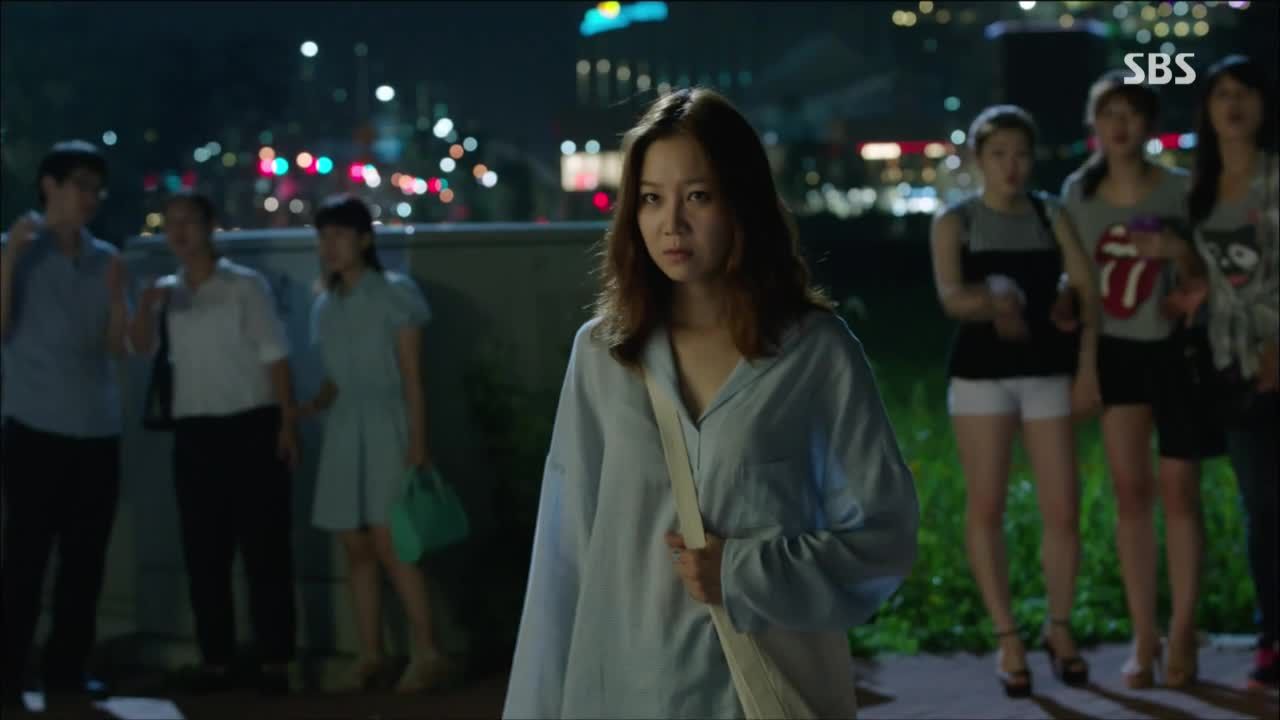 Gong-shil is among the crowd of bystanders forming around the accident site, where the bodies of the dead and injured are loaded onto stretchers. Then, slowly, the spirits of the dead start to materialize, ready to emerge from behind the mangled vehicles. Gong-shil can sense their energy growing, and shrinks back in fear, burying her head in her hands.
And then a hand reaches out and pulls her to him. Joong-won tells her, "Your emergency shelter is here. Hide."

COMMENTS
If I have a quibble, it's that the ending scene came on too quickly and felt more like we were maneuvered there, so the payoff wasn't as strong as I wanted it to be. I wanted to squeal when he showed up, but instead it was exactly what I was expecting, no more no less.
That said, I did love the progression of the episode that started us off in bed (rawr) and ended with Joong-won deciding to help her out of his own will, going out of his way, after he'd already lost his temper with her. That's a ton of progress, and while it is fast, it's just the right kind of fast in my book. This is something these writers do well, which is letting the characters jump off into the deep end of the romance pool and then just going all-out with it. I love the hurtling-headling-into-love feeling of their dramas, because that's a big component in providing that rush. Their characters often arrive there before we do, which is so much more exciting than when we're just dyyyyyying for the couple to get it on already and more exasperated when they finally do than gratified. Finally!
I do have the nebulous concern that this whole touchy-feely metaphor-plot-device will start to get old, quickly, because we're only in Episode 4 and we're sorta milking this joke dry at this point. I don't mind the skinship, of course, but I do hope they find funny ways to twist the scenario now that we've established the joke. Don't get me wrong, I'm totally snickering at every doubled entendre and naughty pun like a twelve-year-old, but I want to keep laughing, and I think the jokes have to keep apace with our reactions to them.
I'm not really sold on the Kang Woo character, although I'm glad to at least see shades of his own character peeking out from behind his spy-informant façade. Till now it's been purposely unclear whether he's working for a good or bad guy, and while it's still a little hazy what Daddy Joo wants, it's looking closer to the Not Nefarious side of things. And even if he is manipulating Gong-shil and playing her with the planted idea that he likes her, I like seeing the glimmer of interest starting to emerge—it makes it more fun that he entered the game playing the part of suitor, and then falling for her. It's the classic revenge twist that we get in all those vengeance thrillers, only this time it's a rom-com second lead who falls prey. If ever there were a way to make Second Lead's plight more angsty, huh? He has nobody to blame for his heartache but himself.
The ghost in this episode was a welcome change from the Help Me Settle My Last Wish And Move Into The Light setup of prior episodes, because as I (and many of you) noted, those were getting kinda yawn-worthy. I like the idea of ghosts being a part of this world, and forcing characters to act and react in certain ways, but not necessarily needing a neat resolution in a case-of-the-week format. That gets boring, and without exactly the right, subtle care put into making them nuanced and emotional stories, we're likely not going to get much gratification out of the resolutions. So it's better to have them as part of the landscape, sometimes stepping in to complicate matters, and then sometimes stepping back without being tied up in a neat bow. I hope the show continues along those lines, rather than trying to bite off more than it can chew with mysteries and unsettled debts. After all, I'd much rather we spend the screentime with our main couple anyway. Preferably with lots of touching.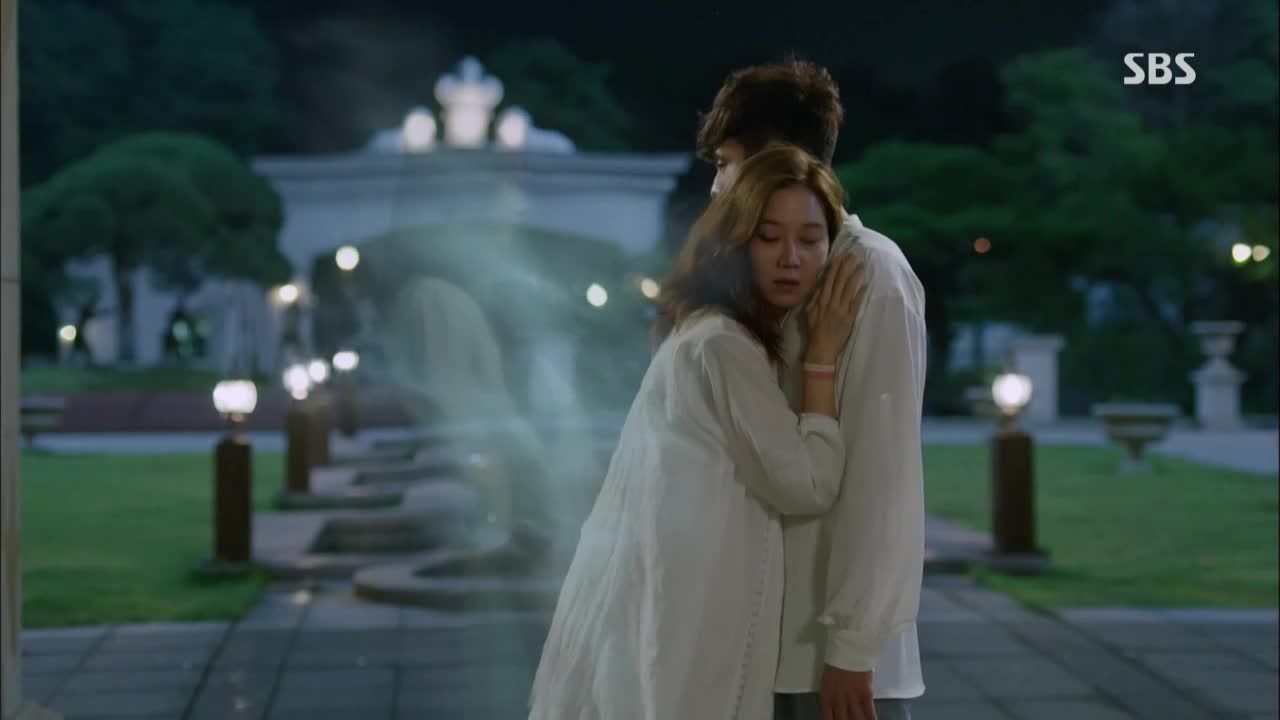 RELATED POSTS
Tags: featured, Gong Hyo-jin, Master's Sun, Seo In-gook, So Ji-sub