Movie Review: Festival
Continuing with his exploration of Korean history and culture, director Im Kwon-taek's ninety-fifth film, Festival, adapts the writing of Lee Chung-joon and takes a look at family relationships through the lens of the traditional Korean funeral customs. Festival incorporates a level of formalism uncommon in Im's work that might turn off those looking for more straightforward films, but it's the overarching portrait of a family that truly convinces in this film.
That family is the family of Lee Joon-seop (Ahn Sung-ki), a successful writer from a small town. Lee gets a call that his elderly mother (Han Eun-ji) has passed away and heads back to his hometown with his family to arrange her funeral. As the family gathers and prepares the party, they are joined by reporter Jang Hye-rim (Jeong Kyung-soon), a fan of Lee's who is writing a story about him, as well his niece, Yong-soon (Oh Jeong-hae), who has been long estranged from the whole family, leading to some additional tension as complications arise during the extensive funeral process.
During the film, a group of older folk at the funeral lament about the changing funeral customs of Korea, which are increasingly abridged and simplified, but much of the traditional multi-day process is preserved in Festival. The adherence to the tradition gives the film a lot of space to capture the state of relationships between the large family as well as looking at some of what led to the family's present state.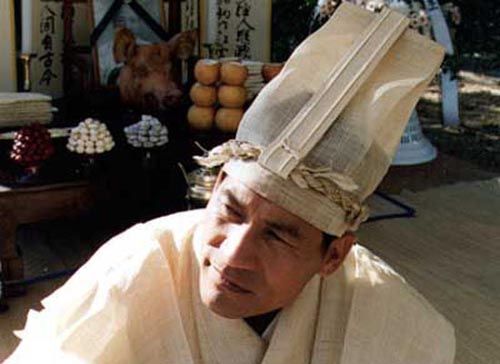 The film's two emotional cores are Lee and Yong-soon. The former's segments include a series of vignettes with an almost theatrical presentation and performed like a children's television show that tells a fictional story about Lee's mother and his daughter, which we later discover to be from Lee's children's book he wrote. Although it might initially seem random, it's actually a surprisingly affecting revelation about Lee's relationship with his mother and some of the guilt he bears from not completing his filial duty as the eldest surviving son.
In contrast, Yong-soon's story is told in a combination of flashback, her own narration to reporter Jang and by third party and the tension she brings to the proceedings is an effective contrast to the rather expected ways of the rest of the family, also tying in well her own connection to her uncle Lee.
What's particularly appreciable about Festival is how real the family seems, even despite how each individual character isn't given a high deal of development. The mosaic that the film weaves together highlights the kind of interactions, both negative and positive, that can be found between real family members and the film's decision to include both help bring a sense of reality to the film. Festival's final moment being a photograph of the family members taken by reporter Jang further highlights precisely what Festival is trying to do, which is take a snapshot of this family at this moment in time, tying the film together nicely at its end.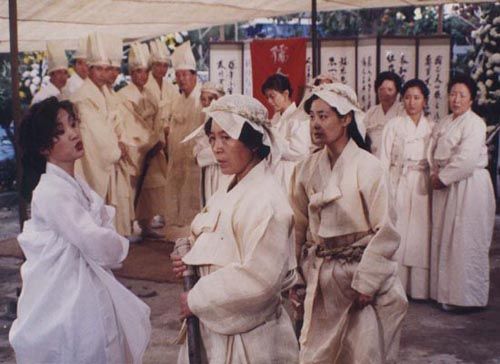 Im's decision to include a telling of Lee's children's book in the film is a formal experiment that serves as a surprisingly effective boon to his emotional story and Ahn Sung-ki brings a great deal of pathos to Lee, capturing Lee both in his contrite execution of the funeral rites, but also exposing flaws in his character in a natural way. Most of the family members as well as the guests are portrayed quite admirably considering the limited amount of screen time that they get, both capturing their familial archetype while adding just enough humanity to their performances that they mostly aren't flat.
However, not everything works perfectly in Festival. Like in The Taebaek Mountains, Im inserts some passages into the film where characters essentially submit the viewpoint of the writer in exposition, like the philosophical historical waxing of Lee's friends in the fishing boat on the Confucian roots of Korean funeral traditions. Even if these moments do help contribute to both the setting and the understanding of the film, their incorporation into the actual narrative is clunky and seems forced, especially as they are detached from the main characters.
But even despite these clumsy patches in the film, Festival still works quite well thanks to its other naturalistic muti-faceted capturing of a family and the way that Im is able to weave this around the funeral ceremony. The insertion of Lee's story as well as the careful attention to specific funeral customs grounds the film in both the inner emotional world of its character as well as giving sequence and space for contemplation in an effective manner, contrasting with the more naturalistic storytelling of the rest of the film.
Festival might not be on quite the same level of power as Sopyonje or hit on the same emotional beats of Im's other successful art films, but it manages to capture a genuine portrait of a family wrapped around an examination of a cultural tradition. And that makes Festival one of Im's most understated films, but despite its low profile and low-drama approach, Festival manages to be one of his finest. 8/10.
Tags: Ahn Sung-ki, featured