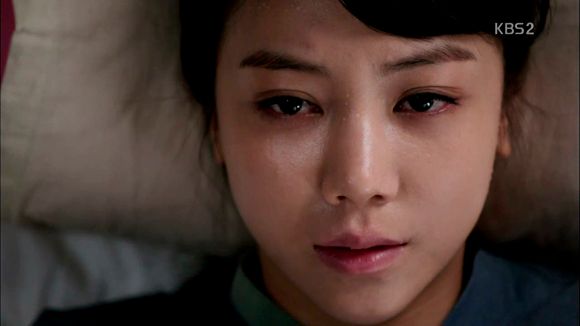 With death comes rebirth, and it's our heroine's turn to face the business end of a life-altering experience. While she's busy picking up the pieces of her heart left in the wake of General Yeon's military coup, our hero risks everything—and does anything—to save her. It's really quite romantic, as long as you leave out the whole my-father-killed-your-family-and-tried-to-kill-you bit.

EPISODE 9 RECAP
The moment Choong enters the bloody throne room, Leader So whispers for Shi-woo to get the princess out. In a flash, Shi-woo grabs her and bursts through the nearest wall to escape.
Leader So prevents the soldiers from advancing, but he's not alone—Choong marches up behind his father and puts a sword to his neck. Whoa. Guess he was serious about his promise to protect her.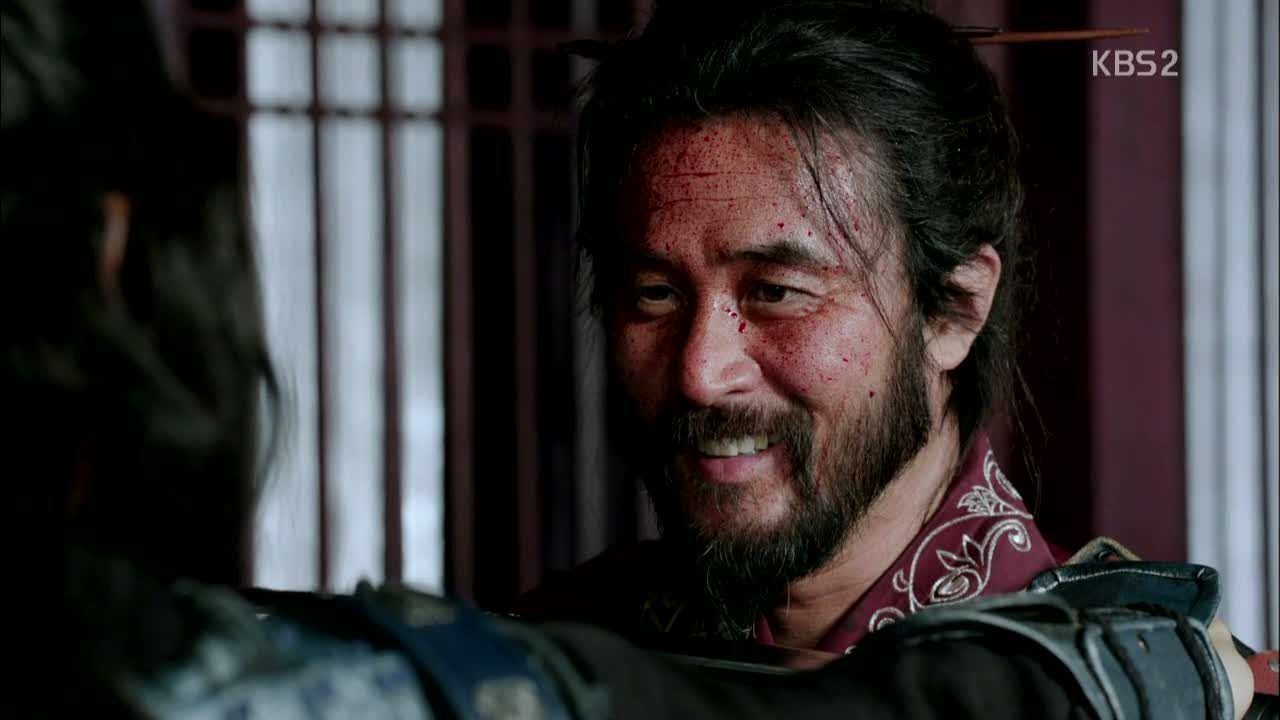 General Yeon orders his men to step back, which allows for Leader So and Tae-kyung to escape. Then he laughs in his son's face: "Is this the best you can do?" (Choi Min-soo has finally arrived! Where was he all this time?)
Choong keeps his father hostage as he slowly starts backing out of the room, with all the soldiers following closely behind.
Meanwhile, Shi-woo and Leader So (aka Shi-woo's dad, apparently?) find themselves surrounded by more of General Yeon's men outside. Seol-young finally makes a reappearance with a horse to help the fight, and they keep the soldiers distracted so Shi-woo can use the horse to get the princess out of dodge.
The three Geumhwadan members face off against their foes to buy them time. General Yeon's voice rings out for his men to drop their weapons, and we see that it's because Choong is still holding him hostage. The remaining good guys escape, and I'm beginning to wonder if his dad is just humoring Choong at this point.
It does seem that way, since General Yeon sends his men away before telling his son, "That's enough. I gave you the time that you wanted." Choong lowers his sword.
Yeon returns to the throne room where Jang stands over the body of the king and addresses him as the king. As in, "Sire, Goguryeo is now yours."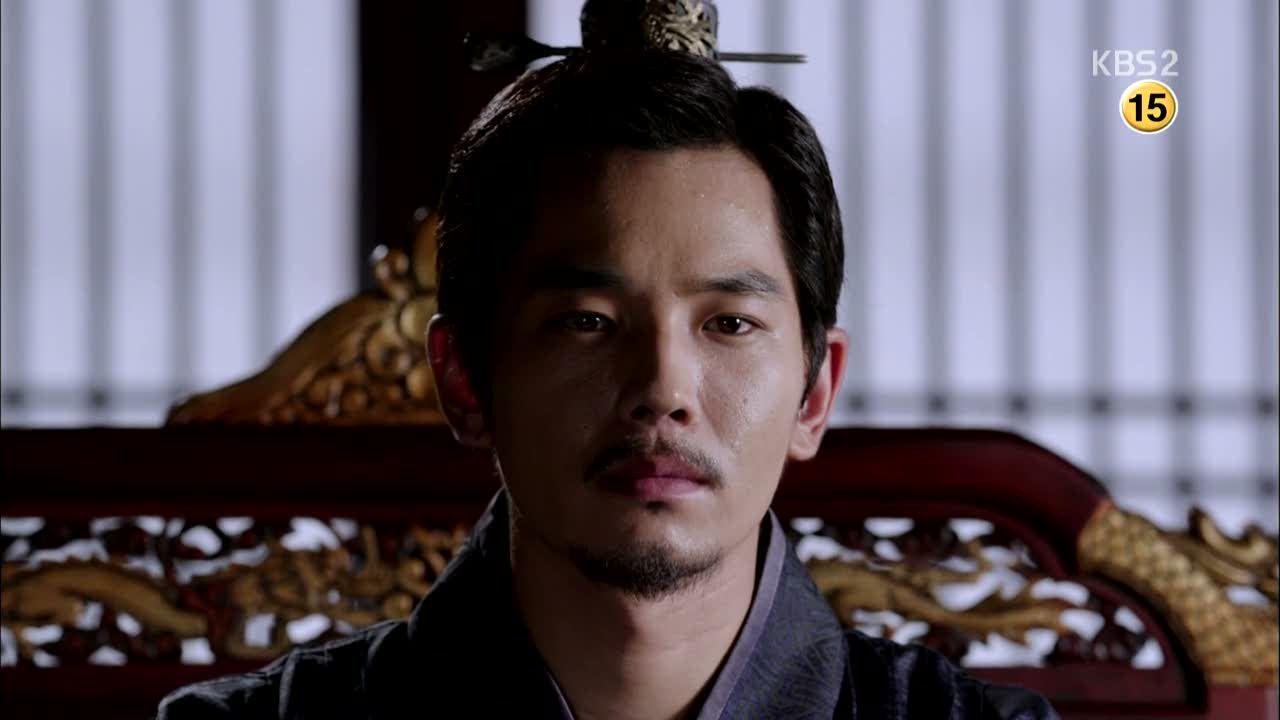 Jang ascends the throne as Yeon gazes on, soon accompanied by his three supporting councilmen who likewise address Jang as the king.
While Leader So and the rest of his men escape through the secret passageway, Shi-woo and the princess gallop away from the palace at full speed, since they're being chased by General Yeon's minion. Choong isn't far behind.
Shi-woo fools the minion by sending the horse into the wilderness alone while he and Mu-young continue on foot, but poor Mu-young looks numb as she's led around, still in shock from all that happened.
Choong isn't as easy as the minion and picks up on their real trail soon enough.
Meanwhile, Mu-young finally snaps out of her stupor and demands to go back to the palace, determined to kill the traitor who killed her father. Shi-woo has to force her into a bridal carry to keep them moving.
They're soon back on foot and running once General Yeon's minion starts chasing them on horseback, but Shi-woo and Mu-young are forced to skid to a halt when another step would send them tumbling over the edge of a cliff.
Yeon's minion has them cornered now, and though wounded, Shi-woo makes a valiant stand. When Mu-young sees that he's bound to lose, she saves him by grabbing his sword to take the minion on herself.
Their sword fight is much more legitimate this time, but the minion still gets the best of Mu-young and sends her perilously close to the edge.
Just as Choong approaches, she loses her balance and falls off the edge. Choong doesn't even blink, doesn't even take a second to think, before he sheds his heavy armor and jumps over the cliff after her.
He lands in the water below, but there's no sign of her. He calls out for her desperately as he keeps looking.
Somehow, Shi-woo makes it to the shore and finds only a boot and a trail of footprints. General Yeon's minion isn't far behind with a contingent of soldiers, so Shi-woo is forced to hide again. At least he knows the princess is alive.
In the blood-soaked meeting hall, Jang asks General Yeon, "Is it over now?" Yeon: "It's only just begun."
I was wondering where General Yang was off to during the massacre of the councilmen, but it turns out he was spared because he chose not to participate in the ceremony. So it's only just now that he receives word of the coup.
General Yeon takes a moment to stare at the empty throne (I wonder if he's feeling even a teensy bit of remorse?) before his supporters arrive with no new word on the princess' whereabouts, though they're more concerned with killing General Yang.
When they ask about what to do with the king's body, General Yeon replies that it should be dealt with like all traitors' corpses. I don't know how that is, but I'm guessing it's nasty business.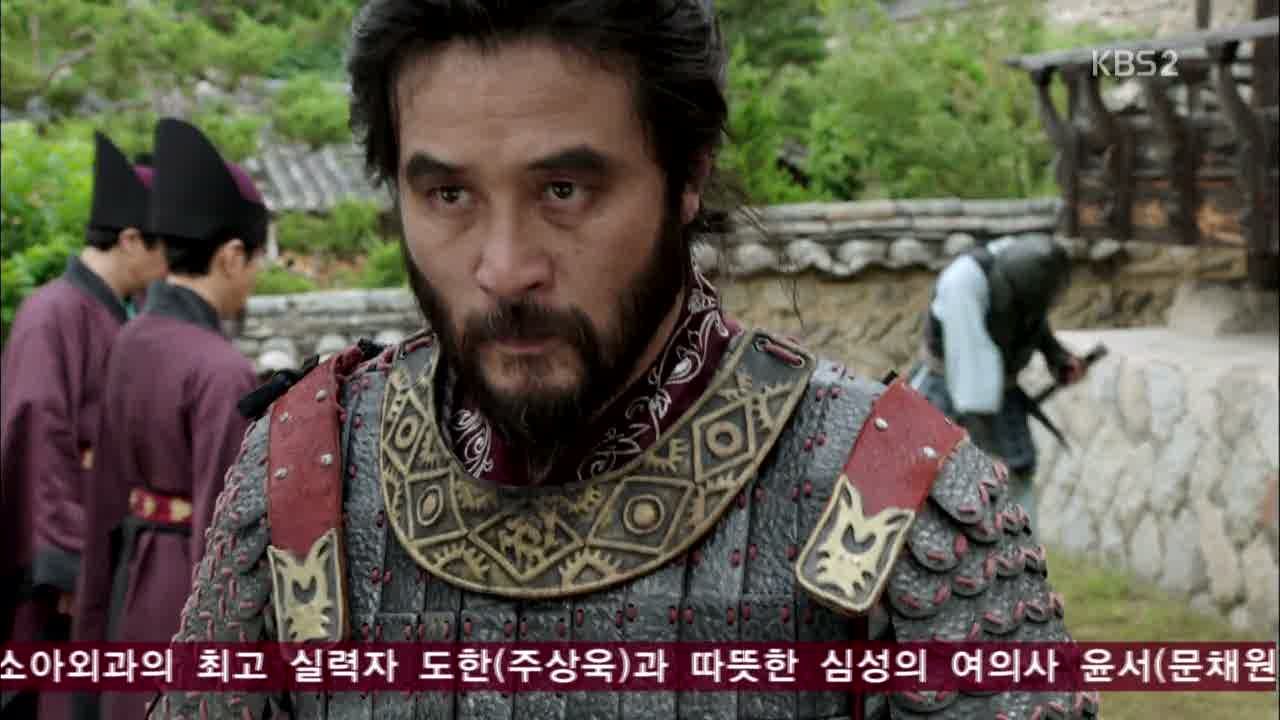 General Yeon heads to the home of the recently-deceased chief minister, and tosses a sword at the feet of his surviving son with the instruction to kill himself if he wants to wash away his father's disgrace.
He does, but it does nothing to spare his mother and sister from being killed on the spot.
Next up for some murdering is the aforementioned General Yang, and I kind of love that Yang is just so nonplussed by General Yeon's intimidating presence, or the fact that his life is on the line when Yeon asks him if the dead king is more important to him than Goguryeo.
"Goguryeo will now be governed according to your philosophy," Yang says resignedly. "I can do nothing for Goguryeo." That seems to be the exact opposite thing he needs to say in order to live, but that's not what he's concerned about.
Much to the surprise of his supporters, General Yeon spares his life. "Goguryeo still needs you," he explains. "But what Goguryeo needs is not the traitor Yang Moon." So he spares General Yang's life on the condition that he return to his hometown. But he'll be keeping a very close eye on him from now on.
At least General Yeon is playing this whole coup thing smart—he knows that killing General Yang would start an uproar they don't need. Plus, his influence could prove useful.
While the palace starts to do post-coup-body-cleanup, Choong collapses in exhaustion from his search for Mu-young. Oh, so he wasn't the one who found her? Aww.
Cut to: Mu-young sleeping in a simple house, in simple clothes. Her troubled dreams have her saying "Father, father, father" over and over again, and the small girl at her bedside takes Mu-young's outstretched hand.
A flashback shows that she and her father had been traveling along the shore when they found Mu-young, so they saved her like the good people they are.
Mu-young finally wakes and shoots up from her unfamiliar bed, only to find out that she's been unconscious for three days. She immediately stumbles to her feet and through the door, determined to return to the palace to avenge her father.
But the man knows that she's the princess, and tells her that she'll just be throwing her life away if she returns to the palace now. Mu-young grabs a nearby knife in her shaking hand and vows, "Even if I die, I won't die alone!"
The man talks her down once he mentions that he's a close friend of Leader So's, and Mu-young reluctantly relents.
A collective gasp goes through the people of the capital as they crowd around General Yeon and his men on a raised platform… directly opposite the bodies of the crown prince and the king, which are on display, tied up to poles on a pyre.
Choong joins the crowd, and a look of horror passes over his face when he sees the crown prince like that. He then turns his gaze to stare daggers into his father's back. Ooh, I love that you can just see how disgusted and enraged he is by what his father's done.
He leaves the scene before Mu-young's caretaker sneaks her into the crowd so she can have one last look at her father and brother. But of course, she's unable to restrain herself and abandons her primitive jangot (the veil she was using to hide her face) to run toward the platform. Ack! She'll be caught!
Her grief gets me straight in the gut, but her caretaker is doing a poor job at dragging her away inconspicuously. She's not helping when she chokes out, "Father!" Luckily, the crowd is too enraptured to care.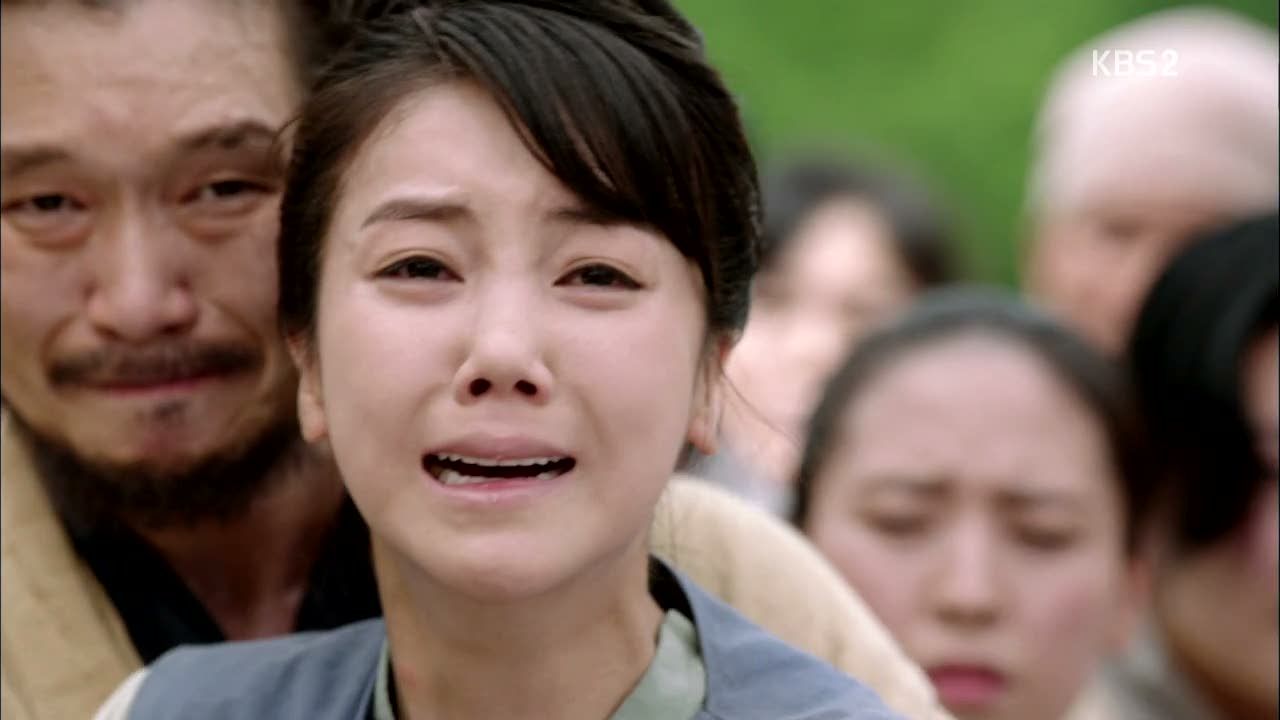 Her father's "crimes" (which sound like a bunch of lies) are announced to everyone assembled, and they even call the king by his given name to further strip him of his identity and honor. Mu-young is only held back because of her caretaker, when every fiber of her being wants to run to the pyre.
Devastation hits her full force when the pyre is lit, and she's forced to watch the bodies of her father and brother be consumed by fire. How horrible. I can't even.
Jang watches the smoke rise from the palace while he wears his new kingly robes. General Yeon is the only one left near the pyre once the flames have died, and in voiceover we hear him say to the late king, "Farewell. Your Goguryeo ends here."
Choong watches his father from a distance and thinks, "I will never forgive you, Father."
General Yeon's supporters gab about their assuredness that the princess is dead—and if they haven't found her, it's because she's been eaten by animals. No biggie.
Choong finally gets an audience with his father, and asks him outright if he's even human. His father calmly asks him if being 'human' has ever done anything good for him—his being human prevented him from protecting his princess.
"The reason you could not protect the princess is because you lacked power," General Yeon says. He defends his actions as being for the good of the country, because the late king would have led them all to ruin. He did what he had to to protect what he needed to.
"However," he adds, "given that you have no power or ability to stop me, you still dare to judge me?" Ouch. This does come off exactly like a father lecturing his errant teenage son.
But Choong returns that he's ashamed of the way his father protected his people, by resorting to lying about the king's crimes to fool them. So his father asks again, will he become a member of the Yeon family, or die?
Choong: "I'd rather die than remain as a shameful descendant of the Yeon family." This is why I love Choong. Aside from all those other reasons.
Contrary to what Choong expects, his father doesn't kill him on the spot—not out of a sense of mercy, but because only Yeon family members get the honor of dying in his house. He then declares that they are now no longer father and son, and have no ties to each other any longer.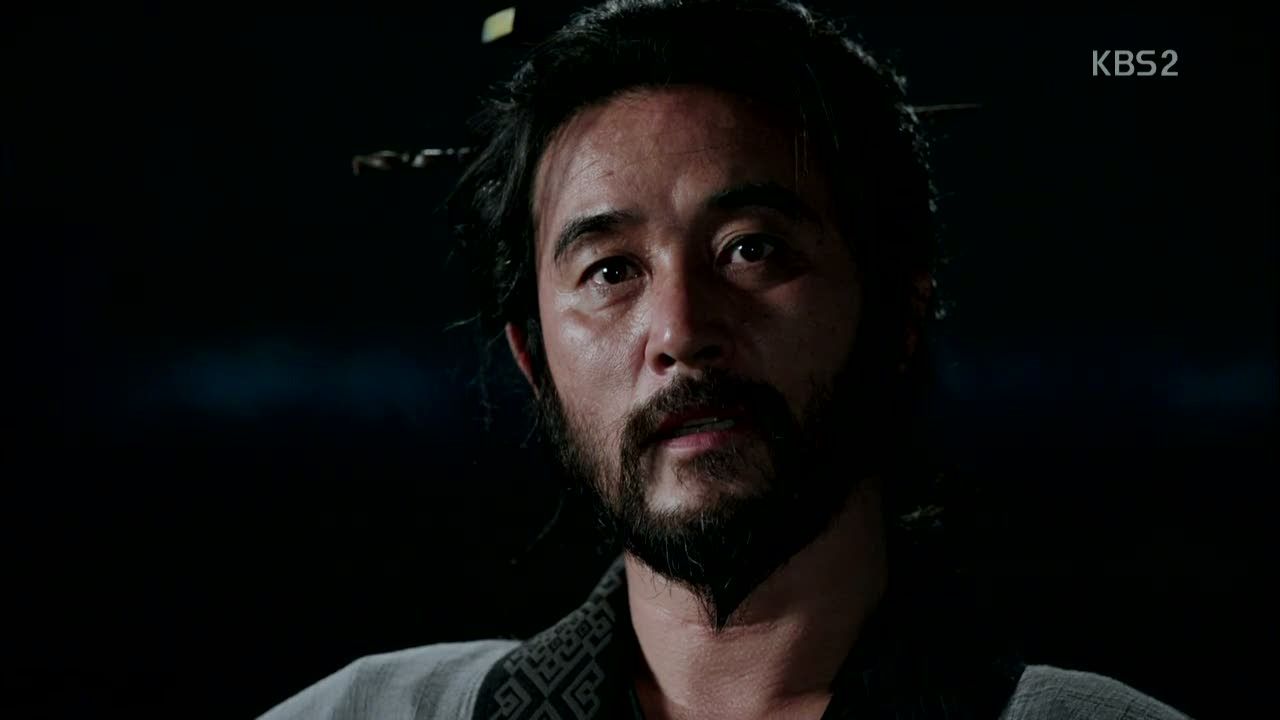 General Yeon's minion wonders how he could let his son just walk away, but Yeon reveals his (admittedly quite clever) plan: "If the princess were to be alive, who do you suppose would find her first?" He orders his minion to follow Choong, since he'll inevitably lead them to Mu-young.
Mu-young stays up that night with her grief, but it's only when she gets up to leave that her caretaker tells her about how falcons never miss their prey because they patiently wait for the perfect time to strike—and when they do, it's with lightning speed. So if Mu-young wants to take revenge, she has to be like a falcon. It sounds silly, but it makes sense.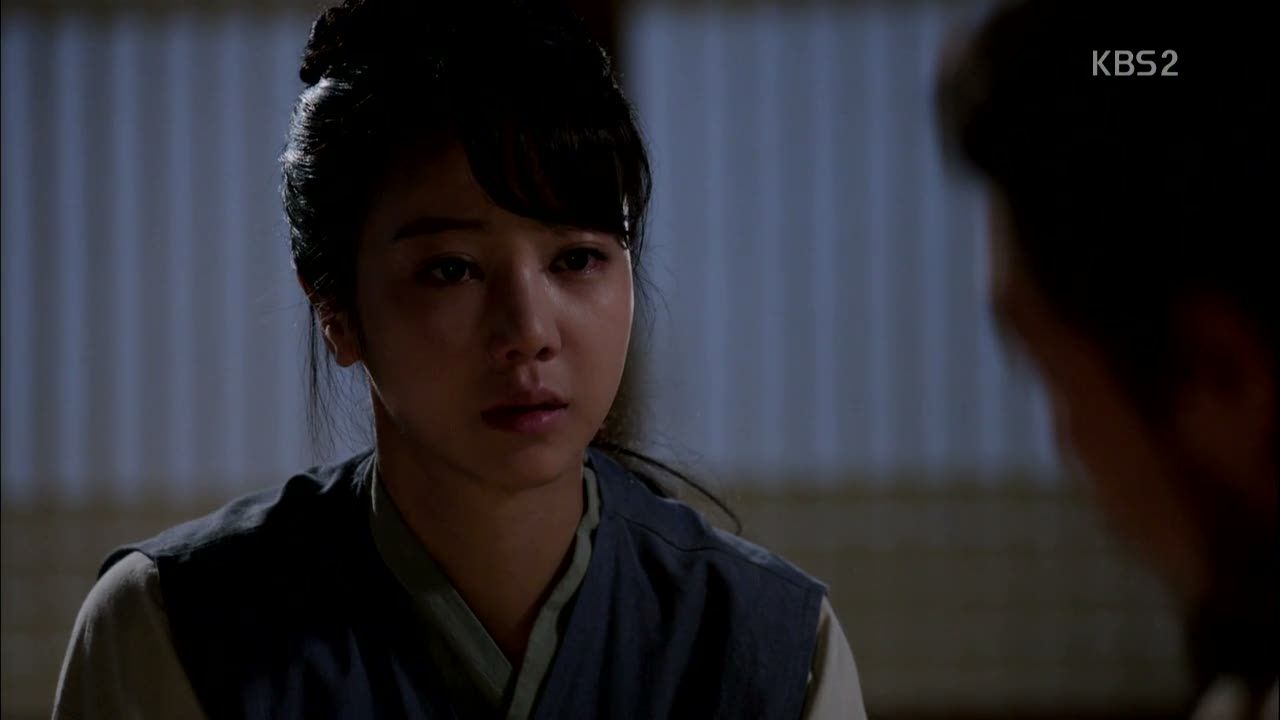 Luckily, when she admits how lost she is, he gives her directions to an emergency Geumhwadan hideout in the former capital. He knows all this because he was once a member of Geumhwadan, though he's since given up that life for his daughter.
A masked man drugs the men guarding the remains of the king and crown prince and takes them. The Geumhwadan gang witnesses the affair, and I'm guessing that they were there for the remains as well, in order to give them a proper burial. But they have no idea who took them.
Leader So is less concerned about that, because they have to find the princess before General Yeon does. They decide to head to their emergency hideout in the hope that Mu-young will find them.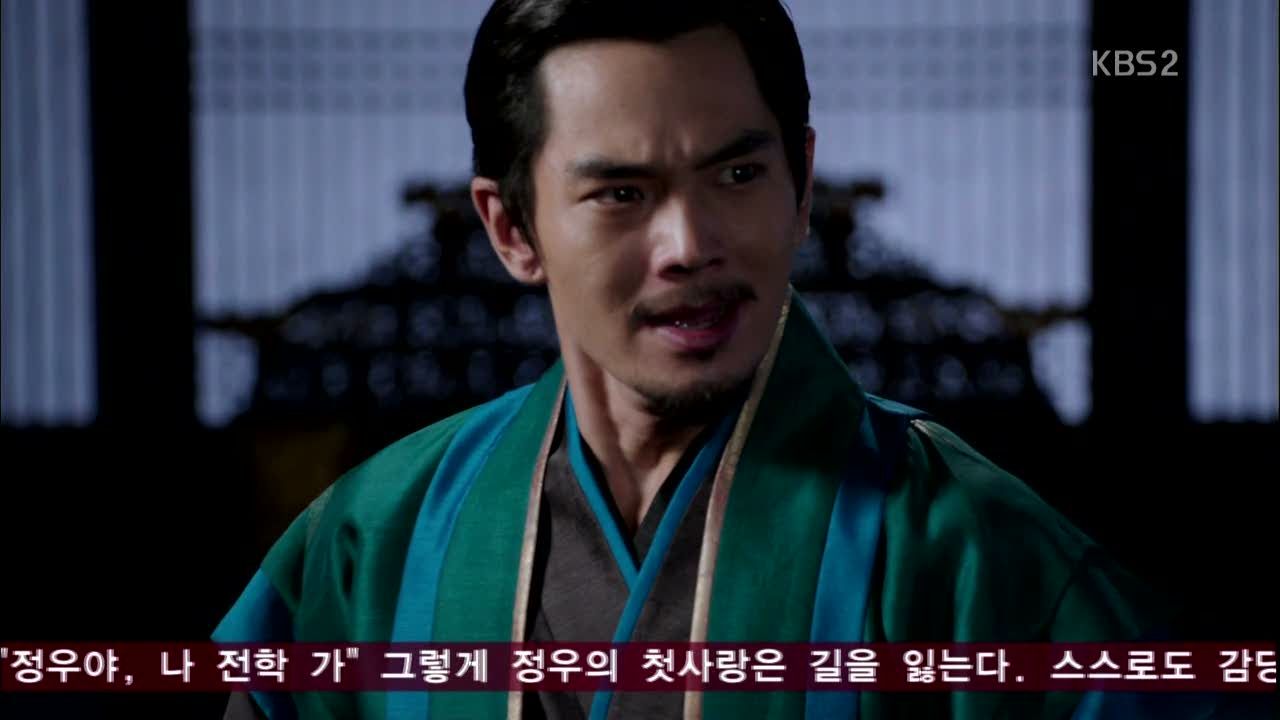 Ah, a twist—Jang was behind the stealing of the remains, and has them brought to him in secret. Suddenly he hears the king's voice ringing in his head with words of advice from their past.
Jang drops the remains in shock, and the ashes spill out as he addresses the memory of his uncle. But his assertions seem a little empty, like he's still trying to convince himself that he did the right thing.
He hears his uncle's voice in his head again and yells into the empty throne room: "I am the king of Goguryeo! I am! Soon, even General Yeon will kneel before me. I will definitely become a great king in history. I will! I will!" O-kay.
Jang gets his official coronation ceremony, where he exchanges his measly golden hairpin for a more impressive gold crown and officially becomes king. (He's identified now as King Bojang, the 28th king of Goguryeo, which is how history knows him. For ease of use, I'll just keep calling him Jang.)
He asks General Yeon later about the missing General Yang, and realizes that if the councilman returned to his hometown, it means he doesn't acknowledge Jang as king. Yeon has this look on his face like he's almost trying not to laugh during all this, as he advises Jang to just keep his eyes forward and focus on Goguryeo, not General Yang, his missing cousin, or Geumhwadan.
Jang pats General Yeon's shoulder as he mentions how safe he feels to have such a loyal subject as Yeon beneath him. It's quite patronizing, and Yeon seems to realize the same as his mouth twists into a wry smile. But I love how Jang's all, By the way, how's that bastard son of yours?
Choong's friend Jin-gu tries to dissuade him from leaving the capital on a wild goose chase for a princess who may not even be alive, but his words fall on deaf ears.
At least Mu-young told him to go to the former capital back when she gave him her bracelet, so he knows where to start looking.
General Yeon's minion updates him on where Choong plans to go, so Yeon instructs him to kill the princess if Choong finds her. "But what do I do with your son after finding her?" the minion asks, and we don't hear the answer.
Mu-young travels to the former capital with her caretaker and his daughter, but stops short when she sees a crowd cheering as they throw knives at a straw effigy of her father.
And we see Choong pass by the same demonstration only moments later, unknowingly followed by his father's minion.
Mu-young pulls her weight by helping her caretaker to make umbrellas, and the bamboo flower design she paints on one stems from a memory with her father, where he'd asked her which she thought was stronger—the sword or the flower? (Aha! There's the title.)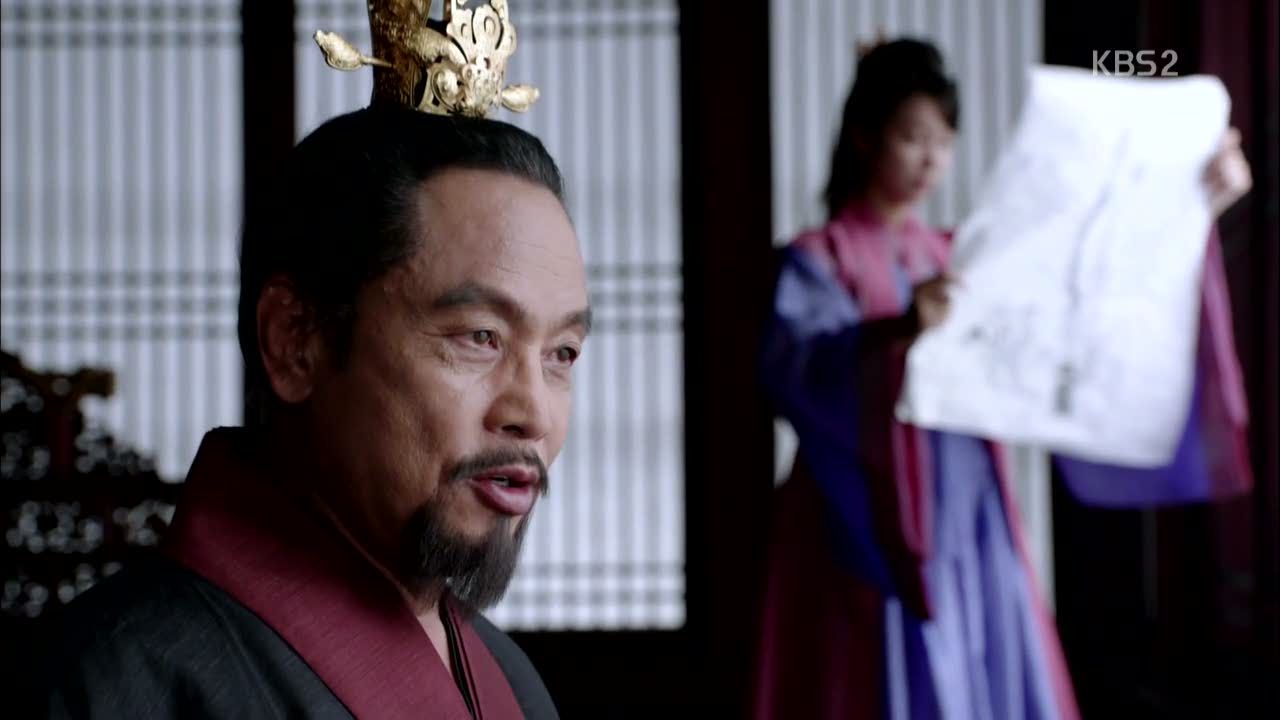 She'd answered that the sword would be the obvious choice, even though she knew that wasn't the philosophical answer he was looking for. He acknowledged that her first conclusion wasn't incorrect, since the sword could cut the flower and it'd be over.
"But the flower can bloom again after being cut," the king said, and because of the constant cycle of cut-and-bloom, the sword would inevitably rust and give way first. "The sword is not to be used to cut the flower, but to protect the flower."
That's when he'd told her about Geumhwadan, the secret group meant to protect the royal family and the people in times of uprising and war. (So they're the sword protecting the flower!) Does that make her umbrella a secret signal?
Choong watches as the caretaker's daughter tries to sell Mu-young's umbrella, but his attention is soon drawn to General Yang getting wheeled through the market. So this is the hometown he retreated to. How fortuitous. And I mean that in a good way.
Choong becomes keenly aware of the minion following him as he and Mu-young unknowingly pass each other in the market—and even though he gets a look at her side profile, he doesn't seem to recognize her.
Mu-young recognizes the minion, and cleverly unfurls an umbrella to hide her face while he passes.
Jin-gu rattles off all the places they've searched to find the princess (not going to complain, it's better than seeing every step), and is all ready to give up and go home. Why did Choong bring him along, again?
The Geumhwadan gang (sans Shi-woo and Young-hae) spot their Bat Signal in Mu-young's umbrella paintings, and realize instantly that she's trying to find them. Wait, why is it raining where they are and not where she is? Aren't they in the same city?
Either way, Mu-young grabs a bow and arrow to find a good vantage point to shoot the minion/her brother's killer. She has a clear shot of him, but falters when she sees Choong traveling not too far behind.
And it's not relief that fills her, but renewed determination as she pulls the arrow back and takes aim… at Choong.

COMMENTS
It kills me to think that Mu-young might be completely misinterpreting Choong's actions, especially when all we've seen is how devoted he's been to her through everything, even the threat of death from his father. At the point where your hero is willing to die just to make a moral point that no one besides his father would ever know of, doesn't that mean he wins at everything? Or that he should?
However, I can also see where Mu-young missed some of those key moments which proved Choong's undying loyalty—yes, she saw him face off against his father's minion, but that was only after the revelation that Choong was sent there to kill her. Then she saw him enter the throne room behind his father, but was whisked away before she saw him draw his sword in her defense.
Add that to the cliff incident of this episode, where she only saw him approach from behind the minion as she fell—meaning she missed the part where he dove in after her without even giving it a second thought. His only mission thus far has been to save her life, and she has no idea. That's brutal, thankless work, but somehow I feel like Choong isn't in this for gratitude, glory, or even because he hopes to get the girl. He's just doing what he thinks is right, which also happens to be the right thing to do.
At least all those misunderstandings make sense, both from a story perspective and because the show achieves its desired effect by making me want to scream "He did it all for YOU!" loud enough for Mu-young to hear in the fictional past. I feel way too invested in these two, if only because Choong is such a puppy when it comes to her—albeit an unusually brave, loyal, and heroic one. Basically, he's got all the perks of a puppy plus all the perks of being Uhmforce, and the combination of those elements has skyrocketed Choong up to the top of my favorite heroes list.
Lovely aesthetics aside, it is tough to get over how much of a breath of fresh air he is, if only because he doesn't bullshit anyone. Even when he had the chance to bullshit everyone and play dead, he didn't have the heart to make Mu-young suffer. Even when he had the chance to bullshit his father and guarantee his safety, he stayed honest. That's just one of of the qualities which sets him apart, but it doesn't make him perfect (and therefore boring) either—like Daddy Dearest pointed out, Choong is still frustratingly powerless in the grand scheme of things. Even if he and Mu-young were to be reunited in the next scene, what could he possibly do to help her when his dad has a hole where his heart should be?

RELATED POSTS
featured
,
Kim Ok-bin
,
Sword and Flower
,
Uhm Tae-woong