Two Weeks: Episode 2
I like pretty much everything about this show. It's slick, cinematic, tense, tightly woven, and populated with interesting, layered people. It keeps the energy high but never forgets the heart of the story amidst all the action and crime and twisty plots. Not that this is a warm and fuzzy kind of show, because it isn't, but even slick crime dramas need to find a way to connect to the viewer, otherwise we can't bother to care about what happens to anyone. But I care about a lot of people in this show, even—or especially—the one I thought it would be most tricky to care about. (Our wastrel of a hero, that is.)
SONG OF THE DAY
Dynamic Duo – "범죄야 범죄 (Crime Scene)" [ Download ]
Audio clip: Adobe Flash Player (version 9 or above) is required to play this audio clip. Download the latest version here. You also need to have JavaScript enabled in your browser.

EPISODE 2 RECAP
So our hero(ish lead character) Jang Tae-san is lured under false pretenses to the home of sweet-faced bar hostess (and prosecutor's informant) Mi-sook. He's knocked unconscious upon arrival and left to awaken smack-dab in the middle of a horrific crime scene. Blood, blood everywhere.
In horror Tae-san recognizes Mi-sook lying brutally stabbed next to him, which is when two cops walk in. Fuck. Of all the people. I'm sure this is no coincidence.
The cops take about two milliseconds to size up the scene and draw their guns, and Tae-san instinctively raises his hands in the air, all, We're cool, I'm cool. Only this is so very not cool, and he only now sees that he's covered in blood too. He doesn't even realize that he's clutching the knife in one hand until a cop orders him to drop it, which looks just bad, bad, bad.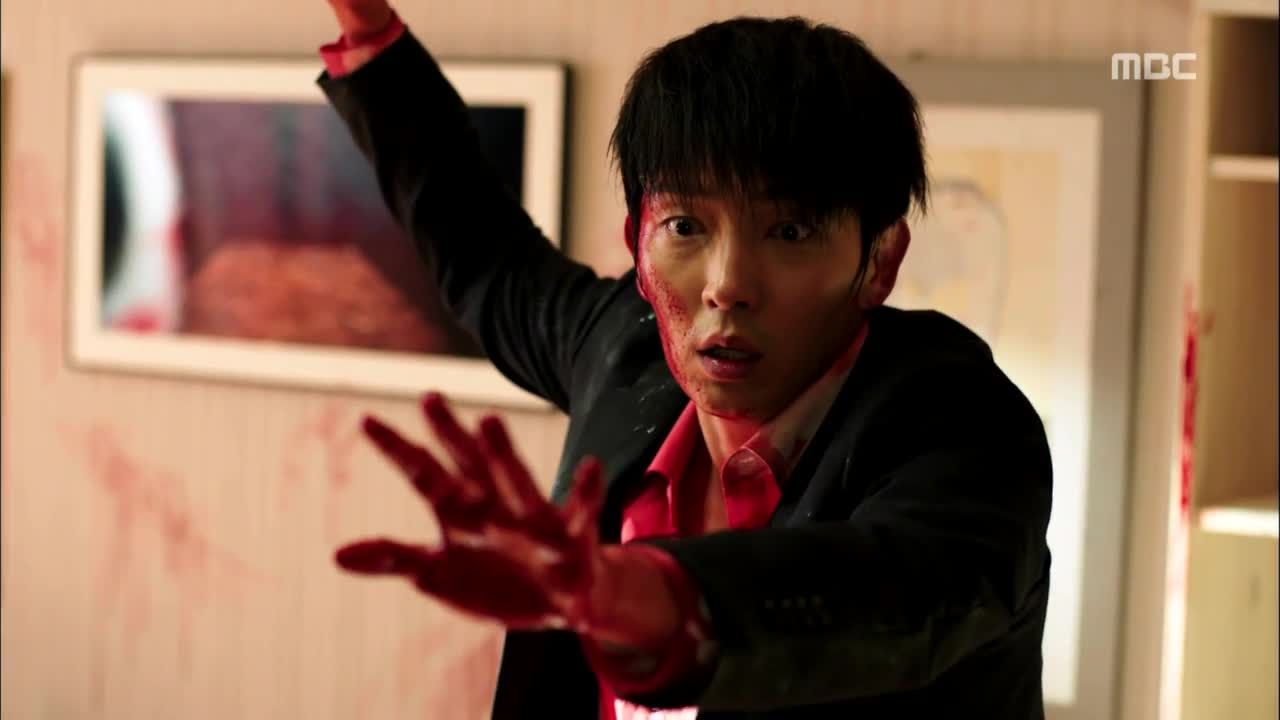 The cops take him down and cuff him, while Tae-san protests, "It wasn't me!" That's not the first time they've heard that, I'd bet.
At the hospital, little bundle of joy Su-jin jumps on her bed now that she's going to live after all. She tells Mom (In-hye) and Mom's boyfriend Seung-woo that God came through after all, and when she's all better Mom's gonna buy her lots of treats to eat. Seung-woo wonders who the bone marrow donor is, and In-hye lies that the hospital doesn't tell you those things.
Seung-woo gets a call from work ordering him to come in despite giving him time off, and he starts to protest until he hears why: There's been a murder case. Oh boy, he's a cop, isn't he? That's one way to tangle things up.
At the station, Tae-san insists that he was set up. When the cops find Su-jin's monkey doll in his pocket and try to rip it open to check for drugs, Tae-san freaks out and grabs it back, arguing that they can't just do whatever they want. He's a suspect, but he's not in on drug charges and he's still got rights.
The cops challenge, "So whatchoo gonna do about it?" Tae-san rattles off legal-sounding terms and how he'll sue for civil rights violations, and that gets the rookie cop to back off right away. Tae-san's recitation belies more legal knowledge than you'd expect of a lowlife pawnbroker, which adds a bit more color to his backstory—and makes it even more of a shame that he wasted his obvious brains.
Seung-woo arrives at the murder site and is debriefed by his police chief. The rookie cop Il-do (Jeon Woo-chi's teenage king—my, he's grown up fast) is a bright-eyed and bushy-tailed newb eager to see his first crime scene… at least until the second he steps foot inside, and then he's struggling not to hurl.
Ha, and then the chief assigns eager-beaver Il-do to be Seung-woo's partner, acknowledging that he's a subpar newbie but figuring that's okay since this is an open-and-shut case—the criminal is in custody, and he's got two priors on his rap sheet. Done and done.
Therefore Seung-woo treats him like a murderer when he takes the report, and Tae-san is left to ask naively whether Mi-sook is okay. Only to get the response, "Why did you kill her?"
He finally gets Seung-woo to listen when he explains getting a call to see Mi-sook… but Tae-san's pawnshop underlings sell him up the creek and contradict his story. Tae-san's alibi should be verifiable by the warehouse security cameras, but the underlings inform the police that they moved storage units last month. The detective who goes there in person confirms that it's empty, because of course it is. And the security camera that used to hang there is now gone.
Tae-san argues that underling Dae-ryong must have framed him, because he was the guy who sent him on both false errands. But it legitimately stumps him to hear that the maknae kid Seok-doo also corroborated the story. Aw, for a gangsta you sure are naive, Tae-san.
But his brain clicks into place soon enough, as he realizes that there's only one person capable of directing both men to do his bidding: Finger-cutting, drug-smuggling mob boss Moon Il-seok.
And now we flash back to the first of Tae-san's prior convictions, which started eight years ago in Busan:
Boss Moon brings Tae-san in for "negotiations"—take the fall for him and do two years. Boss Moon gives him the other option: He could send Tae-san and his pretty little girlfriend to their watery graves tonight. Aw, man, so there was a good reason Tae-san was a horrible boyfriend? Crap. I mean, yay for him not being a scumbag, but it twists my insides up in a conflicted mess because it was easier thinking he was just an asshole.
So Tae-san takes the deal.
And that's why it's not so hard for Tae-san to come to the conclusion now: "He got me again?"
Congresswoman Jo catches the news report about the murder, which kicks off a flashback to a few days ago:
Congresswoman Jo leaves her drug-smuggling-planning meeting with her suspicions on high alert, since she has noticed Mi-sook's nervousness. Ah, so she was the one who thought to have Mi-sook observed. Sharp lady.
Then, on the day of the murder, Boss Moon is visited by underling Dae-ryong, who is stupid enough to try wheedling a favor out of the boss to do more with the pawnshop, since he's got ambitions to make it bigger. But Tae-san keeps saying no, confident that the boss has got his back, and just fritters away his days gambling and womanizing. Then he mentions the sweet-faced Mi-sook who dangles after Tae-san all day, and that gets Boss Moon raging since she's his girlfriend.
Putting the nail in the coffin is the call he gets from Congresswoman Jo, who plays him the recording of Mi-sook calling the prosecutor's office. Now their plan is in jeopardy and they're both in danger of taking a hard fall.
Boss Moon barges into the house just as Mi-sook is about to make her getaway, and accuses her of selling him out to the prosecutor. He charges her with playing with his feelings, and in a rage he takes his henchman's knife and stabs her with it, over and over and over.
It doesn't look like Boss Moon premeditated this because he and his henchman are both a little shocked now that she's dead. But it takes no time at all to decide that Tae-san would make a great fall guy.
Resuming in the present timeline, Congresswoman Jo meets with Boss Moon in another secret meeting (by the river, of course) and takes him to task for blowing up this situation into national news. He promises to take care of the frame job, but she's the one who points out that Tae-san would be an idiot (1) not to figure out who framed him, and (2) to shut his mouth and take the fall—again.
Plus, now they have Prosecutor Park Jae-kyung to worry about, who already got tipped off about the drug deal. Congresswoman Jo calls her a dogged bitch who won't stop until she gets to the bottom of things. If Tae-san so much as mentions Boss Moon's name to her, the prosecutor will connect the events in a flash.
"Make sure Tae-san keeps his mouth shut," she orders. I find it vaguely amusing that despite Boss Moon being a raging murderer, it's the cold-hearted congresswoman who's more frightening. Well, she's smarter, for one.
At the police station, we're still in silent stalemate: Seung-woo urges Tae-san to confess, and Tae-san refuses to cop to anything. Finally they break for the night and send Tae-san back to his cell, just barely missing In-hye's arrival. For now I'm relieved to avert what is bound to be the mother of all awkward situations.
Tae-san fumes in his cell, trying to piece together the frame job. He beats his head against the wall, remembering the daughter's life he needs to save as well as his own. Think, he orders himself. You're a thinking guy. Think!
In-hye brings dinner for Seung-woo and his colleagues and hears a snippet about the murderer's scummy history and wonders how somebody could kill anybody. Seung-woo reminds her of his philosophy that some people are just born rotten. Ooh. A crack in the Mr. Perfect armor?
Fingerprint reports come in—positive, obvs, since we saw Tae-san handling the murder weapon. But there's another shocker: He tested positive for drugs, too. Tae-san sees the syringe mark in his arm and realize they stuck him while he was out. Fu-uuuuuck.
Panicking, Tae-san leaps up and grabs Seung-woo, shouting that he was framed. But all the evidence points to him, and Seung-woo's pretty convinced of the story he's pieced together: That Tae-san went to Mi-sook in a drug-fueled haze, saw that she was trying to leave him, and stabbed her in rage.
In-hye returns to the hospital and finds Su-jin drawing the main character in another of her stories. (It looks like a crying Tae-san, but Su-jin declines to explain, saying that some stories can't be told. Ha. She's going to use that excuse the rest of her life, isn't she?) Su-jin asks how Mom and Daddy met, and guesses that Daddy was a good man just like Ajusshi, right?
In-hye dismisses the question, but it makes her think back to the day they did meet:
Tae-san is pulled away by his gangster buddy to see something interesting. At the center of a festival event is In-hye dressed up (and painted bronze) as a living mermaid statue, so still that people wonder if she's fake.
Tae-san gets annoyed with his buddy's excitement because he's got Important Things To Do, so he decides to put an early end to the question of the statue's personhood. He grabs a stepladder, stomps up to the top, and claps one hand right on her boob. HA. Instantly he registers the truth, and though she shoots eye-daggers at him she continues to remain still while he leaves feeling mortified (and tells his friend it's a statue).
Afterward, In-hye scours the beach to find Tae-san and give him a piece of her mind, accompanied by two slaps to the face. Then she demands to know whether he knew she was a person before he touched her, and he retorts, "If I knew, would I have touched you?" Good answer.
In-hye turns to the crowd watching to confirm the truth, and they all exchange money based on their bets. Ha. And from thenceforth he was smitten.
Tae-san realizes that Boss Moon's trap has got him stuck and good, just as he imagines little Su-jin sitting next to him in the cell, asking, "Then what about my surgery?" He assures Su-jin that he'll work it out with the prosecutor, who will surely let him do the surgery to save her life.
He adds that he'll tell the prosecutor all about Boss Moon's frame job too, and she asks, "Will the prosecutor clear your name then?" Tae-san asks, "Won't she?" Augh, the naivety in his voice sorta kills me.
In the middle of the night while the cellmates sleep, one inmate quietly gets up and makes his way over to Tae-san. Gah, I knew it was suspicious when this guy was brought into the station late that night! Must be Boss Moon's minion, and he takes the string out of his drawstring pants and strangles Tae-san in his sleep.
Tae-san struggles and gasps, and manages to knock the guy off him. The stranglehold slackens as Tae-san flips over his attacker and starts punching him.
But that means that when the lights flick on, Tae-san is the one beating up the other inmate and the strangler is begging, "Somebody help me!" Baaaaah.
When the officers arrive, the strangler is quicker to whip up a story and exclaims that Tae-san is a crazy bastard—he stole the string from his pants while he was sleeping and tried to strangle himself. Plus he does a convincing job looking wimpy and terrified. The cops literally give Tae-san the DMV glare—you know, dead-eyed and disapproving and above all, not giving a fuck about his defense.
Boss Moon hears of the failed assassination and throws a vase. Congresswoman Jo receives the message and throws her phone.
Tae-san is put in his own cell, frustrated at being cornered: "So if I talk you'll kill me, and if I do nothing you'll kill me too? Wherever I go, you'll kill me. Why?"
Thank goodness there's still some evidence on his side, even if I'm sure it'll take its sweet time getting around to helping him. Tae-san's dorky roommate Man-seok takes the bus back from his trip with his girlfriend, looking over the photos they took (with Mi-sook's pawned camera). They decide to download the photos at a nearby shop, then return the camera.
As soon as they get back to Seoul, Man-seok is called in to the police station and allowed to visit with Tae-san, who asks for a favor. He asks Man-seok to find out the connection between Mi-sook and Boss Moon, and Man-seok agrees.
In preparation for the bone marrow transplant, Su-jin is to undergo a procedure that effectively removes her own bone marrow to make room for the new. It'll weaken her immune system, so she'll have to be kept in a sterile room until surgery day. Seung-woo worries what'll happen if the donor gets into an accident or becomes unavailable, and the doctor says that can't happen—Su-jin would die. Okay, stakes established, go!
Congresswoman Jo has clearly been thinking (which in this context can only mean bad news) and makes a visit to the top brass of the police department. She meets Director Im… who is pictured in a photo with Seung-woo. Im Seung-woo. So this is Daddy Im.
Seung-woo gets increasingly frustrated with Tae-san because he refuses to confess, just sitting in silence. Seung-woo calls him trash and walks out in a temper, having decided that the strangling incident was Tae-san's dirty attempt to plead insanity at his trial.
I admit to feeling frustrated with Seung-woo's line of thinking (that trash is trash and nothing is gray), but I remind myself that the situation is meant to look damning for a reason. And he's better than his colleagues, like the station chief who tells him to just send Tae-san to the prosecutor's office since he's, like, totally guilty anyway. Seung-woo at least argues to wait until they get Tae-san to confess, though he caves when the chief says this is Dad's order. Everyone straightens up at mention of the police director, who wants to push this case through and get a conviction while the public clamors for justice.
Jae-kyung finally returns to the prosecutor's office, where she logs in to her work email and reads Mi-sook's message with excitement. (She's not able to log in to that account from outside the office, which seems like a terrible oversight to me.) She crows in victory, and only now gets the other message that Mi-sook left: the coded one saying merely "I miss you." Immediately she knows this is dire and heads out to confirm her suspicions.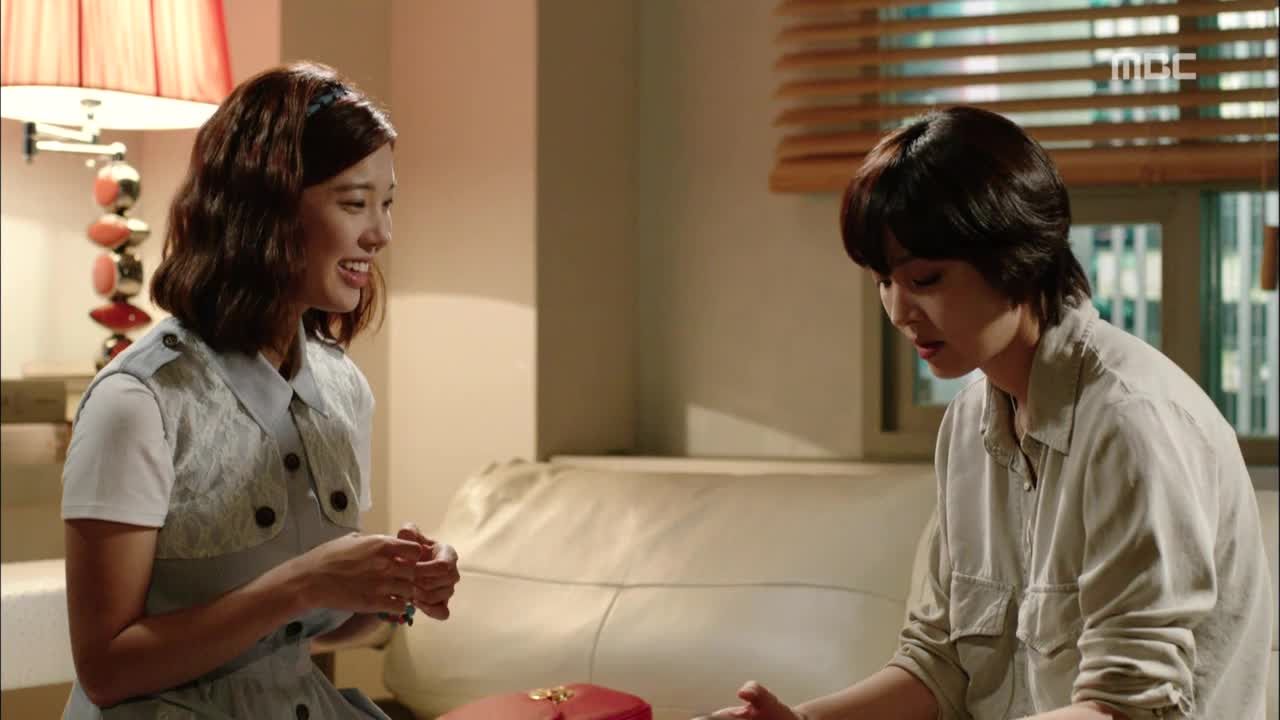 Jae-kyung grows more worried when she hears that Mi-sook didn't check into a particular hotel. They'd decided in advance that if Mi-sook ever felt endangered, she'd check into that hotel under the name Kim Tae-hee. Mi-sook had been planted from the start, meant to gain Boss Moon's affections; Jae-kyung had predicted she'd be exactly his type.
As an added precaution (that would later bite them in the ass), Jae-kyung had instructed Mi-sook to never contact her by personal phone or email, because she'd been hacked before. So now Jae-kyung sends her colleague to Mi-sook's house to collect her safely, only to get the report that she was killed. As she reacts to the shock, a flashback shows us how their partnership began:
The two women chat at home, and Mi-sook wonders about the wall of photos Jae-kyung always covers when she's here. It's Jae-kyung's research board regarding a case she's working on the side. She describes the criminals as her enemies—"the reason I live"—and makes a bitter I could tell you who they are but then I'd have to kill you joke.
But Mi-sook sweetly offers up herself to Jae-kyung's disposal, reminding her that it was unni who rescued her from drug addiction. She saved her life, so why can't Mi-sook offer hers in return?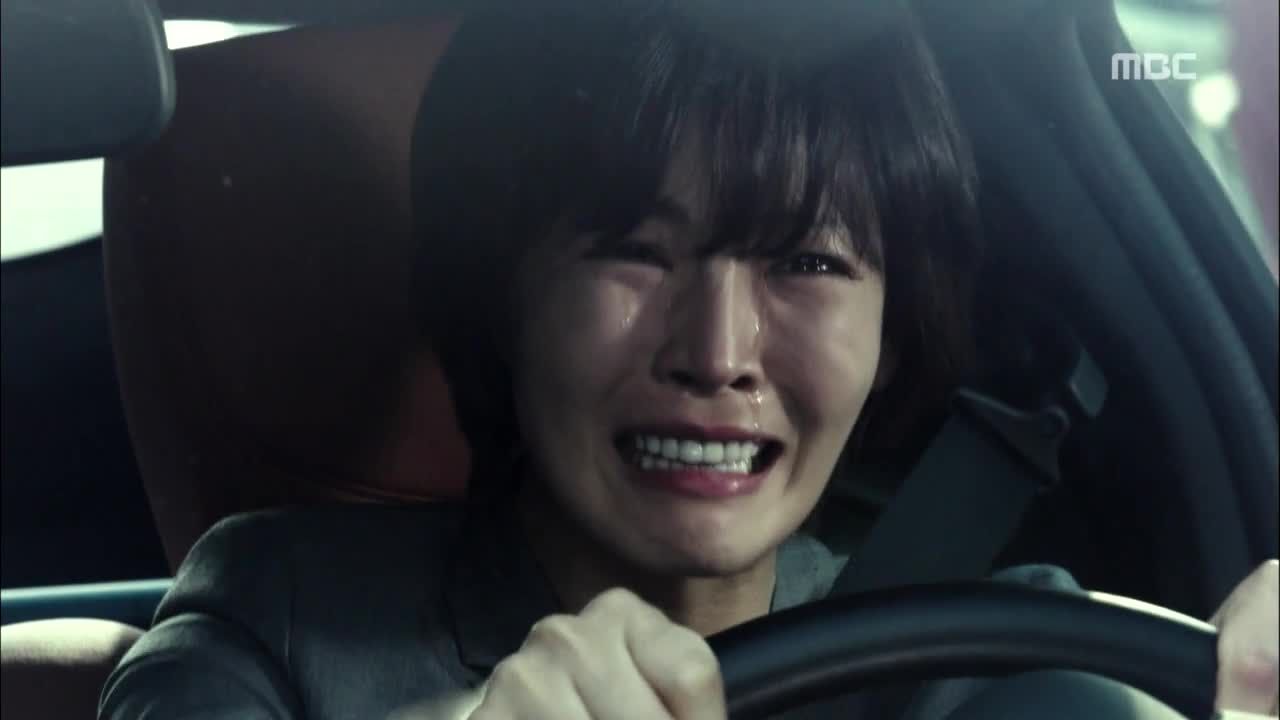 Now Jae-kyung bursts into tears as she drives along, bringing us back to the sequence that opened up the series.
Tae-san is transported out of the station, to be handed over to the prosecutor's office.
Jae-kyung blows a red light, and in her wake cars swerve in the intersection to avoid collision. Leading, then, to collision.
A truck SLAMS into the police car and a motorcyclist falls off his bike. Bystanders crowd around in chaos.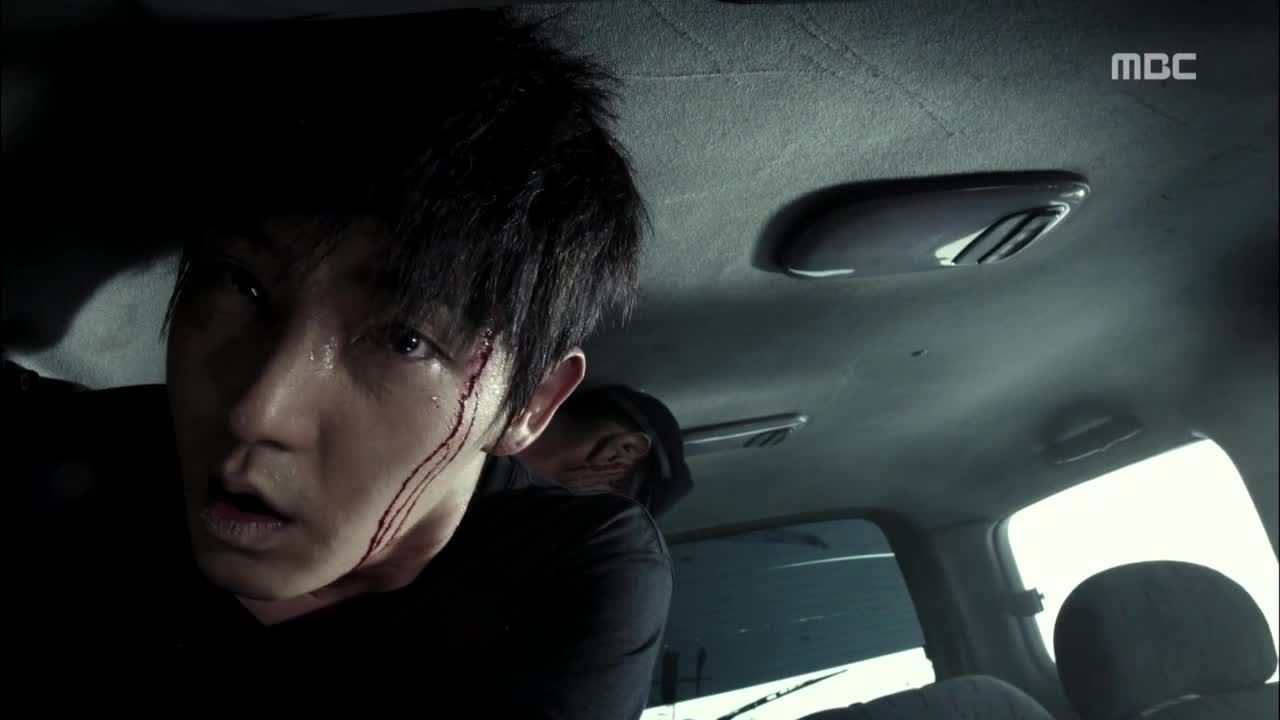 Inside the wrecked car, Tae-san is the first to stir. I'm not sure if the officers are dead or just out, but in any case they're not coming to for a good long while.
Tae-san sees that the car windows are smashed open and a few key scenes flash before his eyes: his attempted murder, his daughter, his promise to return the doll. So he grabs that stuffed monkey and wraps a towel around his handcuffs, and climbs out of the vehicle.
With most of the people busy huddling around the downed motorcyclist, the bike itself is clear. Tae-san takes it, revs the motor, and zooms off.
As he drives off, and as Su-jin draws a countdown to surgery day with her crayons, Tae-san thinks in voiceover:
Tae-san: "I was trash. I was born trash, and lived as trash. I never believed the heart that died when I sent In-hye away would beat again. Not until I met that little child. For once in my life, just once, I want to live as a person."

COMMENTS
So many good things. This is the kind of drama that keeps your brain engaged throughout, making sense of clues and trying to figure out the plot before the show gives it to us, but not in a difficult way. There's nothing worse than a dense kind of drama that's so cryptic and mysterious that it hurts your brain to watch it—well, maybe the utterly brainless drama is just as bad. In any case, I feel smart for following along because the show doesn't patronize my intelligence, but it also doesn't try to be smarter than it is. It hits a nice balance.
Plus, the plot is tight, but it's not really convoluted. I hate dramas that string you along for ages and ages, hinting at some deep dark twisty web of mystery, so that by the time they reveal the endgame you don't even care anymore because you've forgotten how all the pieces fit together. I suspect that watching this drama will actually be less confusing than reading it, because there are a lot of names and timelines to keep track of here that flow together smoothly onscreen. I was afraid the multiple flashbacks to different timelines would get confusing, but it's pretty easy to figure out from context and emotional cues. It all fits.
I appreciate how the different characters are connected in the story, which feels meaningfully integrated. A lot of dramas drop in characters and force connections that feel like they're drawn for convenience's sake more than story necessity, but I think the layering is more thoughtful here. I had wondered whether Tae-san's jailbreak would be facilitated by a murder attempt gone awry—that Congresswoman Jo had ordered a hit and the crash just failed to kill him—and that wouldn't have been a bad way to do it. Especially since the bad guys would have been the ones responsible for it by their own failure, which has a nice poetry about it.
But I think I like it better that it was Jae-kyung who was at the crux of this all, because it was her red light violation that set off the chain reaction. Not only that, but if we back up further we can point to her as the bearer of responsibility (and guilt) for bringing Mi-sook into this case in the first place. And then backing up even further, we can attribute that to her lifelong mission to take down her enemies, aka Boss Moon, bringing everything full circle.
I love that she was working this case on the sly, because while she appears to be a competent prosecutor who's good at her job, I enjoy the bit of loose-cannon wildness that going rogue adds to her character. Jae-kyung has this chipper, chatty personality with her officemates, but the flashback with Mi-sook shows a dark, bitter underside that I really, really like.
I like Seung-woo a little bit less, but I'm willing to give him a chance—I think he currently stands at a crossroads and could swing either way. Episode 1 almost pained me because he was such an upstanding guy that I really wanted him to have a nice full life with his new family, because that seemed like the happy ending they all deserved. But we're starting to see a less admirable streak in him with his blanket statements about people being trash, and consigning some to inevitable rottenness basically from birth. Maybe it's not surprising that a cop would see the world in terms of good guys and bad, but it also strikes me as naive. Or privileged. Or naive and privileged.
It really is amazing what one episode can do, because even though I figured Tae-san would come around to redemption eventually, I didn't think I'd warm to him so suddenly. Maybe I'm a sucker for a well-placed bout of noble idiocy, but his decision to taking that prison term sealed the deal for me. Sympathy won.
That doesn't absolve him of all the other crap stuff he's done in his life, and he openly admits that he's lived his life as trash, but I'm much more inclined to root for the guy who decides to change that than the guy who hates himself for it but keeps doing it anyway.
I appreciate how his connection to his daughter works into the picture, and here's a case where Two Weeks one-ups Mandate of Heaven. Both have adorable dying daughters and wrongly accused fathers, but Mandate had a tendency to draw its good guys in extra-bright hues without shading or darkness. The father-daughter camaraderie was adorable, but one-note. Tae-san's a darker and twistier character, and I feel like the relationship with Su-jin means different, more complicated things to him. She's not just his redemption, and in fact I'd say that In-hye is just as important to revitalizing his heart, but more than that these two serve to remind him that there's life beyond the abyss he's living in. It may take two weeks of hell for him to figure it all out, but I'm eager to watch how it happens.
RELATED POSTS
Tags: featured, Kim So-yeon, Lee Jun-ki, Park Ha-sun, Ryu Soo-young, Two Weeks