Master's Sun: Episode 10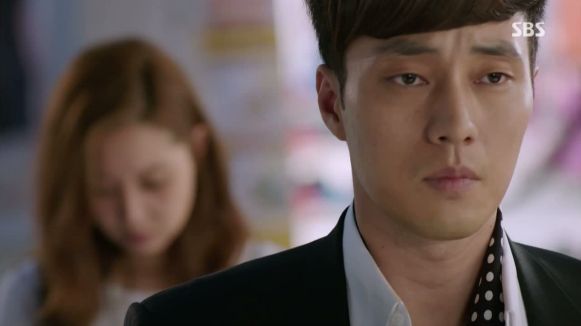 This is a great episode. Our couple spends the hour circling around the giant pink elephant—er, dinosaur—in the room, and tossing out all manner of strange ways in which to keep their relationship the same… despite the fact that they each know it will never be the same. Because that's what happens when you close your eyes and pretend you don't see the thing that's staring you in the face, be it animal or mineral, dead or alive, love or hate.

SONG OF THE DAY
Lady Jane – "Diary" [ Download ]
Audio clip: Adobe Flash Player (version 9 or above) is required to play this audio clip. Download the latest version here. You also need to have JavaScript enabled in your browser.

EPISODE 10 RECAP
Gong-shil picks up her sun necklace from the trashcan ghost just in time to run and meet Joong-won as he returns from his business trip… with a brand new bride-to-be at his side (played by dramaland fiancée specialist Seo Hyo-rim).
He squarely ignores her, and it's the fiancée who asks about the strange employee who keeps watching them as they walk away. Joong-won tells her to stop looking back and hurry up, because it's killing him.
He finally decides to turn back and asks how she was for a week, admitting that it was death for him. What, you can't say stuff like that after bringing home a fiancée!
She just looks up with her puppy eyes: "Are you really getting married?" He thinks back to ghost wife asking him if he didn't want to know how Gong-shil felt about him. He looks at her and mutters, "What secret? I can see it all."
She wonders what he sees, and he simply calls it the thing he's afraid of, as much as she's afraid of ghosts. She's no dummy, and asks straight out if he's getting married to avoid her. He knocks her down a peg, making it seem ridiculous that he would choose to marry because of her, and leaves her believing the same.
When he rejoins the fiancée outside his office, she reaches up to take his arm, and he stops her in mid-air. He tells her not to touch him, unless she's basically about to fall on her face. Pffft. How gallant you are.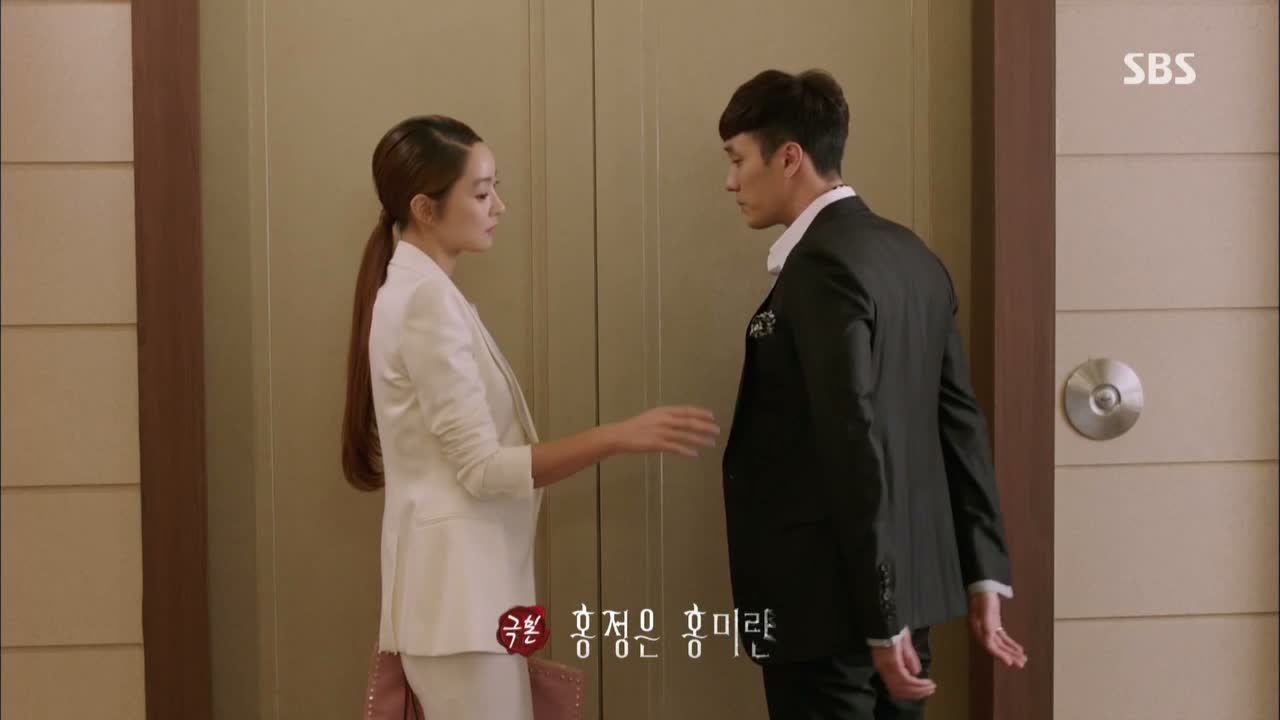 Kang Woo and his chatty friend see the interaction and wonder at the strangeness of keeping your fiancée from touching you.
Kang Woo finds Gong-shil sitting in the stairwell, clearly upset. She admits that she's floored by the news, especially because it's so sudden, and Kang Woo asks about Joong-won returning the night he was supposed to leave for China.
Gong-shil still doesn't know what happened, but realizes that the figure she saw walking away must've been Joong-won. She gasps—did he meet the ghost wife while she was possessed? What did she tell him? And she remembers now, his remark about her secret. "She told him my secret… that I like him." Now it's Kang Woo's turn to reel.
Secretary Kim asks Joong-won if it's okay to use an engagement this way, and worries that Gong-shil looked shocked and hurt. Joong-won says it's the calculation he came to here, *points at head* and acknowledges that the reason Gong-shil couldn't figure into his calculations was because she was in a different place.
Secretary Kim says still, he has to tell her… that he isn't really going to get married. Wut. Your sham wedding is a SHAM? That's just too much with the literal metaphors. Joong-won refuses to do anything of the sort, and says that the reason he can't read is because that's a problem with his heart. He only wants to use the thing he knows isn't broken—his head—and ignore the rest.
Ever the smart one, Secretary Kim wonders if maybe because Gong-shil can see souls (I like that he uses "spirit/soul" for ghost here), she isn't the person to see Joong-won clearly and help him. Joong-won says he'll go see her when he's a ghost then, and stalks off.
Gong-shil sighs (still with Kang Woo by her side) that Joong-won is definitely telling her to get lost, but frets that she can't be without him—he's her one and only ghost-proof shelter and there's no one else like him in the world.
Kang Woo asks if she isn't hurt that Joong-won is obviously placing someone else by his side just to show her that she isn't a woman to him. She guesses that Kang Woo sees her as a Candy to Joong-won's white knight, but she says in her world, she's just a ghost radar and he's her emergency shelter. "I can't be a Candy."
She goes to see Joong-won, who crosses his arms and waits for her reaction. But she startles him by smiling and giving her congratulations for his engagement, and apologizing for being so surprised earlier. Ha, I love his WTF face.
She says that that he's about to become someone else's home sweet home, she knows that being her emergency shelter is asking too much, but couldn't he leave her a little space, like maybe the basement?
He reminds her that he hates sweet things, so she changes her tack: "Then hurry up and have a son." LOL, I love the leap, assuming that his DNA would produce ghost-proof spawn.
But it's also so far gone on the fake congratulatory ladder that he sees through it, and calls her out for doing all this to cover up her secret. She asks if the ghost wife told him, but he says he declined to hear it. "Aren't you grateful?" She shakes her head, saying that it's not really that big a deal.
He points out that he didn't need to hear the secret anyway, since she's being sooooo obvious right now, and says that her stiff-upper-lip congratulatory words are straight out of the Candy playbook (which he indicates by calling her "that famous girl" and gesturing at his invisible pigtails, ha).
But she holds her head up and tells him he's got it all wrong—the secret was that she likes someone else. "I like sweet things." His face falls. She adds that she particularly hates rude assholes like him, and he just grits his teeth and says he's grateful that he isn't her style.
She declares that she's leaving before he tells her to get lost, and he shouts after her, "Wait! Get lost!" Had to get the last word in, didn't you? He watches her go and mutters to himself, "Why of all excuses did you have to bring Kang Candy?" To give you a taste of your own medicine, that's what!
Gong-shil gets called to the VP's office, where Aunt shows off the engagement present that the bride's family sent over, trying to make it clear that there's no room for her in Joong-won's life anymore.
She goes off on this metaphor about Joong-won being the vase, as in too expensive for her to touch. But all Gong-shil sees is the spooky ghost face floating inside, and she warns Aunt and Uncle not to keep calling it special, because it's really just a thing that was used to pour water, and they'll make it haughty. HA.
I love that she's talking about the ghost inside, but all Aunt hears is insults at her metaphor. It doesn't get any better when Gong-shil tells them they have to break it, and Aunt panics, "Are you saying you're going to break the engagement?"
Gong-shil swears that she already congratulated Joong-won on his marriage, and that she's talking about the vase, but that goes about as well as you'd expect. Unni comes crying after hearing that she got called to the VP's office, and asks if they shoved an envelope of money at her, and Gong-shil sighs that everyone must see her as a Candy.
Joong-won gets called in next, and Aunt asks if he's going to send Gong-shil away now that he's getting married. He says no, and admits freely that he got himself a fiancée in order to keep a safe distance from her. Aunt: "Will she not leave?"
Joong-won: "I won't send her away. I can't not see her." Now that he has a safe distance, he plans to keep her around for as long as he wants. Aunt gapes, while Uncle fist-pumps.
Joong-won turns his attention to the vase, wondering if there's a ghost inside, and tells them not to wave their money around in front of Gong-shil, because she's not one to be scared by things like that.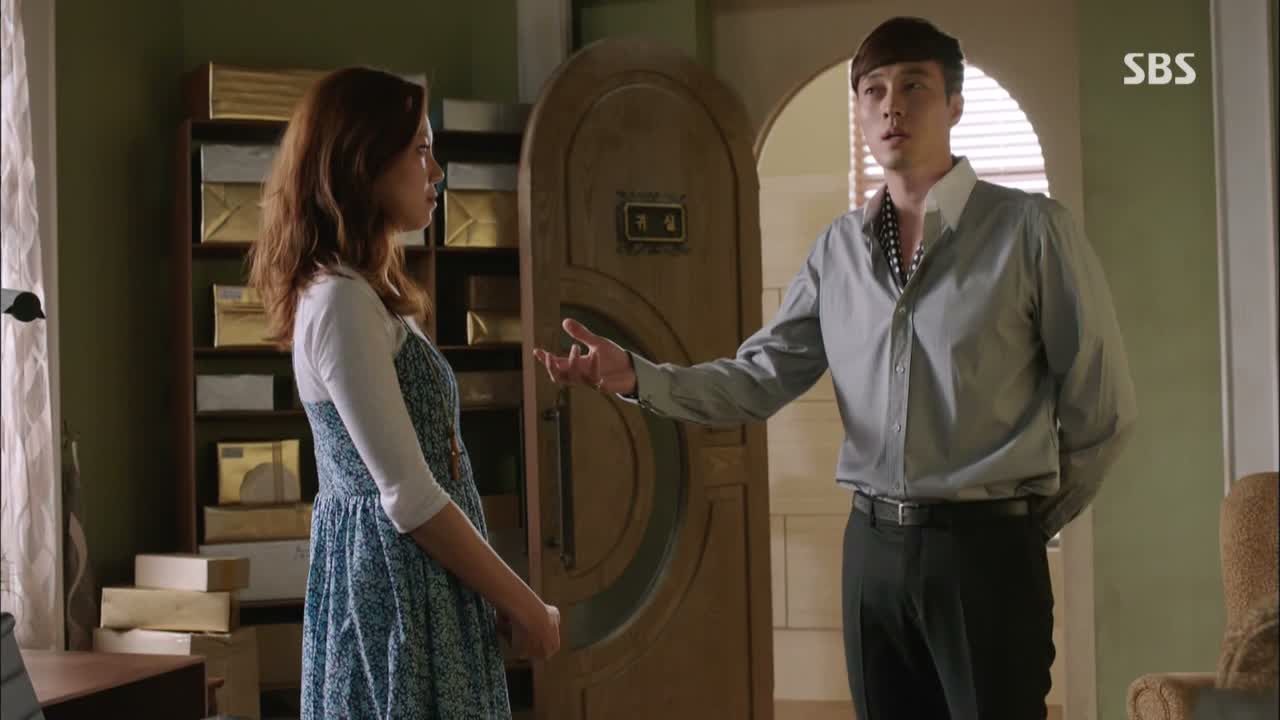 Yi-ryung meets some high school friends who ask if Gong-shil is really dating the CEO of Kingdom. She says it's preposterous and he's way out of her league, but the friends argue that they totally thought it was fitting for Big Sun, who was always smart, pretty, and popular. Yi-ryung fumes, as usual.
Joong-won goes to check on Gong-shil, and asks if anything followed her out of the vase. She says no, but calls it a dangerous thing that should be broken. He wonders why she didn't come see him, since he agreed to leave the basement free for her.
She says it's because the person she likes might misunderstand. He's annoyed that she's insisting it's Kang Candy, and she tells him about a manhwa she read once, about a wolf who liked a goat so much that instead of eating it, it almost starves to death.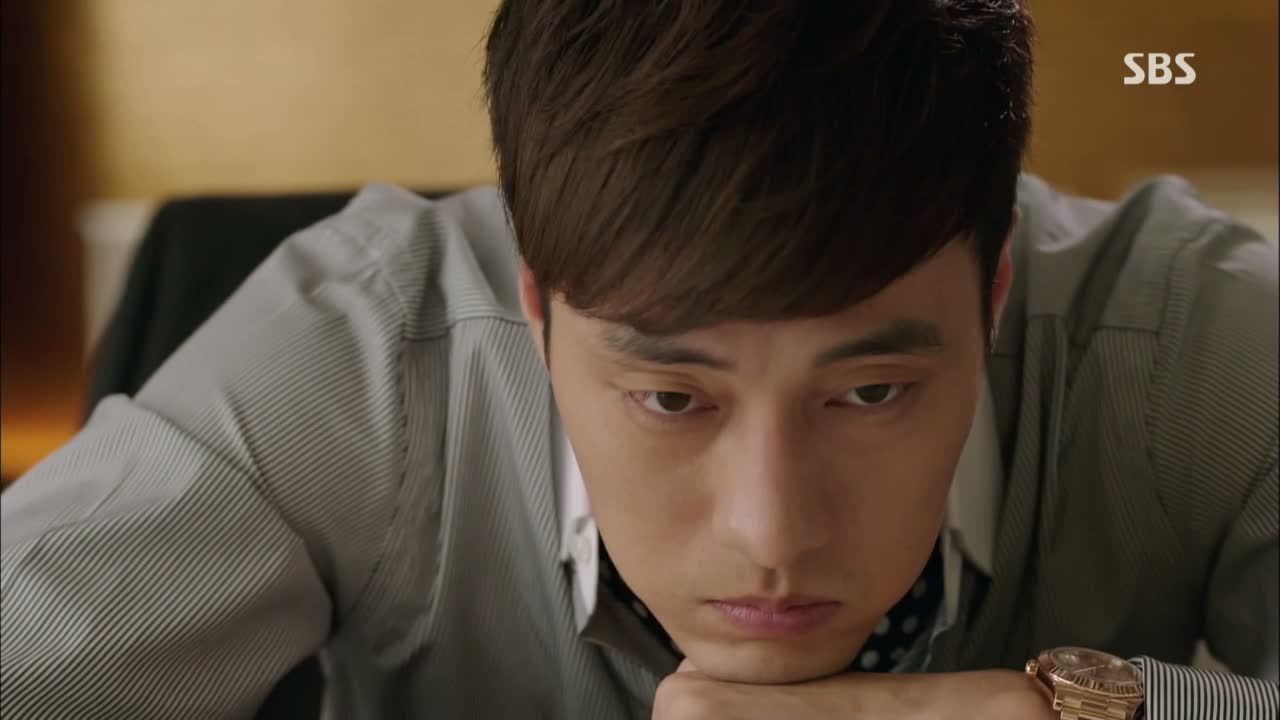 Gong-shil: "To live, you have to see food as food, not as a goat you like. Isn't that stupid? I won't do something like that." He asks, appalled, if that makes her the wolf and him the goat, and she nods. "So stop asking the wolf if it likes the goat."
He asks what about the goat in the story? She says the goat likes the wolf too, and so it tells the wolf to eat him. Joong-won's eyes widen, "That goat is crazy!" Ha.
He walks away, and she says to herself, "Would the wolf really eat the goat when it likes him?" She sits down with a long sigh, caressing the sun necklace she's been hiding in her hands the whole time. Joong-won buries his head in his hands like a little kid, wondering if he should've let the ghost wife tell him the secret so he knew for sure, suddenly feeling less confident.
Kang Woo comes by to ask Secretary Kim about Joong-won's engagement, not knowing what to report to Daddy Joo. Secretary Kim hesitates, but then tells him the truth: the whole thing is a business arrangement.
A flashback to China reveals that his fiancée proposed the engagement as a cover so she could take control of her family's company. Business-wise, it was mutually beneficial, and so the sham wedding was on.
Secretary Kim says it'll likely be over in a week, so there's no need for Daddy Joo to change his itinerary for it. Kang Woo worries about Gong-shil, but Secretary Kim tells him that he can't be the one to tell her before Joong-won does.
It seems that Aunt is going to be today's ghost victim, which is a nice break from having to introduce new characters just for an episode. She grows increasingly fond of the vase, deciding that it's just like a classic scholar—refined, gentlemanly—and so unlike her husband, who seems even more oafish than usual. And of course the ghost trapped inside is a pretty-faced Joseon scholar.
That night she sleeps with the vase on her nightstand, and in her dreams she follows the sound of a flute to find the scholar calling her to him. But when she reaches out to touch him, he vanishes into smoke.
She wakes up even more perturbed by her husband's ill-refined bed manners, and snaps at him to go sleep elsewhere, in a hurry to get back to her dream.
That night, Gong-shil asks Kang Woo for the key to the VP's office, to go find the vase ghost. He offers to come along, and Secretary Kim spots them together. So he goes right to Joong-won and as he says goodnight he wonders super loudly if he should give Gong-shil a ride, and decides that Kang Woo will do it.
Joong-won: "He said that for me to hear. I didn't hear it." Seconds later he's in Gong-shil's office, but she isn't there.
She creeps into Uncle VP's office with Kang Woo at her heels, shaking like a leaf in fear. She offers up her arm if he's scared, and he puts his arm around her instead, deciding it's manlier this way.
He asks if she isn't scared, and if this is why she was in hiding for so long. She says that it was easier that way, but being around Joong-won has changed things for her. Kang Woo sighs, "Joo Joong-won gives you something I can never give you."
He suggests that she try living without him for a week, and then if she ends up being able to live without him… "Then don't go back to him." Aw.
They head out in better spirits, and plan to stop for a late-night dinner on their way home. As Joong-won rounds the corner and spots them, she offers Kang Woo her arm, and he links his arm in hers as they walk away.
Yi-ryung shows up looking for Kang Woo (I do love how transparent she is) and finds the Dooly doll on his desk. Kang Woo is still making his night rounds, and stops cold when he feels someone or something nearby.
He tells himself that he has to learn to face ghosts if he's ever going to make it through a dinner date with Gong-shil, and bravely turns around… and out pops Yi-ryung with a BOO! He's so scared he covers his face with his fists, which of course she just finds ever more adorable.
When she asks him to dinner (with the threat that if he doesn't go, she'll tell the reporter she's meeting tomorrow that he's her boyfriend) he tells her she can come along on his date with Gong-shil.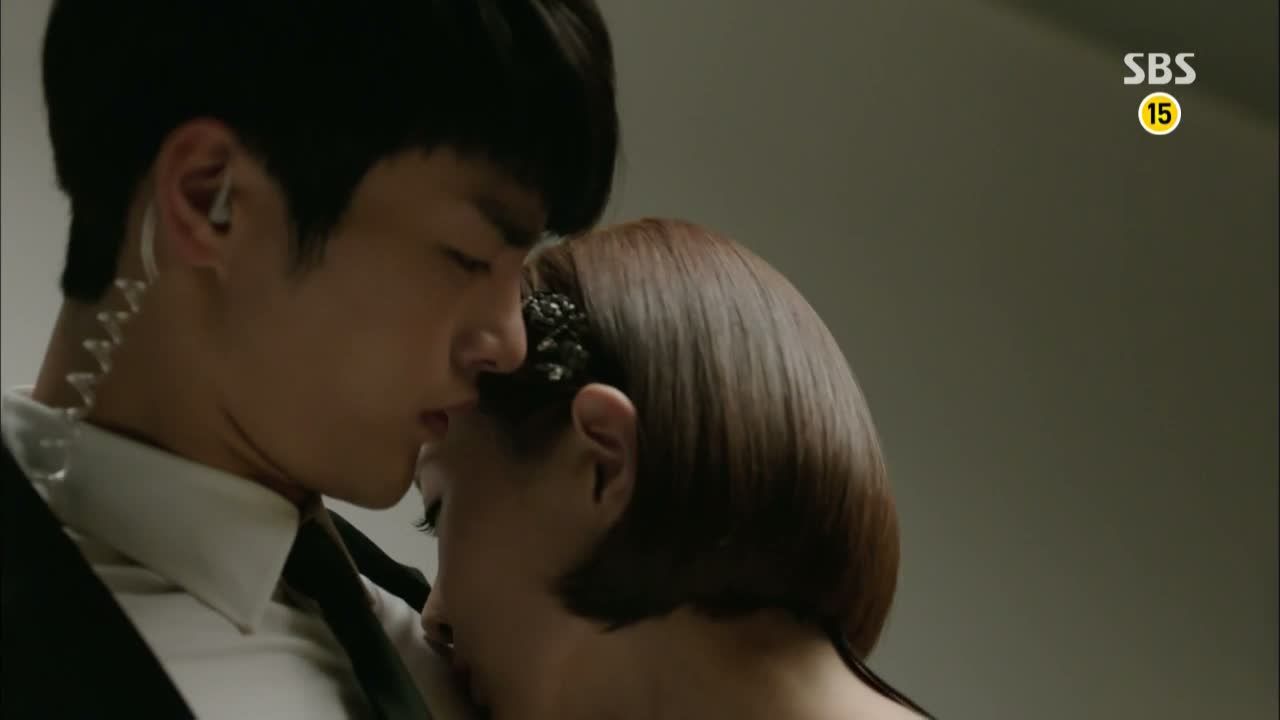 So she leans in and kisses him in the chest, leaving a bright pink lipstick mark on his shirt. She tells him he can go ahead and show Gong-shil how they match. Well, she is creative. Moments later, he's calling Gong-shil to call off their date.
Gong-shil stops in when she sees Joong-won's still in his office, though he frightens her half to death when he sneaks up behind her like a ghost. He says she'd like it if he were a ghost because then she could have him all to herself, but she corrects him—he'd be the hanger-on if he were dead, because she's really popular with ghosts.
"They see me as a really bright sun." Joong-won: "I'm not a ghost, so why am I like this?" Hee.
He decides that maybe she should be a Candy after all, and offers to buy her an apartment or a car, or something to make her ordinary and their relationship more common. "That way I can send you away with certainty. If I know the end, I'm not afraid. If I go into your world and become the only person in it… I can't tell you to get lost."
He begs her to just be a Candy like everyone else and points to his head again, wanting to keep it all in there. But she has no use for a big house or a fancy car, and what's more is that she doesn't want to make it easy for him to send her away, so she shakes her head and says she won't be a Candy.
He slams his hands on his desk and asks what he's supposed to do then—he said he's getting married, but she just asked for a basement, and he asked her to be a Candy but she won't, so is she waiting for him to be the goat and offer himself up for her to eat? Lol.
Gong-shil just looks up at him and swears she wouldn't do that: "Why are you having such a hard time? Is it a burden that I might like you?" She starts to cry and barely holds back her tears, swearing that she doesn't like him. She says she's just going to catch that vase ghost, and gets up to go.
He can't help himself, and reaches out to grab her hand. He tells her it isn't here and tells her they're going home, and leads her out. He stops to point out that even after everything he just said, she's not upset at what he's doing, and she just grabs him tighter, admitting that she saw a scary ghost earlier.
She says the ajumma ghost was by the door, so he says they'll have to go the whole way holding hands. He asks if she saw anything else while he was away, and she did, but she held onto his pen and got through it.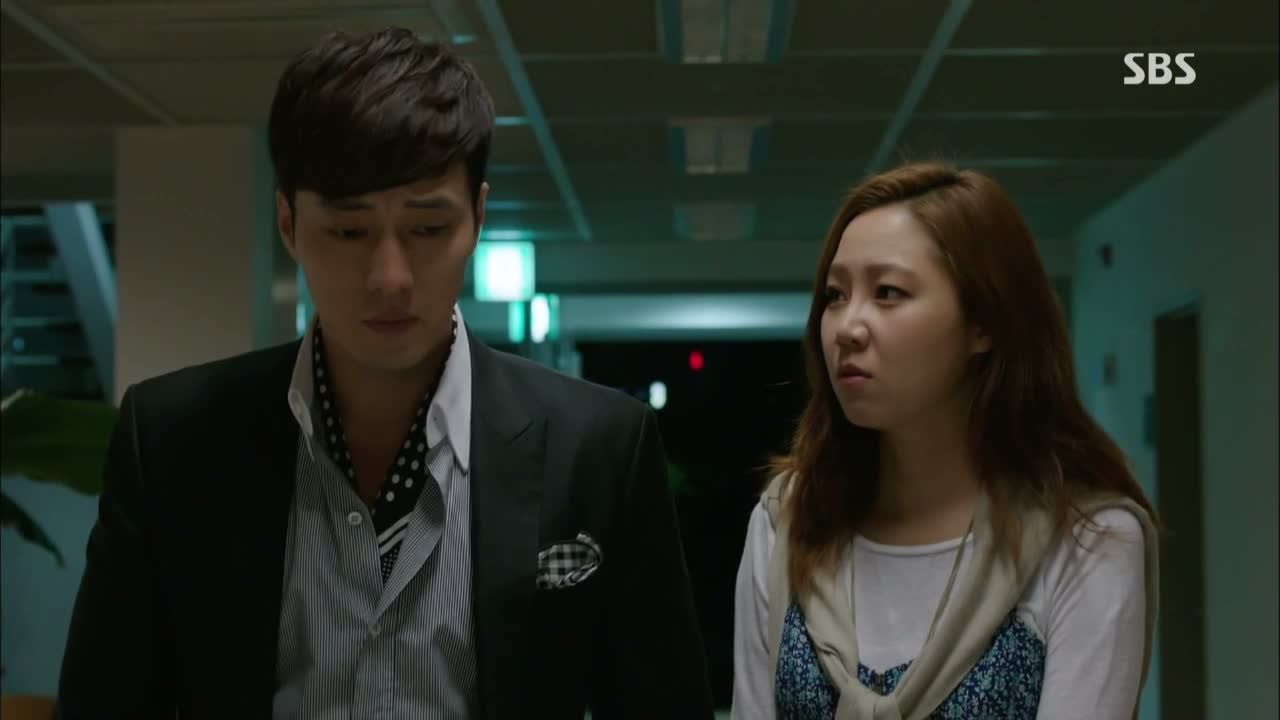 It's only then that he remembers the necklace he bought to replace the pen, and peers down at her collar. No necklace. He guesses that she never picked it up.
Gong-shil offers up that she did manage to get through the week with that pen, so she thinks that in time, she'll be able to muster up the nerve to leave before he tells her to get lost for good.
The gossip mill is going full force at Kingdom, and Gong-shil finds herself the topic of conversation everywhere she goes. She also happens to be wearing her Loser shirt today, perhaps having anticipated the kind of day she'd be having.
Kang Woo catches a glimpse of her sighing after Joong-won, as usual.
Aunt continues to spend her nights dreaming of dates with her beautiful scholar, who in reality turns out to be a scary ghost that spends its night sitting on top of her as she sleeps. *shivers*
Meanwhile, she continues to grow more and more agitated with her husband, who becomes increasingly disgusting in her eyes.
Kang Woo finally gives Gong-shil the Gong-shil doll, and introduces her as Dooly's girlfriend. A short while later, Yi-ryung stops by to invite her to their high school friends' dinner party, and Gong-shil decides it's time to start joining in on stuff like that, and agrees to go.
Yi-ryung picks up the doll and asks if it's a Dooly wannabe, but when she says it's Dooly's girlfriend named Gong-shil, Yi-ryung immediately remembers the Dooly doll sitting on Kang Woo's desk, and her face falls. Gong-shil has to pry it out of her hands before she chokes the poor pink dinosaur.
Gong-shil chats with Secretary Kim, who reminds her that he's on her side all the way. I love him. He sighs that the whole rumor about Joong-won's first love curse has it all wrong—it's not a curse, but a scar that just needs to heal.
He thinks all Joong-won really needs is someone to ignore his get-losts and stick to him no matter what (heh, hint hint) and then when he finds out that Gong-shil is meeting her high school friends tomorrow night, he makes sure to ask where.
He tells Joong-won that he arranged dinner with the fiancée, and asks if he's going to end the engagement as planned or not. Joong-won refuses to tell him, enjoying the one thing he gets to lord over him for a minute.
Aunt continues to spend her nights in deep sleep with the creepy ghost sitting on top of her, and Uncle finally thinks her behavior strange enough that he starts looking for answers. He sees the vase and remembers Gong-shil's eerie words.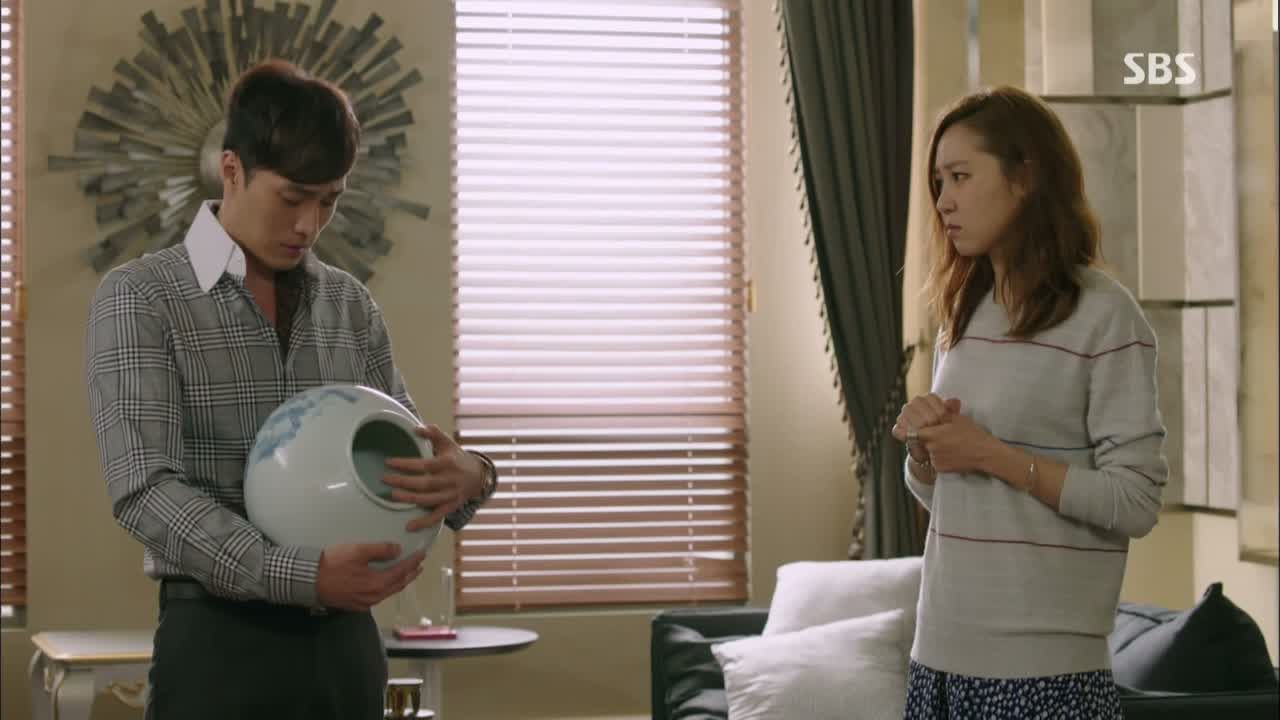 So then he immediately brings it over to Joong-won's house, and tells him it's his engagement present so he should deal with it. He tells him about Aunt's weird behavior, and that Gong-shil said they should break the vase. But he can't exactly break the vase: "I mean it's not like you're going to break your engagement." Pfft.
Joong-won picks it up with a devilish smile: "I'll have her break it and tell her to take responsibility." Hehe.
Cut to: Gong-shil standing in his living room, as he asks what he's supposed to do when Aunt is being haunted but breaking the vase means breaking his engagement. She frets that they can't break it then, and he sighs gravely that Aunt is really, really ill, like she's on her deathbed.
In tiny pathetic voice: "She's my only aunt." Ahahahaha. I'm dying. Gong-shil says worriedly they have to break it then, and he jumps on that before she can finish, and declares that it was her idea, so if breaking this breaks his engagement, she has to take responsibility for it.
And then he sends it crashing to the ground before she can stop him. As soon as it shatters, Aunt wakes up and sees her ghost, and screams bloody murder. Uncle comes running in, and she clings to him, wondering what it was she saw. Thankfully the curse is lifted, and he goes right back to being sexy in her eyes.
Kang Woo comes by and finds Gong-shil talking to her Gong-shil doll, and he asks if she's come to a decision about whether or not she can be without Joong-won. She doesn't know the answer to that yet, but she has figured out how other people see her when she's next to Joong-won.
He offers up that Gong-shil goes best with Dooly, and tells her to brag about her boyfriend at her reunion dinner tonight. She says she doesn't have one to brag about, and he says you never know—Dooly might just show up.
She says she always liked Ddochi (another of Dooly's cartoon friends) more than Dooly, and Kang Woo declares that he'll have to prove Dooly's worth to her. Bah, could there BE more metaphors in one episode? Are you a dinosaur, an ostrich, a goat, or a vase?
Secretary Kim sees Kang Woo leaving Gong-shil's office, and finds out that he's planning to be on a date with her. Hm, that messes with his plans, or does it? Meanwhile, Unni asks the gossipy guard to find out who's spreading awful rumors about her sister, so she can give him a piece of her mind.
Daddy Joo arrives in Korea, and Kang Woo picks him up as scheduled. At the same time, Joong-won meets with his fiancée who regrets having to end things here, calling herself the fourth victim of his first love curse.
It's all cordial since they both gained financially from the week-long engagement, but as she leaves, Joong-won complains about that curse rumor. Secretary Kim points out that a heart that won't ever receive another's feelings is a curse: "without change, the curse will never be lifted."
Gong-shil arrives (at the same restaurant, natch, courtesy of Secretary Kim) to meet her old high school friends. Immediately she's terrified by the waiter ghost that's hovering by her table, but she holds it together for now.
Daddy Joo finally shares that picture of Hee-joo that he's been staring at for ten episodes with Kang Woo, and tells him why it's so damn important: it was taken a year after Hee-joo's supposed death. OH. But… we know she's a ghost.
Kang Woo wonders if she had a twin, and Dad doesn't dismiss that as a possibility. But he shows Kang Woo the ten years of Christmas cards sent by the Hee-joo doppelganger, and they follow a strange pattern: they follow Joong-won's whereabouts after the accident, from city to city, country to country.
And five years ago is when the last card was sent, saying that she'd be going to Korea, the same time Joong-won returned. Dad thinks that Hee-joo is still alive, and has been following Joong-won for the last fifteen years.
A girl goes jogging through Joong-won's neighborhood that night, and Aunt recognizes her as the new tenant who just moved in next door. We don't see her face, but Hee-joo's ghost hovers over her shoulder with a worried look.
Joong-won spots Gong-shil in the restaurant, and Secretary Kim goes through the motions of playing dumb, all while laying in the important fact that Kang Woo is on his way here right now, and won't Gong-shil be soooo happy to brag about her handsome boyfriend? Hee.
At the dinner, her friends prod her to talk about Joong-won, so she appeases them with the non-ghost Candy version of the tale, about how she met him one night and got a job at Kingdom just to follow him around, and then he eventually let her be near him, even renting out a whole swimming pool for a grand romantic gesture.
Yi-ryung listens with an evil smile on her face and asks how it ends, since the ending is the important part, and Gong-shil tells them that he's marrying a chaebol heiress. She adds that she knows how it looks to the outside world, but she's still hanging on because he's the only person in her world, and she can't let go. Her friends all cringe at that.
But just as she starts to cry, someone shows up behind her and all the friends' jaws drop. It's Joong-won! He just pats her on the head and says that he just broke his engagement because of her: "So take responsibility." Eeeee.
He leads her away by the hand, and she asks what he's doing. He points out that he finally got a normal reaction out of her, and asks if he's supposed to return it with aegyo, and then proceeds to publicly call her his baby. I'm gagging a little.
He tells the friends that he'll pay for dinner and then asks "baby" if she wants to go with "oppa," and I'm seriously losing my lunch right now. It's hilariously wrong, just so, so wrong.
He leads her out by the hand in slow motion, but once they're outside, the music cuts out and she's furious with him. She gets it—this is all she amounts to in his world. Oof. Kang Woo walks up just as she's walking away in tears, and Joong-won leads her away before he can swoop in.
Yi-ryung comes out and sees Kang Woo there, and tells him that Joong-won broke off his engagement. She asks the question she's dreading—did he come here for Gong-shil too? Does he like her? Kang Woo doesn't hesitate to confess his feelings. Poor Yi-ryung, she's a brat, but she does have a heart.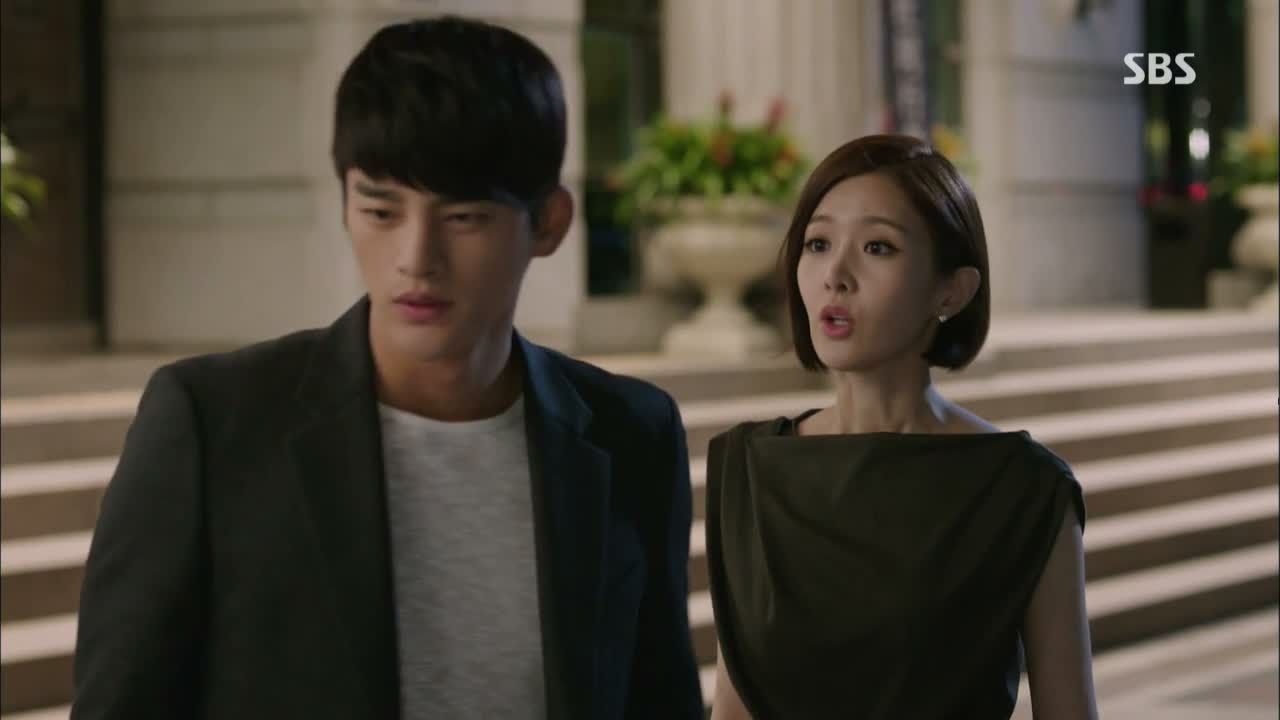 Gong-shil asks why Joong-won had to take it this far. All she needed was one tiny space to let her breathe, but was he so afraid that she might want more that he had to chase her away?
He says he is afraid, and asks if she can really be by his side and not want more, if she can really just use him as a shelter and then leave.
She swears that she can, and reminds him that she's the type of person to run into his arms even after being stepped on just now, if something scary popped out.
So he relents: "Fine. I'll trust you. I'm going to do whatever I want, and you handle everything on your own." She nods, saying that she can handle anything.
Joong-won: "Really? Okay then, handle this: Taeyang. It seems that I love you. What're you going to do now?"
OMO.

COMMENTS
This episode really felt like a Hong sisters classic, firing on all cylinders with the metaphor overload, the Candy reversal-on-reversal, everyone having conversations about two different things at the same time, and of course the cute declarations at every turn. I sort of forgot how much I love them when they write like this—no holds barred, every joke but the kitchen sink, go go go. It's fast and fun and zingy, and there's just something about episodes that snap into place like this one, like it's comfortable in its own skin.
The whole hour (or week in story time) was really all about finding an excuse to be together, which is why you can actually throw wolves and goats and Candy and her chaebol prince at the problem, like they're grasping at metaphor straws. I just love how desperately Joong-won is searching for a way to make this logically work. He can't not be with her, but he can't just let himself be with her openly because his feelings are too far gone, which is hilariously backwards, but totally logical to me. I just get him, in all his weirdness, because there's an internal logic there. It's screwed up, but it makes sense to me that he's terrified enough of love to create his own obstacles, in case he falls so hard he can't be his own fortress. I mean, it's actually less crazy to run off and really marry someone else, than to make up a sham engagement to keep the woman you love at arm's length, but nearby. I mean, what the hell.
I do love Gong-shil's constant refusal to be his Candy, and how the metaphor came full circle today. It just stabbed me in the heart when she gave up the last ounce of her pride in this episode, and let all her friends believe that she was just a desperate clinging Candy to her chaebol prince. It isn't who she is, and it's the last thing she'd ever want to be, but it's what she's willing to give up to remain near him. That's why his "rescue" at the dinner is equally grand (she's not desperate and sad if he's going to love her back) but also the nail in the coffin to her pride (it confirms her Candyhood). There's something refreshing about that push and pull from her, because she's not denying to herself that she has feelings for him, but doesn't let herself forget that her (ghost-free) survival should come first. Little did she expect that the goat would really offer up his heart and tell her to eat it or die. Seriously, wolfie, what DO we do now?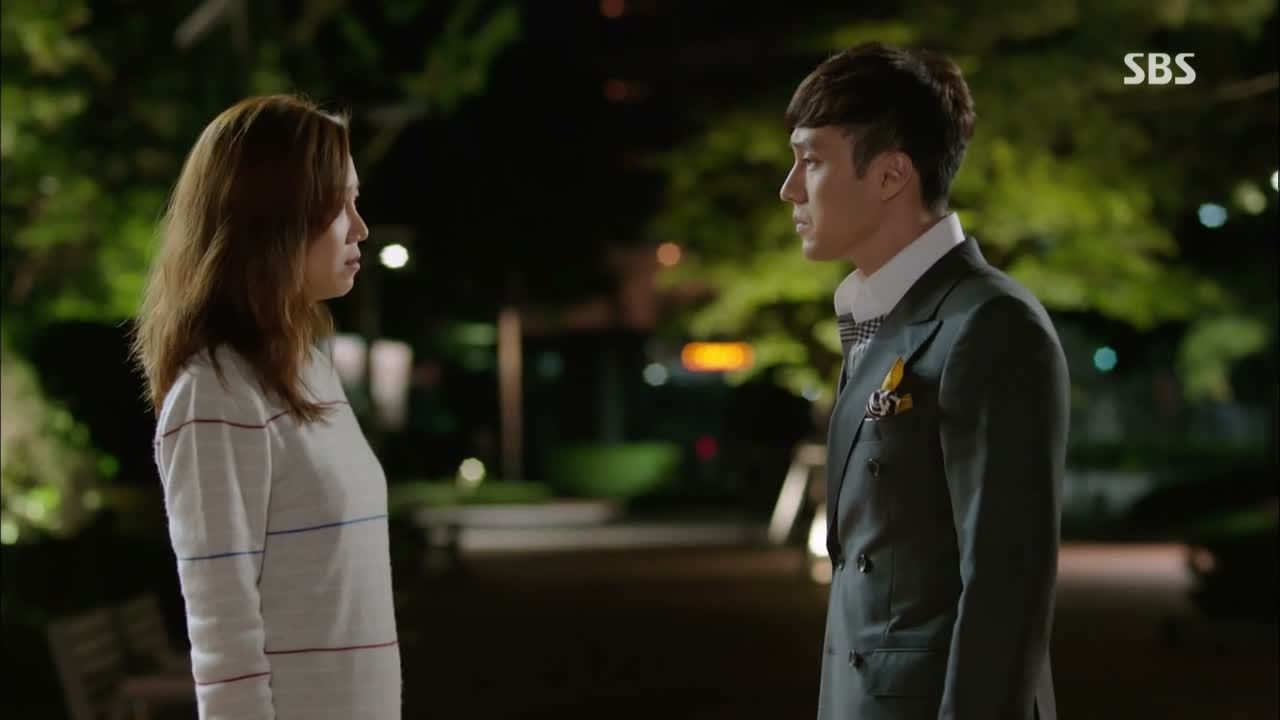 RELATED POSTS
Tags: featured, Gong Hyo-jin, Master's Sun, Seo In-gook, So Ji-sub