Master's Sun: Episode 13
Longest week-and-a-day ever. Let's get to it, shall we? Is Joo-gun a little dead, half-dead, almost dead, or a total goner? Now that we're about to find out the answer, I'm not sure I really want to be shoved out of my denial. I like it here. It's safe here.
A note: Master's Sun has decided to extend after all, given the Chuseok preemption that kinda sorta forced its hand. Rather than end on a Wednesday, it's adding an Episode 17 to even out the run. The show will now end on October 3.

SONG OF THE DAY
Seo In-gook – "겁도 없이 (Without Fear)" for the OST [ Download ]
Audio clip: Adobe Flash Player (version 9 or above) is required to play this audio clip. Download the latest version here. You also need to have JavaScript enabled in your browser.

EPISODE 13 RECAP
Joong-won appears before Gong-shil as a ghost and says his final "I love you," before disappearing into thin air. But you probably already know that because you've watched that scene about a thousand times looking for clues that he's not really dead.
As Gong-shil collapses in tears, we cut back and forth to the operating room where Joong-won has flat-lined. The doctor charges up the defibrillator…
One spike… A heartbeat?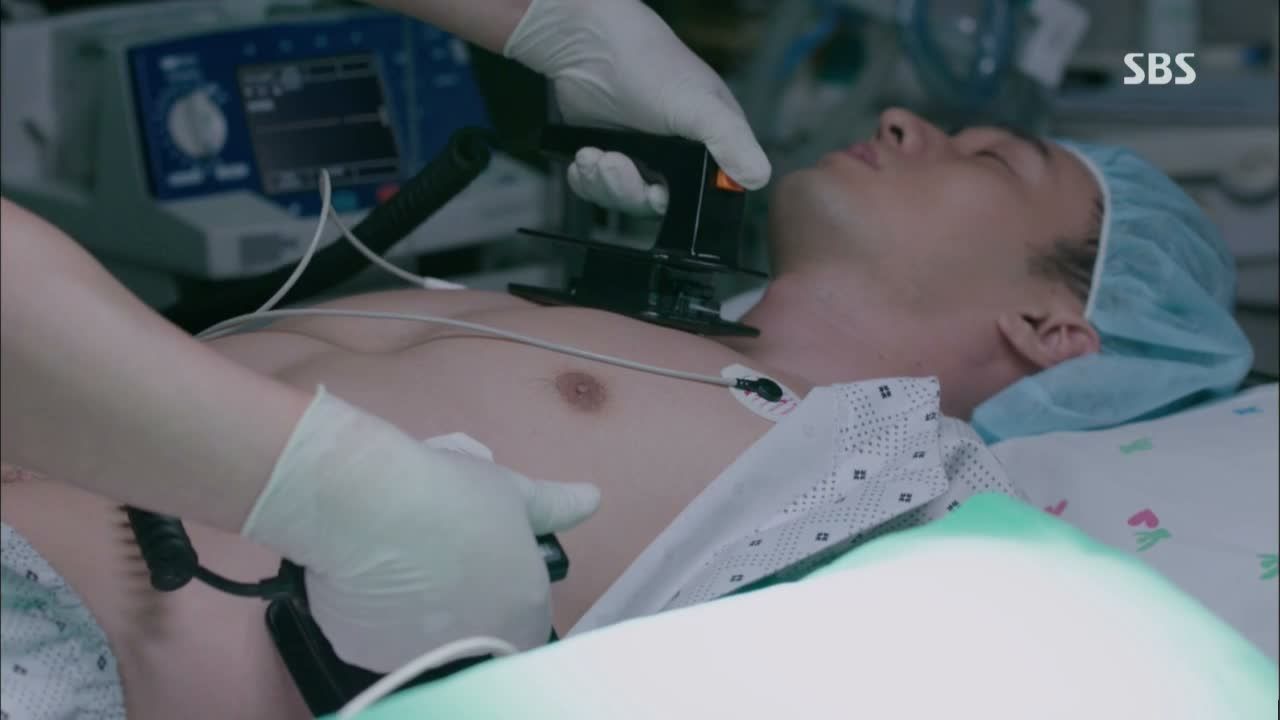 Charge two… a second spike…
Charge three…
Back to Gong-shil, who sits numbly in the hall. Aunt and Uncle rush in, and Aunt's eyes flare up the second she sees Gong-shil, ready to place the blame on her for just being generally unlucky and bad juju for Joong-won.
The doctor comes out to tell the family that Joong-won's heart did stop for a short while, but he pulled through. He'll need surgery, but he's going to just fine. Ohphewthankgod.
Gong-shil is stunned, and actually has to ask again, "He's not dead?" She realizes that he must've come to see her like that coma lady at the hotel, and the first thing she says when she wraps her head around it all is that she has to go to him, because he thinks he's dead.
But Aunt just keeps hearing the words "dead" and "died," and slaps Gong-shil across the face for daring to put bad omens to lips. She tells her to stay away from Joong-won forever, and leaves her crying alone in the hall.
She sits there waiting in the same spot all day, caressing her sun necklace and willing the surgery to go well. Secretary Kim comes out to tell her that Joong-won isn't awake yet, but the surgery is over, and she can sneak in to see him while Aunt has stepped out.
Gong-shil breaks down in sobs the second she sees him lying there, remembering how he said her world was too dangerous, but that that he'd gone ahead and let her bewitch him anyway. Naturally she blames herself for all of it, and cries, "I'm sorry."
She reaches for his hand but can't bring herself to make contact, and then Kang Woo arrives to check on her. She tells him that Joong-won came to her, and he thinks he's dead—what if he never comes back and his body just stays here unoccupied? Augh, the Hong sisters and comas. Talk about bad juju.
She says that she can only see ghosts; she can't conjure them. But that reminds her of the creepy shaman who warned her once, and she decides to seek her out.
The shaman tells her that it's because Joong-won has seen the bright sun in the midst of darkness—that'd be her—that he thinks he's dead. Lol, did he mistake her for the light at the end of the tunnel?
She says he's preparing for death, not knowing he still has a body to go back to. Joong-won's soul, meanwhile, sits in a chair and reads And Then There Were None. Hee-joo comes up to him, wondering how he can read. He says with no emotion that he can read because he's dead now, and she's just happy that he can finally see her.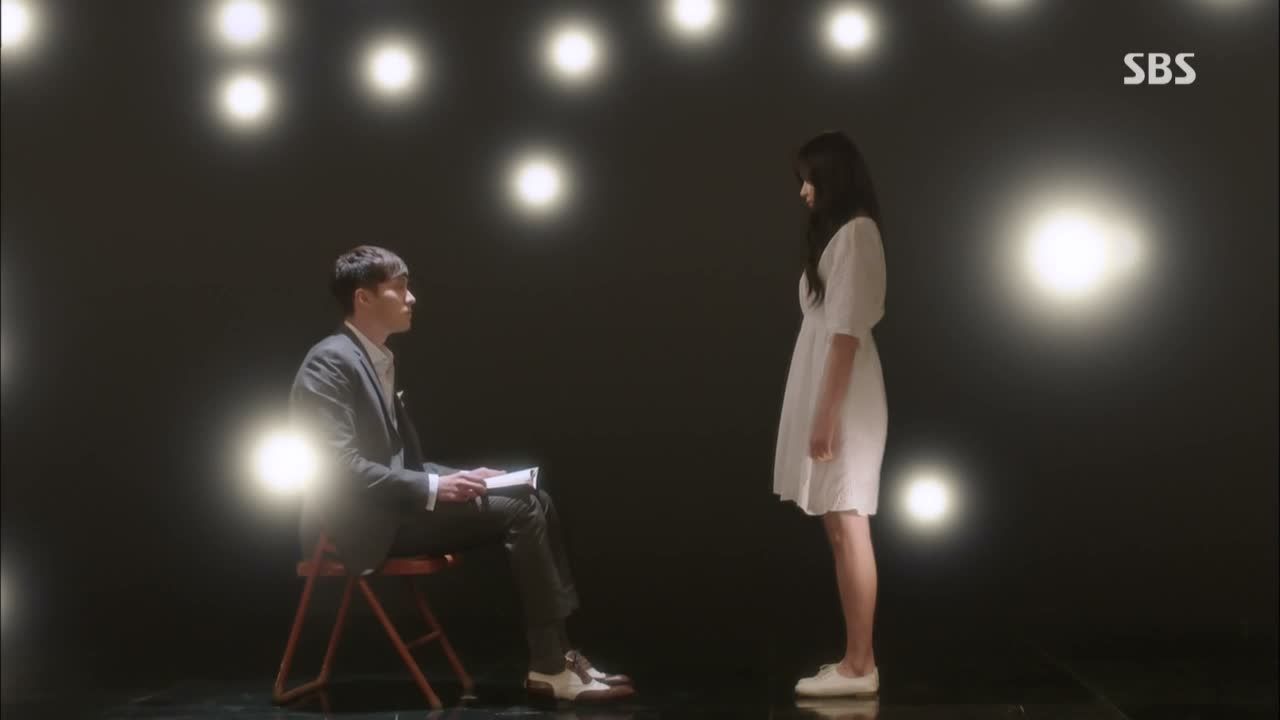 Gong-shil pleads with the shaman for a way to call Joong-won's ghost to her, to tell him he's not dead. The shaman says she can't see ghosts, but she can call them… for a price. She likes her ghost-seeing abilities very much, and offers to call Joong-won here if Gong-shil will become her property.
Oh noes. I don't like the sound of this. Don't make a deal with the devil! Gong-shil asks what that means to be her property, and the shaman just says vaguely that she won't be able to do as she wishes.
The shaman asks if the calculations don't add up, but Gong-shil needs no prodding: "I'll become your property or anything else. Just bring him back!" Noooooooooooo.
The deal is done, and the shaman asks for a physical object that Joong-won will recognize. Gong-shil takes off the sun necklace and hands it to her. But there's one more catch: the shaman says that in order to put Joong-won back, she'll have to erase his memory of seeing "the sun that shines even in death."
Gong-shil's face falls to realize he won't remember his "I love you," but says that's okay. The shaman clarifies: she needs to erase ALL his memories of her. WUT. Whatchoo talkin' 'bout, lady?
She says this is the price for brining him back. Will she pay it? But, what about the other price, where she's already going to be your ghost-seeing slave? ARG. Gong-shil says through her tears that the crazy sun was going to have to get lost eventually, so it's okay. Omg, has everyone drunk the crazy kool-aid today?!
And with that, the shaman begins her ritual. Joong-won finishes his book, and then starts to follow Hee-joo towards the bright white light. Don't do that! He sees Hee-joo vanish and then walks toward the doorway… when suddenly the sun necklace appears in his hand with a gleam. The shaman's voice stops him and says he needs to come back…
The room goes dark. In Joong-won's hospital room, a woman's hand caresses his face. Creepy. That's not Gong-shil's hand. It turns out to be Evil Twin, who says she's been waiting fifteen years for the statute of limitations to end on her case so that she could finally see him.
Gong-shil runs down the hallway, pleading with Joong-won to wake up… and then he finally opens his eyes. Evil Twin is the first person he sees.
Gong-shil arrives just as Aunt walks up, and gets another stern warning that this is the end of the line for her. This time, when Secretary Kim tells her to wait for his signal to go in later, she shakes her head and says it really is the end of the line for her, and that she'll no longer be someone in Joong-won's life.
Secretary Kim is confused, until he goes in and Joong-won has no idea why he's here. "Did I really get struck by lightning?" The last thing he remembers is asking to be struck by lightning if he was wrong… the night he met Gong-shil. Oh wow, it's literally a rewind, not just selective amnesia.
Aunt keeps them from saying anything about Gong-shil, saying that they can sort out the brain stuff after he heals. Secretary Kim stops to exchange glances with Evil Twin, and I can't tell yet how much he knows. Please just don't be evil, okay ajusshi?
Joong-won looks down at his hand: "Something shone brightly and then disappeared…" Aw.
Gong-shil tells Kang Woo the truth, and then cries alone that night, reminding herself that she's the one who promised Joong-won she'd leave when it came time. "That time must be now."
Aunt makes Uncle and Secretary Kim promise to remain hush-hush about Gong-shil, but Joong-won can sense she's hiding something from him. So when he comes home from the hospital, he pretends to take an interest in the food she prepared, and while she runs home to get it, he plies Uncle to spill the beans. Heh.
Uncle is dying to talk and he knows it, and he can feel that there's something crucial that they're not telling him. He notices the stack of children's books on his coffee table and thinks that weird too—why would he have books?
He picks one up… and his eyes widen. Omo. The letters aren't dancing around. He can read. He turns page after page, and he can read them all. He gapes, "What happened to me? Did I really get struck by lightning?"
Gong-shil puts on her sun necklace, deciding that it's okay to wear since he won't recognize it anyway. She tells herself that this necklace is enough for her, and forces a smile. Oof, her stiff upper lip is heartbreaking.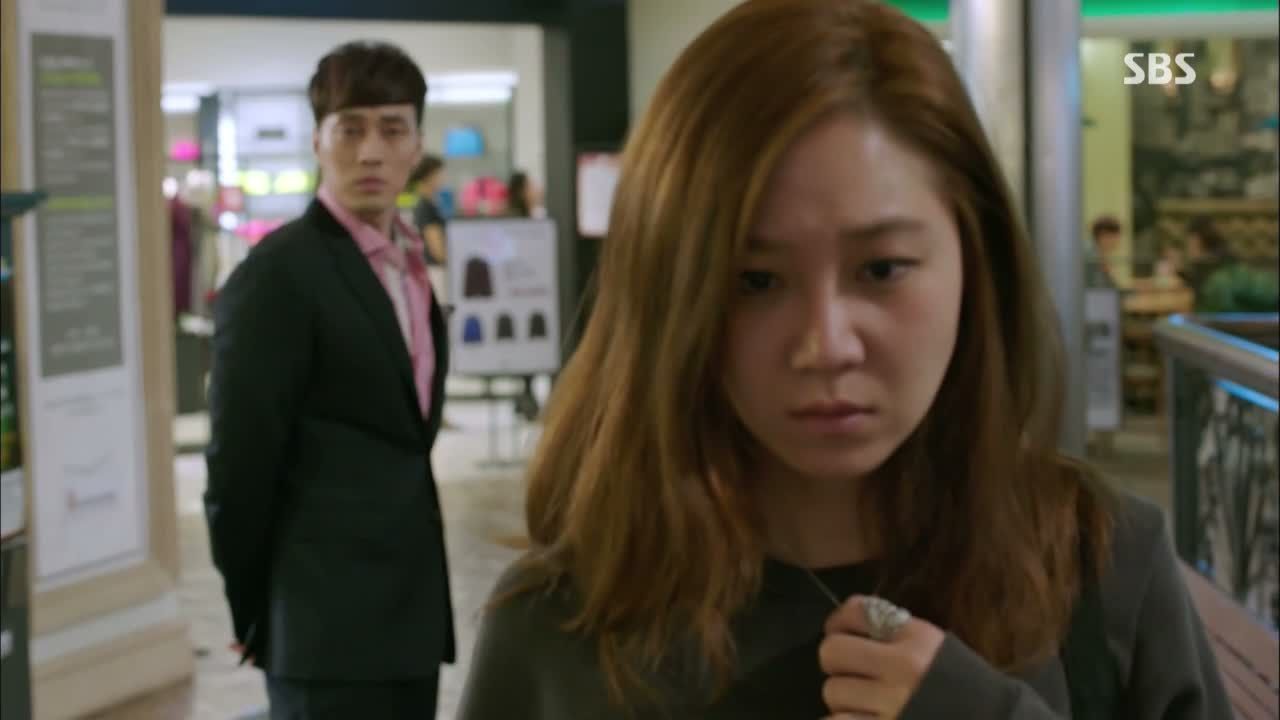 As soon as she steps foot inside Kingdom, she sees Joong-won walking towards her. She clutches her necklace and braces herself, as he walks right past her with a smile on his face without a second glance. Ouch.
Suddenly the trashcan lid flips (heeee) and it makes Joong-won turn around. Something about Gong-shil makes him stop and wonder, and he begins to approach her, but she walks away without looking behind.
Aunt sees him and calls him over to block the run-in, and wonders why he came to work in his condition. He beams that a screwdriver to the back must be a cure-all for his reading problem, because now he can suddenly read.
He tells Secretary Kim ever so proudly that he'll be reading his own files from now on, and then gets a giant bouquet of get-well flowers sent from Giant Mall's CEO. Joong-won's jaw drops: "Are he… and I… on flower-giving-and-receiving terms?" Hee.
Secretary Kim says they even played golf the other day (double hee) and that the reading is no surprise to him, since Joong-won has been working so hard at it lately. He adds that the police want to give him a courageous citizen award, and that they have to make decisions about the children's center he's building. Pwahaha, I love that Secretary Kim is telling him without telling him.
Joong-won decides that Aunt must be feeding him drugs, because nothing else would explain this behavior. "Did the sun rise upside-down all that time?" Secretary Kim just shrugs in his faux-innocent way: "A special Taeyang must've risen by Joo-gun's side."
Kang Woo comes by Gong-shil's office and asks if she's really not going to tell Joong-won the truth. He says the accident wasn't her fault, and she knows, but this was a wake-up call for her too.
She was always so happy and relieved to have found her emergency shelter that she never considered how deeply she had pulled Joong-won into her world, when he could see none of what she sees. She realizes now she should've been more careful, to protect the person who couldn't see.
She says she's got her head on straight now, sighing that people always have to lose something to see clearly. But that's not what Kang Woo is talking about—the feelings were real, so what's she going to do about those? Yes, good question. She points to her sun necklace and calls it a seal (like the kind used to seal letters): "I have my feelings, so they're not gone."
Joong-won steps out of his office, intending to turn right. But his feet go straight, as if his body has a mind and a memory of its own. He wonders what this strange desire is, like he's following a habit he doesn't know, and follows his feet down the hall.
It leads him to Gong-shil's office, which he only remembers is supposed to be a storage room. He peeks inside, and Gong-shil immediately turns her back, while Kang Woo explains that it's an office he made, and she's the employee who's quitting today.
Gong-shil can barely contain her tears with Joong-won standing so close to her, and Kang Woo literally steps in between them to keep Joong-won from seeing her face. Joong-won can't shake the strange feeling that he left something there, but goes on his way. He sits at his desk, wondering why he feels so blocked up when he should be happy.
Kang Woo wonders what kind of seal is so terrible at sealing, and offers to escort Gong-shil home. She assures him that she's got her Gong-shil doll to keep her company, and heads out.
Secretary Kim comes down to see Kang Woo with Hanna's photo in hand, and asks if this is what Daddy Joo gave him. He sighs that Joong-won was doing so well lately in moving on from the past, and wonders what made him dig into Hee-joo's case again.
Kang Woo explains that there's one crucial bit of information that Secretary Kim doesn't know: Hee-joo was in on the kidnapping, and Joong-won has known this from the start. OH. I forgot he doesn't know this.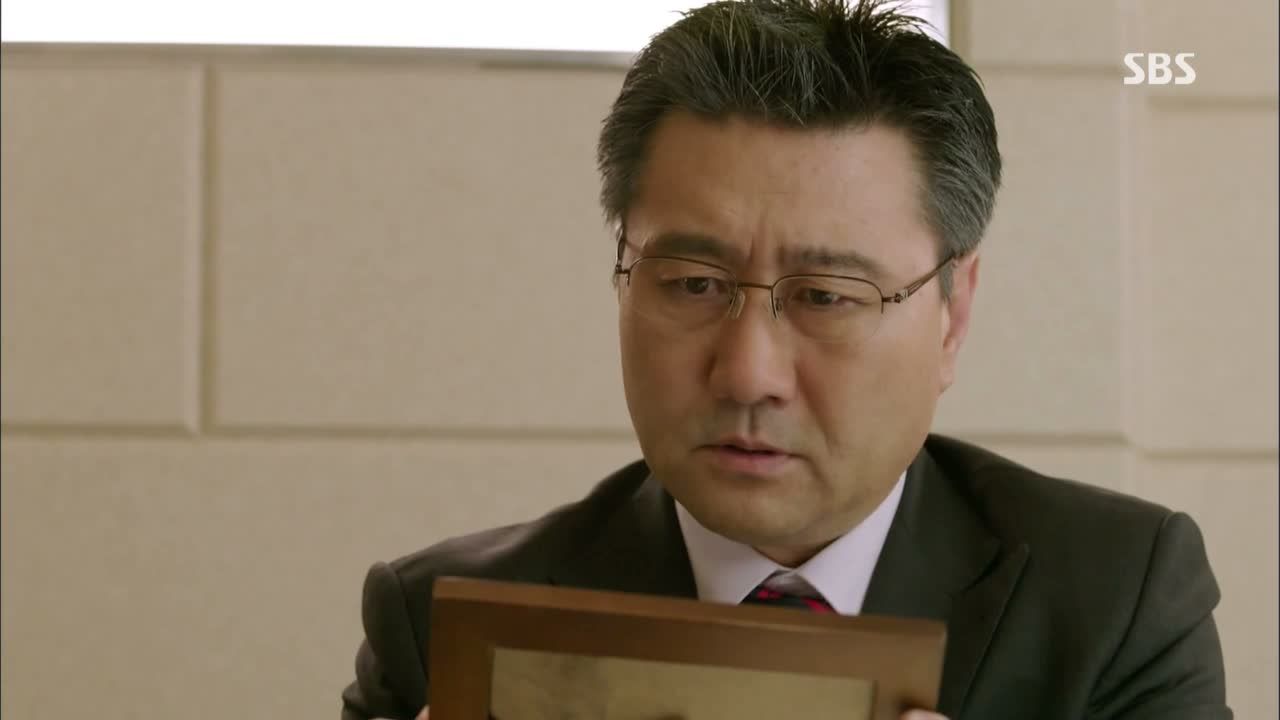 Secretary Kim reels at the news. He goes to his desk and pulls out a framed photo of the twins, and says to himself that there must be some mistake—Hanna was so bright and sweet.
A flashback shows Secretary Kim with Hanna, who calls him Uncle. She lives well with her adoptive parents in England, and has recently connected with Uncle. She says that she's going to Korea to find her twin sister too.
Flashforward to some time later, after Hanna has discovered that Hee-joo died. She asks why Uncle didn't find Hee-joo sooner, and cries that her sister led such a sad life. She blames him in part for not finding them when they were younger, and tells him not to forget Hee-joo's name.
Back in the present, Secretary Kim decides he'll have to find Hanna. Okay, so clearly she's got a new face, right? If he stared right at her in the hospital and didn't recognize her, she got a new face. At least there's a reason the identical twins don't look identical?
Kang Woo gives Gong-shil an emergency bell and tells her that he'll protect her from now on. But she tells him that she isn't going to hang onto someone else any longer because she's learned that it's dangerous for the other person. Poor bodyguard without a body to guard.
He heads out with a longing sigh, and then runs into Yi-ryung on her way to see Gong-shil. He interrogates her about her agenda, and drags her away by the hood when he sees that she's here to gloat and poke at wounds, as expected.
She counters that she's going to keep at it the more he likes Gong-shil, so the only way to protect her is to stop liking her. HA. He says she really is a black-whiskered whale (what she called herself when he said he wasn't interested in fishing in her pond), adding that he looked it up and it doesn't exist, at least on this planet.
She misses the boat entirely on his insult and fixates on the fact that he looked it up: "Why, you thinking of raising me in your pond?" She promises she won't even need tending to, and she'll just grow really really big until he can't chase her away.
He wonders if this is how Gong-shil sees him, and Yi-ryung pouts, thinking he means she's pathetic. But he says she's cool, and it's made him realize he isn't as pathetic as he thought, and that he should be bold like her… to Gong-shil. Haha. So not the intended effect.
Yi-ryung pouts in her car, and Kang Woo runs to Gong-shil and totally plagiarizes her whale speech, substituting "dinosaur" for "whale." LOL. This has to be fake.
The music swells, she looks into his eyes, and they embrace. They land on the bed as the Dooly doll kisses his girlfriend… and Yi-ryung shakes herself out of her nightmare fantasy. She decides that something must be done, but what? Please tell me you're going to meddle. Go forth and meddle!
Joong-won sits in his house pondering his wolf-goat books, while Aunt tries to get his attention after inviting Hanna over. He just asks about the books, and Hanna lies that they're hers.
Gong-shil is at the bookstore looking at the very same books, when Yi-ryung calls. She says she has something important to say and calls her back to the same restaurant where they met their friends. And then she calls Joong-won to send him there too.
When he arrives, Gong-shil is sitting with her back to him, but it's the book in her hands that he notices—she's bought a set of the same books. He starts to approach her table, but just as he does, that waiter ghost shows up and scares her.
As she jumps in fright, he grabs her shoulders, and the ghost goes poof. Without turning around, she knows he's here, and struggles to hide her tears. He asks if she didn't feel something strange just now—like a charge between them.
She lies no, and he walks away, wondering if it sounded like a come-on when he meant it literally. Gong-shil waits until he's out of sight and sighs, "Even if your memories are gone, you're still my emergency shelter."
Even when he sees her leave he doesn't recognize her face, but the encounter leaves him pondering the sensation when he touched her.
Secretary Kim asks for some vacation time since Joong-won can read on his own now, and Joong-won lets him go reluctantly with the reminder that his place is always by his side. Secretary Kim says with a heavy heart that he's headed to England to find a niece, and then afterwards he has some important things to tell Joong-won.
After stopping by the coffee shop to see her sister, Gong-shil runs into Hanna, who recognizes her because of the stalking. She compliments her taeyang necklace and Gong-shil turns to go, when she sees Hee-joo's ghost and calls out her name.
Hanna freezes, and wonders what Gong-shil could've seen that made her call out Hee-joo's name. When Hanna goes up to see Joong-won a short while later, she's wearing an exact replica of the sun necklace, which gives Joong-won pause. Arrrrrrrrrrgh. You're so creepy.
Gong-shil tells Kang Woo about seeing Hee-joo's ghost today, and he reminds her that there's nothing she can tell Joong-won now because he won't believe anything she has to say. He assures her that they're close to finding the kidnapping accomplice and urges her to let it go.
As Hanna tells Aunt a little of her backstory, Secretary Kim shares what he knows with a friend. The twins' birth parents were poor artists who died in an accident, and there was no family who could raise them at the time. Hanna was adopted and led a nice life, but Hee-joo grew up in the orphanage. What Secretary Kim doesn't know is what on earth happened when the two girls met fifteen years ago.
The neighbor boys from the gositel come to claim their toys from Kingdom, except now Joong-won has no memory of them and is sure he would never do such a thing. But they have his card, so he lets them take the toys, and they sass him that they read for him and told him that he was "her special person" and everything.
"Whose special person?" "Gong-shil noona. Taeyang." He stops cold. Does he remember?
Hanna asks Aunt about Gong-shil, and Aunt admits that she was close to Joong-won once, and that she used to say crazy things about calling forth the dead to heal wounds. Hanna agrees that it's crazy.
Gong-shil arrives home that night to find Hee-joo's ghost waiting by her door. Hee-joo says she knows Gong-shil loves Joong-won… and asks to borrow her body. Gong-shil asks if the message isn't something she can convey for her, but Hee-joo insists the possession is necessary. Gong-shil asks if she can catch the kidnapper this way, and Hee-joo nods. Suddenly a hand grabs Gong-shil by the shoulder and Hee-joo poofs away. Eee!
Joong-won whirls her around: "On a stormy night—in that book, that's the secret code so that those two recognize each other. You know me, don't you? Who are you? Are you… Taeyang?"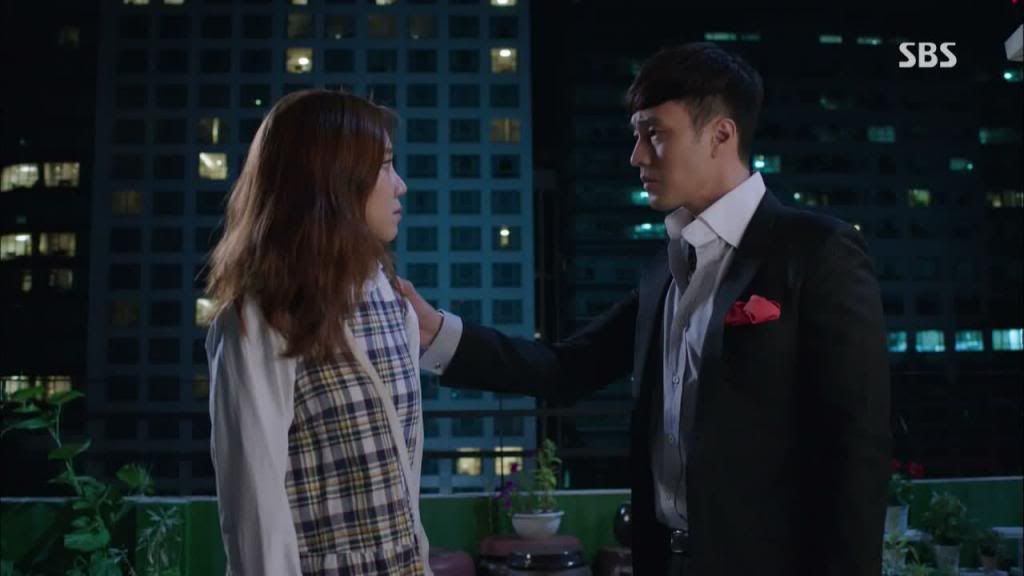 COMMENTS
First things first: he's aliiiive! I don't even care that it's the obvious cop-out. I'LL TAKE IT. I'll buy two and keep the other for a rainy day. I do think we would've gone to some interesting places had he died for realsies, but none of them would've been a happy place, so I'll take coma ghost, thank you. As far as that save goes, it works within the confines of the universe and the rules that we'd already been given, so I'm totally fine with. Giddy even.
Now the amnesia I have less love for, partly because I feel like that shaman is just making up her own goddamn rules all willy-nilly, and I don't trust her. Why are there TWO costs to bringing him back, and what is this vague you-be-my-personal-ghost-seer-property clause about? It feels like a just-in-case insurance plot point, especially on top of the amnesia. I think it would've been more effective to just have the one cost, no matter which—having both lessens the effect.
I'm okay with amnesia if it nets something interesting, and I do think we get some good angst out of Gong-shil being near but not able to touch, or in Joong-won feeling her absence but not knowing what it is. But I can't help but feel that amnesia was the easy way out of their very messy you-take-responsibility-for-ending-things relationship, because it forced the separation for them. I really wanted to see them figure their own way out of that situation, mostly because it's a mess of their own making, and I wanted them to face the consequences of touch first, think later.
Instead, amnesia sort of forces her hand into being the noble idiot and pushing him away for his own good. Blerg. Perhaps it even makes her more noble than she could've been had he remembered her. While I understand her reasons for blaming herself, still, I'm screaming, But he said he loved you! Twice!
I suppose we can look on the bright side and focus on how they'll find their way back to each other, though given the number of metaphor clues, meaningful objects, and inside jokes, you'd have to be an idiot not to pick up on them, amnesiac or not. I like that the book is their code to recognize each other, and it is entertaining to watch Joong-won's reactions to all his changes post-Taeyang.
Joong-won's rediscovery of feelings is admittedly a straight-up retread of things we so recently discovered the first time around, but her heartbreak feels real, and she grounds it emotionally. Also, I can't be the only one whose biggest relief (after Joong-won survived, of course) is that Secretary Kim isn't eeeeeeevil. Now THAT would've been a disaster.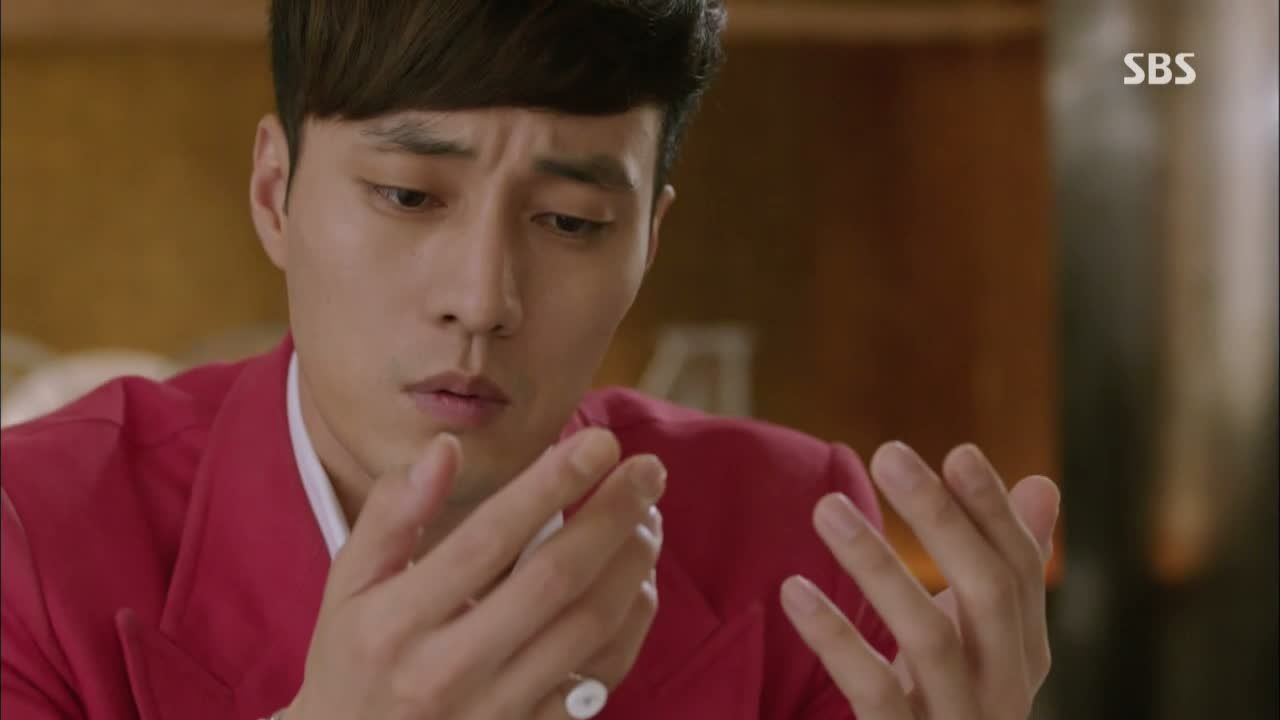 RELATED POSTS
Tags: featured, Gong Hyo-jin, Master's Sun, Seo In-gook, So Ji-sub