Master's Sun: Episode 14
It's a good thing we have two episodes this week, because last week sure felt like a tease, didn't it? This is not the first time I've wondered how I ever made it through the one-episode-a-week format of American television, but it definitely is the most potent reminder in recent months, if not years.
I do think that Episodes 13 and 14 work better as a pair, and while I actually have little complaint about the content of the recent plot turns, I suspect there would have been a smoother acceptance of the memory loss and separation angst if we'd been able to watch the two episodes back to back. Hopefully by the time they got to writing and filming the next episodes, they'll have worked out the rhythm to fit the new episode pairings. Which is to say: Nobody'd better die tomorrow! Well, Hanna can die maybe. She'd be okay. I wouldn't cry.
SONG OF THE DAY
Kim Ye-rim – "잘 알지도 못하면서" (You don't even know) [ Download ]
Audio clip: Adobe Flash Player (version 9 or above) is required to play this audio clip. Download the latest version here. You also need to have JavaScript enabled in your browser.

EPISODE 14 RECAP
Despite the big Taeyang-shaped hole in his memory, Joong-won shows up on Gong-shil's rooftop, driven by burning curiosity and the persistent feeling that she's the important thing he's forgetting. (Can I say I kinda love this amnesia turn? I hate amnesia when it's a last-minute Hail Mary tactic, like a plotular band-aid to stanch the bleeding in a dying story—but when it's built in meaningfully, it pushes all my story buttons. He shouldn't feel any different after the Great Memory Reset, only everything's different because she's not there. Ahhhhh!)
Gong-shil, however, believes that she was too careless with Joong-won's safety and has been badly shaken by his near-death. So now she does the nobly idiotic thing of downplaying their involvement, telling him to see things exactly as they appear. She recounts the story of their meeting but paints it in the light of how an outsider would see it: They met on a stormy night, and when she realized he was the president she decided she had to hang onto him and chased him around, et cetera. (Can I say I haaaate this turn? Amnesia works for me because it shows the romance working its way back to each other, so there's this secondary layer of gratification in watching them circle back to love. Pushing people away because you think you should? Is dumb.)
The explanation doesn't ring true for Joong-won, and he can't reconcile the idea of their supposed Candy-like romance. She's being deliberately vague with the allusions, even invoking that earlier pun of how he was seduced by her special yook-gahm (sixth sense/sensuality), which he naturally interprets the other way. She says that following his injury she decided to part ways, and thus she will consider the large sum he deposited into her bank account as her send-off payment.
She gives him a curt goodbye, which he doesn't accept. He says that money isn't the whole of it: "In the time I can't remember, a lot of things changed. I'm confused by it, but I don't dislike it. Was all that because of you? I feel like I've lost something huge. Is that something you have?"
All she has of his is the six-pack of beer he'd put in her fridge, which she returns and points to as "evidence" of their light, fleeting relationship. (As in, they had some fun and now it's over. Shrug.) He's puzzled because that's what she's saying, but it feels all wrong in his heart.
So Joong-won goes to his uncle to ask for his accounting, and Uncle VP's version is hilariously skewed because of his limited perspective. Like when he describes Gong-shil breaking Joong-won's engagement vase, she talks with the swagger of a homewrecker. Joong-won agrees that his behavior was dangerous and alarming, when you put it that way.
Uncle VP reaches for a beer, which Joong-won guards possessively, ha. He shoves the cans back into his fridge telling himself that he must've lost his mind to be with Gong-shil, and therefore it's a good thing he forgot everything.
Still, Joong-won wonders if the stab wound in his back reached all the way through to his heart, because it sure feels like it's missing something. "I think I gave it to that woman, but she said she had her fun and threw it away. Don't go back to her looking for it."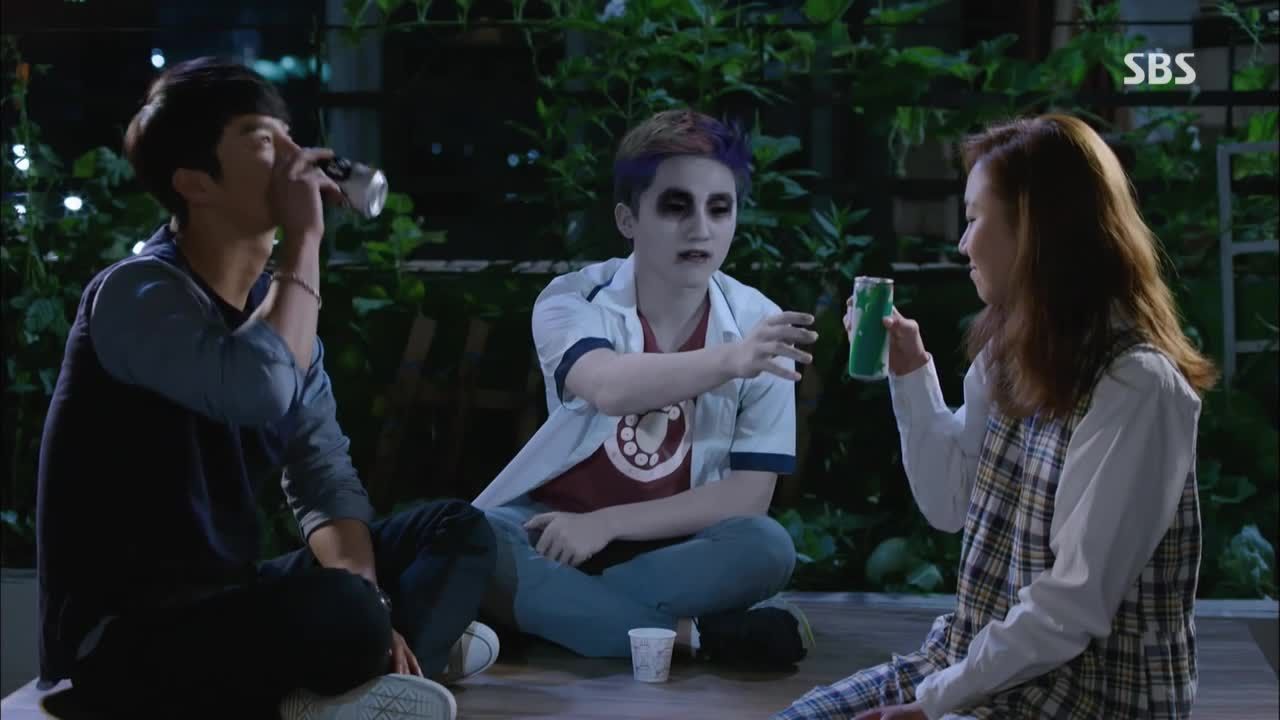 On the rooftop, Kang Woo chats with Gong-shil over a beer, which makes her wistful for all the drinks she can't have. It would be nice to hold hands with Joong-won and drink safely, she sighs. Kang Woo worries that Gong-shil will now revert to her former terrified ways without her emergency shelter around, hiding herself in her room.
But Gong-shil says that the scariest ghost she'd ever seen in her life was that day at the hospital—Joong-won's. So she won't drag him into her world anymore, saying that if she can ensure that, she can endure all the other ghosts. She won't become a shut-in, either, assuring Kang Woo that she's thinking of returning to school. She used to be at the head of her class, you know, and could have gone far. Kang Woo encourages her to become an important person, offering to be her bodyguard.
They make a toast, and Coffee Ghost appears to make a futile grab for Gong-shil's soda. At her mention, Kang Woo shoots an uneasy look at the space next to him and bravely says he's getting better about the ghost thing (while cringing like a scaredy cat). There's a curious lingering shot as Coffee Boy smiles at Gong-shil, which makes me wonder where this is going. Could Coffee Boy actually have a dramatic purpose other than PPL?
Now that Joong-won is alive and (sorta) well, it's time to revisit Gong-shil's deal with the spirit-matchmaker, who comes to collect. She sends Gong-shil to the cemetery to gather unmarried ghost ladies, to continue her business of arranging spirit marriages. Phew, the arrangement isn't as terrible as I was fearing—Gong-shil's being forced to work, yes, but as long as she doesn't have to give up her body or soul to the woman, I'm relieved. Granted it's still a scary job, and Gong-shil wanders the grounds clutching her sun necklace in particularly frightening moments.
Gong-shil finds a suitable ghost bride, who is then brought along to a meeting with the dead groom's parents. The man's ghost looks pleased at the match and the case is a success.
Yi-ryung entertains the possibility of shooting a movie in the States (with acclaimed director Peter Jason, ha—making his triumphant return after Best Love?). I love that Yi-ryung plainly states that she can't act, and her manager assures her all she has to do is look pretty.
She tells Kang Woo, fishing for a reaction, and he replies, "But you're a terrible actor." LOL. She says that the movie he saw was particularly bad because it was a melo and she hates crying, which actually makes him feel bad to recall seeing her crying because of him. He tells her to study some more and become an international star, adding that she'll do great.
She says that Gong-shil will end up rejecting him just like he rejected her, and mentions seeing Gong-shil just now meeting with those rich parents. She assumes Gong-shil is on to her next gold-diggy target, but Kang Woo has a more accurate understanding and asks Gong-shil if she's working with that scary shaman lady again. She tells him not to worry, then heads back out to the graveyard for more scouting.
Joong-won throws himself into his work with gusto now that he's literate. Secretary Kim is still off in England, so Joong-won fishes out his recorder to refresh himself on the documents—and hears Gong-shil's voice. It was from the day Secretary Kim had a cold, and she reads the documents in a funny, warm voice peppered with personal asides.
Joong-won's eyes widen, and he finds himself making his way back to her now-empty office. But still, no memory filling that hole in his heart. It's so sweet. He KNOWS, only he can't actually know because of that mystical mind-eraser. Bah! His aunt does, however, come by and note him standing there.
Gong-shil and the matchmaker take a meeting with a man who is about to be married and has been dreaming of his previous fiancée—the ghost sitting next to him. Gong-shil explains that he'd promised to be with her forever, and he scoffs that they'd been empty words, earning him a dirty look from the ghost, ha. Gong-shil offers (well, is pushed by the matchmaker) to persuade the ghost to move on—maybe they can set up the ghost with a ghost partner. Pfft. There's something so shyster-y about this setup (taking advantage to push their own matching business), but in a good way—it cracks me up.
Aunt Joo walks into the same restaurant with Hanna, and recognizes that Gong-shil is in the company of a ghost wedding planner. She asks the matchmaker whether her interest in Gong-shil has to do with ghosts, and gets a confirmation.
Joong-won arrives to join his aunt for lunch and spots Gong-shil sitting with the client. Assuming they're on a date, he tells himself to continue on, but at their laughing rapport he ends up sidling up to her and making pointed reference to their very recent breakup. When he puts his hand on her shoulder the ghost fiancée disappears, and Gong-shil shoves his hand aside growling, "I'm working. Don't touch me." LOL. I love these kinds of misunderstandings. The client wonders if Joong-won was like him, and Gong-shil replies, "Yes, he was in a situation like yours." Which sounds to Joong-won like a very bald admission of gold-digger-ish intent.
So when the client asks if Joong-won had much time getting rid of "her," Joong-won replies that it took a near-death experience and getting stabbed with a screwdriver to get her to leave. So if the guy doesn't want to die, he'd better get lost, and the client scurries away.
Joining his aunt, Joong-won notices the sun necklace Hanna's wearing and asks whether they'd met before. Of course she plays it up, saying that she felt very close to him from the outset. Agh, you.
Secretary Kim meets with Hanna's friend in England and furrows his brow at a recent photo. It's the Hanna we know but not the one he remembers, and her friend clarifies that Hanna got plastic surgery, saying she hated her own face. Aha! I'd been bumping on the issue that nobody seemed to recognize Hanna, even with the time lapse, because surely her uncle and Joong-won would have had some flash of recognition if she'd aged normally. Plastic surgery is a bit makjang as an answer, but at least it explains things.
Aunt Joo mentions the rumors of a ghost hanging around Joong-won (his "curse"), but assures Hanna that she has found a way to address the issue. Oh no, is that why you're so smug about Gong-shil?
Sure enough, the matchmaker enters with Gong-shil in tow, and Aunt Joo pointedly introduces her as a seer of the dead, which is why Gong-shil had been hovering around Joong-won. It sounds ridiculous, and it's meant to—Aunt Joo's tone is definitely tinged with condescension, all, Isn't that quaint? What a cute crazy person.
Gong-shil doesn't shrink, though, and declares that it's all true—a statement that takes the others by surprise. She then addresses the ghost of Hee-joo directly, who is standing right there, and asks her not to appear before her anymore. If she has something to say to Joong-won, Gong-shil will convey it now, but she doesn't want to see her again.
Joong-won gets increasingly worked up about it until finally he bolts up and grabs her arm—making the ghost disappear—and drags her off. The matchmaker notes, "Now I understand why he's special to her."
Out in the hallway, Gong-shil comes clean(ish) about their history—how he'd hired her and paid her handsomely to deal with ghosts, calling her his 10 billion won radar. However, she decided his injury was the signal to quit, and now she doesn't want to see him ever again. It's closer to the truth than the Candy story, but she says everything in such a blasé tone that he remains confused, especially when she snaps, "Don't touch me. I don't like it."
Joong-won heads back to her empty office that night, mulling over these revelations. Gong-shil goes home in tears and reminds herself not to cling or ask him to be her shelter.
Hanna takes out that diamond necklace and wonders whether it's true that Hee-joo's hanging around. Speaking aloud, she asks if Hee-joo's next to her: "If you are, then I'll apologize. I'm sorry, unni." Only she says it while smirking, in the tone of "Whoops, too bad." Gah, you deserve to be haunted.
Kang Woo presents Joong-won with the photos in the Hee-joo case, confirming that he'd suspected Hee-joo's twin of being the other kidnapper. Joong-won doesn't remember any of these details but they do make sense, and he supposes that's where Gong-shil and her radar fit in. Kang Woo asks if Joong-won is fine being without Gong-shil now, and adds that he hopes that she will likewise be able to be without him. The comment leaves Joong-won wondering, "Why does that make me feel so bitter?" Heh. Nice to see some metaphors transcend amnesia.
The screwdriver stabber is still at large, and he shows up at Kingdom's offices looking for Gong-shil. Kang Woo clocks his suspicious presence and follows him to Gong-shil's office, and the stabber immediately panics and starts fighting. He's no match for Kang Woo's combat skills and gets taken down readily, though he then resorts to begging to meet with Gong-shil. This time it's not murderous intent driving him but a fixation on her comment that he has a boy's ghost hovering around him, which has been driving him crazy.
Joong-won storms in to confront the man, though he has no recollection of him personally. The man blubbers that he didn't stab him intentionally, that Joong-won got stabbed because he rushed in to protect that woman.
Joong-won's mind races to put the pieces together—he was told he went to the garage to meet Gong-shil, and he got hurt saving her… so that means he was willing to die for her?
Kang Woo confirms it, to his shock.
This makes even less sense (how could he love so deeply and not remember) and he asks himself, "How crazy was I over her?" He wonders, "Can I really be without her?" Then, "Bitter! So bitter."
Gong-shil's new job is taking its toll, since she's back to working nights and lacking sleep. Plus, she complains to the matchmaker that when ghosts get matched up with the wrong partner, they come to her at night to complain. Aw.
Gong-shil asks why she can see ghosts in the first place, and the matchmaker replies that if she was asleep for three years, that means her soul was wandering for that time. Thus it makes sense that she carried over the ability to see ghosts.
Security guard Han-joo is poking his nose around to get at the details of Gong-shil's accident, and her unni explains that she had been lost in the woods for ten days. Curiously, her physical condition was fine for the next three years, but she remained unconscious.
At the next table in the cafe, a man sets down an extra coffee cup (why hello there, Lee Chun-hee) for the ghost sitting in front of him. Huh! So we've got another ghost-seer, and somehow he knows all about Coffee Boy's relationship to Gong-shil.
Chun-hee (Imma just call him Chun-hee) muses, "But she shouldn't just be left to her own devices. Keep watch over her." Coffee Boy agrees, and Chun-hee wonders if it's time to meet her: "Do you think she'd recognize me?" Gah, why does Lee Chun-hee do such a good job toeing that line between sympathetic and creepy? You just don't know what he's up to, ever.
When Gong-shil comes home that night, Kang Woo notices her increasingly tired appearance with concern. She's happy to have heard about the criminal's arrest, while he encourages her to call his name the next time she's scared. The statement refers to the fact that he knows she's been scouring the graveyards, having followed her out one night. He's ready to provide a comforting shoulder to lean on, but keeps his distance while wishing she'd call his name in her moments of need. Which is why you are a second lead, m'dear.
That night, Aunt invites Hanna over to keep shoving her at Joong-won, while he sits in a sulk by himself. His uncle joins him to share additional information about Gong-shil (despite Aunt warning to keep silent), such as how she came to the hospital every day while he was asleep and cried a lot. None of it rings a bell, but the sight of that sun necklace niggles at his mind.
Gong-shil is called to the office by Secretary Kim, only to find that Joong-won had faked the text to bring her here. Haha. He's so proud of the fact that he can read (and text) now, and orders her to sit while he works through everything.
He lays out what he knows, curious most of all to know what he was thinking in his last moments. She was at the hospital while he was in surgery, and he died on the table, and she sees ghosts, ergo: "You saw me, didn't you?"
He figures that if he almost died because of her, he would have sought her out as a ghost. She says he did. He guesses that his final moments were honest and frank, and that whatever he said scared her off. Again she agrees. He asks if he'd blamed her for sending him into death, or begged her to go with him. She shakes her head no.
But if he went that far for her, if he was that crazy about her, then shouldn't he be able to remember when looking at her? Something, anything?
She tells him not to worry, because his memories won't come back; they've been "safely sealed away." He prods, "Are you really okay without them?" She nods yes.
Miffed, he huffs that he won't go looking for her anymore then. She says that's what she wants, and heads out to leave. But as she goes toward the door, he mutters, "If it's not true that you can be without those memories, look back. If you do, I'll go after you one more time."
Gong-shil keeps walking, and Joong-won curses, "Dammit." Then he grimaces at the fresh taste of bitterness.
On the other side of the door, Gong-shil reaches for her necklace and tells herself it's over now.
Kang Woo coordinates security for an upcoming art exhibition, which is directed by Hanna. Flipping through a pamphlet, he finds a clue—a handwritten note signed with her name. Comparing that with the Hee-joo postcards, he realizes the writing is the same.
Kang Woo rushes to inform Secretary Kim (of Hanna being Hee-joo's twin) on his return, only to find out that Secretary Kim has arrived at the same conclusion. Secretary Kim admits that he is the girls' uncle, and that is why he has stayed with Joong-won all these years.
Gong-shil and the matchmaker attend the wedding of their client, where Gong-shil persuades the dead fiancée to move on. And there she spies Joong-won arriving with Hanna for an official function at the hotel. They freeze.
He stares at her in his intense way, while Gong-shil shrinks back. Finally he continues onward… and Gong-shil comes face to face with Hee-joo's ghost. She's back with another plea to use her body, which Gong-shil isn't exactly thrilled about.
Joong-won is joined by his uncle, who brings up Gong-shil's name. Joong-won sniffs, "I don't care," only to add, "Continue." Lol. So Uncle fills him in on the "strange lifetime contract" Gong-shil has entered into with that matchmaker, which is odd enough that he seeks out the matchmaker to demand to know the terms of their deal. Can it be bought out with money?
She guesses that he wants to find his memory. He asks if it can be found, and she replies that it can—all he needs to do is think of what he's lost the moment he wakes up. She makes a gesture with her hand that makes me think the necklace must be involved somehow (particularly since she noted earlier that Gong-shil hadn't given it back to him).
But he's still smarting from Gong-shil's refusal and insists he doesn't want to know, arguing that they've already decided that they could live without "it" (his memory, their relationship). Still, he orders her to name the price for Gong-shil's contract. The matchmaker replies, "That woman gave all of herself. Calculate what that is worth and then try negotiating."
He reels. Aunt Joo asks if he's unwell, and he answers that he's in great pain. Seeing the necklace around Hanna's neck, he muses, "From the start, it drew my glance. I kept seeing it, but did I want to pretend I didn't know?"
He looks at his empty hand, triggering a flash of that moment at death's door, when the necklace had disappeared from his grasp. Deciding he has to find what he's lost, he heads out.
Hanna asks whether she's not the thing he's talking about. He declares, "It looks the same, but that's not the real one."
Outside, Gong-shil tries to reason with Hee-joo's ghost, insisting she and Joong-won are over and therefore the ghost should stop seeking her out. She tries to fling her necklace into the river, but can't do it the first time. She winds up a second time… and a hand grabs hers. Hee-joo wisps into thin air, and Joong-won whirls her around.
"Did you really think you didn't need your emergency shelter?" he demands. Omo omo! She gapes, asking if he remembers now, and he says, "I really didn't want to, but I did."
They fling lies back and forth about how she was fine without his memory returning, and how they would have been perfectly happy living in their separate worlds, which might be more convincing if they weren't both on the verge of tears.
He declares that she's lying: "Tae Gong-shil, you absolutely shouldn't be okay living without me. Without me, you're supposed to feel like you're dying."

COMMENTS
Eeeeee, his memory is back! I think. We haven't been given the details of what happened so I'm still fuzzy on the details, but I'm totally cool waiting to find out the mechanics of the amnesia-break. The important thing is that they're through the bullshit protection cover and back to talking about how they really feel, rather than how they want the other person to think they feel.
All that is well and good, and I think the writing supports the behavior pretty solidly. Joong-won made the ultimate sacrifice by putting his life on the line for her, while Gong-shil reciprocated with an even more ultimate-r sacrifice—not just her body for his life, but the very memory of her importance in his life. She all buts erases herself in exchange for his life, and the show has done a good job of painting the circumstances to support the action. He would have lost his life had she dragged her feet, and she had to agree to the matchmaker's terms to get his soul to return to his body, and once the memory is gone, well, what's the point in reliving history if there's a big chance it would play out in a similar way? I get that on an intellectual level. What this drama does is take that trite, overused case of rom-com idiocy (usually when a meddling parent or outside force convinces one side to leave for the other's own good) and build its mythology to force it, so you really can't fault Gong-shil for sacrificing herself. It's just really frustrating to hear her spouting lies about how she totally doesn't love him, when he's doing his best to reconcile head to heart.
I do think Joong-won's reaction is sort of sweet in its bullheadedness because they've reverted right back to their old pattern—he's trying to get her to admit she needs him, and she's protecting them both by denying it, so then he huffily clings to the lie with hurt feelings. I love that he tells himself over and over that he's totally NOT gonna care anymore, and then seconds later he's telling himself, "Just one more chance." He doesn't even know he loves her but his reaction is still the same, and that's amnesia in its best form. I do really enjoy it used in this kind of capacity.
And while her reaction is the more frustrating one (although again, I understand the reasoning behind it), what the lost memory scenario does is allow her to feel the full brunt of having and losing his love. Before the death, I'd felt that Joong-won's love was the stronger one, that hers was genuine but understated and hidden to protect herself while his was out there and open and vulnerable. And in taking that away from her, at least we got to see that she really does love him, because it takes a helluva lot of love to make the choice she does, and to withhold herself thinking he honestly is better off having never known her. Aw. Tears.
As for the new plot threads, hm… Hanna is a character I'm still trying to figure out, because I don't understand what the hell her deal is with her Joong-won OR even her sister. It's one thing to be the one person left behind in a disaster, but she seems pretty unrepentant about it, and maybe even smug. How come Hee-joo looks so tortured all the time, and Hanna seems like she thrives on all things evil? I hope there's an explanation for her behavior, because right now all I can think is that this is more support for the theory that one twin is always evil.
Chun-hee and the coffee boy… well, we'll have to wait on that one. I suppose I much prefer having new complications introduced, in light of the episode extension, rather than merely dragging out the events to fill the extra space. We'll have to wait to see where this is going, but it does have me intrigued.
RELATED POSTS
Tags: featured, Gong Hyo-jin, Master's Sun, Seo In-gook, So Ji-sub