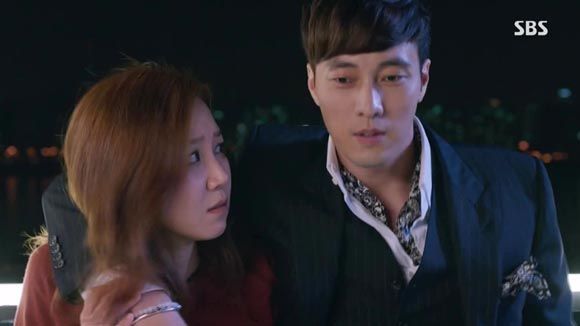 It feels like a mini-finale of sorts, resolving one of our long-running mysteries and affording our characters some closure. I like that we get to put the necklace-kidnapping-twins plot behind us now, because while it served its purpose in moving us along, it's also nice to get that lesser conflict out of the way before we hit finale week—when you leave everything till the last minute, often things don't feel adequately gratifying because we're rushing to hit all the points. I'm crossing my fingers that this means next week we'll get to devote ourselves fully to the main couple. And you know, if they run out of material, I wouldn't say no to some fanservice makeout sessions, you know. Just sayin'.
SONG OF THE DAY
Busker Busker – "Beautiful Age" [ Download ]
Audio clip: Adobe Flash Player (version 9 or above) is required to play this audio clip. Download the latest version here. You also need to have JavaScript enabled in your browser.

EPISODE 15 RECAP
Joong-won stops Gong-shil from throwing her necklace away, telling her that she's supposed to be a wreck without him since he's a unique and special person to her. Gong-shil keeps her stern face on and says that she'd only be mildly disappointed without him, not heartbroken to death, and that she'd been about to toss the necklace. Joong-won bristles—he'd been hustling his ass to find the missing pieces, and she's just going to throw that away?
She carelessly hands him the necklace and tells him to do whatever he wants with it. So he calls her bluff, threatening to throw it over the railing… while Gong-shil looks stricken… and HE looks stricken… gah don't play chicken with your hearts!
Then he fakes sudden back pain and doubles over. Oh, I LOVE HIM. Always pretending he doesn't care and then giving her one more chance, just one more chance…
Gong-shil rushes to check on him as he exaggerates his injury and slings his arm around her, taking thorough advantage of the excuse. She offers to call help, and he argues that she should take care of him since she's the reason for the injruy. Off they go, with him faking cries of pain the whole way, lol.
Joong-won insists that she drive him home, then places a hand on her shoulder with the excuse that it's to ward ghosts away. Aw, and then he brushes her hair with his finger when she's not looking.
Back at the hotel party, Aunt apologizes to Hanna for Joong-won's sudden departure. Uncle plays the imp and emphasizes Joong-won's connection to Gong-shil (love him being the sly saboteur), which offers Hanna the surprising tidbit that Gong-shil was the reason Joong-won got injured.
And finally, we get clarification on the twins' identities and motives in a flashback, where the twins are conveniently color-coded as Good and Evil: the now-dead girl in white, and the Hanna we know in black. But curiously (unless you've anticipated this twist, and a lot of you have), the Good Twin calls the Bad Twin Hee-joo… which means that somewhere along the way, these names got swapped.
Good Twin (Hanna) tells Bad Twin (Hee-joo, who is now Hanna) that she wants to come clean about her real identity to Joong-won. Ah, Good Twin gave him the wrong name when they met, so he thinks he loves Hee-joo. Now Bad Twin is in the picture with that name, and she seems to enjoy his misdirected love. Bitch!
Secretary Kim explains to Kang Woo how Good Hanna grew up in England, while Bad Hee-joo grew up in a Korean orphanage. Before he had the chance to meet the lost sister, Hanna returned to England and told him that Hee-joo died. That's when he noticed she was different, and they fell out of touch shortly thereafter.
Kang Woo supposes that Bad Hanna (er, the real Hee-joo) is the co-kidnapper, and cautions Secretary Kim about revealing his blood ties to Joong-won. It's quite possible that he'd misunderstand and think he had ulterior motives all these years.
Gong-shil helps Joong-won home, then tries to leave. He shoves her in a chair and bolts up to grab drinks, no longer pretending to be hurt. She comments on it, and he points out that they both knew why he was doing it and yet she came with him anyway. Well he has a point.
Joong-won sits her down to clarify where they stand, understanding that she must have gotten scared off by his near-death. He tells her not to feel too guilty because he bears blame for rushing headlong into the situation, and will be careful in the future. He admits that when he'd anticipated that they'd end things at some point he'd wanted to keep one foot out the door. However, after confronting death, "I knew for certain—I don't want to end things with you. I won't end things. Stay with me. I'll handle everything."
Aww. Total reversal of the relationship burden, given how it was previously up to her to make sure she could handle it. I love how proud he is of finding this very satisfactory solution, and that all she has to do is accept.
Gong-shil pops his balloon by saying that she won't just fall for him that easily—she's not terrified of ghosts anymore, so she doesn't need an emergency shelter, and therefore he's lost his appeal. Ha. She compares it to liking a man for his money, only to have him lose it all. Double HA.
Flustered, he tells her he'll take a good hard look in the mirror to find some new appeal about himself (aw), after which he'll come to her for renegotiations. Hearing that he's got no appeal is a serious blow to his ego, and his hand literally shakes.
His fix: Joong-won returns to the matchmaker to make his proposal to buy out Gong-shil's contract, threatening her with bodily harm if she reneges.
Then he shows up at her door that night as she's heading out for graveyard patrol and tells her that he managed her contract. Huh, so that's the end of that? So easily? He's awfully pleased with himself and tells her he doesn't need her thanks—she can just add a few points to his appeal-o-meter. Pwahaha.
She doesn't react with the big display of emotion he'd love to see, and he says wryly that it would be nice to hear some better words like devotion, sacrifice, love. She scoffs that that kind of poetry exists only in fairy tales, and that it's nice to read about the wolf and goat wanting to be together in the book—but it wouldn't work in the real world. Plus hers was a dark fairy tale, where one person dies and visits the other as a ghost, so she got scared and came back to her world. So he should leave and head back too.
Joong-won complains that she's told him to get lost three times today, and that's before they're interrupted by a grandma ghost who arrives to ask Gong-shil for help. He indignantly tells her to pay attention to their conversation, and I love the look on his face. It's so whiny and Listen to meeeee! But she heads out to deal with the problem, leaving him sputtering, "Now you've told me to get lost four times! I'm counting!"
He does, of course, tag along as she talks with the ghost. I love that he wants her to be scared so she'll cling, but she barks that she's quite fine. He also fidgets to be left out of her conversation, wanting to know what they're talking about, seething when Gong-shil laughs with grandma and points at him, "He really is, isn't he?" He huffs, "I know you're insulting me! I can tell!"
They arrive to find the ghost's son sprawled in the street, drunk. It's not the first time Gong-shil has come to a scene like this, and she rouses him by pretending to emcee a singing contest—the drunkard pops up and starts singing on cue. She sends him home and he complies readily.
Today they were lucky that the man woke up in a good mood and obeyed, but Gong-shil says that he could have been dangerous—what if he threatened them with a weapon? Was Joong-won intending to jump in to save her again? That's why she's decided to stop dragging him into her affairs, because it's more dangerous when they're together—he can't see and hear the things she can.
Offering his hand, Joong-won says she could hold him and stop seeing and hearing those things. She replies that she can't live her life clinging to him, because she has a life of her own. And that finally rings true for him, as he realizes she meant it when she said she was going to live without him.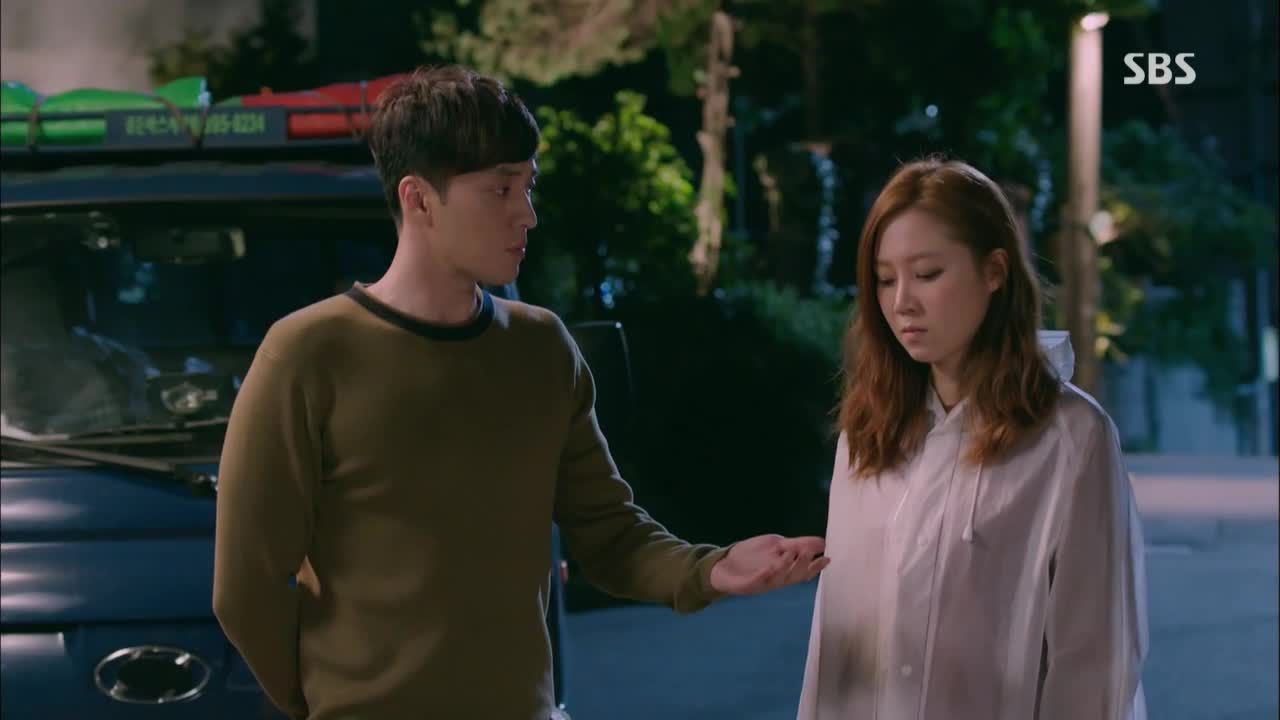 Gong-shil says that she really did bewitch him with her persistent clinging. "I'm sorry," she says tearily, "There's absolutely no reason for you to stick with me."
He concedes that her words make sense, and yet he can't understand them. With hurt feelings, he heads off before she can tell him to get lost for a fifth time tonight.
Coffee Boy appears to inform Gong-shil that somebody wants to meet her. So they head to the coffee shop, where a nervous Chun-hee greets her familiarly and asks, "Gong-shil-ah, do you know who I am?"
She nods—she saw him in a dream. But he tells her it was no ordinary dream, because for the entire time she'd been asleep, she was with him. When she'd been lost in the woods, her spirit had come to him and led him to find her body. So her ghost remained outside of her body for three years, which they spent together. Aw, that's so sad. I mean, I guess it's great for Chun-hee that his beloved is alive after all, but he was in love with a ghost for three years.
Chun-hee (okay, his name is Jin-woo, but c'mon it's Chun-hee!) slides over a photo book—she was with him when he shot all the locations in it. He asks her to revisit those places with him to bring back those memories.
Secretary Kim goes to see Bad Hanna (aka Real Hee-joo), and now that he recognizes her, she calls him Uncle. It's sad because you can hear the hope in his voice as he asks what happened between the sisters, and whether she has anything to do with that accident. He wants to believe the best, even as everything points to a less happy answer.
Joong-won lights up to see Secretary Kim back at work, just bursting at the seams to talk to somebody. His enthusiasm is adorable, but Secretary Kim has his news to break too, and informs him of his relation to the girls.
They confront Hanna with the photos and postcards, but she's had a lot of time to think out her story. Asked whether she's been following Joong-won all these years, she says it was really her uncle she'd kept tabs on. He would write her regularly to check in on her, and she didn't want to lose contact with her only blood relative.
She acts shocked that her sister would have orchestrated the kidnapping, but acknowledges that Hee-joo always was a little dark and ambitious. Secretary Kim confirms that Hanna would have no motive for going after his money, because her adoptive family in England was exceedingly wealthy on their own.
To explain how she first heard knew about Joong-won, we get a flashback from her point of view: Once again color-coded, the sisters watch Joong-won in a library as he reads. Hee-joo (dressed in black) is the one who points him out to Hanna as the boy she has liked since childhood, because Joong-won would come to her orphanage every Christmas "like a prince."
Present-day Hanna explains that since Hee-joo never had the courage to show her feelings, Hanna encouraged her to be bolder. She explains her recent interest in Joong-won as arising out of curiosity toward the man her sister loved, and she had thought he returned the interest. To the contrary, Joong-won calls her a fake, though he will accept her words as truth if only because Secretary Kim vouches for her.
Secretary Kim is awash in guilt for not telling Joong-won about his niece, and explains that he'd initially sought him out because he wanted to find out about the dead Hee-joo. However, once he saw how hurt and damaged Joong-won was, he decided to stay and look after him. He offers to quit if Joong-won no longer wants him around, and Joong-won agrees to let him go. Ahhh! They clearly don't really want him to go, but I suppose it makes sense.
Gong-shil hears the details from Kang Woo, and when she crosses paths with Secretary Kim and Hanna, she assures him that she doesn't assume the worst of him. After all, she can see Hee-joo, so she knows the truth. Hanna asks if that's really true, her smug look fading when Gong-shil answers that Hee-joo said she was here to "protect her co-conspirator."
Everyone's circling around to the idea of Hanna being the criminal, and Kang Woo urges Joong-won to find proof before Hanna skips the country. But despite being positive Hanna is guilty, Joong-won isn't driven to take her down—which he can't without evidence anyway—because he's found out everything he wanted to know. If Kang Woo is so insistent on getting the full story, he can investigate behind his back. Kang Woo takes him up on that.
Gong-shil finds Joong-won in a down mood, not wanting to think about Hee-joo anymore. In the brief time he was dead, he saw her and recovered his ability to read—thus he no longer hates her and wants to move on.
Gong-shil's point is that he still doesn't understand Hee-joo's motivation for acting as she did, but just then the ghost of Hee-joo (Good Hanna) materializes and shakes her head sadly to keep Gong-shil from pressing. He tells Gong-shil, "Don't see dead people anymore" and touches her shoulder, making the ghost disappear.
Gong-shil agrees that she doesn't want to force him to understand the things she sees. She'd wanted to solve this one case for him, but her radar is no longer needed. He says insistently that the more she tries to understand the ghosts, the less she needs him. Aw.
"But you've become more comfortable," she points out. "The less use we are to each other, the easier our lives will become."
Kang Woo puts in his resignation at work, then hears from Yi-ryung that she's going to the States after all. She asks for a last meal together, picking a simple snack place that he rents out for her sake. He suggests that they treat their relationship like high schoolers who went on a couple of dates and parted ways—light and fleeting. The minute he steps aside, Yi-ryung furtively spikes the cola with soju, muttering that she's no high schooler, haha.
It's not until the soda's gone and he's droopy-eyed that she tells him about spiking the drinks, and asks why he doesn't like her—doesn't he think she's pretty? He says that she is, but he has somebody else he wants to protect, "Even if she doesn't know I'm protecting her." He sighs that he's all prepared to help if she'd only call out for him, but she doesn't. So he just hopes she'll become safe so that he can leave his guard post.
Gong-shil tells her unni about the man who can see ghosts who wants to take her abroad to revisit those locations in his photos. Her sister supposes that it'll be nice to be with someone who understands her situation, but on the other hand, can she leave behind the man she loves to go with Chun-hee?
Gong-shil says she can't stay with someone who sees and hears things that he doesn't want to know about—they won't be able to be comfortable.
She packs her things and gets ready to leave, only to be confronted with Hee-joo's ghost. Er, Hanna's. This is getting confusing. Good Hanna appears to make a plea to use her body again, and Gong-shil again refuses. But Good Hanna is desperate today and apologizes as she zooms into the body anyway. Can she possess her like that? Did the soul take?
Joong-won heads to the airport to intercept Bad Hanna before she skips the country. He hadn't wanted to hurt Secretary Kim or take it to the police, so he's here with a third option: Settle everything here, now. He holds out his hand and asks for the necklace and her exit, in that order.
When she mentions Gong-shil's name, he snaps at her not to involve her in this, and Bad Hanna says that he must have forgotten all about Hee-joo. He makes the barb that although they were twins, he never once looked at her with interest.
Hanna's face hardens, and she offers up the full truth: that the girl he loved wasn't Hee-joo but Hanna. She tells the story in the third person, of how Good Hanna had seen her sister pining after Joong-won and approached him to get the ball rolling, only those two fell in love. Hanna was the girl who had everything, and she ended up with Joong-won too—stealing him away from dark, unhappy Hee-joo. Thus the whole plan was conceived out of Hee-joo's anger.
Joong-won protests that it was a conspiracy between both sisters, but (Bad) Hanna says that Hee-joo did everything on her own. "Think back and remember," she tells him, "that girl you liked. One of the two died—you saw it with your own eyes. Which girl do you suppose died?"
Narrowing his eyes, he asks if she's really Hee-joo. She answers, "I'm the nice Hanna. The one who died was the bad Hee-joo. That's what you've known for the past fifteen years, that the dead girl was the bitch. If the one who died was the nice one, it's too tragic."
In a flashback, we see the aftermath of the car crash. Good Hanna is injured in the passenger's seat while masked Hee-joo staggers out and reveals her face to her sister, who's shocked at the discovery—so it really was all her own design. "Cha Hee-joo dies here," she tells Hanna, threatening to kill Joong-won if her sister doesn't go along with it. Yeeesh. She's actually worse than we'd thought.
(Current) Hanna claims to be the real Hanna, who'd returned to claim Joong-won's heart only to find some other woman worming her way next to him. Joong-won doesn't buy it, calling her a fake, and asks if it's true that the girl died because of him. She says yes.
As Bad Hanna walks away, someone calls to her, "Cha Hee-joo." It's Gong-shil, but it only takes a few key phrases to convince Bad Hanna that it's her sister in that body.
She's shocked, naturally, but Good Hanna makes an attractive proposal: Let's go together. Bad Hanna can keep the life she hijacked, and Good Hanna will keep the body she stole from Gong-shil. Wonder Evil Twin powers activate!
Bad Hanna likes the idea, especially as it will keep Gong-shil away from Joong-won, and she reaaaaally hated seeing them together. She liked hearing about Joong-won being struck with the Cha Hee-joo Curse, and this way she'll get to strike one last time by taking away Gong-shil.
Good Hanna asks Bad Hanna why she told Joong-won everything instead of just leaving—did she want to purposely torment him? Bad Hanna answers that she thought she could have him back if she returned as Hanna, except he'd seen her for a fake.
Joong-won wrestles with these new revelations, and finally recalls Gong-shil's words urging him not to run from things that scare him. He gets up to confront his fears and spies the two ladies in conversation, beelining for Gong-shil… and gets shoved aside at the last minute by Kang Woo. Shh! Kang Woo motions toward the recorder in his hand… and the mic on Gong-shil's shirt. Ah! This is a trap!
So Gong-shil isn't possessed after all, and now we can see her steering the conversation to an admission of Hanna stealing her sister's identity and saying, "I'm the real Hee-joo." With that evidence on tape, Gong-shil says that the dead Hanna had been acting out of "sacrifice, devotion, and love" (using Joong-won's words)—and that Bad Hanna hadn't realized it.
Hanna realizes she's been tricked and hisses that there's no evidence of anything. But that's when her uncle storms up with a small figurine that she left at her sister's memorial vault. He drops the figurine and it shatters, revealing the diamond necklace hidden inside.
And wouldn't you know, she's arrestable after all, because she was hasty enough to return with a few days left before the statute of limitations expired. Poor Secretary Kim, who promises to stick with Hee-joo through this.
Joong-won looks shell-shocked by everything, and Gong-shil takes him aside to say that the dead Hanna has a few last words to say. The next thing we know, it's Good Hanna standing there—presumably possessing Gong-shil—and when we circle around it's teenaged Joong-won facing her.
Hanna hopes that she'll no longer be a source of pain for him, while Joong-won apologizes for hating her without knowing the truth. Hanna raises a hand to touch his face, and I guess the universe is feeling kind today because it allows them to stay touching for an extended moment before she dissipates into the air.
Joong-won and Gong-shil are left behind to watch the aura disappear, and he congratulates her on a job well done. He offers to treat her out, but she tells him she's leaving on a trip with a man with the same ability to see and hear things that she has. Poor Joong-won, who looks crushed.
She's just glad she wasn't a useless radar after all. She explains how when he'd been a ghost, he told her that she shined brightly like the sun. She supposes that's her lot in life: "I just want to be a shining sun who's popular with ghosts. But if I'm looking at you, I feel like I'm an unlucky sun who makes people die. That scares me and I hate it."
She asks him to tell her to get lost again, and he says, "The reason I told you to get lost so freely all this time was because I knew you'd always come back to my side. I'll do as you ask. Get lost, Taeyang."
She heads back inside the airport, wiping at her tears, and Joong-won watches her growing smaller and smaller in the distance. He despairs, "If the sun leaves like this… it'll destroy me."

COMMENTS
I've never really loved the whole twins and kidnapping storyline, though for the most part I think it was used just enough to be relevant to our interests. Sure, we got more Hanna (the bad one) than was probably necessary (just how many meals did we have to see her having with Aunt and Uncle?), but for the way this storyline affected Joong-won, I'm satisfied with how it ended.
It's a nicely bittersweet twist to have Joong-won realize that Hanna loved him all along and never betrayed him. I liked the earlier twist of revealing that Joong-won actually hated her (when everyone assumed he was unable to get over her), which makes this turn land even harder—he harbored a lot of unnecessary pain. So his first love was as sweet and true as he initially thought it, and maybe even deeper given that she chose to die rather than put him at risk. I wonder if this will make Joong-won more sympathetic to Gong-shil's guilt-burden over bringing danger to his life, because the thing she fears is the thing that actually happened to him.
Hanna (the bad one) was a character I cared absolutely zero for—I didn't even hate her because she was rather dull as a villain—so it's interesting to see her given all this depth in the eleventh hour. I know the writing chose this route because of the way it wanted to drop its reveals, but I would have preferred to know more about the bitter sister envy earlier, because it gives Hanna dimension, whereas before I was just wondering what that evil girl's deal was. She both loves and hates her sister, so I can see her feeling fondness while at the same time wanting to hurt her. It's similar to the way she loves and hates Joong-won, and wants to simultaneously possess and destroy him. See, I would have preferred to go with that kind of twisty rationale, rather than the simplistic good-twin-versus-evil-twin dichotomy, as though one sister was lightness and purity, while the other was inherently bad.
I wasn't sure of this late-game Chun-hee twist when he first showed up, but I like it better than the other storylines and think it raises some meaningful questions. It offers a great conundrum of being with someone comfortable from your world, versus being with someone from a different world whom you love but have to struggle to be with. The word that got used throughout this episode was "comfortable" or "easy"—she doesn't mean that she needs Joong-won to sit back and relax without a care in the world, but that being together means that neither of them will ever be able to rest, to be at ease. It's like living in a constant state of stress, which she doesn't see as tenable. So being with Chun-hee would be the perfect situation, on paper, because he both understands her and loves her. If only for that whole complication where the heart is concerned.
RELATED POSTS
Tags:
featured
,
Gong Hyo-jin
,
Master's Sun
,
Seo In-gook
,
So Ji-sub