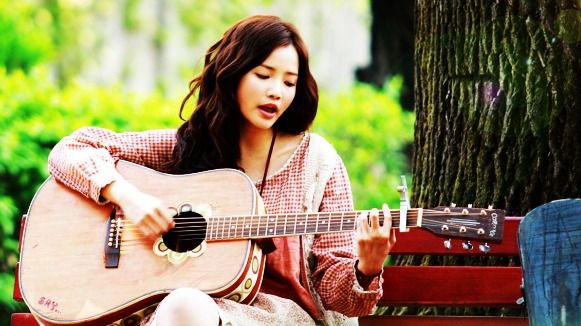 Thanks so much for all the colorful, zany, expressive entries we received for our OST Giveaway Hootenanny. You guys sure know how to show your love for a drama, and some of you had some epic journeys in your lives as these shows were airing. We had a lot of fun reading them all (yes, we read every last one!) and now it's time for the hard part — picking just one winner for each OST.
If you're one of the winners posted down below, we'll be contacting you shortly!
Drumroll please…
Flower Boy Next Door
#399 Lulu
A few months back, I just got out of a bad relationship during which I lost a lot of friends. Out of fear that they did not even notice me being gone in their lives, I continued with my own life not bothering to reconnect with them. I started doing things on my own.. eating lunch in school, studying in the library. I had friends, but none of them I could really trust. I turned to my old addiction, kdrama. I admit that I stopped watching dramas for years. But even when everything was gone, kdramaland was there for me.
I started watching dramas again. I'd finish one every two days. The happiness and pain I should be feeling, I got from my favorite shows. Then I stumbled to Flower Boy Next Door. At first, I really hated Go Dok Mi. Why the hell would you shut yourself from the world? How does that even solve your problems? I realized though that I did the same thing. I thought I was happy because I had my shows. But really, I was just using them as an excuse not to go out with people and be TRULY happy. Then Enrique came into Dok Mi's life. I got jealous. Why can't I have someone like that to save me too? But then I saw, Enrique wasn't doing the saving. He was a tool, a vehicle that pushed Dok Mi to save herself.
So I thought I don't need an Enrique, I need to be my own hero. So I reconnected with my friends whom I thought I lost. Turns out they were just waiting for me to come back. I didn't lose them. And I can't be more happy now. I still re-watch FBND every time I miss it (which is quite a lot).
As a show, I love it because it has great characters. That's one of the main things that makes me love a drama so much. The growth of FBND's characters are so real that it just kicks you to the heart. Yes it kinda dragged the conflict in the last few episodes but I still love it because not only is it an awesome show, it also made me a better person. That's not every drama can do. I think that we all have a certain show that we feel like it was made for us. And I'm pretty sure that if there's such thing as a person's drama soulmate, FBND is mine.
Gu Family Book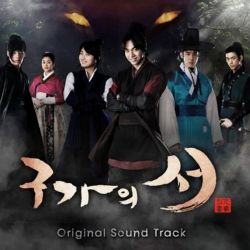 #344 Mandy
This is my first time participating but I really wanted to try because Gu Family book and I have a very long term relationship =P
So I'm gonna start off by being honest: I don't think GFB is perfect. I can name so many more that were so much better, but I think this drama would forever hold a huge chunk of my heart. A couple of months before GFB aired, I moved to Canada with my parents. I thought it would be okay till I realized I missed everything back home – my friends, usual habits, obsessions. Soon enough, I started to get agitated with small things. I cut myself away from people and kept thinking about how my life sucked.
I think GFB helped me overcome my self-pitying phase. Kang Chi was a character that got to me in ways no one else has. His positivity made me strong. His childishness made me see things in a different light. And his simplicity made me snap out of my stance. When I think about it, he was just a character – and so many more other characters can have that impact. But I think the fact that he was just an ordinary boy who got everything snatched away from him – even his humanity – yet he can step out of the shadow and still smile through it all. It made me think of how much my situation could've been worse. I could've been a gumiho(!!). Haha.
Till the end, Kang Chi remained to be such positive and happy character, which I think is the very reason I am amongst the very rare bunch who actually loved the ending. I think what the writer wanted to achieve was epic. For me, it was a way of showing the power of love and hope. I think it defines who Kang Chi is as a character; someone who never gives up. A person who fights and fights till the end – and then wins. And the truth is, I'm not that person… but I really want to be someone like him one day.
GFB will forever be the drama that pulled me out of a really bad phase. Whenever I listen to LSG's 'Last words' or The One's 'Best Wishes to You', or 4Men's 'Only You' – irrelevant of how sad they are, I have this huge grin on my face because they bring back good memories – of obsession and maturity (Don't ask how those two words come in the same sentence LOL).
GFB, for me, is a drama that teaches us to cherish even the smaller things we have. It inspires me and makes me nostalgic about who I was before and after it. I've fangirled and spazzed, paused and reflected. I also shed buckets of tears for that Gumiho, but he gave me life lessons that would be forever remembered.
Thanks Dramabeans for letting us share our experiences, and good luck everyone! =)
Monstar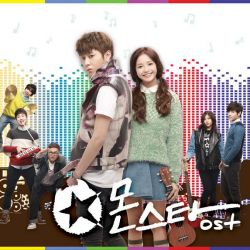 #262 Kristen
I'd really love to win the OST of Monstar because the drama includes some of the best music I've ever heard in a drama and because that drama represents an important set of memories for me. I went to South Korea over the summer on a scholarship program from the U.S. Department of State, and beyond having the time constraints of an intensive language course, I stayed with a host family in Seoul who kept their television in the parents' bedroom. So, watching the drama while I was there proved difficult. My friend, a major fan of B2ST, and I, a major fan of good dramas, kept up with it by watching it on our phones through the wifi in a café near our university. Perhaps sometimes the video quality wasn't great, and perhaps sometimes we got strange looks from the staff members and other customers for staying for such extended periods of time after ordering the cheapest items on the menu; but in the end, we became such dedicated fans of the drama that we looked forward to its airing each week, and that by the time it ended we were sad to let it go. As we learned more Korean, we were able to understand more of the dialogue; and as we became closer friends within six short weeks, having been thrown together by "fate," maybe we loved the show even more because we could understand the way some of the characters in the drama felt. And I guess that's where the Monstar became more than just a drama for us: it became a special memory that neither of us will forget for a long time.
I Hear Your Voice
#266 link
What is this I see? A Giveaway Hootenanny? I can't not partake in this. Do you… hear something? I do.
I HEAR YOUR VOICE OST that is!
I mean, I know I listen to it everyday. But to have the actual CD and be able to see it and stroke it and SMELL IT? It's the next best thing to doing that to Lee Jong Suk in person so I'll go for it.
I Hear Your Voice is totally not what I expected it to be. From the previews, stills, synopsis, I just figured it was a story about two lawyers and a random high-schooler who solves cases every episode. and something to do with an aquarium.
Little did I know that it was so much more than that. The drama had steady pacing and strong, endearing characters. It wasn't just about the 1% cases. It was about people. Friendship, love, the flawed justice system, and a little about truth. Just a little.
Voice had a great writer. She knew what she was doing from Day 1 until the end. The writing hit a few rocky bumps in some cases, but it never drove off a cliff (like Big did, literally) but the writer had everything planned out (even down to the PPL!)
Rewatching Voice three times really engraved the lessons in my heart. I even got to use Hye-Seong's quote, "If you kill him, you're no longer a victim, just a murderer" and Mom's "An eye for an eye, a tooth for a tooth—if we lived by that law, then all the people in the world would be blind…Once a person is born into this world, life is not long enough to love each other" in my sociology class debate. Man I ruled that crowd.
So, to thank the Voice team, the Viki team, and Dramabeans team, and my fellow beanies for bringing this wonderful drama into my life, I wrote a love poem:
"For a long time, as if you've been waiting for me,
I run to the streetlight where I thought you'd be.
My world is quieter than others,
having to be silent in memory.
Do you remember the days we were in love?
I thought you were my Jeanne d'Arc, my dove.
Every single day I hear your voice
As if you're whispering in, telling me to rejoice.
If the end comes, even when that time comes,
I'll love you… I'll find you and stick to you like gum.
Because without your eyes, I can't see what's in front of me.
Without your ears, I can't hear my own thoughts.
You were the only person in the world who took my side.
So let's not think about the end.
I'm glad to have you, just 1% more every single day."
-Compilation of quotes from the drama and the OST and my beautiful, creative mind.
THANKS FOR EVERYTHING I HEAR YOUR VOICE! I LOVE YOU.
<3
featured
,
giveaways