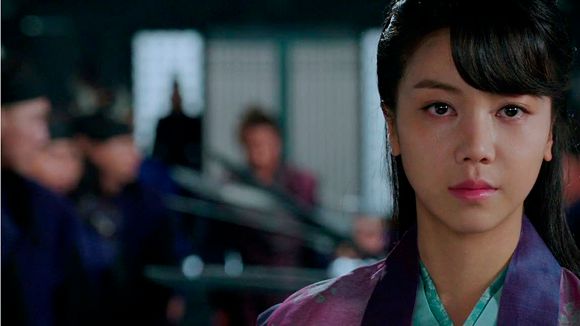 I've had pretty bad luck with finales lately (in that I'm starting to forget what it feels like to watch a good one), and while the ending for Sword and Flower doesn't strike like lightning out of a clear blue sky, it does serve as a textbook example of everything that makes viewers wary to start a show without puppies and rainbows built into the premise. It's everything we hate about bad finales all rolled into one.
So despite its interesting start, strong visual palette, and a few great actors, in the end it all comes down to a show's ability to weave a coherent narrative. Turns out that's a necessary prerequisite to gain the indispensable asset that is a viewer's trust—because without that, this show becomes the very reason why we can't have nice things. (But a nice drink before diving into this hour might not be a bad idea. Cheers!)

FINAL EPISODE RECAP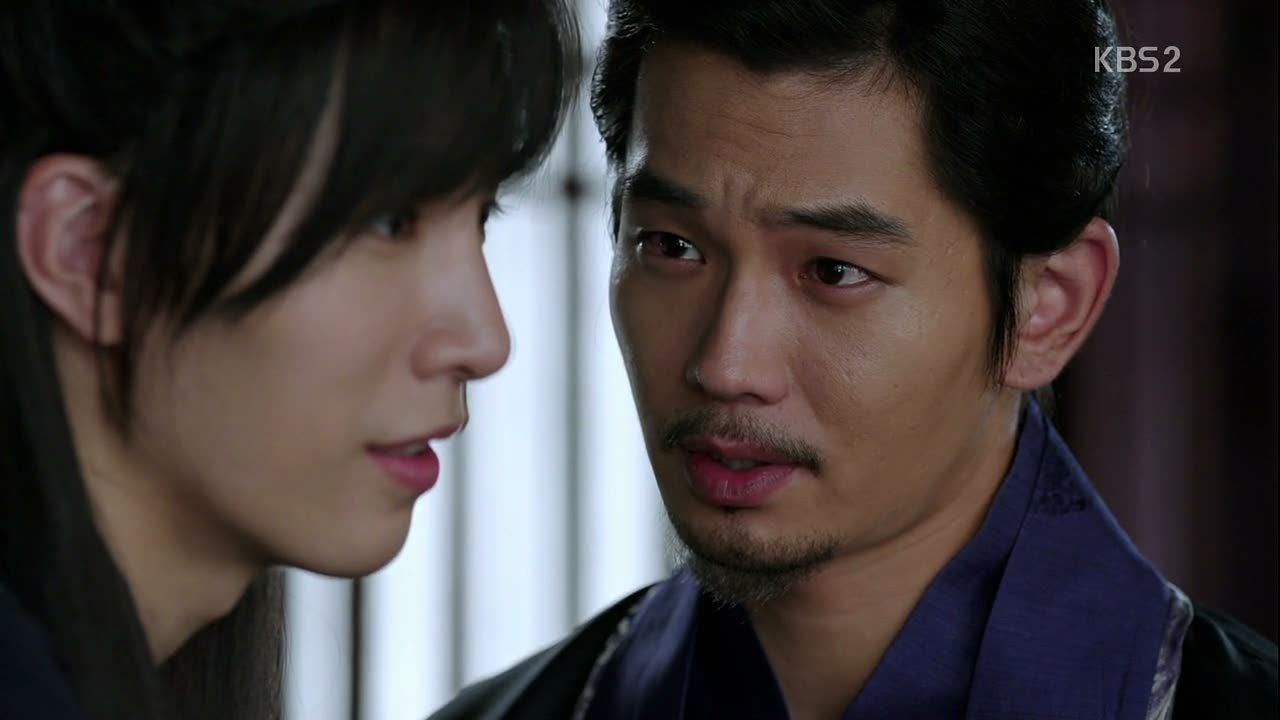 After telling Mo-seol about his crazed plans to become king, Nam-saeng goes to the actual king to report that everything's going according to plan. I'm sure he's only told Jang half of the actual plan.
Jang is dubious about the whole thing and asks Nam-saeng what would happen if he decided to tell General Yeon everything. "If you betray me, I won't let it go like father did," Nam-saeng warns with his usual smirk.
Nam-saeng visits the imprisoned Mu-young to see if she's any more inclined toward revenge. She blankly asks what she should do, which translates to "Let's do this!" in Nam-saeng's world.
He tells her she only needs to prepare her sword while he does the rest, and gives her a cheeky reminder to use one blow to kill General Yeon this time, since everyone knows how the last attempt worked out.
When she asks why he won't do the deed himself, Nam-saeng chuckles. "How could I kill my father with my own hands? Who will follow a man who has killed his own father?" Whereas people will just see it as revenge if she were to do it.
It's a win-win for both of them, since Mu-young will become queen and Nam-saeng will become Dae Mangniji. But then he drops the bomb: "And as Dae Mangniji, I will marry you." He couldn't be creepier as he grips her shoulders and asks her if they make a good couple—of course, in his mind, why wouldn't she be chomping at the bit to marry a psychopath?
Mu-young is clearly playing him to get what she wants, since her inner thoughts reveal that she has no intentions of marrying him. Her words say differently as she requests to see Geumhwadan so that they won't ruin "their" plan. Crazypants McGee actually trusts her enough to let her go.
She convinces Geumhwadan that she's leaving to start a new life with Choong and that it's time to leave the past behind. They believe her.
Meanwhile, Choong and Bear Teacher manage to find the shed Nam-saeng hid the princess in during their search. Inside is her portrait necklace and a list of the intelligence agents, but soon Nam-saeng materializes in the doorway: "I knew you hid the princess here!" Huh? Is he trying to frame them?
Short answer: Yes. Long answer: He planted evidence in the shed to prove that Choong is working together with the princess, and that he even worked with Bear Teacher to break her out of prison.
But Bear Teacher speaks up to defend Choong, claiming that he acted alone in helping Mu-young. Choong sends him a look, but Bear Teacher just gives him a reassuring nod—he's got this. He makes up a feasible excuse for why Choong was seen with him and goes on and on, causing Nam-saeng to start rolling his eyes.
Bear Teacher addresses General Yeon specifically, and the two share a wordless gaze. It's like they both know that he's lying to protect Choong, so General Yeon has no choice but to feed into it when he orders Bear Teacher imprisoned.
Nam-saeng is incensed that Choong won't be getting punished, but there's nothing he can do. His plan backfired.
Choong visits Bear Teacher in prison to ask why he took the fall for him, and his teacher replies that he did it for General Yeon, whom he's served for many years. If Choong were in jail instead of him, General Yeon would be without Choong's protection. Especially since they don't know Nam-saeng's plans yet.
"Your eyes are not those of a warrior," Bear Teacher notes. "How difficult it must have been for you to kill people with such tender eyes. However, there is something you must finish. Please protect your father, General Yeon Gaesomun."
Nam-saeng dogs his father's steps to nag him about his unfailing trust in Choong when his better son has never betrayed him like that. He declares that he has no more confidence to serve his father as it stands and asks to be sent to another post outside the capital so he can think on his faults.
But when his father tells him to do just that, Nam-saeng finally breaks down. "You're not even going to ask me to stay? Just once, can't you say, 'You're also my son, I have faith in you too. Don't even think about other things and stay by me.' Can't you tell me that just once?"
Tears fall from Nam-saeng's eyes as he asks for what he knows he won't receive, and it'd be a nice character moment for him had it come before he decided to murder his father. This would've even helped to bridge the gap between Nam-saeng seeking his father's affection and Nam-saeng seeking to, y'know, kill him.
But it's not that real of a moment after all, since Nam-saeng walks away from his father with a maniacal chuckle. I wish this moment of sincerity had been real. Even just one humanizing scene could do wonders for a character as far gone as him.
While his minion recruits intelligence agents to his side, Nam-saeng visits Mo-seol's dad and lightly threatens him into handing over a list of all the generals who have pledged allegiance to Nam-saeng, Mo-seol's dad included.
Mo-seol confronts her dad over his treachery, but he defends himself by claiming that he's standing on the winning side—and that winner is going to be Nam-saeng.
She's against this idea, since it means her father will be participating in a dangerous coup. (And we all know what happens if you lose.) That's why he asks for her help in keeping it a secret. Nam-saeng has half the intelligence agents on his side as well as the king, so they're sure to win.
Jang thinks on his options as he prepares to write Nam-saeng's appointment letter promoting him to Dae Mangniji. There's Nam-saeng claiming to offer him a second chance, and then there's General Yeon, who'd aptly noted that Jang was afraid of what Goguryeo would be like without him. Which side will he choose?
Mo-seol uses her top spy skills to find Mu-young so that she can ask her if she really plans on killing the father of the man she loves. Mu-young replies that General Yeon is only the man who murdered her father to her, to which Mo-seol replies with almost a shrug—if she kills Choong's father and becomes his enemy, it'll only be good for her.
Mu-young's expression doesn't change (ever) as she tells Mo-seol to not tell Choong about the plan if she wants that to happen. But Mo-seol instead draws her sword and proclaims that she's come to kill Mu-young. "Had you died earlier, none of this would have happened!"
She lunges at an unarmed Mu-young, who manages to dodge a few blows before Mo-seol knocks her to the ground. Raising her sword for the killing blow, Mo-seol asks if Mu-young will only stop once she ends up getting Choong killed. Then she brings the blade down…
But before she can kill her, she's stabbed from behind. It's Nam-saeng, wearing his usual cheshire grin even as he says that Mo-seol is the only person he's ever felt bad about killing, and that he couldn't let her live to tell everyone their plan. (His regretful face is the same as his I'm-so-happy-to-be-murdering-today face, so it's honestly hard to tell.)
With her last breath, Mo-seol stares at Mu-young: "Stop. You have to stop. You cannot kill Yeon Gaesomun. Don't make Choong suffer any longer."
Then Nam-saeng twists the blade and wrenches it free, causing Mo-seol to collapse to the ground.
Nam-saeng acts as though he just killed a fly as he tells Mu-young that they'll have to move, since Choong is combing the city looking for her.
Nam-saeng: "I told you, didn't I? Brothers, friends, parents… they don't matter to me. I will kill anyone that gets in my way." Yes, Nam-saeng, you told her. But you're at about a nine right now on the psychometer, and you might want to tone it down to a healthy three if you want this girl to marry you. (We know it's not going to happen anyway, but he could at least try.)
Choong finds Mo-seol on the brink of death, and she blames him and Mu-young as she chokes back blood—if Mu-young had truly died three years ago, she's sure she and Choong would have been happily married.
Then she tells Choong that Nam-saeng plans to kill his father on the day of the military parade, and Choong's first question is to ask where the princess is.
Mo-seol calls him cruel for worrying about the princess first when she's the one who's dying, and I love that he's sorry without actually being sorry—he's not going to lie to her even on her deathbed about where his heart lies.
Then she dies.
Mu-young finds Choong walking alone (why bother) and leads him to an equally secluded but more scenic area. When he tells her he was worried about her, she replies that he has no reason to be—she's given up on her revenge. Choong: "Then… can you leave with me?"
"Why should I?" Mu-young asks. "I no longer have feelings for you." Auuugh. This is not happening right now. Mu-young skipped the noble part and went straight to eediot.
At least Choong sees through her bullshit and knows she's lying, even when she claims Nam-saeng didn't threaten her and that she's made this decision on her own. "Then it's my decision to protect you," Choong states matter-of-factly.
He tells her the reality of the situation—He won't tell her what to do, but he'll stop her any way he can. He warns her against letting Nam-saeng use her to kill General Yeon because that will sign her death warrant…
Until Nam-saeng's voice calls from behind: "You're wrong, Hyung-nim." He's standing four feet away with armed guards again, which makes me think that everyone in this show must be terribly hard of hearing. Also, aren't you people supposed to be spies? Or something?
To make matters worse, it was apparently Mu-young who drew Choong into the trap. Nam-saeng: "You don't need to protect the princess, because the princess won't die. How could a husband kill his wife?"
He slings an arm around Mu-young's shoulders and taunts Choong: "You didn't think that far ahead? I'm going to marry her and make her my queen."
Choong is dragged off by the agents while Mu-young brushes Nam-saeng's arm off. "You must keep your promise. You cannot kill him." Dafaq. Is. Happening.
Geumhwadan hears about Mu-young's wedding news with worried faces, all of them wondering if she ditched them so she could become queen. Shi-woo and Leader So keep the faith, with the latter thinking that Mu-young is the one using Nam-saeng to attack General Yeon, not the other way around.
But they're sure she won't marry Nam-saeng afterward, which prompts Leader So to guess that she plans on committing suicide after she kills Yeon. Wait, IS that her big plan? She's going to choose revenge in the end and then just give up?
Jang receives a mysterious message while Mu-young polishes her sword, remembering how her father and brother were killed. She cuts her hand in the process and thinks back to her father's words about the sword protecting the flower. A lot of good it does her.
Jang goes to the market in disguise to meet with Mu-young, who's looking so shut off that it almost feels like a blessing that she's speaking in complete sentences. She's come to bid her cousin goodbye, warn him that Nam-saeng mustn't inherit his father's seat after his father is gone, and to leave Goguryeo in his hands. She's given up on taking his place.
"Do you have to do this? I'm afraid of Goguryeo without Yeon Gaesomun," Jang admits. "Without him, Goguryeo will not be able to fight off Tang."
Mu-young turns to him: "You're the king of Goguryeo. You have to make the right decision." Her eyes fill with unshed tears, as do Jang's.
Jang tells General Yeon to cancel the military parade in an effort to save his life, since Nam-saeng is plotting against him. General Yeon isn't even fazed as he assures the king that nothing will happen, causing Jang to ask in a small voice what it would mean if he was working with Nam-saeng.
"Your Majesty, I believe in you," General Yeon replies. "If it's a decision you've made for the future of Goguryeo, then I will respect your decision." So Yeon is basically telling him it's all right to kill him if that's what Jang thinks is best? Did I miss the scene where everyone died inside?
Mu-young pays a visit to Choong's prison shed. "I came to say goodbye. This isn't about my revenge… I'm going to end this fight once and for all." Okay, but it is really just about your revenge, isn't it?
She doesn't have a good answer for him as to how she plans on not handing Goguryeo over to Nam-saeng other than that it won't come to pass, because "If there isn't anyone left to be killed, then no one will be killed." She says that like it makes sense, except for the small part where it doesn't.
It dawns on Choong that she's talking about a world where she and his father won't exist, so he knows she plans on dying and starts to panic.
"Can't you leave with me now?" he asks. "Why don't you ever think about me? Why don't you think about leaving me behind? Do you know what my life has been like without you? Why would you give me that pain again?" These are all very good questions, and ones that Mu-young doesn't have the answers to.
Mu-young cries as Choong asks her to remember the meal they shared while his mom was hanging laundry nearby, and how happy that moment was.
"All I ever wanted… was for us to live together," Choong says though his tears. Mu-young turns around, and they both share a pained look before she forces herself to leave. Not even one word, Mu-young? Really?
Choong struggles to free himself and kills the guards outside in order to follow her. Aww, puppy.
The military sit-and-stare parade is interrupted by Nam-saeng and the legion of agents loyal to his cause. They're all carrying swords, but when they're revealed to be made of wood (real weapons aren't allowed/boring enough), they're allowed inside.
Geumhwadan sits in the exact same spot as they did for the last military parade, and in the exact same disguises as before. Hahaha. This must be a joke. Even if you banked on the idea that their faces are unknown, Leader So was imprisoned by the agency for three years and had a portrait of his face in circulation. I can't.
Jang knows something is up when he doesn't see Choong with Nam-saeng's legion of agents, and that's because Choong is currently fighting his way through hordes of other agents loyal to Nam-saeng for reasons us mere mortals couldn't understand. (Side note: Were there no actual soldiers in Goguryeo? Or citizens?)
General Yeon announces that he'll be rewarding Nam-saeng for his accomplishments by sending him away, and if this scene looks and sounds exactly like the prelude to General Yeon's coup, that's because it is—the powers that be must have figured that we loved that scene so much we'd want to see it twice!
Choong sustains heavy injuries as he fights alone through never-ending swarm of agents as Nam-saeng ascends the steps toward his father. There's a sense of deja vu as Nam-saeng knocks the scroll out of his father's hands to flip the table over in slow motion…
…In order to draw the sword hidden in the floor. Oh, they were actually serious about this shot-for-shot remake. So Nam-saeng is repeating his father's coup down to the letter against his father, the man who did all of this first (and better)? I feel like I'm in The Twilight Zone. What am I watching?!
Nam-saeng orders his father to step down as Choong slowly shuffles toward the palace gates covered in blood. He drops his sword and looks like he's about to keel over.
"Are you really going to kill me?" General Yeon apathetically asks to the son holding a sword against his neck. Nam-saeng is all, Who, me? Never!
The doors swing open to reveal Mu-young dressed in her princess' garb. As she walks toward General Yeon, Choong walks toward the assembly. He keeps passing guards and other agents who don't even spare him a second glance, which I guess means he's made it to the boss level.
The members of Geumhwadan just gape at Mu-young as Mu-young draws her sword and passes them. Seriously, why are you people even here?
Choong reaches the hall by the time Mu-young reaches his father, and none of the agents try to stop him. Nam-saeng eggs Mu-young on, but seeing Choong causes her to hesitate.
That's when General Yeon speaks up to say that her father's rule wasn't what Goguryeo wanted, even though Mu-young remembers how her father once accused Yeon of acting out of fear—he was always afraid of Tang.
They go back and forth over who's vision for Goguryeo was right, all while Nam-saeng just urges her to get it over with. It takes one order from Choong for the agents to lower their inexplicably-real swords, which kind of makes the whole agency betrayal moot, doesn't it? If they're still loyal enough to follow Choong's orders, how did things get to this point?
General Yeon: "How is this any different from when I killed your father? You're not fighting for Goguryeo. You're fighting for your own personal revenge." He adds that she's welcome to kill him if she truly believes she's right… and if she truly thinks she can protect Goguryeo from Tang.
Mu-young turns around, and Choong slowly shakes his head when their eyes meet. She announces to those gathered that she's not here to kill General Yeon, nor is she seeking revenge any longer. She asks them to shed no more blood for the sake of Goguryeo so that they can protect their country. "These are my last words as princess of Goguryeo."
She raises her sword to kill herself, but Choong rushes forward to grab the blade with his bare hands. Choong: "You cannot die before I do."
Nam-saeng laughs—he knew Mu-young would flake out. He then calls on Jang to finish the job, and when he doesn't, Nam-saeng invites anyone willing to kill his father.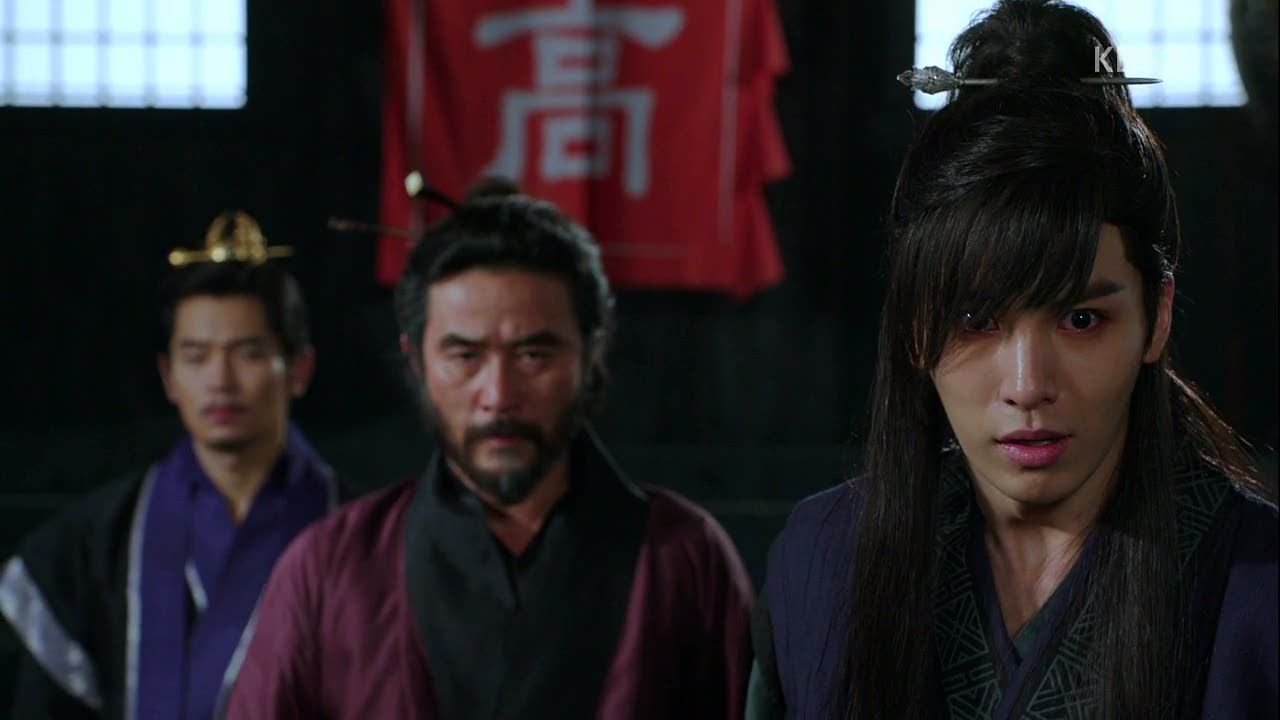 "I am Dae Mangniji!" Nam-saeng yells as he dramatically unfurls the scroll Jang gave him as part of their agreement (that he'd appoint him to his father's position). He reads it aloud triumphantly: "The Dae Mangniji of Goguryeo is now… Yeon Gaesomun?" Wamp wamp waaaamp.
So Jang betrayed him after all. I love that General Yeon, acting as Dae Mangniji, simply orders Nam-saeng to not let the door hit him on his way out.
Nam-saeng fixes all his anger and hatred on Mu-young, claiming that it's all her fault. He raises his sword to stab her…
Suddenly, Choong spins her around so that he can take the sword meant for her. Ughhhh. He couldn't have just… pulled her in the other direction?
Mu-young looks surprisingly unmoved as Choong sinks to the ground. "I kept my word," he says with a small smile. "Princess… You must live. I beg this of you."
"We will die together," she says instead. She draws her sword and leaves Choong to collapse on the floor alone while she brandishes it at Nam-saeng. It's cool for a second because you think she's going to fight him…
But you'd be wrong, because she just gives him an open invitation to stab her through. They even have the audacity to cut to the Geumhwadan gang watching this all happen like it's not their job to protect the princess.
Mu-young falls next to Choong, and the two stare wordlessly at each other as they die, because they can apparently use telepathy to communicate instead. (No joke.)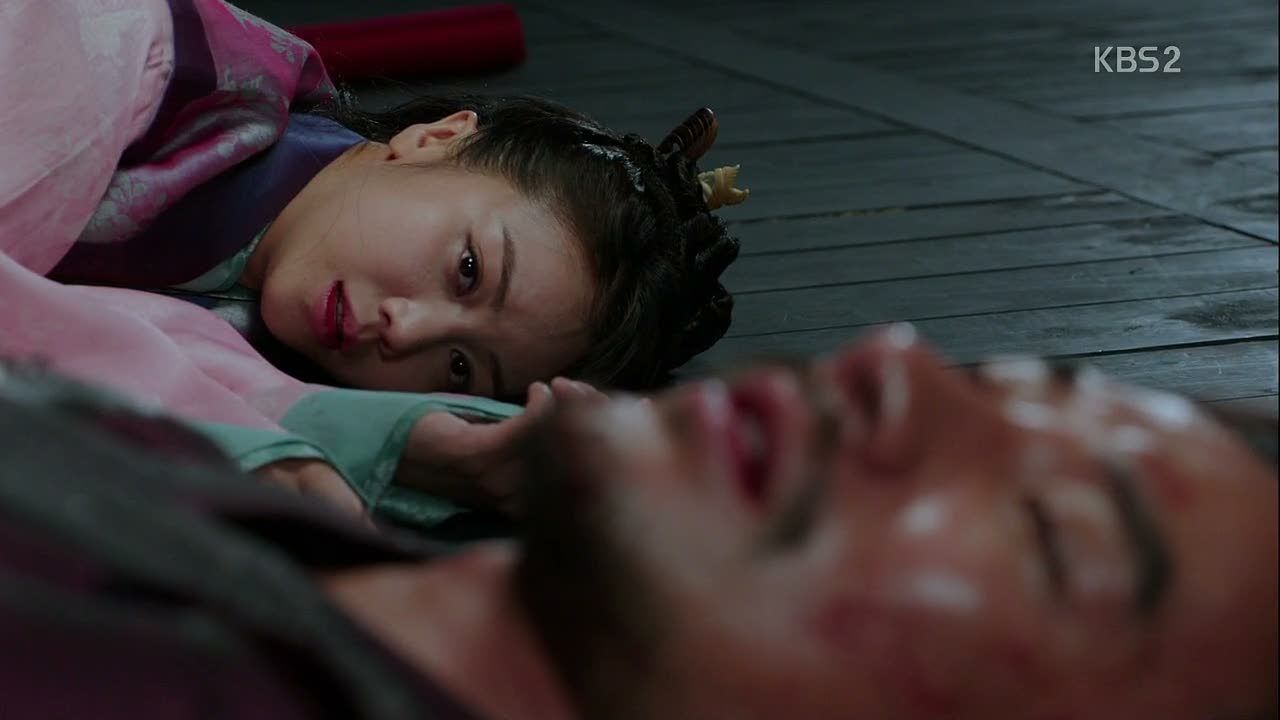 Mu-young: "The moment I met you, I thought that I would spend the rest of my life with you."
Choong: "…Thank you."
Mu-young: "I thought that you would always be by my side."
Choong: "Thank you."
Mu-young: "On the day my father died, I hated you so much I wanted to kill you."
Choong: "I'm sorry."
Mu-young: "Your wish for us to stay together for the rest of our lives came true." Okay, way out of line. Couldn't you at least let him die thinking you gave a damn?
Choong ekes out a smile as Mu-young's last breath leaves her. They both pass away.
Cut to: Everyone reacting(?) to what just happened. Slowly, everyone fades away except for Mu-young and Choong. They fade away last, and the dates of General Yeon and Nam-saeng's death flash on screen along with the date Goguryeo fell: 668 AD.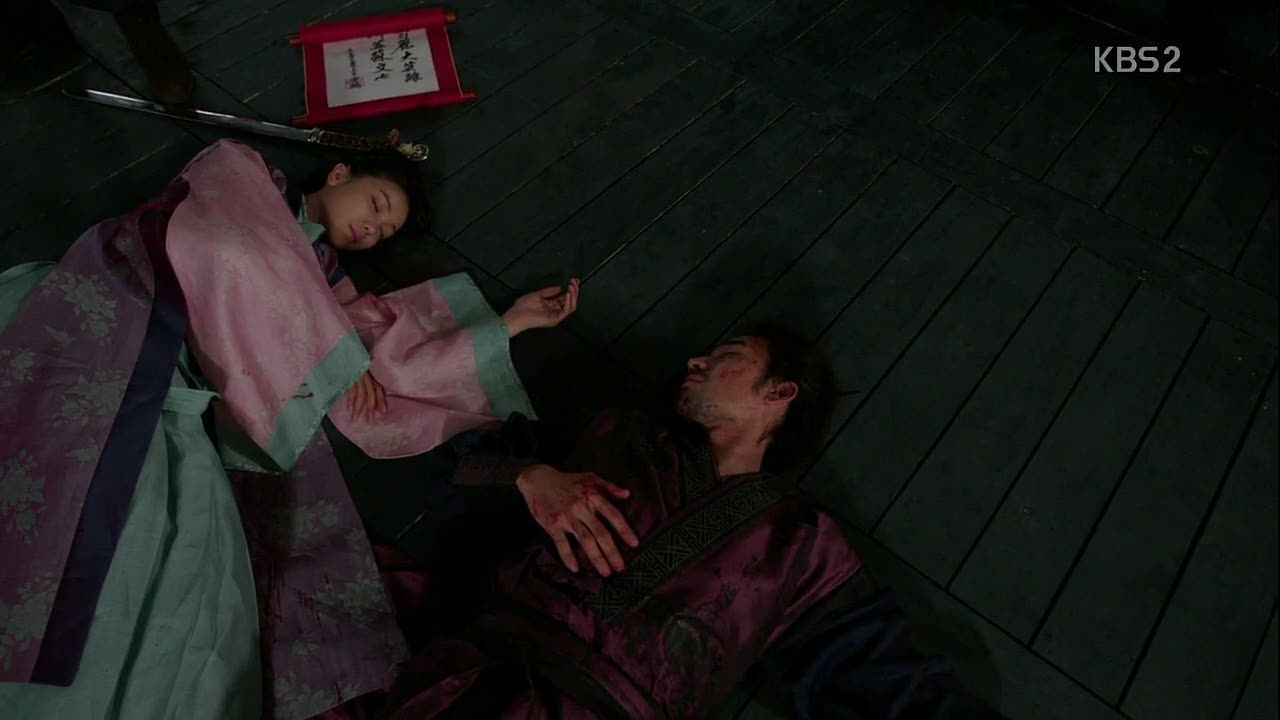 The end.

COMMENTS

RELATED POSTS
featured
,
Kim Ok-bin
,
Sword and Flower
,
Uhm Tae-woong