Kang Ji-hwan plays lady-killer thief in action rom-com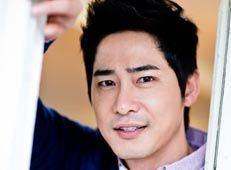 Kang Ji-hwan has been cast in a new movie, and he'll be heading back to rom-com-land (wheeee) with Romancing Game, which follows the sweet romance between a thief who knows how to steal ladies' hearts (along with the actual things he robs) and a female detective who's a novice in love.
The movie will meld "dynamic action" with rom-com elements as Kang Ji-hwan plays an elusive thief, which sounds like just the kind of role he'd be great at. Granted, I love him being dramatic as well, but he really does have a knack for comic timing and physical comedy (see: Coffee House, Level 7 Civil Servant). I won't get fully excited until we know who his leading lady will be, but I'm liking what we've got so far. And while the playboy-versus-romantic-rookie pairing is an ever-familiar one, I like that this setup balances the power dynamic by making the inexperienced dater the authority figure. Should make for some comic hijinks, I think. (I hope!)
Kang also has another movie in the works that'll wrap before this one begins; the low-budget film Shoot for the Sun is currently in its latter stages of filming. Romancing Game will begin filming in November.
Via Osen
RELATED POSTS
Tags: Kang Ji-hwan