We've reached the end of another Hong sisters drama, and I'm happy to say there are no sudden whiplash-inducing turns in the final hour. I guess on the flipside there are few surprises left in store, but if those are the options, I'll stick to what's tried and true and save my neck, thank you very much. The finale went out on a series ratings high of 21.8%, so at least we know the producers got their happy ending. Now to find out if Taeyang got hers…

SONG OF THE DAY
Youme – "Last One" for the OST [ Download ]
Audio clip: Adobe Flash Player (version 9 or above) is required to play this audio clip. Download the latest version here. You also need to have JavaScript enabled in your browser.

FINAL EPISODE RECAP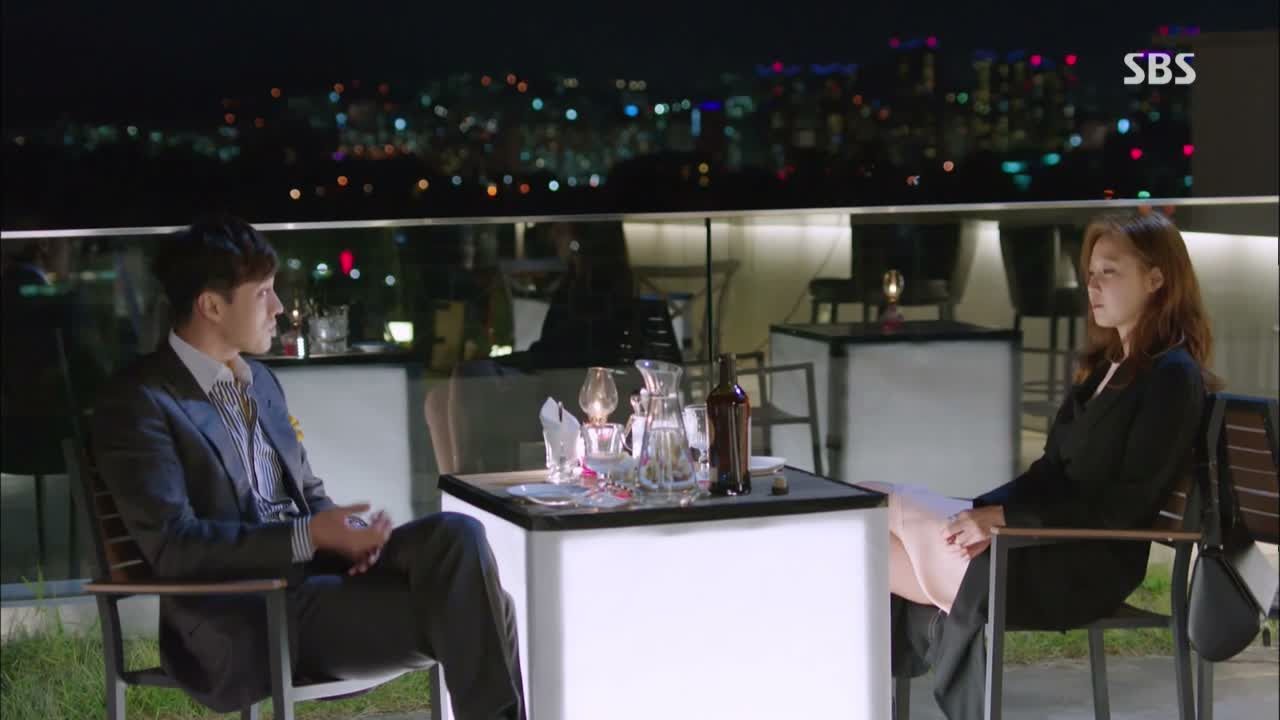 Joong-won finds Gong-shil at his hotel rooftop bar, just over a year since he let her go. They sit down for a drink and he asks if her date is a ghost, and she says nonchalantly that she doesn't see ghosts anymore.
She says that she's different now, having traveled the world and even made some money, though she remains vague about the how. She says she bought a house in England too.
He's busy preparing for the grand opening of Kingdom's new mall in Shanghai with his ex-fiancée's company, and plans to be out of the country for a few years. Oh don't tell me we have to go through another round of Please Don't Go at the airport. Please no.
He asks again if she really doesn't see ghosts, and she says it's true. So then he purposely tests her by offering her a drink. Oh no, by the way her eyes are shaking at the gesture, it looks like he's about to call her bluff.
He pours her a celebratory drink for finding her radar's off-switch, and sits back. She braces herself and downs the glass, and then another. She hurries him off to his meeting that he's already late for and says their timing is off today, and leaves first.
As soon as she gets down to the lobby, her ghost date appears at her side—a lady who went splat off the rooftop bar, who wanted one last drink there. Gong-shil complains that it's all her fault that she ran into Joong-won this way. She wanted to see him as just Tae Gong-shil, not the ghost-seeing radar she always was. But now it's ruined and she walks away sullenly.
She takes a cab home alone, and suddenly changes her destination with the cab driver, insisting they stop to pick up a shovel first. "There's a tree root sticking into my side and I'm going to yank it out!" Creepy. The ajusshi says there isn't anything here, and she just answers, "Have you ever been buried in the dirt?"
That scares the daylights out of him, and he starts to panic. Just then, Joong-won pulls up alongside the cab and yells at them to pull over. Oh phew. He still doesn't know any of this, and has come to chase Gong-shil down, timing be damned.
But as soon as he gets to the cab, the driver insists he take her away. He realizes she's possessed, and tells the ghost to get lost. He grabs her by the shoulders and as the spirit goes poof, she falls into his arms, unconscious.
He just melts into the hug and wraps his arms all the way around her, and says that if it was because of ghosts, he'll forgive her. He just stands there holding her for a long moment.
Next thing we know, it's morning, and he's lying in bed holding her hand and watching her sleep. D'aw. As soon as she opens her eyes he smiles, "Are you awake? You're wondering, 'How much did I want to sleep with this man that I'm dreaming this,' aren't you?"
She's still not sure what's real, and he just keeps going: "Are you thinking that if you're dreaming this, it might as well be 19+? Want me to cooperate?" Rawr. He pulls her closer, and that's when she darts up (with hands clasped over chest) and gasps.
She demands to know what happened, and he notes that she really IS different from the Gong-shil who used to throw herself at him. He fills her in on the taxi rescue, and she cringes, "Was I… okay?"
Joong-won: "I wasn't okay. Last night you seduced me… in a variety of ways." He buries his head in his hands to fake-cry for emphasis. Lol.
In flashback we see the parade of ghosts that possessed her, from the ice cream mania little girl ghost, to the kitty ghost ("Meow?" "Meow." Hahahaha), to the Parisian seductress who tested his fortitude. "As soon as I touch you, you'll go away. I can't give you what you want! It's hard for me to sleep just holding your hand too!"
She doesn't listen and caresses his face seductively… which of course means the ghost poofs right out and she falls on top of him. Ha. He gasps aloud (at no one): "There is a limit to my resolve, you know!"
But in the morning when she asks hesitantly if she did anything weird last night, he tells her she was just her drunk self, with no ghost visitors. Aw. She sighs in relief to hear that she was just a drunk and handsy version of herself.
Another flashback to earlier last night shows her in exactly that state, when he was holding her hand and she woke up as herself. She presses his hand into her cheek and swoons, "I missed you."
He asks if she needed her emergency shelter because she still sees ghosts, but she shakes her head no—she just really really really wanted to see him. She admits that she couldn't find a way to get rid of her abilities and live like a normal person.
He guesses that's why she didn't come to him, and she tells him that she had a fantasy scenario in mind just in case: she'd show up in front of him as this amazing version of herself and he'd fall head over heels, and then once he had fallen for her, she'd admit that she still sees ghosts. And… that's different from the first time how?
Joong-won: "I've already fallen! Why does it matter what the order is?" THAT'S WHAT I'M SAYING. She insists it matters, and that she wanted him to see her as a woman, not as the ghost radar.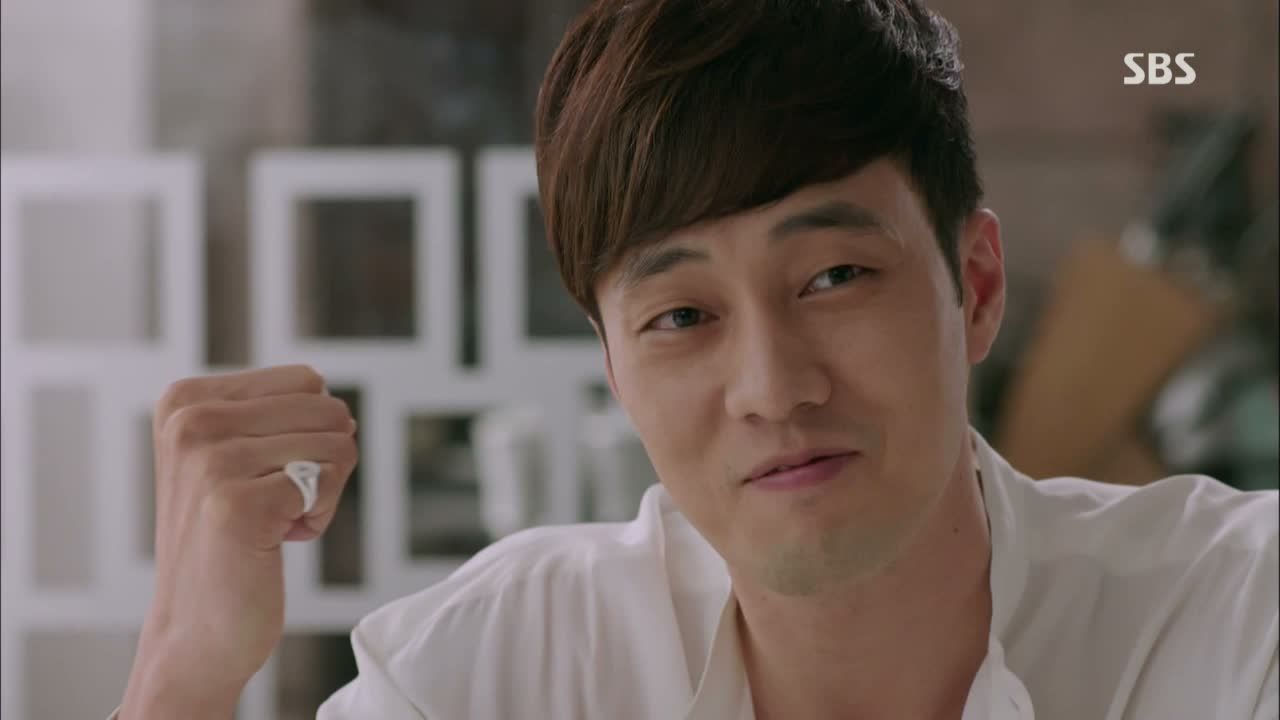 Back in the present, she apologizes for last night and gets up to go, and he tells her that he got her number while she was sleeping. Heh. She tells him not to call her first, so he asks permission to text, which she grants. As she walks out, he puts a fist up in the air: "Tae Gong-shil, do your best to seduce me. Fighting!"
Uncle sees her on her way out, and reports to Aunt that he doesn't think Joong-won will be getting over Gong-shil anytime soon. He's pleased as punch, of course, and says that Joong-won will be smiling brightly (bang-shil bang-shil, using her nickname as a pun) from now on.
Aunt scowls, and Uncle pouts that she puts Joong-won first before him, which she doesn't even deny. He jokes that they should have a child so he has someone on his side, and she glares again.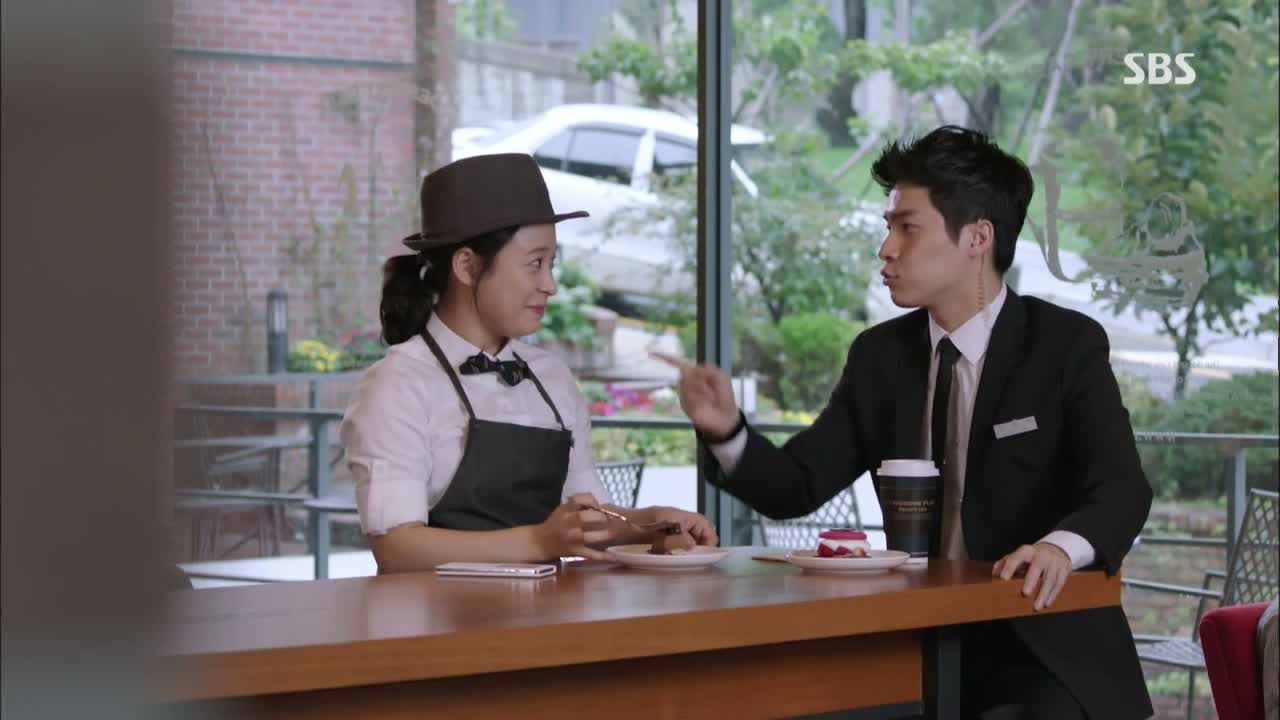 Unni gets the call that Gong-shil is back, and Han-joo is now head of security at Kingdom. He wonders if Gong-shil is going to take responsibility for the fact that Joong-won's got a few screws loose ever since she left (the rumor is that he sits on a bench and talks to himself every day, ha).
Han-joo says emphatically that a woman ought to take responsibility: "I mean, you and I spent all those nights… with the… you know… and aren't you going to take responsibility for me?" Hee. Unni casually agrees to marry him, like she's saying okay to dinner and a movie, and he immediately starts planning their wedding.
Kang Woo is working at jobs much more suited to his training, guarding ambassadors and diplomats. Yi-ryung is as obsessed as ever, sending her manager to stalk Kang Woo by proxy when she's busy. She gets caught red-handed of course.
Kang Woo meets Yi-ryung by the river late at night to complain about the needless worrying, but she pouts that all they ever do is meet secretly, so how is she supposed to rest easy when he isn't hers?
He still calls her the black-mustached whale, and tells her that they meet in secret to protect her. She lights up at that and asks if that means his heart is hers. She asks him to prove it by going to the movies with her—by which she means red carpet and cameras and publicly dating. He realizes now that that's her world, and wonders if he can stand next to her.
Gong-shil returns to her gosiwon rooftop room with Unni, who wonders why she wants to come back here. Gong-shil says she's comfortable here, and actually plans to buy the gosiwon whole-hog. What.
It turns out she wasn't lying about making some money—while in Europe she chased a horde of ghosts out of an abandoned building, fixed it up, and sold it for a huge chunk of cash. Unni still wonders why she's buying this building of all buildings if she's loaded, and Gong-shil says she really likes it here, plus someone once told her that if she at least owned this building, he'd give her the time of day. Ha.
She says that Chun-hee is still abroad but has plans to return to Korea, and that she's going to go back to school.
The next day she goes to the realtor to meet with the gosiwon's owner, and in walks Secretary Kim. Pwahaha, Joong-won bought it, didn't he? Yup, Secretary Kim is just here to take her to the meeting, and she gets taken to Kingdom. Joong-won is being a hardass about the price, though he notes that if she were to return a certain man's calls, he might lower the asking price.
She isn't interested in romancing the seller for a discount, and leaves the meeting resigned to take care of this herself with money. He pleads adorably: "At least answer the texts!" She agrees.
Once she's gone, Secretary Kim needles him to say that he bought that building because "someone" called it the most comfortable rooftop in all of Seoul. Joong-won keeps up his front about buying it to convert for his part-time employees… but also because "someone" might say that she'd prefer to rest there over his fancy villas.
Joong-won tells him that he's trying to wait patiently because she wants things done in a certain order, and Secretary Kim points out that Joong-won's never been one to wait when he wants something. Hee. Joong-won immediately looks up at him with childlike can-I-really eyes.
Aunt goes to the doctor to hear the results of her physical, anticipating the worst because she's been feeling sick lately. She braces herself… and then the doctor tells her she's pregnant. Omo. She's shocked, and refrains from telling hubby about it for now.
Gong-shil walks through Kingdom, and the trashcan ghost stops her with a lid-flip and a huge grin. She greets the ajusshi warmly, but then when Joong-won approaches, she pretends nothing is there.
Joong-won offers to talk gosiwon prices over lunch or dinner, but when she says she has plans, he quickly says he's got plans all the time too. When she shows a little interest in the fact that he's been on a bunch of blind dates, he wonders aloud how many he ought to say he went on, to make her react. I love that he always says this stuff out loud in front of her.
He says pointedly that this isn't the time for doing things in the proper order, and she needs to snatch him up before he gets married off. She catches his wording and asks if she said something while she was drunk, and he admits that she laid out her plans. "But I don't care whether or not you see that ajusshi sitting over there."
She only now realizes he knows the whole truth—that she still sees ghosts. He asks if she still doesn't like herself because of it, and she doesn't answer. Suddenly trashcan ghost gets up and follows a mom and daughter walking by, and Gong-shil gapes to see him get up from his bench.
She starts to follow him, and Joong-won insists, "Ajusshi is MY friend! I'm going too!" They follow the pair to the wedding hall, and Mom and Daughter eventually tell them that Dad passed away three years ago after winning the lotto but losing the ticket in a trashcan. Gong-shil tells the ajusshi that his family is happy and well without that lotto money, and he doesn't need to hold onto his regret any longer.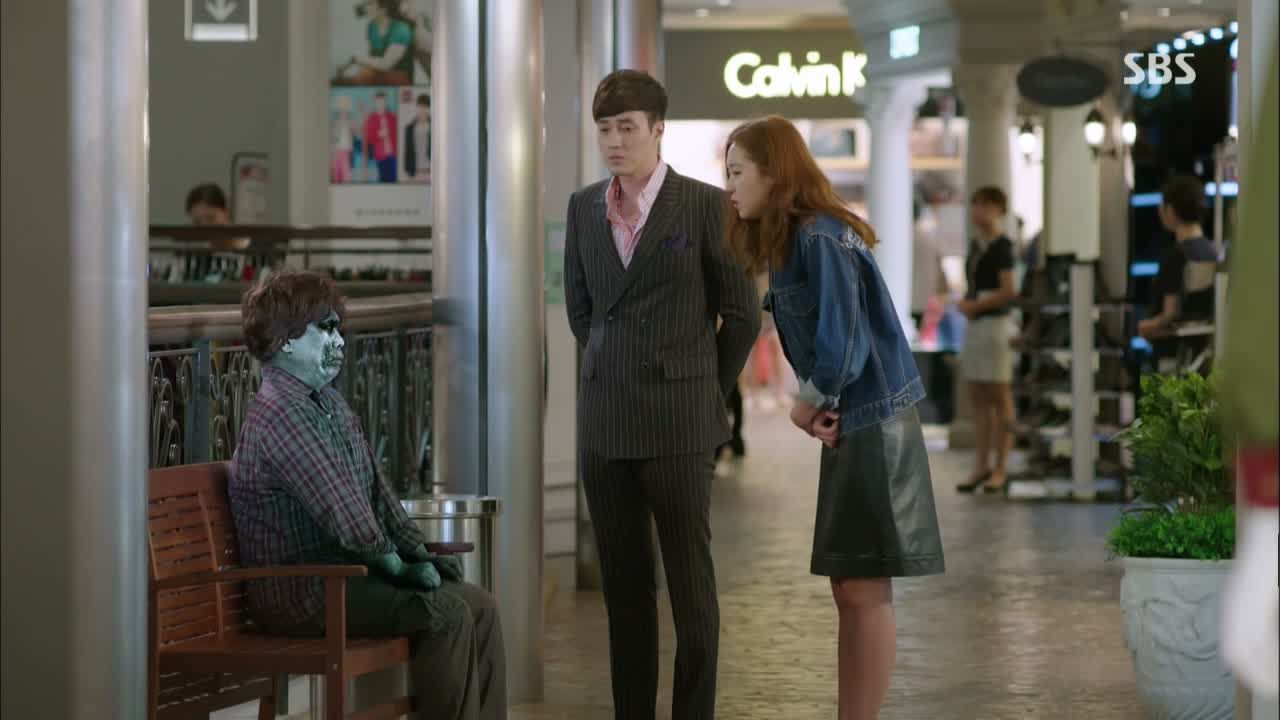 Ajusshi's wife and daughter decide that having a wedding at Kingdom is out of their price range, but Joong-won comes down to tell them that Dad was a friend of his, and asks to let him pay for the wedding as a token of gratitude. Aww.
Gong-shil admits that she can still see ghosts, and Joong-won asks if her year changed nothing. She says that she went to all the places she had been in the three years she was a spirit, and found that she had met countless ghosts. What she realized was that her ability to see them was her choice.
She met so many people with no one to listen to them that she had made the promise that she'd return to her body and continue to see and help them—that promise is what made her shine so brightly. Yay. Now THIS was what I was waiting for. (Though it would've been nice to be with her in the moment of discovery, not be told about it after the fact. Where's the dramatic oomph?)
She tells Joong-won that she's okay with ghosts now and doesn't hate herself for being able to see them. Chun-hee even taught her ways to cope with her fear and deal with them, since he's been doing this a lot longer.
Downstairs in the coffee shop, we see Chun-hee flip through the photo book and close it, wondering if he did right by Gong-shil and put her on the right path. He urges the coffee ghost to move on too, and he finally does with one last smile.
Upstairs, Joong-won suddenly jumps up in a jealous outburst to make sure Chun-hee was just a guide and not her emergency shelter. She points out that he ate all those (blind date) dinners with Aunt, but he confesses: "I didn't eat! Do you know how long I waited and starved because of you?!"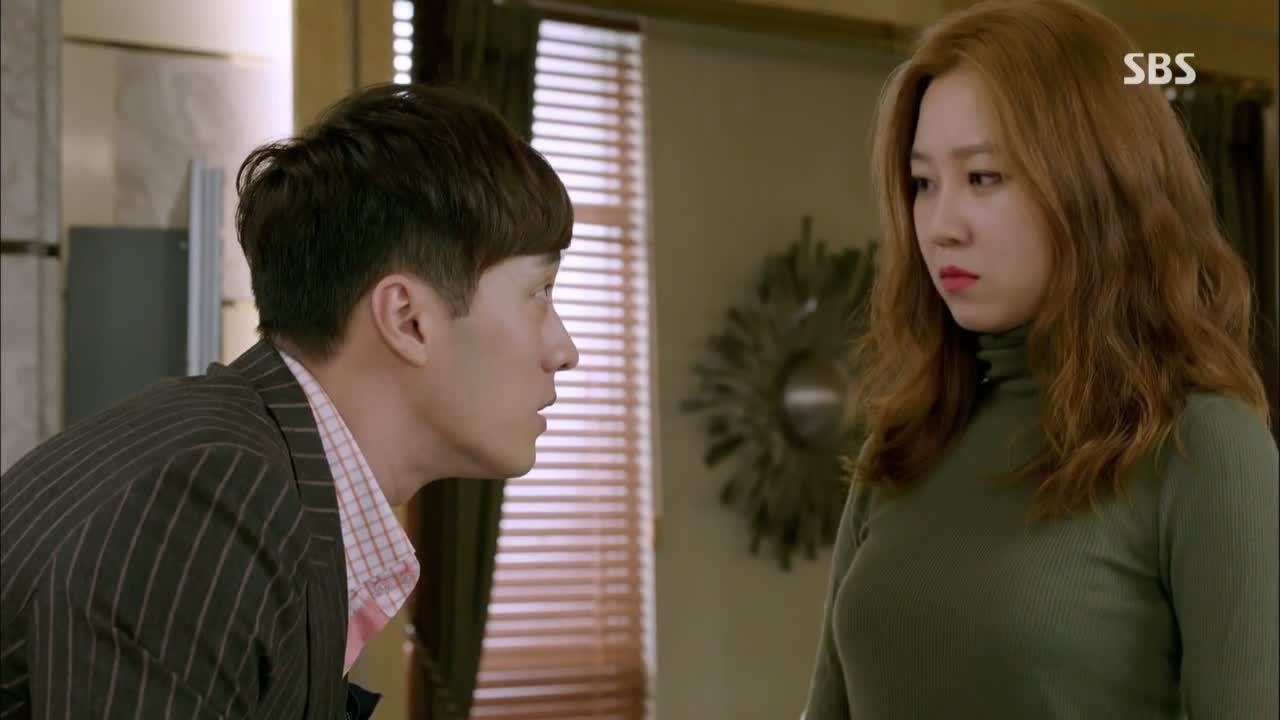 She smiles, "Do you want to have dinner then?" He immediately softens, "Now?" She says coolly that she'll call, and he gets all ragey: "You said you were going to seduce me! When are you going to call?!" Hahaha. She tells him to go convince the trashcan ajusshi to move on, and he barks at her to call him.
Aunt sees her on her way out, and she asks if Gong-shil is planning to play around with Joong-won's feelings again. She says no—this time she's going to hold on and not let go. Well thank goodness for that.
Aunt notes that she's different, and Gong-shil says she is too. She can see that there's another little soul in her belly, and says it's weak and will need Aunt to protect it. Aunt warns her not to tell anyone, since she hasn't decided what to do about it yet.
Gong-shil says that making a decision is hard, the outcome always uncertain, and even still there might be pain down the road. "Loving someone doesn't always mean sharing happiness. But the choice is up to each individual." Aunt asks if they're talking about Joong-won or the baby, and Gong-shil says she's talking about people loving people.
Meanwhile Joong-won is busy trying to convince the ajusshi to move on, insisting that he can't sit here forever holding onto his regret. He says that he could've married the chaebol heiress and had way more than a lotto ticket's worth in profits, but he doesn't have regrets.
Ajusshi flips the lid to call him on the lie, and Joong-won admits he has a teensy bit of regret, but has let it go, "Because the woman I love is the sun up there in the sky." He pats himself on the back for his own awesomeness, and asks ajusshi to flip the lid to say he's awesome.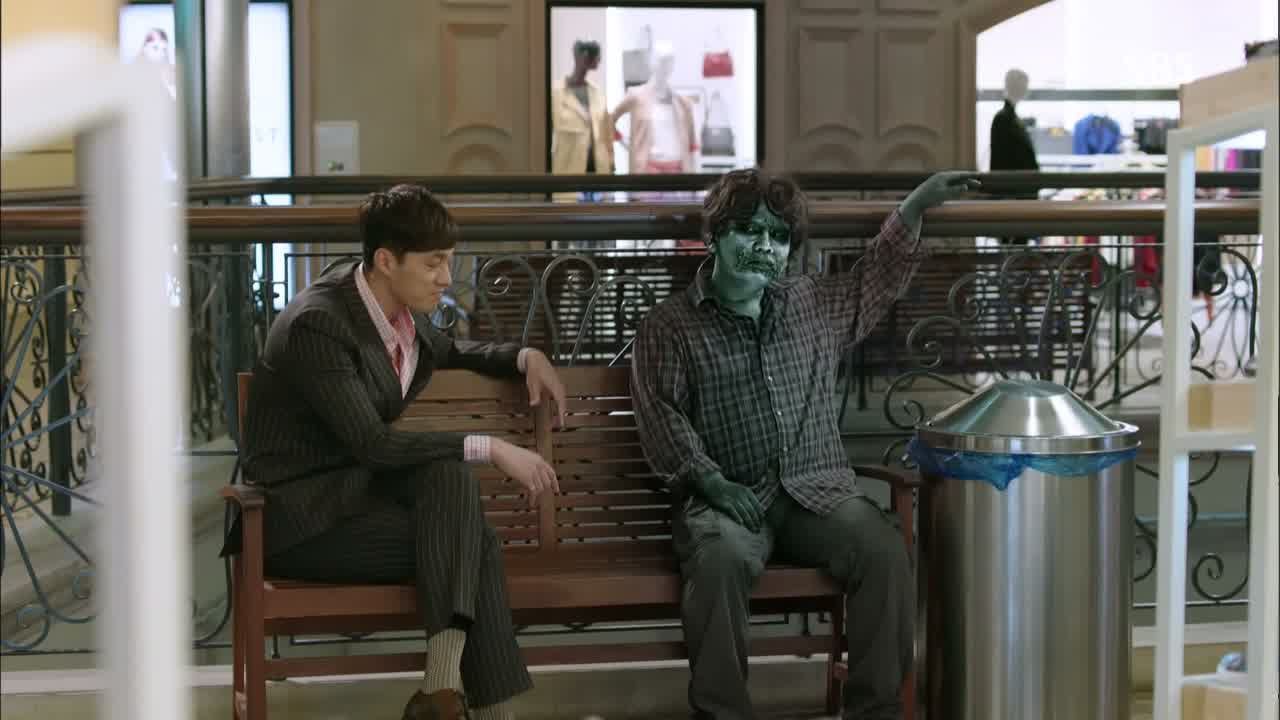 He admits sheepishly that she doesn't just shine to the dead, but makes his eyes hurt because she shines so brightly. And then he asks ajusshi if he can get married before his daughter does.
Aunt sits in her office thinking over Gong-shil's words that choosing love means she won't be lonely, because in exchange for the difficulty of protecting a love, she'll be rewarded with bright moments of laughter and warmth. She imagines a future with a little girl of her own, and begins to warm to the idea of a family.
Gong-shil comes home in time to say goodbye to the neighbor boys, who are moving out with Mom. Kang Woo comes by to help them move, and they share a drink up on the roof. He congratulates her on overcoming her fear and she tells him to protect Little Sun. He sighs that he needs courage to pass through the "red road" to do so, and wonders if he can.
Aunt sits through dinner silently while Uncle talks about packing their anniversary vacation plans with all kinds of extreme sports. She finally tells him that she can't because she has to have a baby, and asks, "I'm so old that sometimes I forget if your name is Seok-chul or Chul-seok. Will I be able to have this child?" Ha.
He comes to her side and tells her that he loves her. She asks for his help because she's going to need it, and he grabs her in a hug, overcome with joy.
Yi-ryung gets ready for a movie premiere and wonders if it was asking too much. But Kang Woo shows up just in time and says he'll try walking that scary red road with her. She sticks out her arm and says he can grab it if he gets scared, and she won't let go. Cute.
Secretary Kim hands Gong-shil her deed to the gosiwon that's now hers, and she frowns that Joong-won didn't budge on the price one freaking penny. He promises her it's worth the price, and she thanks him for everything, saying that if he hadn't stopped the car that stormy night, she'd never have met Joong-won in the first place.
He says he's always been on her side, and says that it feels like watching his child grow up under the warm sun. He urges her to have patience with Joong-won if he acts arrogant, and stay by his side always.
Joong-won sits at home staring at his phone, wondering if tonight will be the night she calls. It finally rings (he's saved her number as "Death's Sun" [jook-eum = death] and geez Show, if you were gonna fudge the pun that way, we'd have called it that from the beginning).
She officially invites him over and he officially accepts, and they both run around getting ready for the big date. She decks out the rooftop and apologizes for the sweetness, but he says he's into sweet stuff now and presents her with a giant bouquet of flowers. He's even swapped his ascot for a bowtie!
She acts like this is a first date and says she owns this building, and that she will occasionally act differently when drunk, or start conversing with invisible people. She tells him to think of it like she's answering a call, and he agrees that she should answer important calls.
She says that it might be difficult because she has this whole other world, but he counters that you can never know another person's world completely. She knows she might make life hard for him sometimes, "But I don't want to be sad or lonely without you." What a nice twist on the classic Candy line. Screw being sad and lonely!
She tells him that she's going to be by his side, but you can see his face fall at the lack of an "I love you." But she continues: "Because you're special to me. Because I love you." She promises to love him lots, and introduces herself: "I'm Tae Gong-shil. Taeyang. Can I rise by your side?"
He's happy, until he realizes that this was the reason she invited him here tonight. He gets up and says he won't accept it, because he was under the impression she was going to ask him to stay and never leave.
He says he's going to live by her side from now on (implying that he wants to marry her), and opens his hand. The sun necklace is in his palm. "I have never once let you go. Because Tae Gong-shil is my sun, without which the earth would be destroyed."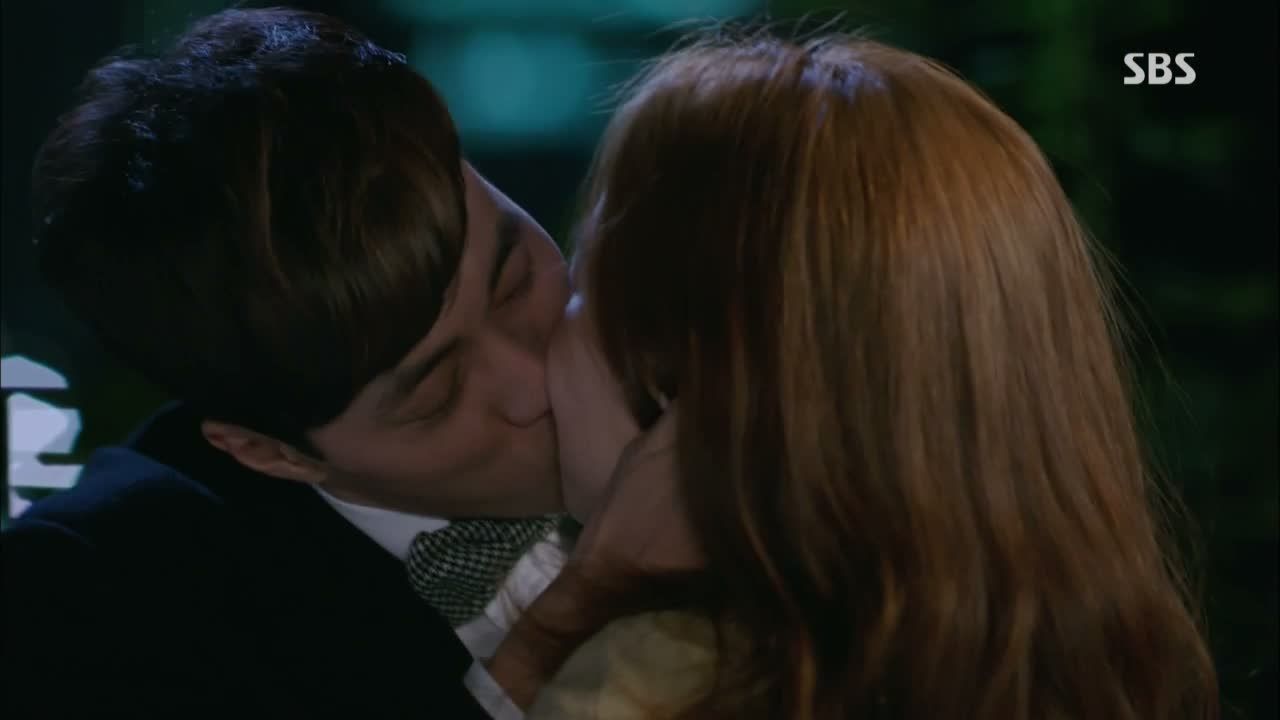 She thanks him for not letting her go, and gives him a little kiss. He pulls her in for another, and another.
We get a final glimpse of our happy couples. Aunt and Uncle plan for the baby with fear and excitement. Kang Woo finally steps foot on that red carpet with Yi-ryung, and she asks if a kiss would be too much. He promises one later and she relents, saying it's gotta be really long. Han-joo and Unni promise to be each other's soulmates.
A flashback to that first stormy night reminds us of Gong-shil and Joong-won's first touch that shocked her with its electricity. On the rooftop now, she wonders if maybe her ghost-seeing ability helped her see that he was special to her, so she could grab him at once. Ahem, some of us may argue about the once—we lived through it, remember?
He calls her ability very useful. He vetoes her idea to go watch the sunrise at the ocean though, arguing that the sun "rises wherever," still miffed about her rising elsewhere with another man for a year.
She takes issue with the wording, but he says his world stayed dark for a year, so she has the obligation to seduce him properly, HERE, NOW. She says she does have a certain thing planned to seduce him, and he says she has one move, after which he's going to stop waiting and just do whatever he wants. Rawr. Can we just skip to that part?
She says she met Steve Jobs (Hahaha—this is your big seduction plan?) and plays coy until he pleads with her to share a few trade secrets. She whispers them into his ear as they giggle and snuggle, and he finally kisses her to make her spill the beans.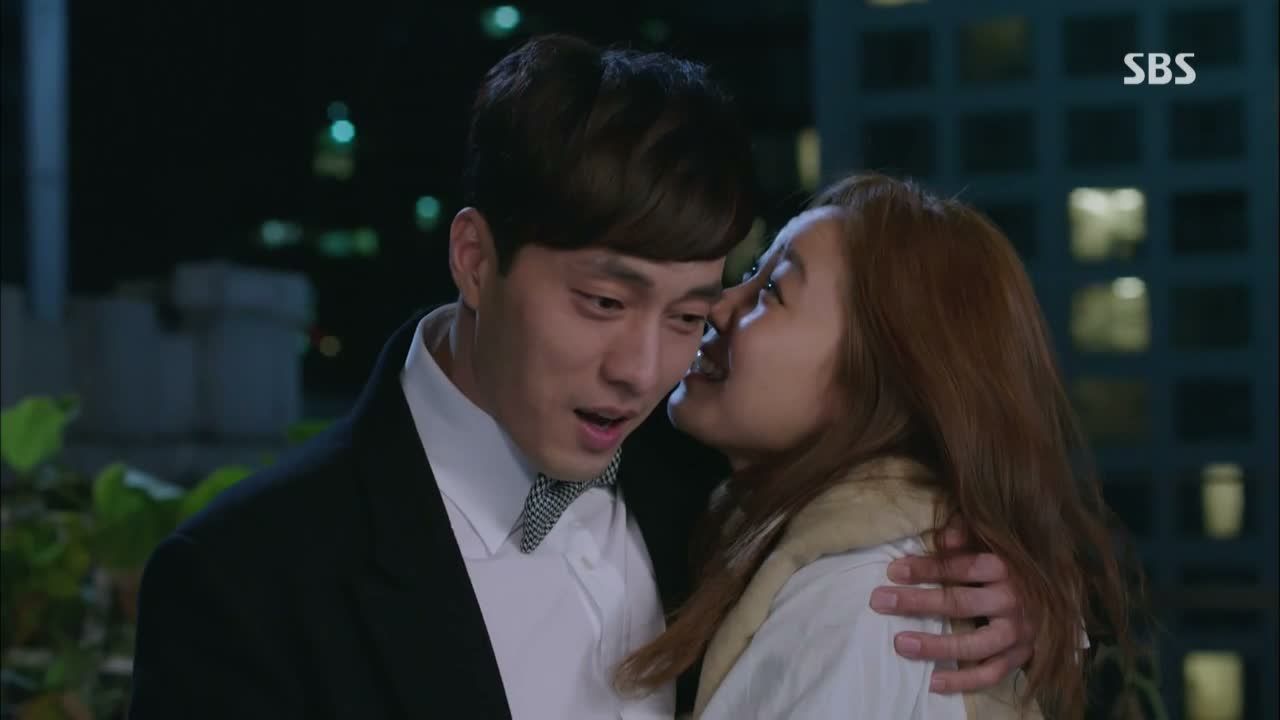 GIRLFRIDAY'S COMMENTS
That was cute, though I will admit that sixteen episodes of foreplay and a couple of kisses is a little weaksauce, especially when your wordplay gets to be so salacious. That's par for the course with the Hong sisters though, who let their heroines talk a big game but keep their romances light and sweet. I'm all for a happy ending with ribbons and bows where a rom-com is concerned, and at least with the extension the finale didn't feel rushed in any way. On the downside, both the last episode and this one felt slow by comparison to the rest of the series, and much of the final separation angst felt completely needless given the fact that we simply return to familiar dynamics.
I get that the year apart earns Gong-shil perspective and a change in attitude, and most importantly the chance to love herself, which is a delightful theme to end on. It's just that Chun-hee was wasted by being brought in so late he hardly mattered, and there was no tension in the Go/Don't Go/No Really I Have To Go when we knew she'd come back and they'd still have to figure things out then. Joong-won's growth was resolved quite early by comparison, so he pretty much spent the last few episodes just waiting for her.
I'm really glad she didn't lose her ghost-seeing ability, because it's what makes Taeyang Taeyang, and I'm much more interested in her acceptance of herself than being free of the burden altogether. I do wish we had gone on that trip with her and been there the moment she recovered that crucial memory, and realized that she chose this for herself because she couldn't turn away from the plight of others. That's heroic and noble and I wanted the delivery to land better. In the end though, she went from strictly needing Joong-won as an emergency shelter to wanting him for him, which is a love I can get behind. He doesn't ask her to change and she learns to stand on her own two feet, and chooses love on her terms. The motivation and the reasoning works for me on a large scale, though honestly a lot of the "No I can't go to you yet" didn't because… uh… there's logic, and then there's love. I was mostly in Joong-won's camp, because at a certain point when you KNOW that both people love each other, you're just screaming, Screw proper order! I freaking love you! C'mere!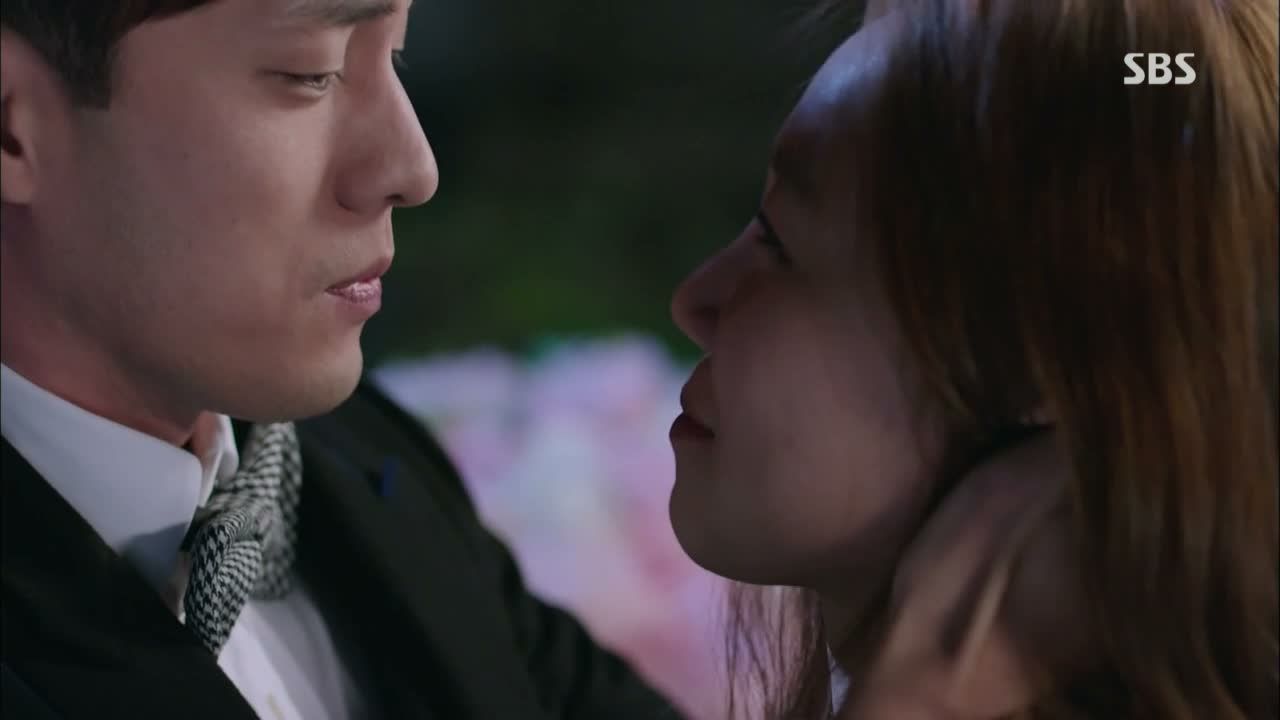 In that sense the artifice did start to show in the final act, where the couple's longing for each other outweighed any reason for them to be apart, and it really did feel like the show was sending them to their separate corners 'cause it had episodes to fill. But by and large Gong-shil's trajectory as a character had a nice steady upward climb, and I loved that she was always the anti-Candy who didn't suffer quietly and swallow her pain. Instead she found herself a shelter when she was scared, put herself first when she realized she disliked the person she'd become, and then chose love when she was ready.
I do think this is a show carried by chemistry, because there were a lot of missteps in secondary storylines (Ghosty Twins of Who Gives a Fuck, anyone?) and a strange practice of deflating its own stakes (What kind of lifetime contract of doom and evil portent for the price of a human life can be bought with cash and swept under the rug?) that would've clunked harder had we not been so swept up by the romance that everything else just fell under two categories: (1) Things That Deterred Romance, and (2) Things That Helped Romance Along. But the magical combination of two great leading characters and actors who clicked together greased what would've been some rough turns. I still can't promise I'll watch So Ji-sub's melos, but I absolutely adore him in comedy now. And I already watch everything Gong Hyo-jin is in.
This show did feel like the Hong sisters were back on their game with the witty wordplay, the double (and sometimes triple) entendre, and the overarching mythology that backed its internal logic. Truthfully it never went to an epic place for me, and even when it did pull out some life-and-death stakes, it pulled us out of danger pretty quickly. But it was satisfying the whole way through, and there's something to be said for a light contemporary love story that hits the right spot. And despite Bitter Pill and Anti-Candy's efforts to the contrary, it was sweet.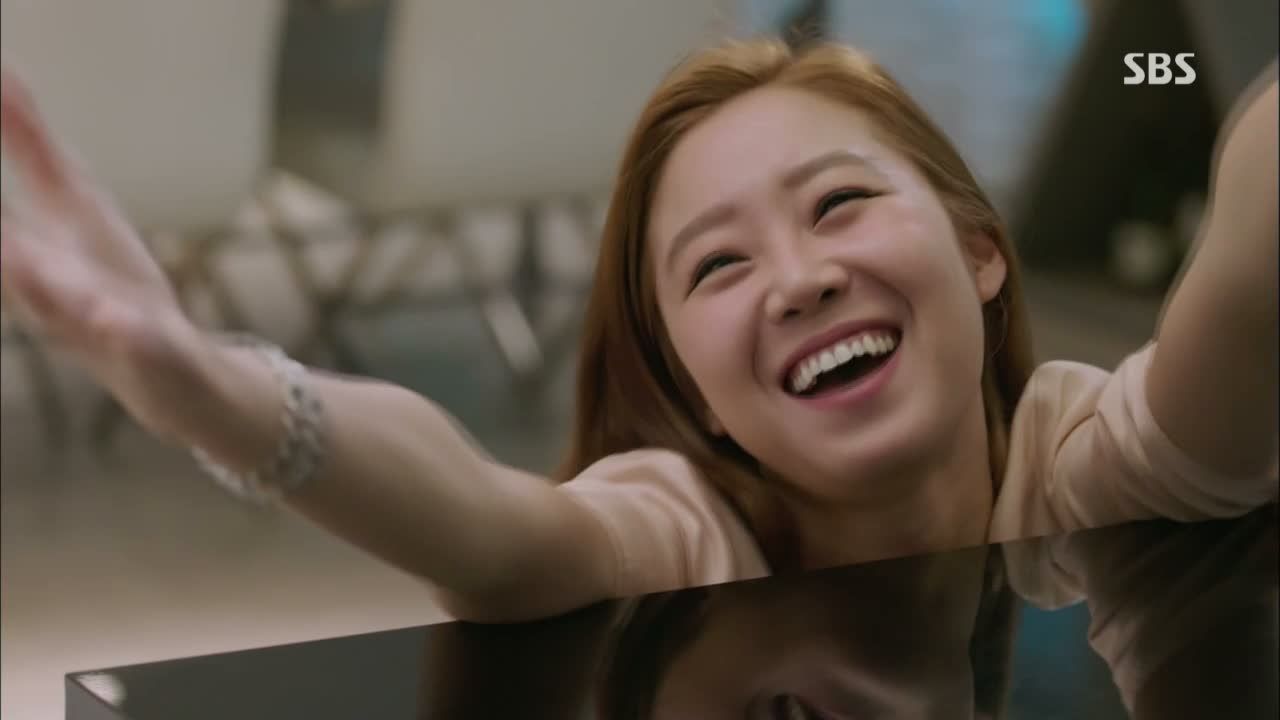 JAVABEANS' COMMENTS
Ahh, a sweet ending after all. There were no big twists in this final hour and the episode served up pretty much what I expected, but it's also what I wanted, so all in all I'm pretty satisfied. In fact, for a Hong sisters finale this is a downright winner. (My favorite ending of theirs is Delightful Girl Chun-hyang, but I may have to name this second place. Not bad, show, not bad at all.)
I was expecting stuff to change in the year jump, but I like that the time skip didn't automatically provide a magical—offscreen!—fix to the problem, as so many finales do. (The writers themselves perpetrated a particularly egregious example of that in Big, where the hero goes away, then comes back, and nothing has really changed while time offers the illusion of change. Boo. So it's a relief to see that they can fix their mistakes.)
As nice and neat as it would have been for Gong-shil to go away and find herself and come back to Joong-won as a ghost-free and independent woman, it would have been rather convenient. Instead what she comes to terms with is her own feelings about her abilities, no longer thinking that they make her a pathetic or miserable person. I guess there's an argument to be made for why they couldn't just decide to be together with her ghost powers intact in the first place, since they could have decided that two episodes ago and ended in a similar place. But I suppose the character had to arrive at that point herself and grow on her own—as Joong-won notes, the goddamned order of events is important, even if the ending itself is a foregone conclusion, and so he waits. As a result Gong-shil finds her independence anyway, and whaddaya know, she can be independent and ghost-seeing. So now we see that her sense of self can prevail even without ridding herself of the sixth sense, which may actually be a stronger and more meaningful message.
I cut the show a teeny bit of slack for its pacing because of the extension—this episode does feel like it could have been better (and less meandering) if we'd smooshed the last two episodes into one. Which was probably the original plan, which is why I'm fine with it. In fact, given that they had to draw out the material I'm even a little bit pleased at the result, because we got some time to stay with the characters while they're in their happy zone and enjoy the wrap-up, rather than hurtling toward the conclusion and then getting two seconds to see them come together at the very end.
The Hong sisters are so averse to the grandly cheesy romantic ending that they have an overwhelming tendency to consciously subvert those moments, which works really well for the meat of a drama (comedy undercuts scenes before they get drippy with sentimentality), but for a finale sometimes we just want the sentimentality, okay? We want the kiss and the smiles and the promises of happily ever after, and then maybe one more round of it with a cherry on top, for the road. Because the show's over and this is the last time we'll get to live with these characters, so howsabout a little bit of indulging in the romance? Nobody wants a finale drive-by! Smoochies and extra smoochies most welcome.

RELATED POSTS
Tags:
featured
,
Gong Hyo-jin
,
Master's Sun
,
Seo In-gook
,
So Ji-sub