Jeon Ji-hyun as Hallyu goddess in You From Another Star
Hot on the heels of Kim Soo-hyun's first stills from the drama You From Another Star, we have leading lady Jeon Ji-hyun in hers, playing a "Hallyu goddess." It's basically Jeon playing herself, and in that case I really hope the drama takes a fun approach with the meta. Where's the fun in casting a top star to play a top star if you don't poke fun at the whole top star image?
In the photo directly below, Jeon is pictured with Choi Min (My Love Madame Butterfly, Pasta), who plays her fiancé… who'll get shunted to the side when the star falls for the 400-year-old alien (Kim Soo-hyun) who has lived in Korea from the Joseon era through to modern times.
It's hard to believe it's been fourteen years since Jeon was in her last drama (1999's Happy Together), or maybe the part that's strange is how she's remained so visible and famous all this time, only doing a movie every two or three years (such is the power of CF queendom). Okay, maybe the really remarkable thing is how she has barely aged at all in all the time she's been acting. Maybe she's the one who shoulda played the eternally youthful alien?
You From Another Star follows Heirs with a December premiere.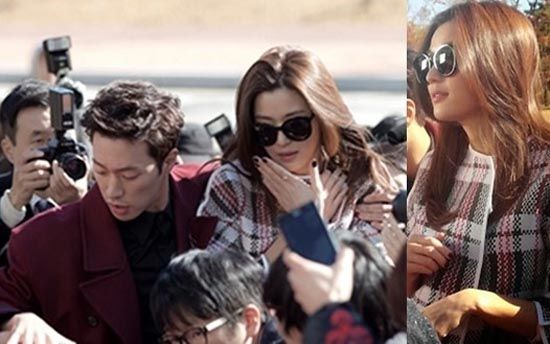 Via Star News
RELATED POSTS