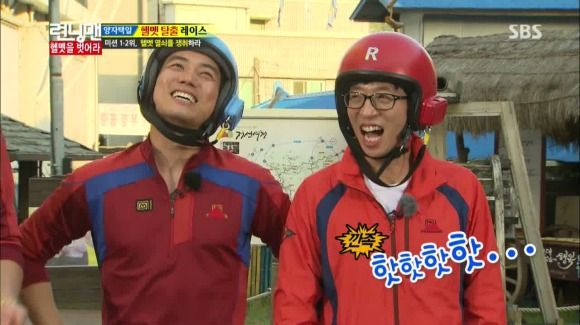 Who knew that helmets could be so entertaining? A doctor and a reserved guru come to play with our cast as they try to hunt down the right key to save themselves from helmet hair. Our nametag ripping game comes back in full-force this episode, along with that eerie sound of bells we've come to love and fear. And lastly, one butterfly is just the beginning of an uproariously fun hour to come.
SONG OF THE DAY
Jaejoong – "Butterfly" [ Download ]
Audio clip: Adobe Flash Player (version 9 or above) is required to play this audio clip. Download the latest version here. You also need to have JavaScript enabled in your browser.
EPISODE 169. Broadcast on October 27, 2013.
We start this episode off running as the cast disperses to different locations at the park. But there's something suspicious about this search for flags; it's as if they're being targeted…
And then they find themselves (literally) locked in Crayon Pop-esque helmets. Pfft, Kwang-soo cries that his salon-ready hair will be ruined. Well, it was gonna happen sooner or later today.
Our rainbow-colored crew is joined by today's guests, co-stars of the recently-released movie The Punisher: Super Doc… er, Joo Sang-wook and Yang Dong-geun. They're already wearing their helmets and look adorable. And ha, I love the contrasting charismatic man in suit vs. run-away-from-the-helmet shots.
Kwang-soo gets in trouble with Jong-kook even before we learn about today's race (he hit a moth on his helmet). Jong-kook warns: "I'm going to catch an insect and place it on [your helmet]."
And wouldn'tcha know, a butterfly lands on Kwang-soo's nose a minute later. Mwahahaha. Jong-kook: Smack.
Aptly entitled Helmet Race, the winner in each game (out of four) will choose a key to try and free themselves. Best of all, if they pick the right one, they can head off the final mission location early. Or you know, end up with pretty bad helmet hair. Suk-jin: "I may never get to unlock mine today."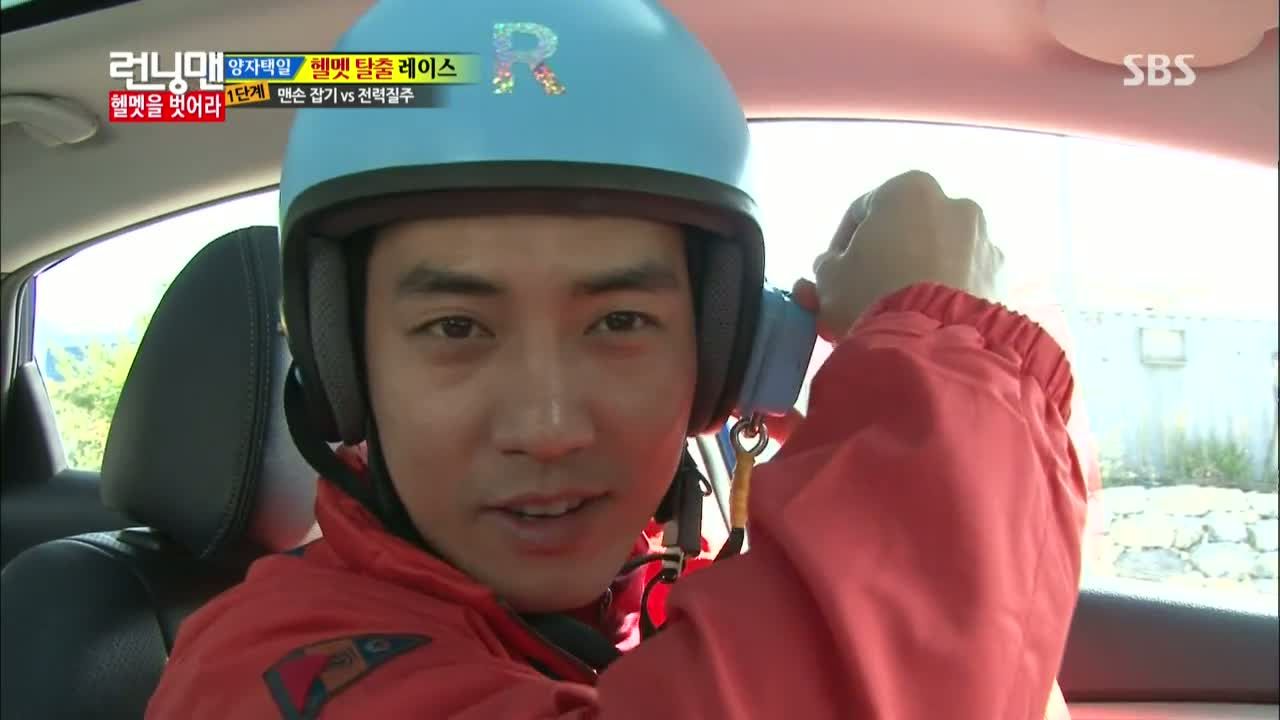 Everyone is given a key at the start, and it cracks me up that Sang-wook thinks himself special for a few moments, asking if he's the only one with a key. Haha tries out his then and there, but alas it doesn't work. Jo PD: "Don't break it."
After choosing their first mission, they head out separately, taking in the beautiful sights of the countryside. Well maybe too much because Jae-suk scolds his VJ Kwon-ryul for not filming him enough. "I have to appear on this show too!"
I'd forgotten how much of a chatterbox Sang-wook is as he talks out loud to himself in the car. It's hilarious how he breaks everything down from the rules of the game or how he might not get enough screentime if the helmet comes off too early. Or should he have paid attention to the color of the helmets? Less talkin', more drivin'!
Jae-suk is shocked when he arrives. HA, are those chickens I see? Don't worry, the rules are simple: retrieve five ribbons from their legs. Both mat-hyungs cry out that they're too chicken to handle the birds. Oh, this ought be good.
Meanwhile, the other group is told to catch three trout in the creek with their bare hands. It's so cute how excited Jong-kook is; he's totally game about it, saying he's had plenty of experience from his Family Outing days.
It's harder than it looks since the trout are slippery, fast, and blend in with the rocks. Jong-kook nearly catches one before Kwang-soo interferes, and the two end up running around the creek chasing after the fish.
At the same time, the mat-hyungs reel in fear, unable to grab the birds, let alone touch any. They point out one particularly aggressive rooster that pins another chicken by its neck before hoping that agile Ji-hyo will come join them.
It's Sang-wook who joins them, however, and when they ask if he's any good at catching chickens, he asks, "How? With your hands?" He does seem oddly confident even though it's his first time. That is, until the hyungs mention the UFC rooster and his voice falters a little. Ha.
Turns out that Sang-wook is pretty good at it after all, catching one on his very first try. As he works with the ribbon, the caption calls him Good [Chicken]-tor Sang-wook (since the Korean word for chicken sounds similar to "Doc-"). He's like the Chicken Whisperer!
Gary catches his first fish after a frustrating thirty minutes, only for it to literally slip out of his fingers. Aw. Jong-kook grabs his first catch (one-handed!) and picks up his second a moment later… but then in his haste, he drops it in Dong-geun's basket instead.
If Sang-wook has a way with poultry, the same is true for Dong-geun and fish. He easily grabs his second catch, but with Kwang-soo hanging around the baskets, I'd be more careful if I were you…
Oh Kwang-soo, you're not actually thinking of tipping over Dong-geun's basket, are you? You are… and you did. Bah, at least you look a bit sorry about it afterward (?). Haha's the one to point it out belatedly, but our betrayal icon gets away with it this time.
Then Dong-geun sits in the water, giving off this oddly solemn and serene aura about him. The others joke that it looks like he's shooting a documentary, which makes him look like he's reflecting on the meaning of life or becoming one with the fishies.
The hyungs are happy to see Ji-hyo enter the chicken arena, but she makes it clear that she won't be helping them. Jae-suk is amazed at how happy she looks running around and chasing the birds, to which she smiles back: "Isn't it fun, oppa?" And that's why we love you.
They excitedly gather around a freshly-laid egg, which Suk-jin eats while it's still warm. I know that's about as organic as it's gonna get, but ew. Now feeling energized, he goes straight for the UFC rooster.
He manages to grab it after a few close tries. Yay!
Back at the creek, suspicion falls on Kwang-soo, who flusters at the accusation. It's basically a dead give-away, and Jong-kook warns him about Dong-geun's fighting role in the 2004 movie Fighter In the Wind. Dong-geun hits him upside the head. I love you Kwang-soo, but you kinda deserved that.
Jong-kook ends up winning the game, and he chooses to try Kwang-soo's key. It doesn't work, and in a bit of petty revenge, Jong-kook throws it into the creek.
Sang-wook plays a little prank on the hyungs (who are busy discussing whether a chicken can kick them) by releasing it and it flies into their faces. With that, he comes out on top, and he gets all worried about choosing the right key since that'll shorten his screentime. Lol, I love how transparent he is about it.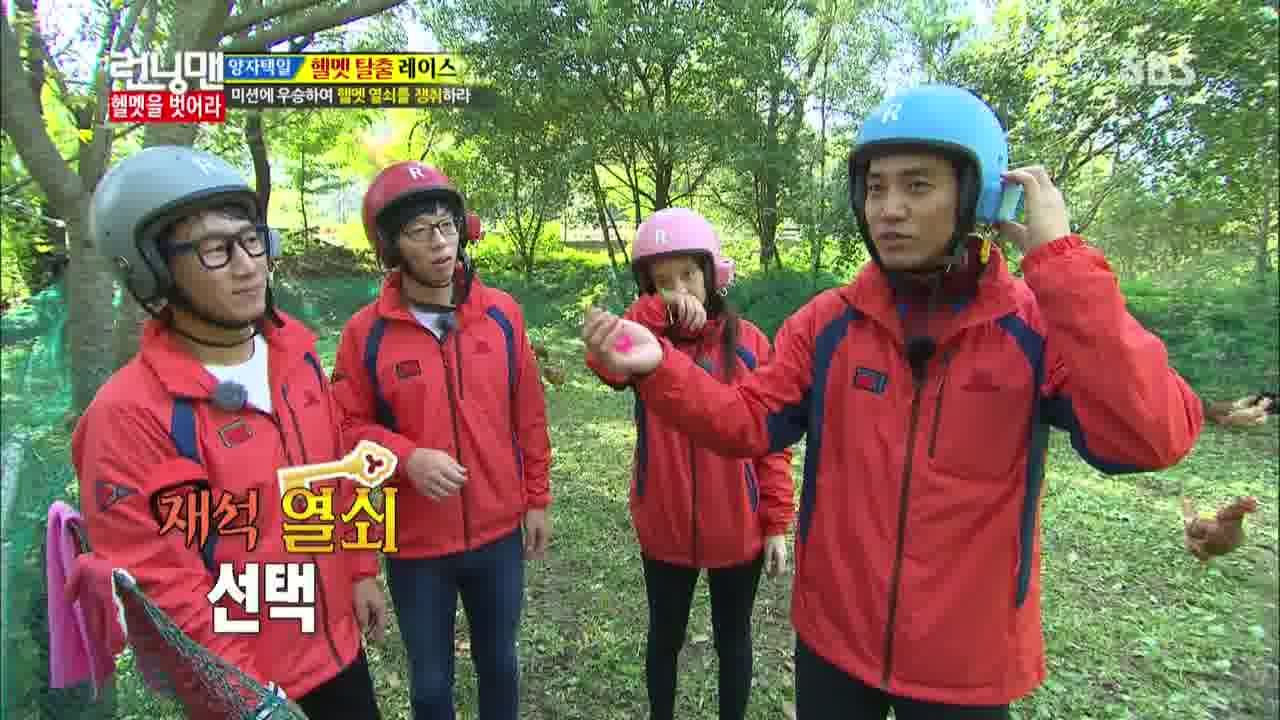 So he tries it out and exclaims, "It works!" (It doesn't.) The hyungs scolds the actor for his foot acting. Hahaha.
And before we move on to our next mission, we get another shot of Dong-geun enjoying his moment of solitude as he becomes one with nature. Haha: "He's really unique."
Sang-wook chats to himself in the car and wonders how his co-star is doing. Maybe it's the jacket or the helmet or the way Dong-geun drives into the curves (in silence, which makes it even funnier) that makes him look like a racecar driver.
At their second mission, Suk-jin touts that they're in his hometown, which earns him a round of cheers from the local ajummas. When Jae-suk asks if they knew that fact beforehand, they collectively answer: "We didn't!"
The mission here is a four-way tug-of-war and attempt to be the first to strike the bell with their helmets. Jae-suk says that they're screwed if Jong-kook shows up. Cue Jong-kook. HA.
The allied trio can already tell it's virtually impossible to outdo Jong-kook even before the start. It looks like an obvious win for Jong-kook until the trio uses their collective strength to turn the tide.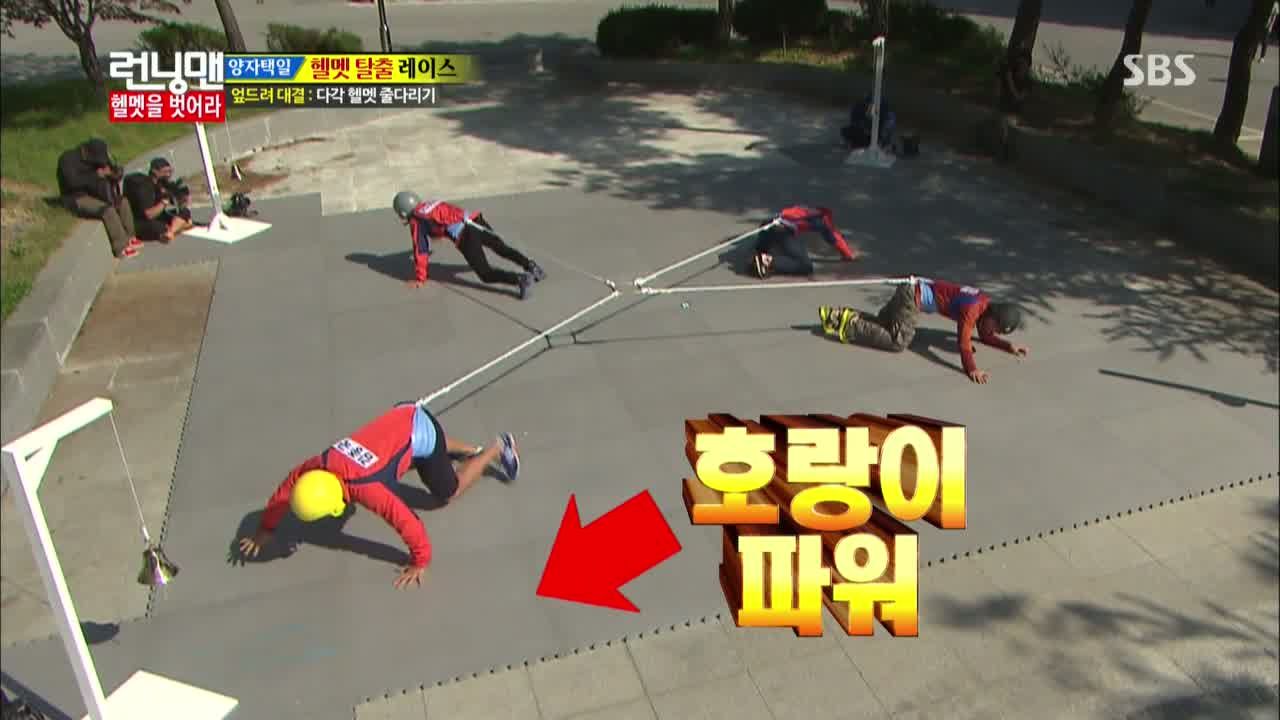 It works just long enough until Suk-jin points out that Jae-suk can win at this rate. So it's back to every man for themselves as they grab any moment they can get to gain the advantage.
But Jong-kook is back in commission soon enough, and he drags three helpless and tired men behind him to snatch the win.
Jong-kook gets excited for a moment when he tries a key, to which Jae-suk quips, "We'll be happy if you leave."
Elsewhere, Gary chooses Ji-hyo's key after winning, and Haha jokes that the Monday Couple should just get married already if it fits. Ji-hyo's like, Yeah, whatever. We'll try it first. Haha: "She said it!" Gary: "I don't think it's such a bad idea."
The odds are pretty slim, but… click, it works. Omo. Omoomoomo. Needless to say, they're in disbelief. Now free, Gary jokes, "I'll go look into wedding venues. You finish up here!"
Thinking that the pairings are set, Sang-wook figures that his co-star Dong-geun must hold his key then. I'll laugh if you're wrong,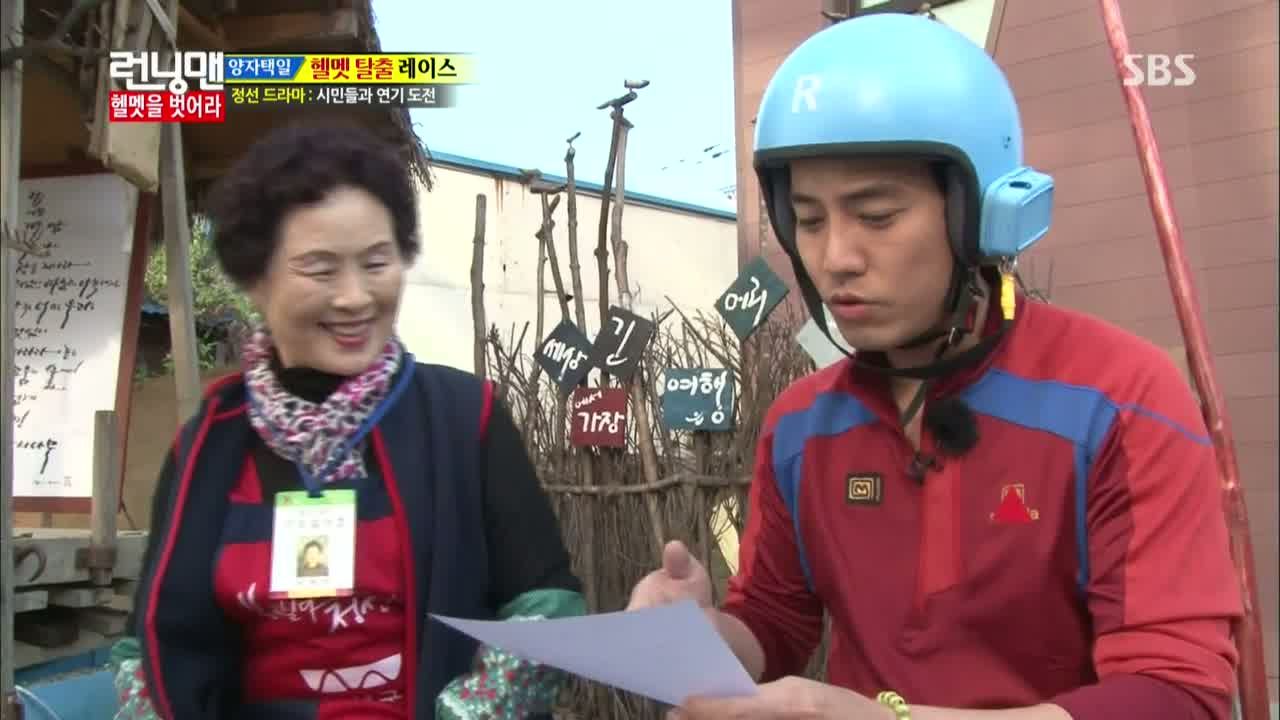 It's off to the market for their third game where they'll have to reenact a scene from Good Doctor with an ajumma partner. Imma say that Sang-wook has a wee bit of an advantage here, but we see him use those precious five minutes of cram time to describe the scene instead. Hee.
Kwang-soo's ajumma partner cracks me up. She sprays him with water before the script calls for it and is all smiley around him, totally into the skinship to the point where the others ask if they're on a date. Aw.
It leads into an impromptu photo-op before they get back to the mission on hand. Sang-wook gets pretty far in, but while he downs the soda, he spits it back up thanks to Haha's interjection.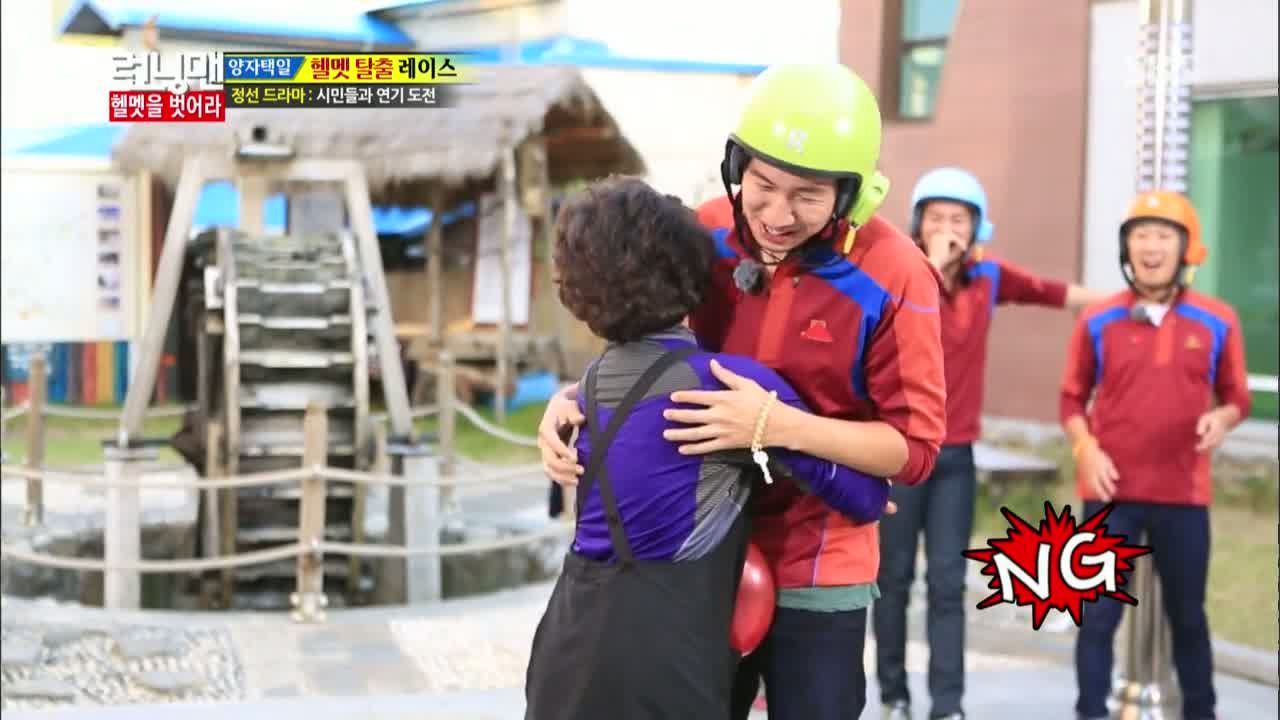 Jae-suk and his partner make it through all the lines, but then they fail at the very last second. Kwang-soo reaches the same point with his partner, lifting her off the ground, and she looks mighty pleased with herself.
She keeps trying after the time limit and then squeezes the balloon again at her waist… placing it right over his family jewels. Hahahaha.
Meanwhile, the other four tackle a race in ajumma gear where they'll have to as many potatoes as they can carry to the other end. Suk-jin immediately tries to distract them by knocking over their baskets. Omg, is Jong-kook stuffing potatoes down the front of his pants? I can't even.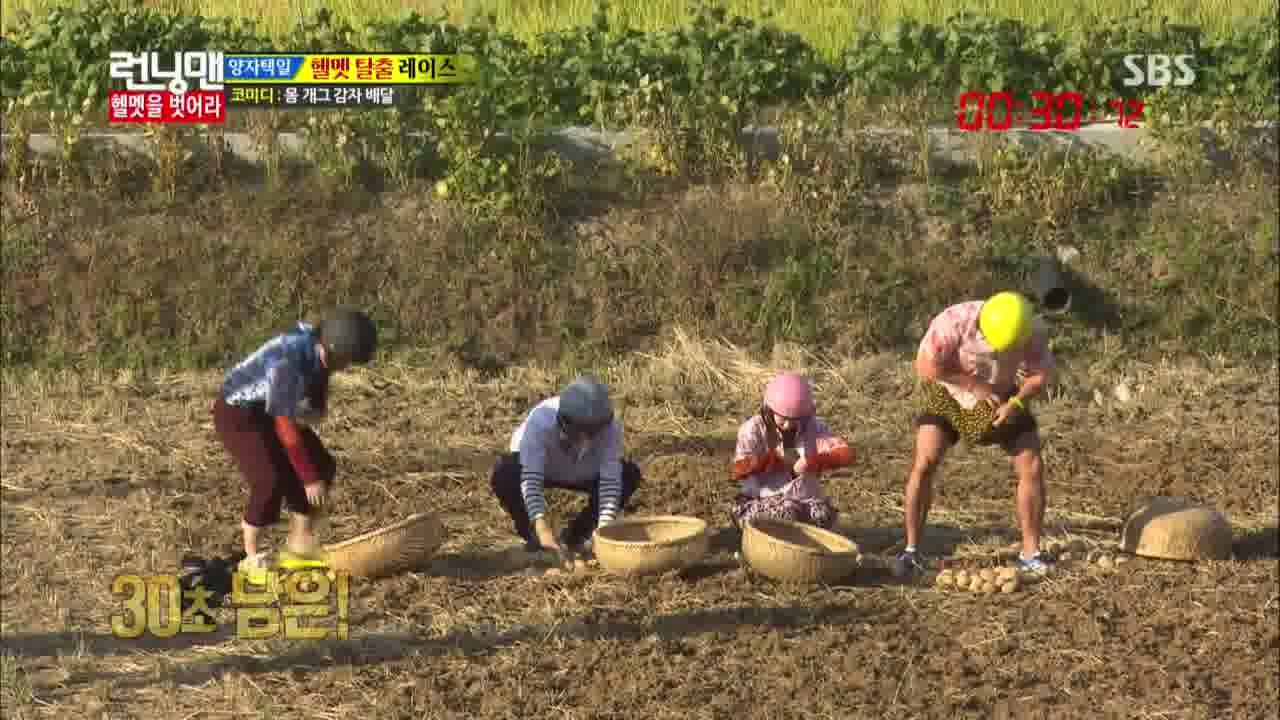 Dong-geun looks like he has an abnormally large leg while the others push and shove each other out of the way. In the end, it's Ji-hyo who has the most left.
After Sang-wook finishes the scene, Myuk PD tells them, "For our next scene…" Puhahaha, that wasn't the only one? So evil, and hey it's Sandglass!
Haha's up first, and I'm actually impressed when he lifts his heavier partner in his arms, but they run out of time. He asks breathlessly how long she's been this big, and she answers, "[Since] my first!" As in, first pregnancy. Oh, Haha.
As expected, Kwang-soo's partner totally gets into the scene, giving him a proper right hook. Then she smacks him with tray, hard, but then still flubs her line. Ajumma, are you hoping to hang out with Kwang-soo a little longer? Heehee.
All of the ajummas are hilarious in their own ways, like how Jae-suk's partner is full of aegyo and softly hits him instead. Kwang-soo: "You should at least hit him as hard as I was hit!"
Haha's a trooper as he squat-lifts his partner for the third time, his voice reaching a higher decibel with every lift. All that hard work pays off as his partner finishes the scene perfectly.
Both Sang-wook and Haha get to choose keys, and when Sang-wook's choice is a dud, Jae-suk answers, "Your plan to stay [with us] is working out!"
Luckily for Haha, he unlocks his helmet and joins Gary, who's been feasting and enjoying the time off. Ha, Gary even curls in for a rare nap.
The others head into the caverns for their fourth mission as they try to crack walnuts using their helmets. It takes a while before they get into a groove, and it's Sang-wook who finishes first.
Sang-wook says that he didn't want to win because all of his choices thus far didn't work out anyway. But fourth time's a charm, and now we get to see his beautiful locks.
He then shamelessly takes a selca, concerned about how he'll look on air. Hahahaha.
Both Jae-suk and Dong-geun manage to free themselves too, and only four remain locked in their helmets.
We're thrown straight into the action as we learn the setup for the nametag ripping mission. The remaining Angry Helmets Seekers will hunt down the others, and no—ripping off the seekers' nametags won't eliminate them.
All the Hiders have to do is disarm the five buttons and escape through the entrance. Easy peasy.
So the Hiders roam the halls to track down the locked boxes, trying key after key, to no avail. Meanwhile, SpartAce and the Easy Brothers couldn't be happier about the nametag rippin' race.
Upstairs, Haha unlocks one of the chests and disarms one button. Only four more to go.
With all Running Man games, there's a twist—the Hiders will be able to eliminate one Seeker per button after pressing the third button, which means three possible Seekers in total.
The Seekers play rock-paper-scissors to determine their order of elimination. And guess who's first to go: Kwang-soo.
They're going to have to get a move on as the speakers announce that the second button has been pressed. At least they have fear on their side as the sound of bells alert their presence.
Ahh, I've missed that sound. Jae-suk and Gary take for cover as Ji-hyo walks down the hall. They get lucky enough to slip into an elevator whereas Sang-wook finds himself in an empty room with Seekers just outside.
Dong-geun holds his breath at the sound of passing bells. To his great relief, Suk-jin walks right past, and he whispers into the camera, "Do the staff wear those on purpose [to scare us]?"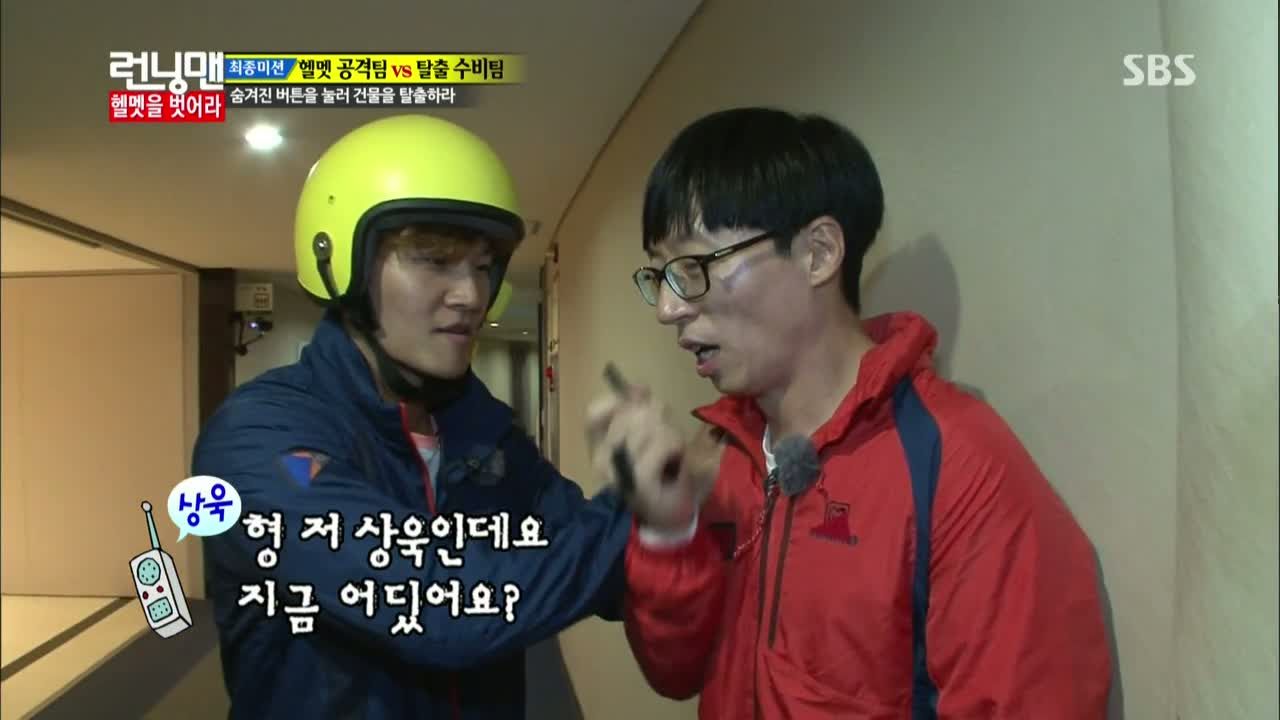 Unfortunately for Jae-suk, he gets found out in the stairwell by none other than Jong-kook, who immediately gives chase. The noise drives the others deeper into their hiding places, and once he pins the grasshopper to the wall, Jong-kook demands to know where the others are.
Jae-suk uses the opportunity to warn his teammates to stay far, far away before getting eliminated. Off on his own, Sang-wook sighs, "It'd be nice to see somebody… anybody."
Dong-geun is noticeably jumpy, but just when he's about to unlock another chest, he picks up a tail and runs far enough to get away.
Gary and Haha stick together when they hear someone approaching. It's Kwang-soo, who walks in the same hotel room they're hiding in.
Kwang-soo opens the closet door to discover Gary inside, but just when he's about to eliminate him, the speakers announce his name. Which means someone pressed the third button and we can thank Sang-wook for that.
As Kwang-soo gets taken away, he informs SpartAce that Gary's in the area (he's hiding in another closet. Will he get lucky twice?) That's when Ji-hyo comes knocking and thoroughly checks the room… and finds him in the closet.
Having heard the ruckus, Suk-jin joins them, and despite seeing each other for the first time all day long, he gladly eliminates Gary.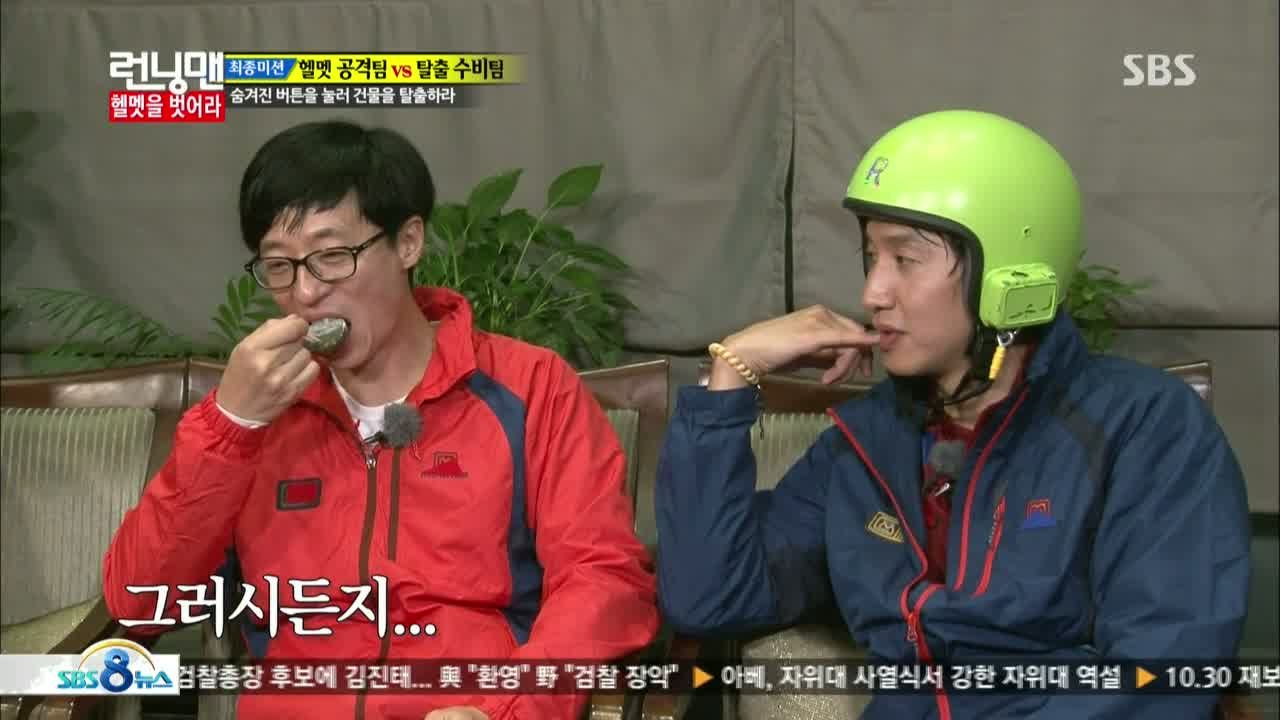 Meanwhile in jail, Kwang-soo swallows hard as he watches Jae-suk eat one of his favorite snacks, unable to have some himself. Eee, he loves mochi ice cream, too!
The remaining three Seekers hurry to find their next box. They breath a sigh of relief when they press the fourth button, which means Ji-hyo's out of the game.
Just as luck would have it, they run into Jong-kook and immediately disperse. Jong-kook takes Haha down easily enough.
Dong-geun finds the last box and when he presses the button, Sang-wook scolds him, "You should have pressed it cooler!" Ha, you would.
Now it's just a matter of escaping through the entrance. Only one of them has to do it, but they run into Jong-kook moments later.
Then Sang-wook distracts him long enough for Dong-geun get a running start with Jong-kook a few steps behind him. Dong-geun keeps running down to the lobby, and then through the entrance for the win.
Everyone gathers together again for the closing, and ha, the Seekers are still wearing their helmets. Jae-suk jokes if they'll have to wear them all night, a remark that spurs Jong-kook's temper.
But then their eyes fall upon today's prize (mmm, meat), and end in high spirits, even if they're completely worn out. Guess who's coming next week: TOP.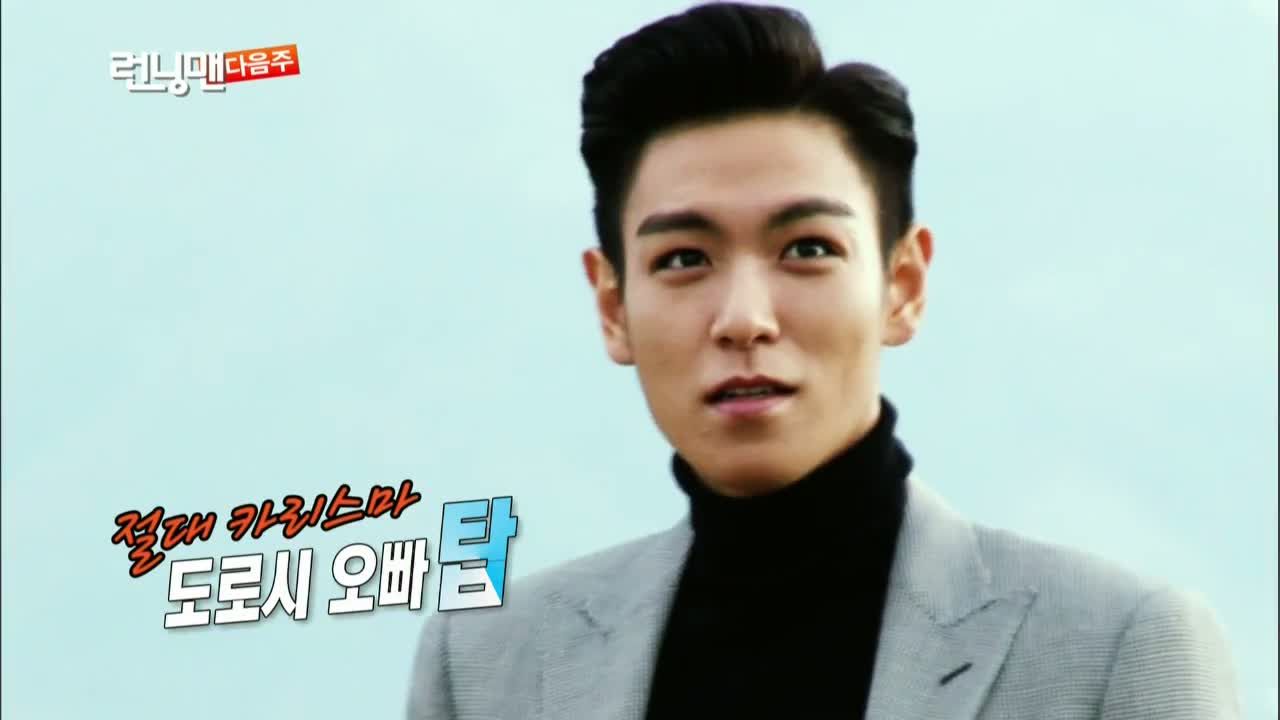 RELATED POSTS
featured
,
Haha
,
Ji Suk-jin
,
Kang Gary
,
Kim Jong-kook
,
Lee Kwang-soo
,
Running Man
,
Song Ji-hyo
,
Yoo Jae-suk