You From Another Star: Episode 2
The second episode solidified my liking for You From Another Star, which is proving to be quite a solid mix of zippy humor, meta commentary on the industry, and quieter character moments, peppered with an intriguing mystery as we learn more about the alien's experiences living on Earth and how they relate to his current lifetime. This isn't exactly a genre show and the sci-fi element is given just a light touch, but there's enough of a concept here to make the genre element just as interesting as the unfolding romance. Which is plenty interesting on its own, I might add.
Ratings, wow. Already You From Another Star is proving to be the main hit of the night, increasing its lead with an 18.3% for Episode 2. Miss Korea also ticked slightly upward with 7.3%, and Pretty Man remained at 3.5%. As our heroine might say, ratings don't matter, except of course when they do.
SONG OF THE DAY
One More Chance – "Luxury Bus" [ Download ]
Audio clip: Adobe Flash Player (version 9 or above) is required to play this audio clip. Download the latest version here. You also need to have JavaScript enabled in your browser.

RECAP: SECOND RECORD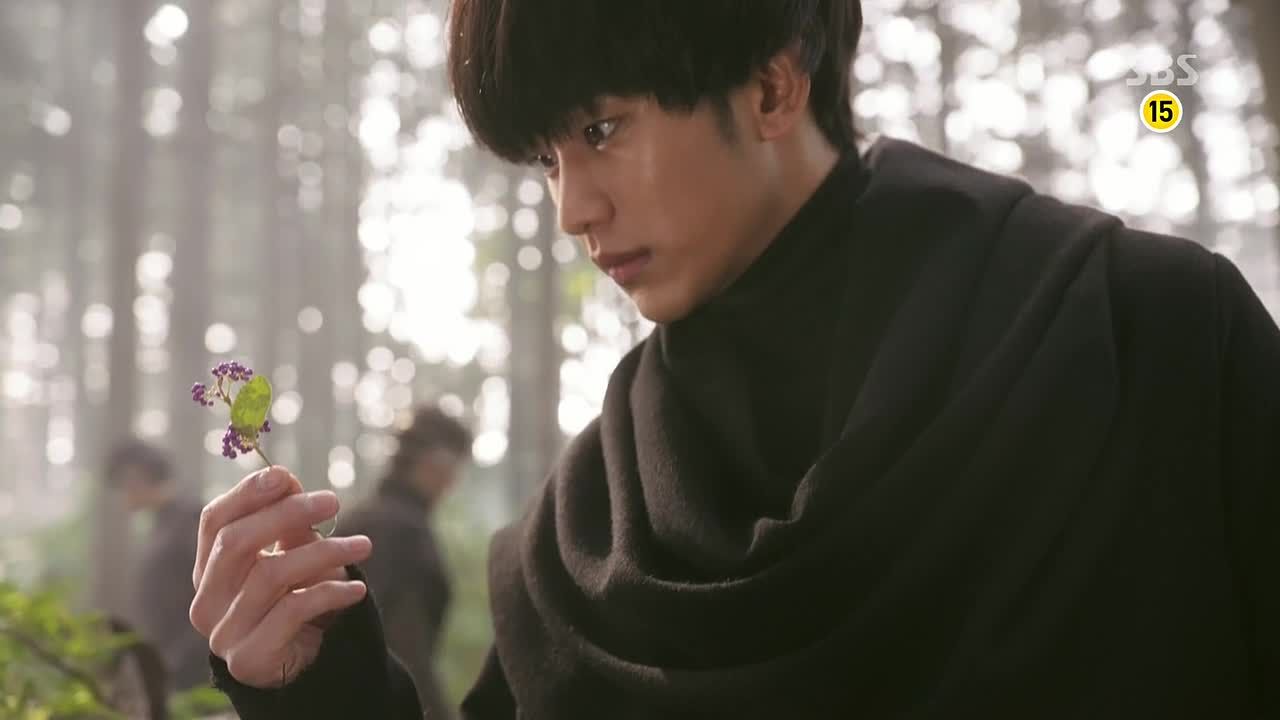 We begin back in the Joseon timeline, when our hero Min-joon is still a recent arrival on Earth. He and fellow aliens—dressed in vaguely futuristic, androgynous black clothing—pluck specimens from the forest and pack them away for study. These aliens are on a research mission, it seems.
All of a sudden, time comes to a standstill in the village; the townspeople freeze mid-activity as a man arrives in the marketplace. It's Min-joon, now dressed like a Joseon aristocrat, taking advantage of the suspended animation to freely observe the goings-on before letting time resume around him.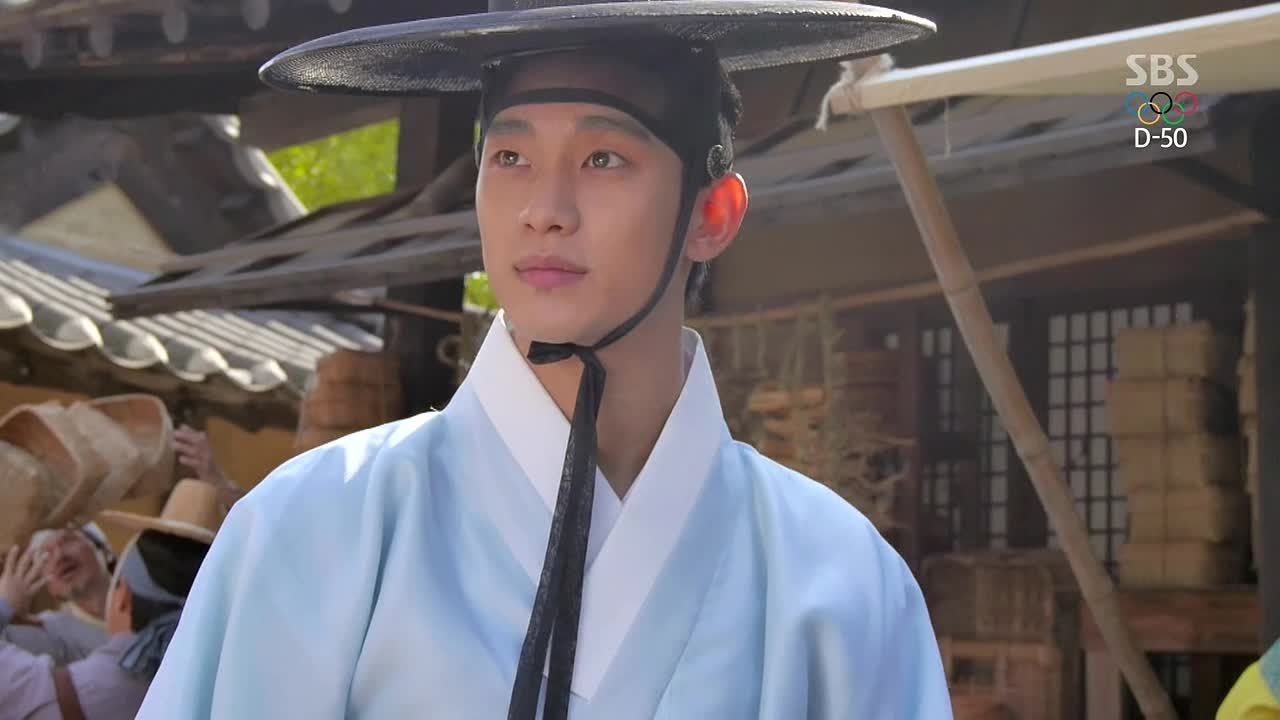 Min-joon sidles up to a table where a con man is scamming people with the ol' ball-and-cups game. Min-joon can see the cheating with his super-keen vision, and uses his telekinetic powers to keep the next round fair. The desperate gambler wins, to the con man's shock.
That night, the young widow (15 years old, we learn) falls asleep over her books. A shadowy figure enters her room and whisks her away, and she awakens in the forest, bound and gagged. She works free of her bonds and slashes her captor in the face before running off, and he grabs his bow and arrows to line her up in his sights…
He shoots the arrow straight at her, but moments before it lands in her back, she disappears. The archer looks around confusedly as the girl finds herself safely at a distance, with Min-joon next to her. Initially alarmed, she recognizes him from the last time he saved her and introduces herself as Seo Yi-hwa.
Suddenly, Min-joon rises into the air, hovering several feet above her. Uh, okay. Maybe he has a reason for revealing himself, but for now he just returns to the ground and hands her a hairpin.
That's the ornament that sits in a museum exhibit in 2013, and Min-joon listens nearby as a guide explains the hairpin's features. Everything in this room, dating from the 1600s, was given to the museum by an anonymous donor.
Now we resume with the scene that ended the previous episode, when Min-joon and Song-yi come face to face at the elevators. It's Song-yi who stops him, not satisfied with the way their classroom conversation ended (in that he got the last word, of course). She takes issue with the way the he talks down to her in banmal, pointing out that she's surely older and that he must've pulled strings to become a professor at his young age.
Min-joon sighs an antiquated phrase to himself, which Song-yi interprets as an insult. He gives her a history lesson that shuts her up while she figures it out, only to land on the same conclusion: "So right now, you didn't insult me in modern terms, but used a Joseon insult?" He leaves and she sputters after him. Again.
That night, Min-joon dreams a premonition that snaps him awake—a woman in glittery heels, a balcony ledge, a fall into water. He talks it over with his buddy Lawyer Jang, who wonders if it's a sign that he should use his powers to help people before he leaves this planet for good.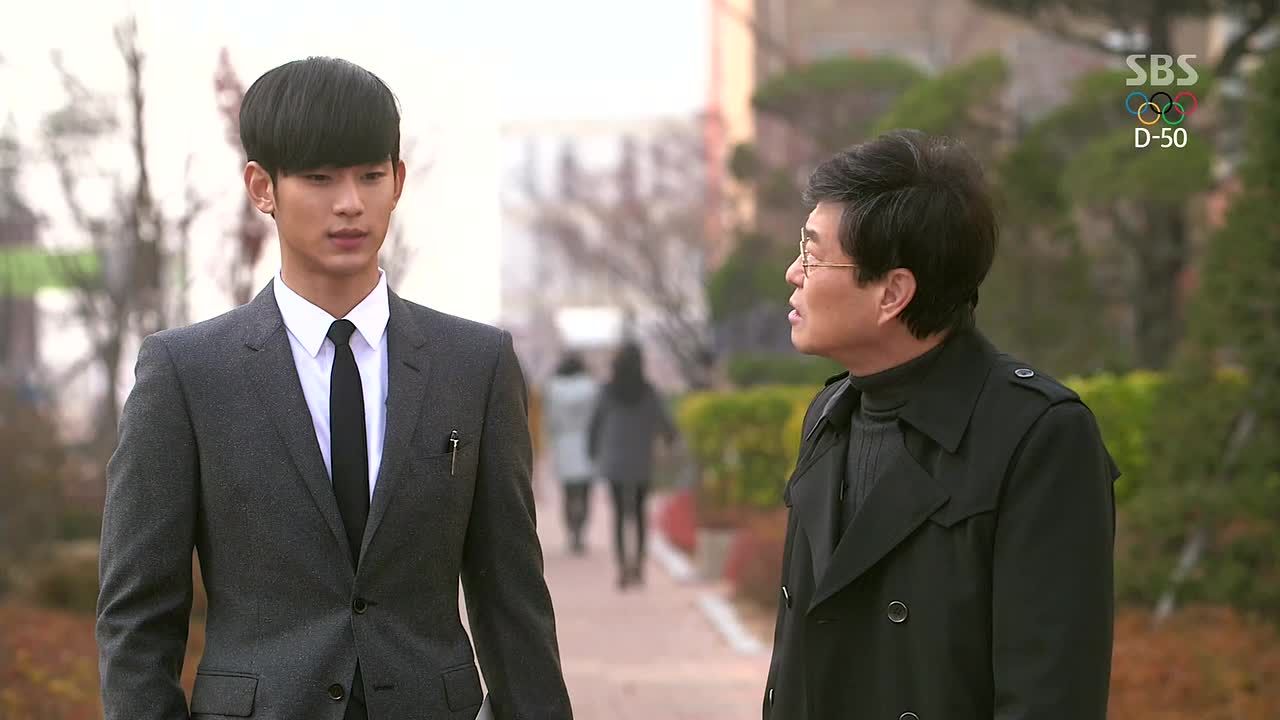 Min-joon disagrees, recounting his experiences where helping people didn't do any good. In Joseon times, we see the gambler from before, now a full-blown addict who tries to sell his daughter for another chance at the ball-and-cups game. The con man shakes his head, saying that he should never have won that first round. Min-joon watches with heavy heart, having learned one important lesson.
He tells Lawyer Jang that nothing changed for the better—what was meant to happen ended up happening—and in fact, the misfortunes came on even stronger.
As part of image rehab, Song-yi's manager suggests she do a documentary-type special that follows her around for 24 hours, to give viewers a closer look at her life. She flatly refuses until her stylist slyly mentions that this means that other starlet, Yura, will get to take the program. She's been waiting for Song-yi to pass on it.
That fires Song-yi up, and she scoffs that Yura is so utterly unspecial that she has no business doing a special, and reminds them: "Remember when I won that Grand Bell Award for Best Actress—what did she win? The popularity award?" Her stylist pipes up, "But for the Blue Dragons you lost and she won Best Actress." HA. It stings because it's true.
In any case, it gets Song-yi to decide to do it. Yura (cameo by Yoo In-young) is peeved to lose the project, which she hears just as Se-mi arrives at the same beauty salon.
Se-mi has already heard the news and deflates a bit to be treated like second string to Song-yi. She's sweet about it, though, and flatters Yura by saying that Song-yi totally considers her a worthy rival—Se-mi doesn't register as a threat, but whenever Song-yi hears about Yura wanting to do something, she makes sure to snap it up.
That's a curious way to tell Yura that Song-yi stole the documentary from her, especially since Se-mi seems so mild-mannered and nice. Is she hiding a killer instinct…? Innnnteresting.
Song-yi heads out to shoot her documentary, having spent hours and hours of effort to look effortlessly perfect. That means a professional makeup artist to make her skin look bare, dressed-down clothing, and a bicycle to depict her as an easygoing, environmentally conscious everygirl. Riiiight.
The interview starts right away as reporters accost her with compliments and questions. Song-yi interviews like a pro, gracefully offering canned answers that are, at least, modest and flattering to her image. Until, of course, she decides to go off-script and adds that in addition to vitamins, a key part of her beauty routine includes regular use of propofol. Omg.
Smiles fade and reporters murmur confusedly, while Song-yi extols its effects and how it "makes me feel like I'm flying." LOL. Her manager mutters that she means Propolis, those vitamins she recently bought, and she wonders airily, "Are they so different?"
The camera crew follows her to campus, and Song-yi explains that she's only a star on set, and in real life she's just an ordinary student. Her manager hurriedly looks up student profiles and feeds her names, so that she can call out to a passing student and promise to eat lunch with him soon, to his everlasting amazement.
In Min-joon's class, Song-yi joins the other students in turning in her paper, earning admiring looks from the producers and the class. Min-joon rifles through her report and calls her out, saying that she must have missed the rules due to her perpetual absence—he doesn't allow plagiarizing.
Song-yi recalls how her manager assured her that the report was so well-done that nobody would ever know she didn't write it, but Min-joon starts rattling off references from all the sources she copied. He gives her a zero, and everyone records her stunned reactions.
News spreads like wildfire, and on his way out of class Min-joon overhears gleeful students posting comments online, making digs at Song-yi's Botoxed, wrinkle-free brain. It makes him think of Song-yi being so hurt by all the hate, and he (telekinetically) sends the girl's phone crashing to the ground.
Song-yi sits in the empty classroom reading all the comments under the video that's already been posted online. She writes one comment to counter all the sniggering ("Chun Song-yi's a person too, can't she make mistakes?") only to have the next commenter retort, "Chun Song-yi, you shouldn't be writing comments here."
Rubbing salt in the wound, Song-yi gets a text confirming large purchases—made by her spendthrift mother, of course. Mom runs into Se-mi's mother at the department store and the two engage in some more passive-aggressive one-upsmanship about Song-yi's documentary. It ends on a sour note for Se-mi's mother, who chafes to hear about chaebol son Hwi-kyung being talked about like Song-yi's future husband—looks like Se-mi and her mother both share the desire to claim him instead.
Hwi-kyung, meanwhile, reads about Song-yi's latest gaffe while sitting in a cubicle at work. Huh, is the chaebol an undercover salaryman? As the rookie, he's expected to do the coffee run, but Hwi-kyung is so clueless about office pecking order that he just cheerfully adds his drink order to their wish list. Then he walks off to take a phone call, ignoring his sunbaes entirely.
The call is from Se-mi, who reminds him of her birthday and asks for a nice dinner. She's so excited when he agrees, and so crushed when he mentions inviting Song-yi too (calling Se-mi "best friend"). But she advises leaving Song-yi alone to recover from her latest kerfuffle, and makes plans to meet Hwi-kyung later.
The owner of a manhwa shop surfs the internet and sees Song-yi in the headlines again, clucking over the netizens' comments. So she rolls up her sleeves and jumps into the fray, identifying herself as an old schoolmate of Song-yi's and clarifying a misconception: Song-yi isn't rude because she's famous… she was always rude by nature, ha.
The woman chuckles to herself but gulps when Song-yi shows up right in front of her. I guess they're kind of friendly, in a frenemy sort of way; Song-yi gets her own VIP room and talks to the woman (named Bok-ja) familiarly over soju.
Song-yi says her mood has nothing to do with failing her paper; she just can't understand why people are so nice to her face but hate her so much behind her back. She mutters to herself, "That bastard."
Speaking of whom, Min-joon plays mahjong with Lawyer Jang in a parlor full of old men, astounding them all when he kicks everyone's butts. One old man hobbles up to the table to ask if he's Kim Woo-san, and a flashback to an earlier version of Min-joon shows us that yes, he once was. They pass him off as that man's grandson (Lawyer Jang says he's his father, hehe), and they all chuckle fondly… until that old codger boasts that Gramps always lost to him.
Min-joon politely says he must be mistaken (I love how much Lawyer Jang enjoys this), but Old Fogey sticks to his claim. So Min-joon has to swallow his pride, and leaves the place complaining to Lawyer Jang.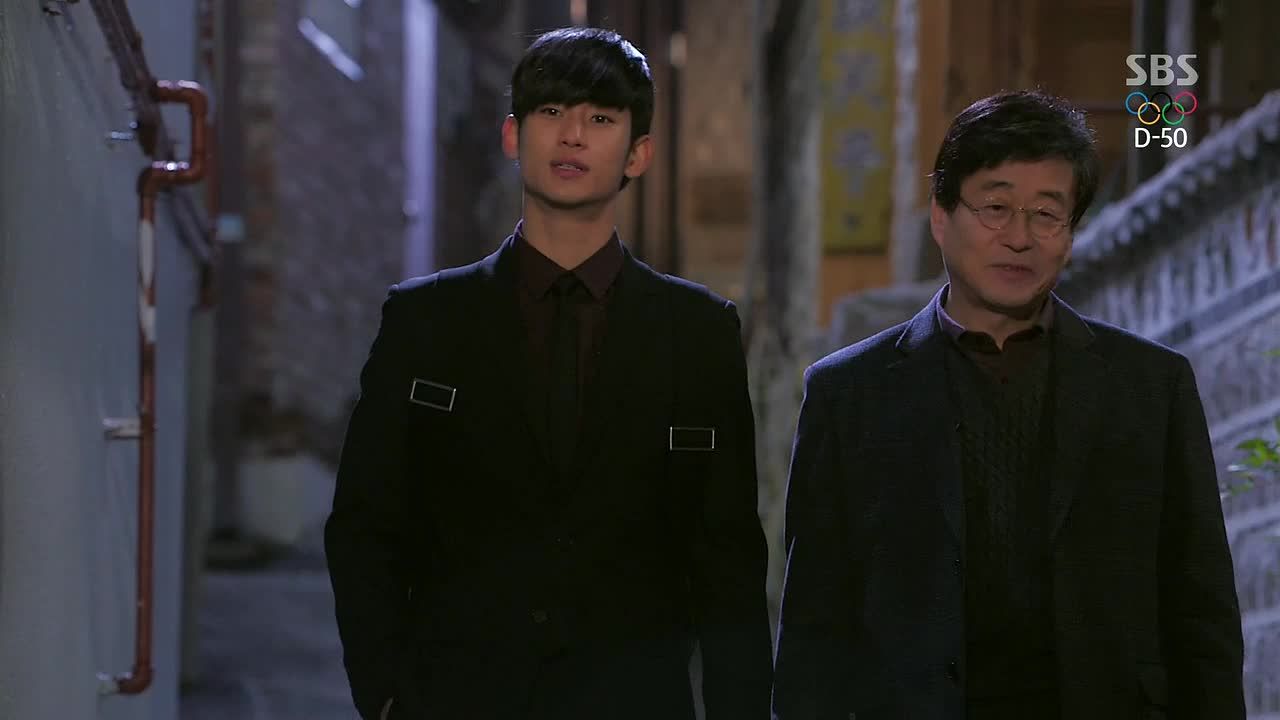 Lawyer Jang informs Min-joon that he's been looking for that girl from twelve years ago, starting from school records from that neighborhood. Aw, he's a good friend. Min-joon says he doesn't have to go to such lengths, saying that while he's curious to know about her, "If we were meant to meet, wouldn't that happen?" If he never sees her again, he figures that they weren't meant to: "This is something I have learned from living here."
Min-joon sits back to relax at home, a task made difficult by his sharp hearing that lets in all the traffic and city noises from outside. He blocks it out with some music, and curiously, we get a shot of a plant springing to life at that. Hm.
Through the music, he hears the muffled sounds of Song-yi walking to her door and talking drunkenly to her locked door, which won't let her in. Ah, make that his locked door, as she has come to the wrong door. She resorts to incantations of "Open Sesame," which succeed in opening the door… inasmuch as Min-joon gets tired of hearing her yelling into his pinpad and opens it for her.
She slurs in his face that he must've enjoyed humiliating her today, flings his Joseon swear back at him (backwards), and barges into his apartment thinking it's hers. She makes herself at home on his couch, and oh my, is Min-joon stirred at the sight of her bared skin? He covers her up with her scarf, then answers her phone—which raises the hackles of her concerned caller, Hwi-kyung.
Hwi-kyung has had no luck calling Song-yi all day and races over to hear that she's fallen asleep at her neighbor's place. (Poor Se-mi, who eagerly prepares for her date, not knowing he's changed his plans.)
Hwi-kyung arrives in a huff and warns that Min-joon had better not have laid a finger on her, demanding to see his phone to make sure there are no photos on it. After all, how is he supposed to just trust that Min-joon did nothing to take advantage of the nation's hottest star?
But Min-joon turns those words around on him—how is he to believe that Hwi-kyung is trustworthy? Hwi-kyung calls himself the boyfriend and collects Song-yi to take her home, leaving behind her wallet. He can hear them talking next door, though he tries to ignore it with a broody shower.
Song-yi falls asleep right away, and Hwi-kyung leans over to kiss her. She's awake to warn him against it, though, and Min-joon smiles to himself as he hears Hwi-kyung getting scolded for the impertinence.
By the time Hwi-kyung remembers his supposed date, Se-mi's been waiting for two hours. Poor thing, she tells him that her shoots ran long anyway, all while crying to herself.
So Hwi-kyung goes home to his chaebol mansion, arriving just as his older brother Jae-kyung does. Where Hwi-kyung is the careless, happy-go-lucky youngest son, Jae-kyung is the more responsible middle son, who gave up his personal dreams to work for the family business.
Hyung acts the part of caring older brother, but there's something sinister in his demeanor. Sure enough, he takes a call from a desperate woman begging for him to let her go, appealing to his better nature. He just smiles chillingly and says that he's not so terrible—he has wanted to kill a lot of people in his life, but saved more of them than actually killed. Eep, so he's only kind of a murderer then?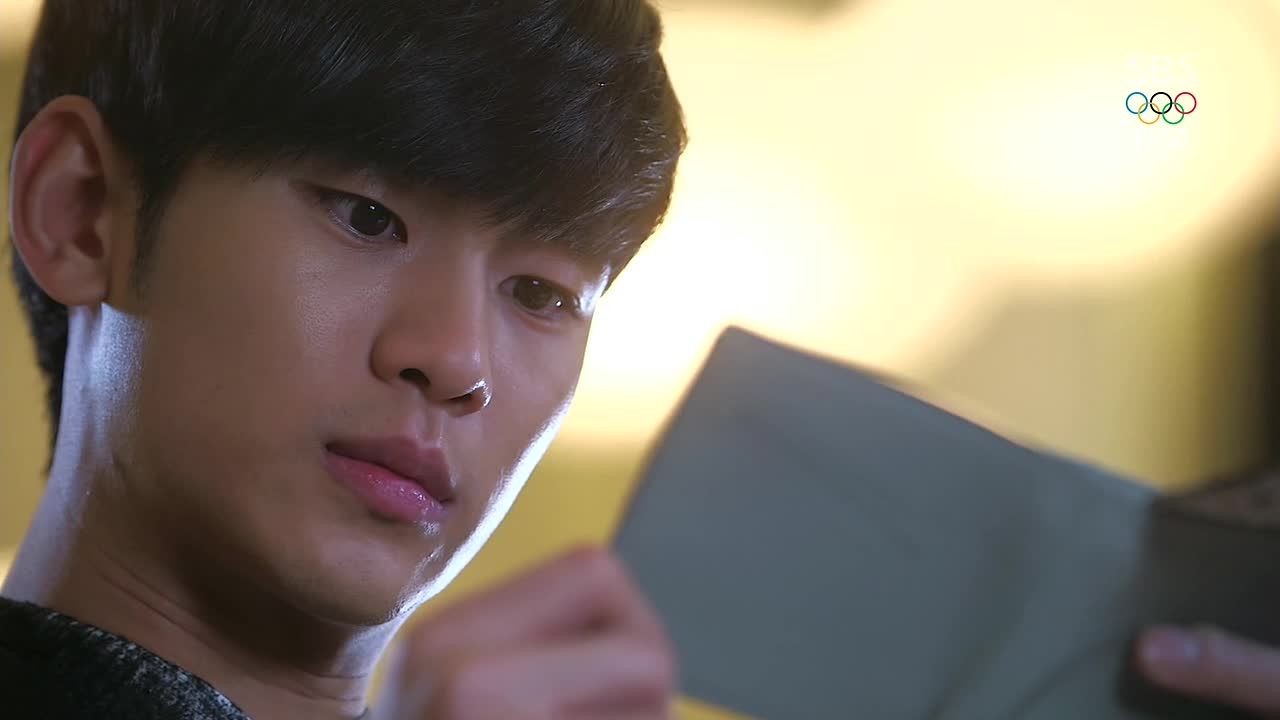 The next morning, Min-joon sees the wallet Song-yi left behind… and notices the family photo in the front pocket. It's of Song-yi back in her teenage years, looking just like another familiar face.
Min-joon heads out immediately and runs into Song-yi's manager, demanding to know where she is. He gets in his car and zooms off to find her.
Song-yi prepares for shoots at a salon, wearing a familiar-looking pair of glittery heels. She's still a bit hungover and lurches for the bathroom to vomit, and that's where she runs into a peevish Yura. She orders Song-yi to find a new salon, pulling the sunbae card. Song-yi isn't one to cave easily and sets Yura straight: Yura's older, but Song-yi's the sunbae, having debuted years ahead of her.
Yura accuses her of stealing her documentary because of an inferiority complex, and Song-yi says that to have a complex, she'd have to actually feel inferior: "What I feel regarding you is superior." Yura snaps that these days people only watch Song-yi's dramas to curse her, but Song-yi doesn't let that ruffle her one bit, saying that it means people have nothing better to do than talk about her. It's better than doing 4% dramas that nobody knows about—a clear dig at Yura, ouch.
Yura feels stung, but argues that ratings aren't everything, and that everybody praised her drama for being high quality. Song-yi nods in faux sympathy, saying that it's too bad the production company president was ruined over it. She adds the warning that she knows Yura's going around spreading baseless rumors about her to the press—she'd better watch it, because Song-yi knows she has grounds to sue.
It strikes a nerve, so much so that Yura can't contain herself and follows Song-yi out, throwing hair supplies at her back. Yura brings up rumors of Song-yi seducing the chaebol son, which Song-yi readily admits is true, if backward—he's the one chasing her.
But Yura counters that Song-yi's mother is the one going around selling out her connection to that chaebol group. She warns Song-yi not to count her chickens and give up gracefully. Song-yi fires back that she has no intention of mooching off other's wealth—unlike somebody—since she's fully capable of earning her own keep.
Yura is pushed to the breaking point and raises a hand to deliver a mighty slap… which gets intercepted by Min-joon, who appears almost out of nowhere. Yura screams at him to get lost because she has unfinished business with the bitch, at which point Min-joon points his brainwaves at the lights, which explode simultaneously.
He grabs Song-yi and pulls her outside, staring at her so intently that she just stands there confused, wondering what he's all about. She chatters on about yesterday, calling it a simple mistake, and then he shoves her wallet photo in her face and asks who the girl is. He's so beside himself that he practically yells the demand at her, and she snatches her wallet back.
He pushes her to the wall and stares into her eyes, asking, "Who… are you?"
Min-joon's voiceover reminds us, "Whether we want it or not, what is meant to happen will happen. Earthlings call that Fate."
EPILOGUE
(In yesterday's episode, I'd assumed the army epilogue was a preview and hadn't recapped it, but it looks like these epilogues will be a fun tag to the end of the show.)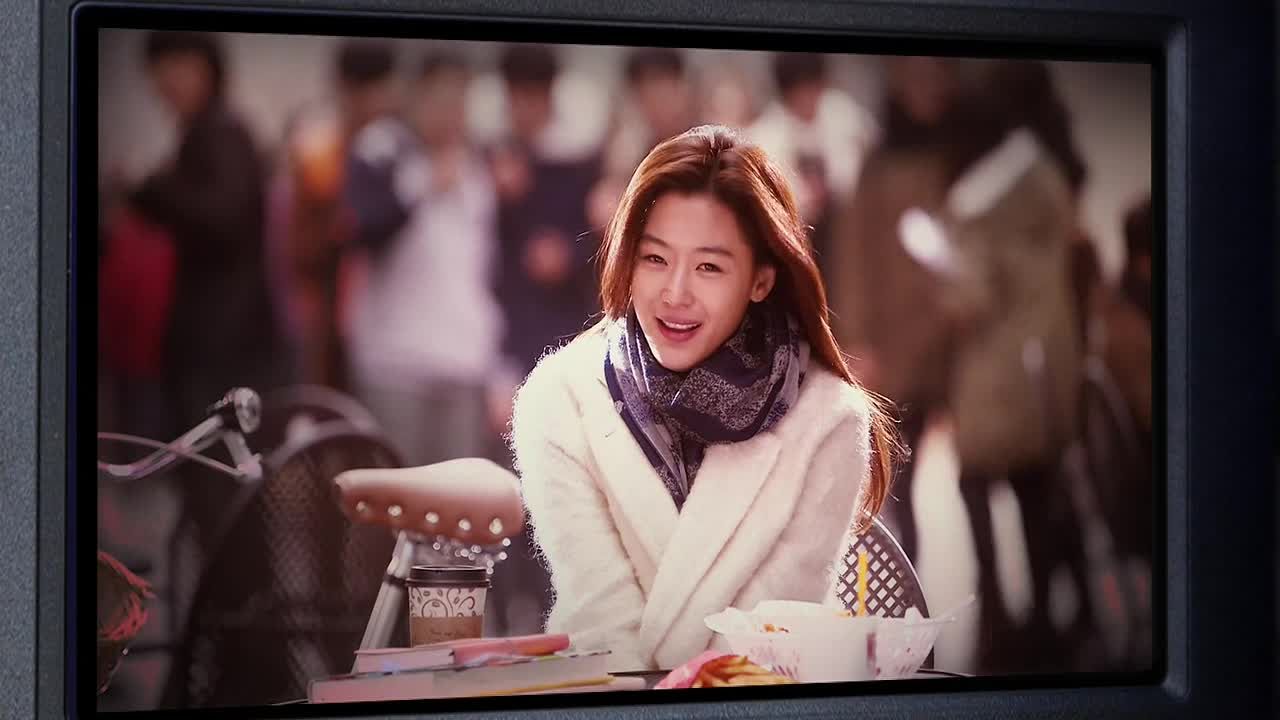 In an interview, Song-yi is asked about her first love. She says that she can't quite call anybody a first love, but there was an incident in her youth when she was saved from an accident by a tall, good-looking man, though she doesn't recall his face exactly.
In Min-joon's ongoing interview, he's asked about his preference in women. He answers that there are types he dislikes: drunk women, haughty women, ignorant women. "I do know one woman who has all those characteristics. She's the worst."
Song-yi remembers, "He was the best. It was just for a short moment, but he was extremely mysterious and tender. I still remember it well. I'm not sure if that ajusshi would remember me, but I think if I met him again, I would recognize him right away. Like fate."
And as she wraps the shoot, Song-yi sees Min-joon riding by on his bike and sneers in annoyance.

COMMENTS
I just love this heroine. I'm enjoying the plot itself and the other characters, but Song-yi really makes the thing pop, and Jeon Ji-hyun is playing her with a wonderful mix of bravado and vulnerability. The world hardly gets to see her crumble, but we see every moment of that in glaring close-up detail, and it pings my heart. It's one thing to watch a heroine being trampled and suffering, but what draws me to Song-yi so much is the way she absolutely stands up for herself and gives as good as she gets, only allowing her weaknesses to show to herself.
It's worth noting that Song-yi's not overly aggressive or bitchy, which I appreciate; she doesn't make the first hit or act out of malevolence. She just has this ability to take care of herself that makes her easy to root for—you know when you're in an embarrassing situation and come up with the perfect zinger, only three hours too late? She comes up with it on the spot, and I get vicarious thrills from the way she takes down her detractors.
But then she'll also embarrass herself with a stupid comment, which sort of keeps her ego in check. Kind of? I mean, she's got a healthy size ego as it is, though you could argue that she's vulnerable with regard to the things that actually matter—her family, her feelings, her heart of hearts.
Se-mi's another interesting character, in that I can't quite make her out. She's so sweet and meek on the outside, and I don't think she's out to backstab Song-yi… but I do also wonder how much more she can stand to be shunted to the side before something snaps. There's a distinct Eve Harrington quality in the way she outed Song-yi to Yura, and something tells me she could be swayed toward the dark side, given the right push.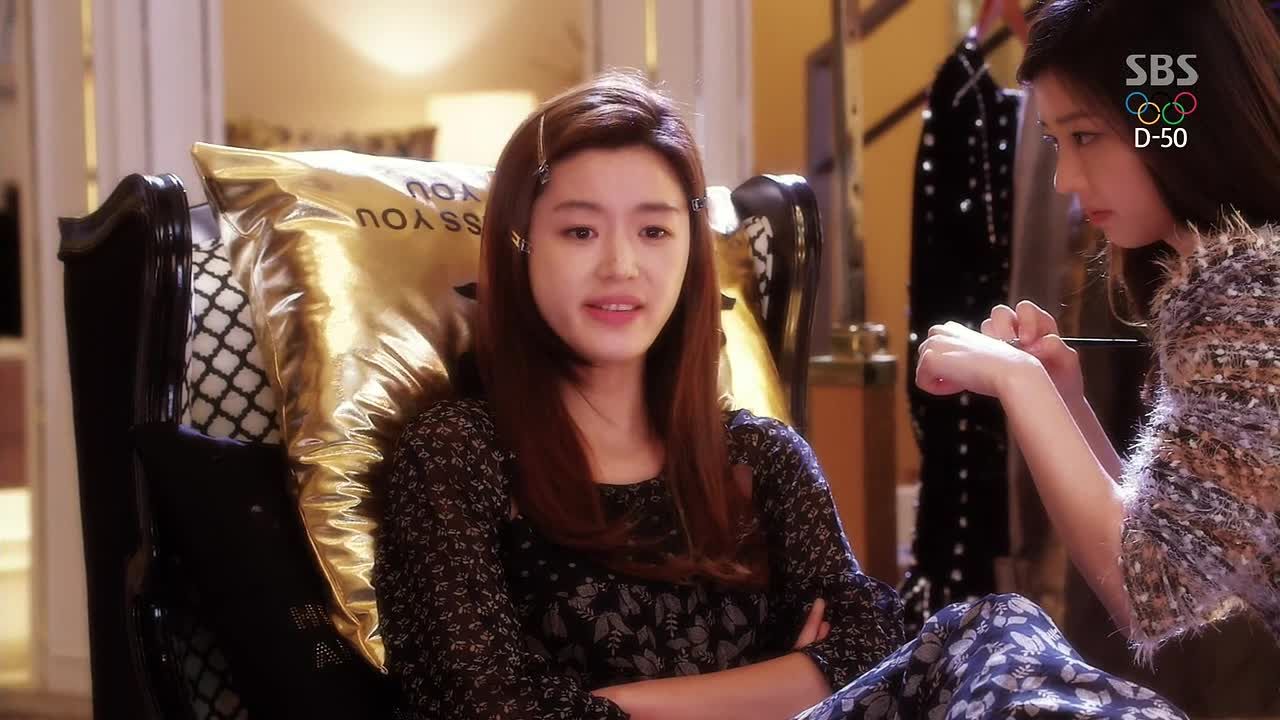 I find our alien man interesting too, though his character is a taking a little longer to emerge. Which is totally fine, as he makes up a large part of the genre mystery and part of the fun is in trying to figure out his deal—how did he make it through so many lifetimes without human connection or affection? What happened with that Joseon girl Yi-hwa? Why did he reveal his nature (to an extent) with her, and when did he decide to stop doing that? Why does he feel such a connection to the young Song-yi, and I mean beyond the fact that she looks just like Yi-hwa—she's the only one he's having premonitions about, so there's a greater reason for their bond, right?
Furthermore, is Fate an actual thing, and will the show attempt to personify it in a way that goes beyond the standard drama treatment of "Things just happen so accept it"? I'm not the greatest fan of Fate plots, but I do think there's a cultural element for their prevalence in Korean stories that I have to respect, even as I can't jump for joy every time Fate makes an appearance. And if we must have it play a part, I'd love for it to be an active part, or at least more active than people always chalking things up to the mysterious It. (Nine, for instance, did this pretty well by making Time a Fate-like entity.)
Last but not least, are we dealing with something more than pure physical attraction between the two? We've had sparks on both ends, and it makes me wonder if there's something more than that man-woman awareness between them (well, alien-woman). Not that I would mind in the least if it were all lust, of course. Lust away, folks!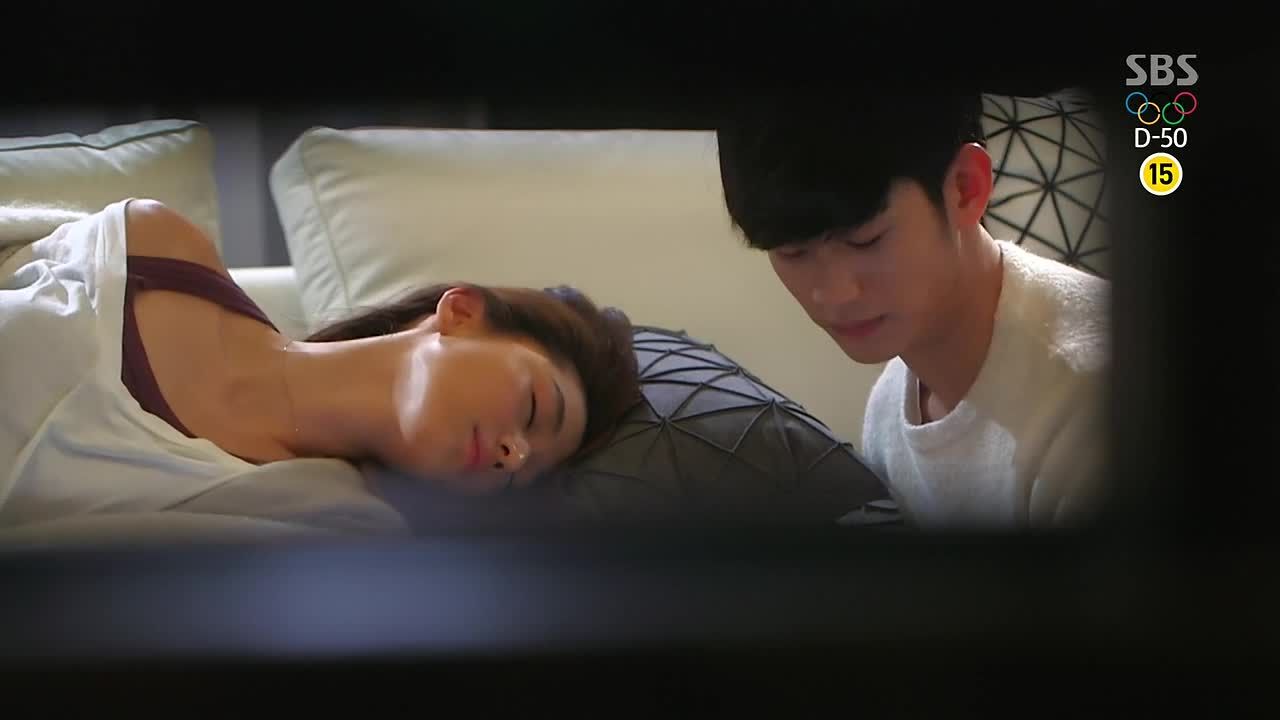 RELATED POSTS
Tags: featured, Jeon Ji-hyun, Kim Soo-hyun, You From Another Star