Name That Drama: Magic beans, boxers, and reincarnation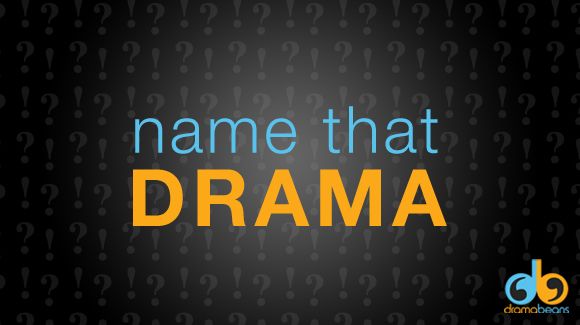 Time for more guessing! As always, feel free to email us your requests for future Name That Dramas by using the contact form.
Dru asks about a recent fantasy sageuk. I know you know this, people!


I know this drama is fairly recent, going by the look of the cinematography (definitely post-2007, at least). It's a sageuk, and its heroine was really beautiful (I know, that doesn't narrow down anything!) but her hanbok was half in tatters, and she was running away from these men in black who turned into smoke — I think she had magical abilities or something? She threw powder or beans or something to make them go away, and when she meets the hero for the first time, she starts taking off her clothes in front of him and seems to think she's invisible, only he can actually see her. (Invisibility spell fail?)

And there's a scene where the hero is tied up in a bed and wearing clothes that aren't the same as the ones he passed out in, and the heroine comes to visit him and she's hanging upside down. I can't remember more than this, only it looked really interesting and the main pair looked really gorgeous together so I badly need to know what this is — please help!

Loolu has a movie to track down:


I'm wondering if anyone can figure out what this movie is. My parents borrowed it from the DVD store years ago and I don't remember the title. As far as I know, it was my very first Korean movie. This is all I remember.

There's some sort of father-daughter relationship. I remember a scene where the daughter was massaging her dad.
The Dad was a boxer. I believe the whole movie had everything to do with boxing.
I remember at the end of the movie the daughter gave the father a ring to give to this lady.

That's all I remember… I hope someone can help. 🙂

There are enough details that somebody's gotta know which drama (or movie) Swe is talking about…


I was wondering if you can help me with this Korean drama or movie that my mom saw many many years ago but does not remember the name. She kept explaining it to me but I tried searching all over the internet and found nothing.

Plot line: It's about two girls who are from the countryside, one girl moves to the city and starts designing/making purses. The other girl then comes to the city and gets jealous over what she had accomplished and steals her idea.

Character: All my mom remembers was that the second male lead always wore a big silver necklace around his neck.

Ending: The main lead guy chased the main lead girl with his car while she was riding the train back to the village/countryside. They finally met up and the drama ended on a happy note.

That is all she remembers. 🙁

I'll be honest, rham's drama/movie sounds one part typical Korean fate story, one part WTF. Not that those are mutually exclusive things!


I want a favor from beanies about one K-movie (I believe) that I watched years ago when it aired on local TV. There are some points that I remember perfectly until now:

The movie is a story of a teacher who lost his girlfriend and he could not forget her even after he got married with another woman.
The truth is that the girlfriend had a tragic road accident when they were supposed to meet in train station. He waited in the station but did not know the truth why she missed the meeting.
In their happy days, if they tried to experience intimate scenes, he hiccuped as could not hide his nervousness.
One of his male students reminded him of his girlfriend from the way he moved his pinky and a lighter he had.
In a school athletic contest, he was paired with him and start to hiccup again as if he believed he was the re-incarnation of his girlfriend.
His student also started to believe that it is true about the reincarnation, and then they took a trip together. In the bus, his student leaned his head to the teacher. The scene moved to them standing on the side of a bridge, they jumped together, ended their journey and wished to be united in the next life.

Can you figure out what link is talking about from this one scene?


I watched this drama back in the early 2000s but it had that oldies feel to it. All I remember of the drama was this girl who was sad and crying (maybe she was betrayed by someone?) while walking to the ocean. The next scene was her being roped to a chair in the sea and the waves crashing towards her. There was some evil lady involved, I'm sure. And a regretful man of some sort. Not sure if it's Korean though. My vague memory escapes me!

RELATED POSTS
Tags: Name That Drama