Running Man: Episode 179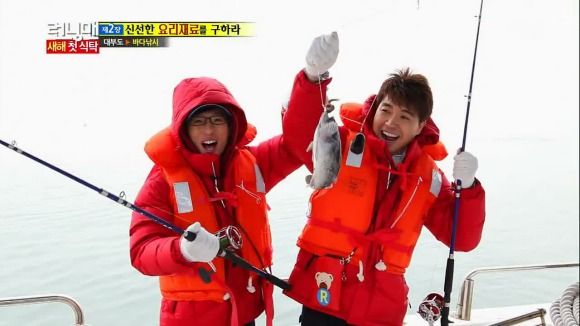 What better way to kick off 2014 than a cooking battle that requires our cast to travel by land and by sea to find the perfect ingredients to whip up their favorite dishes. This episode is the first half of the culinary special, but never you fear—our cast interactions (with their well-matched pairings) keeps the jokes and hilarity coming.
EPISODE 179. Broadcast on January 5, 2014.
We start off the new year with a cooking battle as Gary tells us in an post-interview snippet that in retrospect, all he really remembers is the taste of love. But while that may sound sweet and rosy, the previews suggest a highly intense and cutthroat culinary showdown. Someone's dish gets criticized as "completely ruined"? Ouch.
14 Hours Earlier. Our cast starts their morning from various locations all across Korea. Ji-hyo introduces us to her hometown Pohang, a city in southeastern Korea right by the ocean, regaling us with her childhood experiences of shucking clams and catching crabs. Aw, that sounds so fun and also, delicious.
Anyhow, their morning mission is to find their partner, which basically means find-the-guest. Lonely Haha brightens at that while Kwang-soo wonders if it's a couple race today.
Ha, the Monday Couple asks if they're paired together today, and Gary lifts up the women's jacket as a clue. But alas, his mysterious partner sneaks a peek from behind her fan.
They each set off in search and Jae-suk groans at the sight of his teammate and guest, MC Park Soo-hong, who answers, "Shouldn't you be surprised to see me?"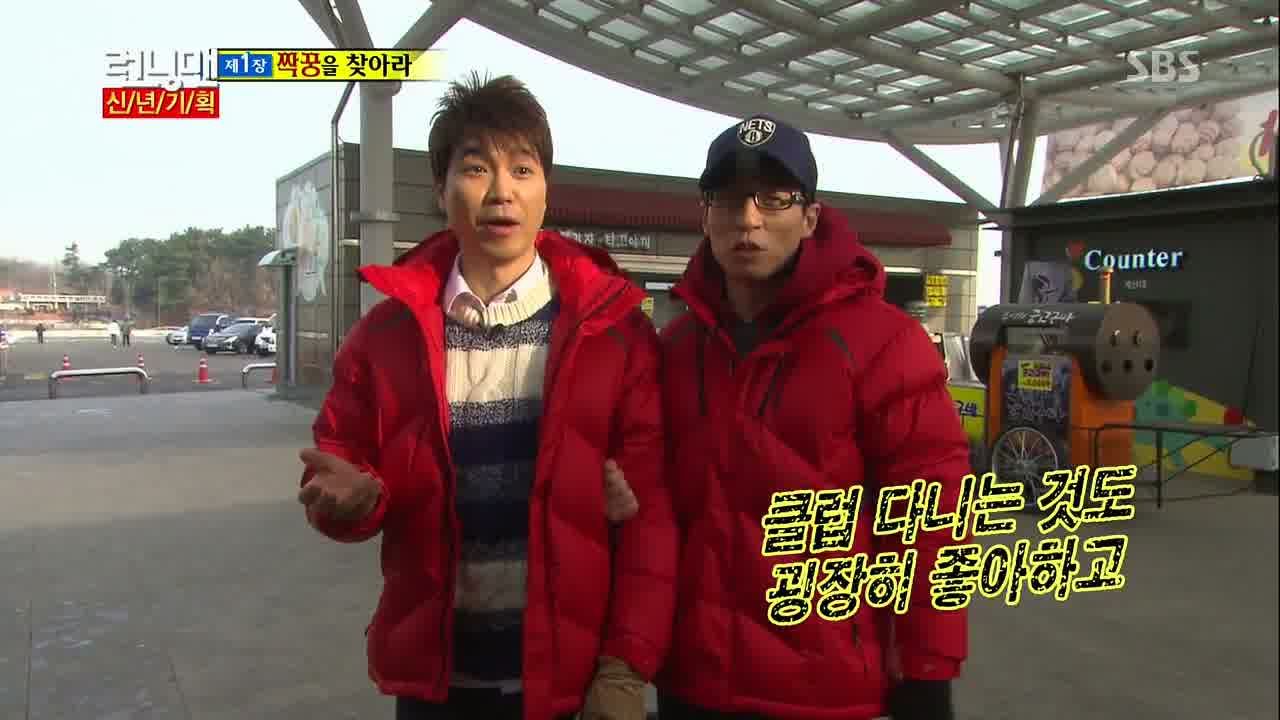 All I can say about our talkative guest is that I've seen his face on TV for as long as I can remember and nearly forgotten about his cheery personality. It cracks me up how shameless he is about his celebrity status, asking the store owner if she wants a photo. Jae-suk: "She doesn't want to take one with you!"
Thankfully Jae-suk gives us a proper introduction about our guest from his still-single status to how they debuted together. Why do I get the sense that Jae-suk's trying to marry off his hyung? Well, I suppose the mass audience of RM viewers gives you a pretty good platform.
What I love most about this sequence is Soo-hong's utterly flustered expression ("You should interact WITH your guest!") as Jae-suk keeps going about his hyung's clubbing activities, until he finally bursts, annoyed: "What's with him?"
How cute—Ji-hyo greets our next guest, Lee Dong-wook with a big hug. Ahh, it's a Mandate of Heaven reunion!! All I can think of as they playfully bicker with each other is: Where was all this adorable chemistry during the drama?
We briefly meet rock singer Kim Kyung-ho, who's paired with Suk-jin before cutting away to Kwang-soo's reunion with John Park. Helloo Babo Brothers!
Onto our idol guests as Gary blushes to meet Rainbow's Jae-kyung, and Haha warmly embraces INFINITE's Sunggyu, who's apparently from Jeonju… only that nobody in the crowd knows it. Ha, and aw.
Meanwhile Jong-kook stumbles through the salon and awkwardly introduces and re-introduces himself to the only person in sight. Lucky for him, model Song Kyung-ah is one of today's guests and he oh-so-casually steps away from her tall height.
Each team is informed of today's cooking battle to whip up their favorite foods. Both Haha and Sunggyu appear confident whereas both John and Kwang-soo admit that neither of them knows how to cook.
But that doesn't prevent John from chirping his favorite dish: naengmyun (cold buckwheat noodles). Ha.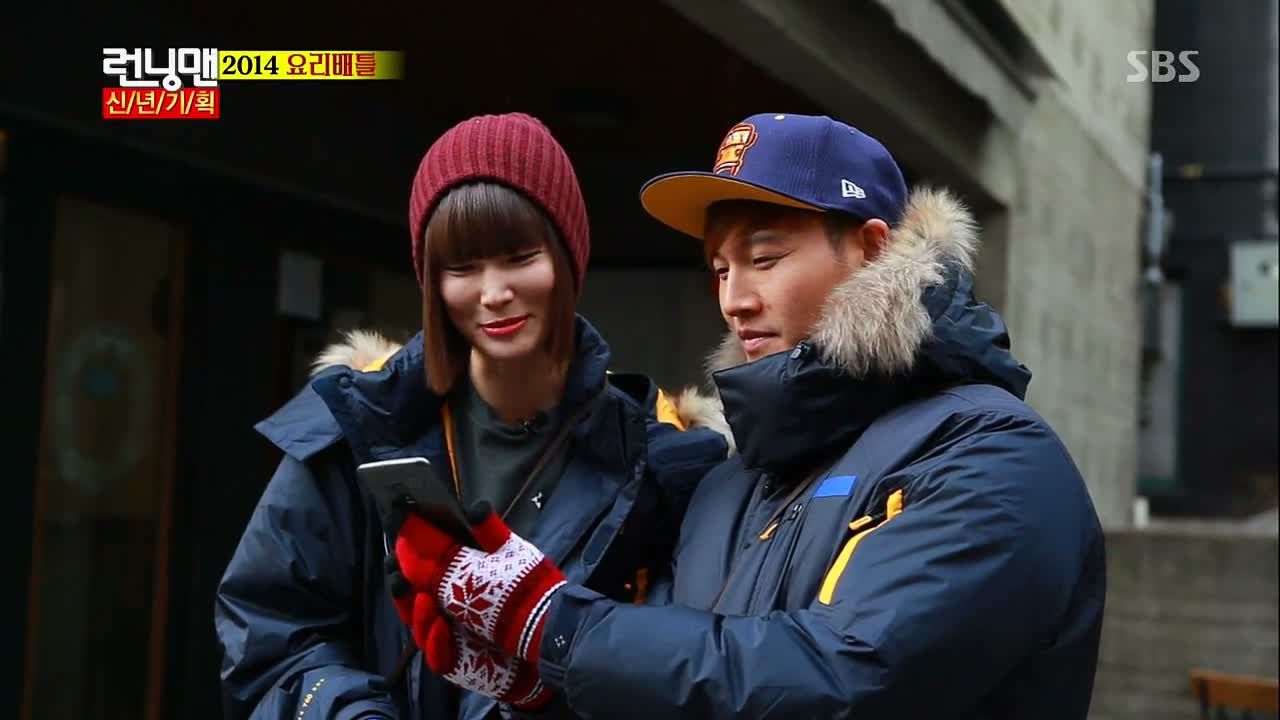 I'm thinking that health fanatic Jong-kook is well-matched with equally health-conscious Kyung-ah, and Jae-kyung brightly says her mother's a cook (adding that she cooks herself). With two solid gold horses on the line, they better bring out the big guns.
Soo-hong finally get a chance to speak, but when he says that his fortune for 2014 looks bright, Jae-suk points out that this filming takes place in 2014. Soo-hong totally runs with it: "Ah, that's why I can't talk today."
I'm not surprised that Soo-hong's longtime bachelor life equates to being a decent cook. Jae-suk boasts for Soo-hong about his professional cook certificate in Korean cuisine, which is pretty cool. Jae-suk: "Is there anything else?" Soo-hong: "No."
I already love these two, and the captions warn us that we're in for a big twist with them. They set out to get some breakfast before shopping for their main ingredient (fish), and Soo-hong says he's afraid he won't be able to digest his food because of Jae-suk.
He wonders if Jae-suk always spoke this fast, and Jae-suk says they have to because seven teams don't allow for much screentime: "There's a minute for us for every seven minutes, and ten minutes in seventy minutes!"
At least each team's main ingredients are centered around their food preferences as Jong-kook and Kyung-ah head out to find an expert in chickens. Kwang-soo suggests to John that they mix all three broths from each noodle dish together, which, ew.
I remember John talking about his love for all things naengmyun from a Happy Together appearance (he was even able to differentiate the restaurant the same kind of noodles were from. Crazy!), so he sounds pretty legit about the important factors of the dish. Yes, yes, but can you make it is the question.
John suggests Kwang-soo to be his sous-chef, and after Kwang-soo learns what that means, he pulls the age hierarchy card. They agree to both be chefs.
Ji-hyo runs into one of her cousin unnis on the way to the fish market. They're just in time for the morning auction and get in on the action themselves. Ha, Ji-hyo mistakenly ends up buying the lot of crab (800 in total) but thankfully their fellow auctioneers help them out.
Kyung-ho and Suk-jin sing in the car and then gear up to get their hands dirty to dig up oysters. Why, you ask? PD: "Because it's fresher this way."
The rocker is surprisingly adorable with his country accent and methodical approach to the task, but I love that he's gungho about "ruining" his rocker image for variety.
Catching the freshest fish requires Jae-suk and Soo-hong to catch one themselves. They go for another round of bickering (Soo-hong: "What show makes you drink seasickness medicine?" Jae-suk: "Why did you come on [this show] then?") before climbing aboard.
Soo-hong gives this self-assured explanation about how the ocean temperature is always one season behind, to which Jae-suk counters that he fell into the Han River last week and it was FREEZING.
He ends up getting confused in his own convoluted explanation that the VJ actually turns away to film the ocean instead. Hahaha.
Gary and Jae-kyung meet their food expert of the day in Namjoo, famous for its pears and Hanwoo beef. This historic hideaway is full of little discoveries, like the outside chimneys that prevent unwanted smells from wafting towards neighboring homes.
He calls up Ji-hyo (whom he later admits he wanted to be coupled with today), only to go straight to voicemail. Hahaha. But Ji-hyo calls right back, and when she asks where he is, he gives us another adorable Monday Couple moment: "In your heart, you dummy!"
They're both reluctant to reveal their teammate, who both remain silent during this entire exchange. Gary is disappointed to hear that Ji-hyo is teamed up with a handsome actor, and asks to speak to him so he can relay Ji-hyo's likes and dislikes. Aw.
Ji-hyo: "He knows as much about me as you do." Gary: "Did you go to a club again last week?" HAHAHAHA.
Things are awkward between Jong-kook and Kyung-ah, so he chatters away in his nervousness for a good half hour. Kyung-ah later tells us in a post-interview that "I didn't know he'd talk THAT much." Haha.
She admits that her ideal type isn't that talkative, but she likes macho men. At least they seem to be somewhat friendly when they arrive at their destination. Turns out their chicken expert is none other than actor Lee Gye-in, who has his own chicken coop.
He gets into this long conversation with Jong-kook about quality chickens, and even shows them pictures of his chickens… that he had professionally taken. HA.
When Jong-kook asks why he got them done, Gye-in admits that he already ate the older ones and points out the ones his famous celeb friends ate. Oh gosh, I'm dying.
For a moment there, I thought that we'd get to see Gye-in catch the birds himself, but then he comes back out empty-handed. He offers to hand over the birds' "relatives" which are "far more delicious," but it seems to me he's particularly fond of this flock while he tells them: "I'm doing this for you!"
They get some freshly-laid eggs and veggies out of the deal, and I'm impressed at how Kyung-ah isn't afraid to get her hands dirty.
Suk-jin and Kyung-ho find themselves surrounded by a bed of oysters, which makes their task a helluva lot easier. Or so we think because Kyung-ho has a tough time shucking them. Annoyed, he asks the VJ (in satoori) to stop filming. D'aw.
Soo-hong has to hook the bait for scaredy-cat Jae-suk, who lasts a good thirty seconds before saying they won't catch a thing. Soo-hong tells him that fishing requires patience; their first tug is actually a result of their tangled lines and Jae-suk reels a large… seaweed.
Things get exciting when Soo-hong reels in his first catch—a blackfish. Their moods uplifted, Jae-suk cries out to the cameras that they have a shot at making some screentime in this episode.
Jae-suk prays for his own catch, and sure enough, his line goes taut, but we cut away before we get to see what it is.
Ji-hyo catches some squid to eat with Dong-wook, and then says it'd be great with soju. To that, Dong-wook points to inside his jacket and moments later shows us that there's nothing. Hehe.
Kyung-ah doesn't hesitate to catch a chicken with her bare hands (while Jong-kook makes a run for it, ha). She tells him to do less talkin' and more catchin', which he immediately obeys.
Now we finally get back to the action with Jae-suk… and then the boat owner remarks that his line probably got caught on the ocean floor. Whoops.
They immediately try to save face over how excited they were minutes earlier, and laugh good-heartedly over it. And then Soo-hong suddenly catches an even bigger blackfish. Jackpot!
Now their roles have reversed as a chipper Soo-hong yaks away while Jae-suk seethes in his fishing spot. Wow, today really is Soo-hong's lucky day because he reels in a third fish.
Jae-suk gets a call from Ji-hyo just then, saying that she's already learned how to make their dish. After they finish up their call, Ji-hyo is still on the line just long enough to hear Jae-suk yell exasperatedly, "Why haven't I caught anything yet?!"
The other teams are busy learning how to prepare each of their dishes. We spend some time with Gary and Jae-kyung, who pick up tips from their friendly instructor to cook the old-fashioned way.
They even cook the beef over charcoal, and Jae-kyung remarks that the prep process is oddly stress-relieving. Pfft, for some reason Kyung-ho and Suk-jin share a classic Titanic moment on their way to collect seaweed.
Elsewhere the Babo Brothers learn how to make handmade noodles. Kwang-soo's batter comes out extra sticky, but thankfully John makes a pretty good batch. Good to know that he can make his own favorite food from scratch now.
Soo-hong is told to remember how to make their fish stew while Jae-suk is busy eating. These two can barely last a minute before they start bickering again while the other teams finish learning how to make their dishes.
Dong-wook and Ji-hyo play a sand tower game, which Dong-wook loses. She demands that he piggybacks her to the car, and they play-fight in the sand. They're so adorable. And aw, he actually carries her on his back.
Meanwhile, Haha is busy trying to let everyone know that Sunggyu hails from Jeonju. The fangirls are more than happy to skip next to their favorite idol.
Kyung-ho seems confident in his ability to replicate the original taste on their way to their showdown location, but eek, a flash-forward shows Suk-jin comment on how it's too sweet or bland.
Then it looks like Haha and Sungggyu's lack of taking notes will come back to haunt them later. Perhaps it's just the stress-inducing environment to cook under pressure as we see that John has trouble with his batter, too.
The teams finally gather today and meet their judges: a professional chef, a food researcher, a webtoon artist, and a chocolatier.
Jae-suk and Soo-hong try to appeal to their older food researcher ("Can I call you 'Mother'?" "Or 'noona'?"), to which they're told that she'll show no favoritism. It looks like we'll see the actual food battle next week and find out who gets praised or criticized.
RELATED POSTS
Tags: featured, Haha, Ji Suk-jin, Kang Gary, Kim Jong-kook, Lee Kwang-soo, Running Man, Song Ji-hyo, Yoo Jae-suk