You From Another Star: Episode 10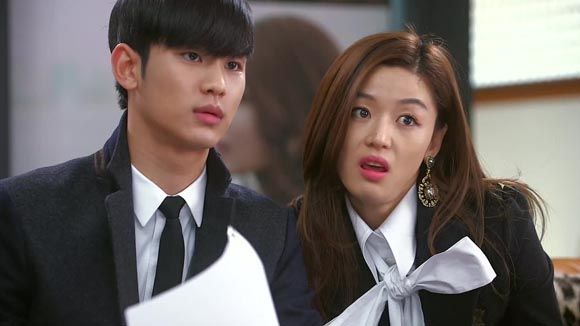 Not that Song-yi wasn't charming before, but today's really her episode to shine as she suffers a setback or two, sucks it up and gets to work on fixing things, and perhaps most importantly, gets a clue. A really big, juicy clue! She may be the world's biggest star, but she's also a girl who likes a boy, and watching her stumble through how to deal with that (and reconciling it to the knee-jerk reaction of "But I'm Chun Song-yi!") is pretty giggle-worthy stuff.
SONG OF THE DAY
Younha – "별에서 온 그대" (You From Another Star) from the drama's OST [ Download ]
Audio clip: Adobe Flash Player (version 9 or above) is required to play this audio clip. Download the latest version here. You also need to have JavaScript enabled in your browser.

RECAP: TENTH RECORD
Hwi-kyung confronts Min-joon, half-believing that he's Song-yi's rescuer from twelve years ago. He demands to know Min-joon's identity and age, insisting that he saw him in the photo and also remembers him from his own memory.
Min-joon hides his alarm well, keeping his stoic face while denying the claims: There are many people in the world who look alike, and Hwi-kyung is free to believe whatever he wants to. Hwi-kyung can't back off as long as Min-joon is hanging around Song-yi, though, and warns Min-joon to stay away.
Song-yi finds the shard of bloody glass and connects the dots. Thus when Min-joon arrives, she gets straight to the point and tells him what she believes: that he was there that night to stop her car, and that he smashed his hand into her headlight.
Min-joon has to come out strong to deflect her line of reasoning since it's so accurate, and says harshly that she's being foolish—glass comes from many places, not just headlights. He suggests that she's delusional to jump to such conclusions.
Song-yi doggedly persists, demanding proof that he was at the police station that night and a look at his hand injury. But the cut is almost completely healed, deflating her suspicions somewhat.
Yet Song-yi can't shake the feeling that something is off about Min-joon, no longer willing to dismiss it. Min-joon snaps that Song-yi has ruined his peaceful life, and wants her to leave. That's enough to get her to leave in a huff, although she pauses to ask, "Don't you want to know where I'm going?" He doesn't answer, feigning indifference until she leaves.
Song-yi sees the chicken he'd bought for her, but heads out with her packed bag to join Hwi-kyung. Rather than relocating to his family villa, though, Song-yi ends up sprawled in Bok-ja's tiny room, ha. I love these kinds of reluctant friendships.
Song-yi wonders whether Bok-ja has a crush (her folded cranes are a telltale sign) while Bok-ja asks the same, since Song-yi's fixation with her cell phone suggests she's waiting for somebody to call. Song-yi drops the phone like a hot potato and insists it's not true.
Bok-ja admits to her crush, though, dreamily describing the man who "feels like he came from a beautiful star," whom she fell for at first sight. Bok-ja's flashback is like something out of a romantic epic, showing her listening to a string of love song (whose lyrics narrate her feelings). Like a miracle, Min-joon rides by on his bike, and she stops him to offer her folded paper cranes as token of her affection. Min-joon curtly dismisses her, thinking she's trying to sell him something, and rides off. Lol.
Hwi-kyung makes sure Song-yi's locks are changed so she can return home, and calls her mother and brother to her side even though Song-yi says she's fine. You can tell Yoon-jae is as frustrated with his family as ever, but he's still his noona's protector and insists on staying (aww). Mom offers to stay too, but Song-yi makes sure to send her off.
Killer Secretary reports to Jae-kyung on how Min-joon simply could not have made it down 23 floors in the time it took Jae-kyung to ride the elevator down. It's not mathematically feasible. There were no other elevators running, and it's just not possible for him to have moved that fast. Jae-kyung bursts out into sardonic laughter to hear that he witnessed the impossible.
Min-joon knows that revealing some of his powers was risky, and Lawyer Jang urges him not to do any more of that. He suggests that he warn Song-yi about Jae-kyung's actions so she can keep out of his way, but Min-joon is adamant about Song-yi being safer not knowing. Lawyer Jang points out something Min-joon seems to be ignoring, which is his own mortality—unaging body notwithstanding, he is still killable. What if he dies here on Earth?
The investigators press Yura's sister for a lead on her boyfriend. The sister is reluctant to talk to them, but hearing that her unni was pregnant and possibly murdered gets her to open up. She doesn't know much, but she confirms that Yura seemed to be dating somebody with money. Without other defining characteristics, Detective Park's mind once again turns to Min-joon as possible suspect. Seok is still hesitant to jump to that conclusion, but doesn't rule it out.
Min-joon does some surveillance of his own and follows Jae-kyung home, where he overhears Jae-kyung ordering surveillance put on Min-joon. The threat is clear, since Jae-kyung is ready to "solve" the problem of Min-joon, and in Jae-kyung's world solving pretty much means killing.
Jae-kyung comes home as Hwi-kyung is talking to Song-yi on the phone, which gets his attention. He asks about Min-joon in a casual tone that still sounds a little too interested—and now Hwi-kyung looks at his hyung with suspicion. Ooh. I like that. It's why Hwi-kyung doesn't share any of his own thoughts, merely saying that Min-joon is the neighbor guy and nothing more. He asks why his brother is so interested in Song-yi these days, and doesn't seem convinced when hyung laughs it off as brotherly interest.
Min-joon watches the videos on Yura's flash drive, the first of which we've already seen, which shows a scared woman urging Yura to "leave him or risk dying yourself." The second video is of a conversation between Yura and Jae-kyung, and now it becomes clear that the scared woman is Jae-kyung's ex-wife. The world believes them to be a normal divorced couple, not knowing that he has Mr. Rochestered the ex into an asylum against her will.
Song-yi texts Min-joon, waiting in anticipation for the "message read" notifications to pop up. They do but she gets no reply text, so she spends some time telling herself she's totally fine and doesn't care. Only to jump on her phone when it rings, of course.
But it's not Min-joon—it's her building, informing her that her rent payment hasn't come through. She heads to the bank and is told she has insufficient funds after paying her agency those fees for breaching her CF contract. Song-yi airily tells the agent to take out a loan, only to be told that not only is she no longer a VVIP with them (thanks, Mom, for spending all the cash), she's got bad credit and doesn't qualify for loans. Ouch.
She heads home dejectedly and idly considers selling her car. Immediately horrified, she squeaks an apology to the car, and repeats the scene with her "babies"—designer handbags. Finally she decides to sell them and takes them to a shop, thinking they'll fetch nice sums because of her name value. The shop owner sniffs that her name would actually drag down the value at this point, and tells her the cold hard truth: Everybody knows she's broke. He declines the bags and asks her not to return to his store.
Time for some bootstrap-pulling. I do love that Song-yi skips the whole wallowing-in-self-pity step and moves straight on to the Do-It-Yourself option. Snapping loads of selca photos of her with her bags and accessories, she uploads the photos online and puts them up for sale. She hesitates at the contact information line, though—she can't give her own phone number, can she?
Cut to: Min-joon lecturing to his class, interrupted by text messages from interested buyers. LOL.
Even if she were to figure out her rent problem, however, Song-yi gets hit with another setback when her mother presents her with additional contract breach fees. This bill is for projects she hasn't even heard of, so she decides she'll have to go and fight this one herself.
But her confidence has taken a severe hit, and she asks Min-joon to accompany her to the meeting tomorrow. She says that she doesn't care about being broke—money can be made—but she fears that revealing her vulnerable state would cause her to crumble. So she wants Min-joon there to step in before she crumbles.
So Song-yi decks herself out in her boldest power suit and wears her haughtiest face as she struts into her former agency with Min-joon at her side, and faces CEO Ahn with her shield of confidence. CEO Ahn's ready for a fight and has his lawyer present, arguing that she agreed to pay the fees.
Song-yi protests that these latest fees are for projects she never agreed to do—so he'd agreed behind her back and is now putting her on the hook for backing out. Min-joon steps in to point out all the agency's own legal violations, citing the contract back at them smoothly.
The agency's lawyer gulps and advises the CEO to back down, especially since Min-joon points out that Song-yi could be entitled to money from them if they chose to pursue it in court. Booyah. I know this is exactly the point we expected the moment they stormed the building together, but it doesn't make it any less satisfying. (And then Song-yi actually uses Min-joon's Joseon swear at her CEO, which brings a smile to Min-joon's face.)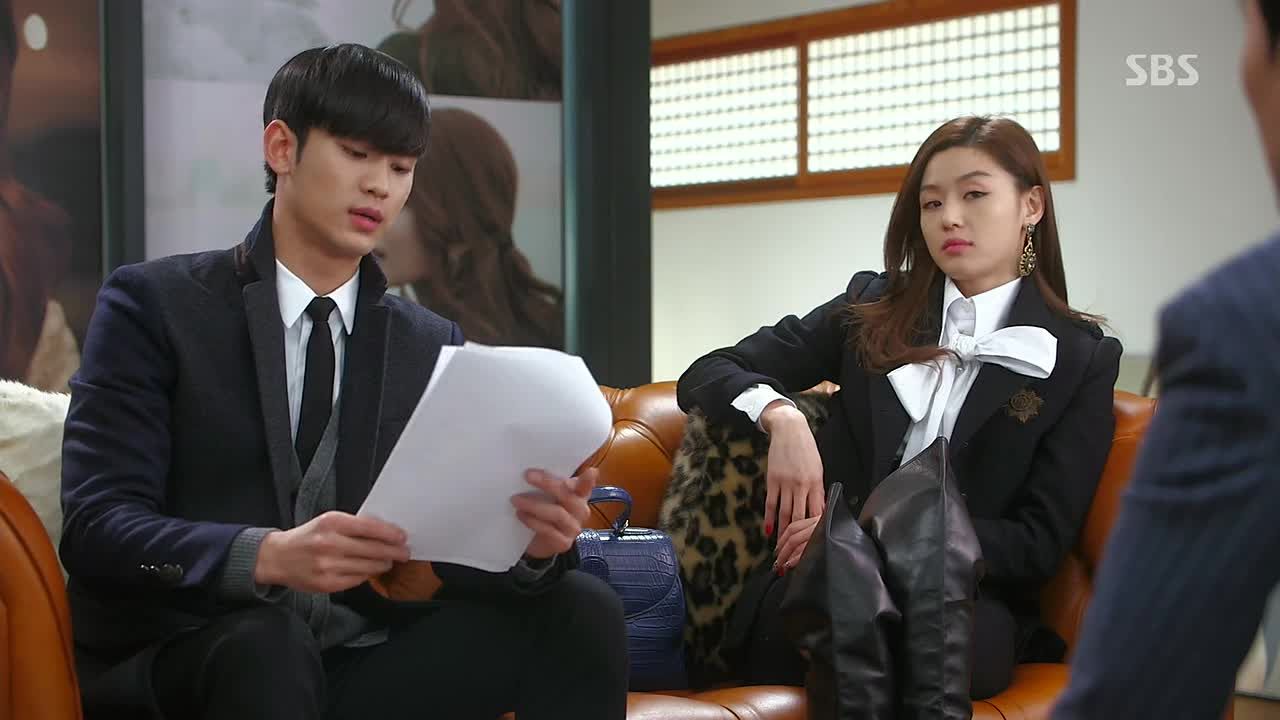 On their way out, they run into Se-mi (and her manager and stylist, who seem to genuinely miss Song-yi, though they fear showing it). Se-mi asks to have coffee together, and while Song-yi tries to decline, Min-joon agrees on her behalf. Already miffed, Song-yi's extra annoyed to see Se-mi on good terms with Min-joon.
Se-mi apologizes to Song-yi for their last encounter, which Song-yi is not having—she sees this as an insincere facade, an act to make Se-mi seem the martyr. Min-joon finds Song-yi's words harsh and cuts in on Se-mi's behalf, which do little good in smoothing over the tension.
Then the stylist spills drinks all over the table, dousing both actresses in coffee. She and Bum rush to check on Se-mi, while Song-yi gets ignored. And then Se-mi fusses over Min-joon, which raises Song-yi's hackles.
During the ride home Song-yi makes jealous digs about Min-joon's interest in Se-mi, which is adorable. Min-joon tries to give her a dose of tough love, telling her that the world won't care if she falls off a cliff, so she'd better wise up and take charge of her own life.
Song-yi says that's why she asked him to stay with her, which only hammers in his dread of having to leave. "Why do you trust me?" he asks. "Don't trust me. I can't stay with you forever."
She asks why, thinking he's referring to her being too broke to pay him. She promises not to cheat him of salary and says that all she wants is to be able to ask him for help every now and then. "Can't I do even that?" she asks. He doesn't reply.
They arrive outside their respective doors, and Song-yi lingers there, trying to think up excuses to spend more time together. Min-joon keeps up his disinterested attitude and heads inside, leaving her disappointed.
Which is why she brightens up to hear that Mom dropped off some kimchi, since it's only the friendly thing to do to share yummy foods with your neighbors. She annoys her brother (who's trying to watch E.T., heh) into dropping off the kimchi with Min-joon ("Tell him it's from me! Make sure to say I'm home!").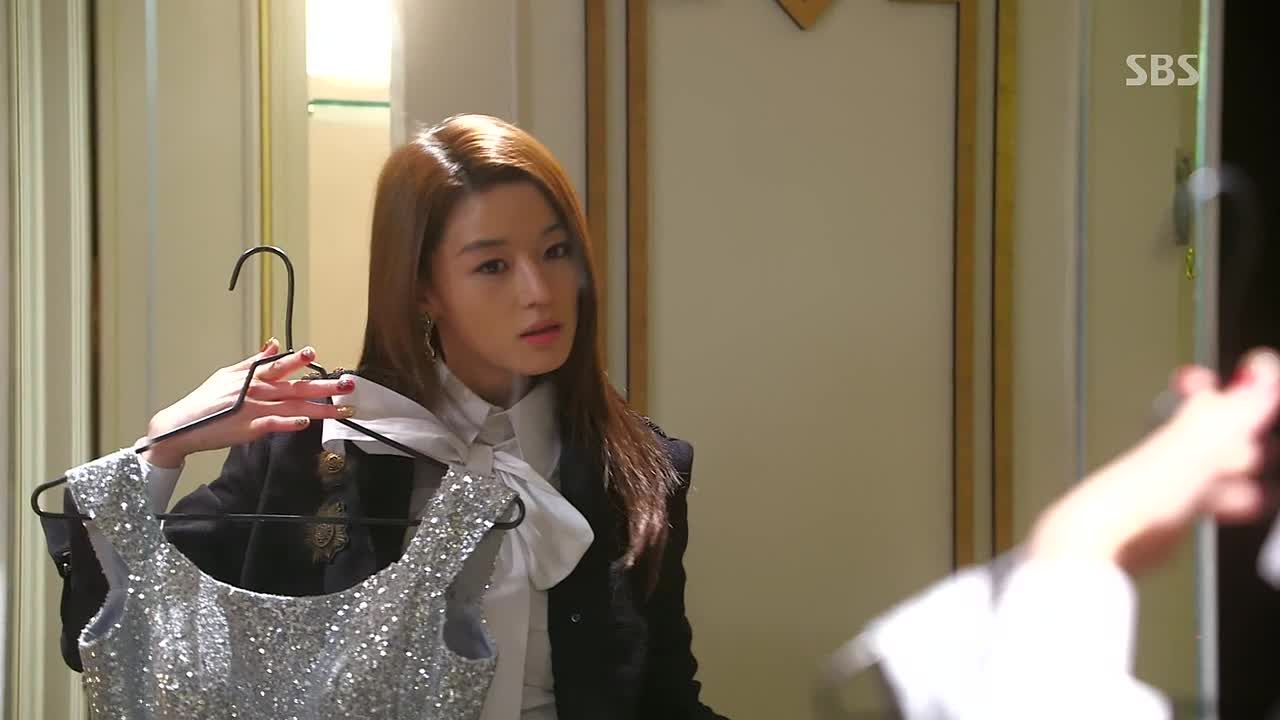 Min-joon accepts it without much reaction, and Song-yi's disappointed to hear it. She tries to prod Yoon-jae into going back to retrieve the kimchi container, and he barks at her to do it herself. So she says with false reluctance, "Well if you say it like that, I guess I'll have to," then flounces to her closet to change her outfit. Holding up a glittery tutu dress, she wonders, "Is this too much?"
Looking like something out of an Audrey Hepburn movie (so… I guess Audrey Hepburn), Song-yi heads next door and asks for the container, only to get the door slammed in her face while she waits. She lets herself in, trying not to be too obvious that she's dragging her feet about leaving. Min-joon repeatedly tells her to go so she can't argue, though she sure takes her time heading out.
Turns out Song-yi's not exactly fast on the uptake on this one, because it's only now as she returns home in mortification that she realizes, "Do I actually want to stay there? Chun Song-yi, get your act together!"
She spends the evening muttering to herself about why she'd like a guy like that, only to concede that she does like his height, and his face, and his eyes… She starts listing off all his qualities (physique, Harvard background, kissing) before freaking out about the direction of her thoughts.
Se-mi drops by the prosecutor's office to deliver clothes to her overworking brother, who asks if she knows anything about Yura having a boyfriend. She does, because she had heard Song-yi mentioning Yura bragging about dating a chaebol, but doesn't share this with her brother.
Hwi-kyung drops in on his brother's room looking for him, and happens to be there when Jae-kyung's cell phone rings. Ack, don't touch that phone! I'm not sure Jae-kyung would go so far as to kill a brother, but it certainly can't be a good thing. (On second thought, now I wonder if Jae-kyung had anything to do with their third brother, who's been alluded to a few times. Definitely something weird there.)
The caller is listed as "K," and Hwi-kyung answers intending to take a message, but before he can say much a woman begs him to have her released because she's not crazy. At that point Jae-kyung snatches the phone from his hand with a scary glare on his face, and dismisses the caller as a crazy person. Hwi-kyung lets it drop, but he's definitely looking at hyung with new eyes.
Min-joon calls Seok to request a meeting, not knowing that the call has been tapped and Killer Secretary is listening in. Ack, not good, not good.
Song-yi asks to talk, so they step out onto their respective balconies. She takes a nervous breath and asks what Min-joon has done to her: "You did something, I'm sure of it. Otherwise there's no reason for me to be like this." She says she intended to attract him in her 15 seconds, "But did I fall instead?"
She asks what he thinks of her, then immediately yells at him not to answer. Too embarrassed to face him, she turns away to continue talking: "I'm not this kind of girl. I do recognize things you've done that I'm thankful for. But I'm not the kind of person who can't tell the difference between gratitude and those feelings." But why does she keep thinking about Min-joon?
She ventures, "As a woman, what do you think of me?" But immediately chickens out: "Aie, don't answer, if you answer you die!"
He stays so silent through it all that she wonders if he's still there, and anxiously turns around… to see him standing right where he was, staring. But not quite indifferently?
Song-yi returns to her room freaked out, and spends the whole night lost in mortification. Oh, honey. We've all so been there.
She's therefore a bit dead-eyed when she makes it to Bok-ja's manhwa shop, where she overhears two doofuses gossiping that Song-yi was a bully in high school. Hearing such random gossip gives her the idea to put on a press conference to state her innocence, because she's been hidden away too long. Bok-ja advises her on the perfect press conference technique to draw sympathy—no doubt more commentary on the proliferation of the industry's press-conference-as-damage-control tactic—like how to dress (plainly), look (sad), and talk (tearfully, but without crying until the very end). Alas, Song-yi has no agency or money, so for now this is all a pipe dream.
She does get a call from an interested buyer and disguises her voice to answer it, but has to argue that none of her stuff are fakes.
As Seok parks his car, two trucks strategically park on either side to provide convenient cover from the security cameras. The moment he steps out, he's clubbed in the head and goes down. The clubber sets a pen down—oh no, stolen from Min-joon's desk—ready to be discovered as evidence.
That leaves Min-joon waiting at the cafe for a prosecutor who doesn't show. Ack, and now there's the recorded phone call to prove that Min-joon asked to meet Seok. Boo, evil villain! Why ya gotta be all smart like that?
Min-joon notices the ambulances going by and sees Seok being loaded in on a stretcher. And parked nearby is Jae-kyung, who indicates that Min-joon should follow.
Song-yi arrives home, bummed that Min-joon continues to remain out of contact. She "remembers" that she left her hair tie behind and jumps on that handy excuse to go next door to ask for it back. But not before another outfit change, naturally.
Min-joon's long drive finally ends in a dusty field. There, the two men face each other and Jae-kyung repeats his words about letting him and Song-yi live. Min-joon holds up the flash drive and asks if handing it over will get Jae-kyung to stop.
Jae-kyung agrees, but follows that by pulling out a gun, which he levels at Min-joon—it's a dart gun, filled with enough tranquilizers to send him down painlessly. He's planned this to pin both Yura's death and Seok's attack on Min-joon, to be capped off with a suicide note planted on Min-joon's computer.
Song-yi lets herself into Min-joon's place again and looks around for him, wandering down to the library… which just happens to be where Killer Secretary huddles, unseen for now. Ack!
Min-joon thinks back to Lawyer Jang's warning not to reveal any more of his powers to Jae-kyung. It's the crucial moment, since Jae-kyung is surely not the type to let that kind of knowledge go, but on the other hand, Jae-kyung adds that he'll be offing Song-yi next. So when he pulls the trigger and the dart speeds toward him, Min-joon poofs away. Gone.
Jae-kyung looks around in confusion, and then a second later Min-joon is there behind him, murmuring into his ear: "What did I say? You. Can't. Kill me."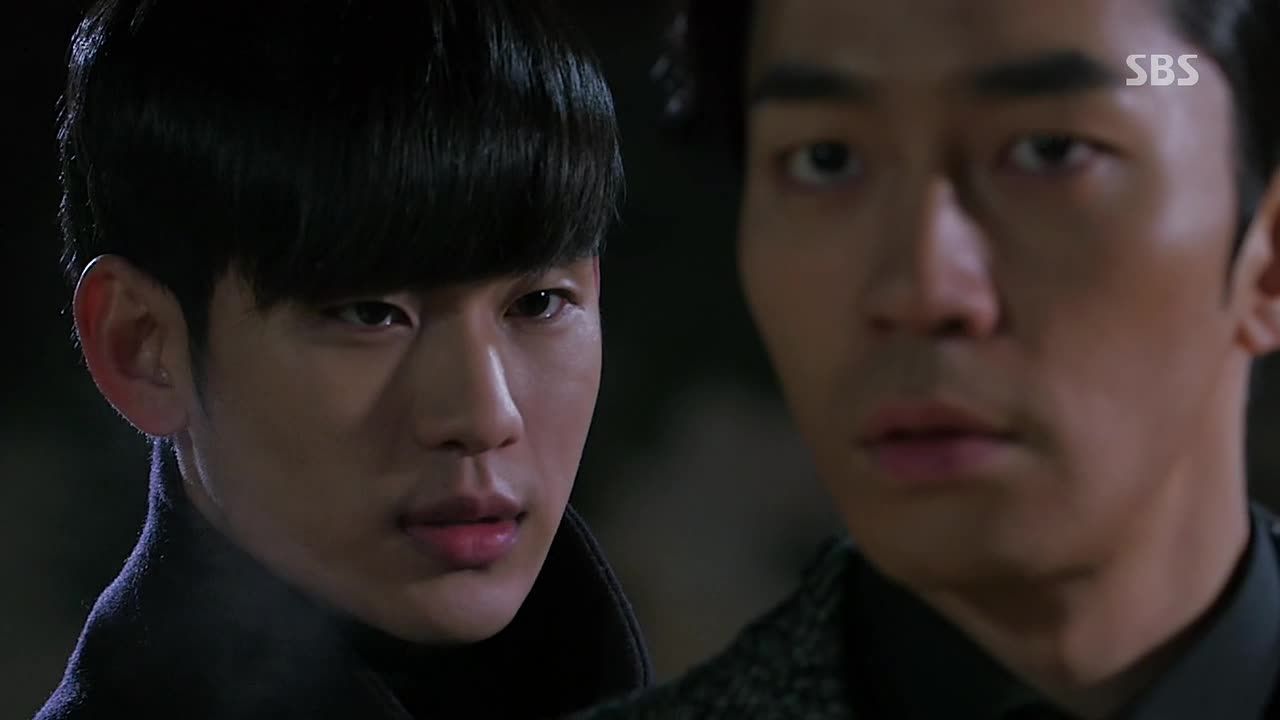 EPILOGUE
At her shrink's office, Song-yi faces her doctor in a fit of nervous rambling, asking whether a dependency problem can turn into love. She has a dependency on chicken and beer to get her through depressing times, for instance, "But I don't look at a chicken leg and feel butterflies."
On the other hand, she does feel butterflies at seeing beautiful handbags, "But if I don't have them I don't feel my mouth dry out or think of them on other women's arms and have the impulse to kill them."
Getting increasingly worked up, she declares, "But this is like that. My heart pounds, my lips burn, and if I can't see him in front of me I feel uneasy. Thinking of girls flirting with him makes me want to—!"
Recalling herself, she calms down and meekly apologizes. And then, "I want to take that bitch who wiped away the coffee spilled on him and BREAK HER WRIST!"
She twists a nail ring on her finger (so, crazytown) and asks what the diagnosis is. The doc scribbles some notes and prescribes her something stronger.

COMMENTS
Aw, I love Song-yi. Despite the fact that she's a bit absurd (y'know, just a little) and has got the ego the size of a medium-sized country, there's such a normalness to her emotional reactions—in that, she's a normal girl falling in love, feeling that mix of giddiness and mortification in the face of her crush, and it's completely relatable. Hilarious too, with a dash of cringiness. I so get it.
I'm not sure if Min-joon was totally unaware of Song-yi's feelings for him or if he was just surprised at the extent of them, but I love that he knows now, even if that intensifies his inner conflict of wanting to keep her away for her own good. Of course, "for your own good" never works anyway, and while he may have been able to deny his own feelings when he thought they were only his, I expect this turn to challenge him much more, to the point where he can't keep denying them. It's one thing to be cold to somebody you don't want to like, but it's another to know that the person you love is also in love with you back, because his current tactic of being extra-mean to push her away is clearly not sustainable.
She may be lacking some desirable traits (say, modesty or sweetness or empathy), but her gutsiness is what makes me both want to root for her and to sometimes be her. We've all had that fear of rejection stop us from doing things at some point, and it's a natural reaction to hesitate, but she's also not going to let that feeling stop her from facing facts and confronting her issues head-on. That isn't just applicable to the way she handles her feelings but also her approach to fixing her problems, and I really appreciated that she didn't sit down and indulge in self-defeatist mopings when she was down and out. She just dusted herself off and found a solution. (Now, the solution itself was hilariously ineffective, but give a girl props for taking action.)
It's one of the things that sets her apart from Se-mi, who was scared enough that she kept her feelings to herself for a decade, and while I do actually feel quite sympathetic toward her regarding Hwi-kyung (who genuinely cares for her, just not in That Way), she is by no means a victim in the situation. It's sad, but not tragic. I feel like that's how Se-mi approaches most things in life, wanting more but too scared of going after it, and therefore she lets herself fade in Song-yi's shadow.
I was super excited that Min-joon outed his powers to Jae-kyung, even though this spells certain disaster—before, Jae-kyung just wanted him dead. Now, I fear he'll set out to ruin or expose him, and that could be worse. Well, not worse than death, perhaps, but worse than being a constant murder target. It has to mean something that Lawyer Jang pointed out that Min-joon is capable of dying, and now he's put himself directly in front of the enemy's bull's-eye. Well, a metaphorical bull's-eye; there are probably more effective methods than bullets. He could just get kissed to death. Now that I'd love to see.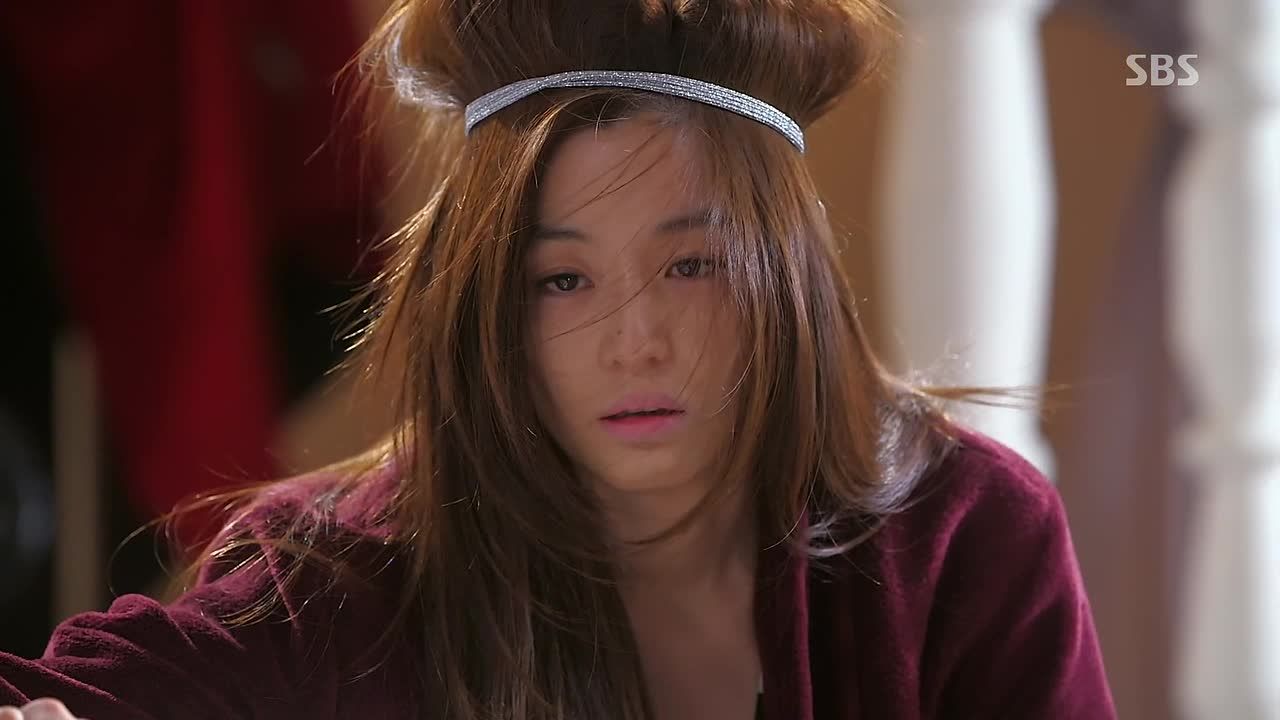 RELATED POSTS
Tags: featured, Jeon Ji-hyun, Kim Soo-hyun, You From Another Star