You From Another Star: Episode 11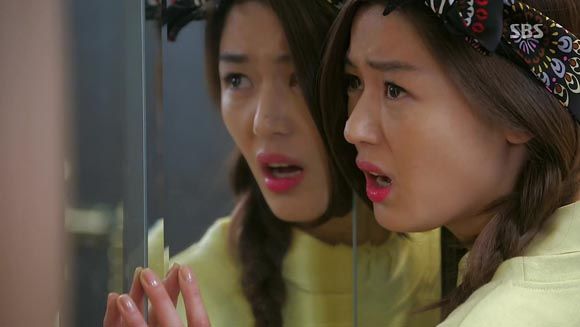 Hilarious with a side of heart-wrenching. The ticking clock grows even more insistent for our hero as we learn another crucial detail from his past, and it sure puts him between a rock and a hard place. He's damned if he does, and damned if he doesn't, it's starting to seem. Well, given a future of damnation, is it too much to ask for lots of love and skinship in the interim? Can't he at least enjoy it while he's got it?
SONG OF THE DAY
Dear Cloud – "하루만큼 강해진 너에게" [ Download ]
Audio clip: Adobe Flash Player (version 9 or above) is required to play this audio clip. Download the latest version here. You also need to have JavaScript enabled in your browser.

RECAP: ELEVENTH RECORD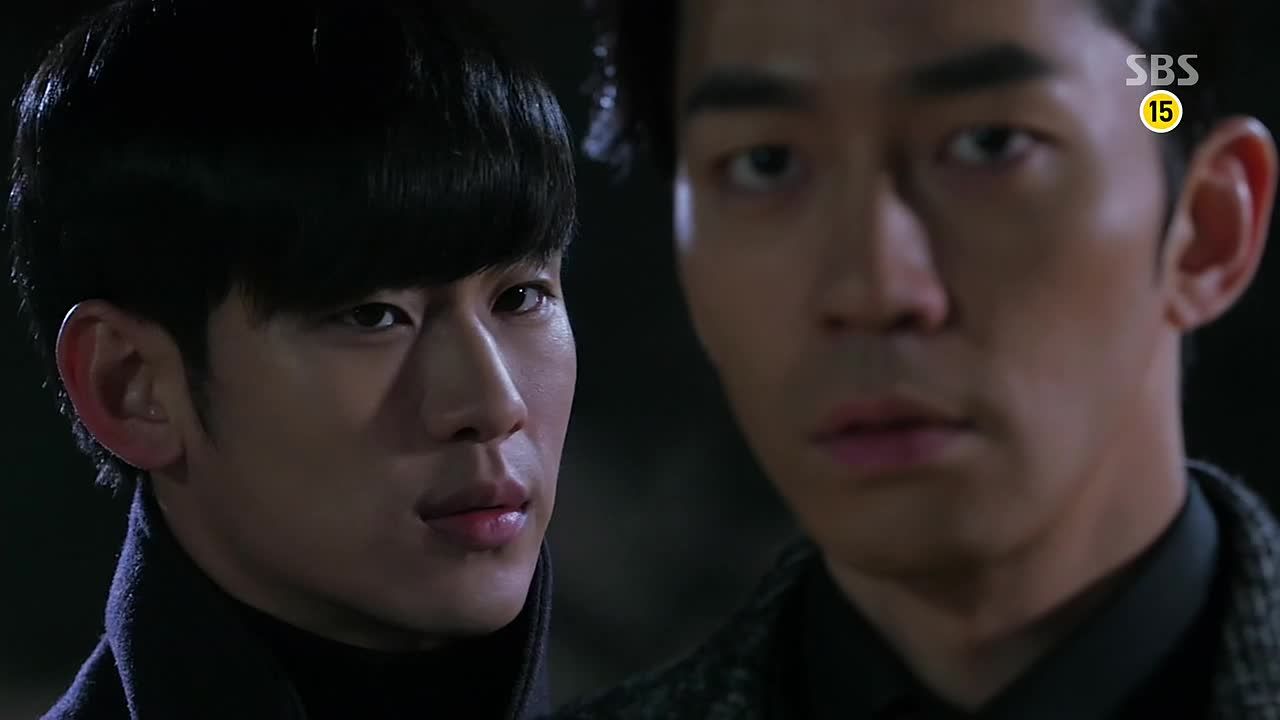 Jae-kyung draws Min-joon out of the city for a private chat—or rather, a private murder, though when we're talking about Jae-kyung I guess you're dealing with equal odds there. Jae-kyung pulls a dart gun on him and declares his intention to tie up both his loose ends—first Min-joon, then Song-yi.
He pulls the trigger, but Min-joon vanishes. He reappears behind Jae-kyung to warn him to stop his villainy. Jae-kyung is rattled, especially when he whirls around and finds nobody there.
Min-joon reappears before his eyes and Jae-kyung shoots a second time, only to have Min-joon vanish again. What's significant isn't that Min-joon saves himself but that he's chosen to reveal himself fully—he could have acted without betraying his powers, but he's taking the risk to make Jae-kyung understand that he can't kill Min-joon (and therefore Song-yi).
Jae-kyung screams for Min-joon to show himself, but this time Min-joon just knocks him out from behind. Jae-kyung crumples.
In Min-joon's library, Killer Secretary ducks behind the table (having been sent to plant Min-joon's forged suicide note) when Song-yi enters. He readies a weapon, but stops when Song-yi takes a phone call and tells her brother where she is.
Song-yi casually makes her way out, but the second she's home she starts trembling violently. We now see the scene from her perspective, as she'd spotted Killer Secretary's reflection in the bookcase glass.
She orders Yoon-jae to call security, and is shrewd enough to sense danger when a knock sounds at her door. The voice reminds her of the "doctor" who drugged her the night her car almost ran off the cliff, and she double-checks with security, who confirms that they hadn't sent anyone up yet.
Now her worries turn to Min-joon, since he would have been the intruder's target. She calls while he's in his car, shivering and weak—ah, one of Jae-kyung's tranquilizer darts found its mark, and he's feeling the effects. But the moment he hears Song-yi mention an intruder, he poofs out immediately to appear at her front door.
Min-joon hangs on just long enough to ascertain that Song-yi is okay, then collapses in her arms. Song-yi and Yoon-jae drag him to bed, where little bro looks at his noona with suspicious eyes—when did she and the neighbor man get so close? Does she like him? Song-yi blusters that there's no way she'd get stuck liking somebody one-sidedly, and that just makes Yoon-jae think even more that she's stuck in an unrequited crush.
But the more pressing concern is how cold Min-joon is, and Song-yi wonders how he could be reading a 28 degree (Celsius) temperature (or 82 degrees Fahrenheit). She supposes the thermometer might be broken, but it sure is strange.
Se-mi and her mother wait anxiously at the hospital while brother Seok is treated after his attack in the parking lot. Fortunately he wasn't killed, but unfortunately his absence means that Detective Park is left to work on the case alone… and as we've seen, he ain't exactly the brains of the investigation. Let's hope he can manage on his own.
The only clue is the distinctive fountain pen left beside Seok's body (planted, after being stolen from Min-joon's desk), which (conveniently!) happens to be a limited edition. It bears no fingerprints, but there's a shortlist of those who ordered it, and the detective gets to work tracking the owners down.
At the chaebols' breakfast table, Hwi-kyung mulls over his growing suspicions about his brother and asks his parents about hyung's ex-wife and if she really went to England. I'm not sure whether they're uncomfortable because of the reason they cite—it's not their place to keep in touch with an ex-family member—or because they know anything, but Hwi-kyung isn't content to let the matter slide today.
When Jae-kyung joins the table, Hwi-kyung asks directly about the ex-wife's whereabouts and starts to ask about "that phone call" that he'd overheard. But Chaebol Dad cuts him off to tell him to let the matter go, and that's that. For now.
Over at Song-yi's, Yoon-jae gapes to see his noona attempting to be domestic by cooking breakfast (albeit badly). She happily goes off to wake Min-joon, but has a hard time stirring him. This flashes us back to Joseon, when Min-joon had lain unconscious and injured.
It's the famed doctor Heo Jun who tends to him, which is particularly funny because Min-joon's arrival actually contradicts his legendary reputation; while his followers are fawning over their teacher's skills, said teacher is gulping because he's stumped by the case.
Min-joon recovers speedily despite that, and Heo Jun comments on his unorthodox vital readings. Min-joon answers honestly, pointing up at the stars and saying that he comes from a faraway planet.
Min-joon wakes to see Song-yi hovering above him, and she asks the question that's been lingering in her mind for a while: Is he ill? Maybe terminal? He tells her no and heads for the door, keeping his replies curt and declining to stay for breakfast. Song-yi tries to detain him with excuses—she wants to repay the favor, she's worried someone may still be in his place—but he waves those aside and leaves anyway. (Little bro witnesses this all and teases about the crush she keeps denying she has.)
Song-yi darts out to follow Min-joon, only to find that Se-mi has arrived. She's itching with curiosity to be left out of the conversation, especially when Min-joon invites Se-mi in.
Next thing we know, Song-yi is clinging to her wall, trying to overhear the conversation going on next door. How did Min-joon hear her so easily when she can't hear a thing?
Se-mi has come because of her brother's attack, having heard that he'd gone to meet Min-joon. She asks if anybody knew of their meeting because the ambush seemed premeditated, and Min-joon has a pretty good idea who to blame. He admits to feeling partly responsible and assures Se-mi he'll do what he can to help, though he doesn't share his suspicions about Mr. Evil.
Se-mi sighs that it'll be difficult to nail down a culprit, having heard that the only evidence found was a pen. Min-joon notes that detail with interest.
As Song-yi presses her ear to the wall and mutters about the length of Se-mi's visit, Min-joon's super-hearing catches her comments and he laughs to himself. He puts the stern face back on when he exits with Se-mi, though, just as Song-yi darts out pretending to run into them by chance.
She invites herself along on Min-joon's grocery store trip, though she takes a moment to change out of her pajamas. He ignores her request to wait, leaving with out her.
Undeterred, Song-yi goes to the supermarket anyway, where she catches up to him and chatters away, asking about his food preferences. They're completely opposite in their tastes, but she just chirps that at least they'll never fight over food as long as they live—and that phrasing stops him in his tracks. He tells her firmly that they won't do anything together forever, then refuses her offer of a ride. Poor girl. If only she knew he ignores because he loves!
Meanwhile at S&C Group, Jae-kyung cancels a meeting citing illness, which certainly grabs Hwi-kyung's interest, since he just saw hyung looking healthy. He takes the opportunity to visit his brother's office and offers to wait for his return, then uses the time to attempt snooping. Alas, Jae-kyung's desk drawers are locked tight. Can't keep so much evil just lying around, y'know.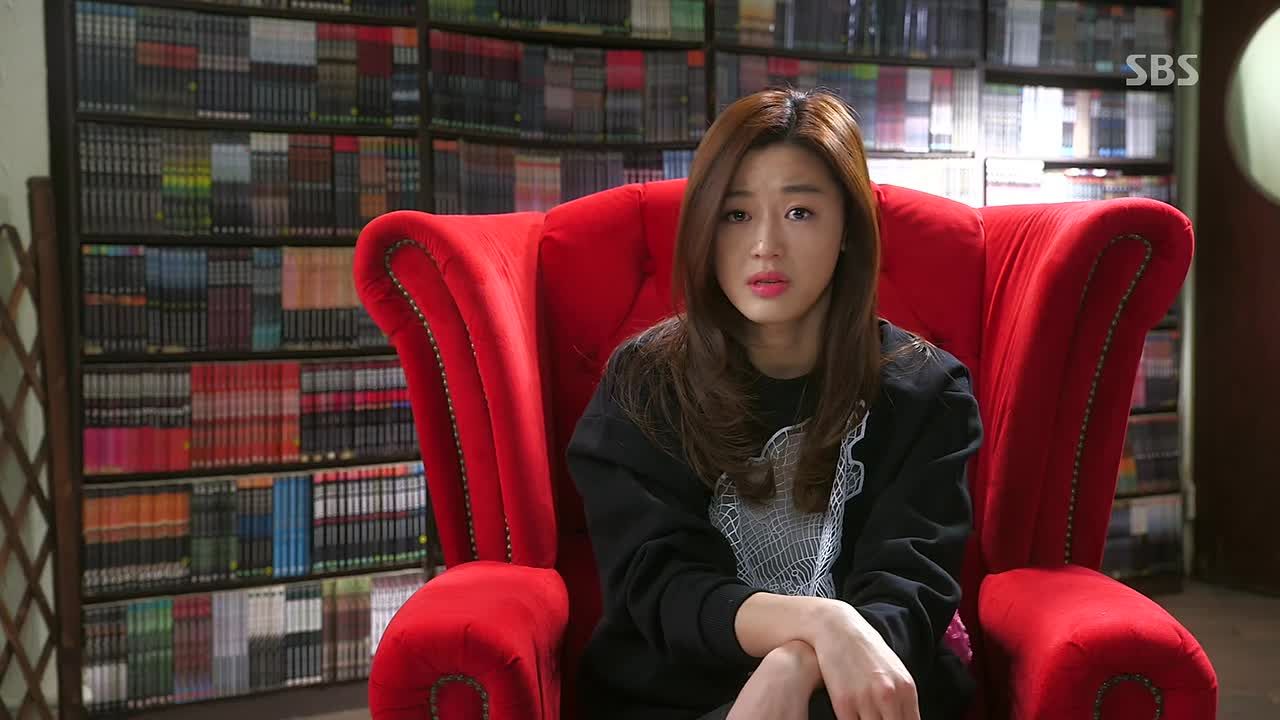 Song-yi sits in an armchair and explains her problem to an unseen audience, as though in therapy: There's a man who was very considerate of her feelings (buying her the food she wanted, staying with her overnight at the hospital, tending to her injuries), and as a result she started to feel something for him. But the minute she confessed, he turned cold and stopped talking to her. So, the question: "Does he have feelings for me, or not?"
A hand slams down the "Yes" light. It's the manhwa store crew, who now argue whether Min-joon likes her or not. Bok-ja and Red Tracksuit say no, but Blue Tracksuit argues that he could just be playing hard to get. Song-yi's reaction goes from disappointment to hope and back to resignation when Bok-ja points out that men will go after the woman they like. Thus rejecting a girl who has confessed smacks of disinterest. Pop! Bubble burst.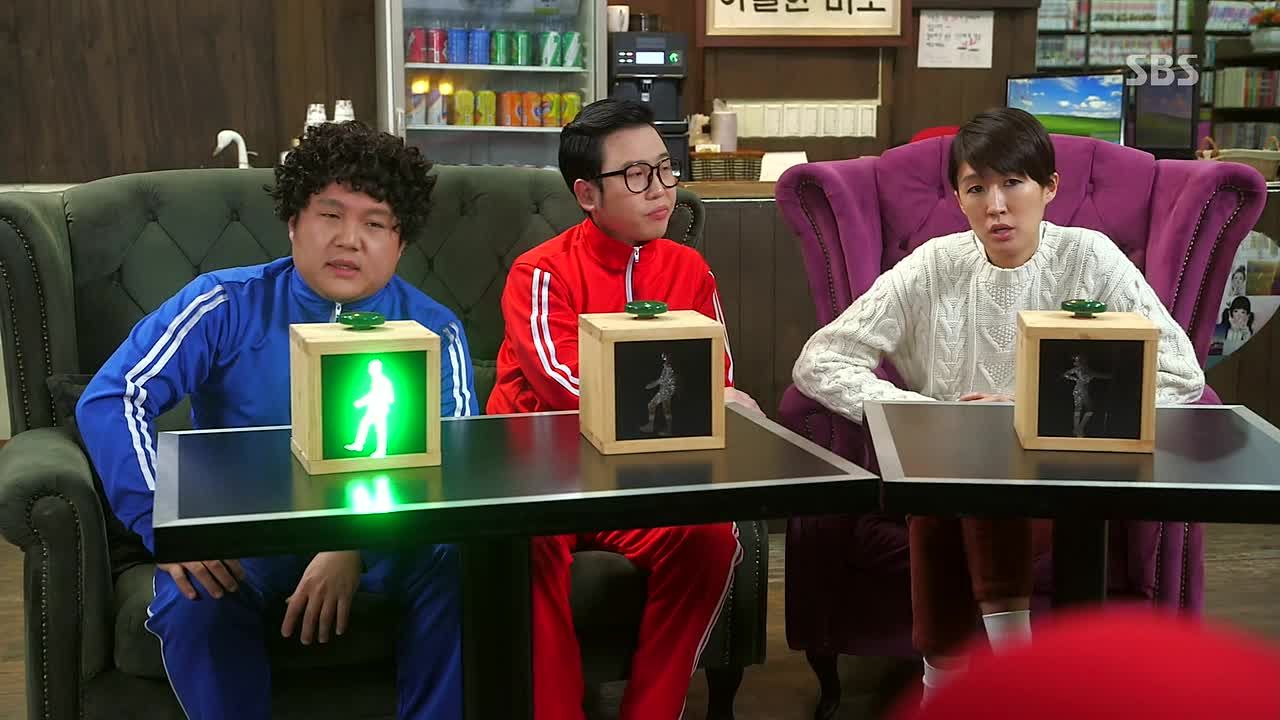 On the other hand, Bok-ja says that she's come this far, so she may as well make one strong advance. Yes, do that! Throw yourself at him, go for iiiiiiiit. With that in mind, Song-yi drops by Min-joon's apartment just as he's leaving on a fishing trip and invites herself along.
In the car ride, Song-yi points out that she was voted the star most men wanted to date, trying to understand why he doesn't seem keen to join those ranks. She asks about his lack of response to her confession, though she shuts up quickly when he asks pointedly, "Want to get out of the car?"
Upon arrival at the lake, Song-yi amuses herself by running on the frozen surface and frolicking on the ice, while Min-joon stoically sets up his fishing station. Song-yi bounces around in high spirits until finally Min-joon grabs her impatiently and cuts to the chase: "Did you really come all the way here because you wanted to hear my answer?"
Song-yi replies, "No, I wanted to be with you." Still, she does want to hear his answer, so he delivers it coldly. "I dislike you. And with you acting like this, I dislike you even more." He explains helping her out of pity, mixed with curiosity over her celebrity status. Had he known she would misinterpret his actions, he wouldn't have behaved that way.
She asks what he'd like from her, and he says without hesitation, "I'd like to not have to ever see you again."
That stings, but even as Song-yi sheds a tear she asks, "Why does it sound like you're lying to me?" There's not much she can do, however, so she turns and walks away. She's sobbing by the time Hwi-kyung screeches up in his car to pick her up.
As they drive back to the city, Song-yi cries her heart out over the pain of rejection (never having felt it before) and Hwi-kyung plays the sympathetic best friend, sharing what he's learned from being dumped (by her), consoling her that it'll get better as time passes.
Hwi-kyung advises her on what not to do, like listening to sad songs or calling in the middle of the night, reminding her how much she hated when he did that. Song-yi says ruefully that the mean girl who dumped him should've accepted his feelings back then. If they'd dated, they would have broken up naturally and Hwi-kyung could have gone on to meet a nice woman.
Back at the lake, Min-joon is joined by Lawyer Jang, who chuckles that he was happy to come out fishing because his wife's nagging is getting worse with age. Min-joon asks what it's like to age side by side, voice tinged with longing: "I want to grow old together."
They sit out in the cold for a while until Lawyer Jang notices that Min-joon's looking unwell, and Min-joon agrees to call it a night. Lawyer Jang worries at Min-joon's growing sensitivity to cold, and Min-joon shares something a doctor once told him.
Joseon flashback. Heo Jun has now accepted Min-joon's origin story and asks whether he will be able to return home. Min-joon replies that the path will open up if the universe cooperates, but until then he must wait.
Heo Jun has a concern, though, saying that the human body requires a balance of yin and yang to survive, and when one's energy flows counter to the cosmos, pain will result. Because Min-joon's energy does not belong here, sooner or later he will not be able to survive, and thus Heo Jun urges him to return home before that happens.
Which is why Min-joon now supposes that his recent changes are a sign of that time approaching. And even if he wanted to remain here indefinitely, it may not be in his power: "If I thwart the laws of nature to remain here, it will likely not be long before I die."
Song-yi mopes at home, indulging in a solo soju party that night and waking with a hangover. Ha, at least her pity party inspires Yoon-jae to start studying; he says watching her last night taught him the importance of not living recklessly. Song-yi wonders what he's talking about, and then come the flashbacks, in quick and horrifying succession:
There's the drunken sad serenade, the wild cackling, the sobbing, the desperate screaming of "Do Managerrrrrrrrr!"
Song-yi checks her phone… and cringes to see the 19 calls she made to Min-joon in the middle of the night. Present Song-yi shrinks in mortification while reliving Past Song-yi's descent into madness.
Another thought occurs to her, so she logs on to her texting app and gasps to see the string of bitter, pleading messages: "You bastard!" and "You damned jerk!" which turns into "Can't you reconsider?" and "I'll be really good."
Another memory attacks, and Song-yi shrieks at the recollection of herself banging on Min-joon's door. When he opens up, she sobs over her glittery heels ("the ones you liked so much you stole from me") and offers them to him as a gift. That's hilarious and strangely sweet.
Hwi-kyung checks that his brother has left for the day, then snoops in Jae-kyung's room. There he finds not only hyung's passport but also that of the ex-wife who's supposedly in England.
In a flashback to a few hours earlier, we see Hwi-kyung approaching Min-joon and thanking him for calling him last night—and for saving Song-yi twelve years ago. Min-joon sticks to his denial and tells Hwi-kyung to spend his energy protecting Song-yi rather than worrying about his feelings.
Then Min-joon adds, "Protect Song-yi from your brother." It's cryptic, but certainly backs up Hwi-kyung's own misgivings about Jae-kyung.
Jae-kyung, meanwhile, is already on to the next step of his plan, and approaches Song-yi's mother with a proposition to set up an agency for Song-yi. Mom nearly faints in joy.
Detective Park gets the information on the fountain pen owners, but is stumped to find that none were in the country at the time. One guy was even reported missing and declared dead a couple of years ago.
Min-joon watches footage from his library security camera, watching Song-yi escape an attack from Killer Secretary. To make the threat to her life even more pressing, he then gets a text from Jae-kyung, accompanied by a picture with him and Song-yi's mother. The note gloats that with Min-joon being so protective of Song-yi, Jae-kyung had to find another way in.
Se-mi is still processing a recent conversation with Hwi-kyung, in which he took back his earlier words about wanting to remain her friend. In light of recent events, he has realized that it's unfair to her, and would rather that she be happy—he doesn't want her living the unhappiness he feels. So from now on, he won't think of her as his friend.
With that on her mind, Se-mi heads over to see Song-yi, who takes a moment to don more glamorous clothes before answering the door. But she admits it readily to Se-mi, saying that she never used to feel awkward around her but felt the need to dress up today—it's as Se-mi wanted, for Song-yi to think of her as rival.
Se-mi sneers, and Song-yi's rather surprised to note how twisted Se-mi has become. With genuine concern, she advises, "That's not good for you. Just live as yourself. Don't get twisted because of me."
Se-mi retorts that her life has been twisted plenty thanks to Song-yi. Then without segue, she brings up Song-yi's rescuer, ready to drop her bomb.
Min-joon waits on a deserted street corner, hand clutching Yura's USB drive. He has another flash to his premonition of a hand prying that drive out of a hand, whose body lies prone in the street. Ack, was he seeing his own death? Get out get out get ouuuuuut.
And yet, Min-joon ventures into the street anyway. As soon as he does, a car comes barreling toward him, and in the split-second before impact Min-joon jumps up onto the hood of the car. He slams into the windshield and the impact sends him flying into the air. He falls to the asphalt with a thud.
Se-mi taunts Song-yi with her knowledge of her rescuer, laughing at her insistence that she'd recognize him on first glance. She accuses Song-yi of using that man as an excuse to keep Hwi-kyung in her thrall, in love with her and unable to move on: "But then why can't you recognize him? He's right next to you."
Song-yi works out her meaning slowly, not quite ready to comprehend what Se-mi is hinting…
All while Min-joon bleeds onto the street. The USB is wrested from his hand, and he can only watch lifelessly while the pool of blood grows around his head. Nooooooooo!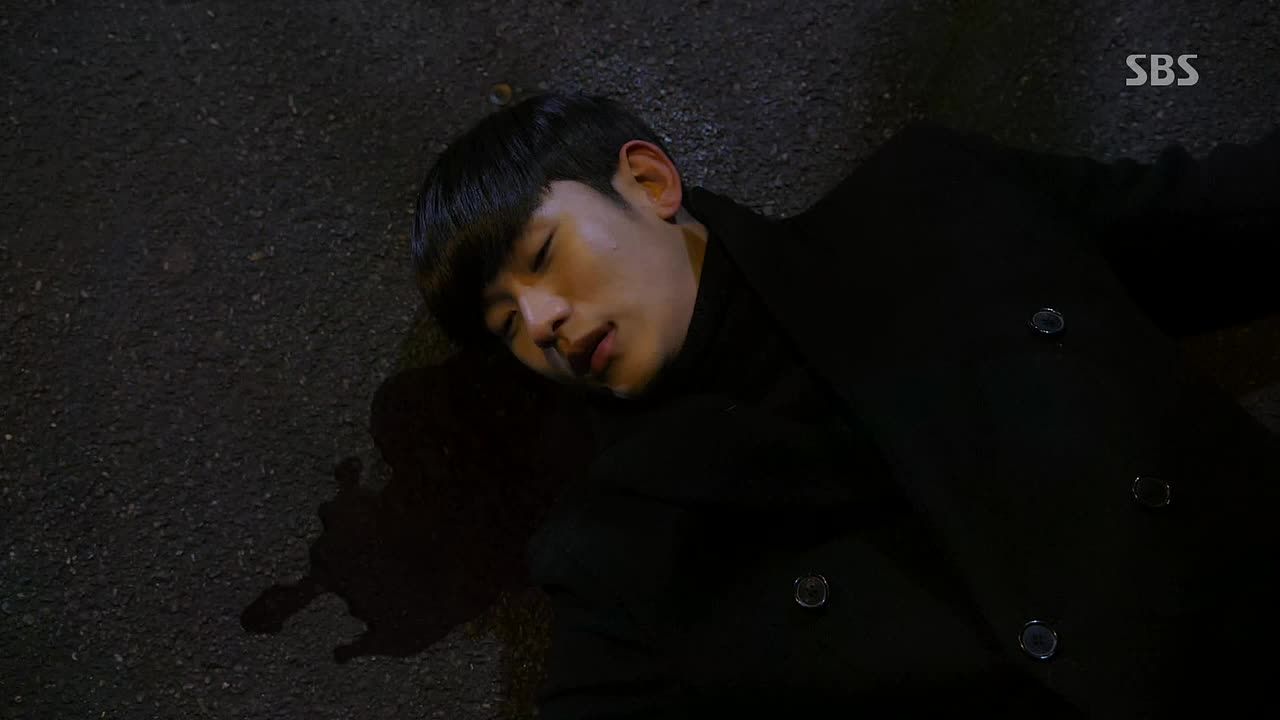 EPILOGUE
Back at the frozen lake, we relive the moment when Min-joon tells Song-yi he doesn't want to see her anymore. Sadly, she turns and leaves, fighting tears.
Min-joon stares after her retreating back and stops time. With the snow frozen in mid-air and Song-yi paused mid-step, he walks toward her, takes her hand in his, and kisses her.

COMMENTS
Noooo, you had to take this already impossible dilemma, then add metaphorical cancer to it ('cause the whole "you'll die if you stay here" thing is basically alien cancer, right?), and THEN hit him with a car? It's like you're trying to convince us there's no way out. Why would you do that to us? Whyyy?
(Yes I wail, but from a narrative standpoint I do think this stuff is all totally compelling. Playing out one obstacle for twenty episodes can drag things down, as we've seen in many a rom-com that let things stagnate for too long, but if this show manages to resolve every complication it's thrown at Min-joon, I will probably be that much more satisfied. Of course, that requires a happy ending with a logic that fully reconciles with the resolution, but I'm going to go ahead and let my hopes fly.)
I wonder why Min-joon let that car hit him, because I don't know if I can believe that it just happened too quickly for him to process. Maybe that's what happened, but if he can freeze time with a mere thought, there's gotta be a better explanation. Furthermore, he had a premonition of this very scenario happening—why? Does this tie in to the concept of fate, which he has mentioned a few times before?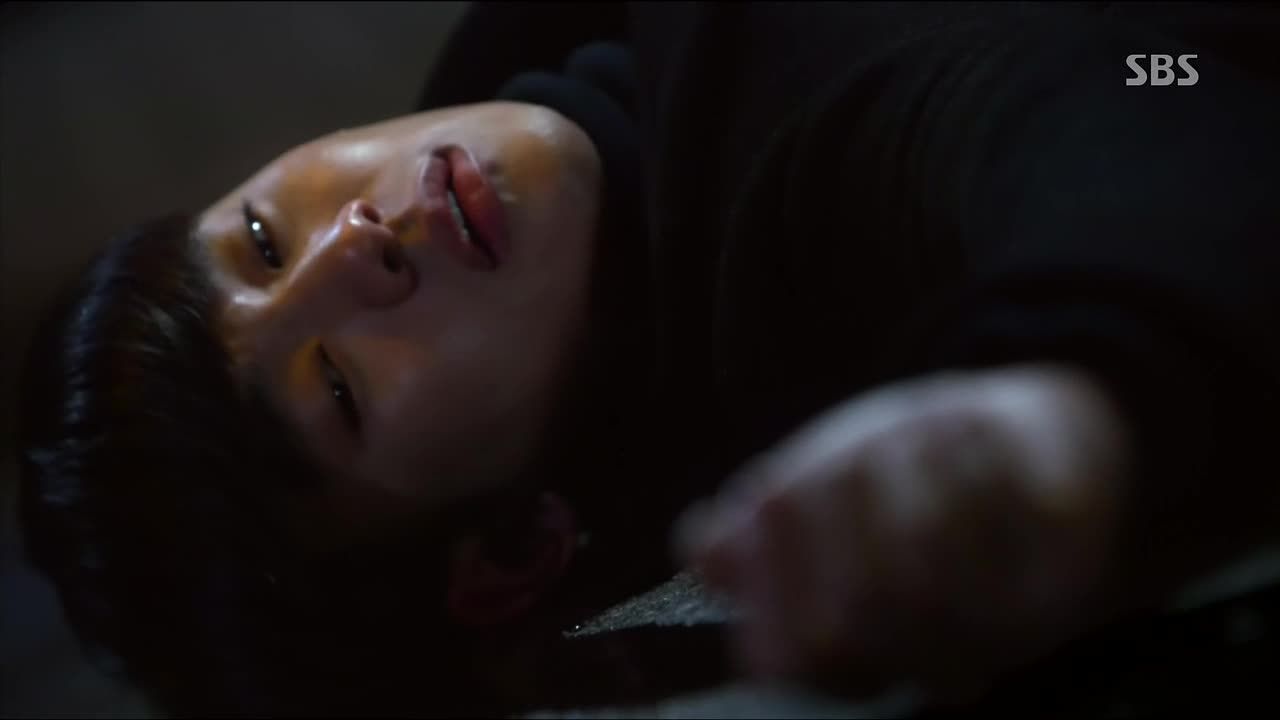 If he was given those previous premonitions about Song-yi's life, why did he act on those but not on this one? There was a moment when he regarded the USB drive and recalled his vision, so I'm pretty sure he made the mental connection. Furthermore, why did the universe give him those premonitions in the first place? If he were given chances to save either Song-yi's life or his own, I wouldn't wonder at it, but that his powers connect him to her piques my curiosity in a way they hadn't been before.
Yet even with that cosmic connection, I love that the show has let these two fall for each other on their own merits, so that even if there is some Grand Plan out there, I won't feel cheated about them falling in love because some big jerk in the sky is pulling the strings. (I really do balk at Fate-centric dramas—by which I mean dramas that hinge primarily on Fate enacting events, not dramas that merely mention Fate like this one. You'll never get completely away from the concept in a K-drama, but I can never get entirely onboard when it's all about it.) True, Min-joon was drawn to Song-yi partly because he realized she was the girl he'd saved before, but he fell in love with the grown woman, not the girl who looked like the girl from Joseon times.
Now we'll have to see if Song-yi's feelings change at all to realize that Min-joon is her mystery man, held up in her memory as her ideal for the last decade. Will she fall for him even harder? Is that even necessary, since she's so far gone now? I hope the show twists that expectation on its head, as it has done with a lot of its rom-com conventions, because I find that their love story in the present day is gripping enough without the past tying them together.
But first, he's gotta not die. Don't die!
RELATED POSTS
Tags: featured, Jeon Ji-hyun, Kim Soo-hyun, You From Another Star