You From Another Star: Episode 12
So much heart, which perhaps explains why there's also so much heartbreak. The greater the stakes, the greater the pain? Even so, I'm full of optimism about where the emotions will eventually take us, and at this point it hardly matters whether that's mostly the delusion talking (no sad endings nooooo), because I'm clinging to that hope like it's a lifeline. Because it is, at least for Min-joon.
All this meaty angst has propelled You From Another Star to another ratings high; it has been hovering in the mid-twenties for the past few episodes, but broke through to hit 26.4% with numéro 12.
SONG OF THE DAY
Hyorin – "안녕" (Goodbye) from the drama OST [ Download ]
Audio clip: Adobe Flash Player (version 9 or above) is required to play this audio clip. Download the latest version here. You also need to have JavaScript enabled in your browser.

RECAP: TWELFTH RECORD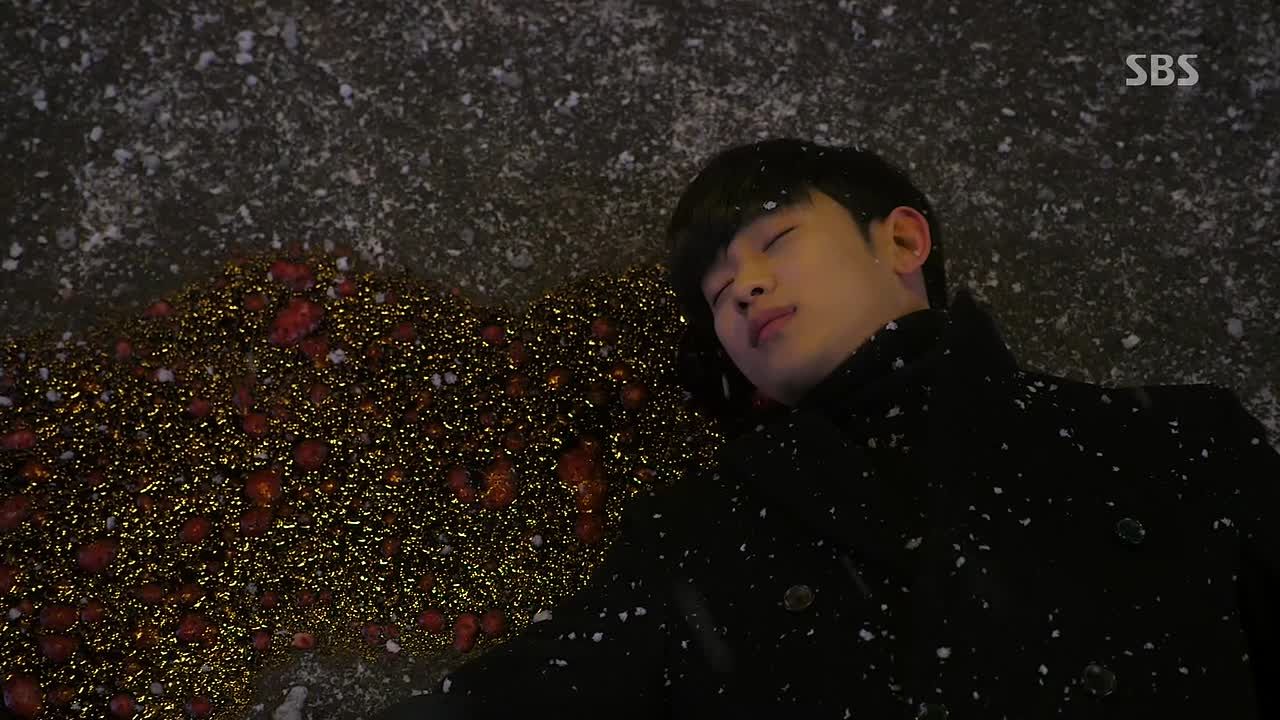 Min-joon is hit by a car—he sees it coming, but either cannot or does not stop it. He flies into the air and slams into the ground, where blood pools around his head at an alarming rate.
A couple pulls over by the side of the road and calls emergency, staying until the ambulance arrives. But when they look for the victim, the body that was there moments earlier is now gone, leaving behind only a silhouette outlined by the fresh snow.
We jump back one hour, when Se-mi dangles information about the identity of Song-yi's long-awaited savior. Song-yi surprises her by stating that she doesn't care to know the thing Se-mi's dying to tell her, and finally realizes that Se-mi has been secretly in love with Hwi-kyung all this while.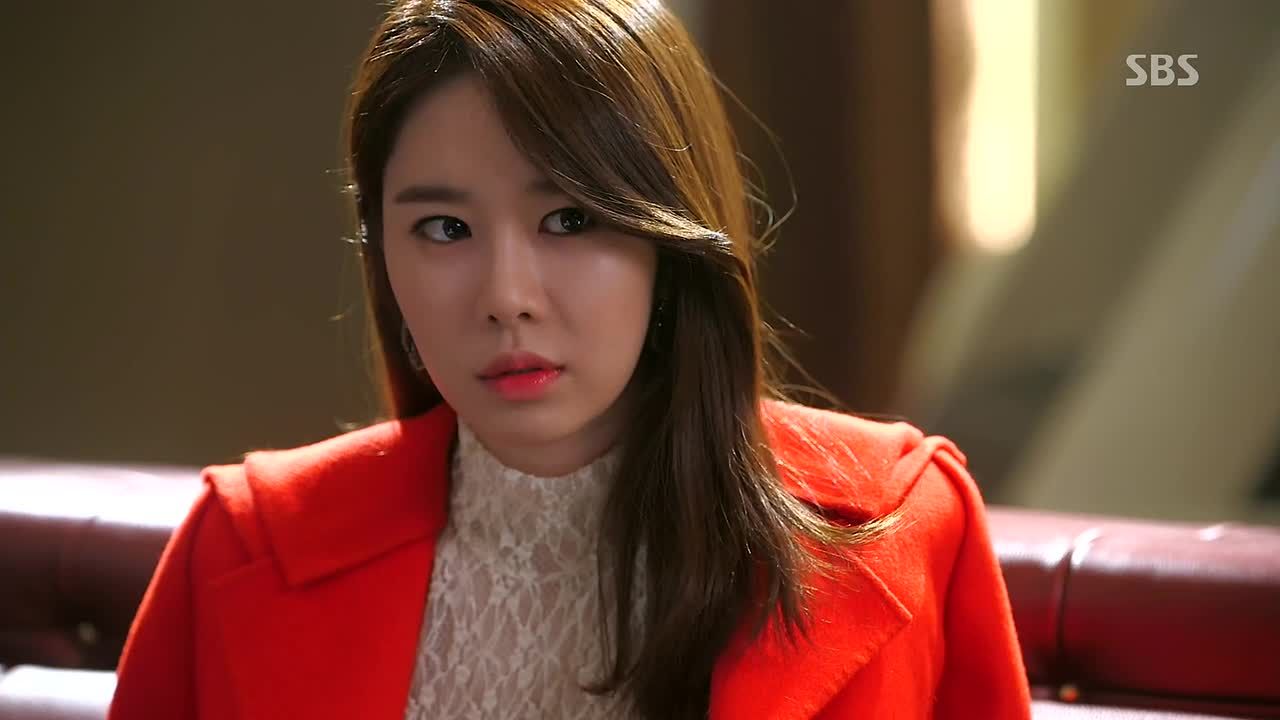 Se-mi hadn't meant to give up that secret but admits to it, saying that she's loved him for as long as Hwi-kyung has loved Song-yi. Things sharpen into clarity for Song-yi, who acknowledges that Se-mi must've hated her quite a bit because of that. She also understands that the sudden mention of her rescuer is prompted by spite—and therefore she tells Se-mi to keep that knowledge to herself. After all, Song-yi can't believe a single thing she says, seeing that Se-mi wasn't honest with her over their entire fifteen-year friendship.
Song-yi explains that she was curious about the man who saved her life on the same night she lost her father, and for that reason she wanted to meet him again—however, she doesn't care about that now. If she has cause to recognize him in the present, well, she'll come to that on her own. So Se-mi had better not speak of him again, she warns, or use that man as an excuse to toy with her.
I love her response, especially since it just about gobsmacks Se-mi into speechlessness. Song-yi adds that people have a tendency to see somebody in a better place, and rather than wishing themselves to go to that nice place, they pray for the other person to fall down into their own abyss. She declares, "Sorry, but I won't go down to the abyss where you live. Hating someone, being jealous, doing hellish things—I won't do any of that. So don't try to bring me down to your level." I think that calls for one triumphant booyah.
Song-yi tries calling and texting Min-joon, growing increasingly anxious when he doesn't reply. So when she sees Yoon-jae rejecting a call from a girl who likes him, she smacks him upside the head and goes off on a rant about common courtesy and answering calls. Aw. Listen to your noona!
Finally Song-yi heads next door, where she sees blood on the handle. Alarmed, she lets herself in and finds Min-joon collapsed in a fresh pool of blood. Ack! That looks horrific.
As she hovers over him, Min-joon dreams (or experiences a spiritual moment as he faces the afterlife) that he stands on the far side of a river while Song-yi stands on the other side, shouting his name and begging him not to leave. He vanishes… and reappears before her to take her hand. They smile at each other, and the vision tilts on its axis, landing us back in the present moment.
Song-yi calms a bit when Min-joon opens his eyes, and grabs her phone to call for an ambulance. But he manages to groan a contradiction, telling her that he can't go to the hospital.
Instead Lawyer Jang is called again, and does the best he can in wrapping up the wound. He thanks Song-yi for not taking him to the hospital, then decides to divulge one truth by informing her that Min-joon will be leaving in less than two months. He doesn't explain why or how, but advises Song-yi to start preparing her feelings to part ways, because it will do neither of them any good to grow too attached.
He asks her to leave Min-joon to rest, but Song-yi can't go far and paces in the hallway for hours, which Lawyer Jang sees via the door camera.
Jae-kyung receives word of Min-joon's escape from Killer Secretary, not noticing that Hwi-kyung can overhear their conversation in front of the house. He mentions Min-joon being badly hurt and disappearing at the last minute, and while it doesn't implicate Jae-kyung directly, it sounds ominous enough that Hwi-kyung ducks out of view. Too bad for him hyung spots him anyway. Aieeee. I feared for little bro when he was oblivious, but now that he's on to Jae-kyung's nefarious nature, he's just put a target on his own back.
Min-joon sleeps, telling us, "I dreamed a happy dream." The dream sequence depicts his very mundane but heartfelt fantasies as Song-yi wakes him up in bed, then insists on cooking breakfast (while a nervous Min-joon stands by to catch any dishes she will inevitably drop).
They watch television together, with Song-yi reaching to order freely from the home shopping channel while Min-joon tells her to save her money and wrestles with her for possession of the phone.
Then they return to the frozen lake, where this time Min-joon joins Song-yi in lying down and making snow angels.
As they walk home together, Song-yi has a craving for ice cream. He says it'll make her gain weight, and she worries that she already has. The camera pans down to reveal that she's hugely pregnant, aww, and Min-joon tells her she's more beautiful this way.
Then they finish off the night by reading in bed and snuggling down together. The desires are beautiful in their simplicity, and therefore heartbreaking. Min-joon concludes, "And I realized that happy dreams make me even unhappier when I wake."
Hwi-kyung finds Song-yi still crouched in front of Min-joon's door. His brother's conversation tips him off that something bad happened to Min-joon, though he says he merely guessed that based on Song-yi's worried face. She asks Hwi-kyung not to tell anyone about Min-joon's accident; if he refused the hospital, there must be a reason for it.
Mom arrives in good spirits, presenting the agency documents for Song-yi to sign. Hwi-kyung is surprised to hear of Jae-kyung's intentions, and also suspicious. So when Song-yi declares her disinterest in signing, he cuts Mom off from nagging and assures Song-yi that she's fine to decline.
Detective Park knocks on Min-joon's door, intent on interrogating him over Seok's attack. He gets Lawyer Jang at the door, who is sharp enough to see that Detective Park is overstepping legal bounds and eyeing Min-joon as a suspect, despite claims that he's merely a witness. Go Lawyer Jang, go!
Rebuffed at one door, Detective Park heads to Song-yi's and flashes his badge at her. She lets him in (urggg, I hate his smugness thinking he's so onto Min-joon's villainy), though she offers him no useful information. His question about Min-joon being at the wedding on the ship triggers her memories—the ones she'd written off as a dream—but she tells the cop that there's no way Min-joon could have been there and that she knows of nothing strange about him.
Then he asks if Min-joon had any involvement with Yura, sharing his hunch about him being Yura's secret boyfriend. Song-yi emphatically denies that and shares what she does know, recounting the scene she witnessed on the boat. Ah, finally somebody points the finger in Jae-kyung's direction.
The detective asks Song-yi what her relationship to Min-joon is, smirking knowingly. But she can only answer honestly that she doesn't know.
At the dinner table, Hwi-kyung sneaks a glance when Jae-kyung unlocks his phone, and uses that PIN to gain access while his brother showers later. He finds the entry for "K"—the woman who called frantically the other day—and copies down the number, but in his haste he drops the phone and just barely shoves it back before hyung emerges from the bathroom.
Jae-kyung is instantly suspicious, though both brothers feign friendliness as they talk about plans for Song-yi's agency. Then Hwi-kyung slips back to his room to call the number for K, finding that it belongs to a psychiatric hospital. He asks if the ex-wife is a patient there, but gets a denial. Jae-kyung must've used a fake name, I'm guessing.
Min-joon recovers quickly given the gravity of his head wound, and Lawyer Jang asks how he got into the accident in the first place. Min-joon is mystified too, because he should have been able to do something with his powers to save himself—even though he was slightly weakened, this is the first time he has been wholly unable to control his powers. He supposes that his abilities may be disappearing one by one with his departure date approaching.
Lawyer Jang admits that he told Song-yi to move on, to Min-joon's alarm. He adds that spending half his life protecting Min-joon was "the most meaningful work in my life" (tears), and he can't just stand by doing nothing while Min-joon gets caught up in trouble, especially with his powers waning. He reminds Min-joon of his own words, that interfering in human matters only made everything worse, and asks if interfering in Song-yi's matters has improved anything. Lawyer Jang urges Min-joon to move away immediately to make the separation easier, a suggestion that makes Min-joon's face fall, though he can't argue.
Song-yi finds Min-joon's door passcode changed and can only ring the doorbell, which goes unanswered. She looks into the camera as Min-joon watches longingly from inside, and tells him, "There were so many things I was going to ask, but now I don't need to know. You've opened your eyes and woken up, so it's enough for me. I miss you."
Finally awake, Seok recuperates from his attack and hears of Detective Park's latest findings about the fountain pen and Yura's boyfriend. Intent on getting back to work immediately, Seok leaves the hospital, to his mother's displeasure.
Mom overhears enough to cotton on that the Yura case is heading in the "foul play" direction, and she takes her suspicions to Se-mi. This is a cause for concern, because to Mom's thinking, Song-yi may get her reputation restored—and then Se-mi will stop reaping the benefits of taking all of Song-yi's leftovers. Oh boo effin' hoo, Mom. Nice priorities.
Se-mi seems to agree, though she's shrewder about playing this close to the vest as she takes action to manage the fallout preemptively. So when she meets with a director for her first leading movie role, she suggests that he cast Song-yi—as her sidekick. She says with false sweetness that she'd really love to help her friend make a comeback. I'm sure.
Song-yi comes home to find a realtor at Min-joon's door with a prospective new tenant. (Ha, it's the return of Jung Eun-pyo, who previously played Min-joon's Joseon realtor friend; this character is his tenth generation descendant, lol.)
Not about to accept Min-joon's move so easily, Song-yi offers the "tip" that there's something wrong with the property, blaming her move her for precipitating her current downfall. Muttering that she's lost money and her health, she starts hacking conspicuously for good measure. Haha.
Song-yi has a pity party with Bok-ja, filling her in on the details of her crush's impending departure and mysterious health concerns. Bok-ja wonders if the man is a criminal and warns Song-yi that she could become an accessory. Song-yi: "I did some reading on the internet, and they say that you can't punish a spouse for that." Bok-ja scoffs at that ridiculous notion, while Song-yi asks hopefully, "Would that really be so weird?"
Then Yoon-jae comes home and Bok-ja is smitten. Oh no, not that one! He's not legal! But no worries, since then Hwi-kyung drops by and Bok-ja is smitten again. LOL.
The investigators meet with Jae-kyung to ask about his relationship with Yura, explaining that they heard from a witness. This leads us to a flashback of the night of her death:
On the boat, Yura is pulled into a room where Jae-kyung has prepared a romantic private party for them, and toasts her with champagne. She assures Jae-kyung that she'll never betray him like his first wife did, chalking up the ex's current misery as deserved punishment for her misdeeds.
Jae-kyung smiles and says that he knows she can't betray him. When Yura wonders at her sudden dizziness, he outlines the effects of the drug he slipped her: First her limbs will paralyze, including her tongue so she can't speak. Because it's made of the same ingredients as her antidepressant, investigators will write it off as her usual meds. Thus her death will go down as just another in a long list of celebrity suicides.
Yura gasps in shock, but finds that the effects are coming on quickly and already she can't speak. She staggers out of the room, grasping the railing like a lifeline, and backs away as Killer Secretary advances on her. Thanks to the fireworks show, nobody sees her being shoved overboard, and in the blink of an eye she's gone.
Not that Jae-kyung would admit any of this to the investigators, of course. He denies having ever dated Yura, or fighting with her on the boat. She was merely his company's brand model, nothing more.
To Jae-kyung's surprise, Min-joon calls him for a meeting, looking remarkably healthy. Min-joon then offers to do as Jae-kyung wanted—take the fall for everything, then disappear. "Will you stop here, then?" he asks. Oh nooooo. I mean, I get it—if he's going away anyway, may as well spare Song-yi the danger. But nooooo. Somebody's gotta string up Jae-kyung as he deserves and nail him through the heart with his stupid ring. Or the spleen, given that he probably doesn't have a heart.
With no other way of getting to Min-joon (well, no reasonable way), Song-yi contemplates crossing the space between her balcony and Min-joon's. Convincing herself not to look down, she climbs up onto the planter between the two balconies, just as Min-joon calls. Asked what she's doing, she admits she's "currently risking my life to see you" but is only too happy to climb down when he asks to meet.
Buzzing with excitement, Song-yi gets dolled up, though Min-joon barely spares her a glance when he picks her up. (I love her response to his failure to open her door: "Well, I can open it myself. I have hands.") As he drives, he asks about the questions she'd wanted to ask, which she explains don't matter to her now: "You opened your eyes, woke up, and are next to me now. That's enough."
While she chatters cheerfully, Min-joon thinks to his earlier conversation with Lawyer Jang, who urged him to consider the relationship one that never should have begun. Min-joon had asked, his voice breaking on his tears, "Why must I do that? I have under two months left to see that woman. I like her. I care for her."
In the present, Song-yi asks where he will be going in two months, offering that she's fine with long-distance relationships. So if he's pushing her away just because he has to leave, he doesn't have to.
Past Min-joon continues his tearful confession to Lawyer Jang: "I'm fine with two months, or one month—I just want to be together. If I can't leave… if, as you say, I will die here… if I can only remain sleeping in that happy dream, I want to do that. Is that truly impossible? Can I not do that?"
Present Song-yi asks if he might possibly be a wanted criminal, though I love that her immediate response is "Well, it would be harboring a criminal so we couldn't register a marriage so suddenly…"
Min-joon takes Song-yi to the university museum, where he reminds her of his initial warning not to trust him: "The man you so foolishly trust has brought you here to tell you of his secret." Omo. The whole shebang?
Spooked by his serious face, Song-yi says he doesn't have to tell her. But he persists, starting with the incident from twelve years ago: "I'm the one who saved you then." And the reason he saved her was because she looked just like the girl he knew from 400 years ago, the owner of that hairpin in the display case.
She asks how he could know what a girl looked like from back then, and asks if he's lived that long.
"Yes," he confirms. "Four hundred years ago I came here from another world and could not return to my home. I lived here for four hundred years."
Rattled, she says they ought to go home because he must still be ill. Using his mind, Min-joon shatters the glass case behind her and says, "You said you didn't care who I was. This is the kind of person I am. Does it still not matter to you?"

EPILOGUE
In his interview/confession, Min-joon says, "You ask how I feel with my departure approaching? Well…" And then his face starts to crumple, and he chokes back his sobs. Oof.

COMMENTS
I'm sitting here trying to arrange thoughts to words in something of a thoughtful fashion, and the only words that actually come out are "Oh no." Perhaps more accurately expressed as "OH NOOOOOOO."
This is partly because we finally got to see Min-joon's wistfulness in full force; we could see the glimpses here and there, but since we'd mostly seen the post-cold shoulder interactions from Song-yi's perspective (albeit with the added knowledge of Min-joon's reasons) we hadn't gotten a clear look into Min-joon's heart. And today not only did he express the full depth of his conflict, we also saw him smiling and fully in the moment of his happy dream, and I think that may have been the thing to kill me. Kim Soo-hyun crying always does me in—he is so in the moment, so anguished—but it was so much better(worse) having the tears preceded by the longing in his utterly mundane picture of complete happiness.
You could argue that Min-joon's life on Earth has been composed of entirely mundane experiences, given the tiresome nature of living out a quiet life for 400 years, where his aim was to go unnoticed so that his death would be easily glossed over. But Min-joon has denied himself mundane pleasures to such an extent that his greatest wish is to live a limited lifespan with a loved one, just like ordinary folks, and Fate just won't let him have any piece of that, whatever way you slice it. That bitch.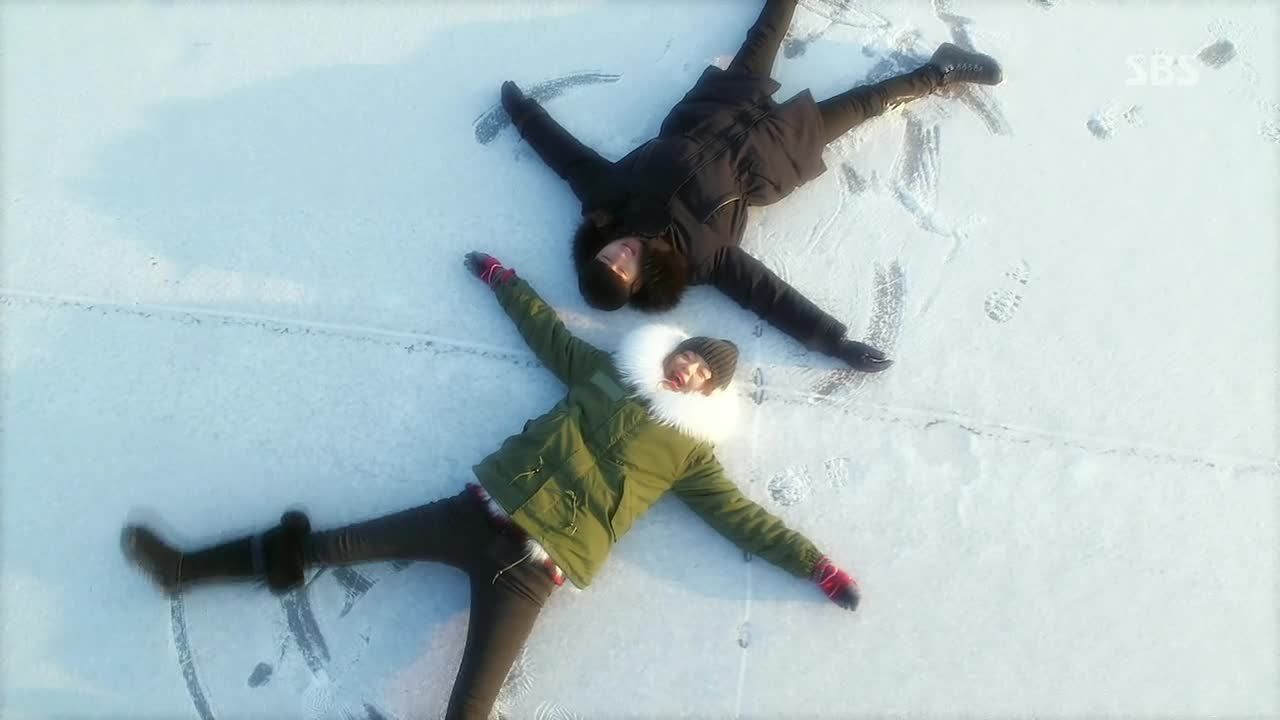 Is it too much to ask for that he get to have his two months before moving on or dying, whichever comes first? Even cancer dramas give that to their protags. YOU MUST NOT BE CRUELLER THAN A CANCER DRAMA. Just sayin'.
I loved the vision/dream/metaphor with Min-joon envisioning himself crossing the river to the afterlife, and Song-yi being the one to call him back. No hesitation, no qualms, just one look at her and he poofed right back to her side. I'm taking that as a very positive sign that she'll be the cause of his eventual survival as well, even though I have no idea exactly how that would work. Details, piffle. Just make it happen! Because inasmuch as she is the one big catch to his initial plan (to lie low until he could return home), she has now become his one big reason for doing, well, everything. Squees for days.
A lot of times in rom-coms, hilarity turning to melo tears is about when I start to disengage, not because I dislike melo (everything in its time and place!), but because I was SO enjoying the hilarity that its decline is a noticeable loss. I'm grateful that this isn't the case here, because while I miss the funny, I'm no less engaged now that the characters are dealing with the fallout of falling in love. It's not that I think You From Another Star is the second coming of rom-coms or the best drama to ever grace the airwaves, but it has made me care about its characters to the extent that I'm not caring so much about genre rules as much as I just want them to all make it out alive.
And happy, of course. Happy is a given!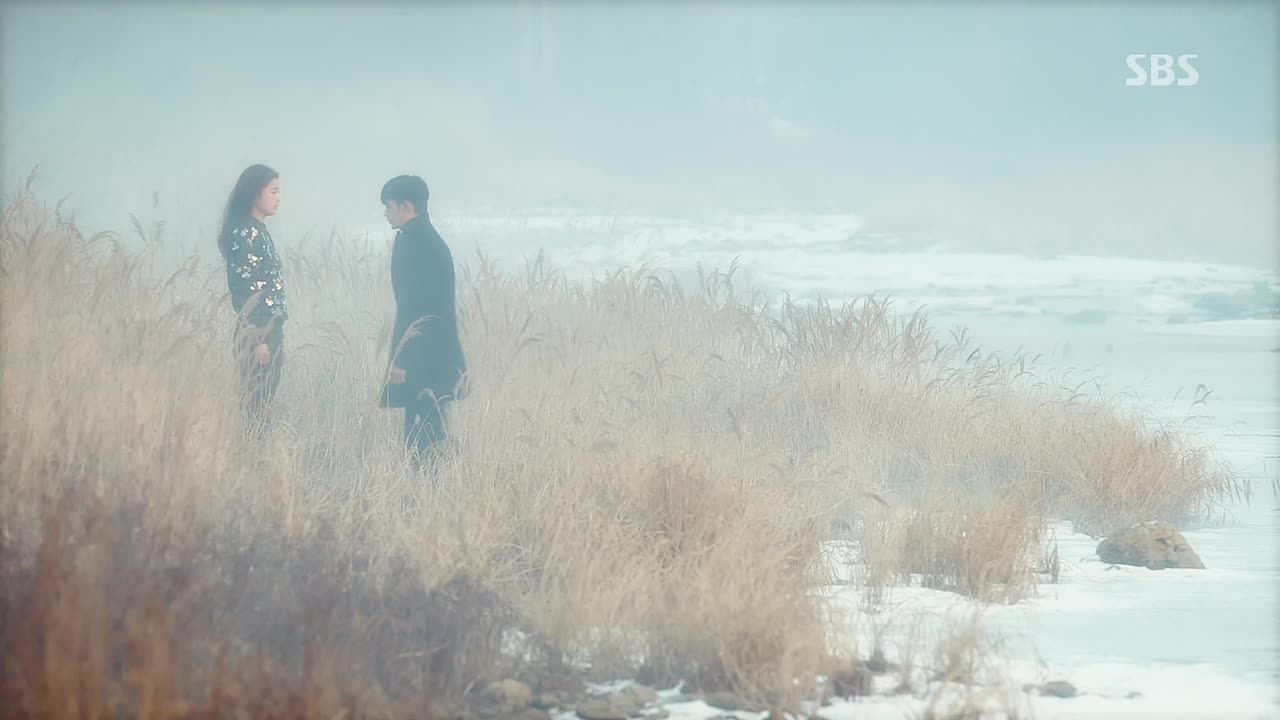 RELATED POSTS
Tags: featured, Jeon Ji-hyun, Kim Soo-hyun, You From Another Star