You From Another Star: Episode 7
I just love this couple. There's something really gratifying in the whole Superman–Clark Kent duality of doing something for the person you love, then keeping your cover by putting up a different facade entirely. It's interesting that Min-joon's facade is actually his natural personality—gruff and crotchety—and yet it's becoming a mask more than anything. As he explains, things are changing, and not just in an emotional way, with his impending interstellar voyage stirring some physical changes as well. Or is it? What else could it be? Stuff to wonder 2about.
SONG OF THE DAY
K.Will – "Like a Star" from the You From Another Star OST [ Download ]
Audio clip: Adobe Flash Player (version 9 or above) is required to play this audio clip. Download the latest version here. You also need to have JavaScript enabled in your browser.

RECAP: SEVENTH RECORD
With Song-yi is up in the Ferris wheel, Min-joon overhears as Hwi-kyung confesses his feelings for her. Just as she starts to reply, Min-joon freezes time, afraid of the answer.
He drives home, and once he's at a fair distance, time unfreezes for Song-yi and Hwi-kyung. She senses strangeness, though, and wonders what just happened. She tells Hwi-kyung that up until a second ago she was going to give him a yes—that she was willing to call her fondness for him love and go with the easier path. It's what her parents would have wanted, and it would have been comfortable to accept Hwi-kyung's love (and his chaebol riches).
"But I'm really sorry," she says. "In only a second my mind changed. I can't do that."
Despite that, Hwi-kyung pulls her into a hug and says she's come a long way from the curt rejections she used to dole out, and says he'll accept the "I was going to say yes" and not the rest. It gives him something to hope for, that he can change her almost-yes into a real one.
Min-joon drives up to a cliff above the city (which looks a lot like the cliff where Yi-hwa died). It's that scene that runs through his mind now, and he thinks, "For the first time I wanted to protect somebody, but without being able to do anything I lost her. That was the first death I witnessed on Earth."
We resume Min-joon's library interview, where he tells his unseen audience (or a camera, or us) that people fear death because we're afraid of being forgotten by the ones we leave behind. He himself had never feared death because he didn't care if people forgot about him.
"But now, I have started to feel afraid," he says. "I've found someone I don't want to be forgotten by. And it had to happen now of all times, just as I must go to a different world."
Despite his acceptance of Song-yi's answer, Hwi-kyung heads to a bar where Se-mi finds him very drunk. He gives her a bear hug and cheerily calls her "the friend I love," but his mood dips as he confides about being rejected. Se-mi urges him to give up now, but he asks if she can control her feelings, because he sure can't.
Hwi-kyung wonders if Song-yi is (subconsciously?) waiting for her accident man to reappear. Se-mi confesses that she thinks she's seen him, but Hwi-kyung is passed out from drinking and doesn't hear her. Se-mi pats his hair and admits that she can't control her feelings, either.
Song-yi's mother and brother show up at her door for an (uninvited) housewarming of sorts, and while ringing the bell gets no response, Mom manages to guess the passcode (not too hard, as it's 1111). They let themselves in, so there's a fair amount of shrieking when Song-yi walks by and sees people in her home.
Little bro Yoon-jae accepts a gift from a fan at the door, which turns out to be another threat from an anti—a dead mouse with a note reading "You die too." Yoon-jae runs out to catch the deliverer, but only sees the back of him as he zooms off on a motorcycle.
Yoon-jae wants to report it to the police, but Mom protests—stirring up more news would just exacerbate the antagonism against Song-yi. Song-yi plays it down, though, saying that it's not something to get worked up over. She points to a huge teddy bear and says it was also fans who sent that, so not everybody hates her. Plus, she has a new bodyguard/manager now.
As she leaves, Mom asks how her date with Hwi-kyung went, just as Min-joon rides the elevator up and his ears pick up their conversation. Mom flips out to hear Song-yi turned him down, while Min-joon relaxes.
Upon his arrival, Song-yi introduces Min-joon to her family as her new manager. He only gets out "I'm not—" before she steamrolls over him, linking arms tightly and saying that he lives next door, went to Harvard, and speaks English. It's convenient and helpful, case closed. She shoves her family into the elevator and says goodbye quickly.
Min-joon's back to his cool demeanor (which I love, given his dread over Song-yi's proposal response) and balks at the arm-linking, while Song-yi says that he should be used to such skinship if he spend so much time in America. He snaps, "I didn't have friends in America so I wouldn't know," and she pesters him to think over why that might be.
He also says he never agreed to be her manager, but his usual curtness softens with one look at her face. Song-yi confides about the two anti-fan packages that were delivered to her, and Min-joon takes her by the hand and invites her in.
Song-yi sighs over how quickly a long career can turn to nothing over unsubstantiated rumors. He says that it's enough that she knows she's innocent, but she calls that naive thinking. She sighs about her troubled future, then wonders if she should have accepted after all. Song-yi explains about Hwi-kyung's proposal and says that after she pays off that CF contract fee, if she can't renew her contract with her agency she's basically broke because her mother spent everything. But Hwi-kyung promised to take care of her forever.
She doesn't even know why she said no, and wonders if she should reconsider. Min-joon barks, "Why would you do that?!" To cover up the outburst, he stammers that you're not supposed to barter with marriage, citing an ancient text. She asks if it also instructs one to help out a neighbor in need (hint hint), adding that he ought to stick close to her side starting tomorrow.
Later Min-joon heads down to his library, telekinetically pulling various books from their shelves. As they float in the air, he takes one—that book he'd been reading earlier, Miraculous Journey (by Edward Tulane). He resumes reading:
There was once a beautiful princess. In the black, moonless night, she shone brightly like a star. He wasn't sure why, but Edward was comforted by those words, and murmured them to himself: In the black, moonless night, like a star.
Min-joon tries them out himself, liking the sound of those words.
After repeating those words many times, at some point the day dawned.
Over breakfast, Se-mi asks her oppa Seok about the man in the boat's CCTV photo. He chides her for looking at his investigation materials but admits that he doesn't know who he is, though he's trying to find out.
To that end, Seok has sent Min-joon a letter in the mail, and Min-joon complies with the summons by appearing at the station. Seok and Detective Park explain seeing him on the cameras of the boat and the beauty salon where the two actresses fought, and know that he's both Song-yi's neighbor and course instructor. Min-joon asks if they suspect him of being involved in Yura's death, and Seok answers that it's his job to harbor suspicions.
Min-joon says he was home at the time of the crime, and the security cameras in his apartment building can confirm his alibi. That checks out—as does the handwriting analysis confirming that Yura wrote her suicide note.
Song-yi's home is littered with the remnants of a beer and chicken binge, and she sleeps amidst the mess on the living room floor. She jerks awake reflexively and calls Bum out of habit, who is at work as Se-mi's manager. Song-yi overhears as Se-mi is heaped with praise, including the comment that having a different lead actress makes for a much nicer set.
Min-joon receives a page and checks his voicemails, the first of which is from Bok-ja at the manhwa store, complaining that he hasn't returned his stack of books (the adult manhwas he took out for Song-yi). The second is from Song-yi, which brings a smile to his face as she barks at him to buy a cell phone. Next thing we know, he walks into a store to request "the phone that gets the best reception of them all." Collectively now: Awwwwwww.
Hwi-kyung sits his father down for a business proposal, which is laughably simplistic though his father humors him by listening. He requests his father's help in starting a new business venture… as an entertainment agency focusing on one star. Song-yi, naturally.
Dad harrumphs and reaches for his golf clubs (to beat some sense into him), but surprisingly he agrees to give the idea a shot, seeing as how much his son adores Song-yi. He says gruffly that he's not giving his permission to marry her, though, and Hwi-kyung hilariously replies, "Why would I need your permission? First I need hers." Yeeeeees, I suppose that is a thing you need, if you weren't too busy counting your chickens. But it's cute.
Song-yi snacks up a storm while watching the home shopping channel, which is selling a miracle belt that'll work out your abs without any exertion. "Was I stupidly exercising all this time?" she wonders, grabbing her phone to call in. That's when Min-joon calls on his brand-new phone, and she whips up a random excuse to call him home—a business strategy meeting.
Song-yi's proposal is basically a roundabout spiel touting the need for her to practice eating, so she can film food CFs when she resumes working. Min-joon barely refrains from eye-rolling, while Song-yi instructs him to put lots of thought into thinking up fresh ideas for future dinner menus. Lol.
Min-joon nearly turns away the deliveryman at the door, only to have Song-yi jump in to say she ordered a bunch of stuff off the TV. But she can't have them delivered to her house, so she gave his address. She leaps out of view while he resignedly signs for the package. (Deliveryman: "Your name is Do Manager"?) Pwahaha.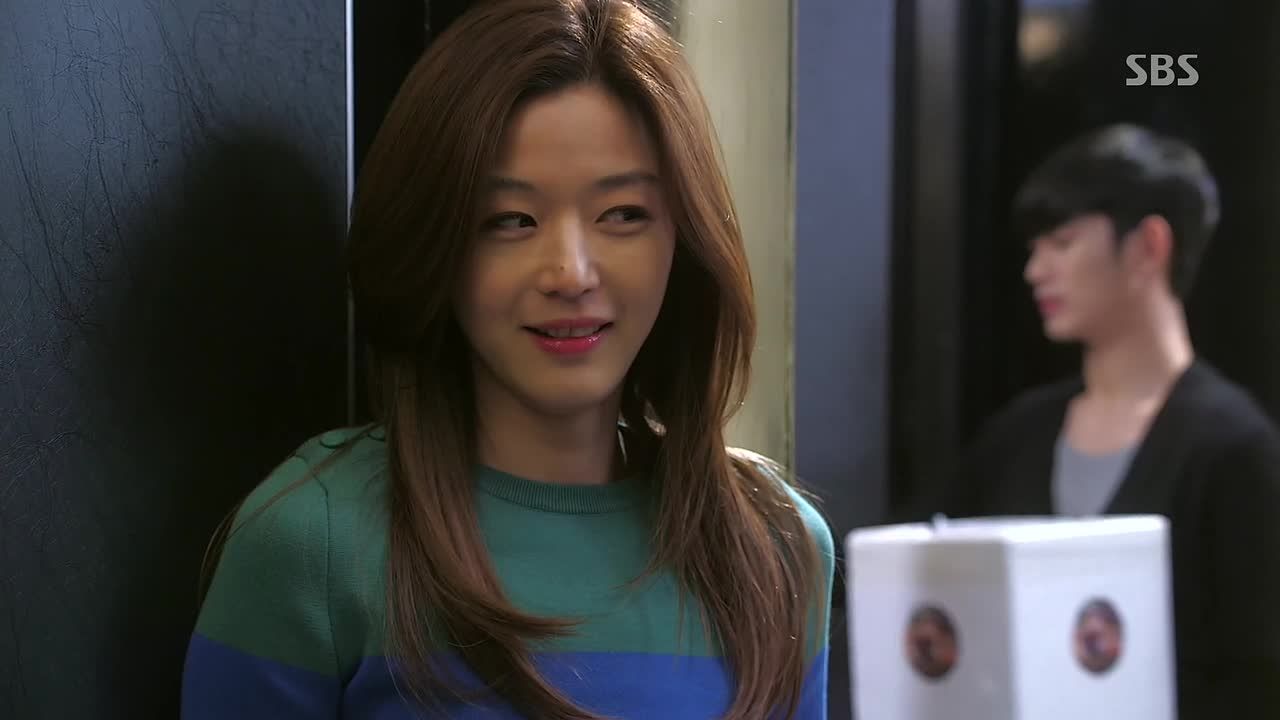 She makes herself right at home to prepare rice to go with the fresh crab she just bought, adding that she's not so mean as to eat alone. Min-joon reminds her, "I don't like eating with others." Song-yi reminds him, "But I don't like eating alone."
Cut to: Table set for two, of course.
Song-yi complains about the tiny volume of crab, and Min-joon uses another Joseon-era adage to basically call her a fool for ordering it in the first place. Song-yi recalls that it's drama hour and suggests they watch in front of the TV, and Min-joon puts his foot down, saying that one dines at the table. Song-yi looks up at him with great round puppy-dog eyes. And pouts.
Cut to: Dinner at the coffee table, of course.
It's Se-mi's drama, and Song-yi tsks-tsks through it, saying that Se-mi's acting is too mental and not emotional enough, and that the drama is bound to drop from 17% ratings to 8% for this episode. Only she's proven wrong when the drama breaks 20% and celebrates with a party the next day. The director praises Se-mi, who is showered with good press and offers to buy the whole staff dinner.
Min-joon has to chase after Lawyer Jang wonderingly when the latter stalks off in a tiff, miffed that Min-joon ignored his urgings to get a cell phone for the past decade, only to cave now. Min-joon merely says that he thought it would be handy, but when Lawyer Jang checks the phone, he confirms that Song-yi is saved in the No. 1 slot. Pwahaha.
Min-joon's eyes dart back and forth hilariously, and he says that Lawyer Jang is No. 2. Min-joon offers to swap their orders, but Lawyer Jang snaps that he doesn't care and it's childish. LOL. Then Min-joon stops to take a call from Song-yi (which Lawyer Jang stops to listen to, despite his huffiness), annoyed to hear that she's just hungry for a lunch partner—she could really go for some udon. He hangs up. And then takes Lawyer Jang to eat udon. Pffft.
Bum shows up at Song-yi's door to return the clutch she'd left behind—Yura's—and promises to wait for her so he can be her manager again. He says that after working under her bad attitude for so long, he finds Se-mi's kindness and good nature "uncomfortable and awkward. I miss your swearing and violence, noona."
Song-yi wonders what to do with Yura's purse, since it feels wrong to keep it. She drops it accidentally, and that's when she sees the flash drive.
Over lunch, Lawyer Jang wonders at Min-joon's sudden turnaround about eating together. Min-joon admits that it's strange that after eating with someone else, now it feels a bit lonely to eat alone. Then he asks for two additional orders to take home, merely saying that he'll eat them later.
As they walk out, Min-joon pauses and notes with confusion that it's cold. Lawyer Jang is surprised since Min-joon is usually insensitive to cold, and Min-joon supposes that it's just another sign that his departure is nearing: "I feel my body changing, little by little." Uh… oh… There's no way that's a good thing, is there?
Song-yi settles in with her fan-sent teddy bear—that can't be a good thing either, I'm thinking—and plugs in the flash drive. There are two video files on it, taken from what appears to be the camera in a hospital visiting room. Yura sits at a table with a nervous patient who begs her to help her leave, because she isn't crazy. "He stuck me here because I know his secret," the woman confesses. The woman's too scared to tell what she knows, but she warns of danger and pleads for help.
She doesn't get to see the second file because Min-joon arrives at the door with his two bowls of udon, and he lies that he didn't eat yet so as to join her. He puts up the weakest defense ever ("I… could eat by myself… or okay"). Adorable.
Jae-kyung watches something on his laptop (DID YOU SEND THE TEDDY BEAR YOU MURDERER), then instructs someone on the phone to "Begin it." Jae-kyung slaps on a smile when Hwi-kyung drops by to invite him to dinner tomorrow with Song-yi, and agrees readily. Behind his brother's back, he murmurs, "Song-yi won't be able to eat dinner tomorrow."
I'm willing to bet my pants that he's behind the following call to Song-yi inviting her to a boutique to shop its new additions. She's thrilled to have something to do for once and jumps up, just as Min-joon notices the teddy bear. With the help of his super-vision he sees the chip embedded in it, and pulls it out to find the hidden transmitter.
As Min-joon drives to the boutique, Song-yi wonders who could hate her enough to do this, and why they'd want to keep tabs on her in the first place. Min-joon stays in the car when they arrive, and Song-yi tells him in a plaintive voice, "Don't leave." He says he won't, and she thanks him.
Song-yi runs into Se-mi in the shop, and they sit down for coffee. Se-mi starts to give her excuse about the "misunderstanding" from before, but Song-yi says plainly that Se-mi lied when she told her she wouldn't take the drama gig while telling the director yes. "Did you think I'd tell you not to do it or get in your way?" Song-yi asks.
Se-mi says that she thought Song-yi would get upset, especially since Song-yi had never given her credit as an actress and now she was taking her role. In surprise, Song-yi asks, "I don't give you credit? Is that why every time I get a job, I tell the producers and the director about you and ask them to cast you?"
Se-mi's voice hardens as she accuses Song-yi of wanting to keep Se-mi near her without ever thinking of her as competition. "Even if I hated to stand there, I had no other way to do it," she bites out. "Standing there, smiling at you—have you ever thought how I must feel?" Se-mi says bitterly that she wanted Song-yi to consider her a rival and be jealous of her.
"What did you want me to do?" Se-mi asks derisively. "You wanted me to stand there in your place and feel sorry? Everything you gained without any effort, I worked myself to death and have only now started to gain. Sorry? I'm not sorry at all."
Song-yi's eyes fill with tears, and maybe realization. "Have you ever once thought of me as a friend?" she asks.
Se-mi sneers, "Ah, that. Sorry. Not once."
Song-yi rises to her feet and says, "When I hit bottom this time, there were a lot of times I felt like the pits. But there's one good thing about it. It filters out people. Who is really on my side, and who disguised themselves as being on my side. When life tests us, I wonder if it's God giving us the chance to filter out the real from the fake."
Leaving Se-mi stewing in angry tears, Song-yi walks out in a daze. It's Min-joon who notices first that there's a person dressed all in black standing at the railing above her, poised to drop something onto her head. The guy throws a heavy glass vase at her head, and Min-joon moves in a flash to pull her out of harm's way.
The glass shatters next to them, and Min-joon shoots a mind-wave at the perp to knock him down. Then he gathers up Song-yi, who has fainted, and carries her to the car.
Se-mi exits in time to see him take her away, and once more her mind flashes back to the mysterious stranger from twelve years ago, her suspicions growing more concrete.
It's back to the hospital for Song-yi, where Min-joon insists she undergo the basic tests to make sure she's okay. He gets a call from the police confirming that the perp was caught, and Song-yi sends him off to deal with it. She makes him nervous for a moment when she wonders how Min-joon was able to save her so quickly when she'd seen him in the car before the attack. He freezes for a second, then says she saw wrong.
A bit later, Song-yi is visited by a masked doctor (ah, it's Jae-kyung's secretary) who injects something into her IV drip. Once she's unconscious, he wheels her out of the room
The perp is a young punk who says he was just playing a prank. In giving his police statement the guy readily admits to all the anti-fan threats, though he insists that he wasn't behind the teddy bear. That's strange, and Min-joon mind whirls at the possibilities… like there being somebody else out there with a vendetta against Song-yi.
He bolts out of the station and calls Song-yi immediately, who doesn't answer, as she is currently out from her drugging—and in the driver's seat of a car. A moving car, which slowly picks up speed down a mountain road.
Song-yi jerks awake and slams on the brakes, but they've been cut. The car hurtles toward a cliff and she begs for help, screaming for Min-joon.
He races to her hospital room and finds it empty. As she's yelling for him to save her, Min-joon sharpens his hearing and listens intently…
The next thing we know, he materializes out of thin air and drops in front of the car, slamming his hands down on its hood and bracing all his weight into stopping its path. The car tilts up on its front wheels, then crashes back down in a dead halt.
Snow falls, a storm brews, and both Song-yi and Min-joon gather their breaths.
Song-yi raises her head slowly, and sees him there in front of her.

EPILOGUE
Song-yi sets down her teddy bear at the dinner table, baby-talking to it and making a goof of herself. There's twirling and singing and dancing with the frying pan… and roaring in mock-bear growls… and watching that file from Yura's flash drive. Then, Min-joon discovering the camera.
And yup, it's Jae-kyung on the other side of the lens. Not that it's a surprise to anybody. The guy hasn't murdered anybody in, like, weeks. He must be getting antsy.

COMMENTS
She saw him! Eeeeeee! Granted, she was under the influence of some serious drugs, perhaps propofol, and it's possible that she could forget the whole thing or assume it was a dream. Or be convinced it was a dream. Still, Song-yi hasn't been convinced by Min-joon's dismissals so to add another puzzle piece that doesn't add up means that she'll be one step closer to putting two and two together.
Se-mi took a turn, finally fulfilling her backstabby potential by coming out with her antagonism in full view. I was a little surprised to hear her say she'd never once thought of Song-yi as a friend because I was hoping for a slightly different dynamic to play out with the jealousy/second string setup—that perhaps she was truly a nice person warring with her selfish side. And perhaps there's room for the drama to swing things back in that direction toward the end.
That said, I'm not averse to turning her into the outright antagonist, and just because it's not the way I would have taken the character doesn't mean I dislike the treatment. It makes Song-yi's situation sadder, because while she was a bad friend in some regards, she was truer than Se-mi was, and her heart was in the right place. Like the manhwa lady said, Song-yi isn't a rude princess because she let fame get to her head, she was always like that. So… points for consistency? Heh.
There were so many good moments in this episode, but most of all I love that Min-joon is stepping more to the forefront in terms of development. Finally engaging in the human world! Eating with people! Buying cell phones! He notes that there's some pretty messed-up timing with this all happening right before he is to leave, but that doesn't stop him from moving forward anyway, which is lovely. I have always found him fascinating by sheer virtue of the fact that, yunno, he's this closed-off ancient alien dude with superpowers; fascination is pretty much built in. Plus, there was plenty of material in his past Joseon life to elicit pathos. But it's delightful to have his present self now undergoing emotional change, to match Song-yi's own growth—and having him swoop in all secret-hero-like is just icing on the cake. (I seriously can't wait for Song-yi to put it all together. I can't promise I'll be able to control myself when it happens.)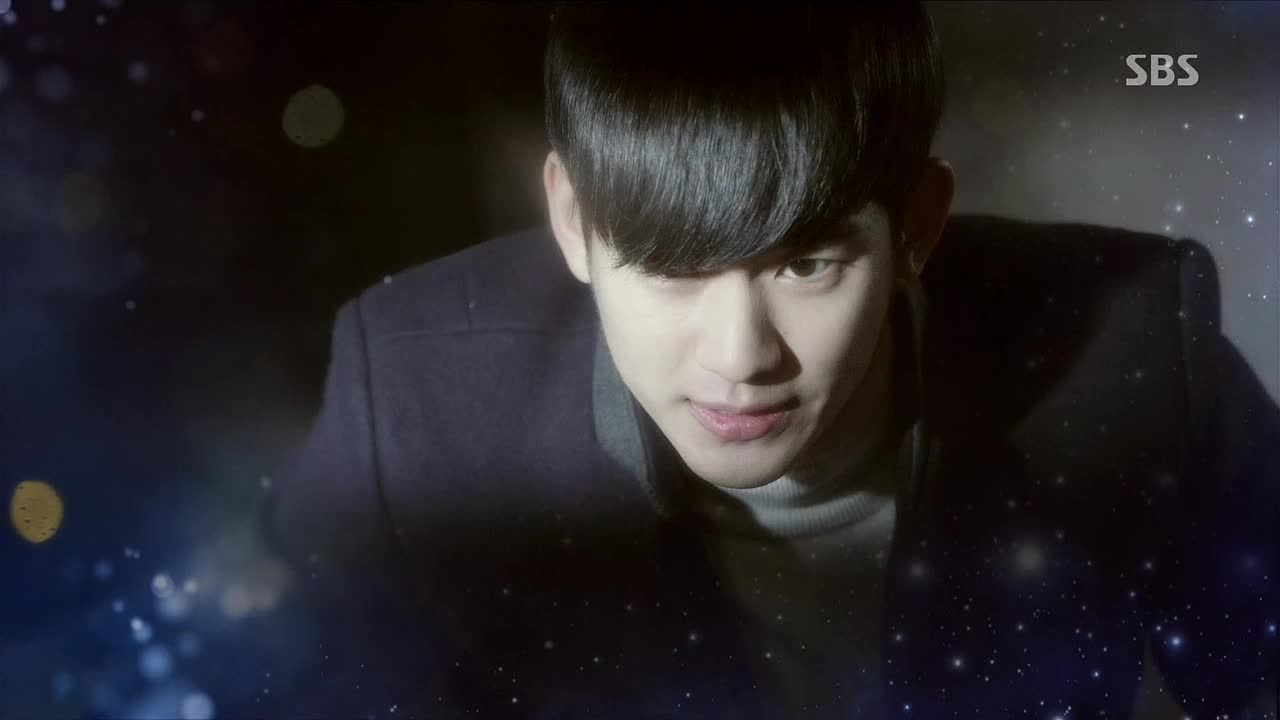 RELATED POSTS
Tags: featured, Jeon Ji-hyun, Kim Soo-hyun, You From Another Star