You From Another Star: Episode 9
Three words for you: naked sponge bath.
(Okay, three more words for you are not quite fulfilled, but I appreciate the effort. I'll just have to let my imagination fill in the rest. Thankfully, it's quite up to the task.)
Episode 9 brings us some answers and clarifications of Min-joon's alien powers, and the ramifications thereof. And just as we learn about more of the rules, the characters also begin to clue in on the strange little quirks surrounding our hero. The question is, who will find out first, and how will he manage to cover it up once the ball's rolling? You can only stop time for so long…
SONG OF THE DAY
Royal Pirates – "Fly to You" [ Download ]
Audio clip: Adobe Flash Player (version 9 or above) is required to play this audio clip. Download the latest version here. You also need to have JavaScript enabled in your browser.

RECAP: NINTH RECORD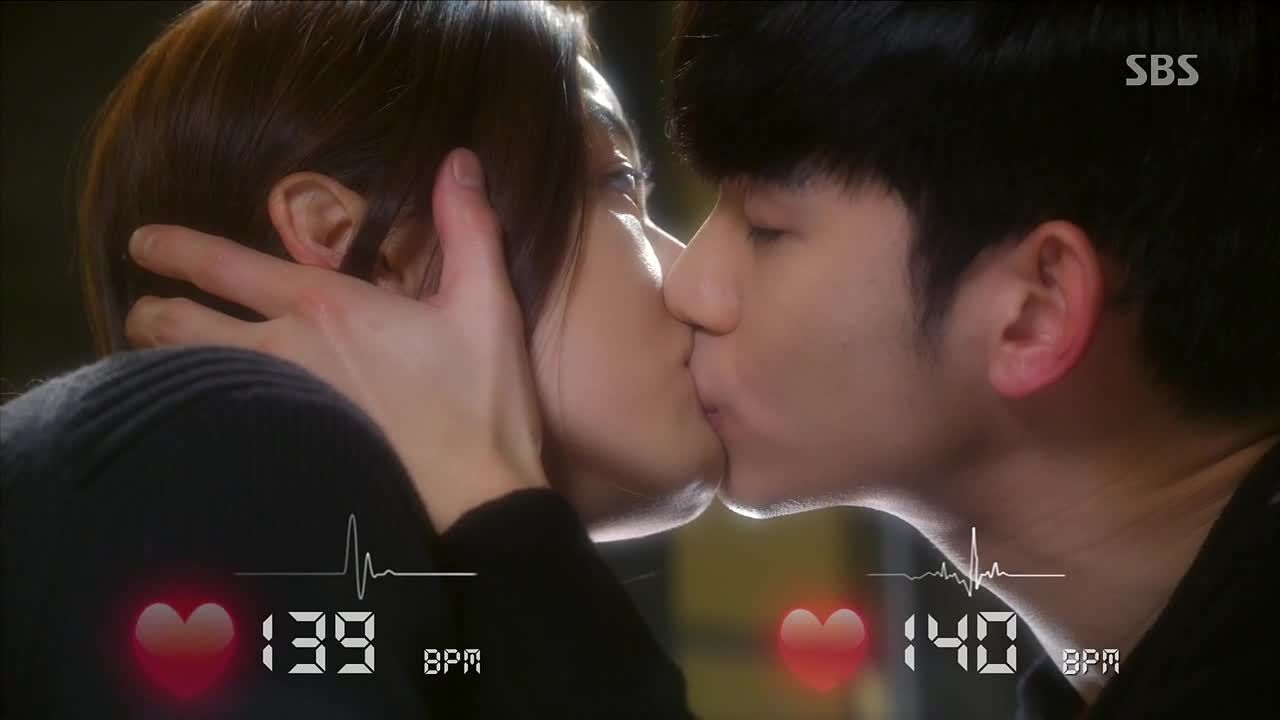 Min-joon lectures to his class on they psychology of skinship, citing the famous case of the baby monkey given the option between a mechanical "mother" that dispensed milk, and the soft cuddly one that did not. The monkey defied expectations and clung to the soft mother, proving that touch holds important emotional significance.
With that, we resume our kiss scene between Min-joon and Song-yi, and meters pop up to show their heart rates increasing with eye contact (dopamine's effects, his lecture informs us). Kissing doubles the rate, and the meters shoot up as they lose themselves in the moment, and Min-joon imagines them transported out in a field under the night sky.
However, Lecturer Min-joon warns his students that they mustn't mistake the physical reactions to skinship—pounding hearts, dizziness—for love.
After the kiss, the screen splits as Min-joon and Song-yi struggle separately to handle their racing hearts, unable to sleep. I love that Song-yi's meter slowly creeps back down, but Min-joon's remains firmly in thump-mode for hours. She eventually falls asleep, but his pulse continues to rise, until he's hitting dangerous levels. Ack! I know he's an alien, but he isn't going to give himself a heart attack, is he? Heart-stopping kiss should never be a literal term.
Song-yi emerges from the bedroom a few hours later and finds Min-joon huddled on the couch with a burning fever and a face soaked in sweat. Oh no, is he actually getting sick from all the human bonding and connection? Song-yi checks his fever and spikes his pulse even more, and he croaks at her to get away.
Jae-kyung's secretary makes the connection between the man who saved Song-yi and Min-joon, and our baddies deduce that he may have Yura's missing USB drive. Jae-kyung narrows his eyes, his brain perhaps working out ways to plan his next kill. I'm pretty sure that twisty nail ring on his finger is just there as symbol of his villainy, though I can't help wondering if maybe he used it for his first murder or something and is sentimentally attached to the memory. With this guy, you really don't know.
Song-yi grumbles over Min-joon's post-kiss rudeness, put out over his less-than-excited reaction. (If only she knew!) But when she checks on him, his heart is speeding so quickly that she worries he's in danger and suggests going to the hospital. He can't have that and refuses to go, opting to lie miserably in bed instead, and his plants wilt as lifelessly as he does.
So Song-yi calls Bok-ja for caretaking advice, and Bok-ja advises that the best fever-breaking method is to strip him naked and bathe him with lukewarm water. Song-yi gulps at "full body naked massage" (having described her charge as a child), but figures health is more important and starts unbuttoning his shirt. Yes, health first. Always health. Strip away.
Min-joon wakes up mid-sponge bath and rears back, ordering her out of his room. She very generously tells him not to feel bad about letting his feelings get the better of him last night since she's so irresistible, though she does add that his reaction to the kiss doesn't exactly make her feel great. Then she asks if this was his first kiss ever, and Min-joon mutters defensively, "…no way."
Hwi-kyung broods over Se-mi's confession and asks her to call. Se-mi isn't ready for that ignores the request, then drops in on her oppa to ask about his case. Specifically, the man on the cameras—does he have any brothers, maybe a twin? What's his connection to Song-yi? Oppa Seok tells her to ask Song-yi directly, and she just says that she finds Min-joon rather strange.
Min-joon wakes up in the middle of the night to find his terrace doors open, and tries to shut them with his mind. Alas, he's too weak to move anything and gets up to close it… and almost steps on the caterpillar-like lump in the middle of his floor. Ha. It's Song-yi, bundled up in a sleeping bag, which she has now gotten stuck in.
Min-joon is annoyed enough with her chatter that he refuses to free her. He dumps her on the living room couch, where she flops around futilely like a fish trying to escape.
A shady intruder rummages through Min-joon's office at school, taking notebooks and pens from his desk. Hm, are we looking at a frame job of some sort? Or are they just hunting for clues?
Lawyer Jang arrives at Min-joon's apartment and finds Song-yi still imprisoned in her sleeping bag, from which she very politely greets "Father" and gives him a twisty sideways new year's bow. Min-joon had called him over with food requests, and Lawyer Jang is familiar enough with Min-joon's condition to assure Song-yi that he doesn't need a doctor.
He asks Min-joon about the cause of his illness, recalling the last time he suffered anything of the kind. It was thirty years ago when Min-joon had worked at a bank, and a hateful employee had spat in Min-joon's coffee, which had him laid up in bed for a week. That was enough to prompt Min-joon to adopt his super-careful ways, so now Lawyer Jang tries to figure out the cause, asking if he shared food with Song-yi. Hilariously, Min-joon mumbles that it was something like that, but Lawyer Jang guesses the truth and chuckles that he should've controlled his urges. HA.
In a more serious vein, Lawyer Jang asks whether it's strictly necessary for Min-joon to leave. Though he doesn't respond, it certainly does look like that's a question Min-joon's been asking himself.
The investigators check out the home of Yura's now-dead stalker, which looks like half shrine, half serial killer den. Among the photos is one he had snapped of Yura walking out of an obstetrician's clinic just a month before dying, and the investigators realize that the case could be opening up in a new direction.
Upon confirmation that Yura was pregnant, the investigators suppose that Yura's boyfriend was likely the man who took her to that funeral experience event. Is it possible that was Min-joon? Detective Park hypothesizes that perhaps Min-joon was dating Song-yi and cheated with Yura, hence the public fighting between actresses. After choosing to stay with Song-yi, he could have found out that Yura was pregnant and decided to tie up loose ends by getting rid of her. Anybody else thing Detective Park watches too many dramas? Prosecutor Seok is, at least, skeptical of making such large logical leaps and doesn't buy it.
Song-yi tends to Min-joon, and her mind wanders to his "last three months" diary. Could it be her initial guess of a terminal illness was right? She tells herself that's ridiculous, but in this context I can see how that wouldn't seem like such a far-off possibility.
Jae-kyung hears about Yura's pregnancy, and realizes now that that must have been the big surprise she was going to spring on the wedding party. This also means that there's a chance he'll be linked as the baby daddy—particularly as Song-yi knows of the relationship—and thus he swings into action to cover his tracks.
Song-yi's mother meets with a new agency CEO to review a contract offer for Song-yi, and it's so generous that she widens her eyes and asks why. The CEO's offer comes contingent upon an image change for Song-yi, and his reference to a more adult direction cannot be more clear to Mom, who immediately throws a glass of water into his face. Phew, it's nice to know Mom has her limits, especially since she's been so eager to jump at anything promising money. But she draws the line at pimping her daughter out, and curses him out for suggesting it.
The pretenses drop on both sides, and the CEO snaps that Mom is the one selling her daughter for her own greed and merely playacting the part of mother. Mom actually looks stunned at the accusation, and rattled at his threat that Song-yi's career is over.
Min-joon is on the mend, as his reviving plants show us, and Song-yi finds him resting and says that his "father" was very worried about him. He turns the topic around on her and asks about her father, and she says that she hasn't seen him in over twelve years. She'd been mean to him the last time she'd seen him, and maybe that caused him not to like her anymore.
In flashback, teenage Song-yi overhears her parents fighting about which kids to take. Dad wants to take both, but Mom insists on keeping moneymaker Song-yi, whose career she has fostered from the start. Dad says sarcastically that he won't let go of such a great source of cash (and that Yoon-jae is therefore useless in that regard), which of course sounds horrible taken out of context. Song-yi cries that he's not her father anymore and orders him to stay away for the rest of her life.
Now Song-yi understands that her father didn't mean those words, and more than anything is upset to have had so little time with him. And that's the day she had almost died, because she'd run out of the house sobbing and almost gotten hit by a truck. She can't figure out how she made it out alive, and wonders, "Was that man human? Or a ghost?"
Min-joon listens to this all without betraying any reaction, merely telling her to stop talking nonsense. But he tenses up when Song-yi gets a call, and with a sharp look he sends her phone crashing to the ground. So the call goes unanswered, but that lets him know he's alone in Song-yi's still-ransacked apartment. Just for good measure, Jae-kyung calls out her name—and Min-joon hears him murmuring, "She's not here. The girl's got good luck."
Song-yi can tell something is strange with Jae-kyung these days, though her mind of course leaps to the more natural (for her) conclusion that he's falling in love with her—all that concern for her health and frequent dinner dates. What if she causes a brotherly rift? she briefly worries.
Min-joon asks if she assumes all men in the world like her, and she says, "Everyone but you. Actually, we can't exclude you either." Hehe. She tries to fish for a reaction from him and asks what his ideal type is (he barks that he has none), then shares that her ideal is "someone who will stay with me a long, long time. Someone who won't disappear on me like my father, but someone who'll stay with me all my life." But I suppose that's not all there is to it, because she does acknowledge that with those criteria Hwi-kyung would be the perfect match.
Min-joon excuses himself, then stands waiting outside Song-yi's apartment to confront Jae-kyung upon his exit. The men tense up, recognizing each other as threats, and Jae-kyung asks him to convey a message to Song-yi: that he's sorry he missed her, and will be sure to see her very soon.
Min-joon won't let it go at that, and tells Jae-kyung to cut it out now. Jae-kyung drops the innocent act too, and guesses that Min-joon has that USB drive. He sees Min-joon as a non-threatening little boy and tells him that it's best for Song-yi if he hands over that drive: "The only reason you're alive right now is because I'm letting you live. Same with Chun Song-yi. So you should be grateful."
Jae-kyung gets into his elevator with a self-satisfied smirk, and gets out on the lobby floor—only to come face to face with Min-joon again. Ooh. Nice one.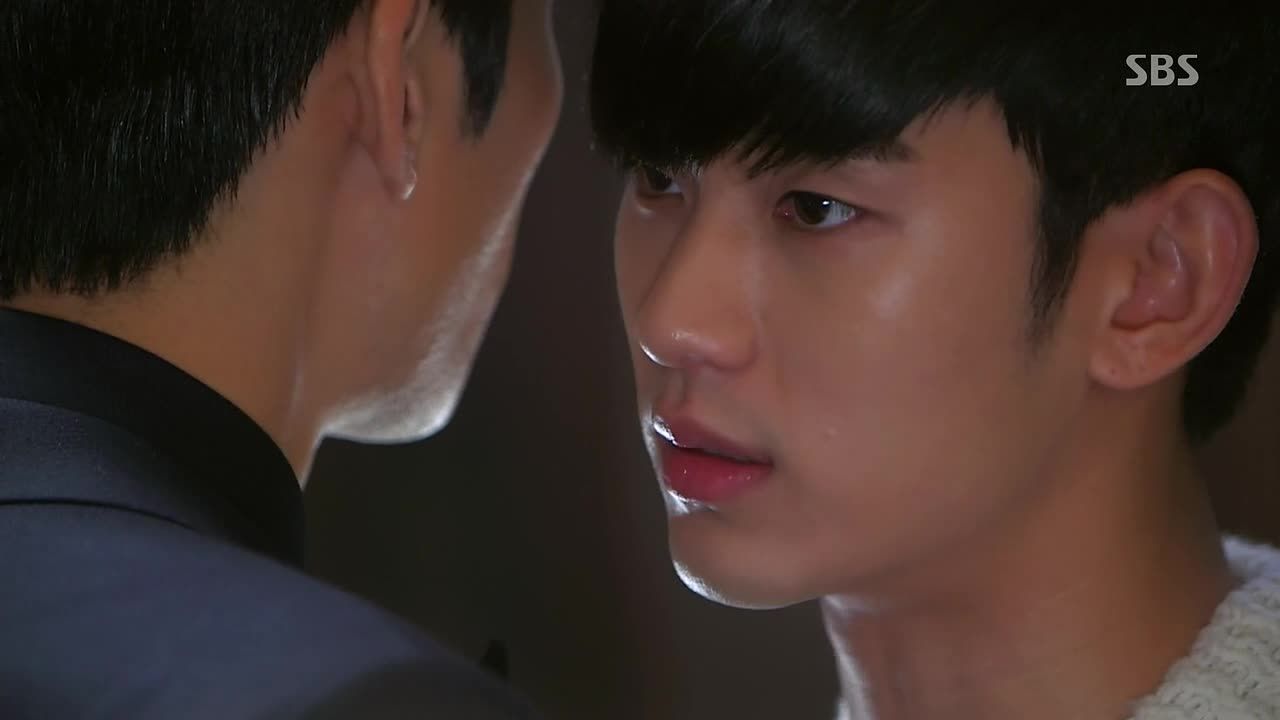 Min-joon warns, "The moment you touch Chun Song-yi, your true nature will be exposed to the world. I'll make it happen." He leans in close to add, "There's something you don't know. You. Can't. Kill me."
Min-joon returns to Song-yi's side and watches her sleeping, replaying her words about wanting somebody to stay with her, followed by Lawyer Jang's words about his departure hurting not only himself but also those left behind to miss him.
Se-mi seeks out Min-joon at school, playing the part of the concerned best friend to the hilt. She says that she wants to make up with Song-yi but can't with Song-yi's personality, which Min-joon certainly understands. Thus while she wants to be a source of comfort during this difficult time, she can't do much for her friend, and would therefore appreciate if she could call him from time to time to ask about Song-yi.
Min-joon agrees, seemingly accepting her at face value. We, on the other hand, can see her subtly trying to fish for information by asking how he met Song-yi. He answers that it was only recently, which she files away.
Se-mi keeps up her angelic act with her new team, even when the stylist accidentally calls her Song-yi by mistake. She says that it's okay, then manipulates them into assuring her that it's much nicer working with her than with Song-yi. (Then they sigh to each other that they lied, because they're both still attached to Song-yi.)
Hwi-kyung arrives at set in time to watch Se-mi shooting a kiss scene, which her co-star purposely flubs, which is apparently his M.O. with kiss scenes. Perhaps he's such a douchebag that this is the only way he can get any kisses? In any case it's highly unprofessional and Hwi-kyung bristles to watch it, especially when the actor crows to his buddy on the phone about it afterward.
Hwi-kyung purposely-on-accident knocks over the douchebag afterward and shoots him a warning glare, which is pretty sweet of him.
Song-yi is upset to hear that Se-mi sought out Min-joon, who argues that Se-mi's worry seemed genuine. Song-yi scoffs that Se-mi isn't her friend, assuming that there must've been an ulterior motive to the conversation, and accuses him of taking Se-mi's side against her.
Min-joon cuts her short with the rebuke, "Before you start resenting people for not taking your side, think about why you make it so they can't take your side. It could be your own fault that you're lonely." She yells that she's not lonely, but he asks, "Then why are you here?" He points out that she chose to stay with a strange man instead of her family or friends. "You're lonely," he says. "You have nobody with you, and nowhere to go."
She orders him to leave her alone and get out. Then she runs into his room and slams the door, hurt and angry.
After Se-mi's confession, Hwi-kyung has realized that he's been insensitive to her feelings over the years and apologizes for it. But he says he'll probably continue to feel sorry, because he understands that it hurts to love someone who doesn't love you back. "With another woman in my heart, what is there that I could do for you?" he asks. "The only thing I can do is reject you. So I'm sorry."
Se-mi cries quietly through his explanation, but stops his departure to mention Song-yi's strange neighbor: "Don't you feel like you've seen him before?" Oh no, there it is, that dark side rearing its ugly head again. Se-mi hands over the photo of Min-joon saving Song-yi twelve years ago, and shares her suspicions that it's the same man with her now.
Song-yi gets over her fit of temper and finds the apartment empty, sad that Min-joon actually left. Her stomach growls… and outside we see Min-joon buying chicken and beer. Awwww.
It's Hwi-kyung who arrives at her door first, though he'd been expecting Min-joon and is upset to see Song-yi there. Suddenly angry, he drags her out the door and insists she leave immediately—go to a hotel, or his house, "Or I'll buy you a house!" He lands on the suggestion to put her up at one of his villas with lots of staff and security guards, and Song-yi agrees. He calms down, and Song-yi heads inside to pack her things, muttering that it'll show Min-joon if she disappeared on him.
Min-joon arrives in the lobby just as Hwi-kyung is on his way out, and the two men face off. Hwi-kyung's mind flashes back to the accident, eyeing Min-joon through new eyes as he recognizes him now from his old memory.
Song-yi pauses to write a thank-you note to Min-joon, though she crumples it up at the last minute. But looking into the trash can draws her attention to the bloody rags there, and the glass shards Min-joon had picked out of his hand after stopping her car. Suspicions float to the surface again as she remembers the last moments on the cliff.
Hwi-kyung asks Min-joon in a spooked voice, "Who… are you? Were you the man who saved Song-yi twelve years ago?"

EPILOGUE
In interview, Min-joon explains that he hasn't often used his powers to save people. Revealing his powers meant revealing his identity, and it wasn't often that you could find somebody who would accept him the way he was without wanting to use him for their own gains.
He doesn't know himself what the limits to his abilities are, though he's figured out some rules: If he knows where something is located, he can travel there within a 2 to 3 kilometer radius, and he can stop time for about a minute. His physical condition is a key factor, as he nearly killed Lawyer Jang when they first met and he was gravely weakened.
In flashback to 1976, we see Min-joon in banker mode, being served (spit-spiked) coffee by his spiteful employee. In one of the offices, a young Lawyer Jang begs a banker for a loan to save his mother. Lawyer Jang is coldly rejected, and sobs as he makes his way to the edge of teh roof, steeling himself to jump.
Min-joon arrives on the roof and shouts at him to stop, already feeling weakened from the saliva in his coffee. When Lawyer Jang steps off the ledge, Min-joon stops time, but a stumble momentarily unfreezes time and he has to strain himself to refreeze it. Min-joon staggers over in pain and drags him back, saving a life and gaining a friend.

COMMENTS
Aww, Lawyer Jang. I really love this relationship, and seeing the origins just makes it that much more endearing. (Also: Howsabout that casting, huh? Spot. On.) I know it's kind of a one-trick pony of a gimmick to play on the whole age-appearance reversal, but it so works because we're just hard-wired to judge based on appearance down to the most basic level—that guy looks young, that guy looks old, what do you mean the old guy is younger? It's a joke that doesn't get old for me because Kim Soo-hyun looks every bit his age, and he acts like the oldest, crotchetiest grumpygramps around, and it's just funny.
It's nice to get some rules about Min-joon's alien powers, and understandable that Min-joon has had to figure this stuff out for himself through trial and error—stranding an alien on a faraway planet just doesn't come with an instruction manual, after all. And it's a bit of a relief to hear that his strict rules against sharing saliva and blood are more precautions than hard and fast rules—though I have to say I thoroughly enjoyed all the theories floated around about human fluids turning him gradually human or weakening his powers. I suppose that last bit may still prove to be true, because he has noted his physical changes in recent days, and I can see his powers weakening with additional exposure to those human "toxins."
(It also vastly amuses me that we all joke-lamented the lack of smoochies with the no-saliva rule, only to have it actually be a real thing. Poor kissless alien! Can I hope that this kind of toxicity is the kind you can build up resistance to, perhaps with lots of exposure? Lots and lots and lots of exposure? You should just be thorough in examining all your potential remedies, is all I'm saying. Explore all avenues—y'know, antibodies, immunity, et cetera. It's science!)
Having his powers weakened would certainly be an interesting way to mitigate his dilemma, or at least the most painless way. Otherwise he's stuck either leaving the planet or staying behind as a complete outsider, and man, it would really suck to be consigned to live forever. I'm sure there are evil geniuses out there who'd kill for that ability, but for somebody trying to live as mundanely as possible, there's a bone-deep weariness that comes from that relentless daily grind, and it strikes me as some kind of hell on earth.
If Min-joon doesn't find a way to somehow live more like a human (as pertains to the mortality question, specifically), it's pretty tragic for him either way, because he'd have to choose to leave his love forever, or stay with her and then get left behind forever when she lived her natural life. Auuuugh, such a great conflict, but a terrible one at the same time since I don't know how they're going to solve it.
I advocate kisses.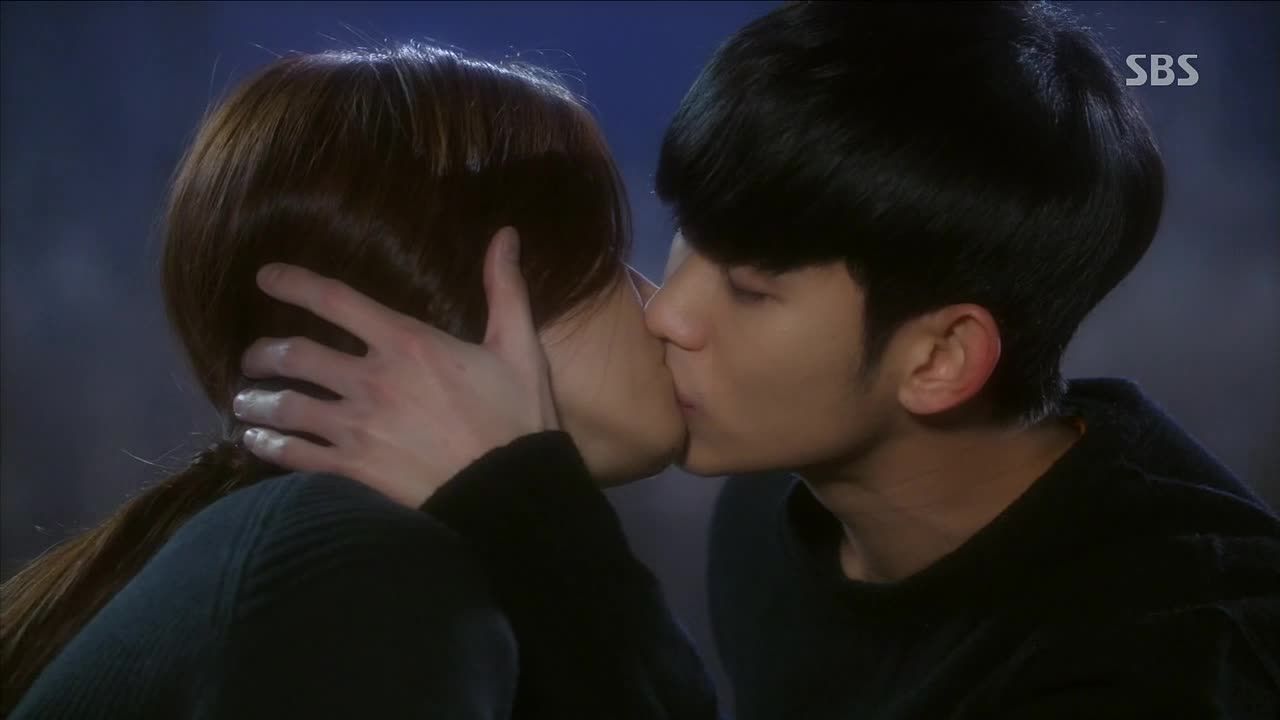 RELATED POSTS
Tags: featured, Jeon Ji-hyun, Kim Soo-hyun, You From Another Star