Age of Feeling: Episode 13
While not returning to the glory days of yore, this episode showed a marked improvement toward focusing on the things that actually matter, and less on the stuff no one cares about. Our hero actually takes some action this episode, even if it means going to the dark side to rule the world and avenge his father. But on the brighter side, we also see a return of Boyfriend Mode Jung-tae, which is always nice to see—especially since I thought we'd moved permanently into Everyone's Depressed Because The New Writer Sucks Mode. I think we're not out of the woods yet (or maybe ever) but on the bright side, anything's better than last week.
Speaking of the week that shouldn't have existed, ratings took another small dip to 9.3% this hour. It'll be interesting to see how the next episode's numbers pan out.
SONG OF THE DAY
Squirrel Nut Zippers – "Blue Angel" [ Download ]
Audio clip: Adobe Flash Player (version 9 or above) is required to play this audio clip. Download the latest version here. You also need to have JavaScript enabled in your browser.

EPISODE 13 RECAP
As Jae-hwa blocks Kaya's twin swords with his chain mail arms, he asks her again: "Were you the one who killed our hyung-nim?" She coolly replies, "Do you call killing a man in unbearable pain an act of murder, or an act of kindness?"
But her words are ten dollar words while Jae-hwa is only educated enough to know the ten cent ones, and it (along with her assisted suicide of Daddy Shin) enrages him enough to start a fight with her.
He holds up pretty well against her attacks, especially considered he's unarmed. She defends her choice to put Daddy Shin out of his misery as an act of kindness, but knows that Jae-hwa will only see it as murder. "Then tell the world that Kaya murdered [Daddy] Shin Young-chul."
They go at it again, though Kaya wins when her blade stops an inch from Jae-hwa's torso. As if to prove the point that she could kill him, she lets the tip of the blade touch his clothing before she stalks off with her minions.
Jae-hwa calls after her that she's now made all of Bangsamtong her enemy, but Kaya retorts, "Who says you are the owner of Bangsamtong?" She goes on to add that the real owner is Jung-tae, which only enrages Jae-hwa further as he tells her that he'll show her that he is the true owner.
Meanwhile, Jung-tae's fight with his mysterious attacker continues, and though he's been wounded multiple times (not to mention being stabbed twice), he continues to fight. We hear a running monologue of Jung-tae's rushed thoughts as he tries to strategize his way through a fight where the odds are so clearly against him—he's learned sword fighting before, but never has he fought such a relentless opponent with no clear technique.
He decides that his only option is to get in close enough to disarm the wildly-swinging sword wielder, and uses his wits to his advantage as he finds an opportune moment to sweep in and throw his opponent down. Jung-tae takes his sword and holds it to the man's neck: "Who are you? Who sent you? Is it the same person who killed my father?"
The man refuses to answer, and only says "Kill me." Jung-tae is ready to acquiesce, sure (somehow) that this is the man who killed his father. But before he can make the killing blow, Old Man Fly stops him, relieves him of his sword with curious efficiency, and gives the attacker time to escape. Rather than let her father take Jung-tae to get treated among the most unsanitary conditions ever, So-so takes him to the restaurant/clinic.
And as we see, Baek-san was behind the attack as part of his test of Jung-tae's skills. Of course.
Speaking of, Jae-hwa forms his plan of attack against Kaya, since he knows that now is not the time. They've got to find out more about her first, and he wants to start with looking into her past relationship with Jung-tae.
Doctor Jung treats Jung-tae's various wounds and tries to enlist So-so's help, but the young girl is too squeamish. Doctor Jung gets fed up and orders So-so to go get Ok-ryun, no matter how much she protests. Jung-tae will end up bleeding out without her help.
While she sews him up, Doctor Jung gives Jung-tae a good scolding for fighting. Doesn't he feel shame toward the people who've sewed him up before? Specifically Ok-ryun? Ha, aw. I'm glad that Doctor Jung is standing up for her friend.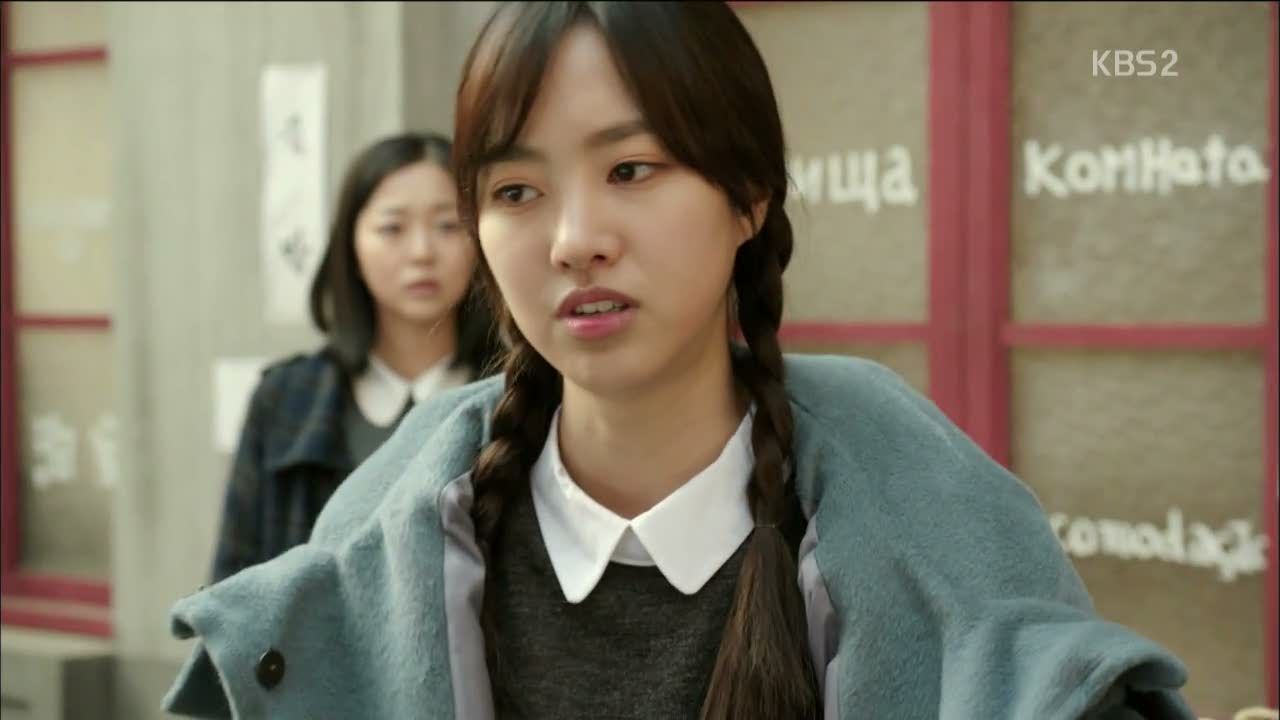 Even though Ok-ryun is right outside the clinic, she refuses to go in and help at So-so's urging. She's still miffed at Jung-tae and claims that he doesn't need her help to survive, because if he was going to die from a sword wound, he would've done so long ago.
But then she bikes away with tears in her eyes, clearly wanting to help but refusing to allow herself to.
After an odd comic(?) relief scene where Old Man Fly continuously tries (and fails) to give Jung-tae medicine made out of feces, Kaya looks over an autopsy report and postmortem photos, presumably of her father.
She finds similarities between his case and Daddy Shin's, where she also had to put him out of his misery since he would have died slowly and painfully otherwise. When she realizes that this kind of slow death is a trademark of Ilgookhwe, she calls in Yamamoto to fetch Dokku. He's got something to do with the autopsy documents.
While Jung-tae secretly watches Ok-ryun pay meager respects (due to having no bodies or temple to go to) to those she's lost by giving them food for the afterlife, Leader Seol comments on how proud he is of Jung-tae's progress—with a little more training, he can become like his father and get rid of their pesky Ilgookhwe problem.
Baek-san raises a (legitimate) issue, in that they tried to train and control Daddy Shin but had to kill him in the end. Does Leader Seol think it'll be different with Jung-tae? "What if he finds out about his father's death? What will you do then?" Baek-san asks.
Leader Seol: "When that comes, he will have to die." Cue maniacal smirk. Seriously, dafaq is wrong with you people. Just don't train him at all then, find someone you won't have to kill. Or would that be too smart a move for Dumb and Dumber?
Jung-tae manages to get a very reluctant Ok-ryun to take a bike ride with him, just like the old days. Though she's wary, she goes, and even lets him wrap her arms around his waist so she can hold on.
And aww, he was watching her pay respects and did something about it, by bringing her to a Buddhist temple where he's set up official memorial tablets for her mother, his father, and for Soo-ok (though his tablet is blank, since Jung-tae didn't know his name).
Ok-ryun is deeply touched by Jung-tae's thoughtfulness as he tells her that he'll take care of all three memorial tablets. "From now on I'll protect you, Ok-ryun," he says. "For the five years we didn't see each other, let's see each other now. Standing beside you, I want to live listening to you sing. Let's be together for the rest of our lives, until death." Is this… is this a proposal?
A tear falls down Ok-ryun's cheek as Jung-tae sweeps in for a gentle—but no less deep—kiss. Hell of a way to make out if I've ever seen one. Oops, I meant make up. Hell of a way to make up.
Dokku is looking quite dapper as he walks the streets of Shanghai (and boy, am I happy to see a familiar face). He then has a run-in with Old Man Fly, who demands that the law mandates Dokku pay him five won.
Dokku thinks it's all a scam, but seems a little unsure when So-so bumps into her father and coughs up five won like it really is the law. Ha. When he doesn't pay up, Old Man Fly starts calling for the police (which of course is just one of his lackeys playing dress up), and throws Dokku for an even bigger loop.
But instead of paying, Dokku just runs off, swearing that he'll get Old Man Fly back for it. But the old man knows there's darkness surrounding Dokku—he can sense it.
Jung-tae takes a much happier Ok-ryun out for a food date, and their back-and-forth about what to eat is reminiscent of the old days. Especially when Jung-tae parrots a line she once said back to her: "It's not about what you eat, it's about who you eat it with."
That puts a smile on her face and his, and for the briefest of moments, they get to have a cute couple's lunch… until Dokku finds them.
Jung-tae grabs him by the lapels and demands to know how he found him, and why he never contacted him while he was in Shanghai this whole time. He especially wants to know about Chung-ah, but Dokku claims he doesn't know—he came to ask Jung-tae, actually.
This earns him a punch that sends him sprawling, but Dokku takes it well enough as he claims that he thought Jung-tae was dead. (…Then why send that letter bringing him to Shanghai?) Now that he's glad to see Jung-tae alive, he tells him what he came for: that Kaya came here to become the leader of Shanghai. He asks Jung-tae if he knows how that came to be.
Jung-tae can't sleep that night, and thinks back to the rest of the conversation we didn't hear. Dokku: "Do you know how she came to be Shanghai's leader? Because she killed off your father, that's why." He speaks of Kaya in no kind terms, like he's suddenly on Jung-tae's side.
So he finally gets up to Do Something About It, but Ok-ryun catches him before he leaves. "Will you come back?" she asks. "Promise me and then go. Will you come back?" Jung-tae gives her a gentle smile as he promises that he'll return.
Jung-tae fights his way through a legion of sword-wielding minions in Club Shanghai to reach Kaya in the inner sanctum. He demands that Kaya show him the twin swords she used to kill his father, and after telling the rest of her men to stand down, she asks Jung-tae if he saw her kill Daddy Shin with his own eyes.
"If you didn't, then say so," Jung-tae fires back. "If I say no, will you believe me?" Kaya asks. Waitaminute… no, I'm pretty sure you can't play this card. 'Twas not even two episodes ago that you looked Jung-tae straight in the eye, smirked in that way you so love to do, and said: "What if I was the one who killed your father?"
She tearfully argues that she wanted to believe Jung-tae when he said he'd find her father's killer, even though she saw her father killed by his father with her own two eyes. (Actually, she walked into the room after it was done, and his father didn't have a drop of blood on him. And there was clear evidence of a scuffle that his father wasn't involved in—but whatever. We'll roll with it.)
"I wanted to believe that your father wasn't the one, that there must have been a reason. I believed you. So I persevered in Ilgookhwe, which was hell for me. When I returned to Shineuijoo, you promised to bring the man who killed my father before me."
We flash back to that moment briefly, before Kaya continues: "I'll ask you again. Will you believe what I say? If I tell you that I did not kill your father, will you believe me?" She starts tearing up at his silence, knowing that he doesn't. "I believed you, but you don't believe me. Even if you don't, you don't have to feel sorry. I killed your father."
Jung-tae flips over the table between them in his rage and wraps both hands around her neck, while she holds her twin swords at his neck. So much emotion passes between them until they finally let each other go. She orders him to mature and then return if he wants revenge, because when he does, he'll know clearly who he should take revenge on.
"Are you saying you didn't kill him?" Jung-tae asks, but Kaya gives him another cryptic answer that even if it weren't for her twin swords, his father would have passed away, just like hers did. When he asks her for more clarification, she sends him away—finding out what happened to his father is something only he can do.
But first, she bids him to become the owner of Bangsamtong. To do so, he must turn away from the morals he knew and become cruel—only then can he get revenge. Jung-tae looks her dead in the eye as he agrees, but claims that he'll return colder and crueler than even she is. (Nooooooooo.)
Before he leaves, he has one last thing to add: "Kaya… I hope that I will be able to prove that it wasn't you myself." He's attacked by minions on the way out, but Kaya orders them to let him leave.
While Shinichi finds out that Kaya called Dokku to Shanghai to deliver the autopsy report, he's greeted by a very angry Aoki. (HOORAY HE HASN'T BEEN WRITTEN OUT! Sorry. Couldn't help it. Literally cheered out loud.)
Aoki wants to tear into Shinichi about the breach in security that allowed Jung-tae to storm into Kaya's room, because they seem to think that Yamamoto cares about his job. Aoki is especially upset that Jung-tae was allowed to just leave, to which Shinichi replies that Kaya must have had a reason.
This makes Aoki really lose his cool, mostly because he doesn't understand how Shinichi could be so laissez-faire about it all. Aoki thinks that Kaya has feelings for Jung-tae, and that it won't bode well for her—there's nothing Denkai fears more than losing Kaya.
And through weird Ilgookhwe logic, if Kaya loves Jung-tae, then Denkai will kill her… even though that means fulfilling his own worst nightmare. Whatever, crazy people. Aoki: "I will be going to Shanghai soon. I will protect Kaya."
Jae-hwa hears about Jung-tae's escapade at Ilgookhwe through a minion who heard it through Dokku (whom Jae-hwa hilariously ignores), and concludes that they must've dated while in Shineuijoo.
But in order to get more loans to hire more singers for his new Club Rome, Jae-hwa has to switch banks from the one Leader Seol/Hwangbang owns to the one that Ilgookhwe owns. This makes Leader Seol very unhappy.
So he pays a visit to Jae-hwa in order to offer to lend him all the money he needs as long as he returns what he borrowed to Ilgookhwe's bank. Jae-hwa graciously declines, leaving Leader Seol to stew in his rage until he comes up with a plan.
Even though the different groups alternate turns on Police Brutality Day, Leader Seol decides to send his people in along with the already-scheduled paper-checkers so that the people of Bangsamtong can't lie about their identities to save their skins. He wants them to suffer so they'll know who their real master is. (Hint: it's an old man with severely dilated pupils and a maniacal smirk.)
It's been two days (why?) since Ok-ryun has seen Jung-tae, but she's still waiting. Unbeknownst to him, Bonus Police Brutality Day begins while Jung-tae pays a visit to Jae-hwa in Club Rome to ask for his father's autopsy report.
The citizens of Bangsamtong are unprepared for today's brutality day, since they were expecting the Hwangbang police to come. Instead, it's the French, which means every Korean person needs to run for their lives—except So-so, who'd rather help her fellow man. Her father is the one who stops her from getting hurt.
Ok-ryun is caught among the crowd when the French police come, and starts running as they chase her. Eek.
In Club Rome, Jae-hwa talks in circles around Jung-tae rather than give him his father's autopsy report. Even though Jung-tae wants to know how his father died, Jae-hwa just tells him that his father was considered a hero to the people of Bangsamtong, but in Korea he was considered a thief. There were plenty of people who wanted him dead.
Jung-tae won't give up, and wants to know why they won't tell him how his father died. "Is there a reason I can't know?" he asks, causing Jae-hwa to catch onto the fact that Jung-tae suspects him for it.
He then tells Jung-tae that the only thing that'll determine his survival in Bangsamtong is who he sides with. He can side with Jae-hwa, Hwangbang, or Kaya, his first love. I love that Jung-tae's reply is all, "Why do I have to side with any of you people?"
Jae-hwa sics his minions on Jung-tae, but they're disposed of without him even breaking a sweat. Now it's down to him and Jae-hwa, who offers him the report… if he defeats him in a duel.

COMMENTS
I'm really glad that this episode focused more on our core set of characters rather than gang politics I couldn't honestly care less about, since the new gangs are filled with people (save for Jae-hwa) who commit the highest of all entertainment sins: boring us to tears. I've pretty much given up on Hwangbang, since they want Jung-tae one minute but are ready to kill him the next. And since they know Jae-hwa knows who really killed Daddy Shin, do they think that it'll be a secret forever? Sure, keep Jung-tae around and groom him until he finds out the truth, which could be any second, because that's a surefire way to guarantee future success if I've ever heard one.
But no, instead of just grooming someone who already possesses business sense and happens to already be malleable to their will, they go and pick the kid who'll surely kill them once he finds out they killed his father—which was apparently because he couldn't be controlled. So somehow his uncontrollable son is a better bet? Ugh. Those two deserve whatever's coming to them. They're literally just polluting the gene pool at this point.
Kaya and Jung-tae's moment came way later than it should have, but a little improvement is better than none. The thing about her change in behavior is that that's who I wanted to believe she was this entire time, but we haven't seen a glimpse of this side of her in far too long. I wanted to believe that she wasn't just being a conniving thorn in everyone's side because she liked it, but there was no way to read that from these past few episodes. We saw her killing, smirking, threatening, smirking, lather, rinse, and repeat.
But fine, let's pretend like last week never happened, because honestly that's best for everyone. It really was in Episode 10 that Kaya asked Jung-tae, "What if I was the one who killed your father?" And while I think their moment this episode would have us believe that she was purposefully baiting him so he could find the truth on his own, it still seems like a far stretch. Since we saw nothing of Kaya's scarred underbelly in any of her scenes for what seems like forever now, today's 180° turn felt like someone behind the scenes went, "Crap. We were supposed to make her symapthetic this whole time? Okay. Um… right. Let's give her one scene and act like the stuff before it never happened."
The thing is, since it does tie into the Kaya of the past, it's not that hard to buy. It's frustrating that it only came up at this point in the story, but not wholly unbelievable either. The only frustrating thing about that scene was how butthurt she got when Jung-tae wouldn't trust her right off the bat, even though she trusted his word way back when. Can she really blame him for not knowing the true version of her with the way she's been acting? It seemed like she did, but it's at least a positive step forward. I understand her reasoning in letting him find out the truth on his own, since it could lead to their teaming up against their true enemy in the future. But maybe, just maybe, if you want someone to believe that you didn't kill their father, you might not want to say: "I killed your father." Even if it's technically true.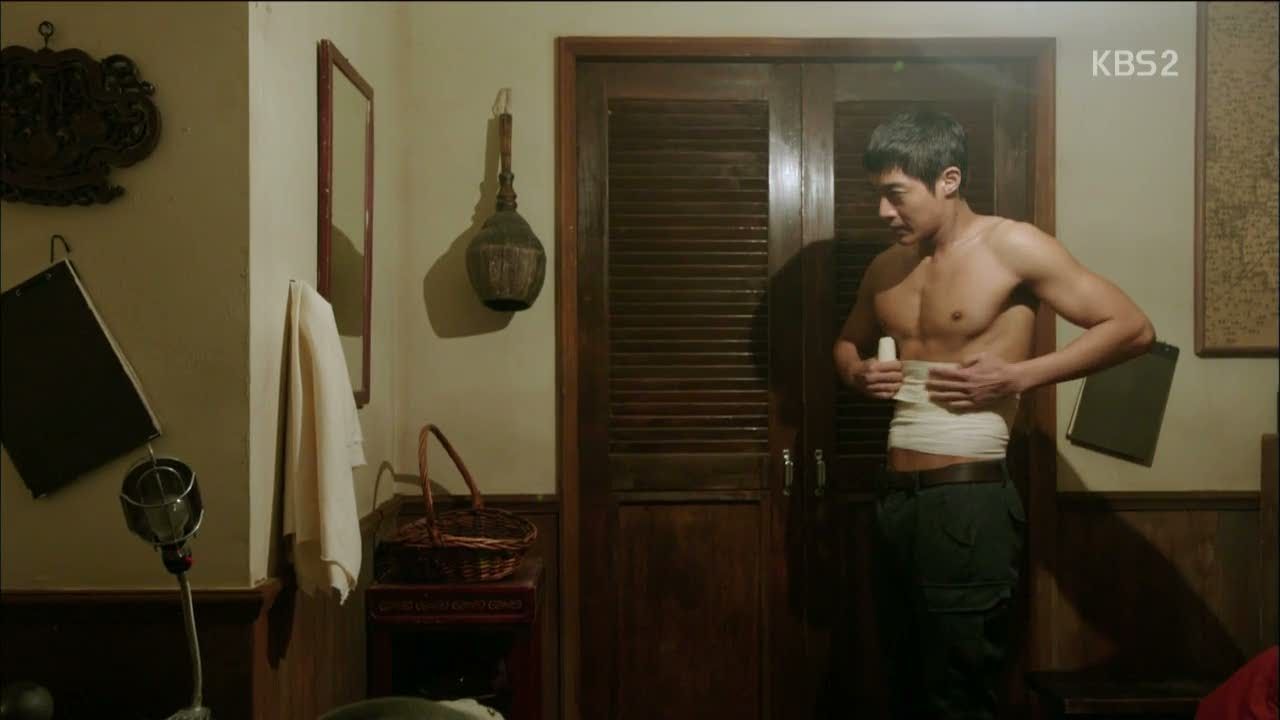 RELATED POSTS
Tags: Age of Feeling, featured, Im Soo-hyang, Jin Se-yeon, Kim Hyun-joong, Kim Jae-wook