Emergency Couple: Episode 8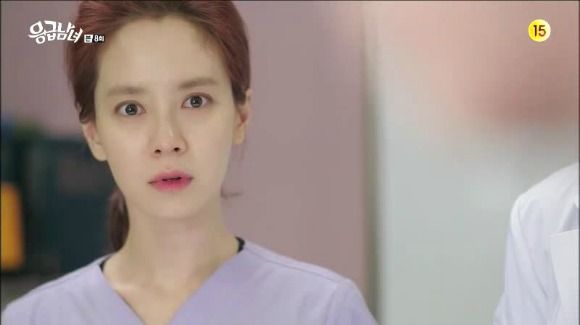 Our heroine finally has time to pause and wonder about her uncertain future as a medical intern, while Chang-min's reactions to the evidence of her burgeoning relationship with Chun-soo start to smack of jealousy. We also find out more details on why Chun-soo is serving the longest residency ever. And perhaps most importantly, we get some insight into why our hero's and heroine's marriage fell apart in the first place.

EPISODE 8 RECAP
On the bus, Chun-soo is dead asleep as Jin-hee positions his head back on her shoulder. Chang-min pulls up next to the bus in his car at a stoplight, but neither Chang-min nor Jin-hee see each other. The bus jerks Chun-soo awake and Jin-hee feigns sleep. He nudges her awake, with an "Asleep already?" and she makes a big show of yawning and stretching.
As the two order breakfast, Chun-soo tells Jin-hee that she should go do medical volunteer work on an island somewhere. "I think that's the best fit for you," he says. Jin-hee replies, "I'd like that. But I'd like to finish my internship first." She hesitates for a moment before asking, "What's going to happen to me now?" Chun-soo's answer is noncommittal, and not particularly comforting: "That depends on your fate."
When the restaurant ajumma mistakenly assumes that Jin-hee is Chun-soo's "pretty wife," both Jin-hee and Chun-soo share an awkward moment. It grows even more awkward when their hands touch briefly as they both reach for silverware.
At the hospital, Chang-min is on night duty when one of the nurses asks him about his family. She's crushing on Chang-min after learning that his mother was a VIP patient. She wonders just how good his family background really is, and asks whether he's a chaebol heir or a politician's son.
Meanwhile, Chun-soo gives Jin-hee what looks to be half his portion of rice. Maybe it's the cavegirl in me, but I always find Man Give Woman Food scenes sweet. As Jin-hee lifts her bowl to drink the last of her soup, Chun-soo smiles fondly at her. By the time Jin-hee sets the bowl down, he catches himself and wipes the smile from his face.
Outside the hospital, Chang-min tries to call Jin-hee again. It's still going to voicemail, and he wonders whether she's out drinking, depressed over her dismissal notice. Nothing could be further from the truth, and Chang-min's mouth drops in astonishment when he sees Jin-hee and Chun-soo walking together, all smiles and chumminess.
Chang-min asks Chun-soo where he's coming from, and Chun-soo brushes him off with a vague "Nowhere." What's hysterical is that this only gets Chang-min more curious, and he follows Chun-soo through the halls like a puppy, asking, "Where did the two of you go?" Chun-soo finally stops and snaps, "Why are you so curious? You don't need to know, punk!"
Jin-hee turns on her bedroom light and is startled to find Kwang-soo and Baby Guk asleep on the floor. After dragging Kwang-soo from bed, Jin-hee asks whether he found Jin-ae. Kwang-soo replies that he did go to the bar, but that she had immediately quit after the night of Jin-hee's concert disruption. I find it hilarious that practically everything coming out of Kwang-soo's mouth is unwittingly modulated to cause maximum irritation to Jin-hee.
Exasperated, Jin-hee tells Kwang-soo that he should go home in the morning, but Kwang-soo saves the best for last. He replies that he would have no reason to sleep at Jin-hee's house if he…uh… actually had a home.
Not feeling safe with Kwang-soo under her roof, Jin-hee's mom is at the spa with a bag packed with her valuables. She's still not completely convinced of Kwang-soo's story and she tells Jin-hee to file a report with the police the next morning as a last-ditch effort to find Jin-ae.
Later, Jin-hee settles into the couch to sleep and sighs heavily, "Each day is like a variety show. Live, real variety. Oh. My. God." Haha, yet another shout out to Running Man?
The nurse who is now nursing (I can't help myself) a crush on Chang-min drapes a blanket over him as he sleeps. When he wakes, she offers him a snack and briefs him on his patients. Chang-min thanks her, but before leaving he asks her whether Jin-hee has come into work yet. When the answer is negative, Chang-min's look of dejection is adorable.
Finding that Ji-hye has slept in his office overnight, Chun-soo tells her that she should have gone home. Ji-hye interrupts him for some clarification: "Wait a minute. Are you worried that I was uncomfortable sleeping here, or are you worried that someone will see and misunderstand?"
Chun-soo hesitates and then says truthfully, "Both." When Ji-hye wonders whether Chun-soo spent the night with Jin-hee, he answers defensively that he slept in the on-call room. "But why do I have to make these excuses to you?" he asks. Chun-soo, honey, when a woman wants to know where you sleep, it means…
Ahem. Sorry, I got…distracted some. Ji-hye hands over a box of socks to Chun-soo, and she looks at his feet noting that at least for today, his toes are properly attired. She then sees that Chun-soo has mis-buttoned his shirt. What's a girl to do but to move in, and unbutton all the mis-buttoned ones? Quite logical. Suddenly shy and awkward, Chun-soo insists on doing the buttons himself. Bah.
Ah-reum finally spots her potted flower and wonders why it's on her desk. Seeing Ah-reum admire her plant, Yong-gyu positions himself in his chair to take a sel-ca of himself, with Ah-reum in the background. He gets completely photobombed by the married guy intern, who literally takes up half the frame.
Angry and upset, Chang-min's mom delivers divorce papers to Chang-min's dad. Nonplussed, he tells her that instead of taking antidepressants, she should get more exercise.
Confronting Jin-hee in the hall, Chang-min asks where she went yesterday. She tells him that she went home and Chang-min's patience gets thin. "No, I mean where did you go BEFORE you went home?" he asks.
Chang-min admits that he called her a number of times. Jin-hee responds that she did see that he'd called and asks, "You drunk-dialed me again, didn't you? If you're not even going to remember, why should I bother talking to you?" Ha. When she asks why he called, Chang-min replies, "About your dismissal notice. So…what I mean is… you shouldn't worry too much about it."
One of Jin-hee's patients is back in the emergency room with abdominal pain. Although Jin-hee's original diagnosis was gastroenteritis, the patient's pain has moved to the lower right-hand side, prompting Jin-hee now to suspect appendicitis. Ji-hye disagrees, citing various figures from the patient's blood tests. Chun-soo calls Ji-hye out angrily for relying solely on numbers, and she stares at him in surprise.
Dr. Ahn agrees with Ji-hye that it isn't appendicitis and decides instead that the patient is possibly pregnant and in need of an OB/GYN specialist. Chun-soo's anger turns onto Jin-hee, who apologizes for having overlooked a pregnancy test.
On the rooftop of the hospital, Ji-hye takes issue with Chun-soo for taking Jin-hee's side given her relative inexperience. He tells her it's not like that, but doesn't elaborate further. Taking a stab, Ji-hye asks, "You were together with Jin-hee yesterday. Did something happen?" A surprised Chun-soo replies, "What are you talking about?" but when Ji-hye turns to leave, he stops her, finally ready to explain himself.
"It was too similar to my own situation from before. Even down to the patient's condition," he says. And we see, in flashback, Chun-soo's backstory: A patient lies dying, possibly of appendicitis. The specialist is on his way to the hospital, but intern Chun-soo realizes that the specialist won't arrive in time to save the patient. Jin-hee tries to stop Chun-soo, but he readies his scalpel, and starts to operate.
Kwang-soo hands over his marriage registration documents to Jin-hee' s mom, asking whether she believes him now. Jin-hee's mom asks to hold Baby Guk, and as she fusses over him, she realizes that his diaper is soiled. Kwang-soo tries to take the baby, but Jin-hee's mom merely snaps, "Just go get me a diaper!" Aw. I can't blame her…that baby is damnably cute.
The interns are assembled together to sign up for their night shifts for the following month. Ah-reum asks Chang-min whether they should take on the weekend shifts together, which garners sidelong glances from Jin-hee and Yong-gyu. Chang-min tells Jin-hee to hurry up and sign up for her nights, and she asks in irritation, "Why do you care about me?" Chang-min fires back, "I'm trying to avoid you at all cost."
Chang-min signs up for the Wednesday and Friday night shifts, while Jin-hee signs up for the Monday, Tuesday, and Thursday shifts. "You're going to do three night shifts each week?" asks Chang-min doubtfully. He adds with suspicion, "Who are you wanting to see, to do all that?"
When Yong-gyu brings up Jin-hee's probable dismissal, the other interns realize that without Jin-hee, they'll each have more night shifts to cover. But Yong-gyu tells everyone that Chun-soo has met with the hospital director, to do whatever he can to reverse Jin-hee's dismissal. Jin-hee's eyes widen at this bit of news, and Chun-soo looks at her reaction with what may be a twinge of jealousy.
After gathering the interns together for CPR training (but haven't they been performing CPR on patients already?), Chun-soo calls Jin-hee forward. As Jin-hee starts chest compressions on the dummy, Chun-soo instructs, "More forcefully," followed with, "More precisely." Finally, Chun-soo places his hands on top of Jin-hee's and starts performing the compressions with her.
Chang-min's eyeballs are about to fall out of his head and we get a slow-motion sequence of Jin-hee and Chun-soo moving rhythmically, up and down. I'm dying laughing, because I don't think I've ever seen CPR in this light before. Also, how ridiculously gratuitous is this scene? As if medical interns need a refresher course on basic first aid!
Chang-min can't stand any more of this, and he grabs Chun-soo and slams him onto a desk. He bellows, "What the hell are you doing?"
Cut to: Jin-hee and Chun-soo still performing chest compressions. Ahaha. So slamming Chun-soo on the desk was just in Chang-min's head? We got seriously trolled, people.
The head of the ER comes in and tells Jin-hee that a decision has been reached regarding her dismissal notice. "You may continue your internship," he declares. Shedding tears of joy and relief, Jin-hee launches herself into Chun-soo's arms, and thanks him profusely, while Chang-min watches in utter dismay.
Later, an angry Chang-min calls his uncle who confirms that he put in a phone call to the hospital director. His uncle does mention that Chun-soo had also met with the director, but he's convinced that it was his phone call, not Chun-soo, that effected the reversal of Jin-hee's dismissal. The uncle reminds Chang-min that Chang-min owes him a debt, and hangs up with the promise that he'll keep this a secret from Chang-min's mother.
Chang-min's mom goes to her sister's clinic for a skin treatment. Her sister wants to know what she'll do if Chang-min's dad agrees to the divorce. Chang-min's mom insists that she's still attractive: "With my skin…Lee Min-ho, Kim Woo-bin…it's all possible." Words…I just can't find any.
Still in a funk about Jin-hee's reaction, Chang-min gripes to himself, "I'm the one who resolved the situation yet who is she hugging?" Overhearing, Yong-gyu asks what he's talking about, but Chang-min evades the question. Yong-gyu informs Chang-min that the married interns are having a housewarming party and celebrating Jin-hee's reinstatement as well. Chang-min insists he won't go and he's determined to get his pout on.
But everyone, including Chang-min, shows up to the married interns' apartment. While everyone settles into their first drink, the married guy intern asks where he should hang their incredibly large wedding portrait. Ah-reum chirps that it should be hung where it would be most visible but Chang-min interjects, "What's the point of hanging it up? In several months it will end up getting smashed while you're fighting anyway."
Jin-hee chokes on her drink, while Ah-reum notes that Chang-min sounds like he's speaking from experience. Chang-min continues to gripe about the lovey-dovey interns, and Yong-gyu teases him, saying that Chang-min must be envious. Ah-reum jumps in to say that he should get married quickly then, but it's now Jin-hee's turn to snipe at Chang-min: "You can't marry just anyone because you're envious. You can ruin your life in one stroke by marrying the wrong person."
Both Jin-hee and Chang-min are fired up now, and they start to bicker heatedly about married life and the unrealistic expectations men and women bring to a relationship. Mocking women's hopes for a knight to appear on a white horse, Chang-min says, "That doesn't exist. To be husband and wife means eating food they like together, watching TV and laughing at the same things together, sleeping on the same bed together every day without getting sick of each other."
On the other hand, Jin-hee argues that the real problem is that a man needs five wives. Counting them on her fingers, she says, "Actress. Maid. Cook. Counselor. Nurse." Chang-min snorts, "I'd consider myself fortunate if a woman does even one of those five things." The other interns don't know what to make of their open hostility, and Jin-hee and Chang-min start guzzling down their wine.
Chang-min drags Jin-hee aside to another room for a private conversation. He's adamant that she stop drinking and go home, before she slips up about their past. Jin-hee blusters, "Why? Are you afraid you'll lose your chance with the Cabinet Minister's daughter?" Chang-min wants to know how she knows about that, but Jin-hee reasons that Ah-reum must not know about their previous marriage. She threatens to tell Ah-reum about their marriage, because: "There shouldn't be a second victim in all this."
After Chun-soo receives good news over email, he rushes to share it with Ji-hye. He finds her dancing with a partner in a ballroom dance studio. Admiring her, he smiles while he imagines himself dancing with her instead. The dance comes to an end, and Chun-soo applauds appreciatively. When he shares the good news that supplemental funds have come through for the ER, Ji-hye is likewise thrilled.
Chang-min gets into the front seat of a cab, only to have Jin-hee drunkenly stumble into the back seat. He demands that she get out, and once she focuses her eyes on him, she demands that HE get out. They spend the cab ride arguing over who got in the cab first, much to the cab driver's amusement.
Their squabbling escalates until Jin-hee yells, "You tell me to get out of the hospital, to get out of the taxi. Who are you to stick by me and then tell me to disappear!" Chang-min turns and spits back, "What about you? You smile like an idiot for Chun-soo at every opportunity, making a spectacle of yourself." Jin-hee slurs, "Try to be at least half the man Chun-soo is. A man like him is a real man!" Oh dear. Aren't those fightin' words?
At home, Kwang-soo finds that Baby Guk is running a very high fever. While rushing the baby to the emergency room, he leaves a frantic message on Jin-ae's voicemail.
Noticing that his breath smells of alcohol, Chang-min asks the cab driver for some gum. He spends the rest of the ride rolling his eyes at a passed out Jin-hee, whom he watches in the rear view mirror.
At Wusu Hospital, Chang-min gets out and spits the gum out into his hand. He can't instruct the cab driver on where to drop off Jin-hee, because he apparently doesn't know her address. He tries to get an answer out of an unresponsive Jin-hee, but in his efforts to wake her, he accidentally sticks that big wad of chewed gum into her hair.
Left with no choice, Chang-min piggybacks Jin-hee and her pretty new hair ornament into the hospital. He ducks and weaves in the hallways, trying to avoid any staff that they know. Dripping sweat, and many staircases later, he finally finds an empty room where Jin-hee can discreetly sleep off her drunkenness. When Jin-hee starts mumbling loudly in her sleep, Chang-min places a hand over her mouth.
Jin-hee wakes up briefly and her eyes focus on Chang-min, who shushes her from making too much noise. She falls back asleep and Chang-min looks at her with tenderness and runs his hand down her hair. (The unadorned side, naturally.)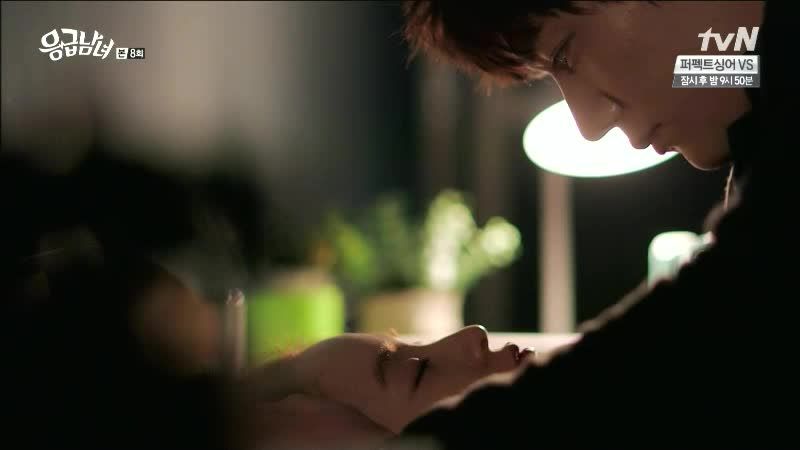 COMMENTS
Barring the ludicrous CPR scene (well, ok, it was good for a belly laugh), this was a nice episode on several fronts. One, it provided a clean resolution to what had been Jin-hee's uncertain future as an intern. Two, it showed us Jin-hee's initial emotional reaction to her reinstatement and Chang-min's reaction to her reaction. And finally, we got some details on Chun-soo's back story, which was yawningly predictable, but at least consistent to his character.
It was only natural that Jin-hee, upon getting reinstated, directed her gratitude at Chun-soo. She was told that he had met with the hospital director on her behalf, and there was no way she could have guessed that Chang-min's inarticulate "…you shouldn't worry too much about it," was any indication that Chang-min had taken action to reverse her dismissal.
I think that the romantic future of our lead couple currently hangs in a balance. What I'm curious to see is how Jin-hee will react when she does find out that it was (most probably) Chang-min who saved her from being fired. Will she start to see Chang-min in a new light, just as Chang-min has with her? And what of Baby Guk? Will Baby Guk provide another opportunity for Chang-min to change Jin-hee's opinion of him, or will it be another reason for her to hero-worship Chun-soo, or will it be Jin-hee's turn, again, to save the day?
This episode did also give us more clarity on the potential pairing of Chun-soo and Ji-hye, which for me, would be a satisfactory outcome. What can I say, I got sold as soon as she brought him new socks.
So, while that removes some of the suspense of whether our dear heroine will end up with Chang-min or Chun-soo, it sets the stage for Chang-min to prove his worth, or not. And Chang-min, you don't need to ride in on a white horse. Sometimes, it's the packs of socks that make all the difference.
RELATED POSTS
Tags: Choi Jin-hyuk, Emergency Couple, featured, Song Ji-hyo