Emergency Couple: Episode 9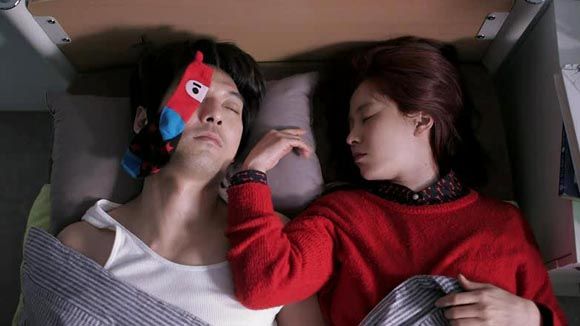 Hello everyone! I'm LollyPip, and I'm very excited to join in recapping Emergency Couple. Please be patient with me as I learn how this all works, and I hope you enjoy reading my recaps as much as I'm going to enjoy writing them.
Such a beautiful, emotional episode! Truths are revealed, new secrets are hinted at, and tears are shed. People are circling closer to each other, and at least one half of our main couple begins to truly think about their culpability in their marriage's failure, and that maybe, they wish they could start again.
EPISODE 9 RECAP
Chang-min carries a very drunk Jin-hee into an empty staff room, and covers her mouth when she starts to mumble. Jin-hee briefly wakes up to see Chang-min shushing her, but falls back asleep right away. Chang-min looks at her with this heart-melting expression, and he gently caresses her hair as he studies her sleeping face. He sweetly covers her with a blanket, then gets a call that he's needed in the ER.
The patient is Baby Guk, who is running a fever of 39.5 Celsius (about 103 Fahrenheit). Chang-min examines him and notes that his tonsils are swollen, and asks Kwang-Soo if he gave him any fever reducer. Kwang-soo admits he didn't think of it, and mentions that he wishes his sister-in-law had been there, as she's a doctor. Chang-min assures Kwang-soo that Guk has a simple cold, and will be fine with something for the fever and swelling, and that he can go home when his fever goes down.
Chun-soo and Ji-hye arrive at the hospital, and he says he envies her her ability to be a medical specialist and also maintain a hobby (dancing). She says that he should be her partner then, but he protests that it's been so long, he's forgotten even the basics. She says that he'll be even better since he's done it before, and adds that "dating is like that, and marriage too. We can do better if we start again." Chun-soo says that she was never the problem; it was always him.
Ji-hye gets a phone call which she answers in English, asking, "Which hospital?" She excuses herself from the car and calls her mother, asking after someone named Ji-min, and tells her to call her sooner the next time "the kid" is sick. Um, does this mean… ooooohhhh.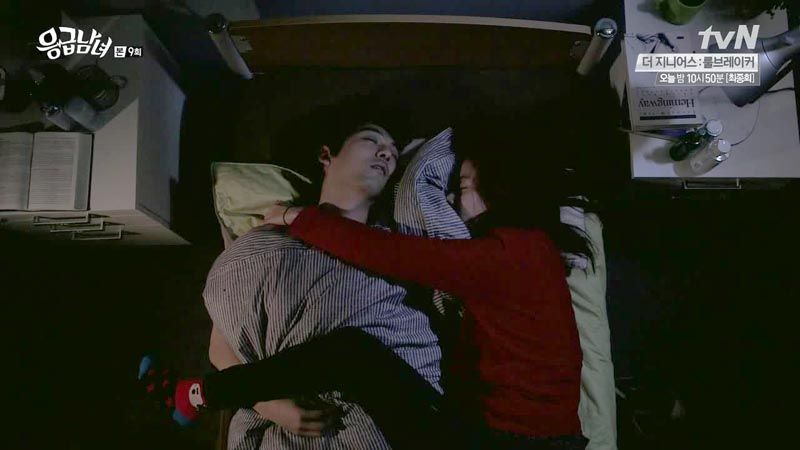 Chun-soo finds an empty room in the hospital and settles in to sleep a while… in the same bed where Jin-hee is sleeping it off. Jin-hee gets restless in her sleep and starts whapping Chun-soo in the face, while he fends her off without waking up. She throws an arm and a leg over him, and they settle in.
In the morning, Chang-min remembers that he left Jin-hee upstairs. Jin-hee and Chun-soo are still sleeping adorably in the same bed when Chun-soo's phone alarm goes off. They both sit up and look at each other, and Chang-min chooses that moment to burst into the room. Chun-soo and Jin-hee scream, Chang-min screams, and I die laughing.
Jin-hee showers and berates herself for drinking so much again and curses Chang-min for putting her in this situation. "How will I face Chief Gook now?"
Chun-soo and Chang-min are still in the room discussing what happened, and Chang-min says he really honestly didn't know they were in there — he just was going to take a nap. Chun-soo finds Jin-hee's rogue sock, and puts it in his pocket. Chun-soo gets up to leave… and the gum that was in Jin-hee's hair last night is stuck on his butt. HAHAHA.
Jin-hee realizes she's short one sock, and is horrified to realize that she left it in the room. The other two ladies show up for work and note how early Jin-hee is, and while she plays it off as being early, they say it looks like she slept there. Young-ae says that Ji-hye is looking for her, and Jin-hee mutters, "It can't be about sleeping together, can it?" Both girls in unison: "Who did you sleep with?!"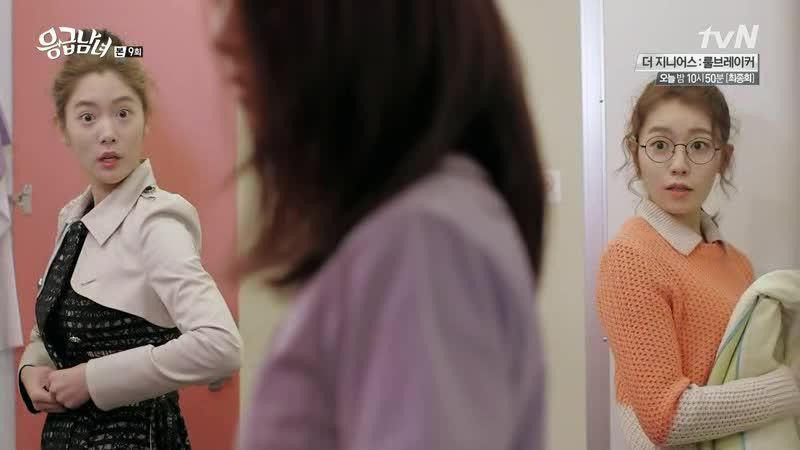 Chang-min is trying to sleep in the staff room, but he can't stop glaring at the bed that Chun-Soo and Jin-hee slept in, with its rumpled covers and Jin-hee's hair on the pillow. He takes his jealousy out on the bed by slapping the covers and jumping up and down on the pillow, looking and acting about four years old. Hee.
Jin-hee goes to see Ji-hye, who says that she called her here to say that she may be an energetic intern, but she's not that young… and Jin-hee blurts that no, she just fell asleep, she didn't know it was the chief's bed, and she didn't know he was there, and ACK just stop talking! Ji-hye's voice gets sharp: "You slept with Chief Gook?!" She says she only called Jin-hee to tell her that she heard she's not being dismissed, and to warn her to lie low because she could still get fired.
Jin-hee stomps down the hall, still cursing Chang-min under her breath for this whole mess. She runs into Chun-soo in the hall and tries to sneak by without him seeing her, but he ends up in the elevator with her. He asks if she drank last night and why she didn't sleep in the women's staff room, and she gapes at the gum still on his butt. He continues to snap at her, but don't think we didn't see that little smirk on your face, Dr. Gook!
Jin-hee follows Chun-soo out of the elevator and lets him know there's something on his pants. He does this adorkable spinning-in-circles move, but can't see it, so Jin-hee gets on her knees to attempt to get it off for him. So of course, Chang-min and Ji-hye walk up on them while Jin-hee is still holding onto the seat of Chun-soo's pants. They don't look guilty at all, nope not a bit.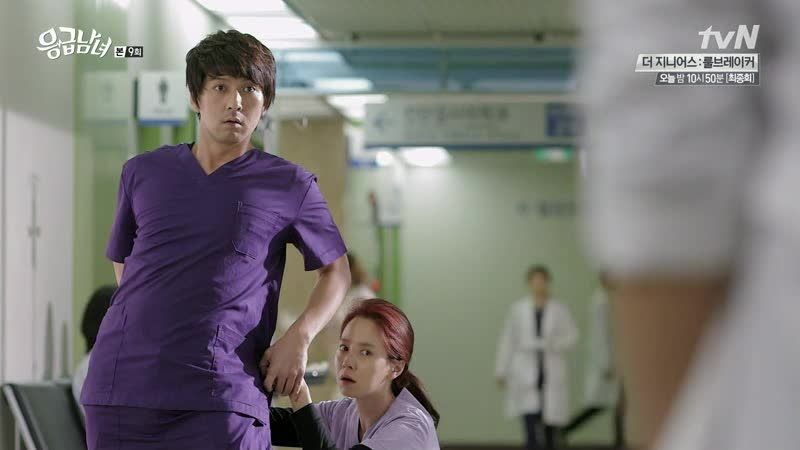 Chang-min drags Jin-hee up to the roof and wants to know what she was doing manhandling the chief's butt, and she fusses back at him for leaving her in the men's break room. Chang-min demands to know if Jin-hee likes Chun-soo and she defiantly barks, "Yes. Why?" He wants to know if they're going to date, but she says it's none of his business. He grudgingly admits that he would feel bad watching his ex-wife date someone else, but she says they are over.
Down in the ER, Yong-gyu intercepts Ah-reum every time she tries to do anything. He thinks he's being chivalrous to do her tasks for her, but she gets more and more confused by his weird behavior. Chang-min stomps in and asks Yong-gyu what he's feeling, pointing to his chest: "Things are boiling in here!" Yong-gyu says he's been having the same feelings lately.
Jin-hee's mother, Kwang-soo, and Baby Guk are at the spa, and Kwang-soo asks why they don't have any customers. The spa owner says it's because they were fined at one point and rumors spread, but Jin-hee's mother says they have a group reservation later. Little Guk starts to cry again and Jin-hee's mother picks him up and notices that his fever is very high again.
Kwang-soo rushes him back to the hospital, beyond frantic, and screams for the doctor who treated Guk yesterday, but Ji-hye gets there first. She asks if he gave the baby the fever reducer, and he says he did, and Ji-hye directs a nurse to find Chang-min. She tells Kwang-soo that even with the fever reducer, the baby is wearing too many layers, which will keep his fever from going down. She finds red welts on the baby's arm (purura; bleeding under the skin that can herald a number of serious illnesses) and tells a nurse to find Chief Gook, too.
Chang-min arrives and Ji-hye quizzes him on the baby's symptoms; he pales and says it's probably meningococcal meningitis, and Ji-hye tells Kwang-soo that the baby is in serious danger. Kwang-soo yells that Chang-min told him last night that the baby was fine; Ji-hye asks what his findings were and he admits he thought it was a simple cold.
Ji-hye starts an IV in the baby's scalp, which sends Kwang-soo from extreme worry straight to panic mode (I don't blame him). He grabs Chang-min and yells, "Who do you think you are? Are you even a doctor, you bastard?" and punches him. Jin-hee breaks them up, wanting to know what's going on, and Kwang-soo tells her that this guy almost killed his baby.
Chun-soo finally shows up and orders tests, and chastises Chang-min for not considering meningitis when he saw the baby the previous night. Jin-hee brings Kwang-soo some medicine in case he was exposed, and calmly assures him that Guk will get antibiotics and will be just fine, and again we see her calm bedside manner and compassion.
Kwang-soo wants to know what the worst could be, and Jin-hee tells him honestly that there's a chance the baby could have long-term neurological or organ damage, but again reassures him that it's more probable that Guk will recover fully.
Kwang-soo continues to cry, saying that this wouldn't have happened if Jin-hee had seen Guk the night before instead of that stupid intern. She tells him she's also "just" an intern, and that for anyone, even a specialist, it's difficult to tell the illness from a cold. Kwang-soo sobs that he's still going to "kill that bastard."
Jin-ae finally shows up at the hospital, and immediately recognizes Chang-min, loudly calling him "brother-in-law." Jin-hee finds them talking and yells at Jin-ae for leaving home, getting pregnant, then abandoning her child — should she just kill her now? Chang-min follows them and barely stops Jin-hee from slapping her sister.
Jin-hee finally calms down and suits Jin-ae up in a sterile gown, and sends her in to where Chun-soo and Ji-hye are treating Guk. Chun-soo tells her to comfort the baby, which she does with tears in her eyes. The doctors perform a lumbar puncture on Baby Guk, and nearly everyone is in tears when he screams, including me. Jin-ae leaves the room once the procedure is done, and collapses sobbing into Kwang-soo's arms as he assures her that Guk will be fine.
Ji-hye worries that Guk may not have mengingitis at all, but encephalitis. They tell Guk's parents that he's no longer critical, that they will give him antibiotics and he should recover. Chun-soo asks Jin-hee if she knows them, and she admits that Jin-ae is her sister. Jin-hee watches Chang-min through the glass window as he tends to Baby Guk, and they exchange a look that says about a million things.
As Chun-soo and Ji-hye walk away, he says that she was very good with the baby. She comments that a sick child is the worst feeling for a mother, and he wants to know how she knows that, seeing as how she's not a mother. I wouldn't be too sure of that…
In the interns' break room, Yong-gyu is telling the others about the "punk girl" who called Chang-min "brother-in-law." Ah-reum is obviously bothered by this and says she's going home, but Yong-gyu stops her to ask her out to dinner. She declines.
Kwang-soo finds Chang-min and apologizes for punching him, giving Chang-min a CD of his favorite songs to thank him for staying to take care of Guk when he should have been going home.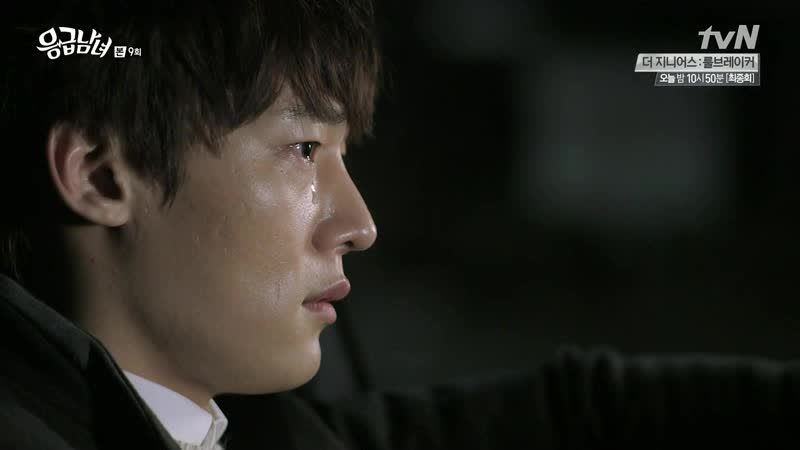 In the car, Chang-min puts the CD in and flips through the loud techno songs, then stops at a sad ballad that sings, "That person is leaving me… My tears won't stop, I have no words, all I can do is look after you… I miss you, I long for you…" He remembers his and Jin-hee's wedding day, and then their final destructive showdown, as his eyes well up with tears.
Ji-hye goes to Chun-soo's office to discuss Guk's treatment, and she nearly asks him about Jin-hee and his sleeping together, but stops herself. She does suggest that he talk to the ER director to find out more about Jin-hee's not getting fired.
Jin-hee wanders into a store to buy a gift for a man. She doesn't know what he likes, but says she'll just look around.
Chang-min is at the gym, and…excuse me for a moment.
You're welcome. Anyway, Ah-reum is also at the same gym and approaches Chang-min, asking if he has any books she can borrow for a paper she's helping one of the residents write, but it's obviously just a ruse to get into his apartment again.
She tries to reach up high for a book on a top shelf, and don't think we don't see all that bouncing and arching your back. As Chang-min reaches to get her the book, she turns toward him so that they're nose-to-nose, and asks why he hasn't accepted her offer to date. She tells him that she gets more calls from his mother than from him. He says diplomatically that he's interested in her as a fellow doctor, but that he's not interested in dating or marriage, and she asks him to just keep her in mind.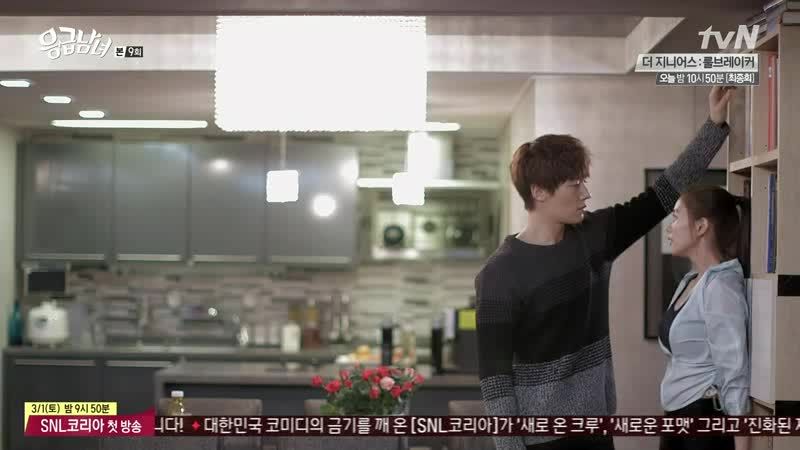 Ah-reum casually mentions that she heard that someone called him "brother-in-law" today, and Chang-min starts to come clean about his previous marriage, but his phone rings. Ah-reum leaves, and Chang-min answers the call, and tells his mother that Ah-reum just left.
Mom says he shouldn't have let her leave this late, but she assumes they're dating now, and Chang-min doesn't get a chance to set her straight. She asks what he talked with his uncle about, but he denies that happened. Mom drops the bomb that she asked his father for a divorce, telling him not to let Ah-reum go, that she needs him to get married before she gets divorced. He reminds her that he's been there, and to think carefully before going through with it.
Jin-hee is coaching Jin-ae not to tell anyone about Chang-min being her brother-in-law. Jin-ae grumpily agrees, then tells Jin-hee to take care of Guk because she has to go make money. And I was so close to forgiving her. Their mother comes to see the baby, and when she sees Jin-ae, she flies into a rage and hits her, and when Kwang-soo begs her to hit him instead, she complies. Ha.
The next day, Chang-min gets to work and gets a text message, and it's Yong-gyu texting to Ah-reum; it looks like he accidentally sent it as a group text, because everyone in the ER is now watching his extremely embarrassing song-and-dance video.
Jin-hee shows up in Chun-soo's office with a gift, and haltingly explains that it's to thank him for everything, and apologizes for "that night" in the staff room. He returns her lost sock, and she dies a little from embarrassment, which makes him laugh. Ji-hye comes in as Jin-hee is leaving and sees the gift on the desk, joking that maybe she should knock from now on.
The next morning, the married couple ask if Ah-reum has seen her public proposal, but it's news to her. When she hears that the flower pot was also Yong-gyu's doing, he realizes that his assumption that she accepted his heart was a misunderstanding, awww.
Chang-min's mother confronts her brother directly, demanding to know why Chang-min came to see him. He refuses to talk and she whines that she's an outcast in her own family, and he agrees but says they won't use it against her. Ha.
Chun-soo goes to talk with the ER director, who confirms that Director Yoon (Chang-min's uncle) spoke up for Jin-hee. Chun-soo deduces that Chang-min must have asked his uncle for a favor, and the ER director says they should be good to Chang-min if his family is that powerful.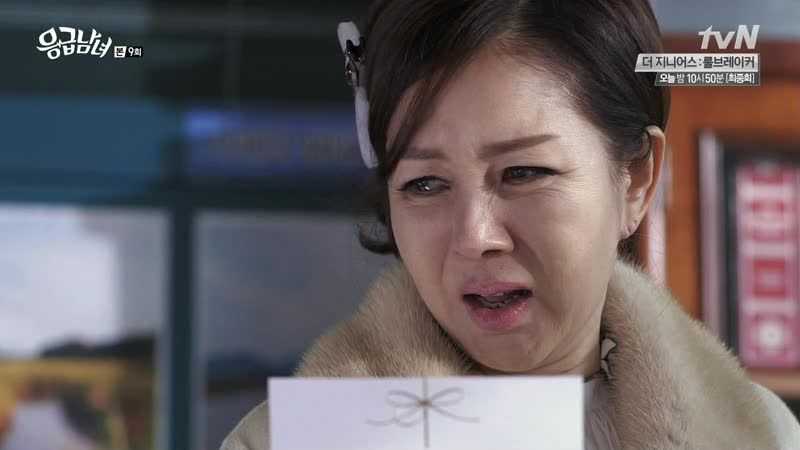 Chang-min's mom shows up at her husband's office, but he isn't there, and she goes through his desk looking for the divorce papers. Instead she finds the gift that Jin-hee gave him a while ago, and reads the note in which Jin-hee thanks him for his help getting her through medical school. Needless to say, this is not happy-making information.
Baby Guk is almost ready to go home, and Jin-hee is holding him when Chang-min comes up to talk to the baby and pinch his cheeks. Jin-ae notes that they make a good-looking family, and oblivious Kwang-soo says they look too close to be just colleagues. Chang-min thanks Kwang-soo for the music CD, and Guk's parents take him home, Jin-ae telling Kwang-soo that he'd freak if he knew who Chang-min really was.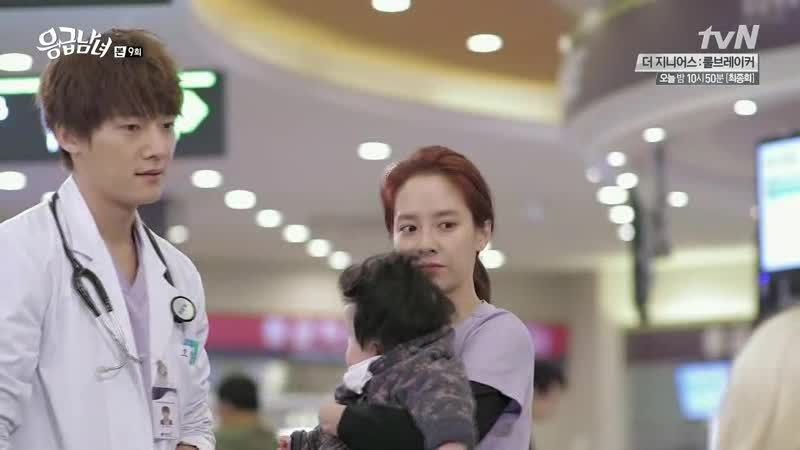 Jin-hee brings her final report on Guk to Chun-soo, and asks if he liked her gift. He says he didn't, and tells her to take it back. He suggests that she give it to Chang-min instead, because he was the one who saved her job, which stuns Jin-hee.
Chang-min thanks Ji-hye for helping with the sick baby, and she wants to know why she only gets words when other people get gifts — Jin-hee gave the chief a nice jacket while all she got him was socks.
Chang-min think back to all of the interactions he's witnessed between Jin-hee and Chun-soo and gets a text from Jin-hee asking him to talk. He finds her on the roof and she immediately demands, "Who are you to raise me up or put me down? Did you save me with your awesome family? Am I that pitiful? Can I not be a doctor without your help?"
But Chang-min is angry too, and he grabs her wrist: "Why are you angry at me? Our methods were different but we did the same thing — why do you go to his arms but get angry at me?" Jin-hee demands he let her go, but he grabs her by the shoulders, still yelling, "Do you know what you look like these days? I'm warning you, don't smile in front of him again! Don't go into his arms again either! In front of other men, don't make that face that I fell in love with!"
COMMENTS
Well first things' first, if Chang-min doesn't know yet that he's falling for Jin-hee all over again, it's certainly becoming obvious to us. I'm glad they're finally getting to the romance part of this rom-com, because as much as I love this drama even without it, I'm ready for some of the love lines to get rolling. And I think it's only right that it's Chang-min who starts to have feelings first, since he was undoubtedly the aggressor in his and Jin-hee's marriage, and it will be good for him to feel, for a little while, some angst about how he treated her and some responsibility for why she gets angry when he tries to help her.
At this point, I feel like Chang-min's emotions are more about regret and jealousy than about falling-in-love emotions, because he's definitely jealous of Jin-hee and Chun-soo's emerging friendship. The scene in the car when he was thinking about how he treated Jin-hee, versus how close she's getting to Chun-soo, showed how much it bothered him, and I hope his tears were because he feels bad that compared to Chun-soo, he's not looking like such a good person. And that's a good thing, because he needs to work out why he treated her with such disdain, so that he can really repent and do better the second time around; at least if we as viewers are going to buy a story line in which they get back together. It's a positive first step, and this episode is the first time I've felt like he's got a chance of making enough of a positive change towards deserving to get Jin-hee back.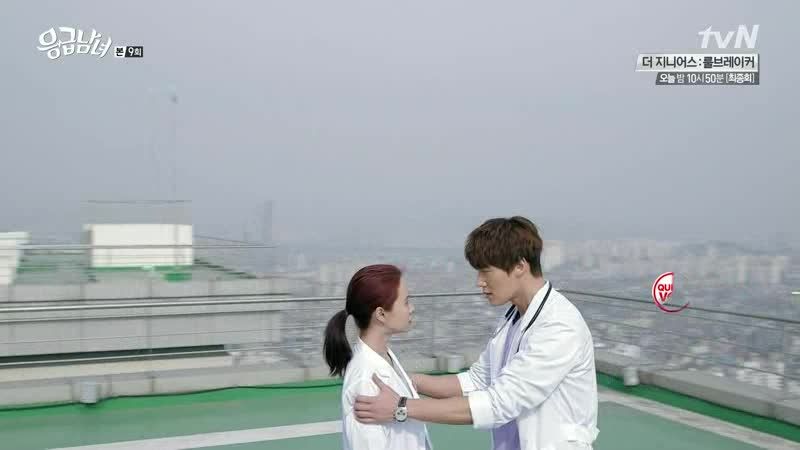 At this point, I feel as if Jin-hee is still quite a few steps behind Chang-min in regards to any sort of reconciliation. Her feelings towards Chang-min are softening at times, but she's still very quick to throw her barriers up at the slightest hint of a percieved insult. And the fact that she still views things like him using a family connection to keep her from being fired, as a negative thing, is very telling…she's a long way from trusting his motives. As well she should be. Not to say that she was innocent in the destruction of their marriage, because extreme passivity can be as much of a death knell to a relationship as extreme aggression. I can just understand why she's still so easily put on her guard.
Ji-hye has also stepped up her game in this episode, and in episode 8. She's making more obvious moves towards getting close to Chun-soo, what with buying him gifts and making not-very-veiled comments about second chances. I really like her character a lot; I respect her ability to put herself out there and go for what she wants. And even though he seems mostly oblivious, I don't think for a second that Chun-soo doesn't pick up all her hints and that he doesn't know exactly what she wants. I'm interested to see what the introduction of her possible child into the story does to their relationship, because knowing dramas, it's his child too, and will give him a push to take action, ANY action. He's a man who has been in stasis for a long time…in his career, in his relationships (or lack thereof), and he's going to need something stronger than an old flame showing interest to make him step out of his comfort zone.
At this point in the story, I really feel like in order to move forward, our characters all need to start looking at their pasts, and think about why they failed in their relationships and in their careers the first time around. You can't go far if you aren't honest about what's holding you back. And it looks like, from the previews, that we're going to get some of that next week. It's a good thing, because I think it's time for everyone to start healing some wounds, in themselves and in those they hurt, so that everyone can start with a clean slate.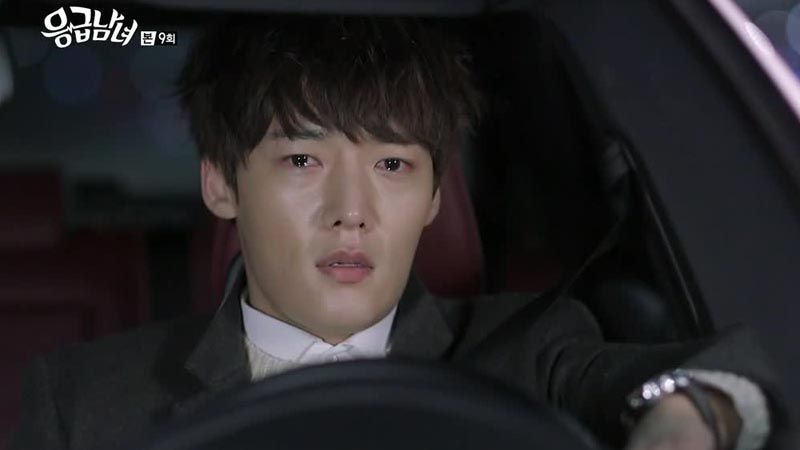 RELATED POSTS
Tags: Choi Jin-hyuk, Emergency Couple, featured, Song Ji-hyo