Running Man: Episode 184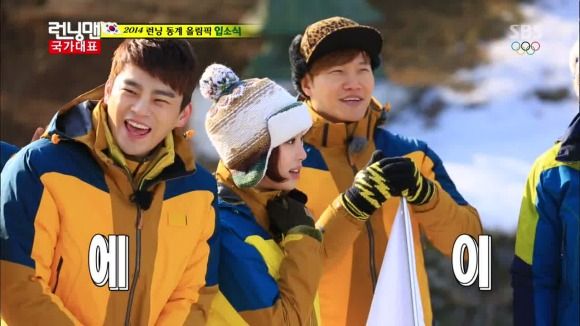 What better way is there to fight the freezing cold than the chance to win glory and gold? The Winter Olympics may take place once every four years, but our cast will put their speed, concentration, and agility to the test in these games against the all-stars. Though I'm pretty sure actual Olympians don't have to cook or do laundry with ice cold water, this training camp isn't for the weak or weary, because simply coming out of it unscathed is a feat in of itself.
EPISODE 184. Broadcast on February 9, 2014.
Welcome to the 2014 Running Man Winter Olympics… where the low-rent outdoor backdrop is falling apart around our cast members. Ha, that's one way to start an opening.
Our Running Man Team send warm cheers to the Olympians while fighting the bitter cold, unaware of the hellish training camp that awaits them here. They'll be pitted against the All-Star Team today, led by Jong-kook—meet our guests: singer and actor Seo In-gook (No Breathing), Answer Me 1994 co-stars Sohn Ho-joon and Baro (B1A4), actor Park Seo-joon (A Warm Word), and actress Kang Ye-won (The Huntresses).
Gathering a variety of guests is always a toss-up since you can never be sure how they'll mingle with the cast or each other. But what we do know is that Baro is a ball of energy, from the almost slip-and-fall and impromptu stretching—such a far cry from his reserved character in the drama.
Jong-kook warns the other team that Ye-won has a strong personality herself, but we know that Ji-hyo is none to be trifled with (Haha: "Ji-hyo even curses!"). This is the first time Jong-kook has met his teammates (apart from In-gook), which should make for some interesting team dynamics.
Like the mention of Ho-joon's short-lived idol days (he was part of the singing group Tachyon), which leaves our guest all flustered. But leave it to the staff to show us a clip anyway. Heh.
After they get Ho-joon to break out his Jeollado accent and greet Seo-joon, the teams turn their attention to the screen. Thanks to a bit of clever editing, our resident announcer Kim Hwan introduces a new Olympic Event: nametag ripping… on ice.
Wait, the winning team will participate in the Winter Olympics? Uh, you mean actually go to Sochi? And Jo PD must be saying all this with a straight face because the cast remarks on how serious he sounds about it, and yipes—even the mission board says: "leaving the country."
The laundry list of today's games takes me back to the Family Outing variety days of yore, where the winning team gets to kick back after each game whereas the losing team is faced with a task/punishment/manual labor.
The first game will test their speed in a speed-skating relay race. There are plenty of first-time skaters on the ice between the two teams, but it becomes quickly apparent that the All-Star Team has the clear advantage.
So even before the start, it seems like the Running Man Team will be the ones stuck making lunch for everyone. Not that you can really tell the difference once the whistle blows because Ye-won latches onto Kwang-soo.
Then later it's Jong-kook who puts some distance thanks to Baro, and then Gary pushes Ho-joon at the pass. Ho-joon tries to return the favor in kind around the bend, but Gary catches up to him.
It's a neck and neck race with our final competitors until the midway point where Seo-joon skates ahead… and then takes a tumble, allowing Haha to win the first round.
Ho-joon promises his teammates that he'll stop pretending and skate properly this time, which only makes me think he's a heodang in disguise. Embrace the heodangness—viewers (myself included) find it so endearing!
Ha, he totally is. Ho-joon ends up walk-running on the ice again, and later Ye-won tries her best to just keep her balance. Doing so puts her at least half a track behind the other team, but In-gook quickly closes the gaps.
With all this shoving and grabbing going on, there really are no rules in this relay, is there? Then it's down to Haha and Baro as they come around the bend… and Baro falls to the ice, giving the Running Man Team the win.
They rattle of their lunch choices to the All-Star Team, and Ho-joon declares that he's confident in his spicy chicken stew cooking skills, which gets In-gook to yell that he's only making things harder on them. Can't blame a guy for trying to get screentime and find a variety niche!
Thankfully the kitchen is pretty clean, but the pipes are frozen over, which means cleaning their food and rice in ice-cold water.
Meanwhile, the Running Man Team rests up inside, and I don't blame Ji-hyo in the slightest for catching a few winks, what with her hectic schedule for Emergency Couple and all.
The boys realize that they're in for a world of pain if they lose the next game, so they play a game to check in with the cooking team, and Jae-suk drags Kwang-soo with him. Jae-suk teasingly asks why Jong-kook is dicing garlic, to which Jong-kook dishes back: "Because I can't dice you!" Gulp.
But Jae-suk and Kwang-soo get reined in to do some work, and Kwang-soo cries of shock at the freezing water grabs everyone's attention. Despite Ye-won pouring a half bag of sugar into her marinade (though I love how she charges on anyway), the food itself looks amazing.
And when the Running Man Team drops by again, Jong-kook immediately puts them to work and chides them for wanting to put ramyun in their boodaejjigae. Jae-suk sneaks a few in anyway. Ha.
Everyone digs in for a yummy lunch where Suk-jin manages to throw in another teasing jab: "If you can cook this well, imagine how great you'll be at laundry!"
Their second game takes place by a stream to test their concentration. They're going to have to go barefoot, aren't they? Sure enough, each team will need to construct a rock tower on the tables while barefoot. The response? "You know it's the middle of winter, right?!"
I don't doubt for a second that the water must be absolutely freezing, which is why I don't blame the teams for traversing back and forth to their starting points either. So I'm here biting my nails nervously praying that they don't get hypothermia whereas the upbeat music is trying to get me to laugh.
At one point, Jong-kook urges his teammate to hurry, but In-gook can only yell back: "I want to be quick, but [the pain] won't let me!"
Then there's Seo-joon, who grits through the chilly waters in silence (and the show hilariously paints him in flowery CG and the Frozen soundtrack), and then belatedly lets out one long utterance of pain.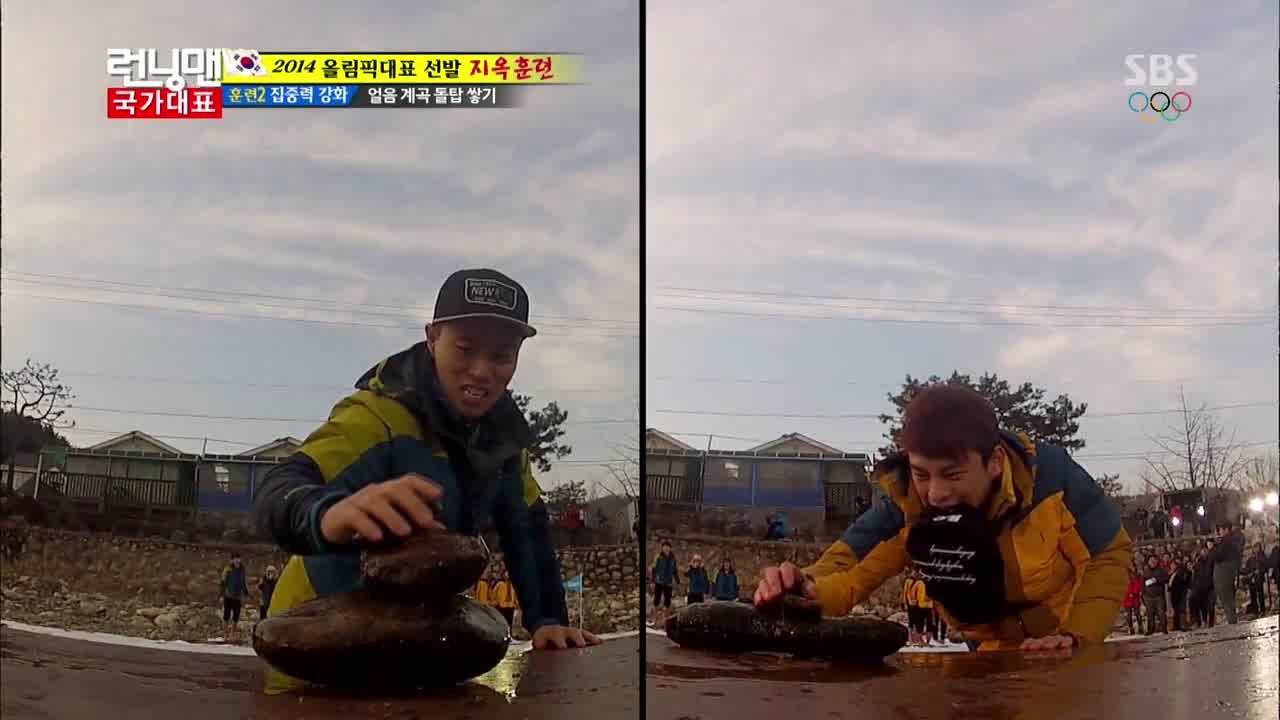 The All-Star Team is down to their last competitor when the Running Man Team still has two more to go. Suffice it to say, the former wins the first round.
Each team sends out three representatives for the second round. With laundry duty on the line, everyone buckles down to focus. This round goes much faster, and both teams place their last rocks down at the same time… but it's In-gook who hurries back first to secure the win.
The Running Man Team tries to call for more rounds, even trying to get the crowd involved. But those attempts get promptly dismissed, which means it's off to do laundry with freezing water and solid soap.
They can only laugh at the absurd situation of washing (and drying) clothes outside by hand before the grumbling settles in. At least they get rubber gloves to stave off the chilly water, and can only comply when Baro and Seo-joon drop by to tack on to the ever-growing load.
Kwang-soo finds a pot of warm water, but gets caught with it moments later. Flustered, he throws out the whole pot, which earns him a round of scolding from the others.
While Jong-kook and his teammates enjoy themselves with a bit of karaoke, the others are still outside. And when they're handed an article of Jong-kook's clothing, they refuse to wash it. Lol.
Unfortunately for them, Jong-kook immediately catches on that something is amiss when he inspects his pants and finds them dry (whereas the rest is frozen stiff) and unwashed.
Their third game will test their teamwork, where the teams will race (or edge) around a flag while holding each other's ankles. Despite Jo PD's emphasis that this is an actual training exercise for the athletes, he's met with collective looks of disbelief: "You want us to do that here [on a snowy, bumpy field]?!"
Coach Kookie gets to work to train his teammates, who look like they're about to collapse just from practice. Conversely, the Running Man Team doesn't get anywhere in practice and Gary calls out in the end: "Why am I still in place?"
They eventually agree to a 2:2 relay race due to Suk-jin's tired muscles ("I think they've burst!")and the mat hyung finds a buddy in Ho-joon, who also sits out ("He doesn't get along with snow.").
Both teams are pretty synchronous, and after the switch, Kwang-soo and Jae-suk speedily march through the snow to win the round. When Coach Kookie immediately puts his exhausted teammate through more practice, he has to be told that none of his teammates can keep up with him. Jong-kook: "My body hasn't even warmed up yet!" Seo-joon: "I'm normal!!"
Leave it to Jong-kook to see the punishment of chopping wood as a great form of exercise, words that are met with disbelieving laughs. The All-Star Team is faster the second time around, but Kwang-soo and Jae-suk close that gap and Seo-joon crumbles mere inches from the finish line.
So the Running Man Team heads inside without so much as a second glance as Jong-kook tries to boost his team's morale that the punishment isn't that bad. Which is easy for him to say since he's the only one who can manage to actually chop wood.
Aw, Baro gets all excited once he figures out the technique, but gets shifted aside for the others. And when Jong-kook is asked whether he genuinely finds this activity fun, he admits that he really wanted to chop wood. Ha.
I love the laughter coming from the staff when Ho-joon steps up to the plate. He claims that he's got a lot of experience under his belt… and then totally fails. Twice. It's totally endearing.
Why do I get the feeling that Jong-kook will be the only one actually doing the punishment? The others do get a whack at it, and Seo-joon remarks that he's found a new profession. Ha.
We move on to our final mission: nametag ripping on ice. The rules are a mouthful, so let's see if we can break it down: Each half will last five minutes and four members will be on the ice at all times to eliminate the other team in order. One point is awarded per elimination and the team that acquires the most points wins.
The teams strategize before the start, and then both sides go after their first target once the whistle blows. Ye-won is eliminated rather quickly and Jong-kook pins two people in a firm hold. Both Jae-suk and In-gook are eliminated and as the next target, Baro runs to save himself. Lol.
Ho-joon tears off Kwang-soo's nametag to level the playing field. Suffice it to say the ice match is utter chaos and all I hear is one rip after another as players continue to get rotated in and out.
At the two minute warning, the score is 2:6 in favor of the All-star Team. It amazes me how quickly the teams can keep track in the chaos, and by halftime, the score is tied up at 7:7.
It's too crazy to keep track of who the present target is with how quickly players are getting tagged out. But it's cute how Baro tries to scare off his opponents, only to regret it moments later when they grab him.
The score is tied up again at 9:9, and Suk-jin tries to tackle his easiest target, Ye-won. Next thing we know, she's got him pinned to the ice with her knee.
At one point, both Ho-joon and Suk-jin are targets, and there's a hilarious shot of a pile on top of Ho-joon and nobody pays any attention to Suk-jin, who sits there a few feet away and calls out the next target instead. Ha.
With less than ten seconds on the clock, the teams clamor to rip off one more nametag. And after the whistle blows, both teams congratulate each other on a job well done. Aw.
The Running Man Team wins it with a score of 15:12 and are awarded with gold. They climb onto the bus, wondering if they're really headed off to Sochi (Suk-jin: "I haven't called home!" Ji-hyo: "My drama hasn't finished yet!").
Then Kim Hwan flickers on screen to report that the cast won't be going after all. Ha, makes sense since we'd see headlines if the cast actually went overseas. Well, at least they get to take home the gold.
RELATED POSTS
Tags: featured, Haha, Ji Suk-jin, Kang Gary, Kim Jong-kook, Lee Kwang-soo, Running Man, Song Ji-hyo, Yoo Jae-suk