Running Man: Episode 185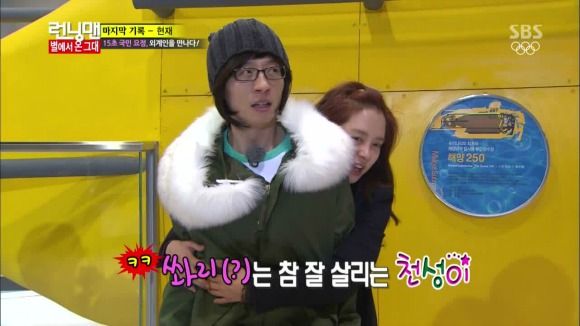 So I guess this what happens when drama meets variety, eh? Our cast members try out their own version of fantasy romance in You From Another Running Star with an episode that spans four centuries. Some turn into adorable fanboys at the drop of a gat while others bicker in sageuk speech, and still others struggle to grasp what year they're in.
But there's only one alien who can tap into his supernatural abilities to save the woman he loves, even if she doesn't always need saving.
EPISODE 185. Broadcast on February 16, 2014.
Our resident alien Do Min-joon sets the stage for this You From Another Star parody episode, narrating the events leading up to his arrival on Earth in 17th century Joseon. Time stands still for a minute as our cast members traverse the streets before the world moves once more…
First Record. We begin in 1614, in the sixth year of King Gwanghae's rule, and to the PD's surprise, Scholar Yoo readily accepts today's historical fantasy setup. Gary waxes poetic about his cold heart, and Kwang-soo… tortures himself? O-kay.
However, Kwang-soo gives up and smiles to the camera that it was all an act, and is promptly told to stop acting. That's because our scholar aliens are tasked to find the young lady with a R-stickered hairpin—a trademark piece fans of the show will recognize.
This morning nametag mission is Joseon-era appropriate for our scholars—being robbed of their wooden name plates results in elimination. Scholar Kookie muses that he believes this so-called "name-ripping game" will be popular in the future. Lol.
Scholar Gary roams the streets of Hanyang and stops at a pair of photo op cardboard cutouts. "These are the perfect sizes for Ji-hyo and myself!" It fits (ha) and he sighs, "If only we met 400 years ago…"
There are plenty of ladies walking outside, but none are the particular lady they're looking for. Scholar Ji-hyo scolds her fellow countryman for invading another lady's personal space, which sparks a round of bickering between them.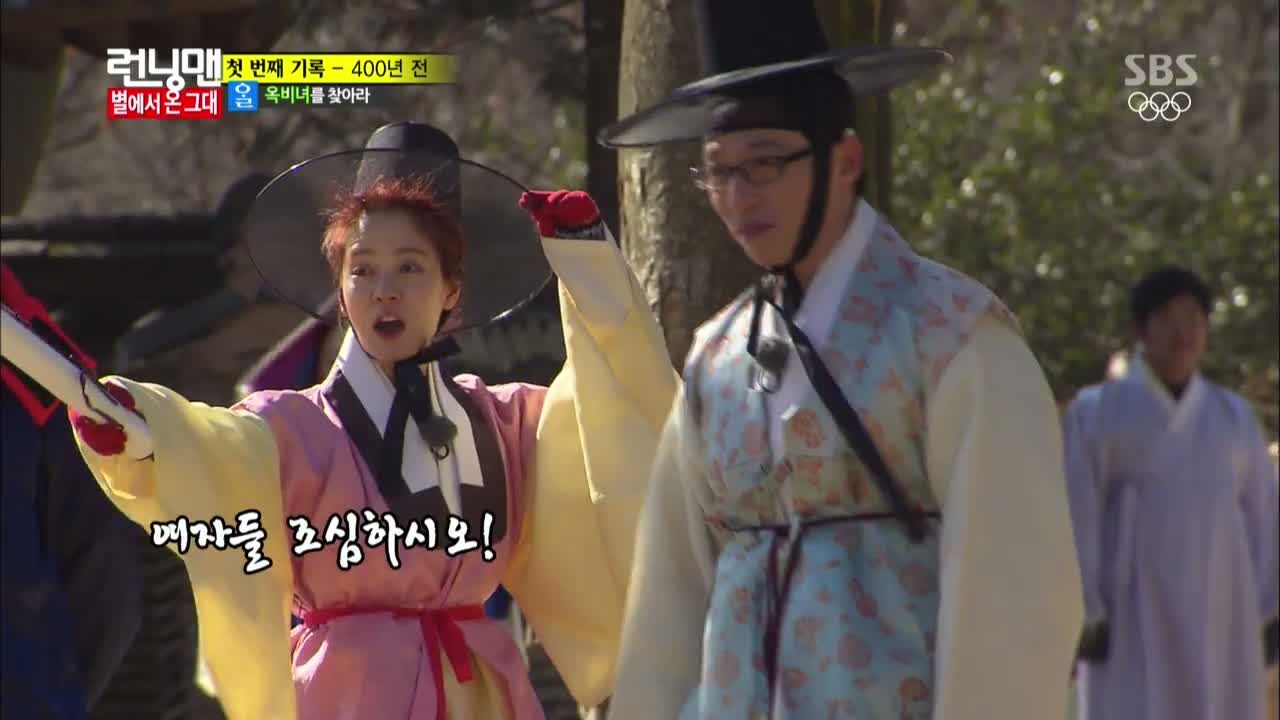 Scholar Jae-suk: "How can a fourth-generation scholar walk around with red hair?!" Ji-hyo: "Do you think all women love you? Beware, women! Yoo Jae-suk is coming!" Hee, and that's why we love you.
Kwang-soo marvels at the historic surroundings and gasps to see foreigners in this era. He stops to greet the Australian fans, only to jump seconds later when Kookie saunters up to him, grabbing his name plate.
Scholar Kookie isn't about to let go anytime soon, so they set off as a unit towards a young lady. Kwang-soo pays her a compliment, and Jong-kook slips out her hairpin without permission. Well now that's just impolite, hee.
There are some things that don't ever change regardless of era, like how Kwang-soo breaks down dancing at the sound of nearby fanfare. But in his enthusiasm, his name plate breaks off in Kookie's hand. Whoops.
Although Jong-kook genuinely looks apologetic about it (Kwang-soo: "Put it back on!"), Kwang-soo is dragged out anyway, screaming on top of his lungs that he'll have in revenge in the next life.
In his search, Scholar Haha spots one lady without a companion, and then gasps to find himself face to face with actress Kim Hyun-Soo who portrays Chun Song-yi's ancestor Seo Yi-hwa… but Running Man is going to refer to her as Chun Song-yi. Oy, that's going to be confusing.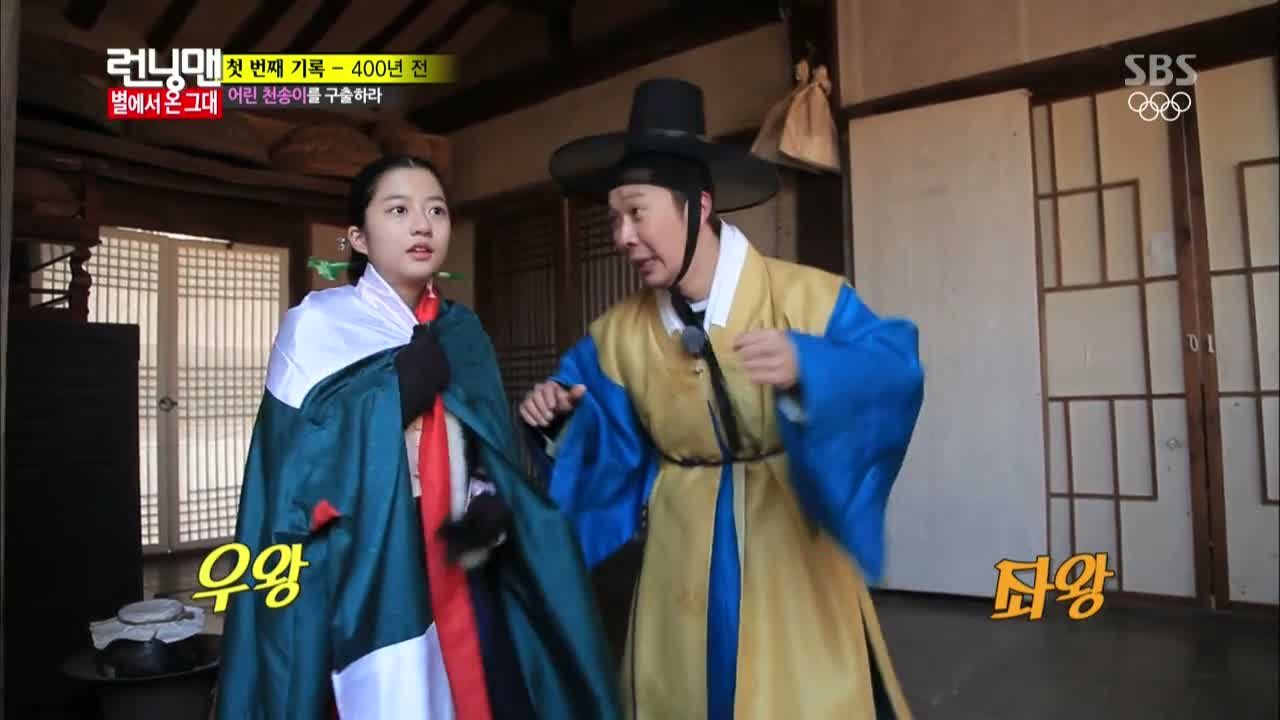 Haha immediately turns into an adorable fanboy in front of her; he's practically on the verge of tears as he asks if they can take a sel-ca together later. Aw.
At Hyun-soo's request, he hides her in a nearby restaurant, and in an impatient voice, urges the VJs to follow suit: "You'll be found out!" I also love how Haha tries to take care of her, telling her to eat while she waits for him to return. Turning to the owner: "Do you accept [credit] cards?" Ha.
Then after he tells her to mooch off of the VJs' wallets, he sets off to find Yi-hwa a palanquin.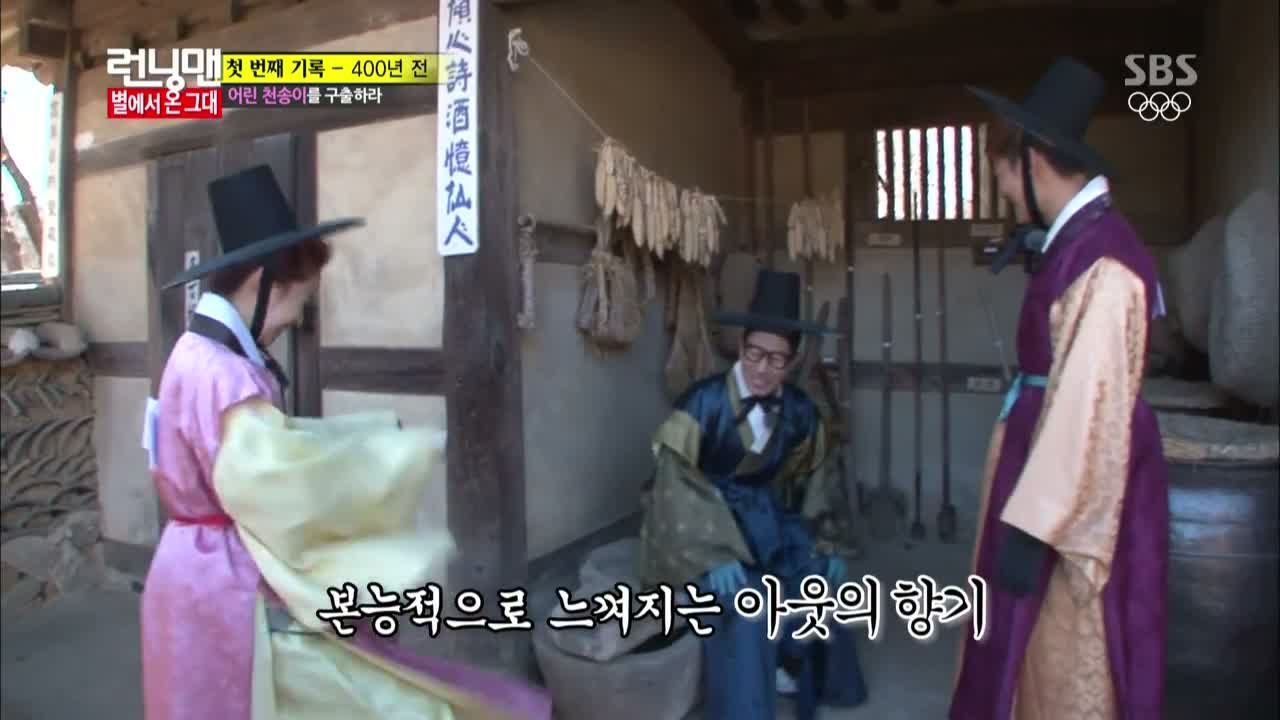 Meanwhile, Suk-jin runs before he gets spotted by scholar duo SpartAce, only to be cornered by them a minute later. His attempt to sell out info on Jae-suk in exchange to be let off fails, so he takes a seat to imagine the best scenario for his imminent elimination.
When he lets himself in Jong-kook's clutches, he cries, "I get the feeling this will happen again in the future!" HA.
Elsewhere, Haha distracts Gary long enough to tear off his name plate, bringing our numbers down to four.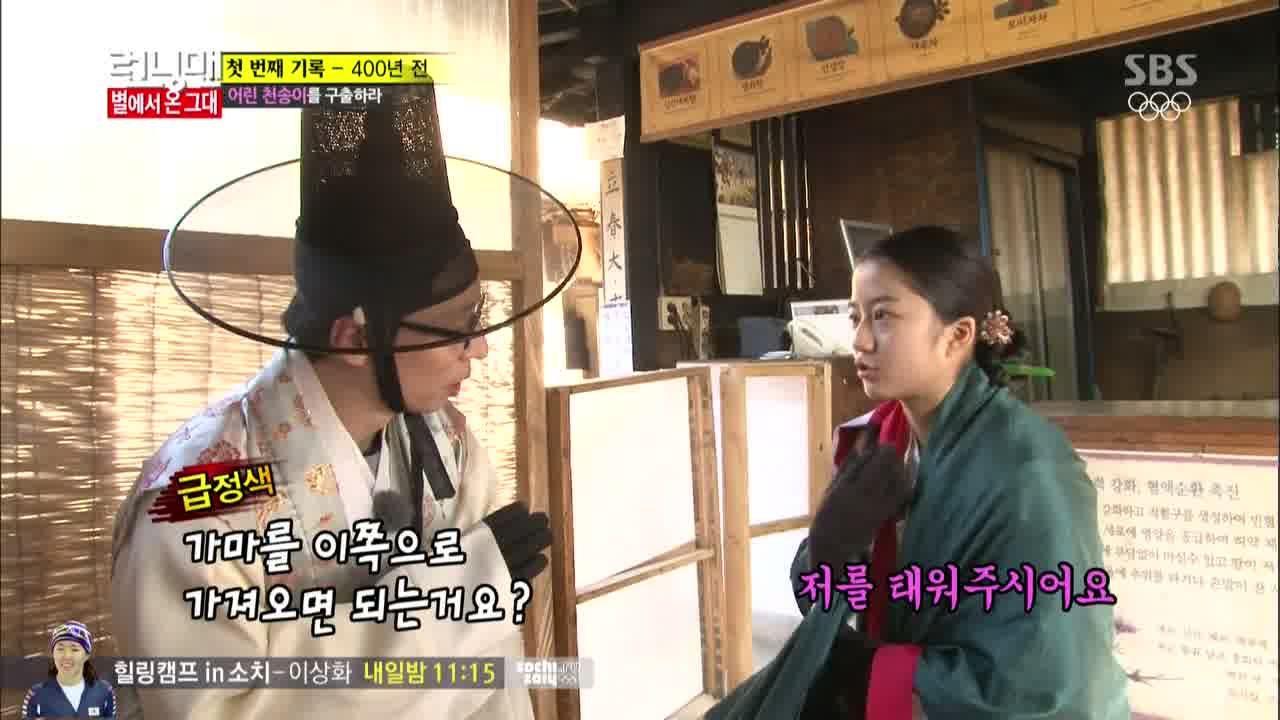 Stumbling upon the same restaurant, Jae-suk initially mistakes our lady of the hour as Yoon Eun-hye: "So I thought it'd be that special episode?" You mean the reunion special with Jong-kook? But, alas.
Jae-suk is surprised to learn that he must also acquire her getaway transportation, and I find it funny how Hyun-soo adorably breaks out of character in his presence with her laughter and aegyo.
So when Hyun-soo sing-songs: "Yesh~" Jae-suk reminds her: "This is the 1600s!" and then spouts more modern slang, much to her amusement.
Jae-suk discovers said palanquin sitting in a neighboring estate, then grows exasperated when he's told that he should have brought the young lady with him. But when Jae-suk doubles back to fetch Hyun-soo, he finds her gone.
We see that Haha had swung by minutes earlier to escort her to a safer location. He leaves her for one minute, but then returns to find her with Scholar Kookie. I find it sorta funny that she'll recite the mission over and over again to everyone, and the two men fight over her favor.
It isn't long before Haha finds himself in a literal twist though, then eliminated immediately thereafter. Turning to Hyun-soo, Haha declares: "See you in 400 years!" Ha.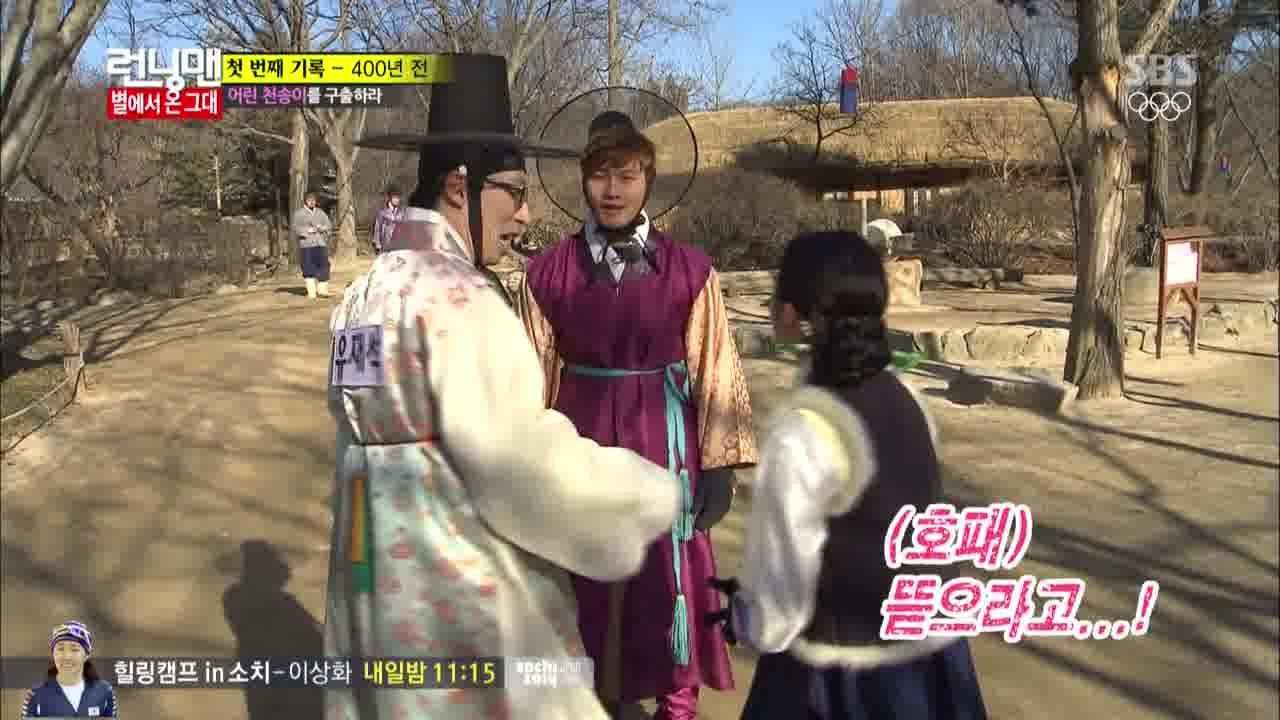 Jae-suk runs into Jong-kook (as Ji-hyo is escorted away), and pretends to meet Hyun-soo fo the first time… to which Hyun-soo interjects, "I already told [Jong-kook]."
He asks to say something to Hyun-soo before letting them go, but she goes ahead to tattletale on him to Jong-kook right away: "[Jae-suk] told me to take your name plate." Hee, at least we know where her loyalty lies.
Jong-kook's suspicion radar pings at Jae-suk's hedging and tells the scholary grasshopper to lead the way. Then the trio walk towards the estate hand-in-hand, as the two men continue to bicker over her head.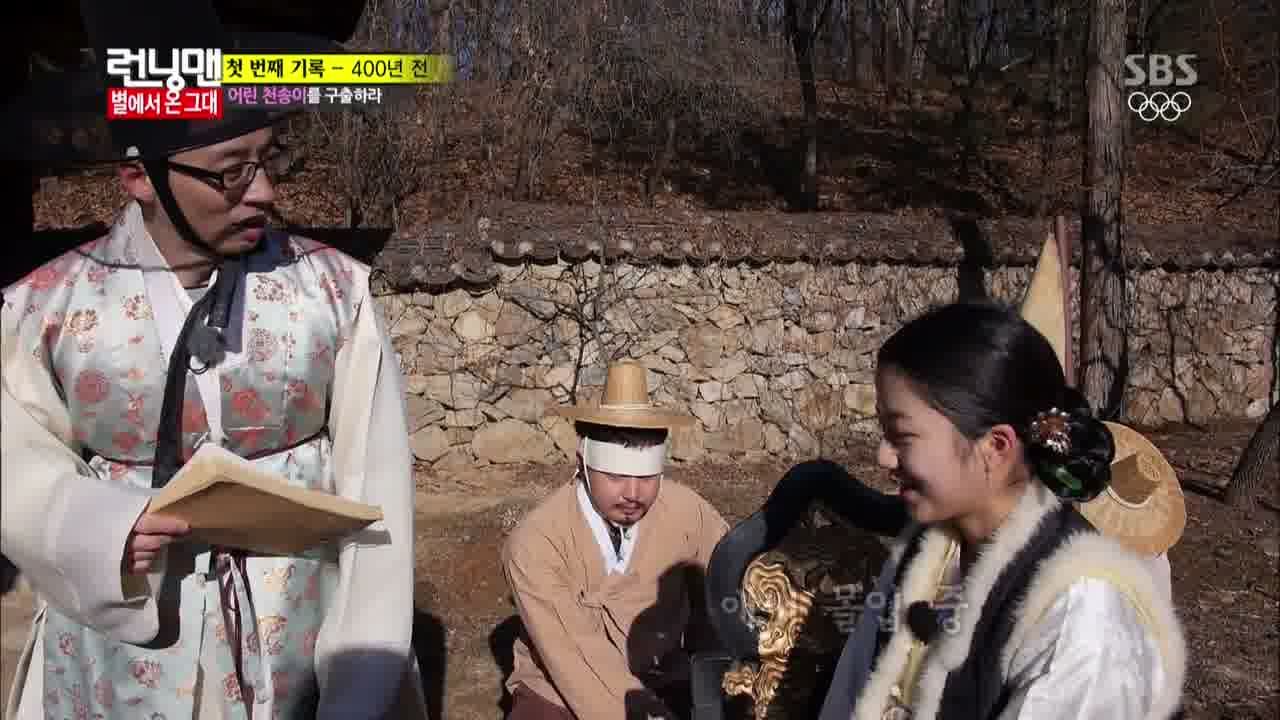 But in a distracted moment before they enter the gate, Jae-suk reaches to take Jong-kook's name plate. Jae-suk and Hyun-soo approach the prepared palanquin inside and then the two bid farewell to each other.
Hyun-soo presents her savior with a reference aid for the future and confesses her feelings for him. A sweet moment in the drama that has such a hilarious execution in variety.
He returns her gratitude, save for the fact that she can't be trusted with a secret. Then Jae-suk sends her off with well-wishes for the new academic year (which starts in March for Korea).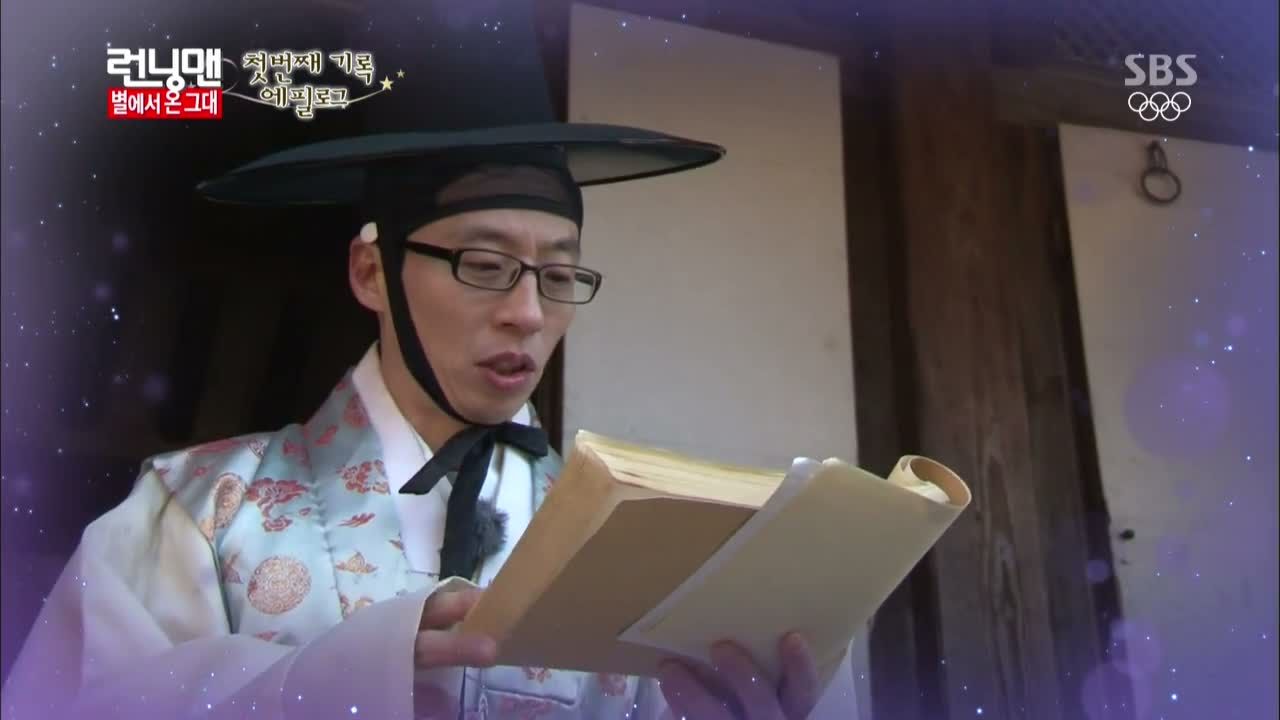 As Jae-suk reads his guidebook in the Joseon times epilogue, he surprises the staff of recognizing the references to the 2002 World Cup and South Korea's biggest lottery jackpot in 2010.
The 2014 hint puzzles him however, but chooses to tackle that when the time comes.
Second Record. We skip ahead to Korea's time of enlightenment (which should put somewhere between 1876-1910, but I also see televisions and rotary phones, so now I'm confused. Maybe it's because we're also in a museum), and past grudges are still bubbling underneath the surface.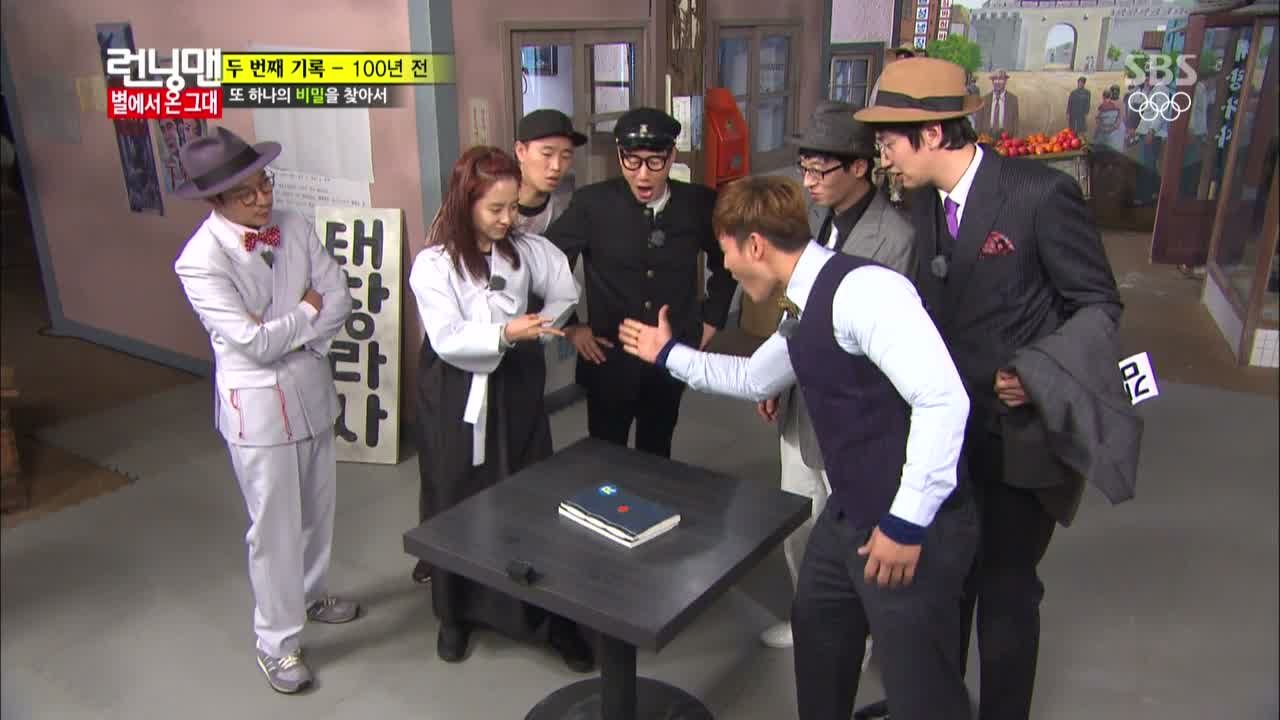 In any case, everyone has five nyang in their pockets to bet on their castmates—they'll be rewarded twofold for winning or lose their bet. Additionally, there's a great prize for the first one to reach ten nyang.
The first game is the nostalgic pastime to flip a coin on a textbook in turn. The cast places their bets on their first competitors SpartAce, and Jong-kook reveals that this is one of his weakest games, since he lets his nerves get to him.
The pressure gets to him this time too, and it's a long minute of chatter before Jong-kook flips the coin successfully. It comes back to bite him in his next turn though, and Jae-suk and Kwang-soo can only look on with shock written on their faces.
They call for another round, which their opponents agree with… if health nut Jong-kook downs a soda in one shot. His investors agree to that readily, barking back at him: "I bet my life's savings on you!" "You only bet one nyang!"
It cracks me up how Jong-kook drinking one bottle of cola turns into a huge Thing, agreeing to do best two out of three if Jong-kook doesn't burp.
As they (and we) savor the moment of watching Jong-kook down something non-healthy, Jae-suk comments that Jong-kook should be shirtless for this… and Jong-kook chokes.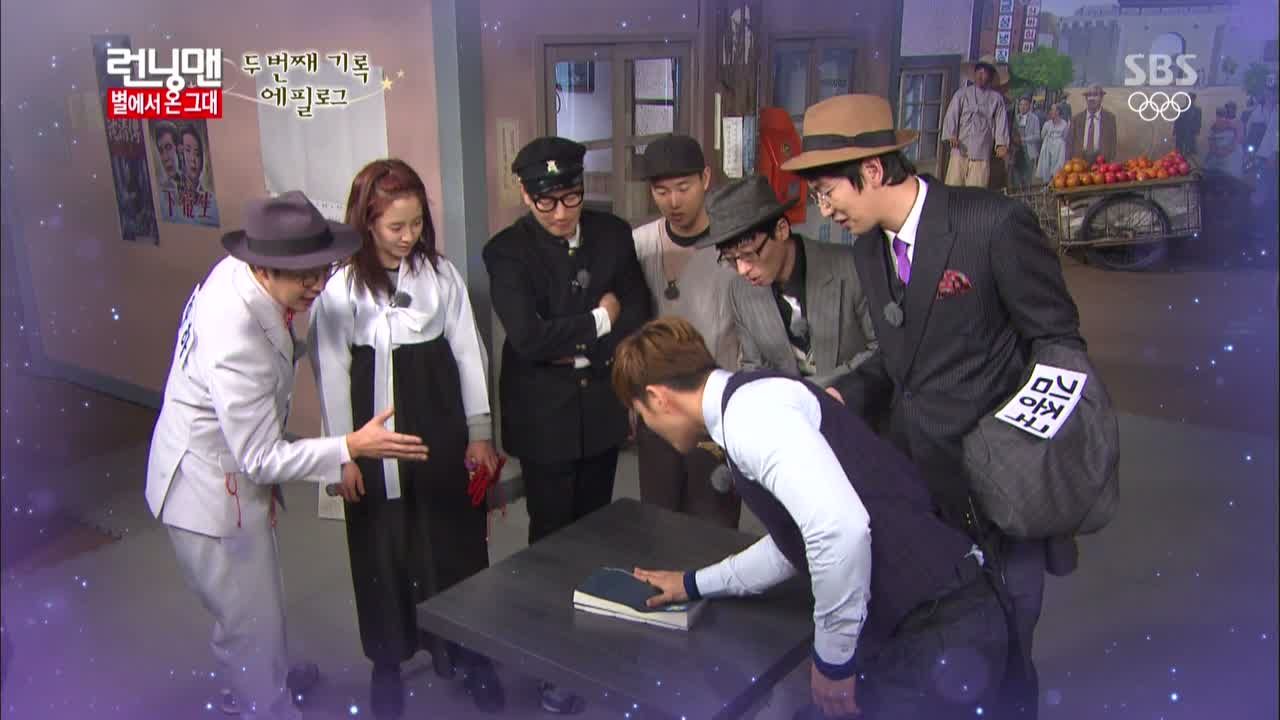 They play the three rounds anyway, which ends Ji-hyo up winning. She's gifted with a book of Nostradamus predictions about a solar eclipse and the 1988 Summer Olympics, but we don't get to hear the third.
Second Record Epilogue. Jong-kook revs up for his turn to flip the coin. It flies into the air, but then time suddenly stops for a few seconds before resuming again, and the coin doesn't flip.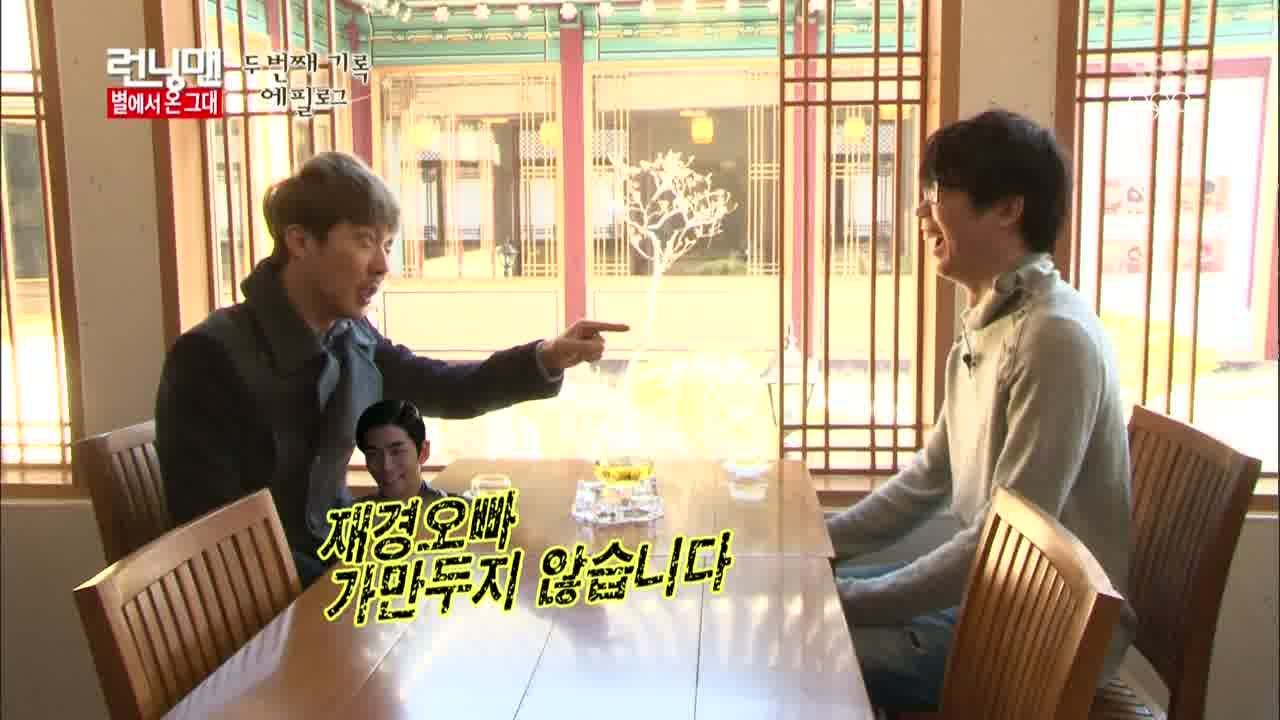 Present day. We meet today's hero Do Min-joon in the form of… Haha? He asks why Jo PD is laughing, and then listens to his own history about living on Earth for the past 400 years and his love for Chun Song-yi. (Side note: I really really like the new lightened 'do on Haha.)
Ha Min-joon—whom we'll just call Haha—has done his homework about his supernatural abilities as an alien since he's an avid viewer of the drama. "I won't let Jae-kyung [the villain] get away with this! He's so scary!" HA.
His job is to find Chun Song-yi and return to the Golden Planet. There's gold on the line and Haha teleports out of there.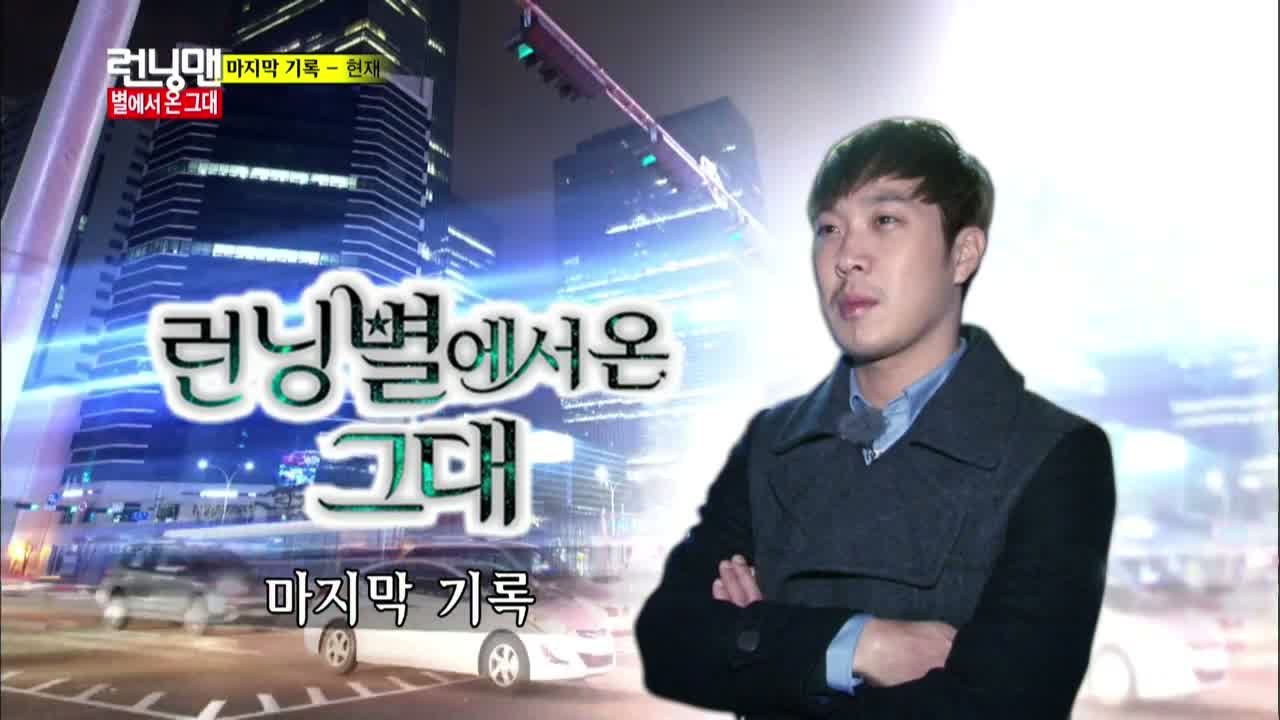 I find it hard to believe that Jong-kook failing to flip his coin has anything to do with Haha's supposed supernatural abilities, but at least the show does too and asks the viewers to suspend belief. So we'll just say Haha got lucky and call it even then?
Time for the Final Record. Haha bitterly recalls how he couldn't escort Song-yi to her palanquin four centuries ago. The UFO doors will open in two hours' time, and if he misses his chance…. Haha interrupts, "I have to live here for another 400 years."
Haha grows expectant when he's told that there's a present-day Song-yi waiting for him. Uh, Jeon Ji-hyun…? Yeah, I'm gonna go ahead and say probably not. He tries to coax an answer out of the PD, only to be told that he should look forward to it.
As for the others, they're told that nobody knows who Min-joon is (though we know it's Haha), so their job is to find a script to act out with Song-yi. Furthermore, they have a chance at getting on that UFO themselves if they find the key and climb aboard.
Jae-suk realizes that his 2014 prediction points out the script's location, and I love the beat when one of the writers ask if Gary understands his mission, and he's like, "Should I read it again?"
It's cute how the Easy Brothers' initial reaction to Chun Song-yi's name is Jeon Ji-hyun, because who can blame them? But there are more pressing matters at hand, as Ji-hyo reveals that the members also need to be on a lookout for a villain at large.
As it turns out, Ji-hyo finds the script right away, which means she has to find our heroine. Cue Chun Song-yi's entrance in flowery CG, and is it just me or does Song-yi look a little mannish to anyone else?
HA, it's Jae-suk. He's just as flabbergasted at these turn of events, but takes on the Song-yi persona with gusto. The diva starlet dumps Kwang-soo on the spot, saying that there's no way he could be her Min-joon, and then the two pretend punch-and-slap each other.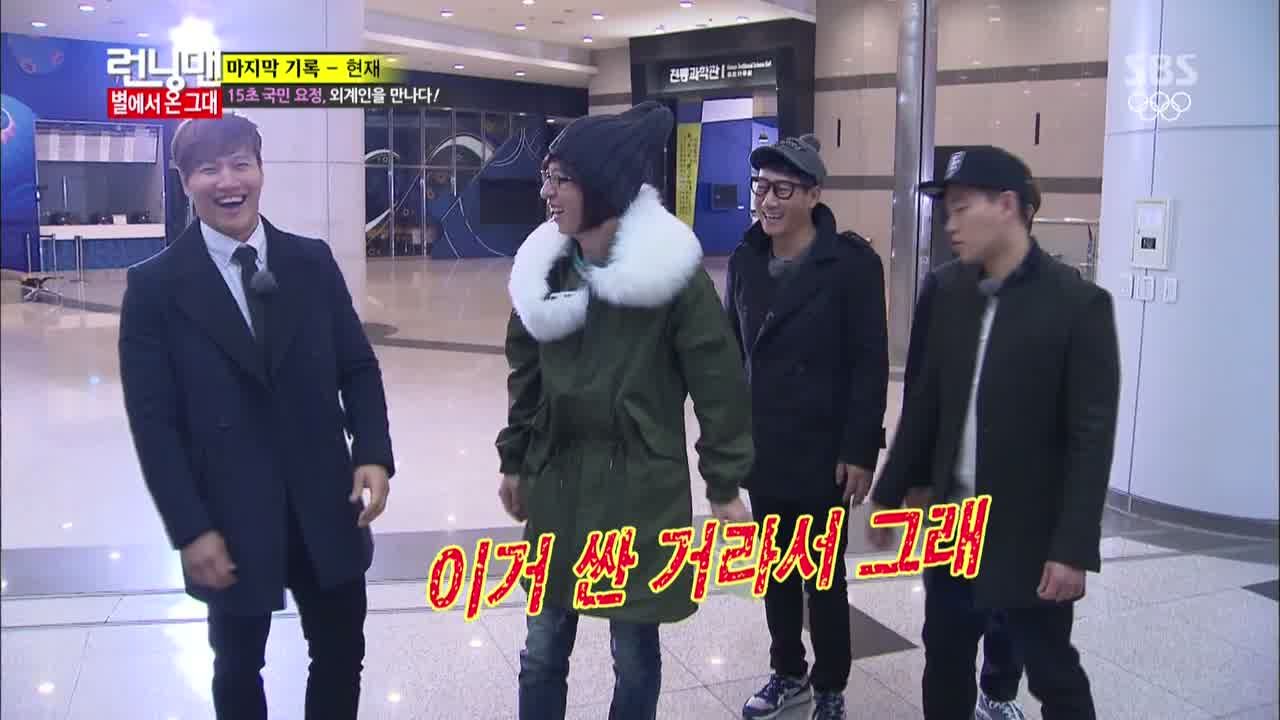 You can sense the disappointment in the other cast members when they find out that their hallyu star is a mere grasshopper. But no one's disappointment is greater than Haha, who gripes, "I thought it'd be Jeon Ji-hyun!"
Jae-suk does a good job of channeling Song-yi by dumping every suitor he sees ("Tell your managers that I dumped you!"), choosing a more masculine name of "Sung-yi," topped with a believable "Sorry~!" impersonation.
Haha isn't ready to let this someone-like-but-not-necessarily Jeon Ji-hyun bit go, and Jae-suk resorts to a knee kick to keep Kwang-soo's paws off of him. When Ji-hyo joins the others, Jae-suk cries out that she's his sister (Chun Sung-im is Ji-hyo's birth name).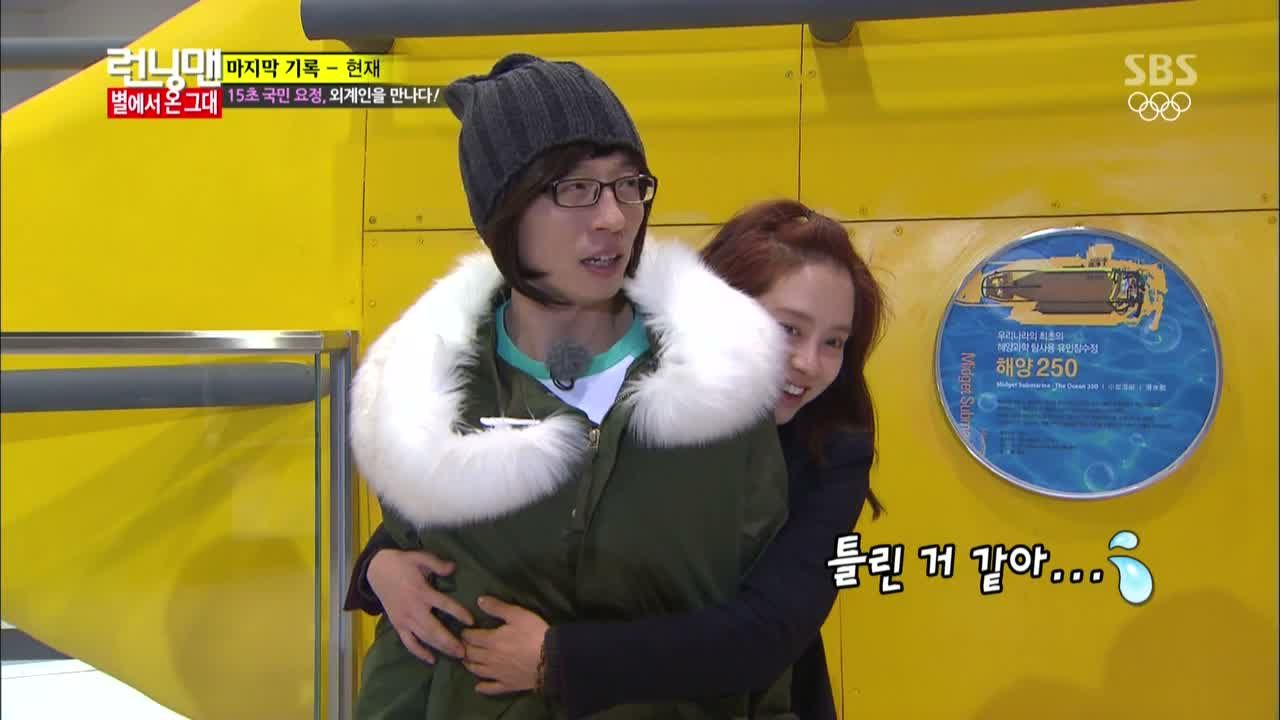 Our pseudo Song-yi proposes that whoever Min-joon may be, they'll go their separate ways after winning their gold. She's got her eyes on the prize, that's for sure. With less than 90 minutes left, they have to get moving, and Jae-suk and Haha exchange barbs until they part.
Ji-hyo, however, pulls Jae-suk aside to show him the script and confirm her identity. They reenact the scene in Episode 8 with Min-joon's attempt to stop Song-yi from cleaning with a back-hug.
It takes five takes before both Ji-hyo and Jae-suk are convinced that she's not Min-joon. But there's always that pesky villain out there…
Jae-suk is later approached by Suk-jin to read lines, and is affronted when he's told they have to go find somewhere "dark and remote." Then they both groan to find they have to reenact a romantic scene (with a kiss!) in Episode 4.
While they bicker about how to play out this scene, our real hero Haha cries in despair, "Song-yi… what happened to you?"
I hadn't realized how labor intensive this scene is until they actually play it out, but both mat hyungs go for another round of tete-a-tete. It somehow leads to insults at each other's looks to how they should treat their wives before going for another take.
Suk-jin is determined to prove himself, so they both swallow their pride and actually touch lips and embrace. I'm dying of laughter at the post-awkwardness of this situation. Afterward, Suk-jin cleans his lips while Jae-suk comments, "I have to brush my teeth about 300 times right now."
They're met with silence, which means Suk-jin isn't the hero, and they part ways, avoiding each other's gazes. Ha.
Elsewhere, Ji-hyo is surprised that Jong-kook hasn't found any sort of script yet and explains the mission from the beginning. It's suspicious that Jong-kook is getting all the details mixed up—are you feigning ignorance or is there mischief afoot?
Curiously, Ji-hyo let Jong-kook in on their mysterious villain, news that he finds amusing. But then Jong-kook suddenly turns on Ji-hyo and rips off her name tag, which means… he's the villain we've been waiting to turn up.
And to drive a nail into that coffin, Jong-kook takes out a nail ring to prove it. Ha, should I also be amused that the ring is too small for his pinky?
A flashback teaches us that it's Jong-kook's job to eliminate all the others in the order of whose name is written on each ring he discovers. That explains why he was able to take Ji-hyo out of the game, and he lets the ring clatter onto the floor.
Jae-suk is approached by Haha, whom he acknowledges to the be the lesser of two evils: "Even if I have to go to a different planet, I can't go with Jong-kook."
They parody the snowy kiss scene in Episode 11 (which they change to a back-hug), and then the bells ring to confirm that Haha is our hero. Jae-suk is still in disbelief though, to which Haha insists, all, I look like him!
Haha explains that he's got the whole shebang in terms of supernatural powers (except that he can't rip off nametags when time stands still). Jae-suk whispers that they've got this in the bag then, but this couple can barely go two feet before engaging in a lovers' quarrel.
Everyone else has heard the bells as well, Jong-kook hurries to find his next ring, then breaks into a gleeful smile to find out who it is: Song-yi aka Jae-suk. The prospect of acting upon a four centuries long grudge makes him giddy and he heads out.
Jae-suk runs into Kwang-soo by the escalators, and it's pretty funny how Kwang-soo's the one running away from the advances now. They're joined by both Haha and Jong-kook soon afterward, who both proclaim that the other is the hero.
But Jae-suk is also suspicious at how a few of their other members have strangely disappeared. Accusing Jong-kook as an evil Min-joon, Jae-suk keeps that arrow on Jong-kook, who reframes that logic to argue that those words are just a diversion to keep the real Min-joon hidden.
Caught in this back and forth, Kwang-soo can only slowly process all this information, and then brings up Gary's hypothesis that the UFO key might be hidden beneath Song-yi or Min-joon's nametags. Oho, that gives more reasoned justification for Jong-kook to attack, doesn't it?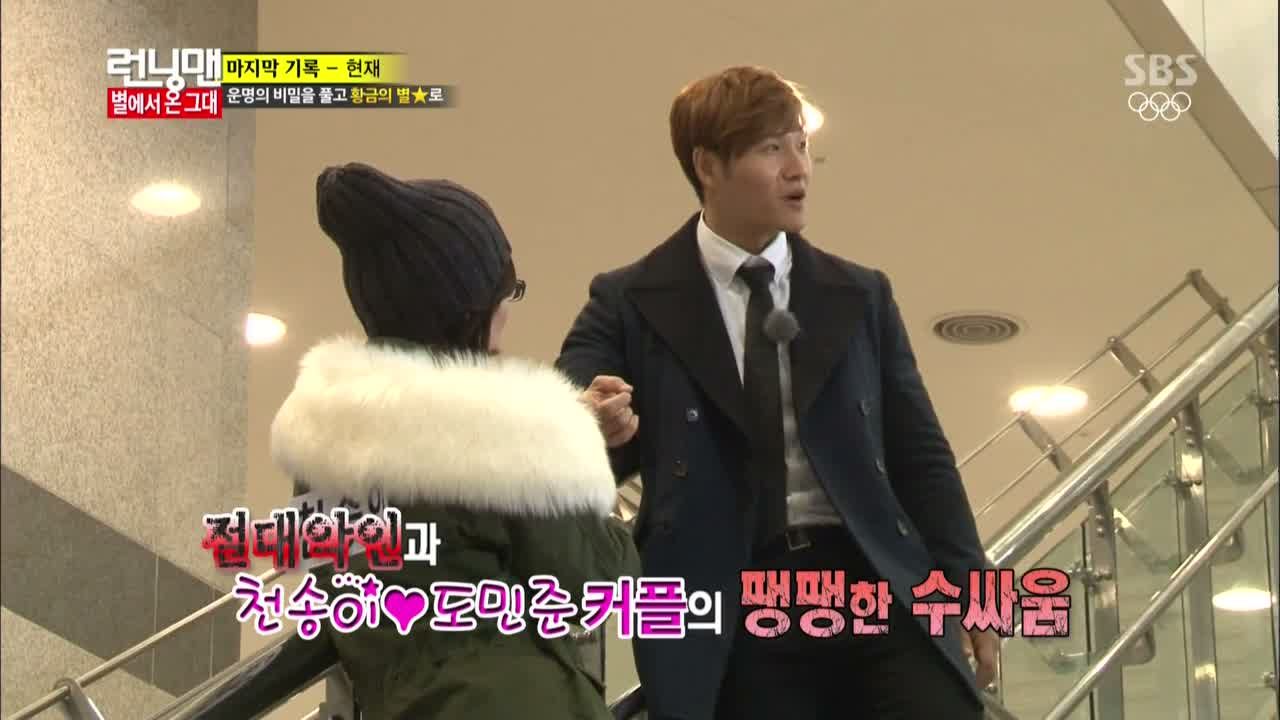 I have to hand it to Jong-kook for pointing out all the teensy reactions to bolster his own argument ("Why would Song-yi hesitate if I were Min-joon?"), and as his hand inches towards Jae-suk, Haha sees the danger and whispers the command to stop time.
So in that standstill, Haha collects Jae-suk and makes off with him, and then the other two are baffled by the disappearance. Uh, how did you guys get away with that?
It's like Running Man answered my own question because then they show the playback to how it all happened. It's like they're saying, "Uh, we know we can't fool you viewers… so here's the workaround!" And that's even MORE entertaining that I'd anticipated.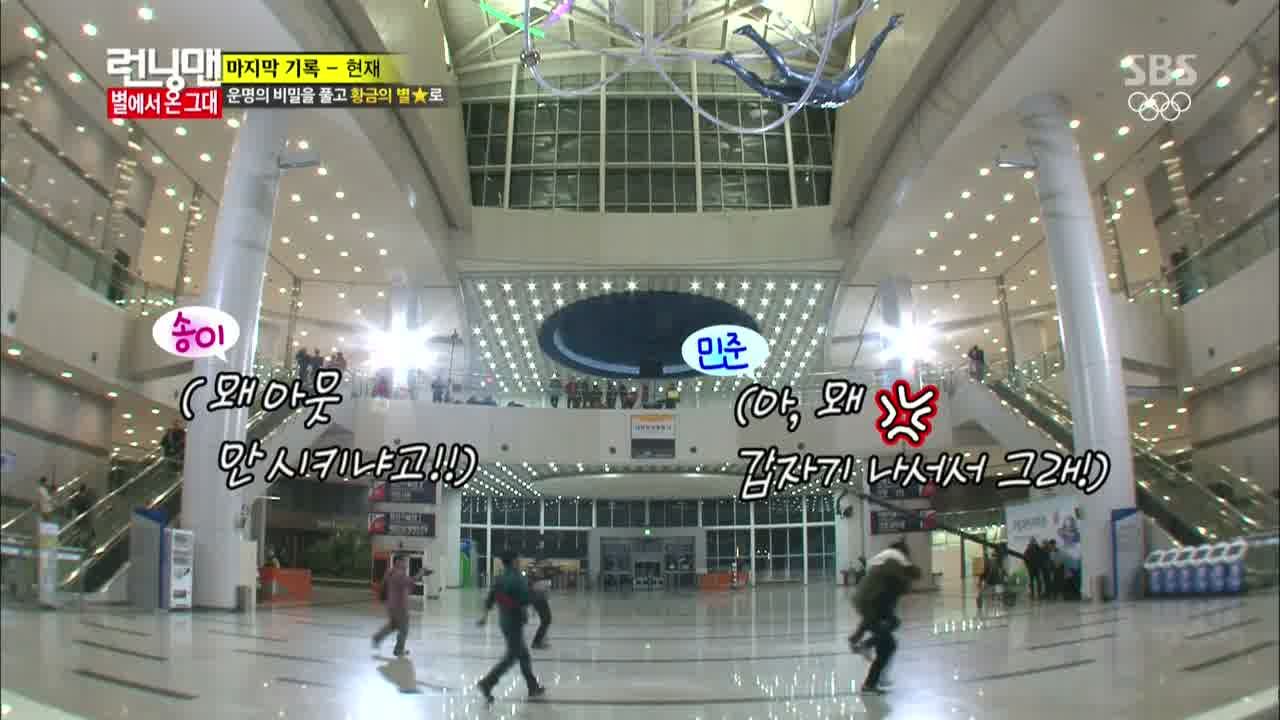 Basically, the staff ran to blindfold the others at Haha's command, and while they were running away, Jae-suk snapped back annoyed, "Why didn't you eliminate [Jong-kook]!" Haha: "Why did you stand up to him!"
That argument continued in the stairwell: "You would have died!" "No I wouldn't have!" They agree that their relationship is purely business from here on out, and look forward to parting ways soon enough.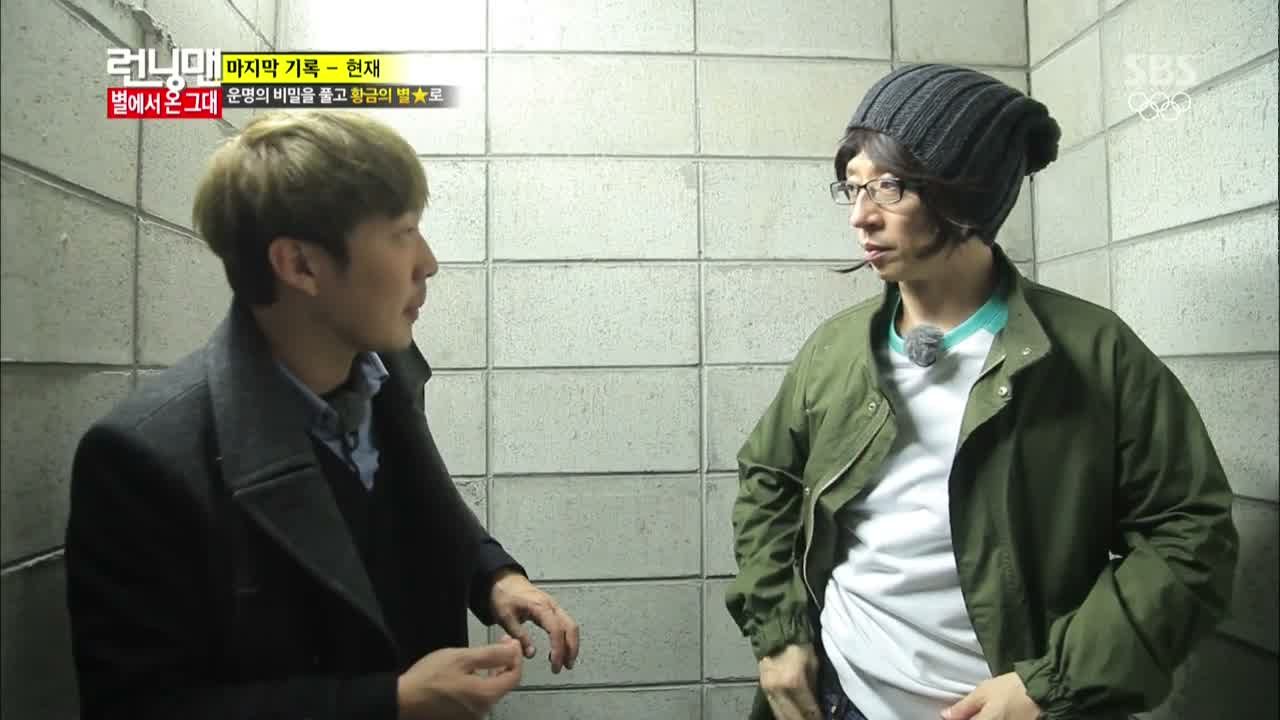 Haha guesses that the UFO key could be on their person, but they'll have to be quick because Jong-kook has also found a ring with Haha's name on it, meaning they're both fair game.
He turns out to be right, and when they discover the USB key hidden in Jae-suk's jacket, they both turn to the staff, annoyed. Caption: You think space-traveling is easy?
There's just over 23 minutes left before the spacecraft doors open, but instead of actually yunno, going straight there, the couple stops to ruffle Kwang-soo's feathers some more. Now you're just inviting Jong-kook to come after you with all that noise!
Haha uses his telekinetic ability to make a volley of balls hurl at Kwang-soo, a move that quickly comes back to bite him later. "Ow, I'm getting hit!"
Then Haha stops time once more to reposition himself right behind Kwang-soo to tear off his nametag as soon as time starts again. They aren't in the clear just yet because they spot Jong-kook circling above them.
Jong-kook jumps down to join them and feigns ignorance about a villain running around… and then takes out their inscribed nail rings. Both Jae-suk and Haha cower in fear as Jong-kook delivers the menacing line, "The reason you both are still alive is because I let you live."
Jong-kook is ready to complete his centuries-long revenge, and Haha declares that Jong-kook can't kill him. He stops time once more (and teleportation, 'cause why not?). Cue blindfolds!
Jae-suk is annoyed at another lost opportunity with just three minutes before the doors open. When Haha invites Jong-kook to come at them, he remarks, "[Jong-kook] looks really angry right now."
They engage in a three-way tussle as objects burst around them. The UFO doors are now open, but they're too busy to pay attention. Jong-kook gets pinned to the ground, but he gathers his strength to eliminate Haha.
That leaves Jae-suk to fight against Jong-kook alone, and though they're both exhausted by now, they still remain in character. Jae-suk: "I should have ended you 400 years ago!" Jong-kook: "Sorry, but can you wear your wig?"
They both grab for each other's backs… but it's Jae-suk who rips off Jong-kook's nametag first. Jae-suk tells an exhausted Jong-kook that he just got dumped. Ha.
Then Jae-suk staggers towards the UFO in his disheveled wig. He cries tears of joy when the doors open and collects his gold prize with a kiss.
This result actually makes the final epilogue that much more hilarious as we see Haha run towards the already closed spacecraft, astounded to find that he's stranded on Earth.
Jae-suk: "Go find Man Song-yi!" (chun = thousand, man = ten thousand). Heh, because this Song-yi is out of this world.
RELATED POSTS
Tags: featured, Haha, Ji Suk-jin, Kang Gary, Kim Jong-kook, Lee Kwang-soo, Running Man, Song Ji-hyo, Yoo Jae-suk