You From Another Star: Episode 14
Well, we survived the week with only one episode, so now we can stop with the withdrawal shakes and rest assured of a second dose tomorrow. Which is a good thing, because I need more happy fuzzy moments to cling to in the midst of our angst parade. I do think there's hope just around the corner; it's a nice thing to see everyone firing on all cylinders and closing in on our villain, who may be good at wreaking havoc but is certainly no genius at it. Thank goodness for small favors?
SONG OF THE DAY
Soran – "기억" (Memory) [ Download ]
Audio clip: Adobe Flash Player (version 9 or above) is required to play this audio clip. Download the latest version here. You also need to have JavaScript enabled in your browser.

RECAP: FOURTEENTH RECORD
Shooting begins with Song-yi's stunt, and she straps in to the harness and takes a swan dive off the ledge. It doesn't take much for the sabotaged pulley to lose a screw, and the wire snaps out of place, sending Song-yi slamming into the wall first, then into a freefall.
Next thing we know, Song-yi is rushed to the emergency room. In a crowded newsroom, a reporter receives a call and bolts upright: "She's dead?" Wait, they can't kill her off!
The reporter gets typing, and the headline clarifies: Her life is in critical condition. Phew. I mean, not phew, but better alive than ghost.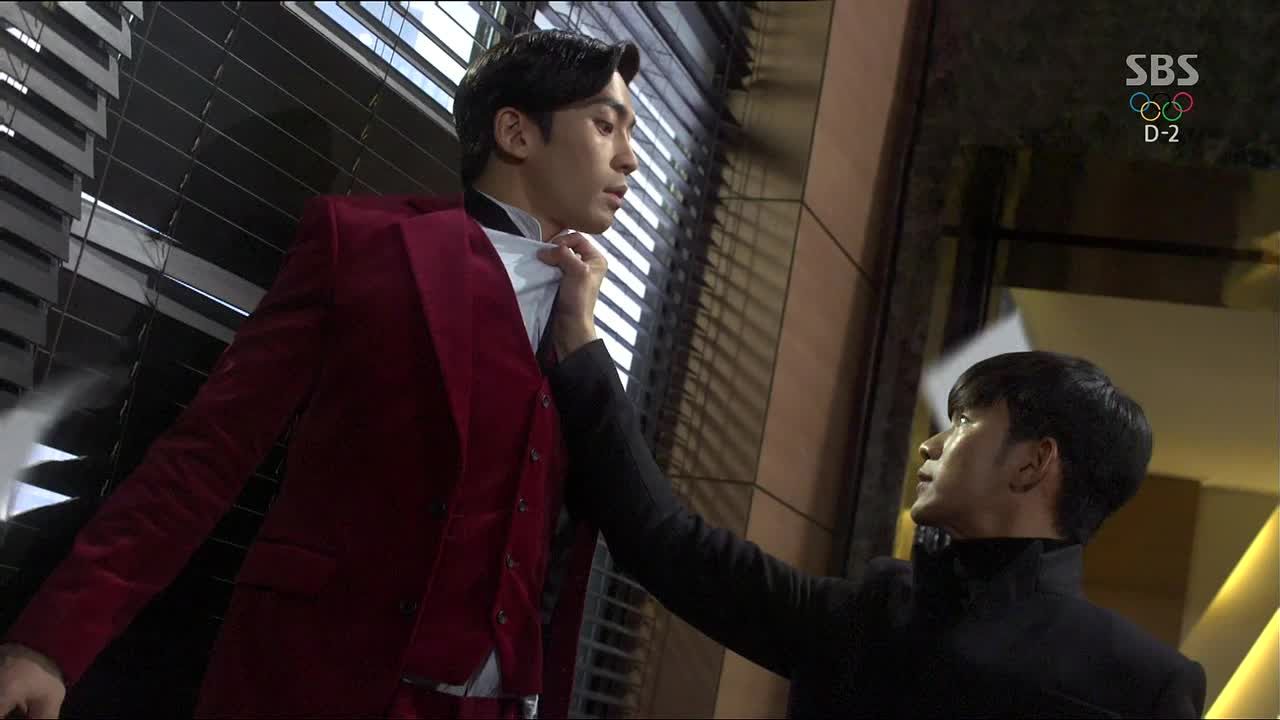 Jae-kyung reads the news with a satisfied smirk on his face, just as Min-joon storms into his office (having left the prosecutor's interrogation). You can feel the force of his rage in the gust of wind that blows in with him; glass shatters as he passes it on his way to facing Jae-kyung. Damn, that's hot.
Jae-kyung casually reaches to press a button under his desk, but Min-joon sees the motion and sends the desk flying across the room. Dayum. Then he zooms forward to grab Jae-kyung's throat, lifting him off the ground with one hand. "What do you think I'll do to you?" Min-joon asks menacingly.
Jae-kyung holds onto his composure and laughs in his face, but a split-second later he's stunned to find himself on the building's roof. Min-joon dangles him over the ledge and says, "I'm going to kill you, in exactly the way you did to Chun Song-yi."
Min-joon lets go, and Jae-kyung just dangles there in mid-air, held up by the force of Min-joon's mind. Min-joon bellows, "DIE!"
Then we jump back in time to one week before the accident.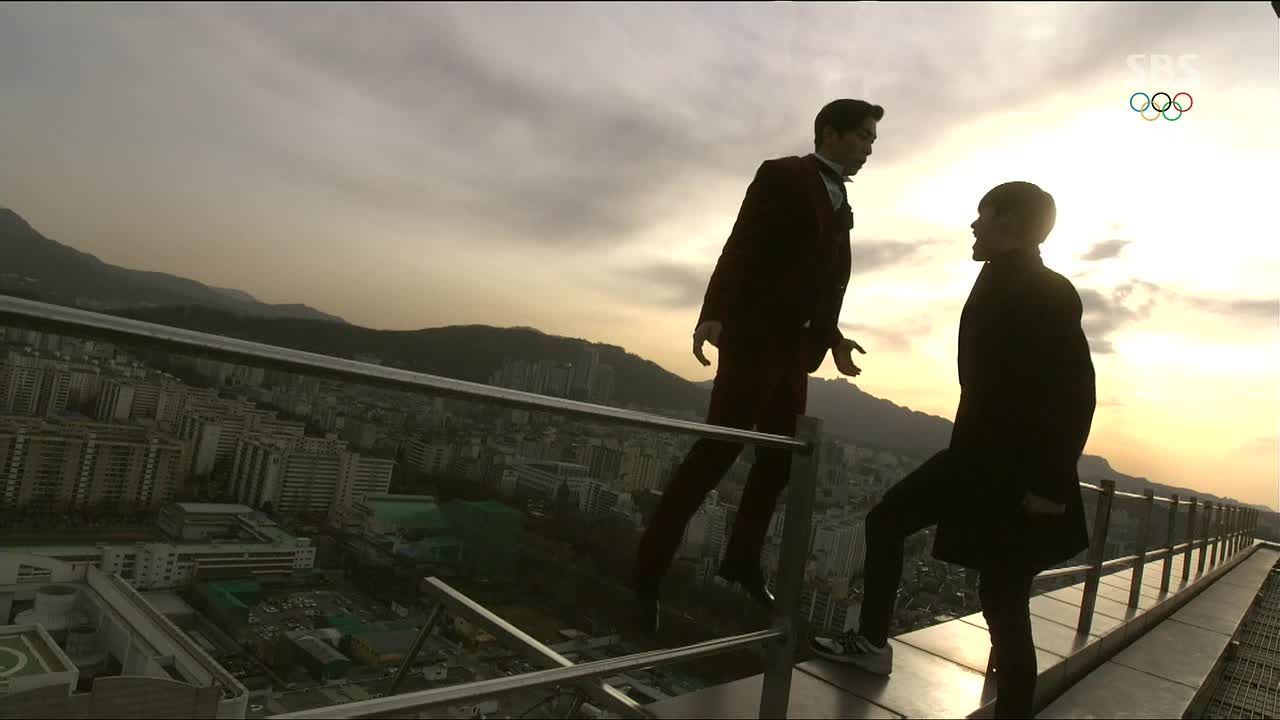 While walking on campus, Lawyer Jang gets knocked down by a passerby, who plants a bug on his briefcase before returning it. So when Lawyer Jang meets Min-joon and asks whether he has Men in Black superpowers like erasing people's memories, that conversation gets transmitted to a very interested Jae-kyung. He takes particular note of that bit of information that Min-joon's superpowers are on the fritz and now unreliable. Uh-oh…
He's also tuned into the conversation in which Min-joon confesses to having no recourse but to disappear, and Lawyer Jang warns him that he can't use his powers to kill anybody. We don't hear why, but it's clear there would be consequences that go beyond morality—some kind of negative side effect. Jae-kyung smiles to finally know what Min-joon's deal is.
Then he calls Min-joon for a meeting, and we see the rest of the conversation we'd only seen a snippet of previously. Jae-kyung accepts Min-joon's offer to take the fall in exchange for quitting his villainy, saying reasonably that the deal makes sense—he has a lot to lose, too, so he'd rather quit since it's clear he can't kill Min-joon anyway. Min-joon warns that breaking the promise means Jae-kyung's death.
Hwi-kyung overhears his parents talking, curiosity piqued when Mom wonders about Jae-kyung's ex-wife. Now that Hwi-kyung has mentioned her, Mom has grown curious as well, particularly since she recalls the ex once mentioning that she was afraid of Jae-kyung. What's more, she admits to finding Jae-kyung difficult to understand, perhaps seeing why somebody might fear him.
Mom adds that she can't shake the memory of "that incident" from the boys' childhood, and at that Dad cuts her off sternly and orders her never to speak of that again. Ah, must be a reference to the mysterious eldest brother.
Hwi-kyung knocks on their door and enters at this point, not betraying that he has overheard the conversation as he mentions making a visit to his eldest brother's grave next week. Dad avoids his gaze, while Mom offers to accompany him. Hm, so not only are we going with brother-killer (which was always the obvious possibility), we see that his parents are aware of the shady circumstances. It's just that one parent is afraid of the truth, and the other in denial.
Three days before the accident. Hwi-kyung visits the mental hospital and asks for the ex-wife, Yang Min-joo. He notes that the nurse insists there's no patient by that name without even checking, not fooled by her ready answer. Yay, Hwi-kyung! I'm glad you're not stupid after all, just endearingly simple. Maybe hyung used up the evil quota in your family.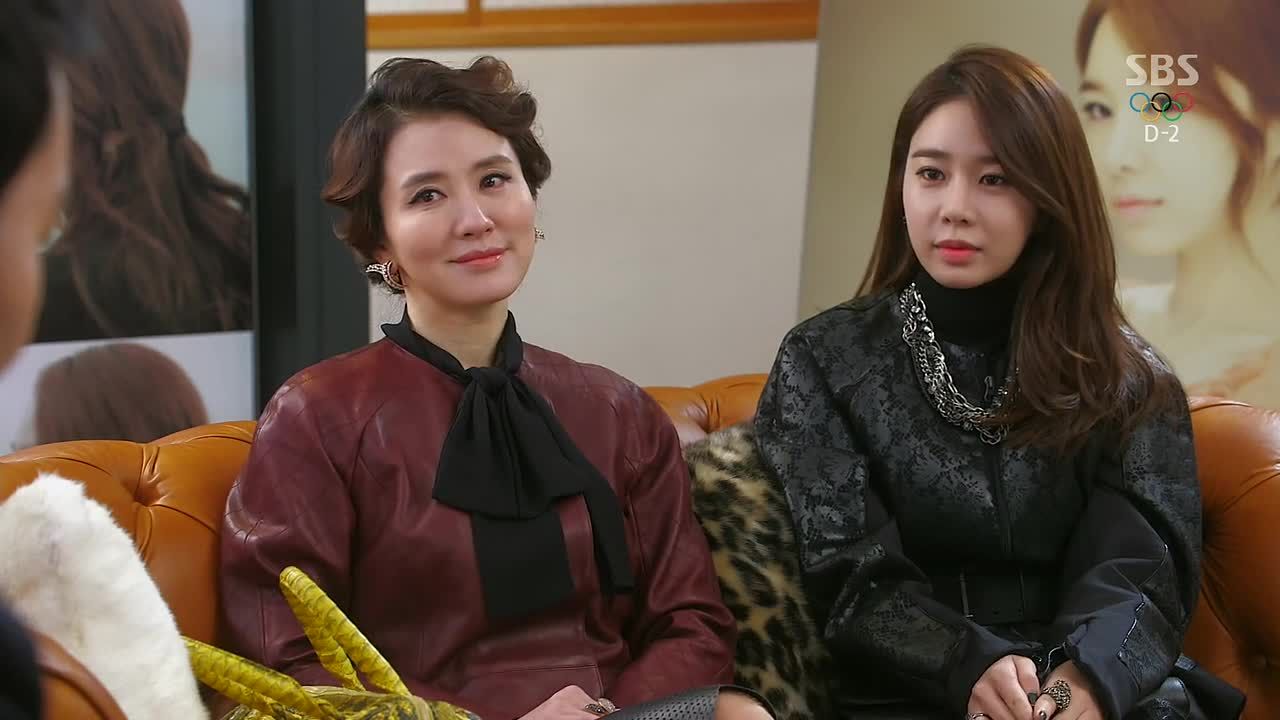 Two days before the accident. Se-mi and her mother meet with CEO Ahn, taking a moment to brag of Se-mi's generosity in recommending Song-yi for the supporting role. CEO Ahn comments that Song-yi used to make his life difficult by pitching fits to get Se-mi cast alongside her, and from the looks on their faces this is something they'd never known.
With Song-yi's starpower on the wane, Se-mi's mother steps up to the diva plate and makes multiple demands: more staff and more showy support, "to emphasize the difference between Se-mi and Song-yi."
The investigators find a link between Jae-kyung and Yura by digging up cell phone records, which place them both at the chaebol family's villa over the same span of days. Jae-kyung is smart enough to have planted a mole in the police station, so he hears in time to dispatch a clean-up crew to the villa, who leave a few incriminating objects lying around—Min-joon's. Ack!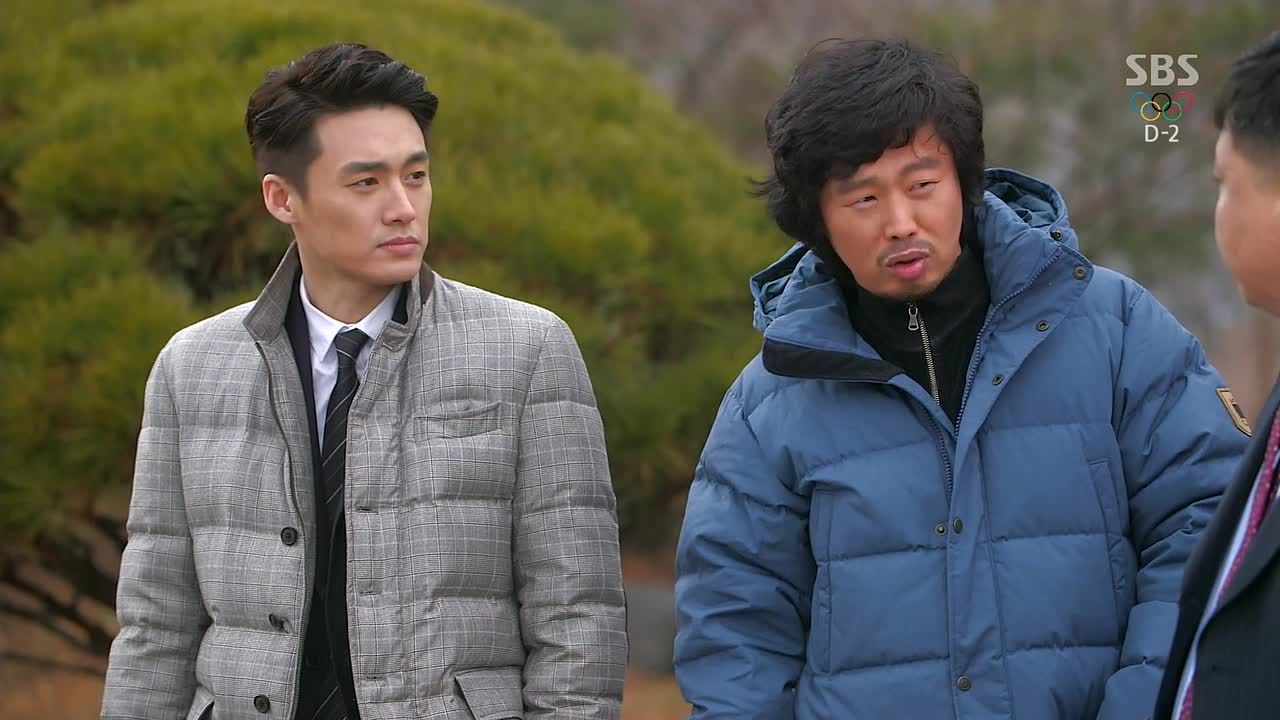 The day before the accident. Seok and Detective Park arrive at the villa and hears the caretaker's prepared explanation about how Jae-kyung never uses this villa for himself—he just lets personal guests stay here. The man confirms that Yura stayed here last summer as a company guest, and that she was with a man. The man takes a quick glance at Min-joon's photo and confirms that was the guy.
The neatly laid-out story comes across as suspicious, though—even to the detective who's usually eager to grab the simple explanation. The story is too pat, and he can't help thinking that Min-joon isn't the culprit.
Even so, Min-joon has called to inform Seok that tomorrow, he will be surrendering himself. They can't quite make sense of his actions.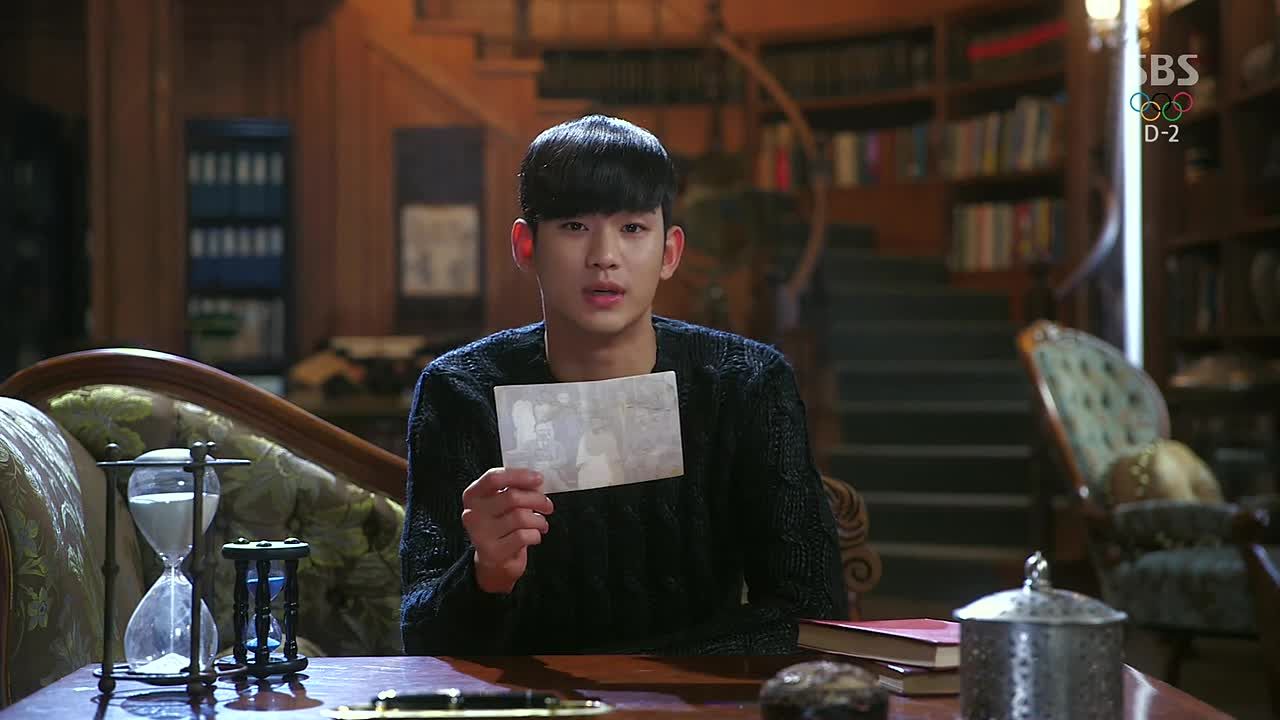 Min-joon interviews that throughout his many years on Earth, he'd never once considered time precious, since to him it was infinite. But now he understands: "If I could have just one more day together, I could give up everything I have and not care." He slips inside Song-yi's apartment and watches her sleeping, thinking, "But I know now that even if I were to give up everything, I could not have that."
Song-yi steps outside onto her balcony, which now looks across at Se-mi's new advertisement. Song-yi looks up at the stars and wonders if Min-joon really did come from out there somewhere. Min-joon hears her through the wall as she sighs, "You should have just said you didn't like me. Why say you came from the stars? From now on, every time I look at the night sky, I'll have to think of you."
Min-joon continues explaining in his interview, "And now I also know that if you come to love someone, fear comes too—that you might not be able to protect the one you must protect. Right now, I am afraid."
Accident day. Also surrender day for Min-joon.
Song-yi readies herself in the morning, only to get a call from the director to come in bare-faced for her action scene. She complies, wiping her face and leaving the house dressed plainly, shrugging aside her mother's complaints. They run into Min-joon at the elevators, the air chilly between them, and she takes the first car down. He waits for the next.
Song-yi's mother doesn't understand Min-joon's coldness and starts to get huffy. Song-yi tells her mother not to say a thing, stunning her speechless by flatly admitting to liking Min-joon, confessing, and being rejected. Mom is shocked to see Song-yi crying over a man, and Min-joon's hearing picks up her voice as she tells Mom she just barely managed to keep herself from begging Min-joon.
"You're crazy," Mom marvels. Song-yi just agrees, "Yes, I am."
So now Min-joon blows past Lawyer Jang's protestations on his way to giving himself up. Lawyer Jang begs a promise of him first, the same thing he'd asked earlier—"Just don't do that thing. I can't bear to see that happen because of that waste of a human." Min-joon promises, and Lawyer Jang holds him to it.
And so Min-joon begins his confession, starting by confirming that he was the man filmed on the cruise ship.
At the film set, Bum casts longing looks over at Song-yi while attending to Se-mi, and tries to slip away to sneak Song-yi some hot packs. Aw, he's sweet. But Se-mi notices and deliberately holds him back to run lines, and looks smug to see how Song-yi no longer merits star treatment from the crew, who largely ignore her.
Just then, a fancy car pulls into the warehouse with a huge trailer, and out steps Hwi-kyung to supply that star treatment all on his own. That. Is. Awesome. He has ordered a gourmet spread for the whole crew in Song-yi's name, and it's icing on the cake to see Se-mi's mother seethe as the chaebol tends to Song-yi's needs. (I take less joy in Se-mi's reaction given that I believe her hurt is genuine, but her mother? Suck on that, lady.)
Hwi-kyung doesn't even notice until now that Se-mi's in this movie too, though he doesn't do anything when Se-mi storms out, figuring that being distant will help Se-mi get over him quicker. Song-yi realizes apologetically that she should have done the same for him, and he half-jokes that it's too late for that.
Looking around, Hwi-kyung notices a familiar face in the crew—Killer Secretary—but the glimpse is fleeting and he doesn't quite place him. He's nervous for Song-yi's stunt, and although she admits she's a bit afraid, she doesn't let it get the better of her and proceeds with the stunt. The wire holds safely enough when it's tested, and then she takes her place to resume the scene that started us off.
Everyone watches in anticipation as Song-yi leaps, at the same time that Hwi-kyung catches sight of Killer Secretary again. This time he realizes why the face is familiar, just as the wire snaps, ramming Song-yi into the wall. The pulley breaks off, and Song-yi starts to freefall. Hwi-kyung darts forward and grabs Song-yi as she drops, absorbing some of the impact and rolling with her along the mat. By the time they stop rolling, both are knocked out cold.
It's chaos on the set as they're transported to the hospital, and Hwi-kyung undergoes surgery first. Song-yi, however, is in a more precarious situation because she requires a blood transfusion, but has a rare blood type that isn't readily available. The doctor advises family members to be tested immediately. Song-yi's mother is distraught over the possibility of not being a blood match, but thankfully her father hears about the accident and races to the hospital.
The public reaction to the news is, sadly, ugly. Bok-ja just barely holds onto her temper at the comments: "Thank you for snapping, wire" and "You get what you deserve." Yeesh.
In the interrogation room, Seok and Detective Park are strangely dissatisfied with Min-joon's thorough confession. It just fits too easily, and his lawyer is making no effort to protect the client. When they pause for a break, Seok asks Min-joon if there's anybody he's trying to protect, trying to understand why he's lying.
Just then, the detective bursts in with news of Song-yi's accident. Min-joon races out so quickly that the people outside don't even see him and insist that nobody left the room. The detective can't let go of this discrepancy and checks the security footage, which confirms that something shifty is going on ("Is he Harry Potter?!"). He demands an explanation of Lawyer Jang, unwilling to accept his "You must've seen wrong" answer.
Song-yi's father tests as a blood match, which means Song-yi will be fine, and now Min-joon's reaction shifts from worry to rage as he watches Song-yi from afar. Finally he can't hold back and storms into Jae-kyung's office to wreak some havoc, as we saw at the top of the episode.
We resume the rooftop scene as Jae-kyung dangles in the air, finally looking scared. Min-joon yells at him to die, and Jae-kyung flinches for a moment before realizing he's still hovering there, alive. Regaining his confidence, he tells Min-joon that he can't kill him: "I know that if I die, so will you." Ahhh, so is that the big cosmic catch? Min-joon can't kill without dying?
Jae-kyung cackles in his face and says he knows everything about Min-joon, including all his secrets and weaknesses, saying that surely Min-joon wouldn't give up his own life just to kill him. Yet Min-joon bites out, "If I could stop you, I don't care if I die."
Jae-kyung's eyes widen when he starts falling, realizing Min-joon may not be bluffing after all. So when Min-joon pauses the freefall, Jae-kyung blurts, "Chun Song-yi will die! If I die, she'll die too." He'd made sure to have arrangements in place, knowing Min-joon would be a slippery foe: "Even if you kill me, you can't stop me."
Min-joon clenches his jaw, perhaps sizing up this answer… and lets Jae-kyung fall.
Jae-kyung drops hundreds of feet, limbs flailing as the ground quickly approaches his face, and nearly pees himself (…I'm assuming) as his freefall yanks to a stop just several feet above cold, hard sidewalk. Then Min-joon lets him fall the rest of the way, and looms over him as Jae-kyung gasps for breath.
"Pray that Song-yi is safe," Min-joon warns. "If anything happens to that woman, I will come back to kill you. You said you have a lot of things to lose. I'll make sure you know the taste of losing them one by one. In the end you will lose everything, and I will show you what utter destruction is."
"How dare you—" Jae-kyung starts to say.
"How dare you!" Min-joon cuts him off. "I'll show you who you dared mess with."
Song-yi makes it through her surgery safely, and is given a good prognosis for recovery. Her parents are relieved, and in the wake of their near-miss, Mom's anger toward Dad has melted and she invites him to stay with Song-yi longer.
Sad-sack Dad is willing to leave right away, thinking Song-yi wouldn't want to see him. Mom bursts out that this is his problem, taking her words at face value and not realizing that Song-yi has spent years wanting to see him.
So Dad stays at Song-yi's side, clasping her hand and crying. From within her unconscious state, Song-yi thinks, "Dad. Whenever I was afraid when I was younger, I called out for you." We see the teenage Song-yi on set, trembling nervously and murmuring "Dad" to herself just before beginning her scene.
"But now, I call a different name," she says. As adult Song-yi prepares for her wire stunt, she says to herself, "Do Min-joon."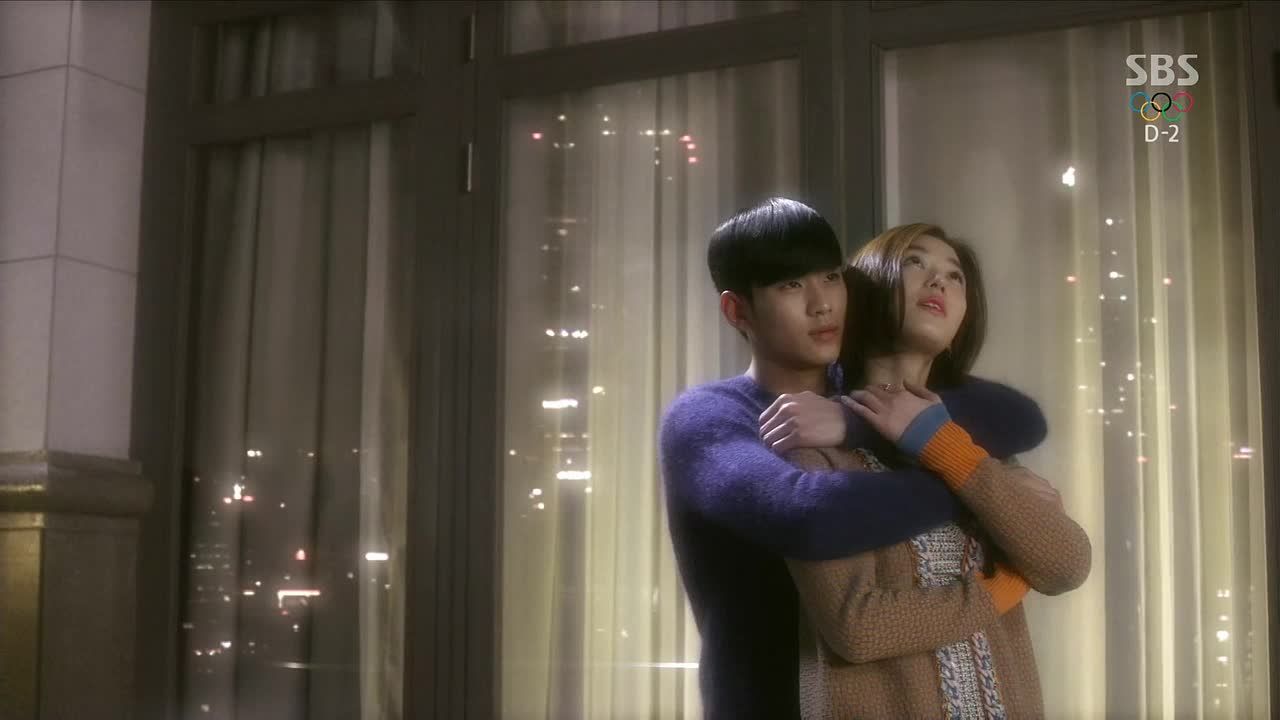 Song-yi conjures her own dream sequence of a happy future with Min-joon, walking alongside him and having him to hold at night. "For the first time, I've found someone to love more than you. I've found someone I want to be with from morning to night, someone to do everything with."
That night as Song-yi sleeps in her hospital bed and her father dozes in an armchair, Min-joon arrives. Her dream-thoughts continue: "Even though he tries to shove me away, I can't walk away. Even though I try to hate him, I can't. I keep… dreaming a sad dream that he loves me."
And Min-joon leans down to kiss her forehead sweetly.

EPILOGUE
Today's epilogue continues right from the ending scene, as Min-joon straightens after the kiss and starts to walk away. In her sleep, Song-yi's hand grabs his, holding him there by her side. Her eyes open, tears falling down her face, as she adds, "I keep dreaming that sad dream."

COMMENTS
There's something about this separation that really tugs at my heartstrings in all the right ways, despite being set up amidst circumstances that are pretty familiar to those of us who've seen a drama or twenty before. It's one of this drama's strengths as a whole, that while it doesn't reinvent the wheel, it adapts story tropes skillfully and crafts its scenarios with enough compelling internal logic that regardless of whether I've felt these narrative beats before (…and I have), I'm still buying what this drama's selling.
For instance, I love how they're dealing with the romantic angst, particularly on Song-yi's end. Threatening a main character into a bout of noble idiocy is nothing new, but within the logic of this world, I'm totally with them in feeling pained over the separation. Min-joon has his hands tied in so many ways, not just by the cartoonish villain but also fate/time/the cosmos at large, so that even were Jae-kyung to magically poof away into the ether (which would be nice, wouldn't it?), his dilemma would remain. He loves her too much to consign her to a lifetime of missing him, but he also loves her too much to actually stay away. Aggggggh. It hurts so good. Maybe there's something wrong with me to love that twist of angst, but inasmuch as it's super-effective in making me care, I love it. Kill me now why don't you.
Given that Min-joon is committed to taking himself out of the picture, I'm totally there with sympathy pangs for Song-yi, who is handling the rejection with dignity without being too proud, and also showing her heart without being too mopily pathetic, either. It's a tough balance to strike, because if you go too far one way or another you're making your misery worse by either wallowing or denying it. (How many times have we yelled at characters to either get a spine or let go already?) Yet Song-yi walks that fine line, dealing with her feelings in a way that's both classy and really heart-tugging.
The resolution of Song-yi's blood transfusion issue was almost comically swift, and as a result it hardly even registers as a blip on the emotional radar. So I appreciate it more for its place in the narrative than for the moment itself, because it allowed Song-yi to make peace with her absentee father and move on to the pain of absentee lover. Her dream was a bittersweet callback to Min-joon's own dream, both of them wishing for nothing more than the most mundane of futures together. Most of all I love that in dreams is truth, and while the waking Song-yi may have to force herself to stay away from Min-joon, the unconscious Song-yi knows that he loves her no matter what he says. It's a comforting thought that she can feel the strength of his love even when he's acting contrary to his feelings. Now all we've gotta do is make dreams reality. Anybody got a Matrix they're not doing anything with?
RELATED POSTS
Tags: featured, Jeon Ji-hyun, Kim Soo-hyun, You From Another Star