Age of Feeling: Episode 17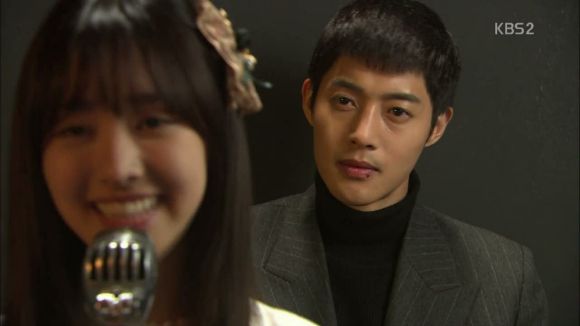 Despite Age of Feeling being one of the most troubled productions in recent memory, this episode marks a huge improvement over the past couple weeks, in that it used its time to actually propel the story forward. (I know, right? Mind = Blown.)
So while the bad guys keep quibbling over who-owns-what and the turf warfare goes into high gear, our hero finally plays an active role in shaping his future by taking up his father's mantle to protect the people and those he loves most. Now that's a cause we can all rally behind, for as long as it lasts. 'Cause while this show may be many things, consistent it is not.
SONG OF THE DAY
Henry (ft. Kyuhyun and Taemin) – "Trap (헨리)" [ Download ]
Audio clip: Adobe Flash Player (version 9 or above) is required to play this audio clip. Download the latest version here. You also need to have JavaScript enabled in your browser.

EPISODE 17 RECAP
After a lengthy retread of Club Shanghai's grand opening sequence, we find Jae-hwa and Jung-tae in the midst of all the revelry. While Jae-hwa goes around greeting guests in many different languages, Jung-tae stays alert—he knows a fight is coming.
Ok-ryun's big act comes after Jae-hwa introduces Jung-tae to the Chilinbang Elders (minus Leader Seol), though she's literally having to sing from backstage. Still, it's cute that Jung-tae comes to wish her well with a supportive little hug.
It turns out that Ok-ryun is providing all the vocals for the song while the other singer who stripped her of her dress gets to take all the credit. During a break in the song Jung-tae lets her know that he's going, and Ok-ryun places a kiss on his cheek. D'aw.
Even though she's not anywhere near the spotlight, Ok-ryun enjoys herself and sings her heart out. Aoki, however, spots her backstage. Uh oh.
Jung-tae is shocked to see Jae-hwa welcoming Leader Seol into the club, especially when they had agreed not to invite him. He then pulls Jae-hwa aside for some answers.
Meanwhile, Ok-ryun and So-so chatter excitedly about the performance, only to have their buzz partially killed by the jealous non-singer who actually stood on the stage.
Dokku then sticks his head in the dressing room door to call Ok-ryun out for a meeting with a record company executive, knowing that she can't refuse the offer.
And of course, the men posing as executives are none other than Aoki and his lackey, who claim to love Ok-ryun and want to take her to their studio for a demo right away. No matter how alluring the offer, Ok-ryun denies the invite, citing that she has something else to do that night…
But then Aoki's lackey stops her from leaving and holds a gun to her side, threatening to have her join her mother in the Yalu River if she doesn't leave quietly with them.
With no other choice, a frightened Ok-ryun and So-so are led out of the club.
Jung-tae angrily confronts Jae-hwa over inviting Hwangbang when they'd agreed not to, an idea which Jae-hwa initially tries brushing off—Leader Seol was going to come whether or not they sent him an invitation. And in case Jung-tae has forgotten, Club Shanghai is in Hwangbang's territory, so they're at Hwangbang's mercy.
But Jung-tae is all for going against the status quo, and doesn't understand why Jae-hwa won't fight with him. The latter has a bit of a breakdown while explaining the role he plays in the system, because he despises it as much as Jung-tae—they just differ on what they're willing to do about it. At the heart of it all though, Jae-hwa thinks he's protecting the people of Bangsamtong from starving by catering to Hwangbang's will.
"Isn't that why we wanted to get Hwangbang?" Jung-tae reminds him, in an effort to spur him into action. But Jae-hwa knows that Hwangbang is too strong of an opponent, especially with Leader Seol's military backing and his position in Chilinbang.
Shaking with anger, Jung-tae asks if his father was killed by Hwangbang because he wasn't willing to be a pawn like Jae-hwa. With a rueful sigh, Jae-hwa admits that Jung-tae's right, and that's exactly why he lives the cowardly way he does. He'd rather be alive and a Hwangbang dog rather than six feet under like Daddy Shin, even if he hates himself for it.
He gives Jung-tae a similar choice: he can become like his father and end up dead, or live with his head down like he does. Jung-tae chooses door number one but with the caveat that he won't die like his father. "I'm going to make this territory mine," he grits out. "I will destroy Hwangbang! And to show everyone, I will make Bangsamtong mine."
They're interrupted when the mannerly Il-hwa has his lackey loudly declare that his leader requests a duel with Jung-tae, much in the same way he once did with Kaya. Putting their differences aside for the moment, Jae-hwa tells Jung-tae to focus on winning against Il-hwa. Hwangbang can be dealt with later.
A large crowd, including the Chilinbang Elders, gathers outside to watch the fight. Leader Seol is hopeful that Jung-tae will lose, but Baek-san warns him not to expect too much of Il-hwa, whose main beef is with Ilgookhwe—it was one of their opium dealers who killed Il-hwa's mom, so Il-hwa won't be laying out the red carpet to make it easier for Hwangbang to deal opium anytime soon.
Il-hwa and Jung-tae share a short exchange, with Il-hwa sadly noting that both of them have been forced into a fight that they don't want. It doesn't change the fact that they still have to fight, of course, or the fact that they have to risk their lives doing it.
And so it begins. Their fight is more like a dance at first, with both opponents attacking and defending in equal turns. That's when Old Man Fly's lackey reminds Jung-tae about the tactic (youngchugwan) they taught him on how to defeat Il-hwa, by attacking when he attacks rather than the usual attack/defend/attack.
After Il-hwa gives Jung-tae a hard, swift kick to the family jewels (good luck having children, Ok-ryun), Jung-tae implements Old Man Fly's teachings in order to get close enough to attack Il-hwa, even if it means that he's unable to defend against any of Il-hwa's attacks.
The method works and more blows are exchanged, with Old Man Fly musing that Jung-tae couldn't have learned everything overnight—he can only win if he gets in close enough to deliver a finishing blow. Jung-tae knows this too, and makes peace with sacrificing half his body, like Old Man Fly taught him, so that he can get that vital opportunity.
In layman's terms, this means Jung-tae has to let the crap get beaten out of him before he gets a chance to deliver that one big blow just as Il-hwa launches into the air for an attack. Boom.
Il-hwa is left coughing up blood on the ground, and concedes the fight. Jung-tae wins, much to Leader Seol's chagrin and Jae-hwa's glee. But Il-hwa isn't looking good at all, and rebuffs Jung-tae's offer to help him—all he'll admit is that he was surprised.
After Il-hwa is carted off by his lackey (hopefully to survive, lest I bring up how many times Jung-tae's vital organs have been stabbed), Jae-hwa happens upon Ok-ryun and So-so leaving the club with their captors. Just now? Did they stop to have a meal on their way out?
Luckily Jae-hwa knows something shady is going on when he recognizes Aoki from their earlier brush, but isn't able to stop the party from leaving when Aoki holds a gun to his head.
Jae-hwa shows no fear, and tries to scare Aoki into giving up by mentioning how stupid an idea it is for him to pull out a gun in Chilinbang's territory. But Aoki isn't so easily threatened and pistol-whips Jae-hwa into unconsciousness before escaping with the girls.
I guess Leader Seol is done with being secretive when it comes to Jung-tae, since he warns his new son to remember two things: that this is Hwangbang's territory, and that Leader Seol is the only one who decides who will stay in it and who will go.
"If you don't forget these things, you'll live longer than your father," Leader Seol adds with a Murderous Muppet Smirk. Jung-tae clenches his fists as he grits out that he'll remember them till the day he dies.
So-so comes running (I guess Aoki let her go) to tell Jung-tae that Ok-ryun's been kidnapped. He runs after Aoki's car until he collides against the invisible wall dividing Bangsamtong from the rest of Shanghai. He can go no further.
While Jae-hwa tears into his men for letting a kidnapping happen on opening night, Jung-tae declares that he can't sit still while Ok-ryun is in danger and swears to save her himself.
Jae-hwa has to talk him off the ledge, knowing that he'll die if he goes alone and swearing that Jung-tae will have his help if he just gives him a little time. He feels just as responsible for Ok-ryun since it happened in his club.
We find Il-hwa being treated in Doctor Jung's clinic, though he remains unconscious while So-so complains about the likelihood that Jae-hwa won't be able to save Ok-ryun. Doctor Jung respectfully disagrees, citing that the very reason why So-so thinks he can't (his sly nature) is why he'll succeed.
She leaves So-so in charge of watching Il-hwa's vitals, which means So-so gets to stare, entranced, at Il-hwa's handsome features while he sleeps.
Jae-hwa goes to Leader Seol in an attempt to elicit his help in rescuing Ok-ryun, because Aoki broke all sorts of rules by using a gun in the supposed neutral safe zone of Club Shanghai.
And Leader Seol, who has no reason not to help other than that he's gone full douchebag, just chuckles smugly. At least until Jae-hwa reminds him that this could have greater ramifications in the future if he doesn't lay down the law. If anyone thinks they can come into Hwangbang territory and wave a gun around, will Leader Seol's supply and drug routes stay secure?
Though he doesn't admit it to Jae-hwa, Leader Seol knows he has a point. Baek-san comes up with a plan to save Ok-ryun and then keep her with them so that Jung-tae will have to do everything they say.
Meanwhile Dokku, whom the Club Shanghai lackeys realized had gone missing, busily stuffs his face at Leader Seol's restaurant. I guess he's switching sides (again)?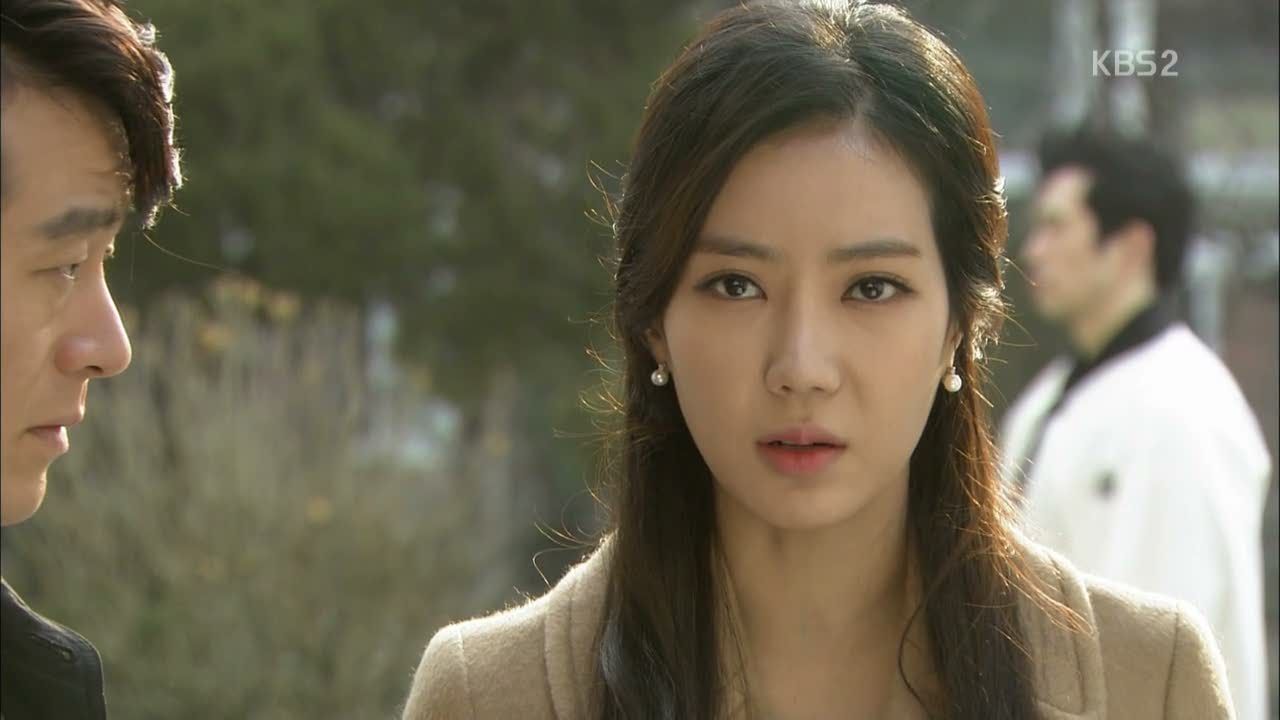 Kaya makes her first appearance this episode as she learns of Aoki's actions. She doesn't approve, and is determined to set things straight before Chilinbang gets involved, lest Aoki get hurt.
Ok-ryun is questioned about Jung-tae and Club Shanghai's opium suppliers by Aoki's lackey, in Shanghai's municipal prison (a joint venture open to those countries with concessions in Shanghai). It's good to see that she hasn't lost her spunk, since she takes the lackey by surprise by telling him to cut to the chase—why is he asking her about Jung-tae when she knows that it's the assassinations in Shineuijoo that they really want to know about?
Aoki goes from being a silent observer to an interested party, perhaps intrigued by Ok-ryun's attitude. But when he tells her that she better start talking if she doesn't want to end up in a river like her mother, Ok-ryun recognizes him as the man who shot at them and killed both Ajusshi Choi and her mother.
She grabs Aoki by the lapels, screaming, "Was it you?! I won't leave you alone. I'm not going to leave you alone, you-…" but a swift punch to the gut by Aoki cuts her off. Ouch.
He coolly instructs his lackey to use any torturous methods necessary to get useful intel out of her until he's called away by a call from Kaya. On the way, he sees that Leader Seol and Baek-san have come to the prison. (Are they there to get Ok-ryun out?)
Jung-tae visits a still-unconscious Il-hwa in the clinic, where Doctor Jung warns him not to pick fights with him since he's still on strict bed rest. He then asks her for a favor, because she's a Chinese citizen and can therefore visit Ok-ryun.
The favor is to relay the message that Ok-ryun only has to wait one more day before Jung-tae will go get her. This makes Doctor Jung nervous since she doesn't know what he's planning, and Jung-tae isn't keen on revealing more.
With one of the other Chilinbang Elders acting as a mediator, Aoki's criminal actions are brought up by Leader Seol. The Elder seems far more inclined toward Aoki's side however, since he uses the excuse that Aoki was new to Shanghai and didn't know all the rules. Like how he couldn't kidnap a girl from Club Shanghai, for instance.
Leader Seol scoffs at this idea, seeing as how Aoki is the new director of intelligence and his job is to gather information. Aoki tries to play ball and asks what Leader Seol wants, but when his reply is Ok-ryun, Aoki gives him a flat denial. He claims he arrested a murder suspect, and threatens Leader Seol not to interfere unless he wants to cause an international snafu.
But because he has evidence proving that Aoki is acting way beyond his jurisdiction, Leader Seol demands that Aoki not only release Ok-ryun, but that he step down from his position as well. Aoki comes back with some damning intel, since he knows all about Leader Seol using the money he makes off drugs and weapons to finance Nationalist leader Chiang Kai-shek's army.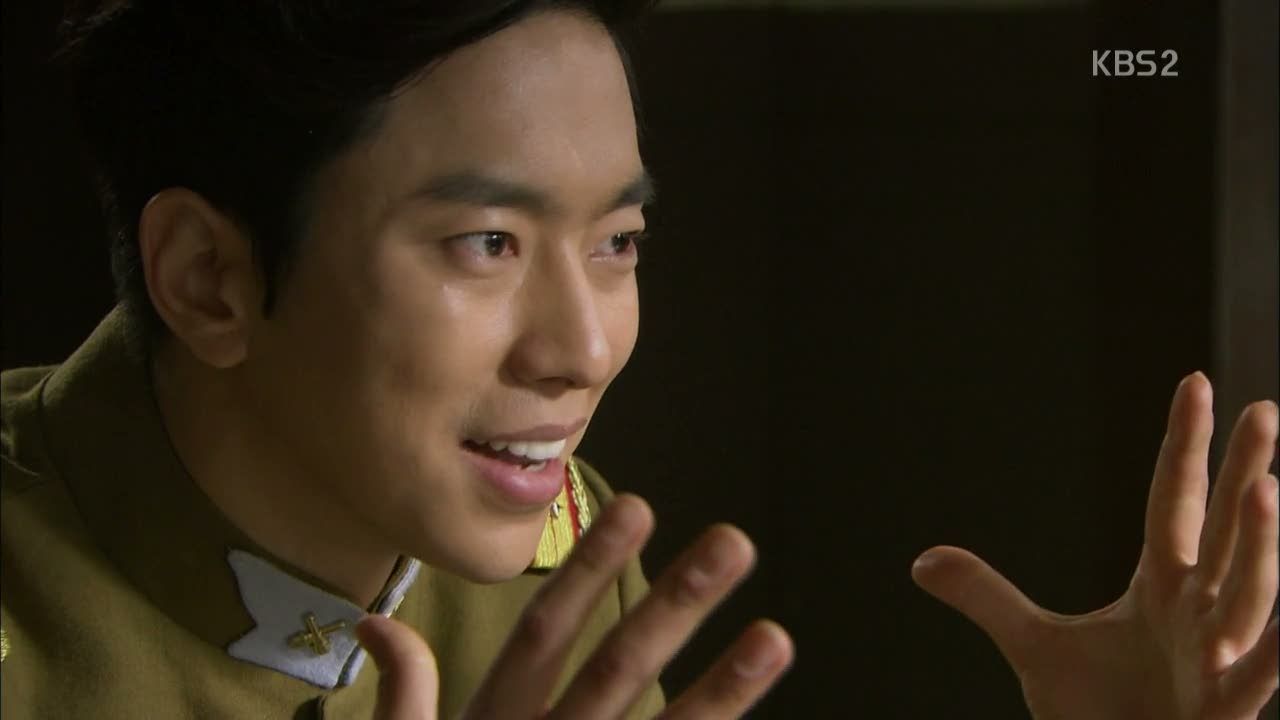 Furthermore, he adds that since Chiang was behind a Chinese civil war that lasted from 1927 to 1936 between the Nationalists (his side) and the Communists, Aoki has only to give a helping hand to the Communists in order to instigate another civil war. And if he did, it would mean the end of Club Shangai.
With that, the two men are at something of a standoff stalemate until Aoki offers a deal: he'll give them Ok-ryun if they give him Jung-tae. (Wouldn't that defeat the purpose from Hwangbang's end?)
In order to free Ok-ryun, Jung-tae tries practicing how to scale walls so he can sneak into the prison. Il-hwa is finally up and about, and is back to his old self when he makes fun of Jung-tae for asking about his health when he's the one who put him in the hospital.
Jung-tae apologizes, and Il-hwa knows he means it. He also owes Jung-tae for protecting the family he had in Dandong, even though Jung-tae did it by asking Leader Seol… never mind that he was the one holding them hostage in the first place. Hooray for super flexible stakes!
Since Il-hwa can't be of help in his injured state, he offers Jung-tae his lackey, who can easily Spiderman his way up buildings. Not to be outdone, Old Man Fly also offers his bulky lackey, who can similarly airlift himself up vertical walls.
Soon it's a Bangsamtong party, with all the characters we know coalescing in one place—including So-so, whose attempts to gain Il-hwa's attention go ignored. With Doctor Jung's intel, they know exactly which room Ok-ryun will be in, even though they're planning to release all their arrested comrades. Go big or go home, right?
While Jung-tae trains for building-hopping much in the way he trained for train-hopping, Jae-hwa tries to settle matters at Club Shanghai. To make matters worse, Dokku announces that he's switching to Team Hwangbang, which he thinks gives him the right to speak in banmal to his former boss.
Kaya takes issue with what Aoki's been up to, since she worries that Hwangbang could actually get him fired and what that would mean for Ilgookhwe.
He's not nearly as concerned, since he was able to learn all about Shanghai's main players through Ok-ryun, who he used as bait for Jung-tae. Sure enough, Jae-hwa got involved, then Leader Seol—which means that the person driving the two entities is none other than Jung-tae. And the only person driving Jung-tae… is Ok-ryun.
His plan is to use Ok-ryun to capture Jung-tae, even though Kaya argues that he's not their enemy—Hwangbang is. Aoki agrees, but thinks that they'll have to fight Jung-tae regardless. He's just getting a step ahead by capturing him first, and he's sure that it'll happen tonight. He's the one who set the trap, after all.
And sure enough, Jung-tae and the lackeys scale the prison walls that night. (I'm seriously trying to ignore the terrible wirework, but it's just so terrible.)
They enter the room where Ok-ryun is supposed to be, only to find it empty. An alarm sounds, and they reenter the hallway to find themselves trapped on both sides by Aoki and all the prison guards in Shanghai.
Aoki is feeling pretty pleased with himself, at least until Jung-tae keeps goading him into a fight. To his credit, Aoki tries to keep his cool through Jung-tae's barbs, and he even tries claiming that he's letting the guards do the fighting since Jung-tae is a criminal who broke into a public service building and is being processed as such.
I love that Jung-tae isn't afraid to taunt him, probably because he knows he has a better chance fighting one-on-one against Aoki than he does against all the guards.
"I guess you're not confident enough to fight me, is that right?" Jung-tae asks after a series of different jabs aimed at Aoki's pride, and his tactic finally takes. Aoki grimly acknowledges that Jung-tae succeeded in pissing him off, but that means he'll will have to die.
Nevertheless, Jung-tae gets what he wants when Aoki moves the fight outside. The two of them don't waste time on words before going at it, and though both exchange equal blows, Aoki's almost throws Jung-tae off his feet.
"You're overconfident just because you've fought on the streets a few times," Aoki notes, a deadly glint in his eye. "I will kill you."

COMMENTS
Jung-tae is never one step ahead of anyone in the Planning Ahead department, and it's an interesting character quirk that his impatience and stubbornness is something that hasn't changed no matter how many times those traits have gotten him into trouble. Boys will be boys.
Though out of all the more outlandish things this show has tried to sell, I've never had a hard time buying Jung-tae's capability to adapt quickly as each situation calls for it—even though he's gotten lucky so far, because every time he's had to adapt, it had something to do with what he's best at: fighting. And though we couldn't peek into his thoughts, I was impressed with the way he handled Aoki's trap by relying on something he knows he can do.
In just the same way that Aoki was able to read Jung-tae enough to set the trap in the first place, Jung-tae was able to read him and figure out just how to set him off in order to make things more advantageous for him. What sucks, at least for Aoki, is that he knew exactly what Jung-tae was doing by goading him and fell into his trap anyway. Even though Aoki's been a tool with a capital T this episode (and okay, always), I really hope that this sudden plethora of screen time for him isn't just a prelude to his death. He's the only believable foil for Jung-tae now that Il-hwa's out of the running, so it'd be foolish to cut that short and leave us with only Hwangbang… right?
Now that I think about it, maybe this episode was such a (comparative) success because it featured more of the side characters we like and less of the ones we don't—while admittedly not making a strong case for Kaya's necessity when the story can and did move along fine without her. I did like getting a peek into Jae-hwa's psyche when he opened up to Jung-tae though, especially since it allowed him to admit that he's too cowardly to change what he knows to be wrong.
Jae-hwa seems to be his own worst critic on his personal failings, but at least we know that beneath the veneer of greed is a man who cares about others, despite his best efforts not to. It makes his helping hand all the more meaningful, and his struggle with his sense of self all the more real. Now all that remains is to form a Shanghai Dream Team with Jae-hwa, Il-hwa, and Jung-tae. Come on, Age of Feeling! You're already broke and almost dead in the water, might as well make this fun.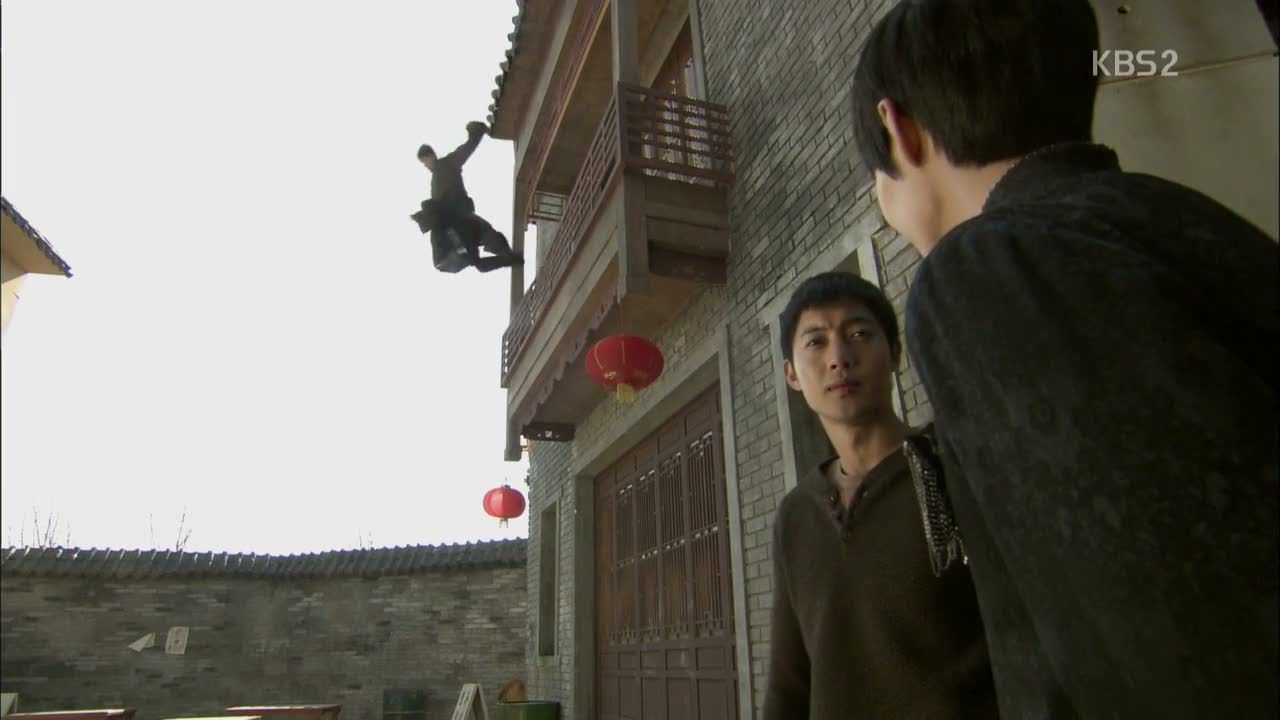 RELATED POSTS
Tags: Age of Feeling, featured, Im Soo-hyang, Jin Se-yeon, Kim Hyun-joong, Kim Jae-wook