Emergency Couple: Episode 18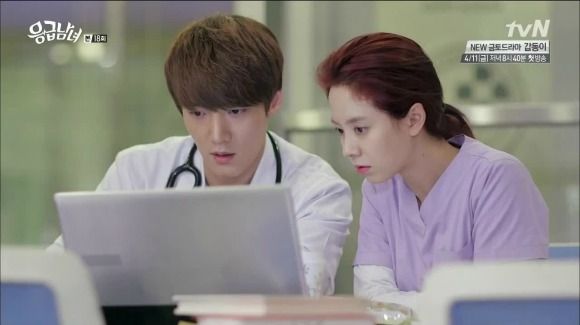 Sympathy can be both a good and bad thing, depending on whether you're on the giving or receiving end. Chang-min bristles at the thought that he might be an object of pity. But for Jin-hee, feelings of sympathy over her ex-father-in-law's death may open the door to a fresh perspective on her past, as well as present a clean slate for her future.

EPISODE 18 RECAP
At Chang-min's apartment, Jin-hee finds her wedding ring in a jar. When Chang-min comes out of the bedroom, she chides him for not eating more of his porridge and then holds out the ring and asks, "Why do you have this?"
He explains that he recovered the ring and asks why she had held onto it for so many years. She says that it seems that their relationship is not yet over: "Truth is, I was scared. What would I do if I fell for you again? What would I do if I fell madly in love with you again?"
Chang-min thinks that meeting him again after all these years has only made things harder for Jin-hee. He says that her feelings are nothing more than her mind weakening upon seeing him go through hard times after his father's death. He asks her to leave, because he doesn't want her to suffer any more on his account.
While taking a cab home, Jin-hee stares at her ring and a mixture of emotions plays across her face. Chang-min broods on his bed and avoids Jin-hee's call. When she calls a second time and wants to know why he didn't pick up, he lies that he was asleep.
Fishing by a river, Chun-soo also broods and recalls how his confession was cut off abruptly when Jin-hee ran off to take care of a sick Chang-min.
In the emergency room, Jin-hee examines the chest x-rays of her latest patient, an elderly grandma suffering from pneumonia. She asks whether the grandma's guardian has come. The woman replies that her son is very busy and that she can be told directly about her condition.
Jin-hee asks whether she can call her son, but the grandma insists again that her son is busy. With some misgivings, Jin-hee further explains to the grandma that besides her pneumonia, her lung cancer has grown larger. The old woman responds with complete and utter shock; she had had no idea that she was suffering from cancer.
Ji-hye admonishes Jin-hee for her lack of discretion given that the grandma's guardian had expressly asked that her condition be kept secret from her. Ji-hye adds that doctors need to keep a patient's personality in mind while judging the right time to notify them fully of their diagnosis.
Ah-reum catches Chang-min in the hallway and he thanks her for her concern. Smiling, she says that as his upstairs neighbor, she had to do something for the "downstairs man." He smiles in return. Calling her a "good person," he then apologizes for having caused her hurt.
To her credit, Ah-reum brushes off his apology and remarks that she knew quite well that she had no place to interfere.
Jin-hee checks on her lung cancer patient, only to find an empty bed. The nurse thinks she may be in the bathroom but Jin-hee seems alarmed. She runs through the halls searching for Grandma, only to promptly bump into Chang-min.
She tells him he should have taken more time off, but Chang-min immediately asks what's wrong. He helps her search for her patient but when they have no luck, he suggests that they split up in opposite directions.
He finds the grandma at the pharmacy counter, where she is desperately demanding a refill of an expired prescription. She faints, but Chang-min manages to catch her and lower her gently to the floor. Yong-gyu rushes to get a gurney.
Chang-min diagnoses respiratory arrest and successfully intubates the patient. When the patient is transferred to the emergency room, Jin-hee tells Ji-hye that the woman's fever is not reducing from the administered antibiotic. Worried, Ji-hye says that the tumor in her left airway needs to be removed quickly.
Shouting in fury at Jin-hee, the patient's son demands to know who spilled the beans about her cancer. She apologizes, but he's still angry that he was not called. Ji-hye and Chang-min rush over and Ji-hye explains that it's difficult to keep a diagnosis like cancer under wraps, and that doctors have a responsibility to keep patients informed.
Back at the riverside house, Chun-soo opens and eats the side dishes that Jin-hee's mom packed for him. His thoughts continue to turn to Jin-hee, and he recalls her asking him whether his mommy and daddy issues are what keep him from marriage.
He takes out a postcard and starts to write to his father. In the note, he asks his father what sort of photos he takes now and tells him that volunteer service work might take him out to Africa one day. As he leaves his house, he drops the postcard into a mailbox.
At the hospital, Chang-min researches to find a way to save the lung cancer patient. Jin-hee admits that she was distressed earlier when she couldn't find her. She wonders what would have happened if Chang-min hadn't been there to find the grandma.
"Why think about something that didn't happen?" asks Chang-min. Jin-hee says that it's because she's thankful that he showed up "like Superman." She sits down at her desk to pore through her textbooks as well.
The two residents come across the two working, and hilariously think that they are intruding on a much more intimate scene than they're actually witnessing.
Pulling an all-nighter, Jin-hee and Chang-min work to find a solution for their patient. Jin-hee comes back from a coffee run, but it doesn't seem to do her any good because she later falls asleep at her desk. Chang-min reaches over to touch her cheek, but at the last second, he pulls his hand away.
Jin-hee wakes in the morning and rushes off to get cleaned up. Chang-min has stayed up all night but it's only now that he finds a relevant research paper on bronchoscopic cryotherapy. His eyes widen when he sees that the author of the paper is none other than Chun-soo.
Ji-hye calls Chun-soo and tells him that Chang-min found his paper. She describes the patient's condition in greater detail but Chun-soo cuts her off to remind her that he is currently under suspension. Ji-hye says that there's nothing else she can do but call him into work, because he's the only doctor in the hospital who can treat this particular case.
Chun-soo sprints into the hospital and up the escalator. Unfortunately, Professor Ahn spots him.
After Chun-soo successfully uses cryotherapy to remove the obstructing tumor, he runs into Professor Ahn who curtly reminds him that he's suspended. Chun-soo asks, "Should I just let a patient die, then?" Professor Ahn barks that this is not Chun-soo's personal hospital and that he needs to follow the rules.
Jin-hee surprises Chang-min with a custard cup, and remarks that eating sweets are best when feeling tired. She adds that she was very impressed by him today, and says that she doubts that she could have found the solution. He points out that she helped him after all, and gets up to leave. "Hey! Wait for me!" she calls out.
Chang-min stops Chun-soo in the hall, and tells him that he heard of his suspension due to the Professor Ahn incident. Chang-min: "Back then, I should have been the first one to let my fist fly, but the opportunity was taken from me." Chun-soo replies, "It was my fault the whole thing happened. There was no other motivation, so don't worry about it."
Chang-min nods, but adds that he thinks that Jin-hee's regard for Chun-soo is more than just respect and admiration. He admits in the past that he has acted with immaturity, and he formally apologizes for his over-the-top behavior.
Chun-soo splutters, "What are you talking about? If I had been you, I would have acted the same way. What sort of man would have been able to put up with such things?" When Chang-min thanks him for his understanding, Chun-soo adds, "Jin-hee has no such feelings for me. So don't misunderstand."
When Chun-soo encourages Chang-min to hold firmly onto Jin-hee, Chang-min cuts him off. He insists that he's become more at ease and that his father's death has caused him to think about a number of things.
Chun-soo next runs into Jin-hee, who looks rushed and distracted. With a torn expression on his face, he asks whether she's looking for Chang-min. When she says yes, he tells her that she should be able to catch up with Chang-min in the parking lot. She thanks him for coming to work today, and he smiles at her wistfully.
Chang-min gets into his car only to find Jin-hee buckling herself in next to him. She makes the excuse that she didn't bring her car today, but he merely asks her why she's doing this. She suggests having dinner together, but again, Chang-min asks her whether she knows why she's acting this way.
He reassures her that he's coping with his father's death on his own and that she doesn't need to feel so concerned. She refuses to get out, so with a heavy sigh, he starts the car.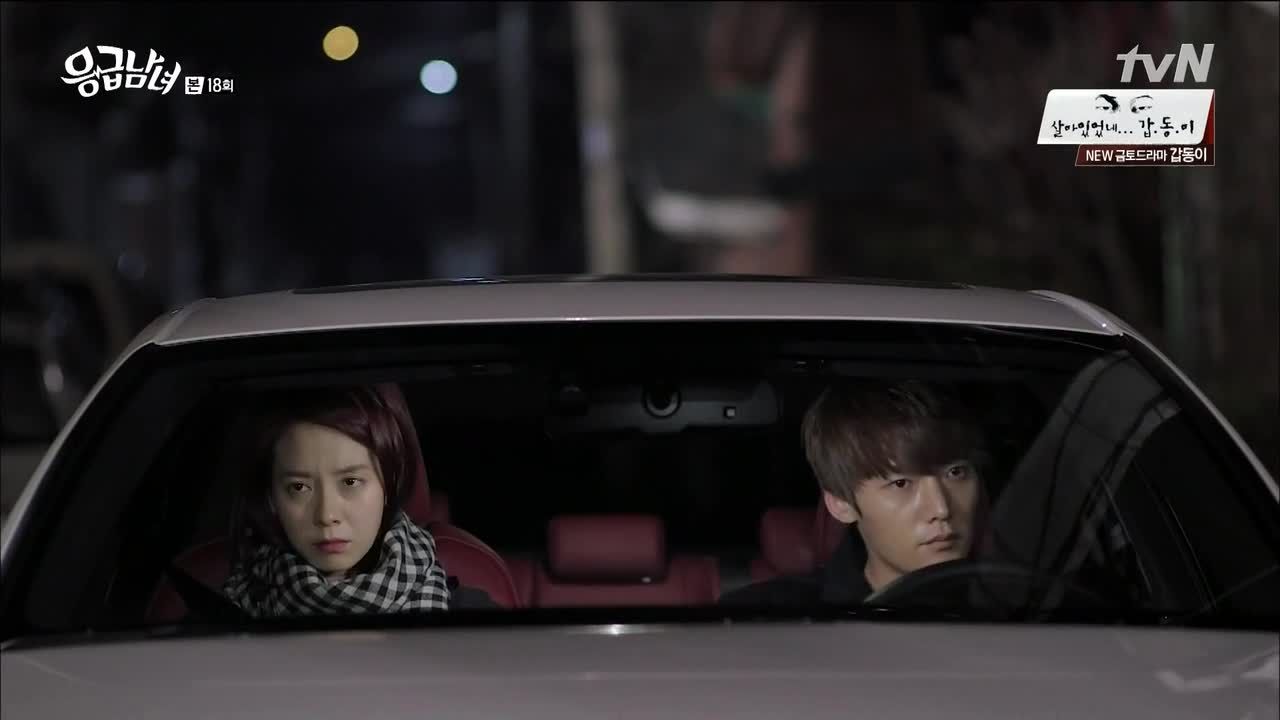 When he drives up to her house, she asks, "Who asked you to take me home?" She's determined to make sure that he eats dinner. Turning to her, he begins, "What you're doing…" She cuts him off and asks him what he thinks she's feeling. "Sympathy," he responds. "What you're doing right now is feeling sympathy for me. Do you know that?"
When she insists that what she's feeling is not sympathy, he asks, "If it's not sympathy, what is it?" She gives no answer.
Jin-hee broods on the couch until her mom joins her. Her mom can't sleep because she keeps thinking about Professor Oh's sudden death. She reminds Jin-hee that Chang-min's mom must be hurting, since it's the living who are left to cope with the aftermath of a loved one's death.
Chang-min calls to check in on his mom, who looks pale and is hooked up to an IV at home. She bemoans the fact that no one is there to care for Chang-min.
Chun-soo has someone looking after him, though, because Ji-hye sets out dinner for him. She asks him how he spent his vacation time, and he shares that he sent a postcard to his father. He adds that he sent it to his last known address, and chance will determine whether he receives it or whether it is returned.
Happy for him, Ji-hye asks what made him think to send a postcard, to which he grins and replies, "Just because."
Finding a present left on his desk, Chang-min opens it and discovers individually wrapped fortune cookies inside. He cracks open a cookie and unfolds the enclosed fortune. Reading it aloud, he sees that it's a dictionary definition of the word "sympathy."
Engrossed by his phone, Yong-gyu bumps into Ah-reum, causing her to drop her tray of food. As he apologetically scoops the food off the floor, he looks up at her. The camera lighting brightens, the fairy dust music cues up, and I'm to believe that these two kids are now enamored of each other.
Yong-gyu watches from another table as Ah-reum reapplies her lipstick after eating. And I'm not sure what sort of Netmarble game that Yong-gyu is running on his phone, but there's a flash of an anime image of an amply endowed girl about to apply lipstick. What in tarnation did I just see?? Ahem…it strikes me as strangely obscene?
Ah-reum sits down with Yong-gyu and asks how he's been doing in Radiology. He still has recurring doubts about continuing with medicine. She encourages him to think hard about what he might want to do with his life.
The interns play badminton in a park while Jin-hee and Chang-min look on.
The married guy intern scolds his wife for having more interest in her work rather than their prospective children. His wife can't believe that he would be angry at her just because she turned out not to be pregnant. She argues heatedly that she's entitled to her own dreams and future.
Chang-min soothes the married guy intern but points out that he should be caring for his wife first, instead of worrying about children yet to be conceived. Jin-hee turns to Chang-min in surprise.
At home, Jin-hee confronts her sister about money that she borrowed from Chang-min. Jin-ae explains that she was short on money for household expenses, but an angry Jin-hee shouts that she'll pay Chang-min back while Jin-ae can pay her back.
As Jin-hee waits for Chang-min to come home, she flashes back to a memory of her married life, waiting for Chang-min to come home.
In flashback: Jin-hee sits outside and reads a text from Chang-min which says that he'll be coming home late. Despite this, Chang-min comes home to find her still sitting outside, fast asleep. Once awake, she smiles happily to see him.
Chang-min chides her for not having eaten and gone to bed, but Jin-hee replies that she doesn't like to eat alone or even be alone. When he suggests they go inside, she doesn't even want to do that. Patiently, Chang-min takes her on a piggyback ride around the neighborhood.
As he carries her, Jin-hee says, "I'm sorry, but I can't seem to do anything other than wait (for you)." She can't find a job, and feels like she has no purpose or use in life. Chang-min tells her to take her time to find out what she wants to do.
But Jin-hee replies that she feels that she's destroying Chang-min's promising future. He shushes her emphatically and to distract her, he sings her a song.
Back in the present, Jin-hee's eyes brim with tears. Chang-min finally arrives, and with a look of concern, he asks her what's the matter.
Inside, Jin-hee slides over the White Envelope of Money and explains that it should cover her sister's debt to Chang-min. Refusing it, he slides it right back.
Jin-hee tells him that she's been doing a lot of thinking lately. After their divorce, she had always thought of herself as the victim. But now, she realizes that Chang-min himself must have had a hard time trying to make things work. She acknowledges that she was too wrapped up in her emotions at the time and was unable to see things from his perspective.
Chang-min asks her why she's bringing all of this up now, and she replies that it's because she's so very sorry. She asks him about the fortune cookies that she made for him: "Were they not good?" With a glint in his eyes, he lies and says they weren't.
The next morning, Chang-min cracks open a second fortune cookie. His fortune today directs him to go to a coffee shop after work if he wants to meet a special person.
At the coffee shop, Jin-hee waits impatiently alone. She calls Chang-min, and he picks up with a casual "What's going on?" She asks why he's not here yet, and he asks, "Where?" just as he steps into her line of sight right in front of her window.
He teases her a little longer while she gullibly goes on about whether he opened her cookies. She finally catches sight of him standing outside–looking straight at her. She smiles widely.
When he prompts her to tell him what she has to say, she begins to say that she wants to start over with him again. Before she quite finishes her sentence, he interrupts and says, "Those aren't your feelings. Those are fake." He insists that she's deceiving herself and that she'll change her mind once some time passes.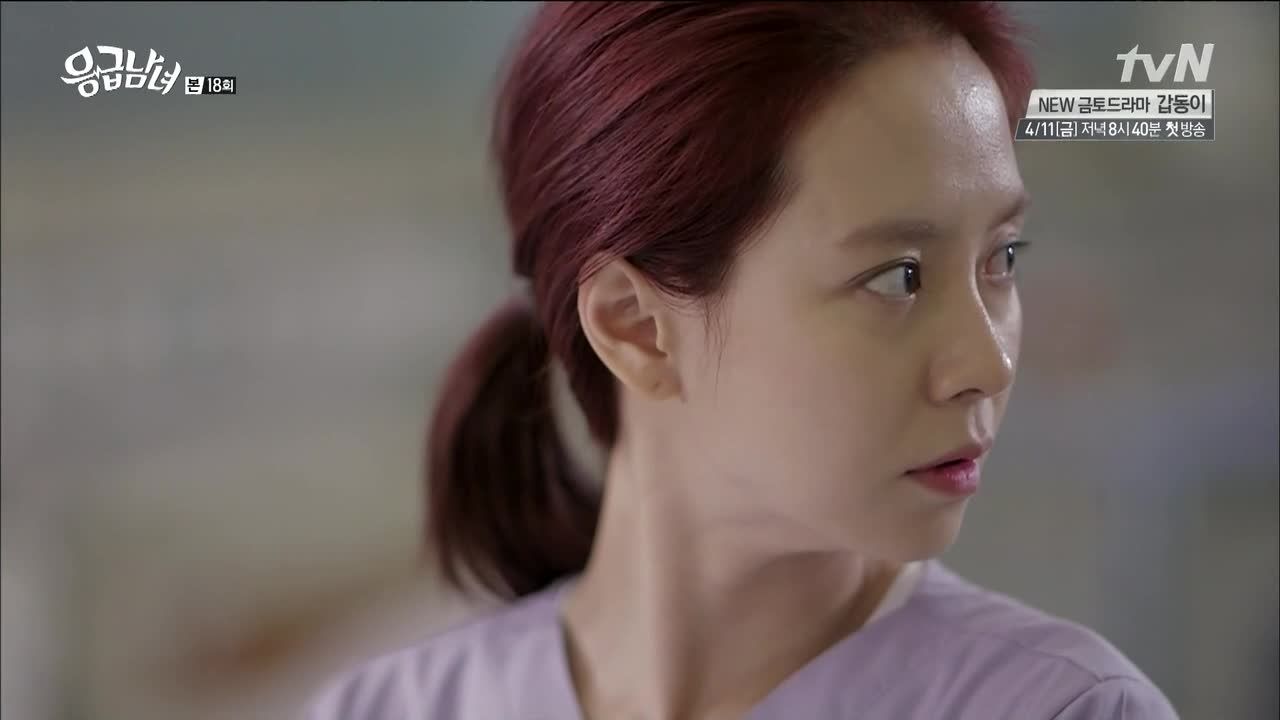 She denies it but Chang-min continues, "Jin-hee, go and find someone you like. Someone who makes your heart pound. That should be your road to happiness."
The next day, Jin-hee can't keep her eyes off of Chang-min as they work. When he walks past without acknowledging her, she seems stunned to find her heart racing. Frantically, she sprints through the halls and up the stairs to catch up to Chang-min.
She catches her breath in the kitty cat stairwell. Kittens and butterflies, we meet again. She finally finds Chang-min at an elevator bank, and grabs him by the arm.
Leading him back to the kitty cat stairwell, she hooks her stethoscope up to his ears, and tells him to listen to her pounding heart.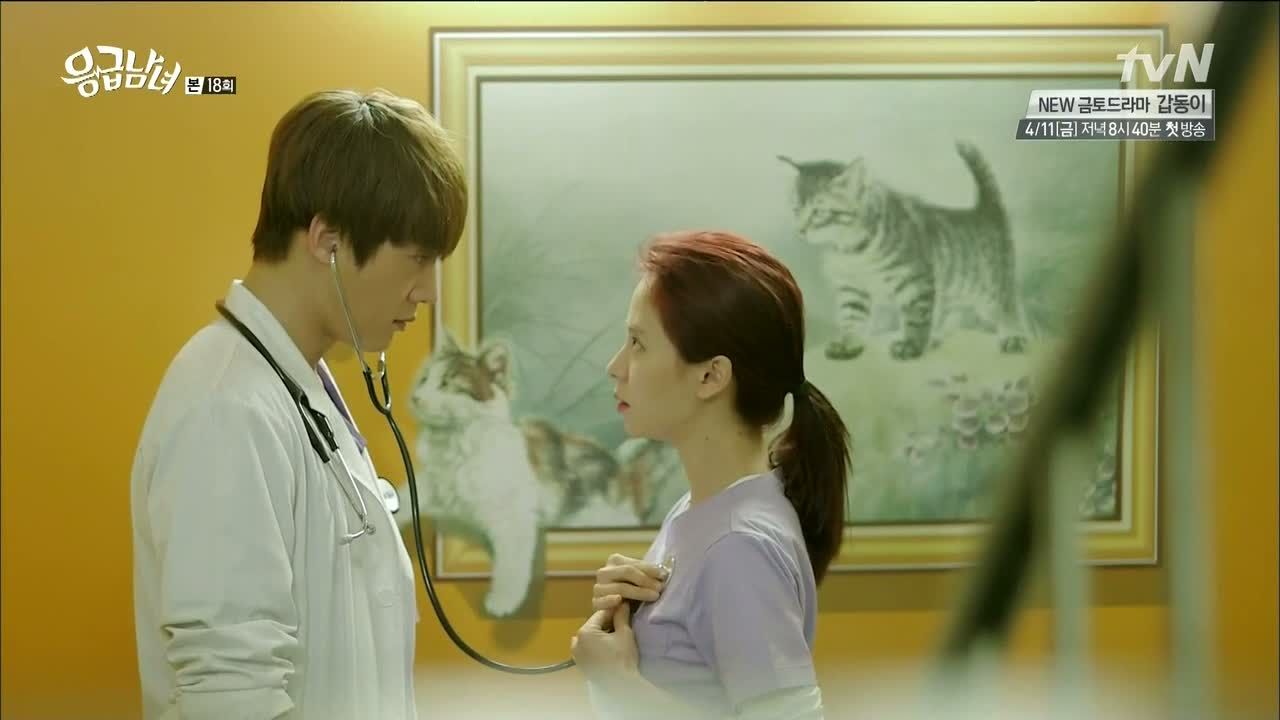 COMMENTS
The flashback scene we got in this episode was adorably cute. Logically, we all knew that our lead couple had some happy times before things all went to hell in a handbasket. We've just been shown very few of those good times. In the flashback, we see Chang-min reacting to Jin-hee's depression with tenderness and patience. Most significantly, this may be the first time that Jin-hee is consciously remembering a happy memory from her marriage. And by acknowledging that there were happy memories, she can stop viewing herself as the Victim.
What's so paralyzing about having a victim mentality is that from the her perspective, everything that went wrong is everyone else's fault. Victims view themselves as helpless, whether that's true or not. Their problems are caused by other people or by circumstances beyond their control.
By acknowledging that she was not a victim, but instead, a person who both hurt someone and was hurt by someone, Jin-hee has empowered herself. She is now free to re-evaluate her past with Chang-min with a balanced perspective and to weigh realistically the potential advantages and drawbacks of a possible new future with him.
While that's all well and good, I do wish that the flashback did something more than confirm that Jin-hee was prone to hyperemotionality and that Chang-min was supportive until…he was decidedly not. I've come to accept that the show is not going to delve into divorce and reconciliation in any profound or individualistic way. Sure, we've been given the markers, the general outline: Overly Emotional Woman, Financially Strapped Man, Bitchy Mother-in-law. And yes, those are all plausible ingredients for divorce soup. But here's the thing: the show leaves us to fill in all the details around that very general outline.
I'm sure all of us recognize the markers from our own personal experiences or the experiences of our family, friends, acquaintances, books that we've read. In our love for happy endings, we're ready, eager even, to fill in those details from our own experiences. But by asking us to fill in the details, there is wasted potential—emotional depths that instead of being plumbed are being left on the table. How much more heft and heartbreak would I feel if the show actually drew in the details for us in rich tapestry, so that I could see the progression from the giddiness of new love to bitterness and disillusion? How much more personally invested would I be in these two people if I knew the backstory that is unique to them as individuals, instead of the generalized backstory that I need to draw for them in my mind?
So as we round into the final three episodes, the show seems to be telling me that Jin-hee's and Chang-min's previous issues are neatly resolved. The overly emotional woman has learned to control her emotions and has found her purpose in life by becoming a doctor. Thus, she will never fall into such despair and self-doubt as she did previously. The Financially Strapped Man is now a gainfully employed doctor and will not be financially strapped in the future. The Bitchy Mother-in-law will no longer be bitchy, because she's had an epiphany after her husband's death. All problems are solved, the road is straight and clear, green light means go.
And I suppose the logic makes sense…in a slapdash, pat fashion.
Is it emotionally satisfying enough? I dunno. But I'll be happy enough if we've seen the last of the melo, and if the show remembers to put the "com" back in rom-com.
Onward to happier times…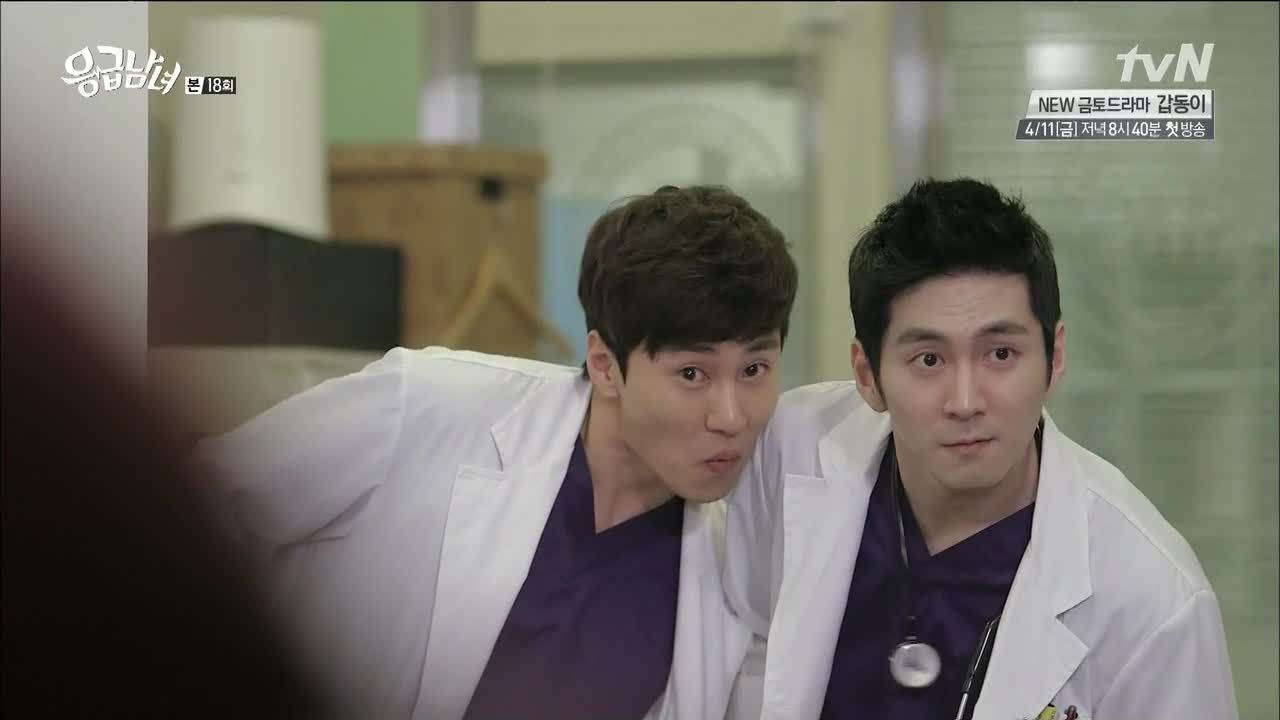 RELATED POSTS
Tags: Choi Jin-hyuk, Emergency Couple, featured, Song Ji-hyo