God's Gift – 14 Days: Episode 8
We get more insights into our characters' pasts this episode and find that almost everyone has something they wish they could change. There are lots of regrets in the past, and some seem to confront their guilt head-on while others try their best to live in denial. But guilt or no, onward we must go, and so do our characters always ready to fight Fate for the chance to fix their destinies.
EPISODE 8 RECAP
Ji-hoon arrives at Min-ah's apartment and demands that she abort their baby. He slaps her for her attempts at blackmailing him and says that he's made her an appointment at the hospital. But she hands over a surgery confirmation form showing that she's already taken care of things. He leaves, telling her to never contact him again.
At the same time Soo-hyun reels from the news of her husband's affair. She tells Dong-chan that all she needs is to ensure Saet-byul's safety. But then she jumps up and races home, saying she needs to see for herself what blackmail documents were sent to her husband.
She tears Ji-hoon's office apart and finds the pictures of him and Min-ah together. She then remembers the first reality and Min-ah's promise to seek revenge for her lost child.
Dong-chan barges into the police station to intercept Jang Moon-soo, the murderer who gave him the tip about the tattooed man buying a zoom lens. He accuses him of feeding him false information, but Jang just laughs—the guy did buy that lens, but in cash. Dong-chan has no chance of tracing him.
Min-ah drags Saet-byul down the street, but Saet-byul breaks free and runs off. Min-ah chases after her and they both run into the path of an oncoming car. Min-ah pushes Saet-byul out of the way as the car comes to a screeching halt.
Nine days before the incident.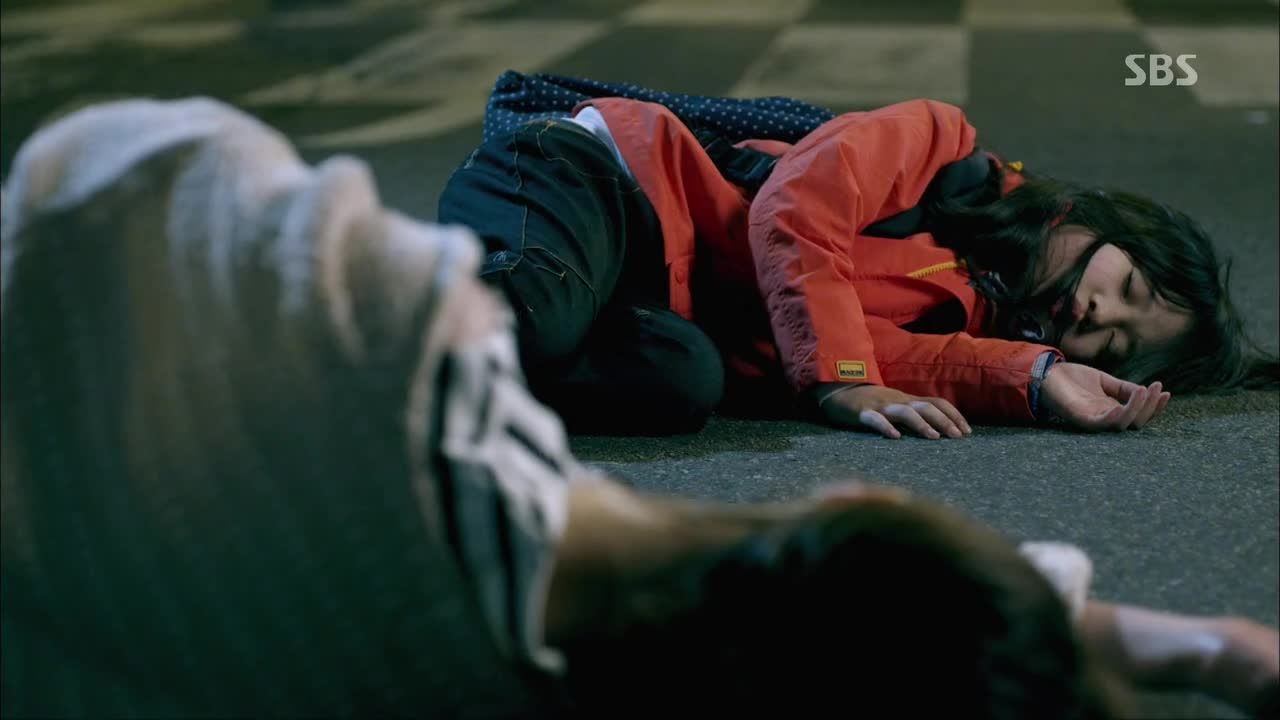 Soo-hyun and Dong-chan head to Min-ah's apartment to find Saet-byul but the place is empty. Soo-hyun panics recalling that Min-ah was the last person to see Saet-byul before her kidnapping. Dong-chan finds Min-ah's hospital receipt, which is a crushing blow to Soo-hyun since the loss of Min-ah's child increases the danger to Saet-byul.
At the hospital they find Min-ah in the emergency room. Saet-byul explains that Min-ah got hurt protecting her, and we see that Min-ah was lying about her abortion. This keeps Soo-hyun's hopes alive so when Min-ah gets wheeled off to surgery, she begs the doctor to save the baby, because that will keep her own daughter safe.
Dong-chan takes Saet-byul to buy a new pair of shoes since she lost one in the accident. It's a nice bonding moment between them and also gives Saet-byul the chance to tell him that she saw the tattooed man they've been looking for.
Ji-hoon sits in his ransacked office and gets a call from Soo-hyun. She tells him to come to the hospital, where she confronts him about his affair. She remembers him blaming her for Saet-byul's death the first time around and she slaps him hard.
Soo-hyun tells Ji-hoon that it's really his fault Saet-byul is in danger and cries about saving his other baby. He tries to pretend he doesn't know what she's talking about, and then attempts to explain himself, but she's not hearing it. Dong-chan has to step in to break them apart, holding Soo-hyun back and promising that he'll make certain that nothing happens to Saet-byul.
In the hall, Dong-chan tells Soo-hyun that Saet-byul saw the tattooed man at Min-ah's apartment, which causes Soo-hyun to run to confront her. Min-ah's asleep and as Soo-hyun looks at her she recalls the prophecy about only one being able to live. Eep, I do not like the look in her eye.
Soo-hyun puts her hands around Min-ah's neck to strangle her, but before she can do it, Min-ah wakes up. Min-ah rears back, glaring and spitting hatefully that she wished for Saet-byul's death and to have Ji-hoon to herself. Soo-hyun threatens to kill Min-ah if she does anything to her daughter.
Min-ah fires back that she almost lost her child while protecting Saet-byul, and that she's just as determined as Soo-hyun to protect her child.
Soo-hyun belatedly realizes that Min-ah may have Saet-byul's life in her hands and immediately drops to her knees, apologizing and begging for Min-ah to spare Saet-byul's life. Min-ah seems to have no idea what she's talking about, and finally Dong-chan drags Soo-hyun out of the room.
Ji-hoon finds Saet-byul with Dong-chan in the hospital hallway, but Saet-byul avoids him. Soo-hyun comes out of the bathroom just then and ignores Ji-hoon and leaves with Saet-byul. He tries to stop them but Dong-chan blocks him.
Ji-hoon slaps Dong-chan and demands to know who he is. Dong-chan just coolly replies that Ji-hoon is the worst for having an affair with his wife's co-worker and for getting his mistress pregnant. They're interrupted by a nurse asking for Min-ah's guardian and Dong-chan says that's Ji-hoon, the baby's father.
Back at home Soo-hyun packs and tells Saet-byul that they'll be staying at a hotel while Ji-hoon goes away. She leaves Saet-byul to pack and we see her try to fit a large black backpack into her suitcase. It doesn't fit and she hides it in the closet when Soo-hyun reenters the room. Oy, I can already tell that backpack is going to be trouble.
Ji-hoon comes home just then and tries to talk to Soo-hyun. She screams at him, incredulous that his mistress was Min-ah and that he conducted their affair in their home. He swears that Min-ah just stopped by one day without notice and that he would never be that thoughtless. Oh, okay Ji-hoon. Whatever.
Soo-hyun asks him if he knows why she married him and says it was because she saw him as a beacon of hope in this bleak and harsh world. As she talks the camera pans out their window and huh, someone is videotaping them from the apartment across the way.
Soo-hyun and Saet-byul finish packing and leave without one more word to Ji-hoon. Just then he gets a mysterious text from someone asking, "How's that?" It prompts him to call back and tell the mystery caller that they've pushed him too far. He arranges a meet-up for later that night.
At the hotel Soo-hyun takes off her wedding ring and cries in the bathroom. She remembers the first time that she saw Ji-hoon, when he was a prosecutor and she was a reporter covering the murder trial. The man was the one convicted of killing the child of the woman who'd thrown a tomato at Ji-hoon at the TV station. Oh, another connection.
The murderer was declared innocent, and to add insult to injury, he'd taunted the parents on his way out. Ji-hoon stepped in his path, however, and vowed to convict him no matter what.
Then, Soo-hyun had seen him standing side by side with the victim's mother in silent protest against the mockery of a legal system that serves as pawns to the rich and powerful. It had made her feel hope in the world, a faith she calls foolish now.
Later, Ji-hoon takes a furtive meeting with his mystery caller and says to take care of it within the week.
Dong-chan nervously sits at home and obviously wants to call Soo-hyun. Grandpa Byung-ho teases and asks him who he's dating and tells him to bring the girl over so he can check her out, ha. Dong-chan swears he's not dating but it is written all over his face. He is smitten. Cute.
At the hotel Saet-byul wakes to the sound of her mom crying. Mom says it's just because she's happy to be with her, but Saet-byul seems to know what's in the air and comforts her. She tells Mom, "From now on, I'll protect you. So don't cry. You have me."
The next morning as they leave their hotel room for breakfast, we see someone watching them from down the hall.
Young-gyu and his grandma are eating breakfast when Woo-jin stops by to visit. He's brought groceries and presents, and it's obvious that he's close with the family and that these visits are normal.
Young-gyu is slightly disappointed that it's not Uncle Dong-chan visiting but grandma treats Woo-jin well and chides him for doing too much for them. Young-gyu lights up to see that there's a present in there for him and tries on the jacket, though he pulls it off a moment later. Woo-jin asks if he dislikes it, and Young-gyu pulls out the red knit sweater that Dong-chan had given him and says he prefers it.
Woo-jin tells Young-gyu he's sorry. Young-gyu laughs that his uncle said the exact same thing.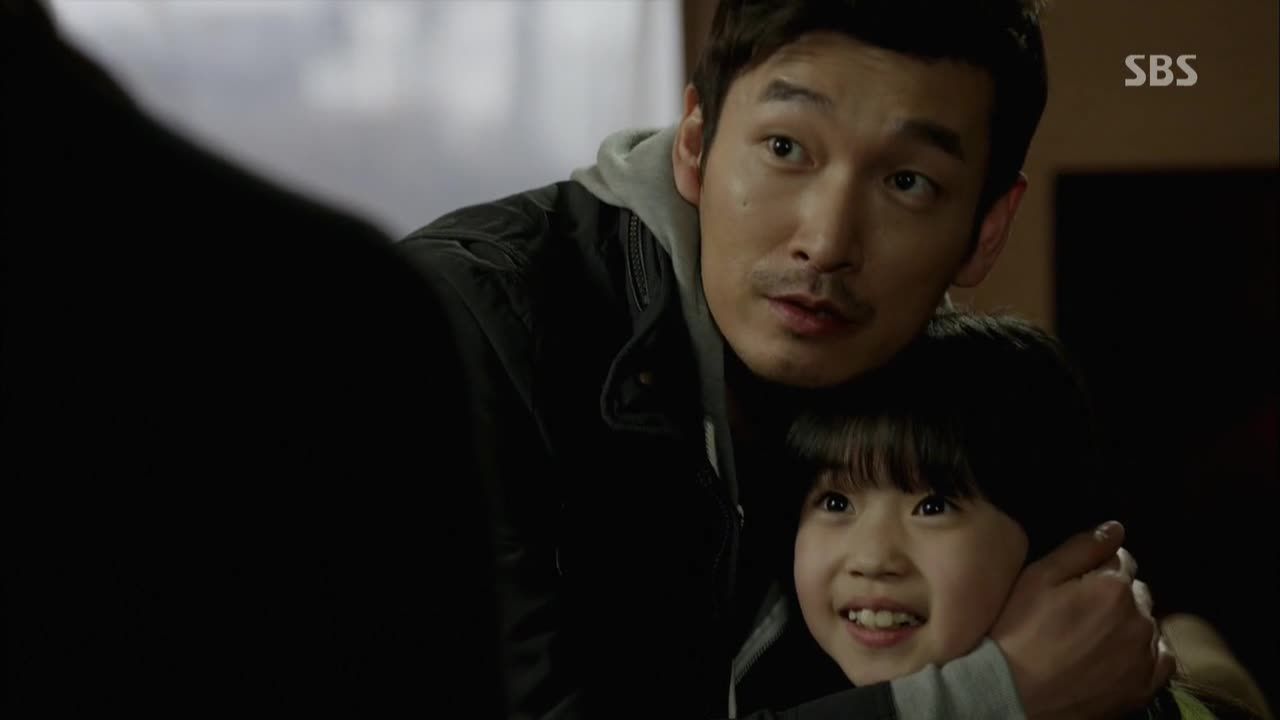 Soo-hyun and Saet-byul return to their hotel room and find it turned upside down. Soo-hyun immediately calls Dong-chan and when he arrives they check out the hotel CCTV. All we see is a man wearing a hat enter their room. He expertly avoids showing his face on camera and all the hotel can do is call the police.
Nothing is stolen except some money, but they're still shaken up. Dong-chan tells them to pack up immediately and go to her mother's house, only to have Soo-hyun reply that she doesn't have one (as in, Mom's dead). Saet-byul says she wants to go to Dong-chan's house, and he agrees. Soo-hyun tries to protest but really can you blame her for saying yes to those cute faces?
At the same time, Ji-hoon goes to check on Min-ah at the hospital but she's gone. Her phone's disconnected too, and he understands that this means Min-ah has decided to have her baby and cut contact with him.
Grandpa Byung-ho has a grumpy reception to their extra guests, but Dong-chan just escorts everyone inside. Saet-byul tries to get along with Grandpa but he remains stubborn, and that gets him kicked out by Dong-chan. Dong-chan rushes around clearing out his girly mags before the ladies see, although Grandpa helpfully returns them to him.
Finally when Grandpa keeps popping up in all the windows and embarrassing Dong-chan (talking about his leopard-print underwear), Dong-chan relents and lets him stay. Heh.
Out in the countryside, Ji-hoon drops by as an older woman flirts and serves a group of men. He intercedes when the woman riles the temper of one of the men, then speaks with her separately.
Ah, this woman is Soo-hyun's mom and she dotes on Ji-hoon for being a great son-in-law. He asks if Soo-hyun has dropped by, but she's quick on the uptake. She immediately knows that he did something wrong and berates him and tells him to leave.
There is now a tent set up in Dong-chan's front yard and he tries to convince Grandpa Byung-ho how great it is. Ha, Grandpa is not falling for it. Soo-hyun insists on going to a hotel but Grandpa Byung-ho asks to talk instead. He asks her if it's true that Dong-chan is helping her and doing good deeds.
She confirms everything and tells him that Dong-chan risked his own life to save her and her daughter. Grandpa scoffs and calls him a hooligan and moocher, but she replies, "No matter what others say, I know well that he's not a hooligan. I've only known him a short while so I can't know all about him, but he's a good and righteous person down to his bones."
Still, Grandpa isn't ready to hand over the money, though Dong-chan gripes about breaking his promises. Grandpa just says that he can't know whether Soo-hyun is trustworthy yet, and decides he'll have to wait and see.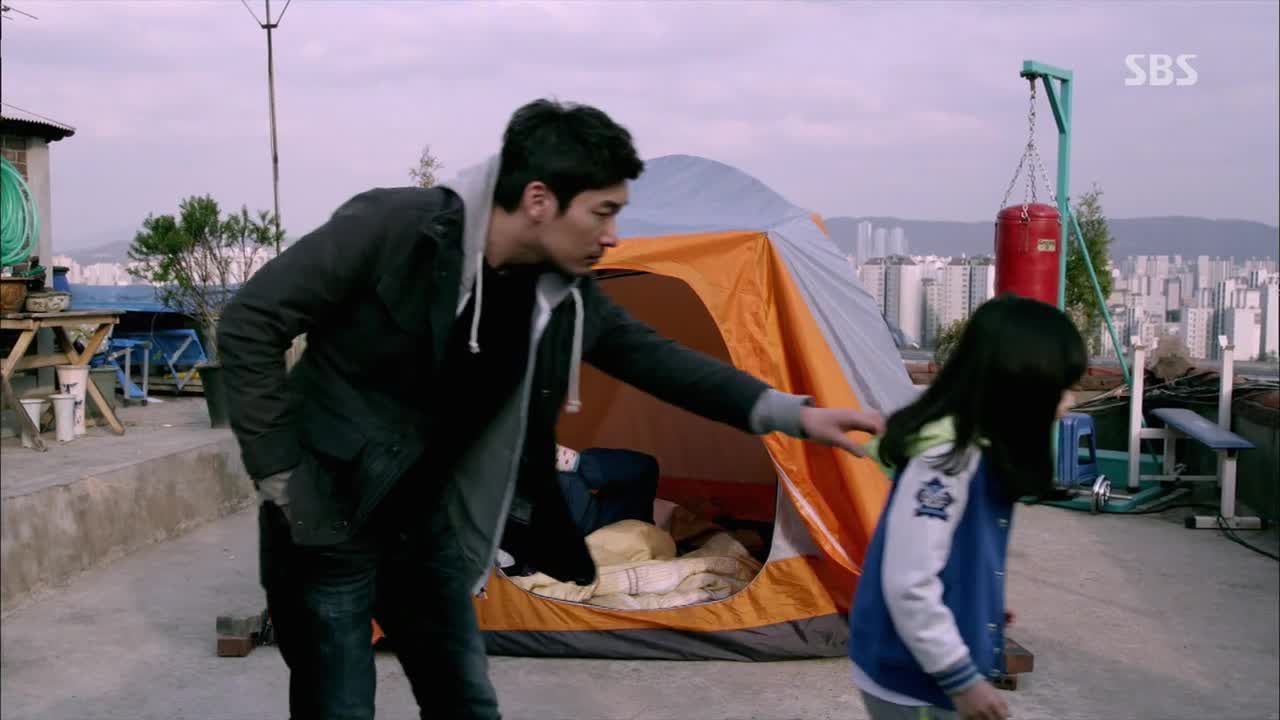 While her mom takes a nap Saet-byul tries to sneak out to get her backpack. Dong-chan catches her and promises to go in her place and tells her to go back inside before she gets in trouble.
She scribbles the security code for her apartment on his hand, and after he leaves Grandpa Byung-ho teases that Saet-byul now has poo in her hair because Dong-chan doesn't wash his hands. Bwahaha. Gross, grandpa.
Meanwhile, Young-gyu's grandma is at work in Soo-hyun's apartment and uses the opportunity to sneak through Ji-hoon's files. We flashback to grandma re-folding Young-gyu's ultimate ddakji, made from Ji-hoon's work papers, and she realizes that they're notes from Dong-ho's murder case. Wanting more information, she had then bribed Saet-byul's nanny to work a few days in her place.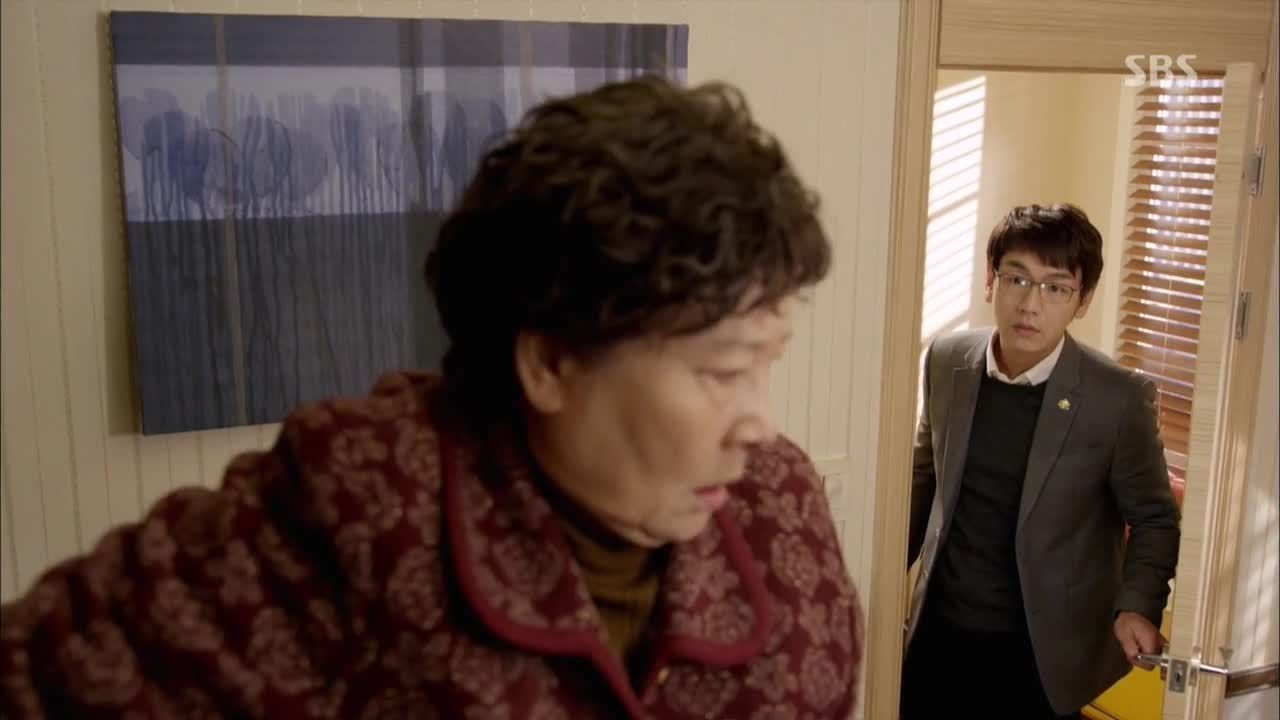 Ji-hoon comes home unexpectedly and catches grandma snooping. She covers and says that she was cleaning and gets yelled out of his office. In the hallway she runs into Dong-chan, who has just arrived and heard everything. His dark face indicates that he knows she was up to something, and he drags her outside.
Dong-chan demands to know what she was doing, and Grandma tries to explain that Ji-hoon was the prosecutor of Dong-ho's case and that she wanted some information. Dong-chan is in a rage and asks if that murderer is her only son and accuses her of thinking Dong-chan is a liar. Grandma finally gets mad and slaps him and says that Dong-ho is not a murderer, but is his brother.
Dong-chan storms off and grandma just collapses. Ji-hoon watches from his window and takes this in—does this mean he's made the connection between Dong-chan and the case?
Overwhelmed with his emotions, Dong-chan pulls his car over while driving over a bridge and punches the guardrail furiously. We go back to his brother's hearing and see that Dong-ho was sentenced to death for the murder of three women, one of them being Dong-chan's first love.
As Dong-ho's sentence is read and he is dragged from the courtroom, Grandma cries and asks Dong-chan how he could betray his brother. He's emotional too and shouts that he saw Dong-ho commit murder, with his own two eyes.
Back at Dong-chan's, Saet-byul finds an old guitar with Dong-chan's name on it. While cleaning the place, Soo-hyun finds a bottle of sleeping pills just as Dong-chan returns. Seeing his bloody hand, she cleans up the wound just as they hear the guitar outside.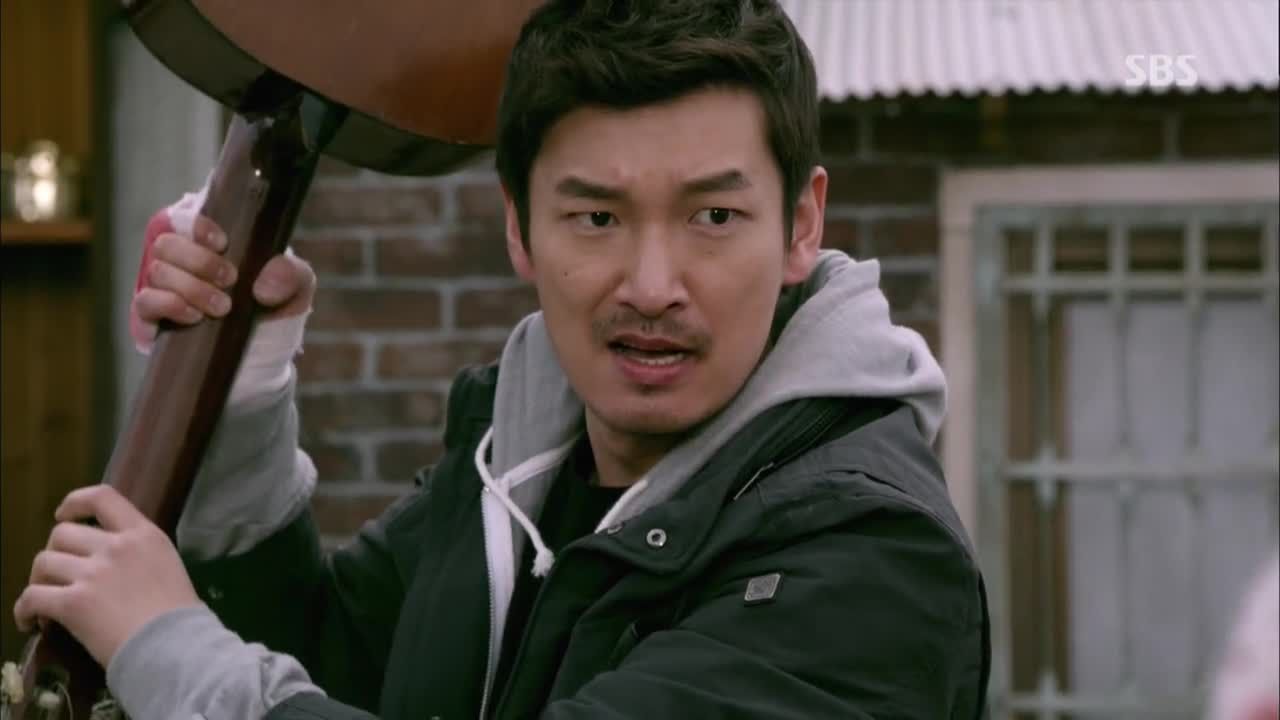 It sets Dong-chan off. He grabs the guitar from Saet-byul and is about to smash it when Grandpa Byung-ho stops him. Saet-byul finds Dong-chan scary, though her mother chides her for touching his things without permission.
Later that night Soo-hyun offers Dong-chan some beer and conversation. He tells her the guitar was from his first love and she jokes that it must be a bad memory for him. He knows she must be curious about his reaction today, but she tells him he doesn't have to talk if he doesn't want to.
Instead, Dong-chan asks her about Woo-jin, guessing that she's the roughneck first love Woo-jin told him about. Soo-hyun says that she owes Woo-jin a lot; he's the one that got her to turn her life around. Dong-chan asks why they didn't get married, and she tells him that his parents opposed the match because she was an orphan.
Their sweet moment is interrupted by Jenny who has dropped by with groceries for Dong-chan. She's shocked to see a look in Dong-chan's eyes that she's never seen before, and then to make things worse she sees Grandpa Byung-ho swigging the water she brought specially for Dong-chan. Deciding to keep his distance, Dong-chan slips away to meet Byung-tae at the office.
The president is in a meeting with his advisors and the news is not good. The recent serial killer cases have upset the public and they want him to make a decision on the death penalty.
Later in private, the president and Minister Han discuss the political ramifications and Minister Han brings up Chairman Chu Byung-ho's objection to the death penalty. Grandpa Byung-ho? The president just sighs that he never expected his relationship with the chairman to turn out this way.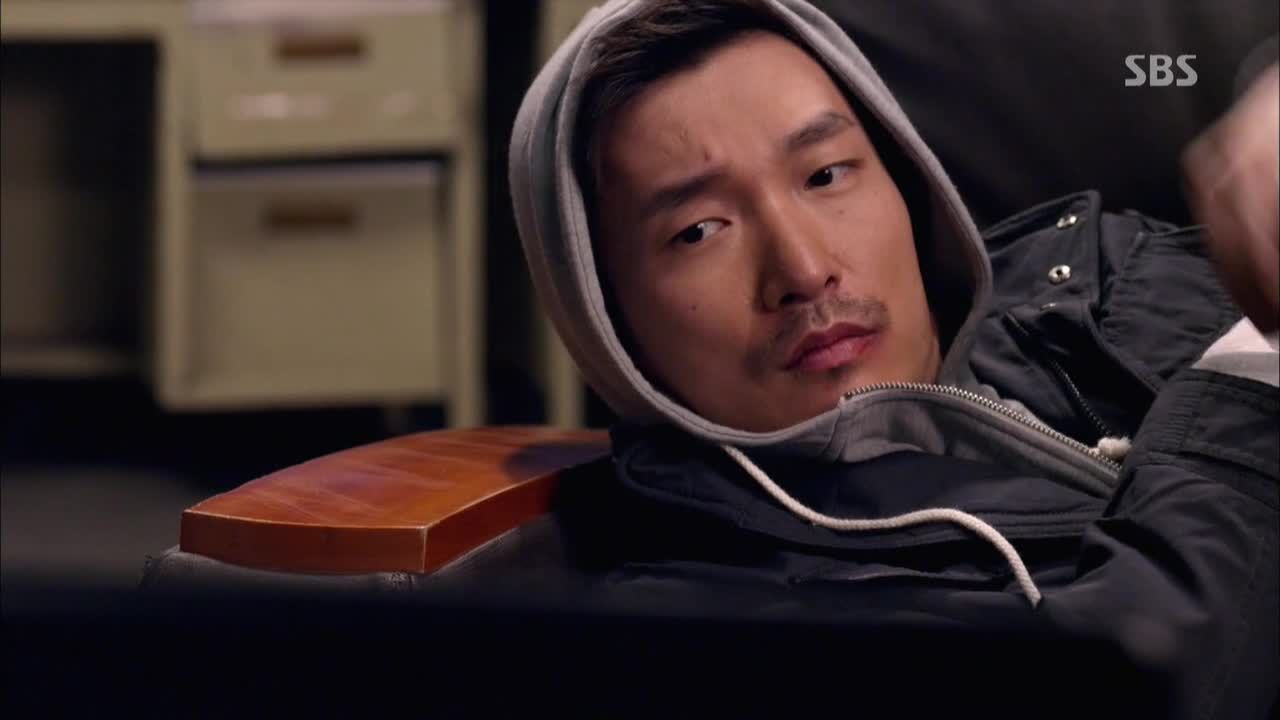 At the office, Dong-chan finds Byung-tae looking over their friend's (the other private investigator) laptop. Byung-tae says they should just copy him and start spying and look for cheating spouses rather than wait for clients. I believe that's called being a peeping tom, Byung-tae.
Just then Byung-tae sees something interesting on the laptop. It's a picture of Soo-hyun's apartment and in the glare of the window is the reflection of another spy looking in.
Dong-chan recalls that their friend said someone had recently broken in and deleted all of his files. Dong-chan realizes the culprit is covering his tracks.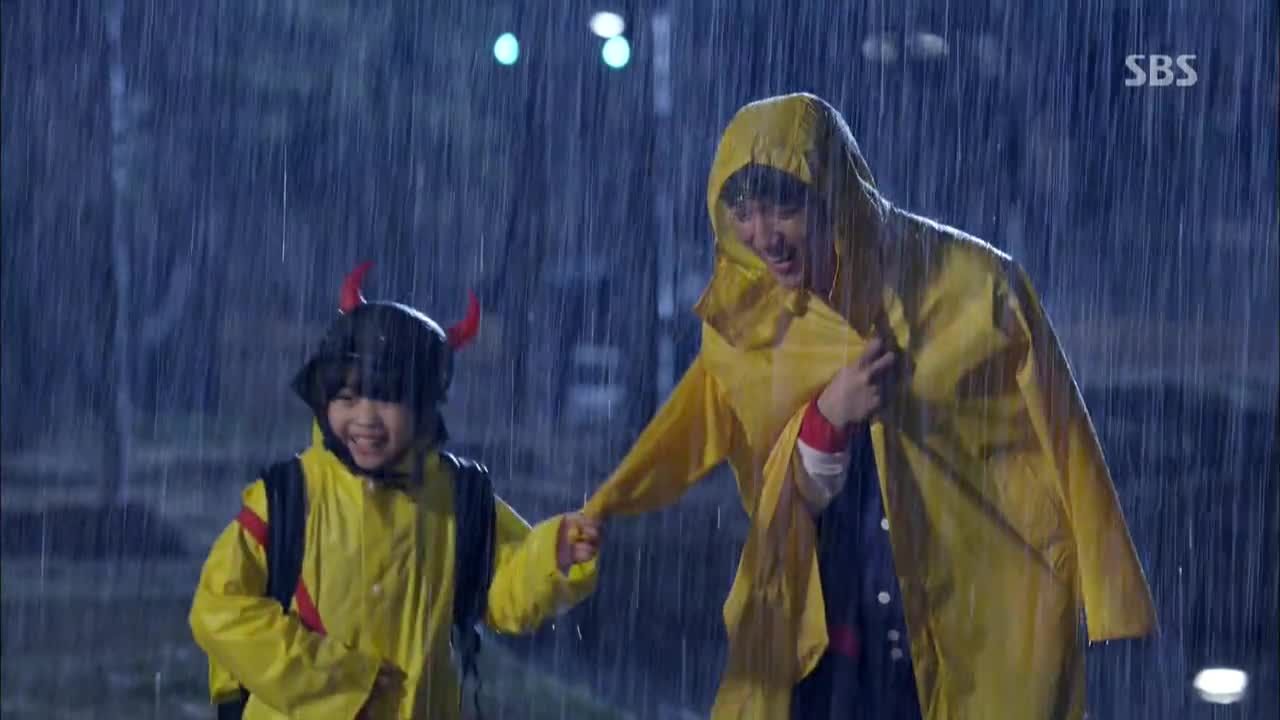 Dong-chan calls Soo-hyun and tells her to come to the office, leaving Saet-byul with Jenny and Grandpa Byung-ho. That would be fine, except Jenny is drunk and asleep, and Grandpa Byung-ho is already gone after receiving a mysterious phone call.
Saet-byul sneaks out and meets Young-gyu to go to the Snake concert. They're just in time for the performance, plus afterward she wants to wait in the parking garage to give her singer oppa a belated birthday gift.
Soo-hyun and Dong-chan figure out which apartment across from Soo-hyun's the spy is videotaping from and head over. Dong-chan busts out a power drill to break through the door lock, which they hide when a man gets off the elevator and walks by to his unit next door.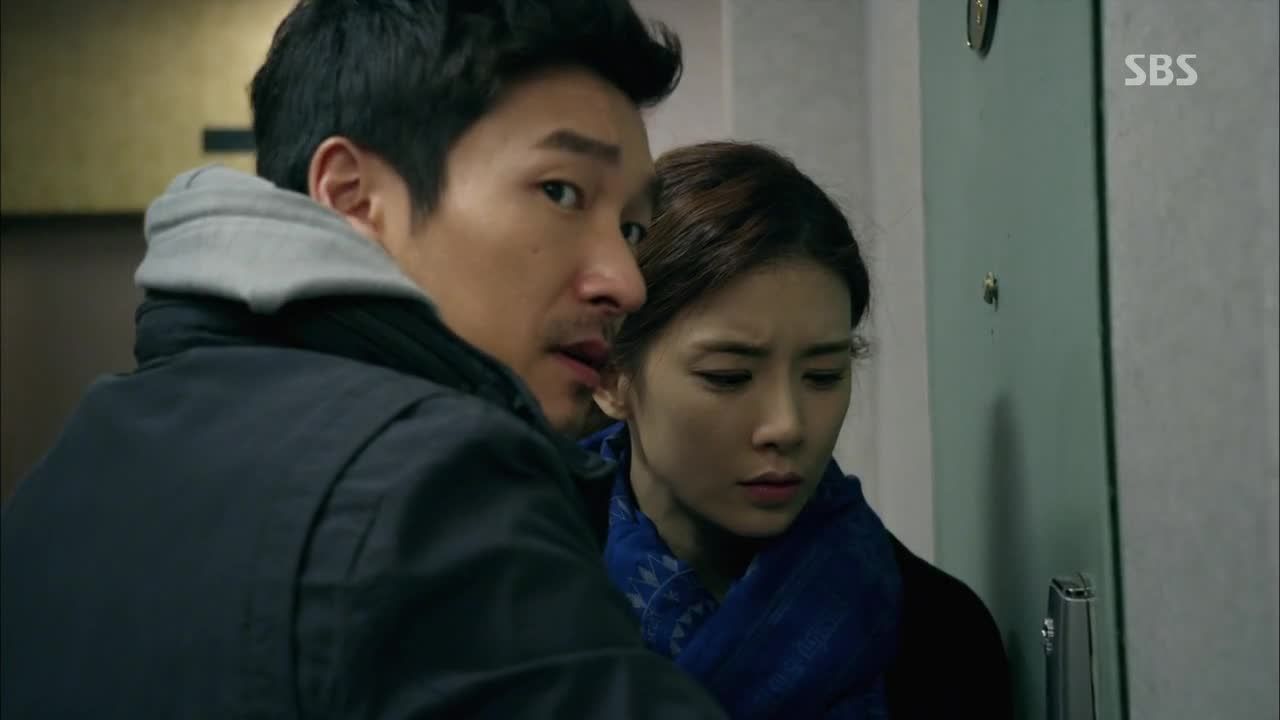 They wait until the man enters his place—not realizing he looks rather familiar—and then resume drilling. Dong-chan finally breaks the lock and they enter the apartment to find it covered with surveillance photos of Ji-hoon and his family, as well as maps and locations connected with red string. There are also photos of Min-ah with Ji-hoon, which makes Soo-hyun wonder if Min-ah wasn't involved after all.
Dong-chan notices that the dog next door has not stopped barking, which is strange. Why would it bark at its owner? He then realizes that it's the tattooed man who broke into Soo-hyun's hotel room and runs next door, bashing in the doorknob with a fire extinguisher to get inside.
The window is wide open and the room is empty. Looking at the street below, Dong-chan sees a man getting onto a motorcycle and about to ride away. Dong-chan tells Soo-hyun to call the police and jumps out the window, dropping down a full story, to chase the rider. Damn.
Soo-hyun runs back to the first apartment to get her phone but it's missing. She bends down to search for her phone on the floor, but freezes when she sees feet poking out from behind the curtain. Someone's the the room.
Before she can run the tattooed man leaps at her through the curtain. Throwing the fabric over her face, he grabs her in a tight chokehold. She struggles, but there's nothing she can do.
Dong-chan races to catch up to the motorcycle, jumping over a fence and knocking the guy down in a flying tackle. He pulls off his helmet and checks his wrist—but it's not the right guy.
The motorcyclist staggers to his feet and flees the scene, and Dong-chan lets him go, confused and frustrated. He calls Soo-hyun, only to have her phone land right at his feet.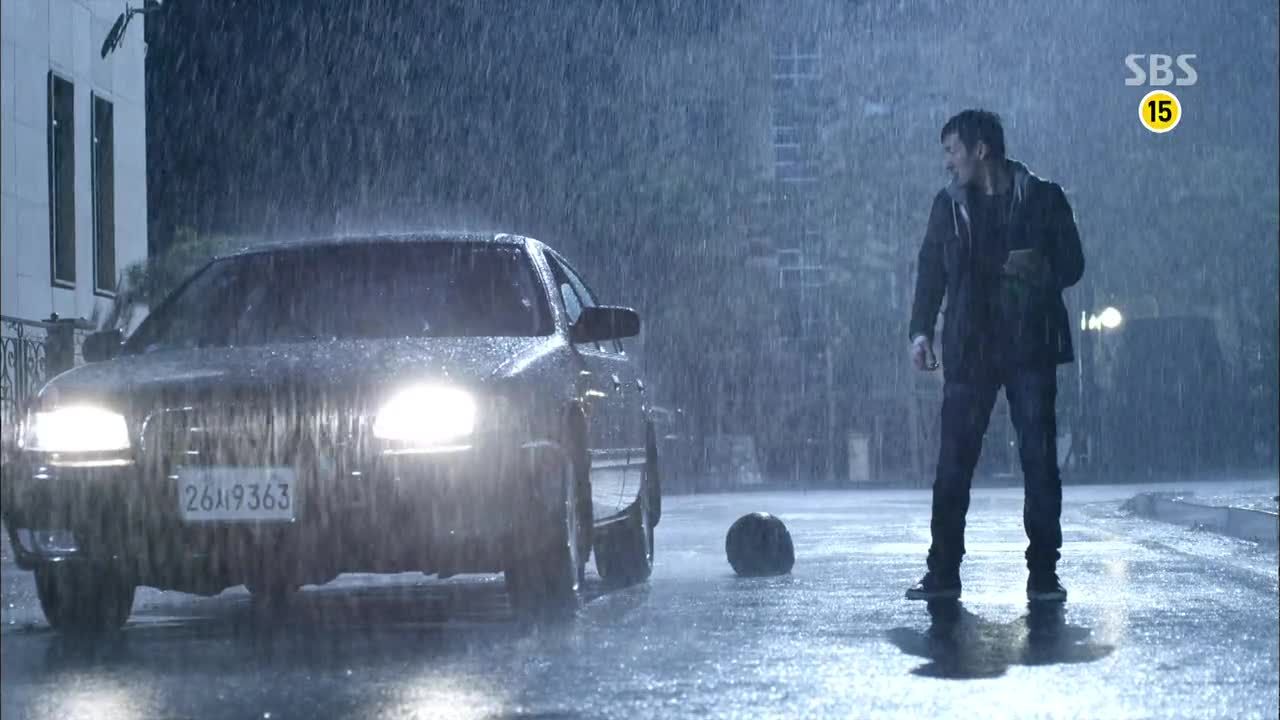 A car slowly pulls up next to him. The tattooed man points behind him, and we hear Soo-hyun screaming for help from inside the trunk. Before Dong-chan can react the tattooed man drives off.
Moments later, Dong-chan receives a text naming a location. Dong-chan follows orders and drives to the address—an entire neighborhood of abandoned buildings marked for demolition. Soo-hyun is nowhere in sight.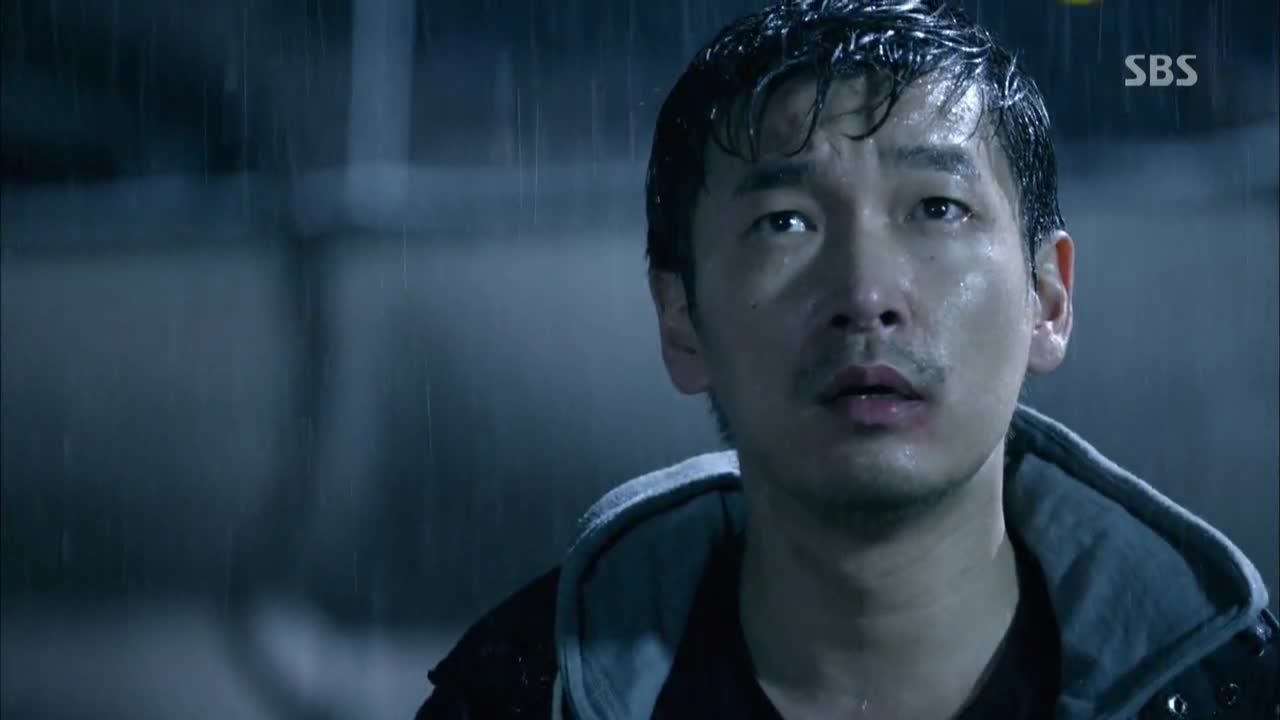 COMMENTS
Soo-hyun! Where is she? And who is this tattooed man? I feel like we're finally making actual progress in our story and starting to get a few real clues to who kidnapped and/or killed Saet-byul. More so than with the previous serial killers, this guy seems to have a direct connection to Saet-byul's family through a grudge against Ji-hoon.
The show is doing a good job of introducing characters' backstories bit by bit, giving us just enough information to cast doubt and suspicion on everyone. And I'm glad that this episode gave us more insight into our main characters and brought their true natures to light.
I'm really glad we got more information about Soo-hyun's past to better understand her motivations. She grew up needing to be tough and self-sufficient because she was abandoned by her mother. Her pain was so great that she grew up not wanting to become a mother herself. That makes the threat of losing Saet-byul seem even greater. Because now that we know Ji-hoon is not the perfect husband that he seemed to be, Saet-byul really is the only family that Soo-hyun can count on.
It always kind of bothered me that Ji-hoon wasn't the one Soo-hyun was able to rely on throughout this whole ordeal but now I'm beginning to understand why. Soo-hyun fell for Ji-hoon because of his strong moral character but it turns out that it was all an act and that what Soo-hyun had wanted and depended on was nothing but lies.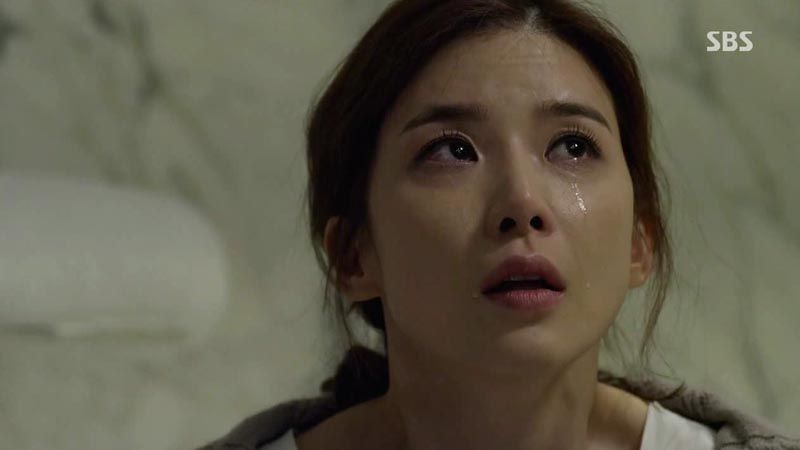 In addition to the cheating, it's apparent now that there was never that much trust and respect between them to begin with. Ji-hoon never believed her and she never tried that hard to convince him or explain things. Did he ever really respect her as a person? Ji-hoon was certainly a lot darker and evil this episode. Is that his true nature? Has the morally upstanding human rights lawyer persona been an act this entire time? I don't think it's fair to characterize people as either 100% good or bad, and it was nice to see another character that was flawed and layered. It isn't pretty or admirable, but it's real.
So now the question is how morally ambiguous is he? I think there is definitely more than just his affair. Something obviously happened in his past to change him from tough prosecutor out to nab the bad guys into a human rights lawyer standing on the same side as the accused. So what happened? And is it the catalyst to Saet-byul's murder?
It feels like there are a couple mysteries floating around out there and that they are connected in some way. And that all of these secrets and mysteries and connections keep popping up because they need to be solved.
But as usual, more information only brings up more questions. I'm still suspicious of Min-ah and her role in everything too. Until I know more about her relationship with the tattooed man, I wouldn't be surprised if her affair with Ji-hoon was just another part of some bigger revenge scheme.
Once again Dong-chan broke my heart this episode. We finally learned more about his brother's case and it is heartbreaking. I don't know what Dong-chan really saw, and I doubt that he does either. I think the grief of losing his girlfriend and the shock of the murder suspect being his brother drove him to try to find any answer to ease the pain. I think he has been living in denial for years and that the guilt over testifying against his brother is crippling him. Grief is strange and people deal in their own ways. So for now the only way he can cope is to hold onto this truth that might not be true.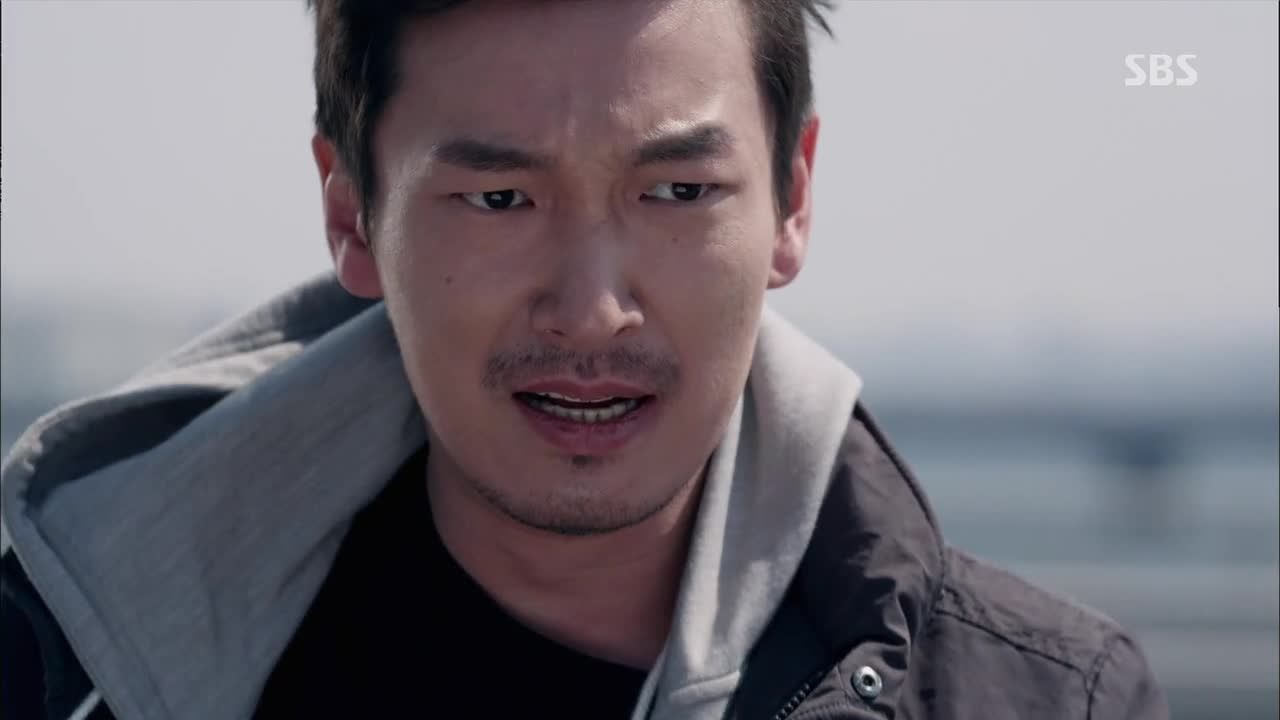 So like I've said before, I'm really glad that Dong-chan was also given a second chance. All these fates are strangely connected and I do believe that by figuring out Saet-byul's murder he will open the door to discovering the truth about his brother's alleged crimes.
And I don't think it's a coincidence that Soo-hyun and Dong-chan have been brought together. The Universe/Fate seems to want them to figure it all out and "fix" things for everyone. They complement each other well and balance each other out. She's there to show him that he needs to confront his past and he's there to reign her in.
On that note, now that we know that Ji-hoon is a cheater it's opened the door for us to root for a possible romance between Soo-hyun and Dong-chan. While the idea of them together makes me squee, I also question how necessary it is for the story overall.
It also worries me because the prophecy stated that only one out of two could live to end this fate. And if they truly are the ones connected by this strange fate, then does it mean that one of them has to die? We all assumed that the prophecy was about Saet-byul and her killer, but now I'm not so sure. Seeing how intertwined and difficult their ordeal has been so far, I really doubt that their magical second chance is free.
Of course I hope I'm wrong and can only wait to see what happens next. In my mind Dong-chan and Soo-hyun will find a way to defy Fate and the prophecy, and uncover and correct all the wrongs of the past and enjoy the happiness of their new futures.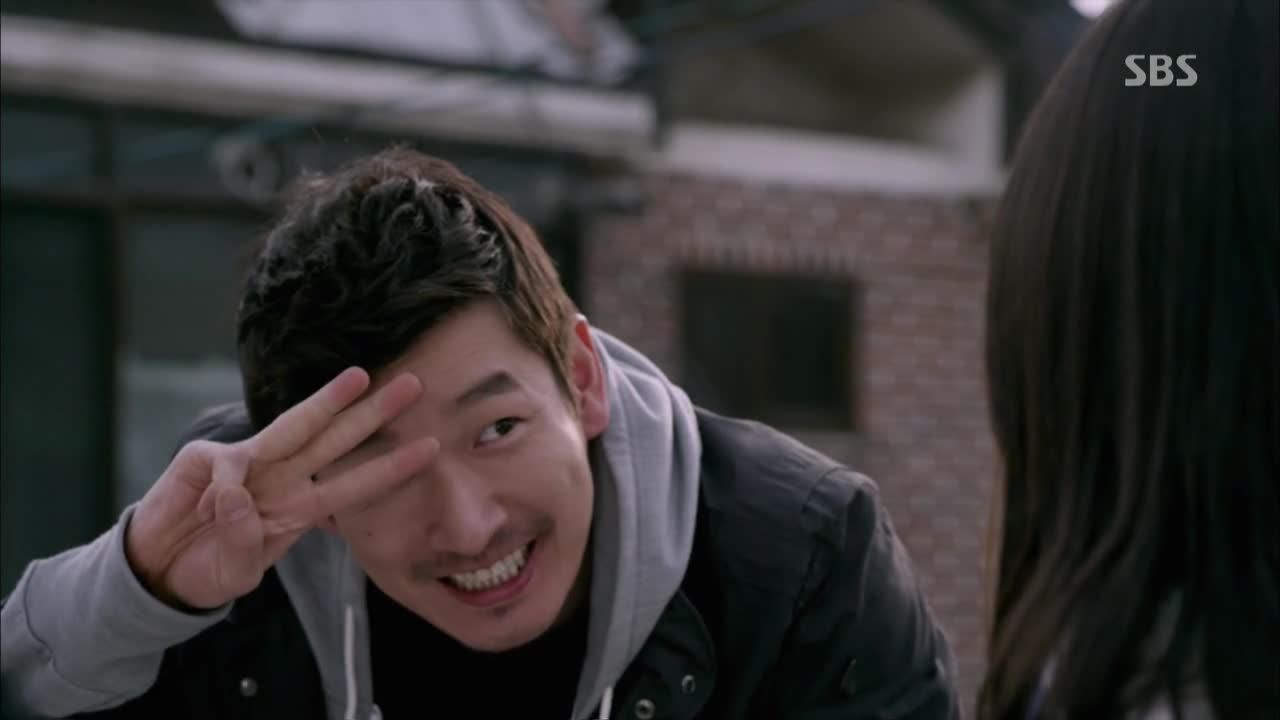 RELATED POSTS
Tags: featured, God's Gift – 14 Days, Jo Seung-woo, Lee Bo-young