Sly and Single Again: Episode 4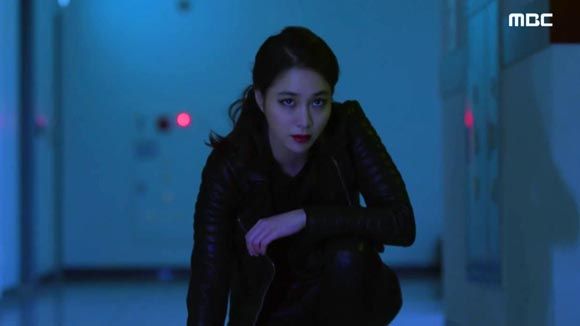 I don't know about you guys, but I'm now solidly behind this show. Episode 4 was sweet and playful overall, and it did a good job of setting up future relationships. It even began to change my opinion of second lead Yeo-jin, as her cold exterior cracks in places and we begin to see a warmer, more open side of her personality. And of course the sparks continue to fly between our star-crossed lovers, who spend most of the episode finding out who can be pettier and less sincere than the other. I'd be a little dismayed by their constant bickering and one-upsmanship, if it weren't for the deeper feelings I could see bubbling up under the surface. If they fall in love once more (or for the first time), I think they'll do a better job of it now that they've seen the worst of each other. And if things don't work out, well… we've got a pair of chaebol siblings just waiting for the chance to step in and mend some broken hearts.

EPISODE 4 RECAP
We left Ae-ra in the hands of the DonTalk security guards, who believe that she may have stolen some important data. The evidence is against her because it was her ID card used in the theft, and she was also the last person captured on the CCTV cameras. Ae-ra knows this is preposterous — if only she could remember what happened after she left the company dinner last night!
She tries valiantly to piece together her memory of the night before, while the lead security guard spins a story of his own. He invents quite the tale of thrilling espionage, with Ae-ra infiltrating the company, copying the data onto a USB drive, and wiping the CCTV footage to cover her tracks.
The scene plays out before our eyes, with Ae-ra looking sleek and sexy in her James Bond outfit. The imaginative security guard really gets into it, adding details such as the "sleeping potion" Ae-ra supposedly used to knock out the night guard. Ae-ra listens in increasing disbelief, but she can't force her alcohol-fogged memory to produce an alibi.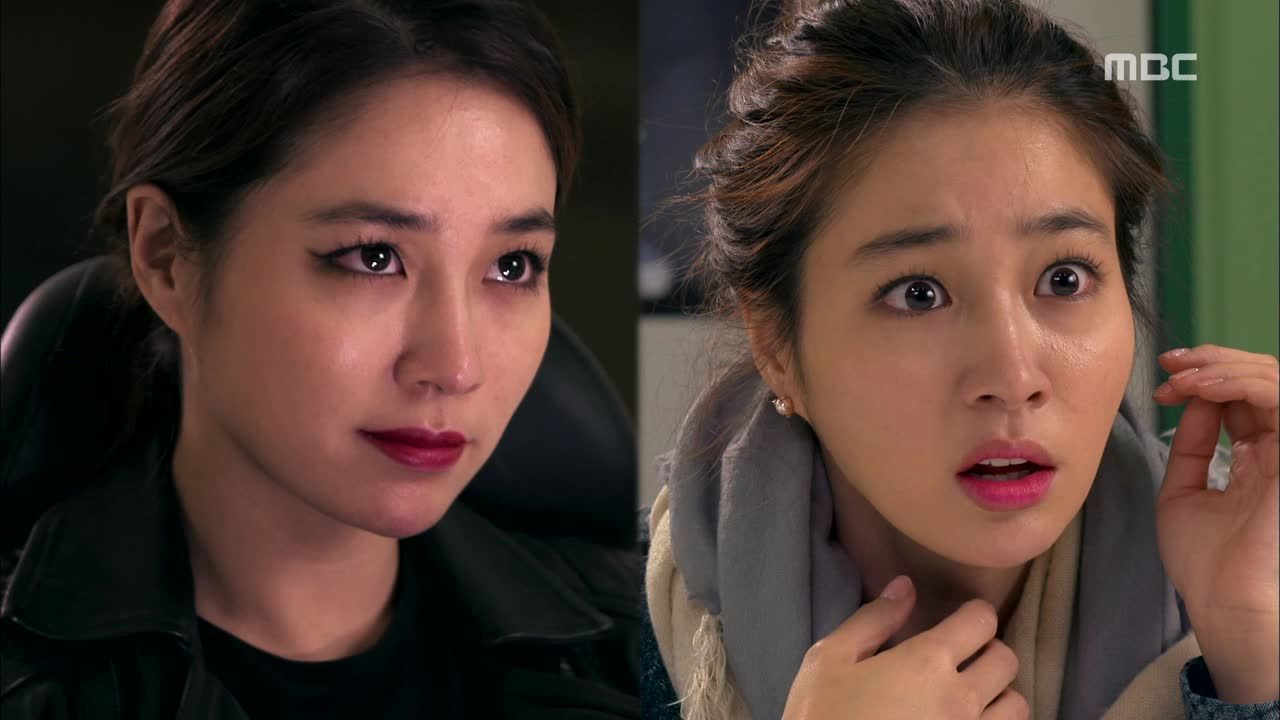 Secretary L also suspects that Ae-ra entered the company with ulterior motives and voices his suspicions to Jung-woo. Jung-woo tries to remain calm, but suspicion eats at him until he has to find out the truth for himself.
Jung-woo strides out and makes his way to the parking garage, only to discover that someone has sprayed an incomplete message on the hood of his car. The security footage from inside the car shows Ae-ra breaking out the spray paint and verbally berating Jung-woo. Watching the video later, Jung-woo and Secretary L jump as if watching a horror movie — and it's hard to blame them, seeing Ae-ra's drunken rage.
Jung-woo arrives in time to get Ae-ra off the hook, although the embarrassment of having the entire security team see her drunken antics probably makes prison seem less onerous by comparison. The security guard apologizes for the mistake, and Ae-ra is home free — except for having to scrub the spray-paint off Jung-woo's car.
In his office, Jung-woo puzzles over the unfinished message. It's only a few characters away from "son of a bitch," although Ae-ra denies to Secretary L that she had any such intention. (It's hilarious that Jung-woo can't figure out what she meant to write, as it is the equivalent of seeing "ASS H—" and wondering what the rest of the phrase was.)
Min-young greets her later that evening in the apartment, holding out a bag of tofu as if Ae-ra has just returned from prison (it's traditional to give tofu to inmates when they are released — the white color symbolizes a new start). Min-young points out that, once again, Jung-woo has come to her rescue. Although Ae-ra grumbles that she never had trouble with the law before Jung-woo came back into her life, she has enough grace to admit that she could have been in huge trouble if he hadn't come forward.
The next day at work, she sneaks off to try and thank him. Thanks to an overheard phone conversation in the restroom, Ae-ra learns Jung-woo's whereabouts and ambushes him in the Great Big Glass Elevator. She tries to thank him for helping her, but Jung-woo refuses to make eye contact. He even childishly takes out his phone to pretend to text someone.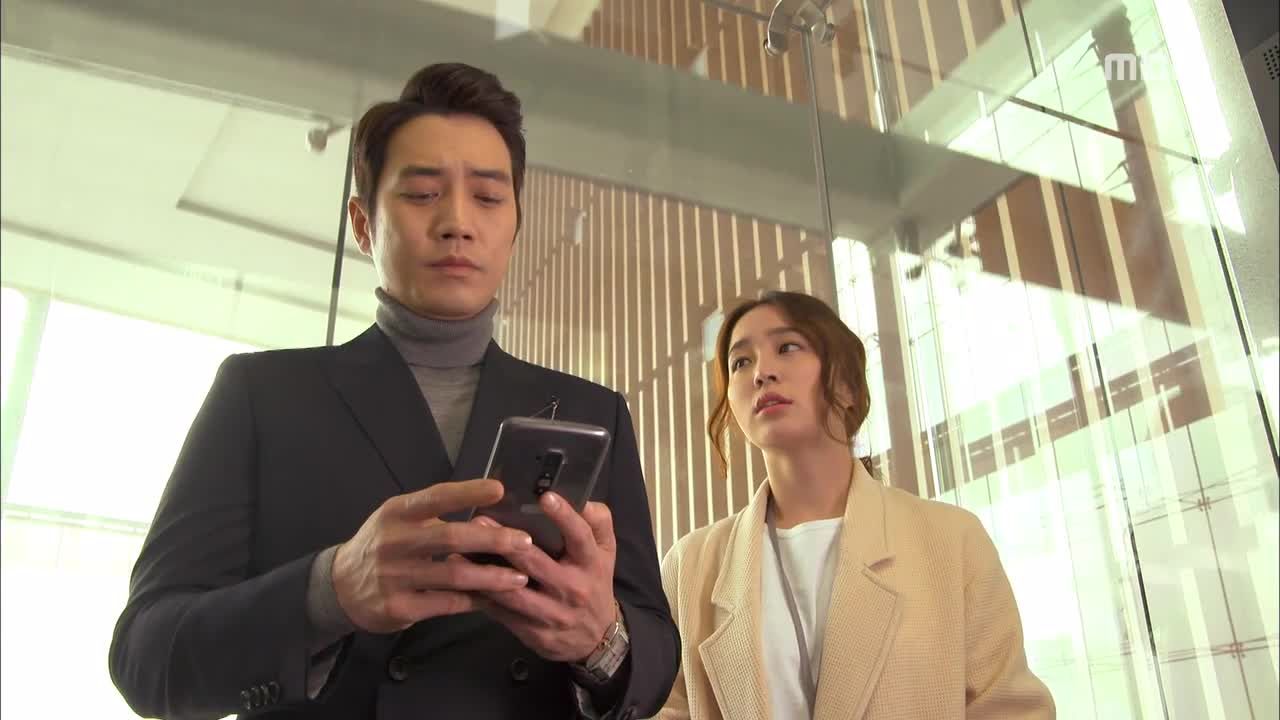 He leaves first, never saying a word to Ae-ra. He does, however, take a moment to congratulate a female employee on her birthday, no doubt meaning for Ae-ra to see.
Ae-ra's catty sunbae gives Ae-ra a hard time when she returns from her 30-minute "bathroom break," but the tension is defused when Manager Wang waltzes in to announce the upcoming "Dinner with the CEO." The dinner will be the prize given to the team member who makes the best sale for an upcoming event. Seung-hyun scoffs that having dinner with the CEO isn't that great, but Ae-ra's eyes light up when she sees an opportunity to kickstart Operation Woo Jung-woo.
Meanwhile Jung-woo drives himself to an expensive-looking house, followed — for no reason immediately apparent to me — by Director Oh. Jung-woo disappears into the house, leaving the Director to wonder if Jung-woo is seeing a woman, although when he asks Secretary L about it, he gets a denial. The secret is revealed when Jung-woo looks at a model house that looks exactly like the real one: it's the house he promised to build for Ae-ra. Jung-woo looks wistfully at the model, remembering the day he presented it to Ae-ra as a symbol of what he meant to give her.
Ae-ra's father triggers another shouting match when he buys an expensive suit with money earned by his wife, but with some fast-talking and romancing he manages to avoid getting kicked to the curb. Soo-cheol asks why he bought the suit, but we don't hear his response.
At the DonTalk headquarters, Manager Wang gets chewed out by Yeo-jin for Ae-ra's outrageous behavior. She plans to get back at Ae-ra by assigning her a particularly difficult assignment for the sales competition. Seung-hyun overhears his colleagues gossiping that Ae-ra is being set up to fail, and the idea of an easy way out of his intern job prompts him to swoop in to volunteer to join her team.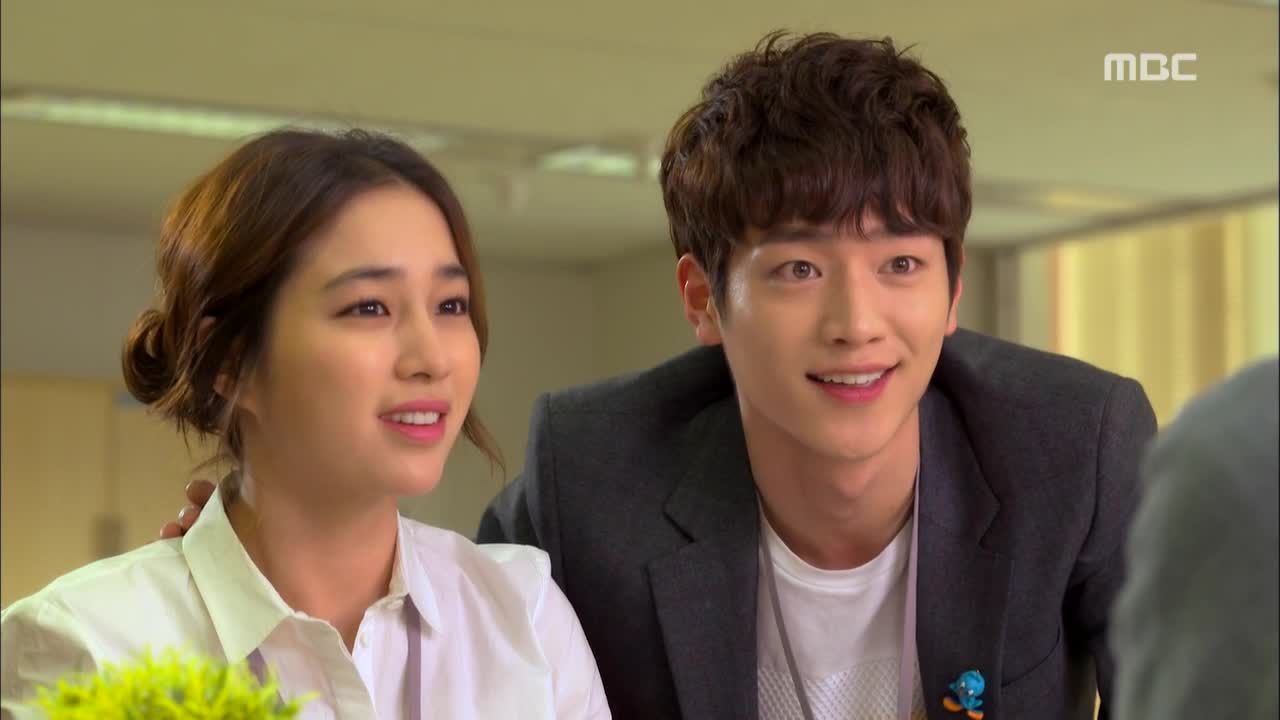 It soon becomes clear why Dad bought the suit, because he tries to see Jung-woo at his office. He is detained by security guards who tell him that he can't get in without an appointment, but Ae-ra's dad is undeterred — he simply hides in a bathroom until Jung-woo comes in to take a leak.
Not sure how Dad avoided the security cameras (not to mention how he knew the one bathroom the CEO would use), but the expression on Jung-woo's face when he sees his former father-in-law in the loo is worth a minor plot hole.
Ae-ra's father returns to the restaurant and confronts Soo-cheol about the money he received from Jung-woo. Soo-cheol, who doesn't have the best poker face I've ever seen, soon caves under his dad's scrutiny. He confesses everything, saying that the only reason Ae-ra didn't kill him was because he lied about Jung-woo calling him first to offer the money.
Unfortunately, Mom overhears Soo-cheol's confession and chases him out of the house. Soo-cheol's father manages to get him a suitcase, but it looks like Soo-cheol will be out in the cold for a while.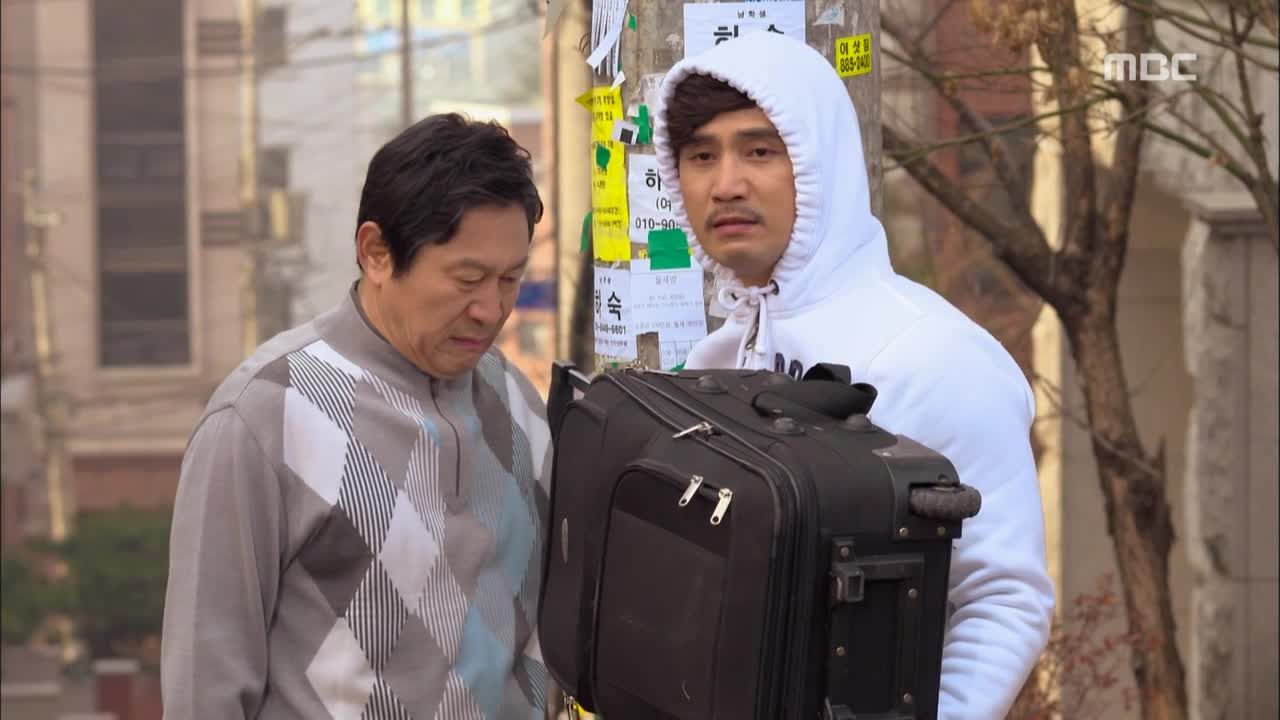 Ae-ra and Seung-hyun go to see the manager of a fancy restaurant, who doesn't seem all that enthusiastic about their company's proposal to sell discounted tickets to their fancy buffet. Seung-hyun tries to keep Ae-ra from pushing the sale too hard, later pulling her away through the lobby.
"Why do you try so hard?" he demands. "It's not like you're the CEO, and you don't get paid more by working harder."
She treats him to a lecture about trying your best, because you never know if an opportunity is waiting nearby. Seung-hyun acknowledges the point after she walks away, and looks more smitten than ever with his snarky, hardworking noona.
Ae-ra goes up to the roof to find it already occupied by Yeo-jin, who is de-stressing with a cold beer. She looks a little taken aback to see Ae-ra, but offers her a drink.
She gently scolds Ae-ra for dealing with her frustration with the company by doodling on the CEO's car. Ae-ra, embarrassed, changes the subject and asks if Yeo-jin is going through heartbreak. Yeo-jin admits that she feels as if she's betraying the person she promised to love forever, but Ae-ra tells her that love doesn't stay in one place. If Yeo-jin loves someone new, she should follow her heart and go all in.
Ae-ra's advice works; later, Yeo-jin tells her secretary to take the car home. She's staying late, and intends find her own way home — rawr. She calls Jung-woo, visibly nervous, and although he is characteristically clueless, he does end up driving her home.
Yeo-jin teases Jung-woo about the employee dinner. He retorts that she should hold a similar event for the male employees. "Only if you take part, too," she says with a shy laugh.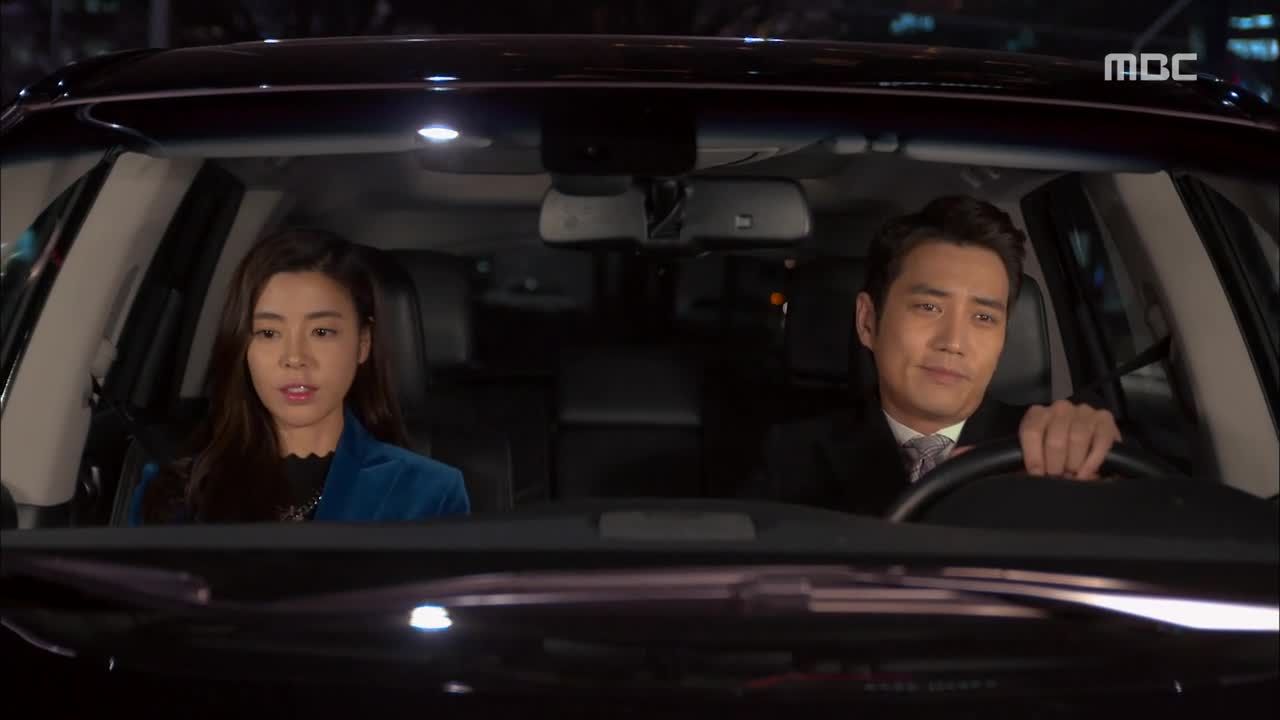 Ae-ra's sunbae learns that her chef hasn't come through, while Ae-ra gets a call from the hotel manager promising 500 buffet tickets at half price. Seung-hyun gets a call from his friend at the hotel — aha, so he did pull a few strings for Ae-ra! The friend asks why Seung-hyun's suddenly working so hard, since he never expressed any interest in business before. Seung-hyun says that he isn't interested in business, looks at Ae-ra, and adds that he's interested in "another area." Down, boy!
He gives Ae-ra a bouquet of rolled-tissue flowers to congratulate her on the sale, and now it's official — Seung-hyun's suffering from a serious case of noona-love. Too bad his crush now has a free ticket to a romantic dinner with the CEO.
Secretary L and Jung-woo prepare dinner together, until the secretary leaves for an overnight trip with his girlfriend. Jung-woo despairs over cooking the rest of the meal alone, and is on his way to try and cancel the dinner when he learns that Ae-ra is the winning intern. Next thing you know, Jung-woo and Ae-ra greet each other in his office apartment, wearing huge fake smiles because of the reporter and the photographer covering the event.
During dinner Ae-ra tries the food (which is burnt, ha!) and gives Jung-woo some sickly-sweet compliments on his cooking. They exchange honeyed words, with their real (and very snide) thoughts coming through in voiceover. The reporter pushes Ae-ra to ask Jung-woo a question, so she asks if he, like her, has a past he wishes he could change.
Jung-woo says that the past can't be changed, and recommends that she get on her knees before the person she wronged and beg for forgiveness, "although I don't know if that person would accept."
Jung-woo puts on airs about his wealth, especially the thousand-dollar wine that he bought in France. It's called Cheval Blanc, which means White Horse. Jung-woo is very proud of becoming the modern-day prince riding that white horse, the kind of guy women wish will rescue them.
Ae-ra responds to his posturing with some wonderful scornful expressions, but the cost of the wine does make an impression. That doesn't stop her from tossing it back box-wine-style, though.
Eventually the reporters depart, leaving our two lovebirds alone in the apartment. Ae-ra scoots closer on the couch and switches to banmal. "You've really changed," she says, soft voice clashing with the glint in her eye.
She says she is worried that he isn't the same person anymore. "I miss the old you." She's lying like a rug, of course, but Jung-woo is in no danger of being fooled. He leans in close, and tells her that she has something in her teeth.
He takes her to see the house he had built, which is a larger version of the dollhouse he made her years ago. She sees the large windows and the potted plants she'd envisioned, and asks when he did this. "Little by little," he says, "because it was my dream."
Ae-ra is moved to genuine tears as she sees the house he'd promised her. She puts her head against his shoulder, and says "Our dream." But Jung-woo pulls back and clarifies: "No. My dream."
He tells her that he wanted to show her how he's going to live with the next woman he meets, who will love and support him through all hardships. He leaves, but not before asking her to act appropriately in the future, as an intern to a CEO.
She's dejected next day at the office, and we even see that she's written a letter of resignation. Seung-hyun approaches her after work and admits that they met before, and that she's wearing his muffler. He offers to buy her drinks to thank her for finding it, and although she looks away with exasperation, there's no way she's turning down an offer of free alcohol, especially not combined with that pretty face. I mean, would you?
Seung-hyun displays impressive perception by guessing that Ae-ra is upset because of something that happened during her date with the CEO. She asks his age when she thinks he's acting a bit cocky for someone so much younger, and we find out they're eight years apart.
He distracts Ae-ra from her melancholy thoughts by showing her a magic trick with a bottle of soju (and yes, I am going to try this myself — will report next time as to whether it actually works).
Then, in a coincidence that could only happen in dramaland, they recognize the guy who ran into them both at the office and took Ae-ra's ID card. Seung-hyun throws the thief to the pavement with a classic judo move, and it's good to see that the judo scene between Seung-hyun and Jung-woo served more of a narrative function than displaying some crackling sexual tension (don't believe me? Go back to Episode 3 and see for yourself!).
Ae-ra reunites with Seung-hyun at the police station, where she gives the would-be corporate spy a piece of her mind. It turns out they apprehended him the day before he was going to sell the company's data to China. The DonTalk security guards are briefed by the police, while the irrepressible Seung-hyun takes a selfie of himself, Ae-ra, and the duplicitous Data Thief.
In the company boardroom, Yeo-jin reams out the upper-level employees for being so careless, and brings in the interns responsible for saving the day. Seung-hyun winks at his sister and announces that Ae-ra did everything. Jung-woo has no choice but to congratulate Ae-ra, and she shakes his hand with a wonderfully self-satisfied smirk. Ae-ra cheerfully assures Jung-woo that she will work even harder from here on out.
COMMENTS
I was worried for a while there near the end, but Ae-ra is up and swinging. The decision to end Episode 3 with a rather weak cliffhanger had me worried, but Sly and Single Again impressed me by moving past that moment quickly, even working it for a few quality laughs. The overactive imagination of the security guard cracked me up, and Ae-ra makes white-collar crime look good. The eventual unraveling of what actually happened seemed well-paced to me, and it showed that Jung-woo isn't quite petty enough to let Ae-ra take the fall for something that wasn't her fault.
Episodes 3 and 4 have done a LOT to get me on board, even (and you can't be as surprised as I was) in the case of Yeo-jin. She displays a much warmer side this episode, especially in that brief moment on the rooftop with Ae-ra. She's been through heartbreak, but she's trying to heal and move on like a healthy person should. She doesn't have the natural confidence that Ae-ra has – just compare her hesitant efforts to reach out to Jung-woo with Ae-ra's sly wink in the restaurant all those years ago. Seduction is not Yeo-jin's style, but she's trying gamely to show her affection without any tricks or misdirection. So while I'm not actually rooting for her to succeed, I like the direction she's going, and I find myself hoping that she will become better friends with Ae-ra before they discover they like the same man.
The big question for me is how Jung-woo will act going forward. So far his actions, while petty, haven't convinced me to write him off as a lost cause. Yes, he needs to think more about how Ae-ra suffered during the marriage and after, but I'm confident that will come. And even though he's making himself pretty unlikable by flaunting his newfound wealth in front of his ex-wife, I kind of like that he's so blatantly obvious about it. His complete transparency softens the obnoxiousness a little, because you can tell he's motivated more by a childish and petty revenge than any deep-seated investment in his power or status. However, there's a limit to the excuses one can – or should – make for a person who's acting like a royal jerk. I could understand some of Choi Young-do's behavior in Heirs, for example, simply because growing up in an abusive household would often does lead one to act out, but at some point a guy's got to rise above his own pain and be a better man. I'm honestly not sure which way Jung-woo's going to go, and it's making me nervous.
One good sign is that Jung-woo is still very much insecure in spite of his wealth, which shows that he still cares about Ae-ra's opinion of him. There is still potential for the two of them to forge a new connection, even after that terrible moment in the model house. For me, that was the low point for both characters: Ae-ra, though genuinely moved at seeing the house, definitely moved too soon with her embrace; Jung-woo, on the other hand, set a Personal Best in Asshole-ishness by showing Ae-ra the house only to taunt her about the future she threw away.
If you'll allow me a slight tangent, I'm also liking the show because it's quite a bit like Jane Austen's novel Persuasion, which is famous for depicting a second chance at love (it is less well-known for being one of the novels I wrote my senior thesis on in college). Persuasion raises the idea, which I think is quite appropriate for Sly and Single, that sometimes love needs the right timing as much as it needs the right people. I fervently hope that the romance in Sly is just beginning, and that Ae-ra and Jung-woo will stop living in the past in time to see the new future that they could forge together.
The workplace set-up is really working for me, and it's fun to watch such charismatic characters sniping at each other. Sooner or later, though, I hope they realize that figuring out who hurt the other more is just an exercise in self-gratification.
RELATED POSTS
Tags: featured, Joo Sang-wook, Lee Min-jung, Sly and Single Again