Greed and crime drive financial thriller Golden Cross
The first poster's out for KBS's Golden Cross, and it looks pretty sleek. It also sort of looks like Kim Kang-woo is hugging himself (and Lee Shi-young), but overall the broken visual effect is kinda cool. The copy on the poster reads: "0.001% of greed, 100% of crimes, 1% of evidence." It's mathy, but I'll forgive them for it.
While I still don't quite have a handle on this show is going to be tonally, the poster certainly does fit the description of a revengey thriller about money and stocks. (And honestly, that's a description that actually gets me excited, especially with the Kim Kang-woo association, since I absolutely loved Story of a Man—that was a money-driven caper-thriller that managed to be sleek, fun, and thoughtful all in one.)
The conflict of Golden Cross centers around a shadowy society (called the Golden Cross, natch) that dominates the economy and marketplace with its deep connections and deeper pockets. The hero gets entangled into their dealings when one of their plots gets his beloved sister murdered… by the man whose daughter he then falls for. Bummer. Then again, the daughter has a righteous and truth-seeking personality as a top prosecutor (the hero's one too), which means that perhaps the conflict will lie equally with her—after all, she's the one with the crooked father (played by Jung Bo-seok). She grows up respecting and following him, but the revelation of his dark side throws her life into disarray.
Eom Ki-joon, meanwhile, takes on a villain's role—he's a businessman overflowing with greed and ambition, and while he was once taught by Jung Bo-seok, now he'll go up against him as challenger. I'll look forward to that clash of wills, fortunes, and egos.
Golden Cross follows Age of Feeling and will premiere next Wednesday, April 9.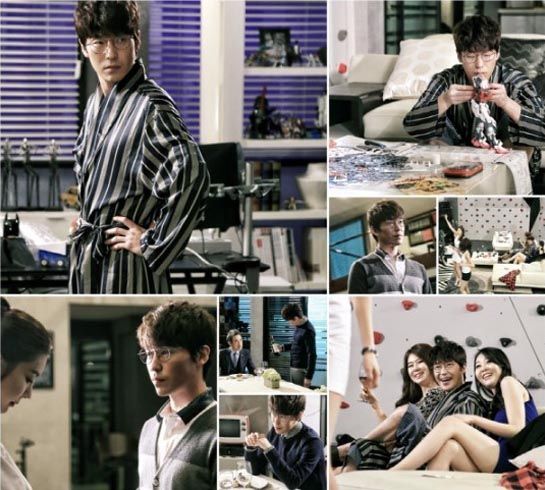 RELATED POSTS
Tags: Eom Ki-joon, Kim Kang-woo, Lee Shi-young