Running Man: Episode 191
In this third and final chapter of our Running Man Australian Trilogy, our cast and guests travel back in time to 1854 when the land was fervent with gold rush fever. This time, these sheriffs will try to prove what they're made of, performing missions that tests their skills and noggins while trying to hunt down treasure for just a tiny taste of gold. Will all that hard work prove worth it or will they just be panning for coal?
EPISODE 191. Broadcast on March 30, 2014.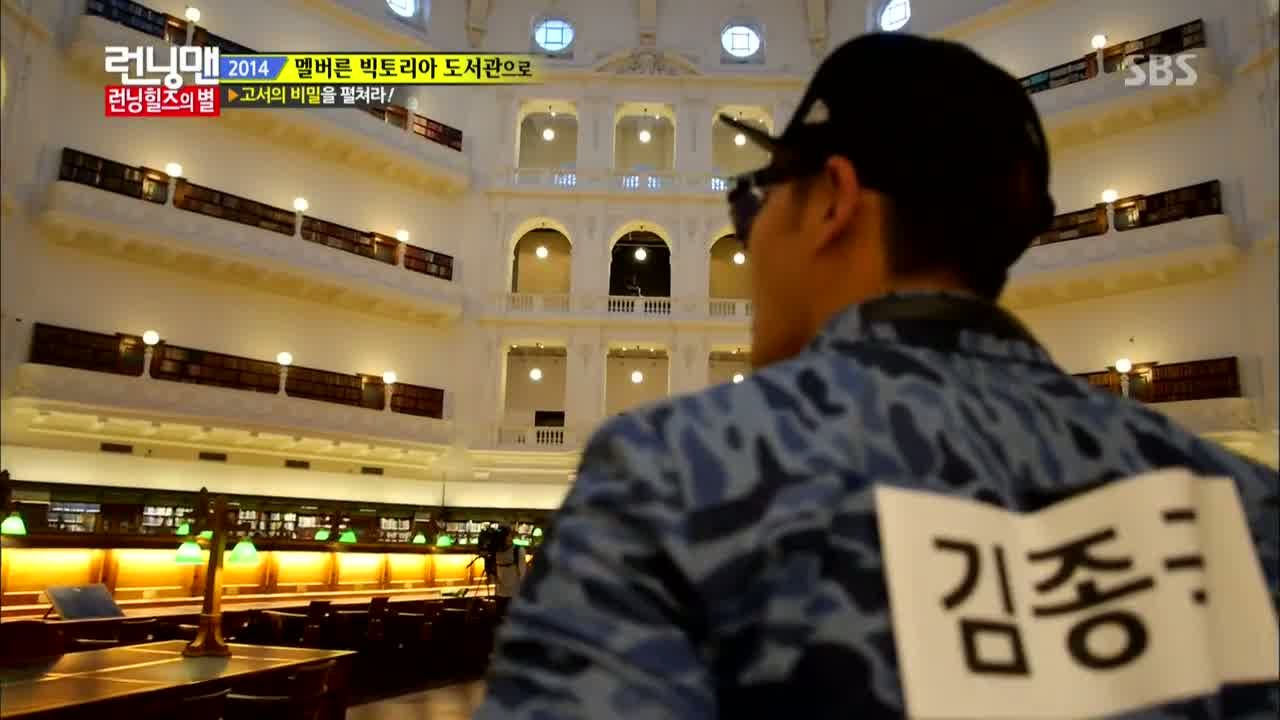 We jump back into the final chapter of our trip in Australia and start at the break of dawn at the State Library of Victoria located in Melbourne. Some members have an easier time with their limited English than others, and you can't help but be awed by the majestic architecture both inside and out.
Here, our cast members—who are known as Running Hill Sheriffs today—must find the nine historical books (labeled with sheriff badges) that will transport them to the past. The more stars, the better and we'll learn about their significance later on.
The central dome is a sight to behold and basically, a book lover's dream. Jae-suk jokes that it'd be more impressive if only Jong-kook weren't already there. Regardless, everyone is awed by the gorgeous room. Then we see that Kwang-soo, Woo-bin, and Haha have been standing over the mission letter for a good ten minutes before Rain arrives.
Rifling through the seemingly endless stacks is no easy task, and Jae-suk encourages Haha to use a step ladder to get to the higher shelves. Hee. It's Jong-kook who discovers a book first, and three stars should put him in a decent position.
He opens it and we see him literally disappear into the book before our eyes (thanks to some fancy CG work and editing).
Jae-suk finds a book for himself and loudly celebrates his four-star find with a maniacal laugh. Kwang-soo sneaks towards him to steal it, but Jae-suk disappears before he gets the chance. I love the B-side comedic bit to this as Haha and Kwang-soo collectively freak out… and then Jae-suk pushes them aside before "jumping into" the book.
Then their stilted acting at the idea of being transported back to the year 1854 (the same year the library opened) has me in stitches—they know it's a fantasy world, we know it's a fantasy world, but we're all willing to suspend disbelief if the show can fully immerse us in its story.
I don't really understand why 19th century Korean sheriffs in Australia would be donning sombreros, but at least Jong-kook and Jae-suk know (in between bickering about how many stars they've got, of course) that this episode isn't about replicating the Old West in America. Or is it? I suppose we'll find out.
It's sorta funny to watch them pretend that they totally knew that the gold rush in Australia took place in 1854, and after they make fun of each other's getup, they totally rag on Haha and his Swiss Alps-like costume. Haha: "I have a kid!"
Meanwhile in the present, the others are still busy searching for books. Kwang-soo spins a web of lies to fellow Easy Brother Suk-jin that he's on the search for a four-star book and keeps the mat-hyung talking long enough to try and steal his book away from him.
Opening the book the opposite way is no good, so Suk-jin resorts to biting Kwang-soo in an effort to shake him. But alas Kwang-soo gets his hands on it anyway, leaving Suk-jin behind in the present.
Kwang-soo's entrance to the past isn't satisfactory in his hyung's eyes, but he's got a bigger problem to deal with when Suk-jin finally arrives and recounts the tale to the others.
Suk-jin only has one star to start him off here in the 19th century, and we see that that's because Ji-hyo had opened a measly one-star book in his face. HA, that's so evil and brilliant.
When the Monday Couple finally arrives to round out the pack, we see that they shared the two-starred book together. Aw.
Now that everyone's in 1854, our resident sheriffs will have the opportunity to earn more sheriff badges to add to their names. Betting between two competitors in a series of rounds, the cast can use their own stars as ante.
The first game is a ddakji match between Jong-kook vs. Rain, and the cast make their bets ("Jong-kook even practices at home!"). Rain gets upset when Kwang-soo debates with himself on who to root for, but then he's further disappointed when Jae-suk jokes if he can change his vote to Jong-kook instead. Ha.
But before Jong-kook can slam down his first hit, Rain makes a request: "Let's not play with our legs apart." HA, you'd rather do knees together then? How cute.
Rain gets a few pointers from the ddakji king aka Jae-suk, but the paper square doesn't flip over. But then Jong-kook flips the other ddakji in the next turn.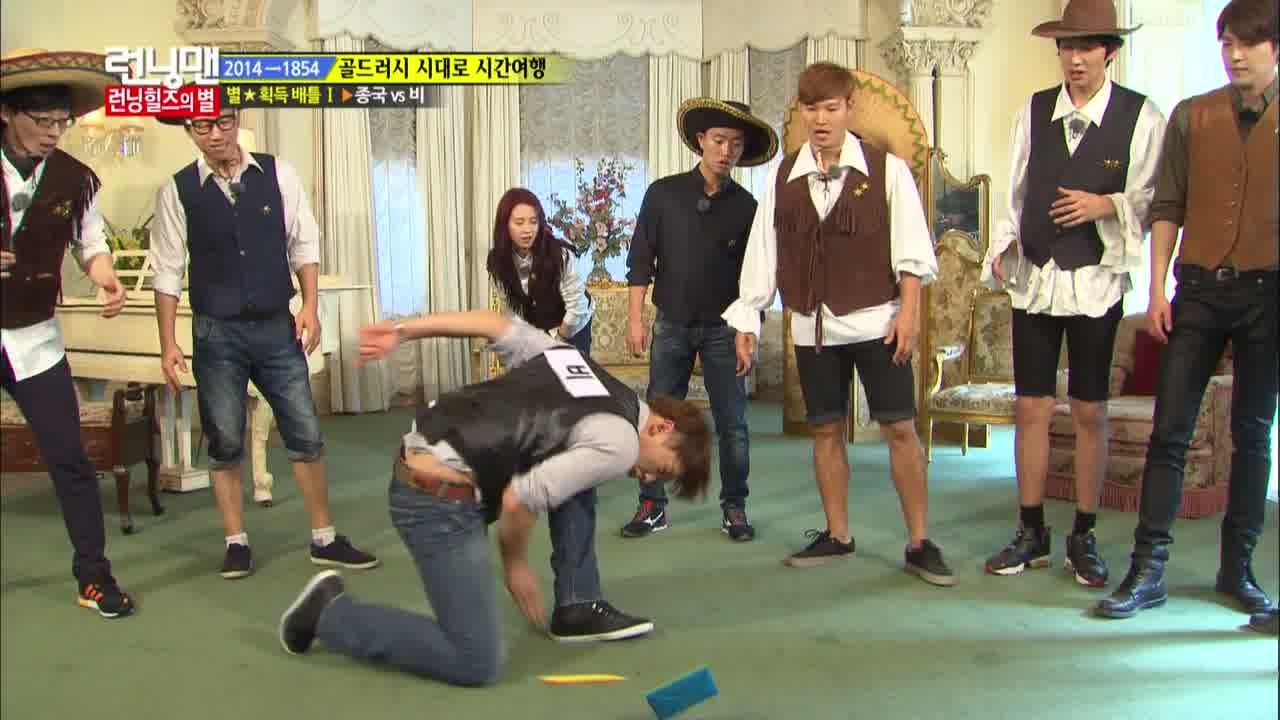 Haha lends Rain one of his stars, and now the world star is determined not to lose anymore. This next game requires the Monday Couple to pour a glass over someone else's head while blindfolded.
Gary is plenty confident about the task, and with just one star, there is no room for a "ladies' first" mentality. Ji-hyo grumbles: "Who got you here?"
Haha whispers that the way to go is to bet the opposite of Jae-suk in order to win. After everyone makes their bets, it's time to determine who the unlucky sitter gets to be. Jong-kook teases that Gary might be too burdened by fear to have him sit in the chair, but then Gary chirps, "Nope, I choose you, hyung!"
Having Woo-bin sit in the chair is a great way for him to break his classy actor image and his gnawing anxiety already makes me laugh. He gets a wee bit wet, but the same can't be said of Jong-kook, whose face is met with a cascade of water. HAHAHAHA.
Things are going well for Ji-hyo… ish, until she pours an extra shot over Woo-bin's bags before stopping. How can such a simple task be so entertaining?
Then Ji-hyo goes for the cruder approach for her next attempt by opening the lid of her kettle. I love the beat where Gary muses aloud: "Should I do this, too?" Jong-kook's eyes widen in alarm. And whaddayaknow, it works!
The next round pits Jae-suk against Woo-bin in a coin tower building contest. Woo-bin is completely focused as he attempts to stack more coins on the tower, even barking at everyone to sit down so the floor doesn't shake. Heh.
And when it's Jae-suk's turn again, the tower falls, confirming the theory yet again that betting against Jae-suk is a surefire way to win. That leaves Jae-suk, Suk-jin, and Gary completely badge-less.
Our sheriffs marvel at their classic vintage rides waiting outside and they take the cars for a spin while sightseeing all the way to Running Hills.
This little town is where our band of sheriffs gather in order of the number of badges they possess, with Woo-bin leading the pack with seven in total. It's a good ol' nametag ripping race in this quiet town, where one can only rip off the nametags of those who have an equal number of badges or less.
Aha, so this is why having more badges is an initial advantage, but perhaps not for long because there are a number of mini-mission stations where sheriffs may collect more badges. Last sheriff standing wins.
Additionally to prevent any accidental rips, should someone of a lower rank (as indicated by less stars) attempt to rid someone of a higher rank, they must hand over a star. So Suk-jin gets to work on trying to earn some more stars, but fails the classic bowling challenge.
Jae-suk introduces himself as Nallyu(?) for some reason and the small pocket of onlookers give him strength. He ends up failing though, but gets a round a high-fives for his efforts.
Haha and Kwang-soo get the ever-rare opportunity to exert some superiority over Jong-kook since they both have more stars than he does. They try to goad him into hitting them, just as an excuse to get him to hand over a star. Jong-kook bites the bait and hands them each a star to get them off of his back.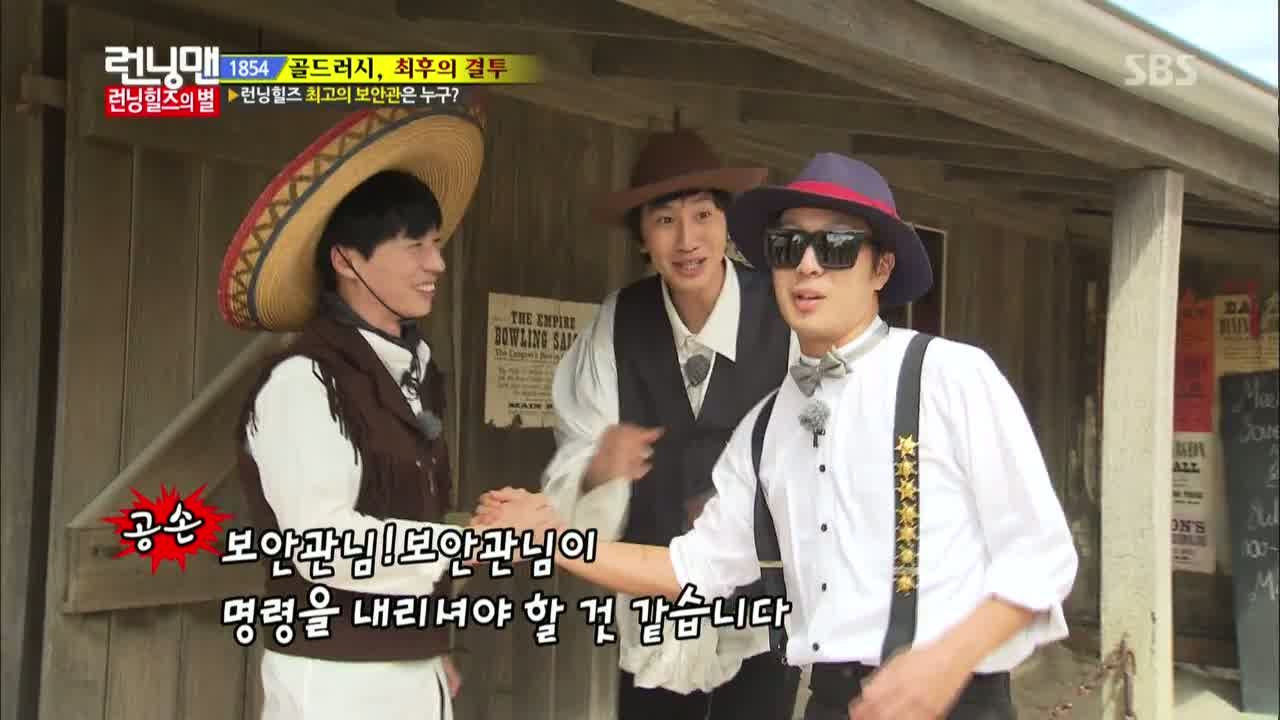 They pick on Jae-suk next, since he's still badge-less, and revel in the chance to speak to him in banmal. But Kwang-soo jokingly crosses the line, and the order is met with a slap in response. D'aww.
Then both Jae-suk and Kwang-soo try to appeal to Haha ("I'll be your servant!" "I'll be your dog!") but Jae-suk is eventually free to go on account of being "a hoobae I really cherish." Lol.
Aw good for Suk-jin, who's earned himself a badge. He wonders to himself whether he should still be alive in this game, but he quickly finds himself being tailed by Gary. So Suk-jin pleads with him, saying that he'll hand over all the stars he wins if Gary lets him live, but Gary isn't going to back off that easily. Suk-jin: "I'll help you… but not now!"
Gary decides to attack instead, and chases Suk-jin down to tear off his nametag… then barely has time to process it before he finds himself in Woo-bin's clutches. Gary uses the same pleas Suk-jin used with him, but it's no use and Gary is out, too.
Elsewhere, we see Rain pick up another badge, thanks to a water gun duel. Then he tries his hand with a whip, which earns him another star, and another dance-off (and a mini-promotion of his single) brings up his total to six badges.
Haha and Kwang-soo decide that now's their chance to take out the competition. They run into Jae-suk, who ignores Kwang-soo's "rank" and pushes him around as he pleases just like a hyung would. Kwang-soo can't do anything about while they're in Haha's presence, and the two sides split for now.
Woo-bin's "I've got too many stars to count" attitude cracks me up, and he walks with an extra swagger towards Haha and Kwang-soo. Woo-bin has already decided for himself that eliminating people is much faster than dealing with those mini-missions, and both Haha and Kwang-soo cower in his presence.
Woo-bin lets them off with a warning… but as soon as he walks away, Haha and Kwang-soo whisper insults behind his back. Haha: "I heard he was an heir since a young age!"
Jong-kook pays another badge toll to pass through Kwang-soo, and hey, now Kwang-soo and Haha share the same number of badges! Kwang-soo [in banmal]: "Let's go, friend!"
Meanwhile, Jae-suk is busy panning for gold, all the while griping about the work involved to look for pebbles when the end prize is a hunk of gold. He does find one speck of gold and immediately shows it off to the local kids. Aw.
You can barely see the speck in the bottle (which he gives away), but instead of earning a badge, Jae-suk receives… a scroll? It's a treasure map and heads on his way after saying goodbye to the kids.
Jae-suk stumbles upon his destination and is taken to a station that's supposed to take him underground. We cut away for now to see Jong-kook beg Woo-bin to eliminate Haha and Kwang-soo so that they won't bug him anymore. He even offers up one of his own badges as a sign of loyalty, but Woo-bin declines.
Speaking of, we see Haha try his hand with the whip, but why do I get the sense that he's just a tad too short when it comes to reaching the cans? He's about to crack the whip one last time when a burst of wind tips the top can over. Daebak.
He gets found out by Woo-bin and Jong-kook and despite his attempts to run, he gets cornered anyway. Jong-kook comes running like a kid tattle tailing on the bully who's been bothering him, and after Woo-bin does the honor to eliminate Haha, Jong-kook laughs victoriously in his face.
So now Woo-bin has a startling 21 stars, and Jae-suk isn't that surprised to hear that Haha's been eliminated. Jae-suk is taken by cart underground and winds through the maze of passageways until he discovers a treasure chest.
Inside is the Ultimate Badge, which can be used to eliminate anyone without penalty for ten minutes. Jae-suk vows to use it against Kwang-soo.
Everyone is alerted about the existence of the Ultimate Badge, and Woo-bin sighs that he should have known that it would have been too easy today. He's certain there must be a time limit and predicts: "How upsetting would it be if I was eliminated after working so hard for these stars?"
Back in jail, the eliminated are surprised to see Rain join them. His explanation says it all: "I was betrayed by Kwang-soo." Sure enough, a flashback shows us how Rain had momentarily turned his back against Kwang-soo—a fatal mistake.
He's told that Kwang-soo does this betraying thing pretty often, and Suk-jin adds, "You start to get angry after a few times it happens." Haha: "There's a hyung whom he did that to for three years." Suk-jin: "Me."
Elsewhere, Jae-suk starts his ten-minute timer and tracks down Kwang-soo right away. Now the tables have turned as Kwang-soo addresses his apologies to Jae-suk, pleading for the one chance to eliminate Jae-suk.
After switching hats, Kwang-soo updates him on everyone's whereabouts, and Jae-suk sighs to hear that the Ultimate Badge's existence has been announced. Jae-suk isn't going to let Kwang-soo off that easily though, and orders, "Turn around before I lose it."
Jae-suk eyes Kwang-soo's numerous badges, ignoring his speech that those who have power tend to abuse it. The idea of taking Kwang-soo's badges is extremely tempting, but Jae-suk gives Kwang-soo the chance to eliminate Jong-kook in front of him.
I'm thinking that Jae-suk has already wasted a good five minutes talking to Kwang-soo, but Kwang-soo does what he's told and corners Jong-kook. Only that tactic backfires on him moments later because Jae-suk rips off his nametag instead.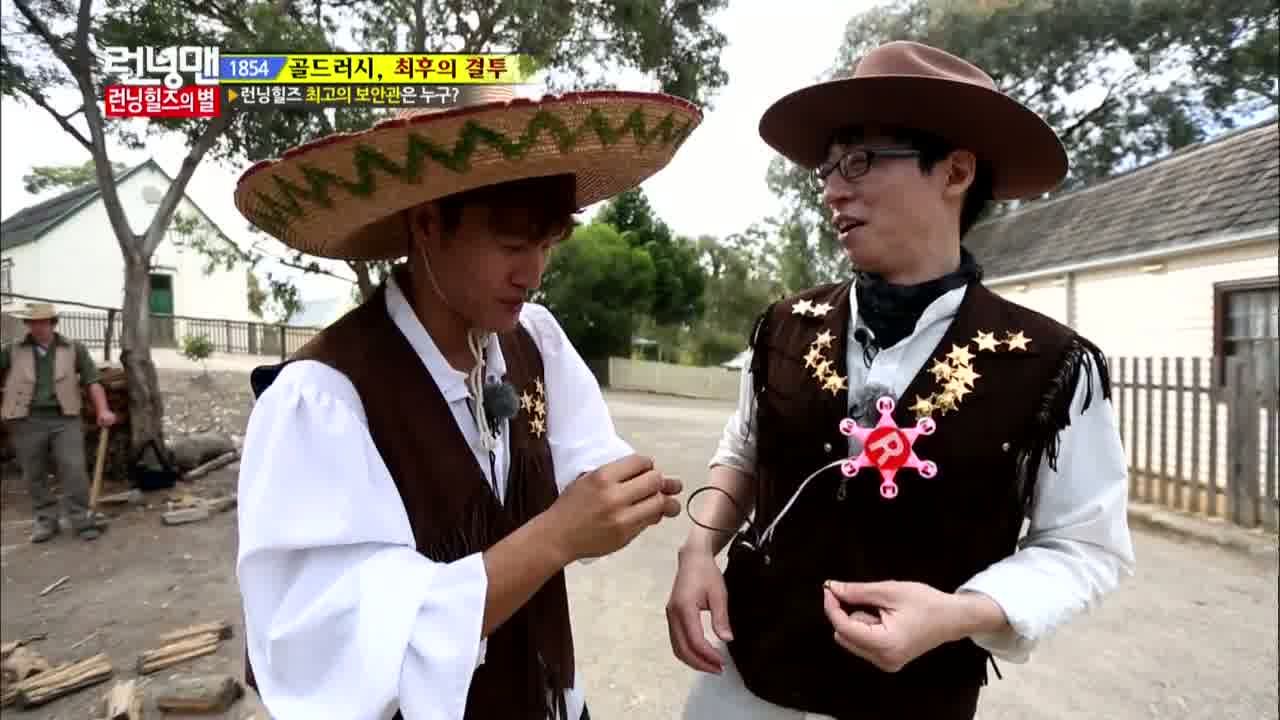 Kwang-soo is dragged off screaming in protest, and now Jae-suk is looking pretty decorated now. He's got a new errand boy in the form of Jong-kook, and they step out to take on the town… in the next minute-and-a-half.
With less than forty seconds remaining, Jae-suk hurries to find Woo-bin, but he's nowhere to be found. But then time is up and Jae-suk lets out a sigh of relief knowing that he's safe from Jong-kook, who swears that he wouldn't attack.
Jong-kook offers up his own stars if that means beating Woo-bin, calling himself a sacrificial icon. They hug on it… and Jae-suk rips off his nametag. "Give them to me now."
Little do they know that Ji-hyo has been keeping an eye on them at a distance as they carry on their conversation. The PD asks if Jong-kook isn't going to help pin his badges on Jae-suk like he did before, to which Jong-kook retorts: "Should I pin them to make sure that they never fall off?"
Our updated badge count indicates that Jae-suk has 20 badges to Woo-bin's 21 badges whereas Ji-hyo only has four. Woo-bin is looking pretty confident again now that the Ultimate Badge is out of use, and Jae-suk gives one of his badges to a schoolgirl. Aw, that was sweet.
Jae-suk asks if that doesn't count, and the PD's all, Of COURSE it counts! You've got 19 now! Jae-suk: "But that was a present!"
Then Woo-bin and Jae-suk face off in the main street and neither are willing to show off the exact numbers of badges they possess. They're busy trying to size each other up when the speakers blare that someone has found the Shadow Badge, which means they cannot be eliminated.
And then all of a sudden, we see Rain and Ji-hyo emerge from the shadows, both wearing similar-looking Ultimate Badges. Time to run!
So it seems that Rain must be Ji-hyo's "shadow," as he holds Jae-suk long enough for her to eliminate him. They're after him one minute and gone the next, and Jae-suk sighs that he was better off giving the rest of his badges away.
We backtrack thirty minutes ago to learn what happened: Ji-hyo had obtained a map to the Shadow Badge in the candleshop. The badge had enabled her to revive one of the eliminated to work together (without fear of elimination) for a short five minutes.
I also love the winnings ratio split of 70:30, but we know that Rain got to work right away. He and Ji-hyo chase Woo-bin through the town until finally cornering him with ten seconds remaining.
Woo-bin waits them out, leaving Ji-hyo to tackle him on her own. She notes that Woo-bin has 23 stars and they both pay the other compliments while circling one another.
Woo-bin is first to draw near, but Ji-hyo's the one to attack first by grabbing his vest. She's got a good grip on him, but they both let go.
They engage each other once more and both grab for each other's backs simultaneously… and it's Woo-bin who tears off Ji-hyo's nametag for the win.
The castmates congratulate Woo-bin for his victory, and Woo-bin admits this is the first time he's smiled in the past three days. He wins a bag full of cash as his prize and promises to come back to Running Man soon. Please do!
RELATED POSTS
Tags: featured, Haha, Ji Suk-jin, Kang Gary, Kim Jong-kook, Lee Kwang-soo, Running Man, Song Ji-hyo, Yoo Jae-suk