Running Man: Episode 196
Ever wished that Running Man would repeat some of your favorite Running Man episodes? We travel back in time to revisit some classic and notable wins, giving the cast a chance to re-write history. What if there was a different Yoomes Bond? Or another Sherlock Holmes episode? Or better yet—what if you switched up the cast members' superpowers?
It's time to take a trip down memory lane to reopen old memories and create new ones, with fresh scars of betrayal and trickery.
EPISODE 196. Broadcast on May 18, 2014.
We begin this episode with an overarching question: If you could turn back time, what time would you like to go back to? In a round of interviews, the cast shares similar answers, and aha—they'd like to revisit their notable Running Man wins.
With that, we drop in on the present as the camera zooms in on a man lying on a rooftop. It's Kwang-soo, who wakes in a jolt and in true dramatic fashion, he screams as if calling out to a post-apocalyptic world. Then he discovers something even more horrifying: his nametag is gone.
But we see the same is true for the others as they stir awake in various locations. Ha, I do love how we can always rely on Jae-suk to momentarily break character for us and laugh at the ridiculousness of an episode's thematic setup.
Cut to: Kwang-soo, who's totally caught up in the moment. HA. A note in their nametag-less jackets informing them that they've been eliminated—in order to get it back, they must travel to another location, written in indecipherable code. An alien language, perhaps?
Gary asks a group of female college students nearby, who all wonder, "Here? Here?" repeatedly. Aw, unhelpful. Jong-kook approaches another group while Jae-suk tries to crack the code on his own, and they both arrive at the same answer: a pedestrian overpass.
Heading over to the closest one, Jong-kook guffaws to see Maknae FD there, dressed in all-black as a sorcerer. Aw, it feels like forever since we've seen him! The secret to their revival lies in going back in time… by taking a mysterious pill at the nearby hospital.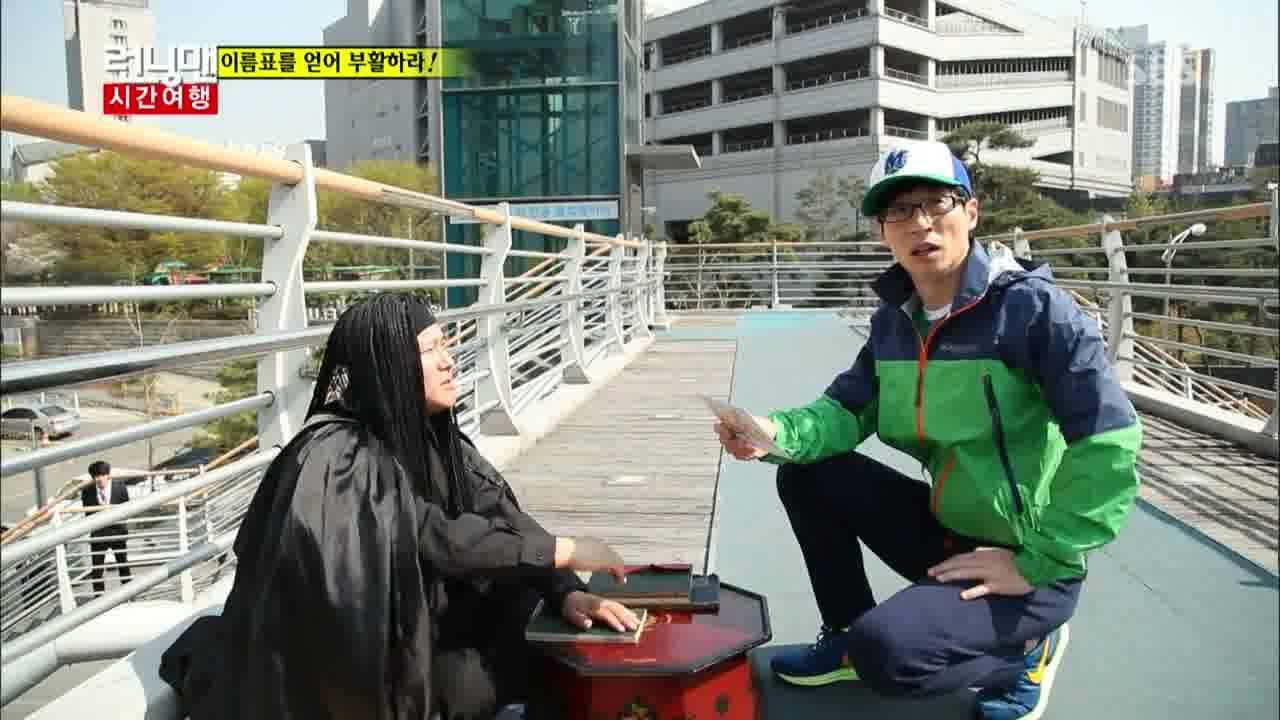 Ever the realistic one, Jae-suk responds to Maknae FD's time-travel spiel with a smack to the forehead. He tries to finagle another hint out of the sorcerer du jour, to no avail.
As soon as Jae-suk steps through those hospital doors, he sees dozens of extras donned in white coats, giving him an eerie sense of deja vu: "Isn't this the [first] Yoomes Bond episode?" (Episode 38, for the curious.)
Jong-kook gripes over how Jae-suk would make this about him right now, and the two playfully bicker as usual before parting ways. Jong-kook flags down someone carrying a case, but alas, no pill.
Jae-suk has the same thought and makes off with a pill bottle just as Kwang-soo gives chase. They play for it, and although Kwang-soo wins, he finds a bunch of nails inside instead. When asked if he can eat it, Jae-suk turns back with a double pun: "Mot muk-eo! [either 'You can't eat it!' or 'Eat the nail!']"
For some unknown reason, the PD suddenly calls out "Hold on!" and the next thing we know, the cast disappears in a puff of smoke, both in and out of the hospital. Did someone take a pill?
As the clocks turn back, we hear more answers from the cast about their memorable Running Man moments: Ji-hyo: "The Ultimate Superhero episode; Jae-suk: "All the Yoomes Bond episodes were a masterpiece; Gary: "I'd want to be the hero in Jae-suk's water gun episode."
When the cast opens their eyes again, they're both surprised and annoyed to find themselves trapped in jail cells. Aha, so our first stop is Episode 91: The Return of Yoomes Bond. Oh man, that was an epic episode.
Haha: "Where are my fried dumplings!" Gary: "You want me to figure out the passcode AGAIN?!"
No one can understand why they're re-enacting this particular episode again, especially Jae-suk, who says that the others already know how this plays out. "What are you trying to play at?!" Everyone tries to jog their memories back to two years ago, recalling that there were security guards and a hint somewhere in their cell.
But there's something strange about this timeline: their cells are unlocked and a note falls onto the floor. They must find the prison floorplans within the hour to escape, and Jae-suk cautiously steps out into the darkness.
He lasts about 30 seconds before getting caught by the guards, however, leaving Suk-jin to wonder if Jae-suk isn't the hero of the hour this time around. Kwang-soo is still behind bars, unaware that his cell is unlocked.
He finds out belatedly and complains to Suk-jin for not telling him sooner. But then the guards appear, and as Suk-jin is carried away, Kwang-soo retreats inside his cell again. Lol.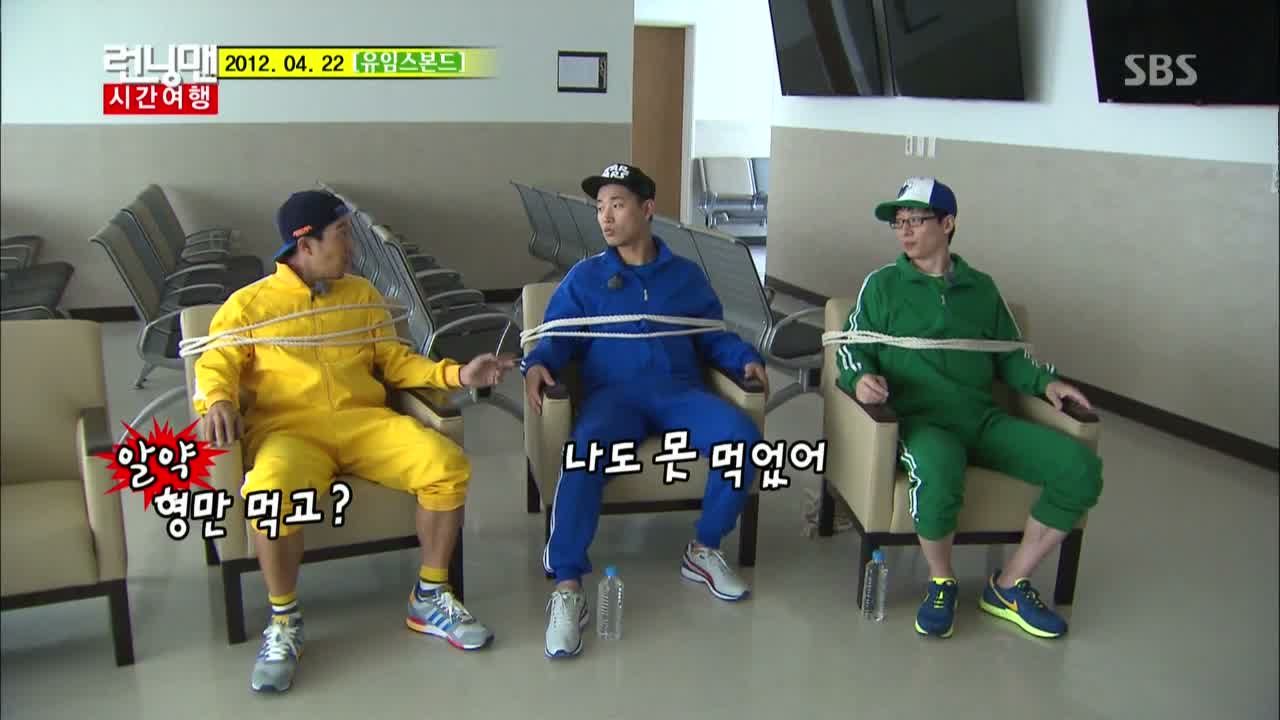 Both Haha and Gary join Jae-suk, who's already tied to a chair. The memories of that day (as well as the betrayal) come flooding back to them, like how Gary recalls that he spoke this line: "You can restrain my body, but you can't restrain my freedom."
At the mention of the floorplans, Haha tosses back that those aren't part of Jae-suk's ultimate goal anyway. Gary slips up by bringing up that mysterious pill, but before he can be grilled about it, he and Jae-suk turn to Haha, who doesn't know of any pill (he was whisked away before meeting Maknae FD), and they flame him for not figuring out that clue sooner.
Gary: "Can someone who didn't pass the entrance exam go to college?" (Since the college entrance exam only takes place once a year) Haha: "Rolling admission!" They're all released sometime later.
We check in with Ji-hyo, who finds said floorplans and spots where the key is. Bingo. Elsewhere, Haha pulls Jong-kook aside to share his suspicions. He reaches for some water, but that's when Jong-kook takes something out of his pocket: a water gun.
He takes Haha out in a flash, and the latter can only gape in shock. Ack, what happened?!
A flashforward to present-day shows Jong-kook discovering the pill in one of the labs. He'd initially thought the "April 22, 2012" date was the expiration date (ha) before realizing that it'd take him back in time.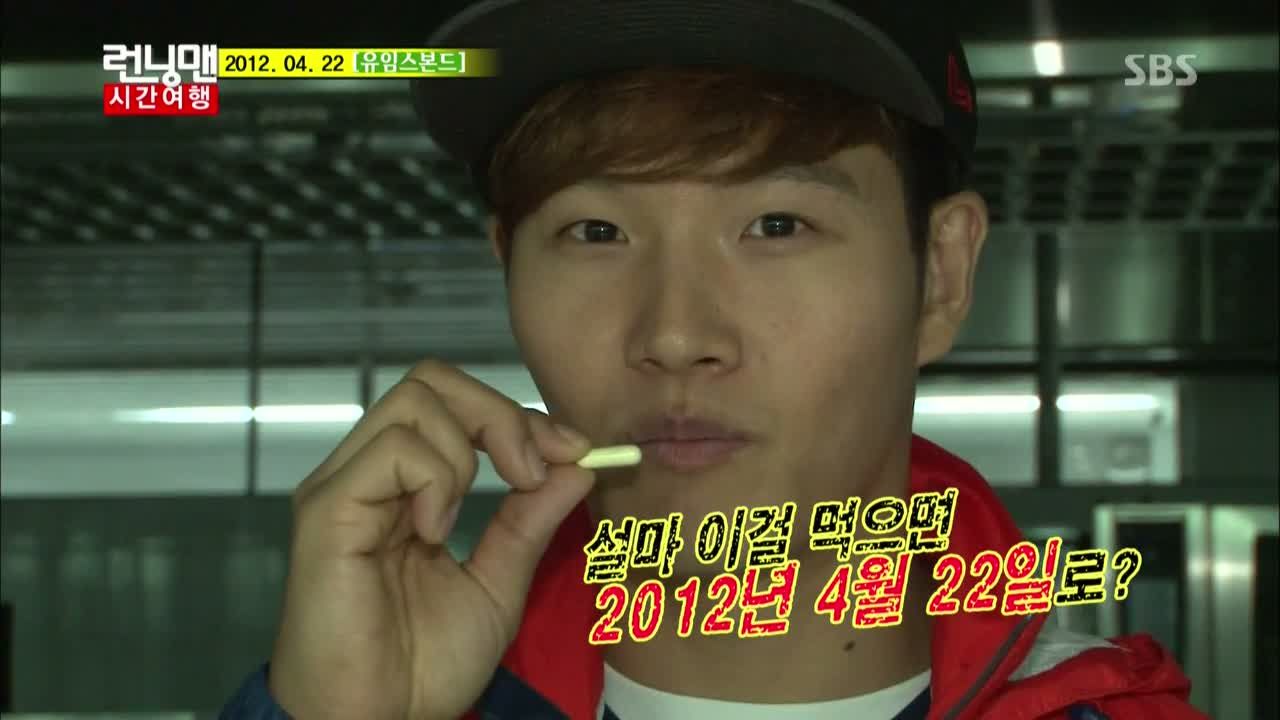 Then to explain how he acquired the water gun, we see him in a secret meeting with Jo PD. After drilling in the point that they've traveled back in time, Jong-kook had been issued the same task Jae-suk was given in the original episode: eliminate everyone via water gun.
Seeing the water gun collection with his own eyes had made Jong-kook even more excited. And thus was the birth of Kookimes Bond. Doesn't really roll off the tongue, does it? Hee.
It's imperative that Kookimes Bond re-capture all the fugitives before they escape lest this time-travel adventure is cut short.
To avoid suspicion, Jong-kook points out to Ji-hyo to show her that Haha is being dragged away. Still, she checks him for weapons, but he's clean. He keeps that suspicion arrow pointed elsewhere, yet when Haha's elimination is announced over the speakers, everyone—particularly Jae-suk—knows that someone is at large. Jae-suk: "Who's my copycat?!"
Jong-kook runs into Kwang-soo, who doesn't suspect him in the slightest. So when Kwang-soo heads off to search in a different room, Jong-kook rifles through the drawers… to take out another water gun. Time to move.
A little later, Jong-kook runs into Ji-hyo, who thinks aloud as they run to evade their pursuers… and the water gun falls out of Kookimes Bond's pocket. Whoops.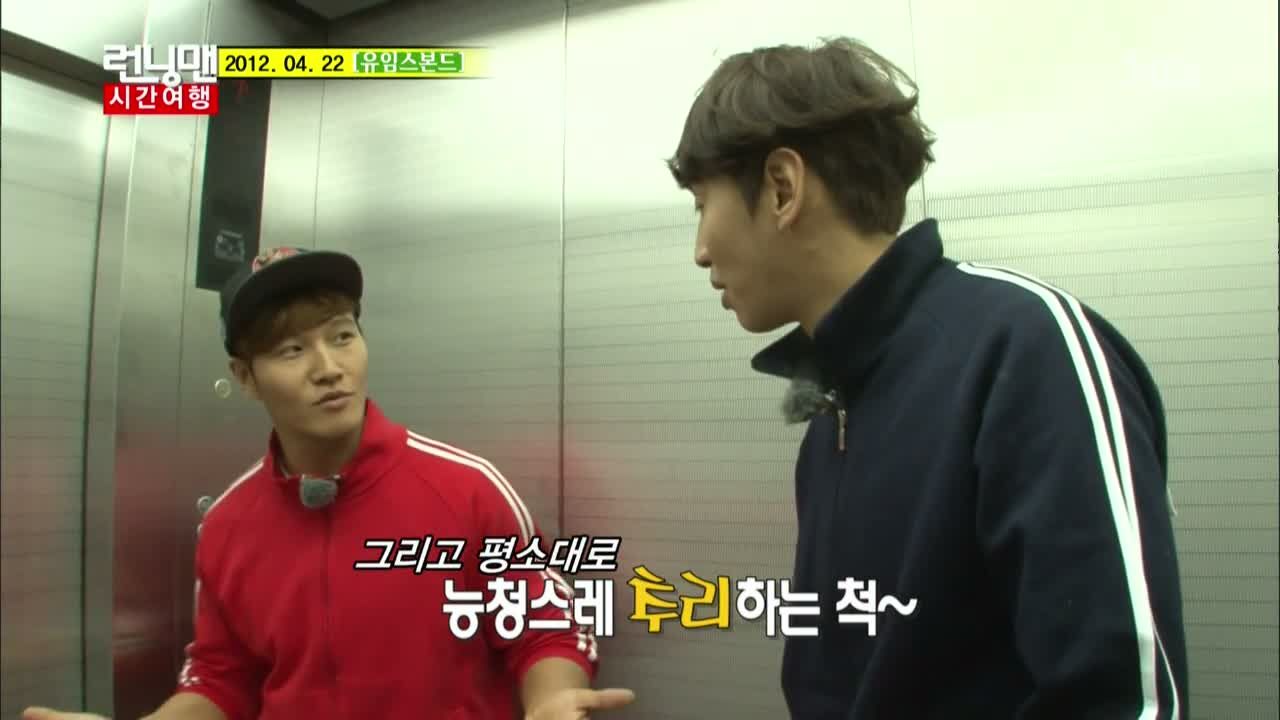 To his relief, Ji-hyo ducks before she notices, but then Kwang-soo comes running around the corner… and he's too busy running to notice either. LOL. It seems Kwang-soo was too excited about the floorplans he found. They pore over the map, giving Kookimes Bond a opportune moment to attack…
Kwang-soo spots the gun two seconds too late. Shocked by Jong-kook's betrayal, he asks, "When did you become so evil?"
As Gary discovers the keys in a toilet, Jong-kook shares his set of floorplans with Jae-suk elsewhere. Jae-suk knows better than to trust Jong-kook and asks if he's got a water gun. He's clean, though, but Jae-suk still can't shake off his suspicions.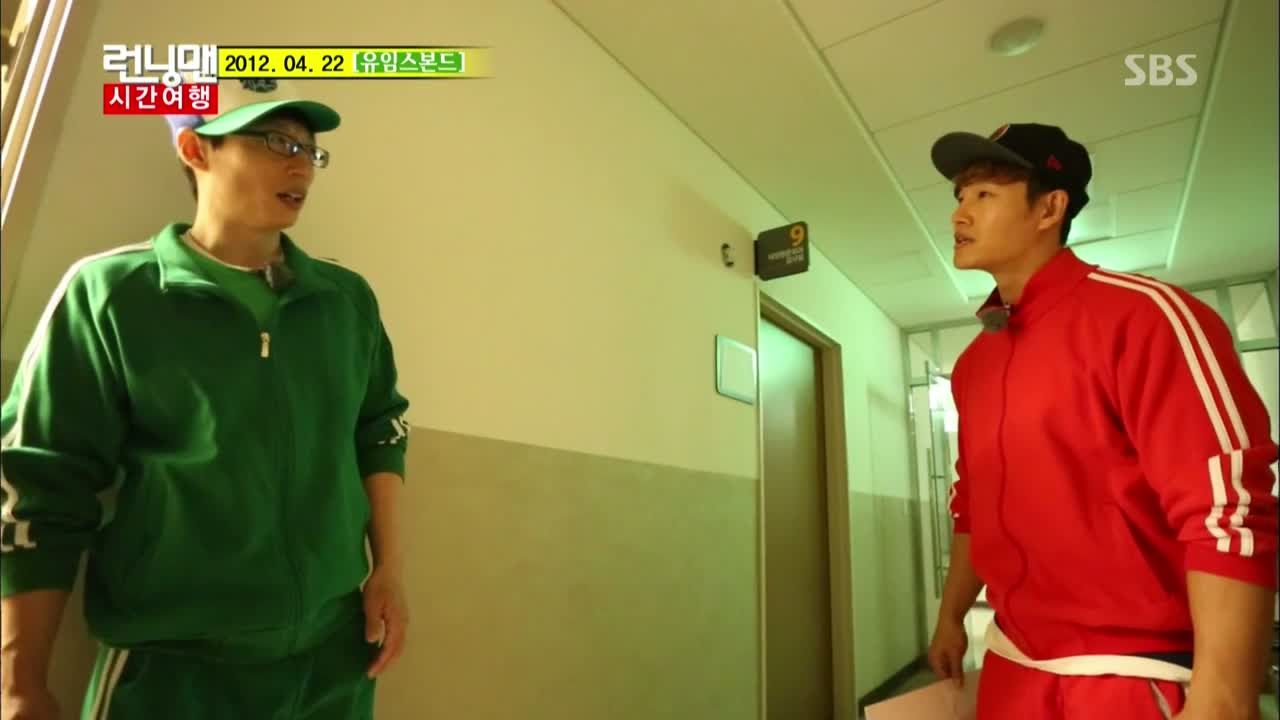 To that sense, it's a pretty smart move on Jong-kook's part to hide his water guns all over the building so he can pick up and abandon the guns as needed. Jong-kook argues that they ALL have to win right now, but Jae-suk isn't going to let this go that easily, citing that he was with Ji-hyo and Suk-jin when the others were eliminated. Hm.
Jae-suk walks away at that, and then Jong-kook appears armed a moment later. He takes Jae-suk out and drinks in his delicious victory.
Jae-suk voices his complaints to the staff in jail, saying how they can't ruin his stealth moments like this. "Think of the audience who loves those episodes!" Haha agrees that Jong-kook's aggressive style takes a page from Terminator.
Elsewhere, Ji-hyo's jaw drops to see Suk-jin being led away and realizes, "It's Jong-kook." There's no need for stealth now for the Kookminator, which I must say is a far-more befitting nickname.
His spooky whistling rings through the building as he leisurely walks around sporting a water rifle. She wonders where Gary might be, and we see him hiding, trying to usher a camera away.
The Monday Couple meets up in the hallway, where Ji-hyo asks about the keys. Thankfully, they've both found a set and now it's a matter of knowing where the door is. Gary points out the sky bridge, and sure enough there's a door at the end of it.
They make a run for it as Jong-kook's voice draws nearer. They try key after key, to no avail, as Jong-kook practically comes skipping towards them…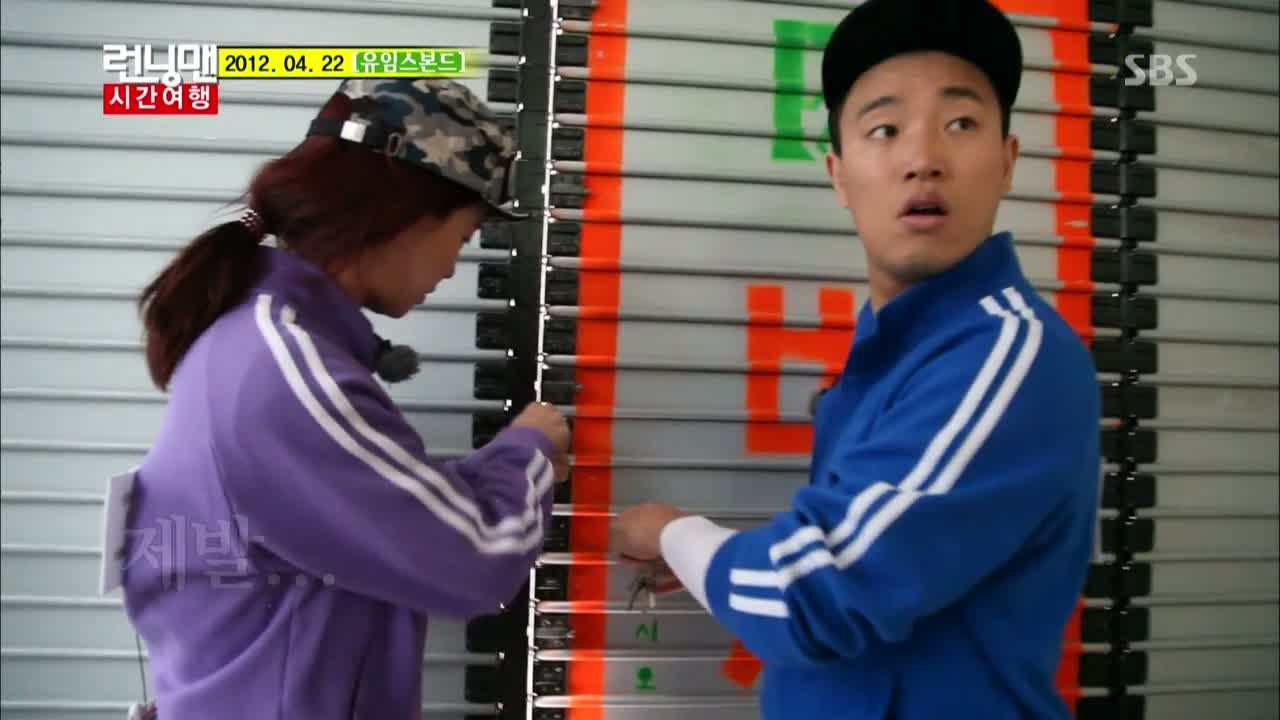 … and then *click* the lock turns. Freedom!
That brings us back to the present, and Jong-kook visits the eliminated, who gripe about his Rambo elimination style. Jae-suk tells the staff to make sure to differentiate his masterpiece with Jong-kook's remake.
Everyone apart from the Monday Couple are given larger nametags (for either being eliminated or failing the Yoomes Bond remake) and they're sent out again to find yet another time-traveling pill.
In another round of post-interviews, Jae-suk shares that people like Jong-kook are better off in villain roles than as secret spies. Suk-jin says he'd like to be Sherlock Holmes again: "I'm the only one who can pull it off. Because that episode was made for me."
But this time, we see Kwang-soo take that particular pill, transporting everyone back in time again to January 29, 2012. That means Kwang-soo is the infamous Arsène Lupin (perhaps the most famous thief in literature) this time around, and once again, the memories of Suk-jin's stinging betrayal are reopened.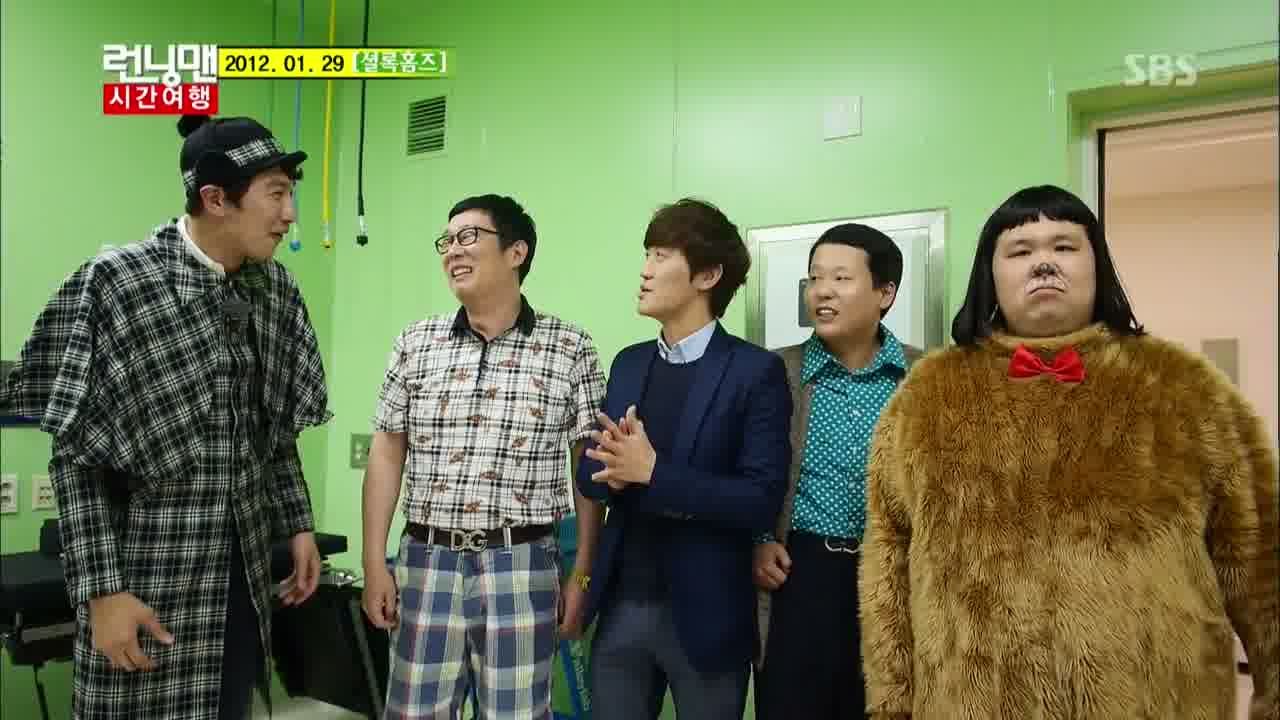 The Sherlock Holmeses are tasked to recover the lost sapphire, but Suk-jin feels bitter about getting his moment of glory taken away from him. He decides to go after Lupin instead.
Meanwhile, Kwang-soo Lupin couldn't be happier about getting his moment in the spotlight. His mission is slightly different: find the briefcases containing the other Sherlocks' nametags and tear them out to eliminate them.
Kwang-soo wonders if he can accomplish this on his own, which is when some familiar faces walks in. Hey, it's the How & Chow crew! But just as Kwang-soo exits the door with them, he's spotted by Jae-suk. Ha, this is going to end badly, innit?
To his luck, Jae-suk is so excited to greet their impromptu guests that he doesn't notice Kwang-soo sneaking up behind him until it's too late. Interestingly, the speakers announce Kwang-soo's name, and a flashback teaches us that this is part of the butterfly effect in time-travel. "But you didn't announce [Suk-jin's] elimination last time!" he cries.
The sudden eliminations leaves everyone one perplexed apart from Suk-jin, who deduces that the first name announced is the culprit. He knows because "it's my scenario!" And then Jong-kook wonders if it's either Kwang-soo or Jae-suk, too.
Kwang-soo panics when the How & Chow crew alert him with Ji-hyo's presence. He hides until she leaves. Noticing how nervous he's getting, he realizes that Suk-jin actually did a decent job fooling everyone back then. ChowChow nods.
Once the coast is clear, he moves out with extreme caution. Are you going to be able to eliminate anyone at this rate?
Jong-kook and Suk-jin puts their heads together, and although it makes sense that the first elimination announcement is the guy they're looking for, Jong-kook doesn't let up on his suspicions. When Haha and Gary joins them, they add the possibility of an accomplice to the brainstorming mix.
Ji-hyo is busy searching the building elsewhere, but then stumbles upon an oddity: ChowChow. (She'd been told that he wasn't here.) Knowing that something's off, she runs to get a better view, and that's when she sees Kwang-soo.
So as she runs back to inform the others, How & Chow discovers a briefcase and lets Kwang-soo know about it. Inside is Suk-jin's name, and we see that the mat-hyung is currently being grilled by the others.
Just then, Ji-hyo comes running with ChowChow and declares that Kwang-soo is still in the game. Ruh-roh. Then to everyone's shock, Suk-jin's name is announced through the speakers. As for Kwang-soo, he sends a regretful message to his fellow Easy Brother.
Alarmed, SpartAce immediately shares this turn of events with Haha and Gary. None of them is aware that Kwang-soo is hiding in a room and can overhear their conversation. Just behind the door, Kwang-soo whispers, "I can't be [the hero] ever again. I can't do this."
Jong-kook wonders if their eliminations are directly correlated with petting ChowChow, and immediately backs away when he approaches. Haha: "He's so cute that I want to pet him, though…"
SpartAceheads outside where they find a card, akin to the clues left behind in the Sherlock Holmes special. The clue points to the 2008 Summer Olympics, and they wonder if more clues can be found on the eighth floor.
Still hidden, Kwang-soo Lupin is filled with regret about his choice. His current fear is intercut with his interview clips of how he'd do things differently and would be bolder rather than hiding in a corner.
He reappears in the hallway only when ChowChow comes to collect him half an hour later. Grabbing the briefcase, Kwang-soo runs back to safety. He evens tasks his VJ to be his lookout and opens the case to see Ji-hyo's nametag.
Scoring another elimination gives Kwang-soo a confidence boost, and he shares his lofty goals to the camera: "I'm going to fulfill Suk-jin's unfinished dreams." Vowing that things will be different from here on out, he gets to work.
Kwang-soo runs off again after discovering yet another case, but this time he's been caught by Gary, who's been scanning the security cameras. The briefcase contains Haha's nametag, but now the others are honing in to his location. HA, did you actually climb on top of those lockers?
Kwang-soo gets caught anyway, and now running out of options, he holds the nametag hostage. But as he rips it, the briefcase falls out of his hands—the nametag still intact. Which gives Jong-kook the opportunity to eliminate Kwang-soo instead.
Another round of interview clips informs us that the cast also misses the Ultimate Superhero special. That's our third and final memory as we roll through the cast's superpowers: Kwang-soo (Time Controller); Ji-hyo (Duplicator); Gary (Phoenix); Suk-jin (Death Note); Jong-kook (Sixth Sense); Jae-suk (Space Controller).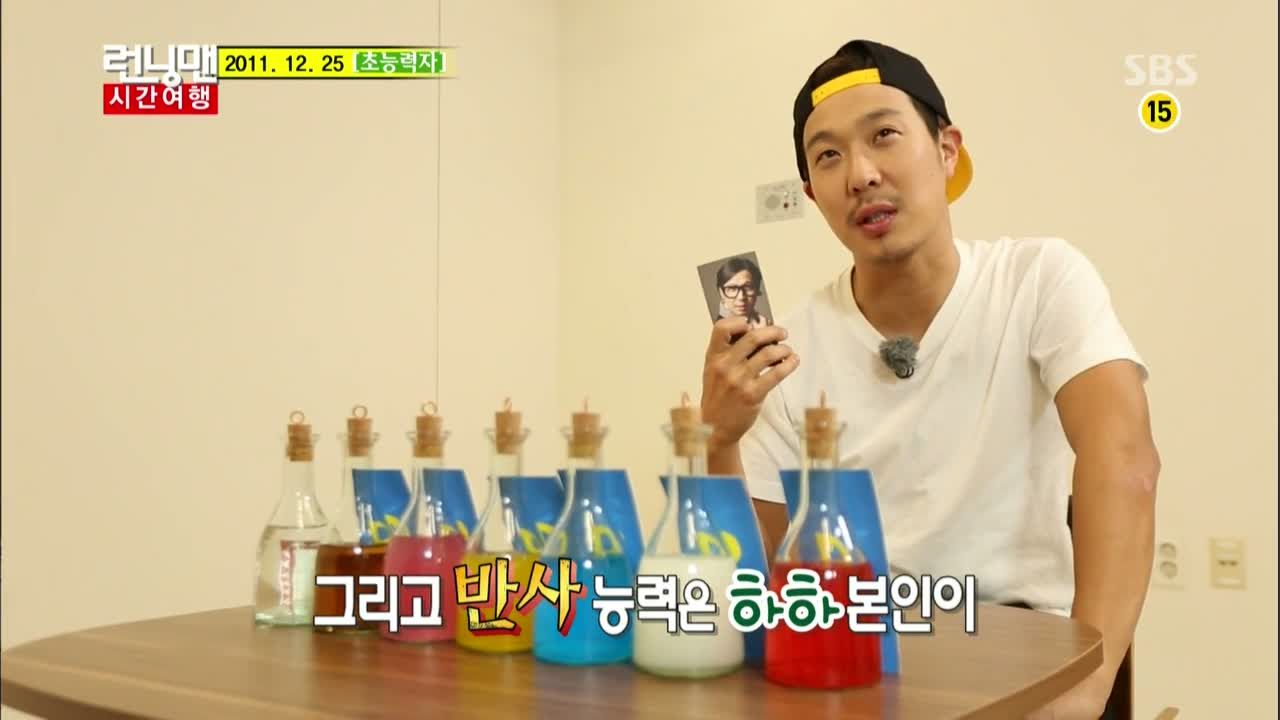 A flashback tells us that it was Haha who discovered the pill, as he tells Jo PD how that one episode altered his reality for the longest time. As the hero of the moment, Haha had been given the privilege to determine everyone else's superabilities. Haha had joked: "Give them all to me."
He had chosen Mind Controller/Reflection for himself and we already know the underlying secret: the first person who attempts to eliminate him will end up in jail. A small, but crucial advantage.
We get a run-through of all the powers (you can find a refresher here), and then the game begins. Gary cracks up to see that Ji-hyo has her own Lol Lols and then everyone laughs at Jong-kook's pitiful sixth sense ability. Jong-kook: "I don't need this!"
The boys are taken back by the Lol Lols' beauty and Gary asks, "Can't I love all four of you?" Hee.
They quickly realize that whoever took the pill knows what everyone else's powers are, and Kwang-soo asks if the reflection power exists today, too. Feeling uneasy, Haha suggests that Suk-jin must be Death Note (because he's the only one missing) and rallies everyone to go after him.
Speaking of, Suk-jin is busy looking for his Death Note card. Jong-kook taps into his sixth-sense, and not only do I love how impressed he is at the increased range but also that he learns of Suk-jin's location through Maknae FD… who's standing five feet from him. Hahaha.
Jae-suk drops all pretenses and asks about Kwang-soo's abilities flat out. Discovering a watch in his jean pockets tells him that Kwang-soo controls time, who repays the favor in kind. "You're the Space Controller again, aren't you?"
Suk-jin finds the Death Note and starts scribbling down incomplete names as Ji-hyo walks in. She isn't the least bit afraid of the card ("We can still turn back time"), but now Suk-jin walks out feeling more confident.
He warns the others not to approach, threatening to complete their names. Jae-suk deduces that either Haha or Gary must be the Phoenix or Reflection. To that, Haha encourages him to rip off his nametag then, and Jae-suk calls him out: "You took the pill, didn't you?"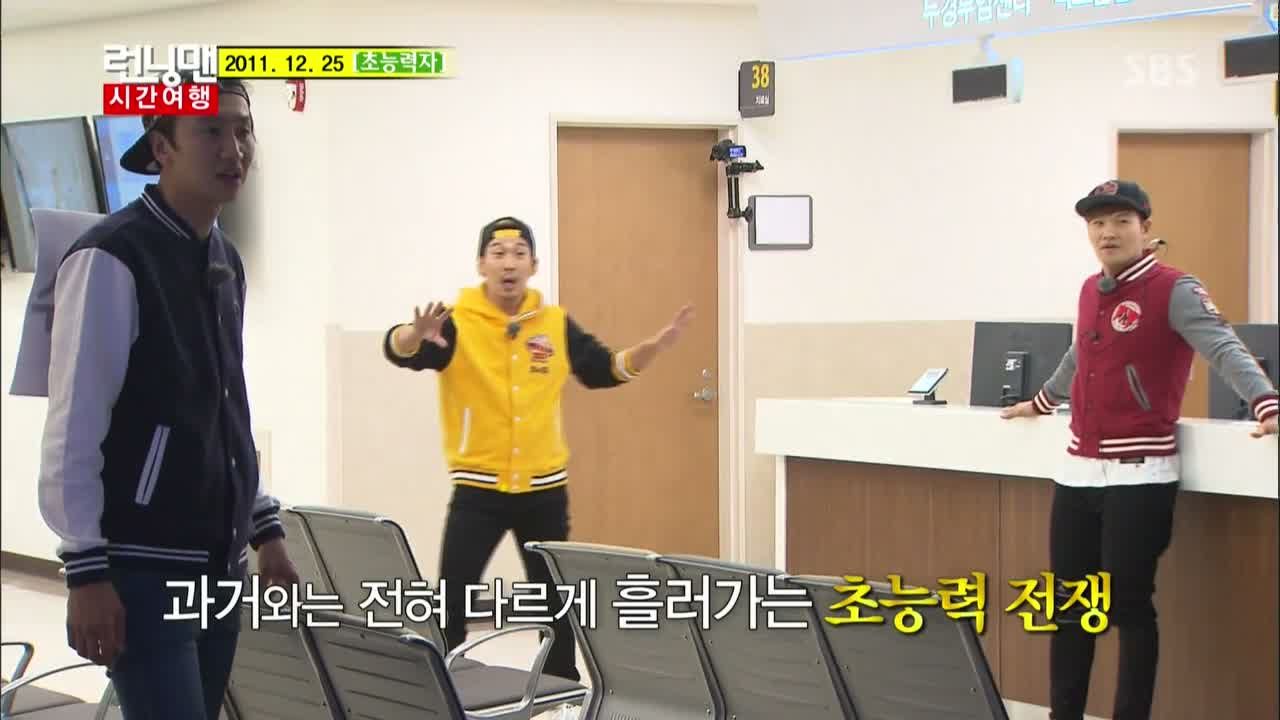 Jae-suk pins Haha to the wall, and the latter desperately mouths silently that Gary is the Phoenix. Ripping off Gary's nametag confirms it, and then everyone realizes that Haha is the Reflection.
Now that they know, Ji-hyo says that they have to convince Gary to sacrifice one of his lives to attack Haha. Gary is nowhere to be found of course, which is when Jong-kook pipes in, "Guys, you've got me!"
Suk-jin is busy being threatened by Jae-suk and Haha to use his power against Jong-kook already. With Jong-kook and the others on their way, Suk-jin fills in Spartakooks's name. And so history repeats itself (in the present. Ack, you know what I mean).
…then Haha tears off Suk-jin's nametag seconds later. Hahahaha. Jae-suk tries to eliminate Haha, a move that backfires on him. The remaining three (plus the Lol Lols) gang up on Gary to remove both his nametags.
But then Kwang-soo tears off Haha's nametag, and then Ji-hyo and her crew pin Kwang-soo to the ground. With both hands tied, Kwang-soo can't reach for his watch, allowing Ji-hyo to rip off his nametag.
Everyone gathers together for the closing, and Ji-hyo and her Lol Lols stand proud, victorious.
RELATED POSTS
Tags: featured, Haha, Ji Suk-jin, Kang Gary, Kim Jong-kook, Lee Kwang-soo, Running Man, Song Ji-hyo, Yoo Jae-suk