Running Man: Episode 197
Only Running Man could take a neighborhood game like ddakji and turn it into a nationwide competition. In this tournament, there's more than just scholarship money on the line for these seven universities. We're talking about the importance of upholding your school's name, protecting its honor, and rooting for your schoolmates until your voice goes hoarse.
EPISODE 197. Broadcast on May 25, 2014.
It's a busy morning right off the bat, as our cast leaves one by one to various destinations all across Korea. In product placement 2014 FIFA World Cup-stickered cars, of course. Curiously, Jae-suk says he has to defend his Ddakji King title today.
30 Minutes Earlier. The cast sits down for a hearty-looking breakfast on the SBS garden rooftop. Turns out those seven regional dishes correspond to seven different universities in Korea. Today, each cast member will team up with two students (just like in the last university race) and compete in a nationwide Ddakji competition.
Our seven universities include: Haha (Incheon National University); Gary (Kyonggi University); Jong-kook (Kangwon National University); Suk-jin (Chonbok National University); Jae-suk (Chungbuk National University); Kwang-soo (Korea University); Ji-hyo (Pusan National University).
Kwang-soo lucks out since Korea University is right in Seoul whereas Ji-hyo has a long trip to Busan ahead of her. In his car, Jae-suk hopes that his teammates are just like him: lightning fast. Aw, Gary says Kyonggi University brings back sad memories for him (he made the waiting list, but didn't get in).
Basking in the sunny weather, Kwang-soo finally gets on the bus towards campus. He ends up paying for the seven other staff members accompanying him, and there's this moment when he tries to calculate how much change he should get back. Not only does he get caught up in all the numbers (understandable), but he also gets a bunch of coins in return. D'aww.
He strikes up conversation with a Korea U student with whom he exchanges his 100 won coins for a 500 won one, ha. She's originally from Busan, and it's cute how excited she gets about meeting her first celebrity.
All of our cast members arrive at their respective campuses, and it's great how everyone is so surprised to see them. Gary runs into a few phys ed major students, whom he greets warmly: "They ALMOST became my hoobaes!" Ha.
In fact, he greets as many phys ed majors as he can, and one of them is a pretty good dancer, with whom he engages in an impromptu dance battle. Promising a spot to one of his almost-hoobaes, Gary heads out to find another person who's great at ddakji.
Meanwhile, Kwang-soo meets a foreign exchange student who speaks Korean (Joey) and even calls Kwang-soo hyung. Hold on, is that… Young-taek? Omo, it is.
Ji-hyo doesn't have to do much to rally the large crowd of Pusan students (of mostly males, ha). Just like last time, Suk-jin has the students chant his name and talks to a few students to state their cases. One female student is super enthusiastic while another says her hagwon teacher just happens to be giving birth today.
She claims that people tell her she looks like Jae-suk, so she's given a pair of glasses and whaddayaknow—they really do look like. Haha has some students help him scope out campus and ends up chasing one athletic-build male student.
Luckily someone knows who the camera-shy design major is, and Haha eventually persuades him to join his team. In case we needed more proof to show how strong he is, he easily lifts Haha into the air.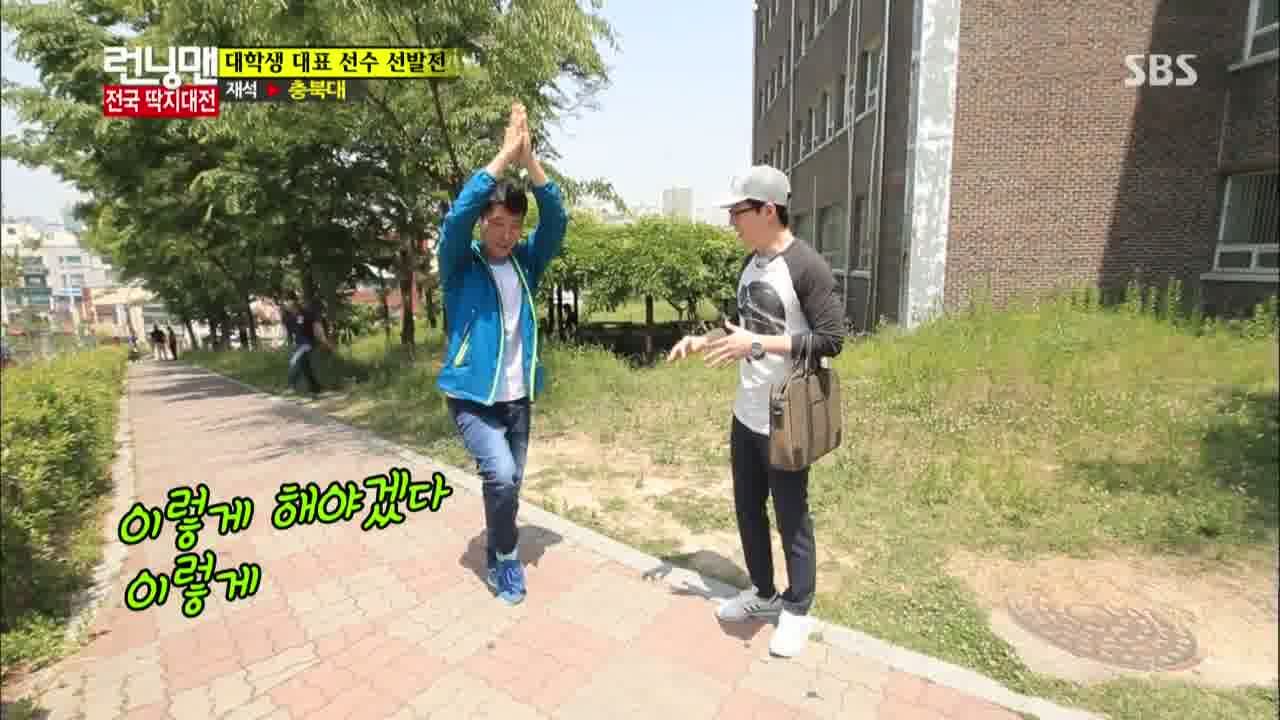 Unfortunately, Jae-suk still hasn't found anyone yet, what with all of his candidates being terrible at ddakji. He meets one male student who also turns out to be a poor ddakji player, though his super serious form is hilarious. He even gives off Young-taek vibes, as he mentions some experience in taekwondo. His rather weak kick suggests otherwise.
He also claims to know some yoga, but his poses are a dead giveaway that he in fact doesn't know at all. Still, it's funny how he continues to try to impress despite failing every time. Ha, he really is like Young-taek.
Over at Kangwon, Jong-kook interrupts a class to gather recruits. He agrees to face-off against one tall student who's said to be stronger than Jong-kook is, but then all of a sudden, one classmate comments: "[Jong-kook]'s short." Awww.
Not only is that particular student tall, but he's strong too, judging from how the ddakjis jump in the air. Problem is, he's a little too strong and the ddakji keeps flipping back to the same side. Still, Student Choi makes the cut.
A Gary lookalike joins the ranks of Suk-jin's team. Speaking of whom, Gary gets the idea to recruit a volleyball team member. He gets permission from the coach to approach the nationally acclaimed athletes whose skills prove they've got what it takes.
Back at Incheon, Haha is taken aback by his ddakji candidates. A pair of students carry jumbo-sized cardboard ddakjis, and it's just extra funny to see the students slam them down with a roar.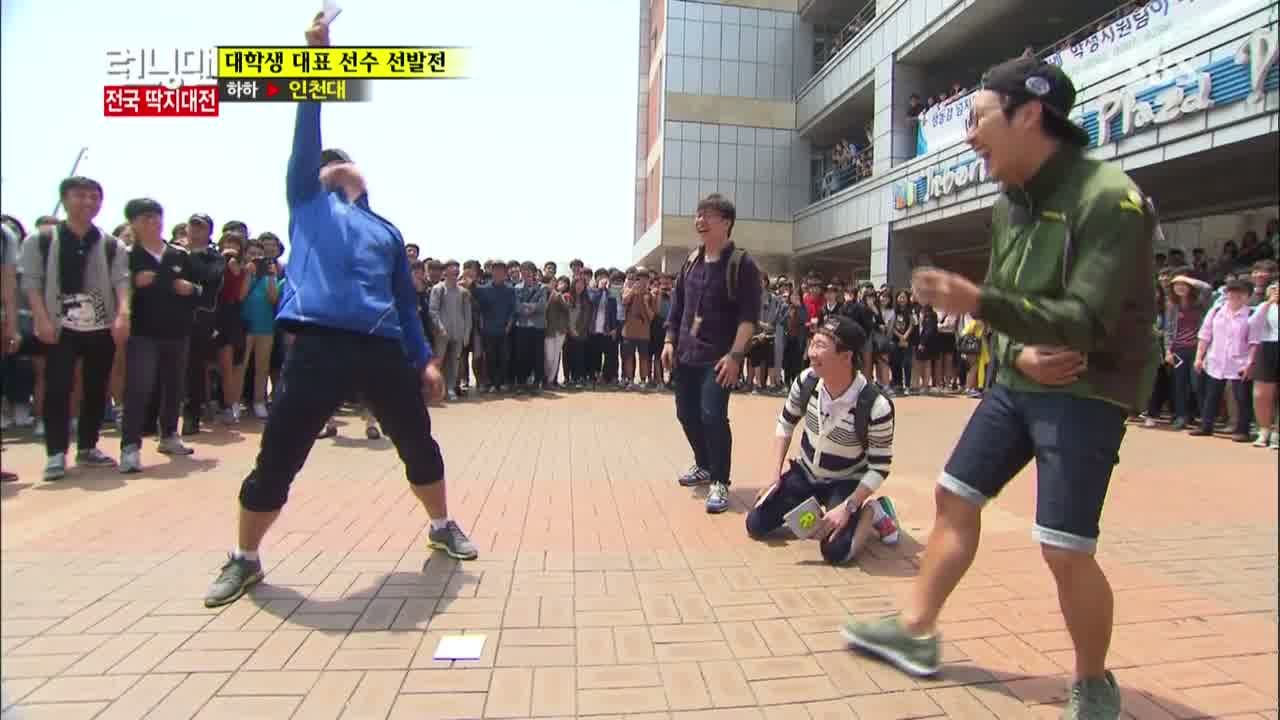 Haha gives everyone a fair shot, though, and choose the sweaty male student. A Mr. Bean lookalike definitely knows how to curry favor with Haha when he fails the ddakji test, screaming, "The power to turn back time!" Over and over again. HAHAHA.
The call for recruits continues as Gary races against a few students and finishes dead last. The dancer phys ed major beats the competition for a spot, and a lanky student joins Jong-kook's team. Ji-hyo uses a baseball test to choose two male Pusan students.
Jae-suk's been talking about how hard it is to find one good ddakji player all morning. He finally meets his ddakji soulmate when one student comes running and his skills leaves Jae-suk's jaw agape.
I love how the show builds up this moment, replaying clips of Jae-suk's earlier acquaintances who failed. The student, Shin Hong-gyu, deserves a name mention, and I can only hope he has much to offer later.
All the teams head back up to Seoul (including a total of 300 students from each university to cheer on their school) and gather together nearby the arena. Everyone is full of energy, but before they enter the arena, their teamwork will be put to the test.
It's a massive tug of war between the seven teams, and whichever team grabs all three of their team's flags will be declare the winner. Jong-kook has a clear advantage with two strong teammates, and once everyone's in position, the game begins.
All the teams start crawling towards their flags, though as expected, Jong-kook's team is the first to grab a flag. But Jae-suk's team manages to swipe two before anyone else, and three team form an alliance in an attempt to prevent both Jae-suk and Jong-kook's teams from grabbing their last flag.
If you can believe it, both Jae-suk and Jong-kook's teams fight against the resistance… and then Jong-kook's teammate swipes the final one for the win. That boosts them to the semifinals, and Ji-hyo rips into her fellow Kyungsang Province teammates.
After all the students eat up to cheer on their fellow schoolmates, we take a look at the area where our Ddakji Tournament will take place. The teams strategize and stretch in preparation, trying to keep the nerves at bay.
Then it's time for the tournament, and all the competitors are met with deafening screams from the crowd. It's awesome to see so much school spirit in the air, and awww, Young-taek and another Korea U student from the university special are in attendance.
All of a sudden, the screams hit an even higher decibel as girl group A Pink performs to spur on the teams. The girls pick the first match between Jae-suk and Ji-hyo's teams, which coincidentally are the girls' hometowns. The other matches are as follows: Gary vs. Haha and Kwang-soo vs. Suk-jin.
The first quarterfinal round pits Jae-suk's team (Chungbuk) against Ji-hyo's (Pusan), and "official" inspectors check the homemade ddakjis used for the match. Whichever team obtains 3 points first will advance to the semifinals. Pusan goes first, but the first throw fails to flip. No good.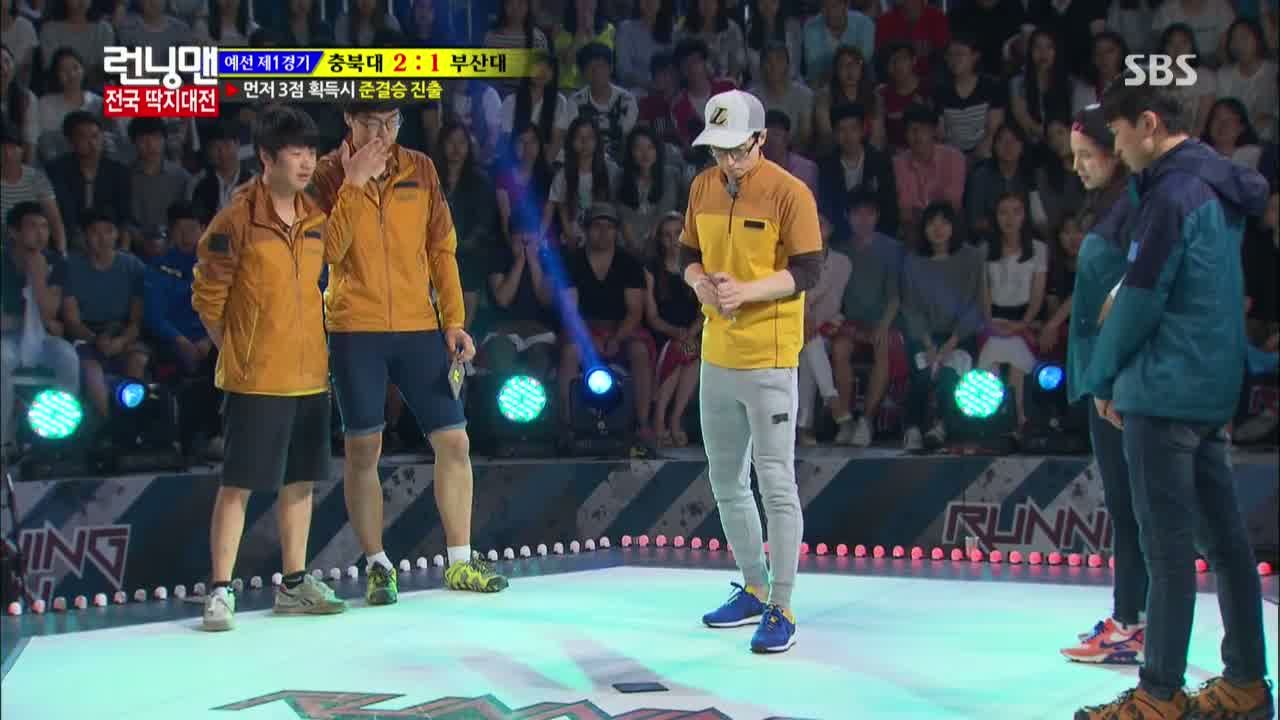 Ddakji King Jae-suk winds up, but fails, and the next flip gives the point to Pusan. The Pusan students' chant is adorable: It's a play on words of "It flipped!" attaching Ji-hyo's name instead.
Chungbuk comes back with another point and Hong-gyu slams down one more for his team. Pusan ties up the score, both times to overturn Jae-suk's previous turns. Ji-hyo calls upon a black knight to aid in her team's time of need, but the ddakji doesn't flip over. And that's when Jae-suk's teammate brings it home.
Then it's Haha (Incheon) vs. Gary (Kyonggi), and neither of their first throws succeed to flip the other ddakji over. The mat-hyungs Suk-jin and Jae-suk provide sideline commentary as the teams continue to face off, weighing Haha team's accuracy versus Gary team's power.
The two MCs get the crowd going, stressing the importance of hitting the paper square's center. By their third competitor, the teams are tied 1:1, and then Kyonggi scores another point. It's back to Haha versus Gary, and after a few unsuccessful throws, Gary ends it like a boss.
Our third quarterfinal match competes Kwang-soo (Korea U) vs. Suk-jin (Chonbuk). Haha temporarily takes over commentary duties, as the topic of such thin ddakjis in the arena are brought up. It makes it both harder to throw and even more difficult to flip, but Chonbuk grabs the first point.
For some reason, Kwang-soo eventually goes barefoot on stage, as if that'll be an advantage. Maybe he thinks it gives him more stability, but it does little, and then Chonbuk picks up another point.
Korea U starts to make a comeback thanks to Joey, and the live epic music really does play up the dramatics of this tournament. I'd imagine being spectator in person would be a lot more fun than what we see on screen, but you can feel the spirited energy of the crowd regardless. Then Chonbuk wins to advance to the next round.
Jae-suk's team faces Gary's team in the semifinals. First up is reigning Ddakji King Jae-suk (who's had a rough showing thus far) against the volleyball player. Both men carry power in their throws, as a few almost-flips gets the crowd's hopes up.
Then Jae-suk lives up to his title, gaining the first point. Gary brings it up to a tie score, but then Chungbuk pulls ahead again. The volleyball player's powerful flip works against him, but his second try ties it up again to 2:2. And Hong-gyu steps up to throw down the third point.
It's time for Jong-kook (Kangwon) to make his first showing against Suk-jin (Chonbuk). It's impressive from the start as Kangwon takes the first point on the first throw down. A few more slams later, Kangwon picks up its second point.
They're looking pretty unstoppable by the time Jong-kook finally steps up. In an effort to distract him, the crowd chants "Yoon Eun-hye!" which actually makes Jong-kook momentarily lose focus. It works though, and this long drawn-out moment before Suk-jin's turn makes me think that we're up for a big reversal ahead.
Nope, the first try's no good… but then Suk-jin's second flips the other ddakji over. He actually beat Jong-kook (in a turn) for once, which yay for Big Nose Hyung!
But that's only the beginning for Chonbuk who scores yet another point, to everyone's surprise. Round and round they go with one throw after another, and at one point, one ddakji bursts upon impact. And in a surprising twist, Chonbuk slams down the win to advance to the finals.
Jae-suk and Haha gives their two cents on the Number 1 Seed's unexpected loss, which they attribute to the "Yoon Eun-hye" effect. That was really a great win for the underdogs.
Now's the time everyone's been waiting for has arrived: the final round between Suk-jin (Chonbuk) vs. Jae-suk (Chungbuk). The show replays the dramatic journey each team took to get to this last battle.
Neither team succeeds in flipping over their opponent's ddakjis on the first try. Chonbuk Gary throws down the first point, and Suk-jin's lucky streak continues, adding another point to the tally. Imma say it now: Even if Suk-jin ultimately loses, this has been a fantastic day for him.
The crowd rallies support for Jae-suk, who fails to flip the ddakji. His team's ddakji withstands a beating to give him another chance. He fails again, and everyone waits with bated breath at the next offensive attack. Still, no good.
… and then a light: Jae-suk scores the first point for his team. Following a few more frustrating throws, Chonbok Gary lays down another strike. The Chungbuk ddakji flips in the air two revolutions before falling back on its original position. Twice.
But third time's a charm, and the Chunguk ddakji finally flips over, making Suk-jin and Chonbok the champions. Daebak.
And while both Chonbok and Chungbuk teams are awarded scholarships, the real winner today is Suk-jin, hands down. Drink it in, Big Nose Hyung—this is your day. We love you!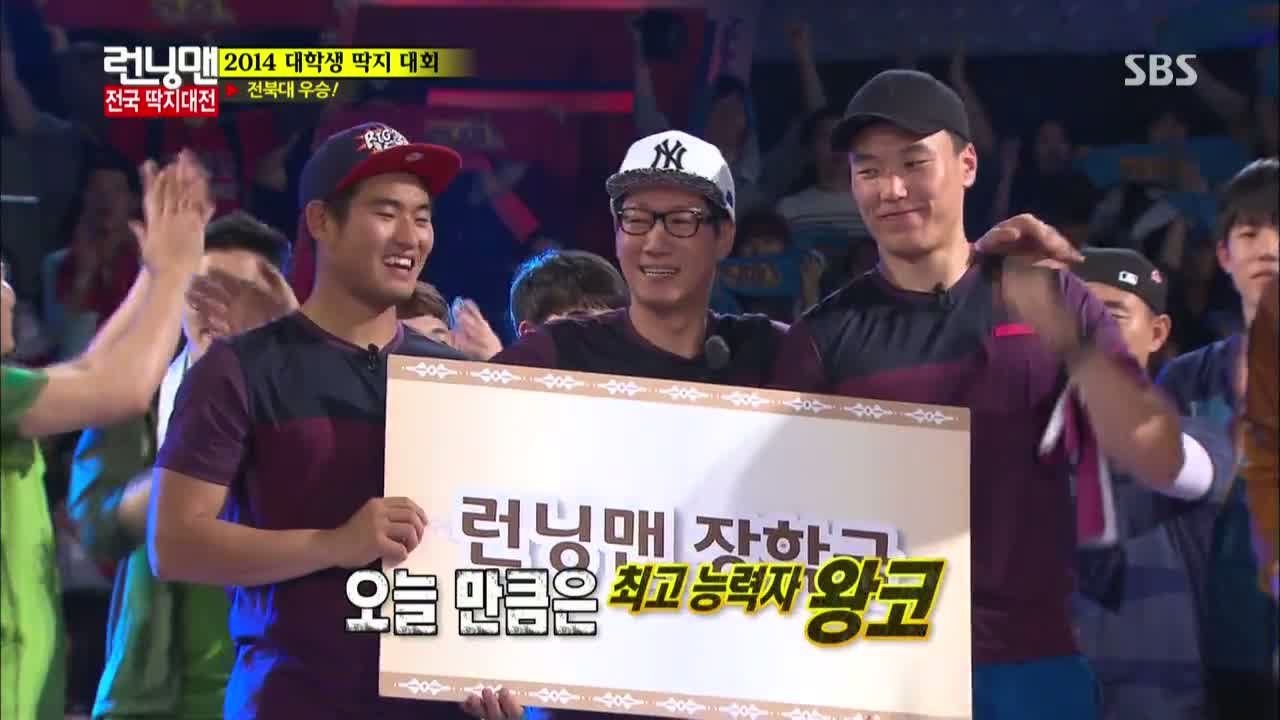 RELATED POSTS
Tags: featured, Haha, Ji Suk-jin, Kang Gary, Kim Jong-kook, Lee Kwang-soo, Running Man, Song Ji-hyo, Yoo Jae-suk