Gap-dong: Episode 19
We're one episode shy of the finale, which means the loose ends should be coming together and tightening up as we address the last few questions that still linger about our killer's motivations. Well, the operative word here is should, but I can't say that we exactly get there with this hour. What it does do, as the show has been doing all along, is put in some strong, charged acting displays that grip me in a way that the writing surely doesn't. Because while I enjoy watching the performances unfold, I'm still confused.
SONG OF THE DAY
Oh Hee-jung – "부셔 (Break)" [ Download ]
Audio clip: Adobe Flash Player (version 9 or above) is required to play this audio clip. Download the latest version here. You also need to have JavaScript enabled in your browser.

EPISODE 19 RECAP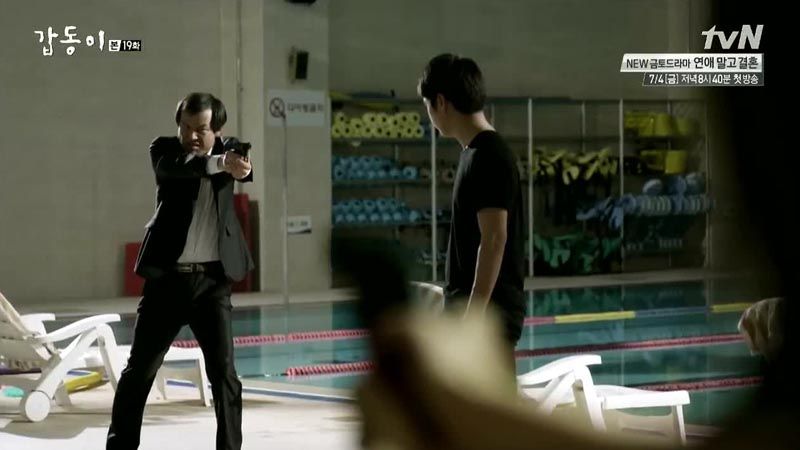 Mu-yeom goads Section Chief Cha to show his true colors and reveal his Gap-dong side. He slowly reaches for the gun he's carrying and prods Cha, wanting him to react. Chief Cha clocks the security cameras in the building, which suggests to me that what he does next is part of his plan and not an uncontrollable impulse: He leaps at Mu-yeom, grabs the gun, and levels it at him.
We'd seen Officer Young-ae leaving with a gun hidden in her towel, and she's been waiting around the corner, ready to act. She lines up Cha in her sights, and shots ring out. Bang!
Both men go down. Young-ae has shot Cha in the shoulder, while Cha shot Mu-yeom in his shoulder.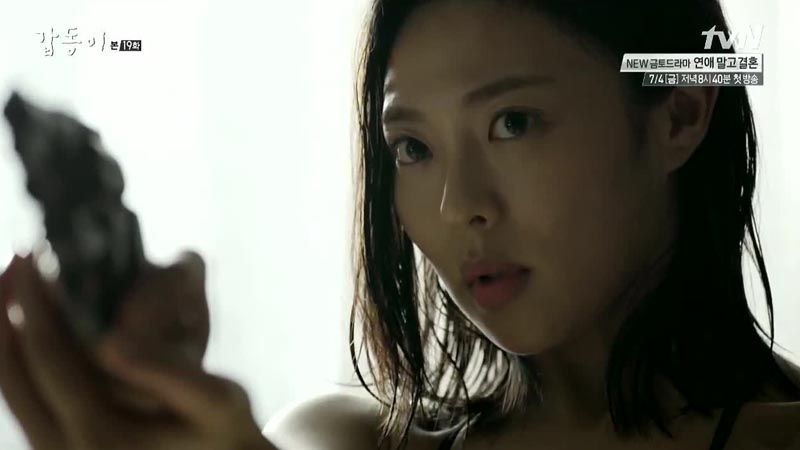 The wounds are nonfatal, though painful. To Cha's surprise, Mu-yeom doesn't hand him over to the cops at this point, but instead has him cuffed to the passenger's seat of his car and then takes him for a drive. Hyung-nyun is reluctant to let them go off alone, but Mu-yeom is determined and got a plan in mind. I can't vouch for it being a reasonable plan, but I don't think anybody's acting reasonable around these parts anymore, if ever.
As he drives, Mu-yeom explains about the monk's advice not to be a hero, since in practice there's little difference between a hero and a psychopath. "But I must want to be a hero," he says. "A hero who captures Gap-dong."
Chief Cha is back to his nicer demeanor, urging Mu-yeom not to be a crazy person and insisting that what he wants Cha to confess to—more undiscovered murders—doesn't exist. Mu-yeom doesn't even have a specific destination in mind, but is determined to get Cha to give up his secrets, even if he has to push them both to the brink to get it.
Mu-yeom's vision starts to blur and his head gets dizzy from the blood loss, but he ignores Cha's worried pleas to cut it out and continues onward. The car starts to swerve dangerously, but even then Mu-yeom doesn't let up, demanding to know where more undiscovered victims are buried. He calls it the four-leaf clover, having seen a pattern in the Eiffel Tower photo, and orders him to lead him there. He hits the gas, ready to play chicken with their lives until Cha is ready to spill.
Maria and Chul-gon receive word of Mu-yeom's rogue activities, and Maria decides she has to do something too. Meanwhile, Tae-oh methodically blows up a balloon while waiting for Maria to show. A tearful Ji-wool, tied to a tree, watches fearfully.
Tae-oh drops his balloon and decides that Maria isn't coming after all, and takes out a dagger. Ji-wool asks if he had this planned from the start, and weather he agreed to her lessons as a trap. He replies yes, looking bored and expressionless all the while.
But when Ji-wool says she came along with him to confirm whether he was able to change his nature, a different look crosses his face. Something upsetting, intense. He pulls out a fresh balloon and agrees to wait just a little longer for Maria.
Mu-yeom fades fast, just moments away from passing out at the wheel. Even so, Cha insists there are no other murders, and Mu-yeom drives on, barely registering where they're heading. He loses control of the car and swerves off the road, onto a sidewalk, and into a wall. Craaaaash.
Even now Mu-yeom remains steely, saying his path to the afterlife won't be lonely since he'll drag Cha with him. Chief Cha is badly shaken, on the other hand, and names his secret burial spot.
Tae-oh's second-chance balloon pops, and he reaches for the dagger again… which is when Maria shows up.
Maria tells him to let Ji-wool go, and Tae-oh agrees: "I'd better, if I want to make you play rock-scissors-paper." Ah, so this was a trap to kill both ladies, then. I can't imagine how Chief Cha convinced him that killing two more women would somehow be Tae-oh's ticket to freedom, but I suppose that's not the point.
Cha directs Mu-yeom to a grassy spot in a secluded location, and Mu-yeom orders him to start digging. The rest of the police arrive on the scene, where the remains of a woman's body are uncovered.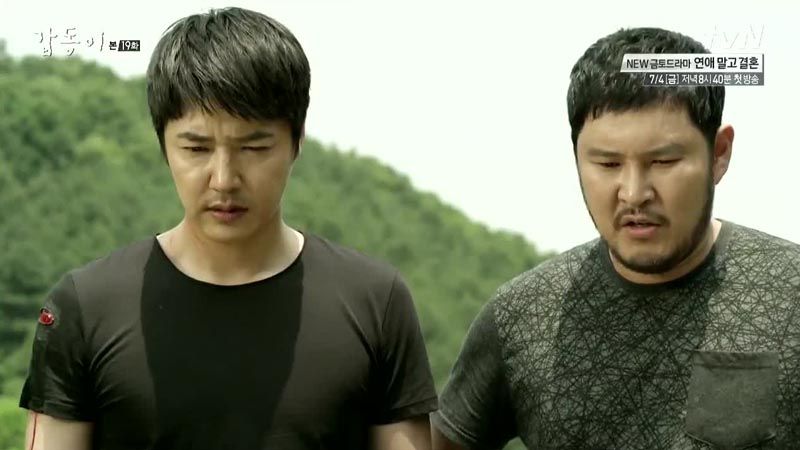 In flashback, we see a scene from as recently as three years ago, when Chief Cha had buried the victim here. He'd taken photographs of the field, focusing on the four-leaf clovers growing near the body. We've seen him taking photos of foliage over the course of this drama, and now we understand why. (At least theoretically. This point is super unclear in execution, and required lots of rewinding and conclusion-leaping.)
Tae-oh forces the ladies to kneel facing them, outlining the rules of the game they are to play: In the original ninth murder, Maria and her friend had both played the same hand over and over (rock), afraid of breaking the pattern. Maria had unwittingly changed her hand to the winning hand (paper), which resulted in her friend's death.
Using the past as his template, Tae-oh tells them to act accordingly, eager to see how the game plays out here. He grows increasingly worked up as he calls the game and they keep their fists still, unchanging.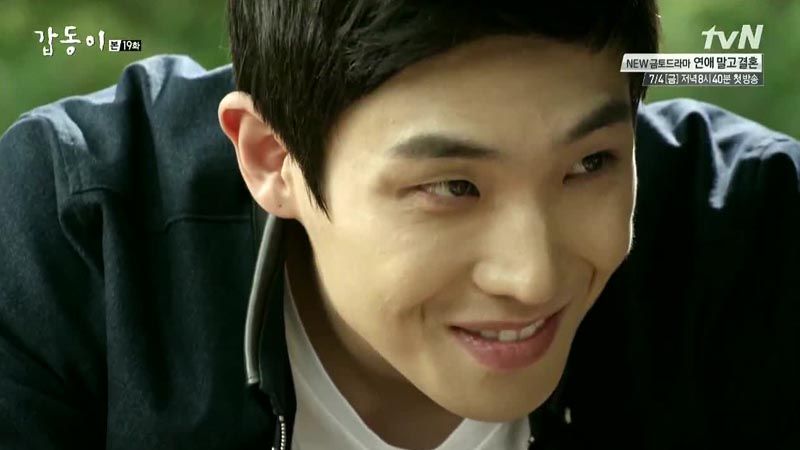 The police appear to be able to see Tae-oh's actions from a helicam hovering over the woods, but they're not at the scene yet. Tae-oh gets angry with the ladies for not playing along with his re-enaction, and proposes a twist in the plan: What if the winner gets to live?
Ji-wool sobs at him to stop. Tae-oh replies, "No. Why would I quit something so fun?"
So when he calls the next game, Maria looks intent on doing something, and she changes her hand—not to paper, to save herself, but to scissors, to sacrifice herself.
Only, at that very moment a terrified Ji-wool changes her hand too—to paper. And the hand that would have saved her life has now sealed her death.
Tae-oh snickers in amusement, but wonders why Maria would give herself up for someone she's not even related to. Ji-wool sobs her apology, but Maria tells her she understands that Ji-wool didn't intend to react that way—after all, Maria had reacted the same way. "I just felt like something had to change," Maria recalls, "because he said he'd kill us if we kept playing the same thing."
Tae-oh wonders idly why it's so important to explain one's reasoning in the face of imminent death, but Maria declares forcefully, "It's important. Because nobody is going to die this time."
Then Maria asks a favor of Tae-oh, to pretend she lost the game. She urges him to hurry and finish the ninth murder before the police arrive, and this makes Tae-oh balk. He says he needs to think this over.
Mu-yeom is treated at the hospital, where he overhears the doctors worrying about the bullet in his head. The hematoma is worse than last time, which makes surgery risky.
Cha is brought in for his injuries as well. Having sent his wife abroad, he has nobody to sign as his guarantor, so Mu-yeom does so at his request. Cha tells him that he was fooled by Tae-oh, who had given him the tip to shoot him in the guise of Gap-dong, and says that he'd given a tip in return regarding Tae-oh's so-called freedom. Cha also advises Mu-yeom to kill Tae-oh when he gets the chance, because if left to live, the slippery bastard will find a way out.
Ji-wool urges Tae-oh to stop now, saying that he still has a chance to save himself. Despite his statement that this is fun, she says it doesn't seem like he's enjoying himself.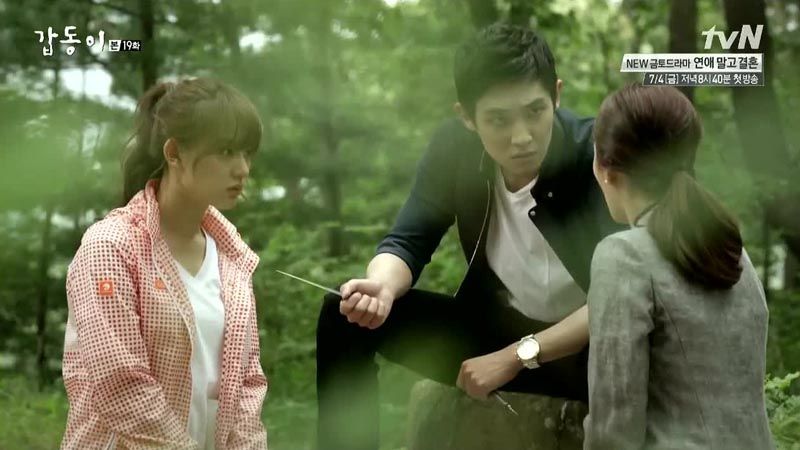 Chul-gon and his team observe these goings-on from their camera above, and I seriously can't understand why nobody's interfering. What are you waiting for?
Chul-gon speaks with Profiler Han and explains that they were fooled into thinking Cha had stopped murdering, when in fact he'd continued. And if Cha had persuaded Tae-oh to believe that he had stopped himself, well, that's a misconception Tae-oh's operating under.
Tae-oh tells Maria that he knows why she lost on purpose—to make sure he died. He'd realized that the police would be coming soon after she arrived, and that he might end up shot to death today. Looking like a hurt child, he asks, "But why have you never once believed in me?" Said the proud serial killer.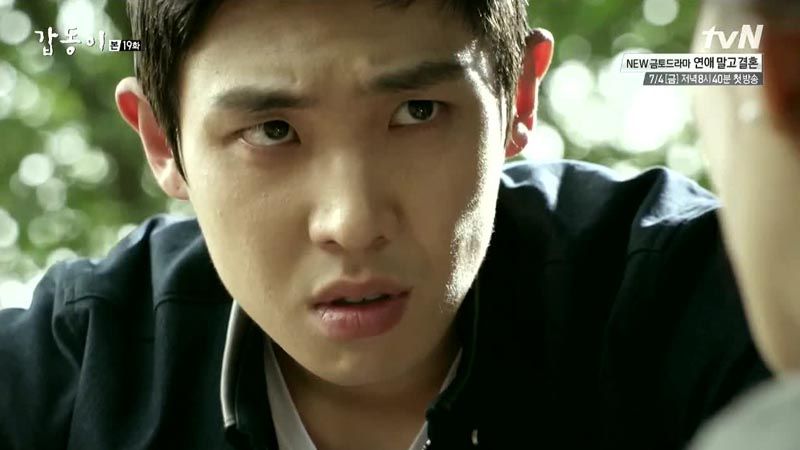 He asks if Maria has ever felt compassion for him, "like that stupid girl," indicating Ji-wool. She apologizes but says, "You're Gap-dong's copycat. If I felt compassion for you, what happens to the people who died at your hand? You haven't only killed your victims—you've also ruined the lives of their families and their loved ones. When you kill a person, suffering is felt by hundreds of others."
Confused, Tae-oh asks what she thinks he should do. What happened to the girl Jae-hee who lived at the expense of her friend?
Maria answers that Kim Jae-hee died the moment her friend did. It would be abnormal to hope for a normal life after that—this is what it means to be a victim, and to be hurt. She tells him to cut out the ridiculous defense tactics, and that she won't let him off the hook.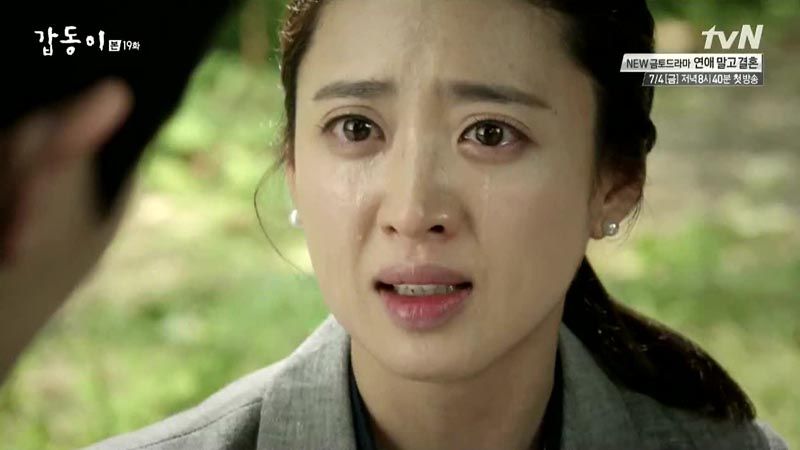 Noting the helicam watching from above, Tae-oh asks Maria for a favor: "If, when I die…" We don't hear the rest of that.
Mu-yeom rejoins his colleagues, who are observing the camera of Tae-oh's encounter. He wonders what Cha meant in warning them to kill Tae-oh, and what Tae-oh could have been thinking when he pretended to do Cha's bidding (to kill Maria) and then acted on his own agenda.
The sound of Gap-dong's whistle cuts in, and Tae-oh guesses Mu-yeom is on his way. He tells Maria that there's another reason Gap-dong didn't kill her twenty years ago—something neither she nor we are aware of. But he doesn't divulge what he knows, leaving her curiosity piqued.
When Mu-yeom arrives, Tae-oh starts to pull Ji-wool away, but is ordered to stop. He surrenders readily, a big grin on his face.
Chul-gon visits Cha and guesses that he was trying to use his copycat to eliminate his sole witness. But Tae-oh turned on Cha, who concedes that he lost. He asks, "Did it feel good to win?"
Chul-gon asks if he feels anything akin to conscience. Cha replies, "Cha Do-hyuk tells me to try to live as a human. Gap-dong tells me that living as a beast is more fun."
While bringing Tae-oh in to the station, Mu-yeom guesses at his reason for not killing today: to provide more reason for his insanity plea. Tae-oh just laughs.
And yes, Tae-oh does have more tricks up his sleeve, the latest being a matter of nationality. He'd held on to his dual citizenship (South Korean and American) because of his stake in the family corporation, but if he gives up his Korean citizenship, he can work the nationality issue in his favor. His lawyers bat around the idea of deporting him abroad, which would somewhat gratify the Korean citizens who'd rather be rid of him.
Ji-wool's and Maria's mothers hear that their daughters are safe, to their great relief. Ji-wool's mother apologizes to Maria's mother for her daughter's part in recent events, saying that she's too interfering. However, Maria's mother consoles her, saying that she ought not blame the victims for being targeted.
That's the same thing Maria points out to Ji-wool, telling her that because she was in the act of running away from home when Gap-dong got her, people used to whisper that she got what she deserved. She makes Ji-wool promise not to blame herself for trusting people, and admits that it's still hard for her.
Later that night, Maria wonders to Mu-yeom what will become of Tae-oh, admitting that perhaps she is concerned about him after all. She starts to say that after this is all over… and how she was happy to have had him with her through the ordeal… But Mu-yeom doesn't let her continue and pretends to be distracted by the baby.
In a flashback, we see that the monk had told him that when Mu-yeom was a teenager and not in his right mind after his father had died, doctors had said he only had fifteen more years to live. He has already surpassed that timeline, and therefore should consider his extra time a gift and live well. I'm guessing Mu-yeom doesn't interpret that news in quite the same way, if he's pushing Maria away because of it.
Chul-gon conducts the interrogation of Chief Cha, and speculates that there's something about the case that Cha is keeping hidden. Referring to the bloodstained jacket Mu-yeom burned and kept secret, Chul-gon asks, "What's your bloodstained jacket?"
Chief Cha just says that he was born a psychopath, and has nothing further to say. "You people all have red blood, and I have beast's blood that's blue. Let's just think of it in that simple way."
Chul-gon reminds him of Mu-yeom's theory that Cha used the signature knots to exaggerate his psychopath image, and guesses that there's more to the story of his first victim, Mi-ja, and her father. Cha tells him to end this easily—a cop's job is to find evidence for his case, and now they have it.
Tae-oh is brought before the noose, trembling and shedding tears in fear. He starts hyperventilating when the sack is placed over his head, and the noose slung around his neck. The floor drops from under his feet—and he jerks awake. A nightmare. Shaking on the floor of his cell, he huddles in the fetal position and gasps, "Cold… I'm so cold…"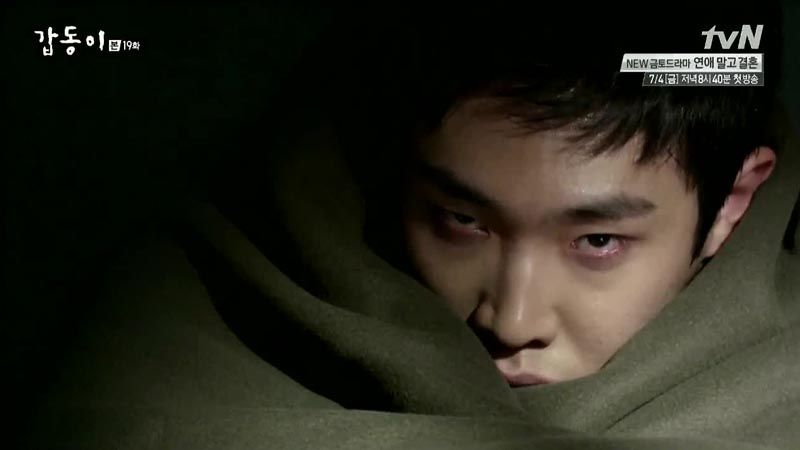 He wraps himself in a blanket but continues to shiver uncontrollably, muttering that he has to survive. There's an irony to the wording, because saying "I have to live no matter what" is said, in literal terms, as "I have to live, even if it kills me."
When he meets with his lawyers, he's confident and assured once again, showing them the fishing blog with the conversation between him and Cha. He states his new approach: He was manipulated by the original Gap-dong. Cha forced him to commit the ninth murder, and Tae-oh had no choice but to comply.
Mu-yeom visits with Tae-oh and starts to mention Maria, but Tae-oh says he doesn't want her pity. He asks why Mu-yeom pities him, pointing out that he always regards him with the gaze of someone who thinks his kid brother has gone astray. He guesses that Mu-yeom thinks that he could have become like Tae-oh himself: "I figured it out with the Russian Roulette—that you were lucky to stay on that side, as a person."
Ji-wool falls ill, and her mother tends to her. In so doing she stumbles across the webtoon Ji-wool has been working on, which incorporates some of the latest bits we've learned. This one involves two youngsters killing a man, which suggests that Cha and his friend Mi-ja had killed her father together.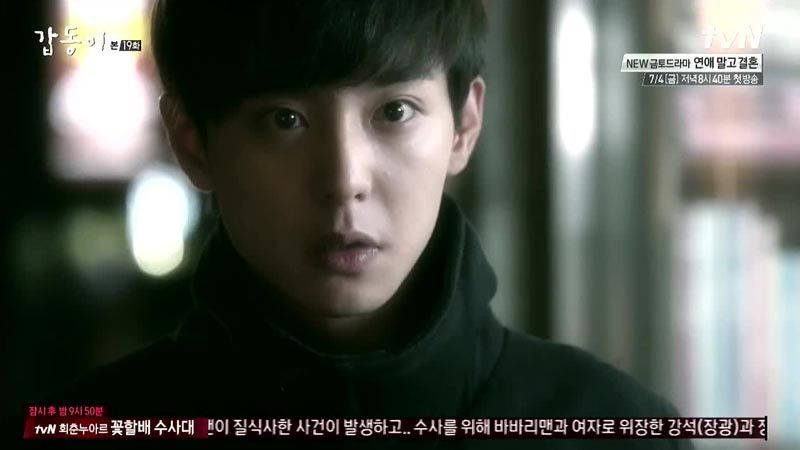 As Cha sits in jail, he thinks back to 1993, on the day of his first Gap-dong murder. He'd been pacing outside a store, and in its window display was a copy of Crime and Punishment.
The day of Cha's trial arrives. Mu-yeom is there early, and approaches when Cha is escorted to his seat. He asks how it feels to sit there, and when Cha says it's uncomfortable, Mu-yeom replies that it's at least good that Cha can feel enough to feel discomfort. Only to have Cha clarify that he means the seat is literally poking him, not that he feels any sense of conscience.
When Cha is given a chance to make his statement, he only has one thing to say: "All of you who stood by and watched for the past twenty years—do you have any right to judge me?" He chuckles to himself.
Tae-oh huddles to himself in his cell, whispering, "If only I could live…"
In the shortest serial murderer trial in the history of ever, the verdict is reached and about to be announced. Before it can be declared, Cha leaps up form his chair and begs the judge for mercy, blubbering that he wants to live.
Mu-yeom and Maria watch in confusion—what's he up to?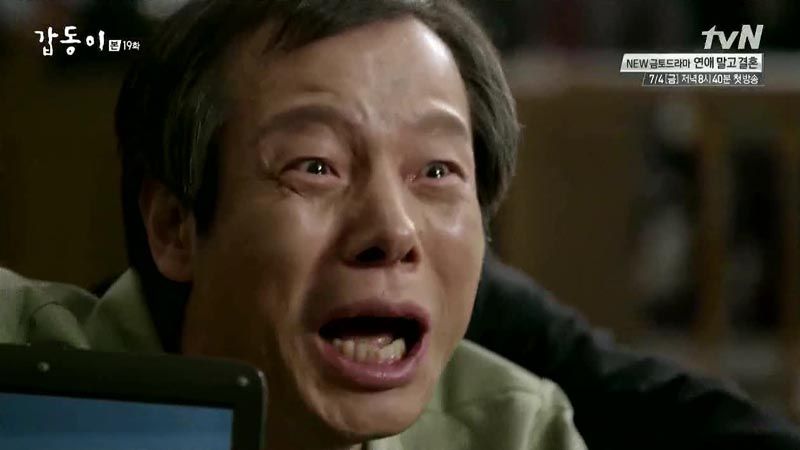 COMMENTS
This is another tactic, I'm sure, designed to elicit sympathy. I don't know what Cha intends to argue in his defense, because at this point the only question can be of what kind of punishment he is given, isn't it? It's the same as Tae-oh's situation, where I can't imagine any scenario where the criminals earn any sort of real freedom; it must be a bid for a life sentence rather than death.
What I'm unclear on is what actually spurred Cha to this point, because I think we're meant to see him as having reached that point of fearing death, or at least desiring to live, in the way that Tae-oh did several weeks ago. Was it the car crash? That actually seems pretty weak to me, although I suppose there's a symmetry in the way that it was Mu-yeom in the driver's seat with both psychopaths. But why would Cha break and agree to show him to the burial site, believing that this disclosure would somehow strike a deal with the cops to let him off easy? If anything it's the nail in the coffin they needed to secure his conviction, and without it they would have been in a much weaker position. This drama's logic, it hurts my head sometimes.
I do try to give it the benefit of the doubt in most instances because it's clear that the writing is mindful of true crime cases, and has mostly used those examples judiciously as reference points. Now that we're so close to the end, though, I think I can stop hanging on hope that there's a better answer to some of my questions and just conclude that in some aspects, this drama isn't going to deliver. And the reliance on American serial killer cases is starting to feel lazy, like you went to Wikipedia and cobbled together a plot based on famous cases, but forgot the part where these characters have to have motivations that read as credible. They don't have to make sense in straightforward way given that we're dealing with psychopaths, but internal logic is still important, and I'm left frustrated trying to make those ends meet in my mind. It's like trying to tie together two ends of string, only they ends just barely touch and you can't actually manage any tying.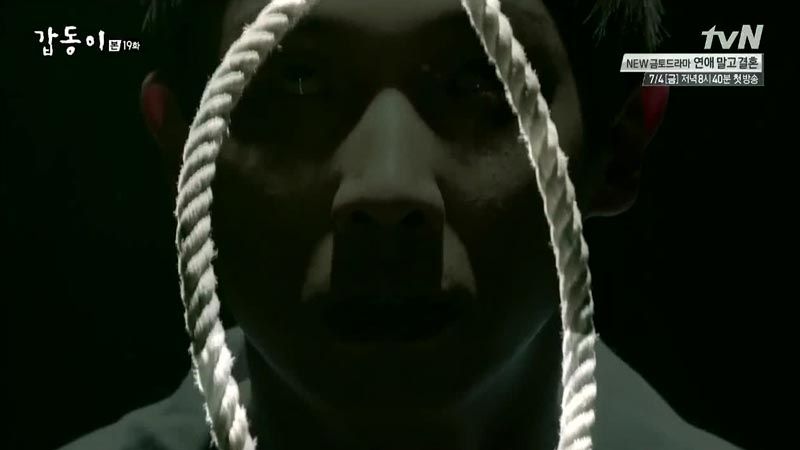 I continue to find Tae-oh vastly more interesting than Cha, and while that's good on one hand, I do think it's indicative of the drama having dropped the ball with their titular character. I'd even posit that the mystique of Gap-dong was way more intriguing than the actuality of Gap-dong, and this villain is falling rather flat for me. Tae-oh, at least, is a character who lives in the present, so we get to come along for the ride as he struggles with his emotions (or non-emotions, perhaps).
I do think the drama is heading toward a finale twist regarding the first murder, although since I already know about Into the White Night, I'm not thinking it'll be much of a surprise. Perhaps he and Mi-ja plotted together to kill her terrible father and somehow that went awry and Mi-ja died too. Or maybe she knew about it and was going to spill, and he had to silence her? In any case, it seems like that first case points to a Cha Do-hyuk who was still human, before the beast was stirred, and maybe that will be the little glimpse of reclamation we get for his character. Redemption is far gone, of course, but understanding can be a worthy goal. Let's just hope we actually get there with the finale.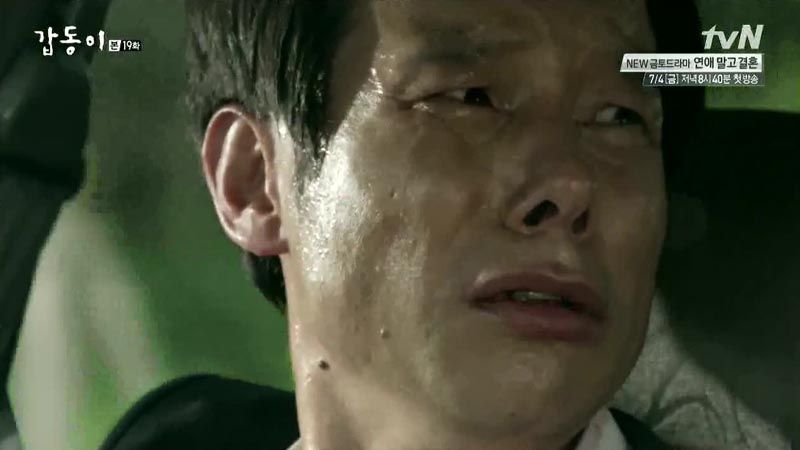 RELATED POSTS
Tags: featured, Gap-dong, Kim Ji-won, Kim Min-jung, Lee Joon, Sung Dong-il, Yoon Sang-hyun