Trot Lovers: Episode 14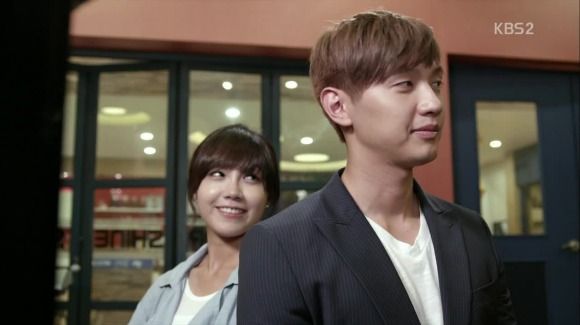 The parents get some major focus this episode, as Dad (finally!) reappears and we begin to unravel what really happened to his wife — and who might be responsible. Note: It might not be who you think. Soo-in begins to realize that her mother's schemes may not be foolproof, and tries to take her fate into her own hands. Too bad it's unclear whether that's a step forward or back.
EPISODE 14 RECAP
After the emotional back-hug, Chun-hee tearfully reprimands Joon-hyun for hiding the fact he no longer has amnesia. He fights back his own manly tears as he says that as much as he really wants to hug her, there's still something he still has to do. He can't tell her what it is, but he promises he'll come back to her soon.
Placing his hands on her cheeks, he asks if she trusts him. Still sniffling through her tears, she nods, and he asks her to keep his returned memory a secret. Then she takes his face her hands, too. Aw.
Soo-in finds Chun-hee in the hallway (who's still reeling at the discovery the Joon-hyun is "back," aw) and calls her out to the stairwell for a private tête-à-tête. She blames Chun-hee for ruining the engagement party, and then threateningly flaunts the medallion necklace in her face, saying that Joon-hyun gave it to her as an engagement present. She shouts that Joon-hyun loves her, not Chun-hee, so Chun-hee shouldn't even think about coming between them.
But Chun-hee isn't putting up with Soo-in's nonsense, and asks why Soo-in looks so nervous, instead of looking like a woman in love. After Soo-in watches Chun-hee walk away, she screams out her frustration and it looks like she's about to throw her purse down the stairs after Chun-hee, but instead she trips over her own feet and face-plants on the landing, giving herself a nosebleed. What delightful foreshadowing, since Soo-in's downfall will surely be of her own making.
As she practices the piano in her studio, Chun-hee notes in her calendar that tomorrow a special day. Joon-hyun stops by to marvel at how well she's improved in her piano skill, and she asks him to come over for dinner tomorrow night.
Meanwhile, Geon-woo holds a staff meeting to discuss the future of the "Choi Chun-Hee Second Generation" talent search. To no one's surprise, Director Wang and Yang Joo-hee want to shelve the project since Chun-hee's scandals have destroyed her public image. Geon-woo protests, but Yang Joo-hee points out that image is everything in the entertainment industry. Is Geon-woo's personal attachment getting in the way of doing business?
Director Wang proposes using Chun-hee to recording the guiding track for Yoo-mi (which is generally a job that any studio musician can do, and usually isn't a task for a popular artist). Geon-woo bristles at the idea of Chun-hee being demoted to such a position, but she's already agreed.
Yoo-mi finds Chun-hee in the studio preparing to record the guide track, and asks her how she could do that for her. But Chun-hee reminds Yoo-mi that Chun-hee had help of her own to get this far, and it's because of Chun-hee that Yoo-mi is at Shine Star at all — so of course she wants to help out. The two women sing the trot-duo Tutti's "Clap, Clap, Clap" and Geon-woo, who'd been walking by, stops in the doorway of the studio to thoughtfully watch them.
Later at home, Chun-hee is busy making seaweed soup and other deliciousness because it's Joon-hyun's birthday. Byul is excited to know that she no longer has to keep Joon-hyun's secret from her big sister, and that they can become one big happy family again. Or maybe that's just me projecting, because I'm just as thrilled as Byul to know that he's coming over for dinner.
Except Chun-hee gets a call from Director Wang who orders her to perform at an event elsewhere. When she tries to explain she has another commitment, he says she's being unprofessional.
Joon-hyun thinks he's dropping his mother off for an appointment, but she convinces him to come inside and say hello to all the guests gathered for his surprise birthday party. Mom marvels at Soo-in's thoughtfulness in throwing such an elaborate party, and while she coos over her future daughter-in-law, Joon-hyun slips out to try and contact Chun-hee.
Soo-in takes this opportunity to link her arm with her future mother-in-law, saying there's another woman trying to come between the supposed happy couple. That person, according to Soo-in and her "oh poor me" pout, is Chun-hee — who just so happens to have arrived at the party, surprised when she and Joon-hyun come face-to-face as they are apologizing over the phone for having to cancel their dinner plans.
When Mom sees the two of them together, she marches up to Chun-hee and throws a glass of wine in her face, loudly accusing her of trying to steal another woman's man. Joon-hyun practically has to drag his mother away as she continues to threaten Chun-hee, who just stands there and quietly takes the abuse.
Mom doesn't understand why what she did was wrong, because embarrassing Chun-hee will keep her from pursuing Joon-hyun. She assumes her son is naive to the devious ways of women, and reprimands him for making Soo-in worry. This only clues him in as to who is really behind her actions.
After Chun-hee does her best to clean up the wine Joon-hyun's mother spilled on her, steeling herself to do her professional duty and sing the song she was hired to perform. But as she steps up to the microphone, Soo-in also takes the stage to inform everyone that this isn't just Joon-hyun's birthday party, it's also their engagement party.
Joon-hyun is still committed to keeping secret the fact he has his memory back until he can get evidence that Soo-in and her mother were responsible for the accident in the first place, so he unwillingly plays along, thanking everyone for coming. But the glances he exchanges with Chun-hee let her know how distressed he is by the whole situation.
In a move that is reminiscent of when he saved her in the nightclub back in the second episode, Geon-woo leaps up to beg her to not sing and just leave with him. But she declines his offer, citing her professionalism, and sings a popular wedding ballad, Lee Jae-hoon's "I Love You" (and Shin Bora made a cover of it a few years ago, just to keep the connections alive).
As she performs, Joon-hyun's mother is struck by Chun-hee's stage presence, saying it reminds her of someone: Oh Sung-joo. Which makes Soo-in's mother nervously gulp down some wine, because this show has taught us that drinking red wine (or throwing it at a television or in someone's face) is a symbol of villainy.
Afterwards, Chun-hee tries makes a quiet exit, but Soo-in is determined to continue to gloat that she's marrying Joon-hyun. When Chun-hee dismisses her with a pitying remark and calmly walks away, Soo-in shrieks in a rage and shoves her into the hotel pool — and ends up falling into the pool, too.
The two women flounder and flail in the water, attracting the attention of the party guests who just stand and gape until Geon-woo and Joon-hyun arrive to dive in after the women. Both men swim directly to Chun-hee, but Geon-woo is just a little slower than Joon-hyun, and ends up being forced to save Soo-in.
Chun-hee reassures Joon-hyun that she's all right, and urges him to return to Soo-in. But a little too late: The shame of not being saved by her fiancé infuriates Soo-in, and as she's confronting him on his actions, she suddenly starts to panic that perhaps his memory has returned. But he keeps up the lie and instead tells her that he just realized today he likes Chun-hee, and needs some time to figure out his feelings.
Geon-woo chases after Chun-hee, frustrated that she ignored his counsel to leave earlier. He angrily asks her why she never listens to him, instead only choosing to do what she wants which only seems to hurt her — and him. But she just apologizes and walks away.
He takes his heartbroken self to his father, where over a few beers (that they're using straws to drink with, hee), President Jo warns his son that Yang Joo-hee is a dangerous woman. A warning that's about fourteen episodes too late, I'd say, but Geon-woo's fully aware of what she's like. Which is a good thing, too, because she's busy plotting ways to use Joon-hyun's affection for Chun-hee against him, taking down two birds with one stone.
Byul and Chun-hee are ready to clean up the birthday decorations they made for Joon-hyun, assuming he won't be coming over for his homemade birthday dinner (and Byul sagely points out that dating a "top star" is never easy), but he surprises them. The three of them enjoy a simple yet happy birthday celebration, the best present being Byul's performance as his super star alter ego as she sings the song he taught her to play on the ukelele.
When Joon-hyun returns to his apartment, he finds a lollipop and a note from Chun-hee, where she calls him "Pretty Man" and gives cheerful encouragement for the future of their relationship. Later, after Byul is asleep and Chun-hee is focused on listening to Yoo-mi's vocal tracks, she receives a text from him, telling her to come out to the living room.
Which, thanks to some serious decoration ninja skills, has been totally transformed into a romantic setting, with candles and strings of fairy lights. Chun-hee discovers notes hanging from the ceiling, that tell of Joon-hyun's version of "The Little Mermaid." According to him, the mermaid was the only one for the prince, even if he was a jerk who got engaged to the other princess in order to protect the mermaid. For hurting the mermaid's heart, the prince is sorry, but is thankful to the mermaid, whom he loves.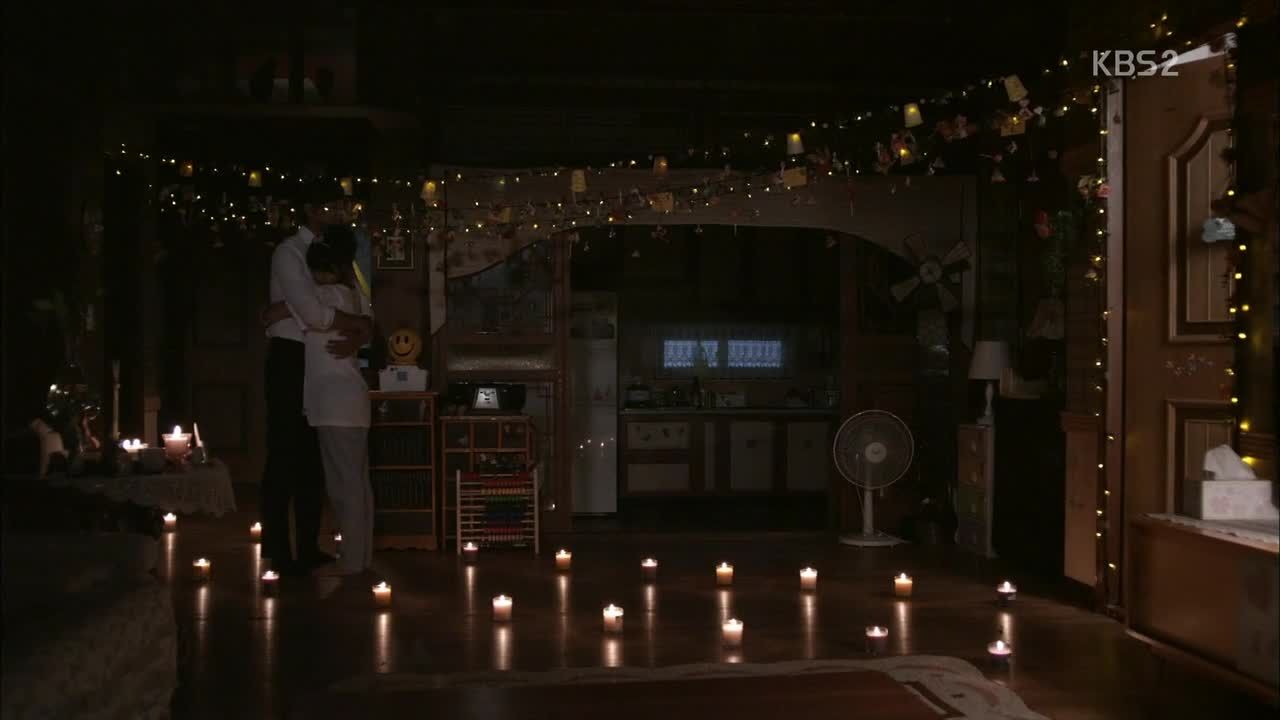 After she finishes reading his story, he steps out to wrap her in a hug, apologizing to her in person, and then murmuring, "I love you."
The next morning, Geon-woo tries to be cool (but not totally self-sacrificing, since he says he's not going to stand aside) by filling Joon-hyun in on the secret that he and Chun-hee were dating before he lost his memory. But when Joon-hyun just chuckles knowingly, Geon-woo gets adorably flustered in his embarrassed annoyance that Joon-hyun hid the fact his memory returned. However, Joon-hyun has a secret of his own to share.
We don't get to hear what it is, but presumably it's about Soo-in, because as they sit at a cafe (with no sexual tension between them whatsoever, it's so awkward), Joon-hyun gives her one last chance to tell him what really happened. After all, he told her how he felt about Chun-hee because he believes there should be no secrets between lovers. But Soo-in is sticking to her story.
As Joon-hyun and Chun-hee play around at Shine Star (hopping around on the giant keyboard à la Tom Hanks in Big), he takes a moment to confess that him getting hurt wasn't an accident, and that it wasn't him the perpetrators were after, but her. He hid his memory to protect her, and even if it gets hard for her, to continue to trust him for a little longer.
Someone's tipped off an television investigation news crew about the incident, as the reporter and cameramen swarm around a surprised Soo-in, asking about Joon-hyun's accident. Soo-in repeats she doesn't know and escapes them to run to Mom, worried about what the reporters will find out if they continue their investigation. Yang Joo-hee promises to stop the broadcast. Of course she does.
Joon-hyun and Chun-hee are being cute as they tinker at the in piano her practice room, but the sudden appearance of Yoo-mi makes them pretend they're weren't giddily flirting with each other, nope, not at all. Yoo-mi hands over a gift as a thank-you from her father, and asks if Chun-hee's father has returned yet. He hasn't, but Chun-hee has faith that he will, especially since her mother's death anniversary is soon.
As Byul and Chun-hee set out the memorial meal for their mother, Joon-hyun escorts their father to his house, promising to keep his cancer a secret from his family. Through tears, Byul and Chun-hee embrace their father, so happy he's returned. Joon-hyun listens to the sobs of joy coming from their house, and smiles to himself before walking away, leaving the little family to enjoy their reunion.
Later, as Byul sleeps holding her father's hand, Dad thanks Chun-hee for growing up to be a fine adult and taking good care of Byul. He also thanks her for forgiving him for being away for so long, wondering why he didn't listen to "that friend's" advice to return sooner. She's surprised to find out that Joon-hyun was the one who found her father and convinced him to return home, but smiles when she learns that Joon-hyun asked her father to stay beside them and protect them when he couldn't.
The next day, Chun-hee happily waits for Joon-hyun, who is back to his egotistic ways as he assumes she's there to thank him for finding her father (and his nervous way he slips in a slightly mumbled "and that's why I love you" as one of the phrases he expects to hear from her is ridiculously cute). But Chun-hee doesn't take his bait, and says that he was actually going to forgive him for not remembering her, but teasingly says he's a jerk, instead. Aw, I've missed their bickering.
Chun-hee's father is Shine Star to see Yang Joo-hee, She's surprised to see him, but he's there to ask for a favor: He wants to meet with President Jo, who might know where someone named Hwa-soon is, because he needs to find out exactly what happened with his wife's accident.
Hwa-soon is Joon-hyun's mother, who calls Yang Joo-hee just then to let her know she's on her way up to the office. Yagn Joo-hee tries to hide her panic as she tells Dad that President Jo is no longer with the company.
She promises to find out about Hwa-soon as she tries to get him to leave the building as quickly as possible, nearly having a heart attack when she thought the two might meet in the elevator. After she literally shoves him into a taxi to send him away, she hurries back to her office, where Hwa-soon is waiting for her.
She mentions "Myung-shik Oppa" and reminisces that if it weren't for that accident, then maybe — but Yang Hoo-jee angrily cuts her off.
Even so, Dad still wants to see his daughter and he tells the taxi to turn around to go back to Shine Star. As he's waiting to cross the street, he sees Hwa-soon attempting to hail a taxi and hurries after her. But he's a split-second too late and Hwa-soon's gone.
Outside the house, Joon-hyun sits with Dad as he swallows his cancer pills. He's concerned that Chun-hee's father hasn't set a surgery date yet, but Dad is more focused on figuring out exactly what happened to his wife in that accident. He's determined to track down the culprit, but neither of them are aware that the person he's looking for is Joon-hyun's mother.
Pil-nyeo arrives at Tae-song's officetel, but he isn't there. She gets a little giggly over some lustful thoughts when she sees his bed, but is quickly distracted when he appears in a shiny gold sequined jacket and red rose between his teeth.
He gives her the rose and serenades her with Tae Jin-ah's "Woman Who Doesn't Even Look In The Mirror." Pil-nyeo is now happily and willingly seduced by this singing foreplay, which gives a new definition to the concept of "Trot Lovers" (if you know what I mean).
Soo-in discovers Joon-hyun's accident is climbing the real-time internet search charts, and turns on the television to see him asking for anyone who knows anything about the stage accident to come forward and report it.
Meanwhile, Yang Joo-hee has her own worries as Chun-hee's dad calls her, convinced he saw Hwa-soon at Shine Star. She tries to juggle both crises, but Soo-in has reached her breaking point. No longer is she trusting her mother to clean up after her — she's taking care of her own business from now on.
Yang Joo-hee meets with Chun-hee's father, and is pretty darn convincing when she says that his wife's accident was covered up by President Jo for purely business reasons. She tries to bribe him off "like last time," pretending it's out of concern for his family. But he refuses, knowing how important it is for Chun-hee to keep performing.
It can't be helped, she says — he should know that Chun-hee is the one who was responsible for Joon-hyun's accident. Dad doesn't believe her at first, but she saw the CCTV (before she destroyed it out of concern for one of Shine Star's artists; which is true enough), and it was definitely Chun-hee (which is not so true). But if he doesn't believe her, she can produce it again. I want to shout at him to call her bluff, but Yang Joo-hee made enough of an impression that he returns home, looking conflicted as he watches his daughter cheerfully set out his blankets.
Soo-in is the noisiest thief ever as she rifles through her mother's office. Growing more and more frantic as she ignores calls from the investigative news reporter, she finally finds Joon-hyun's phone hidden away in the desk.
She sees the photos of Joon-hyun and Chun-hee's MV-making date, and sends a message to Chun-hee from his phone, asking if she remembers where they went that day.
Chun-hee, assuming Joon-hyun is the one who sent her the message, answers of course she remembers. Which means Chun-hee knows that Joon-hyun's memory has returned. Soo-in doesn't have much time to fret about the fact they've pretending Joon-hyun still has amnesia, because she's too busy freaking out about meeting the mysterious person who tipped off the reporters.
As she paces on the stage where the incident occurred, Joon-hyun calls out, "Ah, so you've come!" Soo-in's eyes get even wider, and he strides forward to calmly yank off the medallion necklace, saying that it doesn't belong to her.
COMMENTS
Finally! I know we've all been impatient for Soo-in (and especially her mother) to get their comeuppance, but I'm just glad this means there won't even be pretense of amnesia next week. Everyone knows, and soon everyone will know exactly what happened that day — and, presumably, the day of Chun-hee's mother's accident.
Yet, as much as I'm glad we'll finally wipe the smirk off Soo-in and her mother's faces for hopefully good, I can't help but feel a little sad. I had hopes that Soo-in wouldn't be relegated to such a comedic level of villainy, and even now I still have a faint lingering hope — buoyed primarily by the fact she finally realized that her mother's cockamamie schemes only make things worse.
Not that Soo-in is any more successful herself, with her absurd "look what I have you don't, neener neener" posturing about her engagement with Joon-hyun. That just made me mad, especially once she made it clear that she was only going through with it to save her skin and make Chun-hee sad. No wonder Chun-hee pitied her.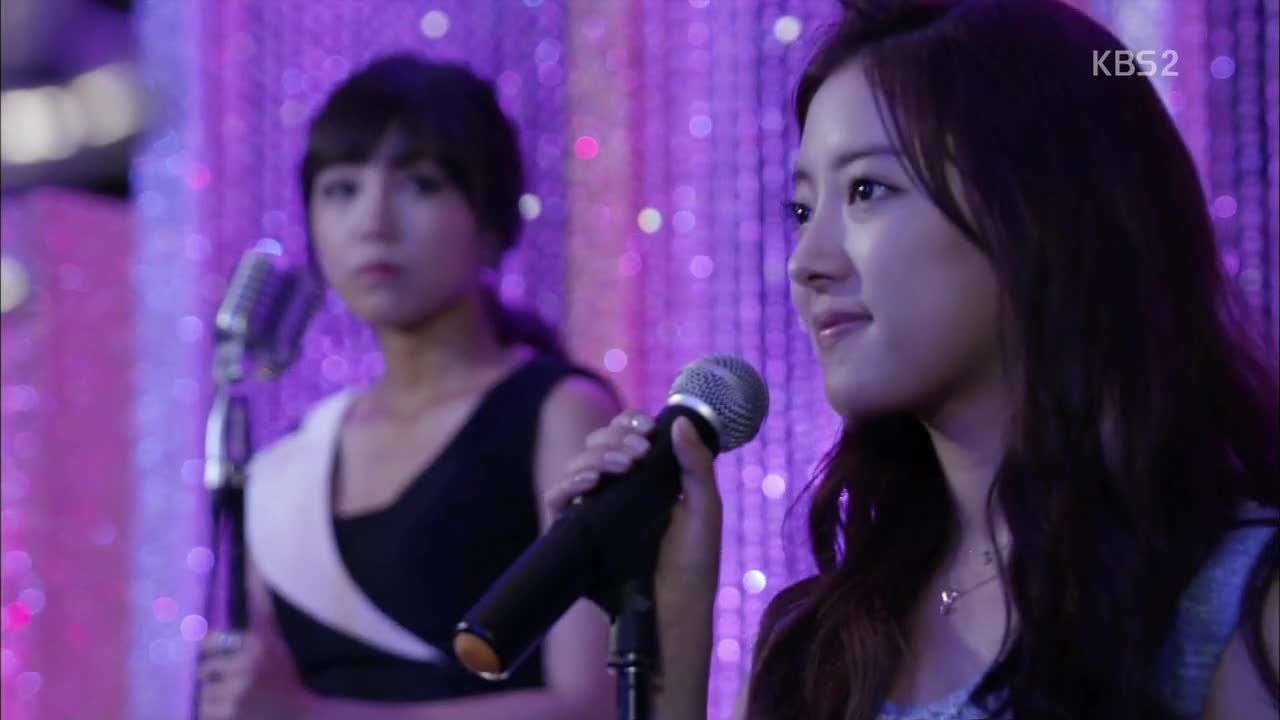 I'm glad that we're also getting around to what really happened with Chun-hee's mother, although I may have rolled my eyes a bit when the show added Joon-hyun's mother as part of the mix. Because of course she just can't be an annoyingly daft mother who's more interested in status than anything else — she has to be the one to somehow be responsible for the death of Chun-hee's mother.
This is mostly annoying because, as clichéd as it may be, it could have been a much more believable way to split apart our lead couple than amnesia. With only two episodes left, I'm not totally sure how we're going to address the fact that Joon-hyun is related to her mother's accident, but it definitely needs to be addressed. Of course, considering how many times Chun-hee has forgiven him for all sorts of behaviors (and just based on how awesome she is in general), I doubt she will hold him personally responsible for any actions (however accidental) that his mother took.
But it still has to be hard to look into the face of the man you love and realize he's the child of someone you consider to have taken your mother away from you. Of course, considering how easily swayed Hwa-soon is, I very much doubt her role was intentional, and it must be Soo-in's mother who is likely to blame for whatever happened. But I would still like to see that drama played out, and it would have at least made more sense than amnesia.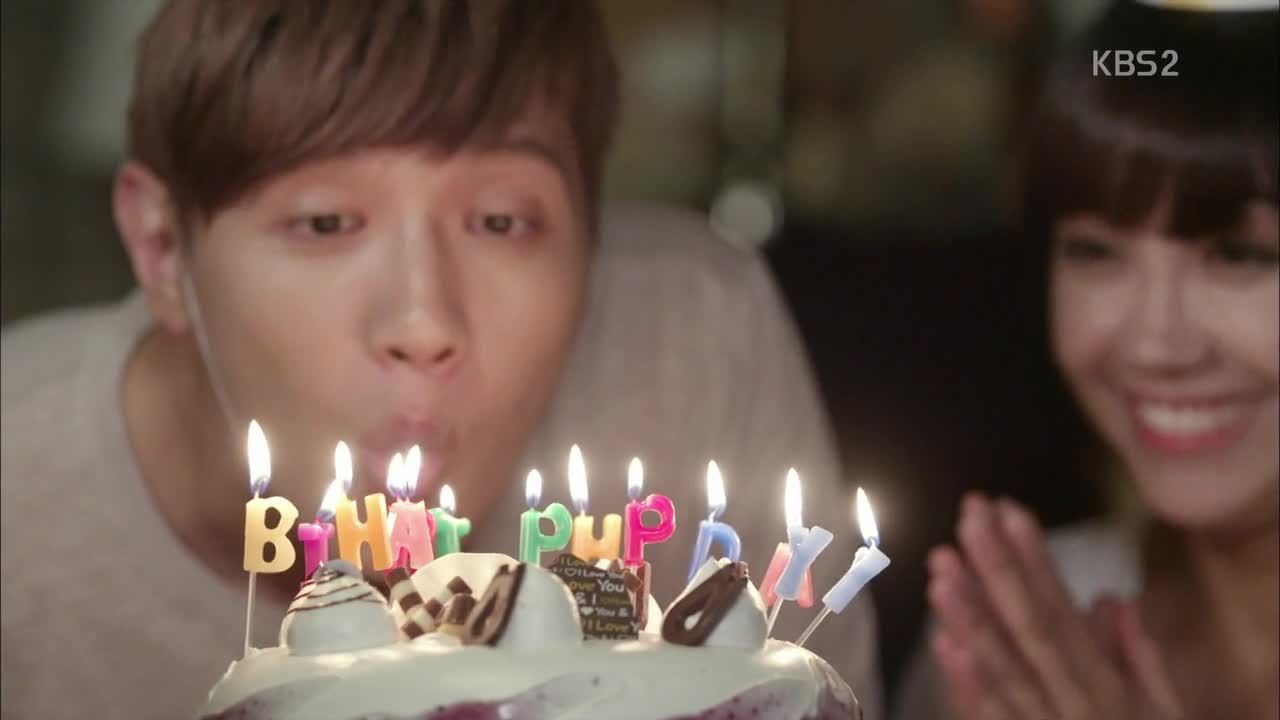 As much as I'm still enjoying the show — because there are moments of fun, and you can't say it isn't boring — I feel like I'm grieving the loss of what could have been. It's not so much that the writers seem hellbent on throwing every drama cliché into the script that they can (if we get a birth secret next week, I think they win a prize for having all the tropes!). It's not that I'm sad the characters become more and more uneven with each episode (I live for those weird moments with Geon-woo, to remind me why his off-kilter character was originally so charming, before he slowly became the brooding second lead).
Honestly, the thing that grieves me the most is the music. Or, rather, lack of it.
Whenever I look up the songs Chun-hee sings, I have the original play in the background. The original style is often slightly (or quite) different than the version Chun-hee performs — yes, it's still trot, but there's a more modern twist. I had innocently gone into this show thinking there'd actually be an emphasis on the art of trot music and the technique it requires. I was expecting a crash course on the history and cultural significance of trot, wrapped in a sweet and quirky rom-com that would be filled with cameos of famous trot singers and lots more ahjummas and ahjussis rocking out to trot.
I guess I just really wanted to feel that this show loved trot more than melodrama (especially since trot music itself is filled with such beautiful heartache and joy!). The only time I believe this show does, indeed, love trot is when Eun-ji is singing. Perhaps that's why I always seem to end up with a bajillion screen caps when she's singing, because that's still, to me, the heart of the show — Chun-hee's love for her family and the music that connects her so deeply to her mother.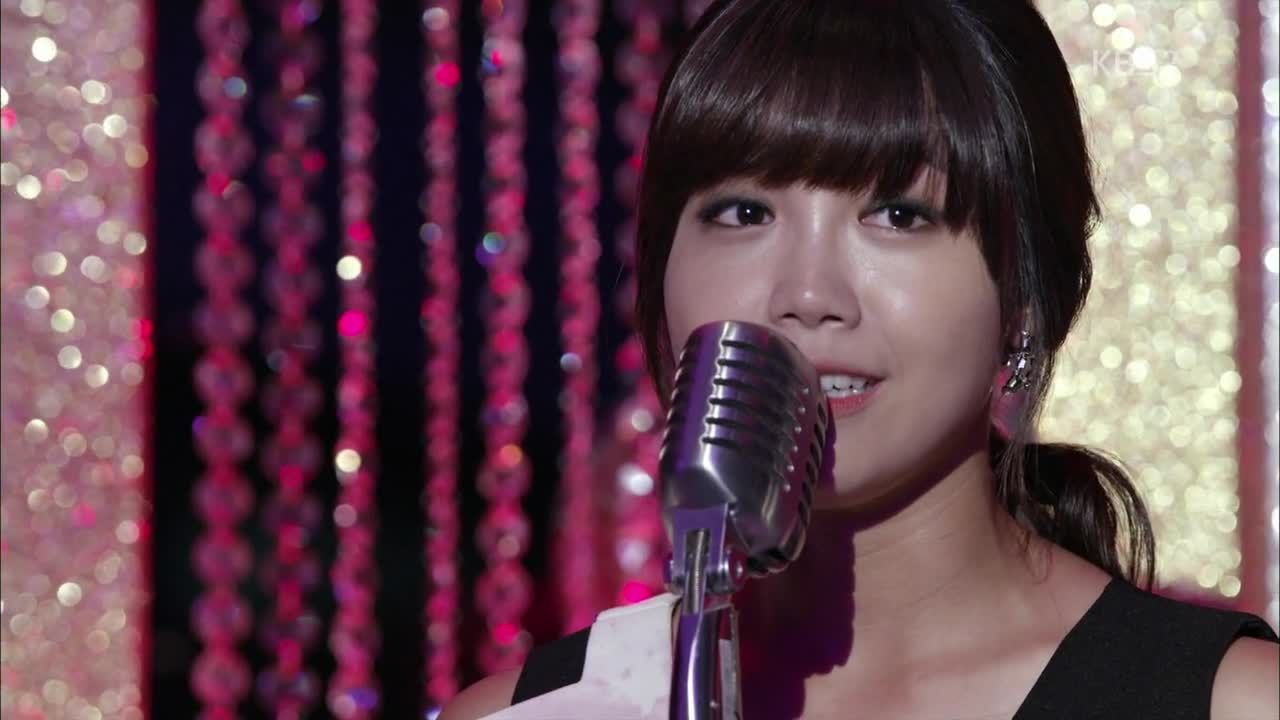 RELATED POSTS
Tags: featured, Ji Hyun-woo, Jung Eun-ji, Trot Lovers