MBN rejoins dramaland with Tears of Heaven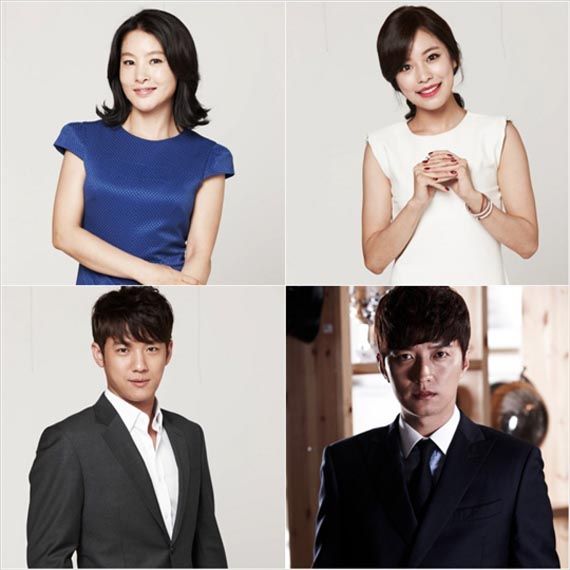 Cable station MBN is getting back in the drama game, two years since it gave them up, and has announced a new series titled Tears of Heaven. It sounds like an emotion-filled, relationship-driven drama that's all about a strained mother-daughter relationship which leads to lots of conflict and eventually understanding. The drama has revealed its main lineup, who are, going clockwise from top left:
Park Ji-young (The Concubine, Romance Town) playing the ambitious, cold-hearted mother who abandons her daughter not once but twice in order to aid her own upward ascent in status, who has "never once felt any pangs of conscience for it." Park played a steely (and murderous!) mother in Mandate of Heaven, where she was pretty great, so perhaps this could be a turning-point role for her as the headliner in an acting-heavy dramatic role.
Hong Ah-reum (Into the Fire) plays the daughter who'd once believed that a mother's love was like heaven, who now seeks out her mother while harboring plans of revenge.
In Gyo-jin (Gu-am Heo Jun, Horse Healer, and soon to be So Yi-hyun's husband) plays one leg of the love triangle formed with Hong Ah-reum, a well-educated and well-off young man who finds no end of women interested in him, but who has never loved before. A chance encounter with the heroine develops into more, and spurs a change in him.
Seo Joon-young (Secret Door, Unemployed Romance) is the other romantic interest, and grew up in the same orphanage as the heroine while they were children, where he first fell for her. He then is adopted into a wealthy family and seems like a privileged prince on the outside, but his roots keep him warm and simple-hearted. Aw.
The drama is targeting a 30- to 50-something audience and sounds like it'll be an emotion-filled ride, and while I'm not entirely sold on the premise alone, I do really like Park Ji-young and Seo Joon-young (the other two I'm less familiar with). More than the cast or the drama's story itself, however, I'm interested in the fact that MBN is reviving its drama programming, after quietly shelving it early on.
You may recall that nearly three years ago, we saw an influx of cable stations setting up shop when JTBC, Channel A, TV Chosun, and MBN opened their doors with original drama programming. Each channel lured big stars and put out ambitious projects, but quickly realized that drama production is hard, yo. Of those four new stations, JTBC is the only one that put out steady quality content (Padam Padam, A Wife's Credentials, Heartless City, Secret Love Affair) while the fare on the other channels tended to be lower-budget and uneven (there was a general consensus that they launched hastily). (See: Channel A's Color of Woman, Goodbye Wife, Bachelor's Vegetable Store, and Panda and Hedgehog; MBN's Can Love Become Money, Vampire Idol, Bolder By the Day; and TV Chosun's Operation Proposal and Hanbando.)
MBN did quickly shift its focus to non-scripted programs, such as variety and current-events shows, which were much more successful. In fact, I had thought it was a really smart move for them to strategize in that direction rather than spreading themselves too thin and producing subpar dramas and sitcoms, but perhaps two years has given them enough time to find some footing and try dipping their feet into drama waters again.
Tears of Heaven will premiere in October.
Via MBN
RELATED POSTS
Tags: cable programs, drama production, Hong Ah-reum, Park Ji-young, Seo Joon-young