Secret Door: Episode 4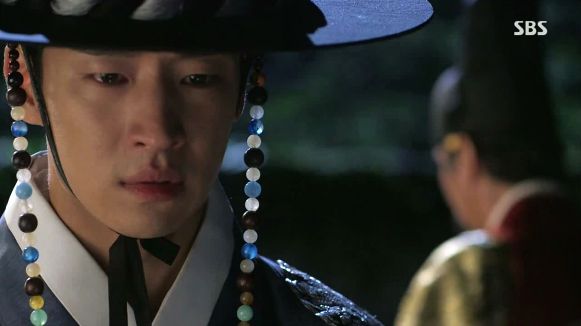 Ooh, we're heating up. The good guys start to assemble, and things get really interesting for our hero, who can no longer remain innocent in the face of such blatant corruption. It takes the loss of his own conviction in his best friend to shake our idealistic prince to his core, but he's lucky to meet a few honest and dogged people who might just become his trusted inner circle. Thank goodness, because if he had to spend one more day huddled in a corner trying not to fall apart from loneliness, I don't know what I'd do.

SONG OF THE DAY
Kim Jin-ho (SG Wannabe) – "사람들" (People) [ Download ]
Audio clip: Adobe Flash Player (version 9 or above) is required to play this audio clip. Download the latest version here. You also need to have JavaScript enabled in your browser.

EPISODE 4 RECAP
We finally have our first lead in the investigation of Heung-bok's murder, or at least have uncovered the first witness who isn't a part of the political cover-up. Heung-bok's artist colleague Jung-woon awaits interrogation, and Crown Prince Sun arrives to lead the questioning himself.
Sun demands that Jung-woon be untied and given a chair, but his advisor protests that he's technically their prime suspect if Heung-bok was indeed murdered and didn't commit suicide. Still, the prince persists that the man is a suspect, not guilty, and has him untied.
Sun gently prods Jung-woon for the truth—what he knows about Heung-bok, his death, and the charge that he was a traitor who slandered the royal house. But Jung-woon just cries, "Kill me, your majesty!" Sun flares up at that, wondering if it's a confession of murder.
Jung-woon says that's not it and reaches into his shirt for a stack of letters, shaking like a leaf. Sun hurriedly opens one, and his face contorts as he scans the page filled with slurs against him. He demands to know what this is, and Jung-woon confesses that they're letters that Heung-bok sent him.
Aw nooo, they got to you too? Jung-woon changes his testimony entirely, saying that Heung-bok cursed the royal house on a daily basis. Only the prince and his eunuch are floored at the accusation, and Sun pleads desperately, "N-no, that isn't true. You're not supposed to answer that way. You're supposed to say that Heung-bok never had traitorous intent, that he never slandered—that he was someone who would never dream of slandering the royal house!"
But Jung-woon sticks to his story, and says that he ran away because he was scared that he'd be punished for not reporting a traitor when he had known about Heung-bok all along. Sun's face falls, and he grabs letter after letter, poring over their hateful contents as the sky darkens behind him.
Ugh, they're horrible—the letters paint Heung-bok as a two-faced fraud who only pretended to be friends with the prince because he wanted his power. That's not what our Heung-bokie was like! Must we stomp on the bromance to the grave, huh?
Sun's eyes fill with angry hot tears, and he overturns the entire stack of so-called evidence against his friend before stalking off. Jung-woon watches him go, and then his eyes land on the prince's bodyguard. Oh no, say it ain't so! In a flashback to last night, Jung-woon is tied up in a shed and screaming for mercy as our mysterious assassin in black holds a sword to his brother's neck.
He slices off only the topknot, but warns that next time it'll be the neck… and then he lifts his head up and smiles, and goddammit, it's the prince's bodyguard. IS THERE NO ONE GOOD LEFT IN THIS WORLD?
It's been him all along—the prince's primary guard, Kang Pil-jae—who's been taking his orders directly from Prime Minister Kim. He's the one who killed Heung-bok, and last night he made sure that Jung-woon would produce this false testimony.
King Yeongjo and Prime Minister Kim declare the current crisis averted and return to business as usual, though the status quo between them is always tenuous at best. Meanwhile, the prince's teacher Park Mun-su runs up to Jung-woon on his way out of the palace, to ask why he'd tell those lies. But he's too late, and Jung-woon has already been scared into silence.
The prince's advisor Chae Je-gong is either insensitive or is trying to teach Sun a lesson, because he continually presents Heung-bok's slanderous letters one by one, pointing out that they date as far back as two years ago. There's even a will, which seals it as a suicide.
Sun repeatedly asks him to stop and leave him be, but Chae presses for his royal signature on the final verdict for the case. Mrmph, the way Sun's voice squeaks and trembles as he pleads again for him to go away just breaks my heart.
Chae says that it was the prince himself who declared that conviction is the source of false judgment, and says that his conviction in Heung-bok's friendship blinded him to the truth. For what it's worth, Chae seems like he's trying to protect the prince and teach him, though at this point it'd be a miracle if anyone by Sun's side wasn't secretly evil.
He's worried that if Sun is seen as being lenient with a traitor, it'll threaten his status as the crown prince. But Sun asks tearfully, "Status? What is it that you think I've lost? Does it not occur to you that I might have lost something greater than my status?"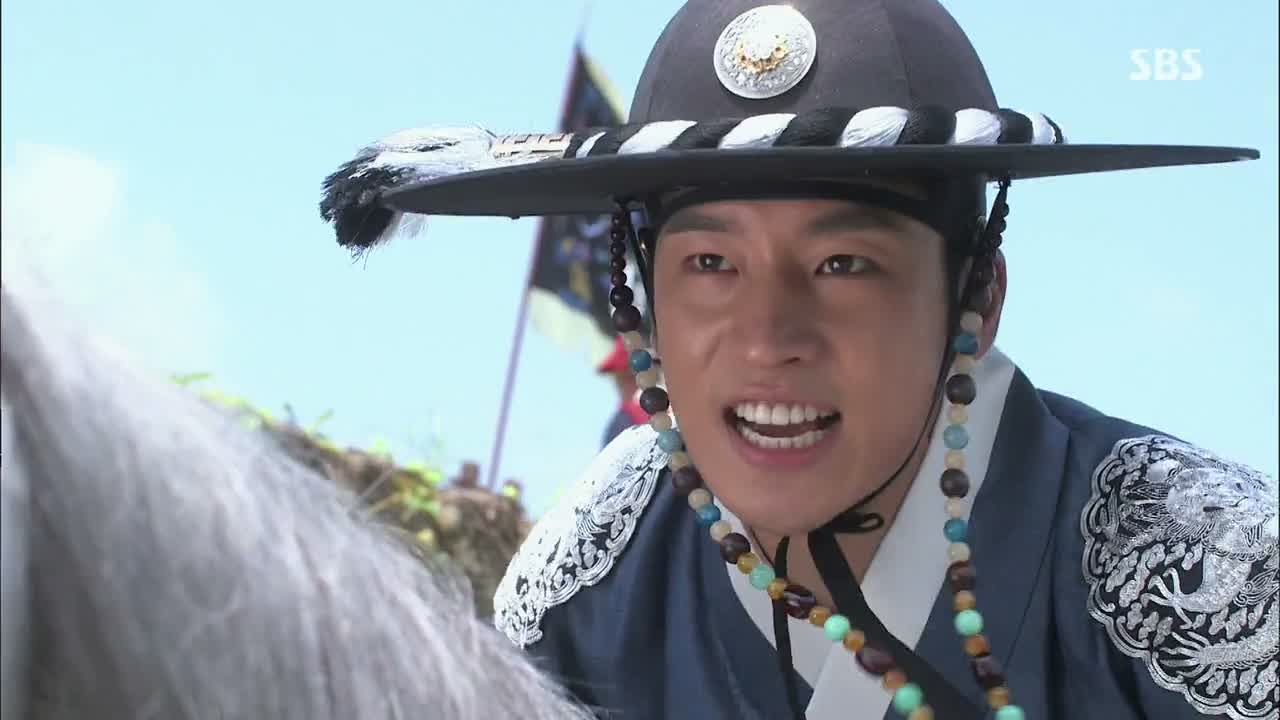 Sun leaves Chae speechless and rides away on his horse, thinking back to his days as a tiny boy, running through the palace courtyard hand-in-hand with little Heung-bok. That's how they always were, even up to just days before, when they were running through the streets trying not to get caught borrowing illegal books.
He remembers asking Heung-bok about his aspirations, which were humble and earnest. But now everything feels like a cruel lie, and Sun takes out Heung-bok's last letter to him and crumples it up. No, don't do it!
He laughs bitterly through his tears and throws the letter into a lake, and sits there like a statue until nightfall.
When he returns to the palace late that night, the king is waiting for him. Yeongjo is uncharacteristically lenient at his son's show of angst, though he reminds him that once is enough for this kind of behavior.
Yeongjo: "There is one luxury that is not permitted to those destined to be king: having friends." Gah, is there anything sadder? He adds, "No matter how deathly lonely you feel, you can never open your heart." As he leaves, he warns his son never to trust a single soul, and Sun sheds a tear.
He spends the night huddled in a corner, gazing up at his throne, and looking more alone than he ever has before.
In the morning, he kneels before his father, in the presence of the court ministers. He's presented with the royal decree of Heung-bok's guilt as a traitor, and this time he takes up the brush to sign it and stamp it with the royal seal.
In no time, Heung-bok's sister and sick mother get dragged away as slaves, and our young mystery novelist and truth-seeker Ji-dam watches in shock. Her gisaeng friend Woon-shim decides to burn the prince's note (requesting a meeting with Ji-dam) now that the case is over, but Ji-dam arrives just in time to intercept it.
She can't believe that Woon-shim would hide something like this from her, and argues that it's far from over because Heung-bok's family is being hauled away unjustly as they speak. Perennial story-spinner that she is, Ji-dam says they need a twist, and asks Woon-shim to imagine if The Story of Chun-hyang had ended with a knife to her throat.
Woon-shim points out that real life is not fiction, but Ji-dam says that it's because it's real life that they need a twist more desperately than the characters in books do. She decides that it's too pathetic to give up without even trying, and says they'll make their own twist then.
Three days later, it looks like Ji-dam gets her wish: Woon-shim signals a group of men as they carry a giant chest into the palace, with Ji-dam inside. (Are they intentionally putting people in chests to make us shudder? 'Cause, thanks Show—it worked.)
Sun spends the evening sword-fighting, which his teachers worry is becoming a nightly activity. It's not so much training as it is the attack of an angry bull, and Sun demands that they ditch the wooden sticks to fight with real swords.
Ji-dam waits until nightfall to come out of her hiding place, but runs into a hiccup when the only clothes she can find in the laundry room are royal robes. So she sneaks around the palace dressed in Princess Hyegyeong's clothes, which makes it extra horrifying when she runs right into the princess. Ack.
Hyegyeong demands to know who she is and what she's doing in those clothes, and the only thing Ji-dam can do is run. We've seen her outrun police officers, so it doesn't take much effort for her to lose a few ladies-in-waiting, though the problem is that they lose her as she's nearing the prince's palace.
Hyegyeong storms inside intent on finding her, and when the prince's eunuch and court lady stop her from going into a room, she gets fired up thinking that her husband is hiding the girl. She ignores their protests and flings the doors open… to find Sun bathing. Whoops. (Also, rawr. How much do I love that army abs are a sacred thing in dramaland?)
She can't hide her embarrassment, but he hardly blinks, and just coolly asks her to either join him or close the door. She opts to close the door. (Clearly, she's not in her right mind.)
The servants eye each other nervously, but once she's gone, Sun just casually steps out of the bath and takes his sweet time putting on his robe. We see that Ji-dam is in that room after all—hidden behind the screen.
He says that she would've faced death had she been caught: "This is a place filled with stringent laws and cold-hearted people—that's the kind of perilous place the palace is." But then he softens to ask what it is that she wanted to give him that made her face such risk.
She comes out from behind the screen and says, "The truth." She hands him Heung-bok's booklending tag, which she discovered at the scene of his murder. He turns it around and finds that it's really Heung-bok's—a flashback shows us that it was Sun who changed the character on his tag to read "painter," insisting that the writing-to-painting pun was very clever. That explains why Heung-bok repeated the pun on the book he altered for the prince.
Sun sighs gratefully to realize that Heung-bok did pick up the book that night, and says that he would've—he was someone who did whatever he promised. Once alone in his room, Sun falls to his knees and cries for his friend.
Lady Hyegyeong is still fuming mad, but it's even more confusing when her court lady returns with the robes that Ji-dam borrowed, left as they were in the laundry room. She wonders how a girl escaped without a trace if she didn't receive help.
Ji-dam is still with the prince, and after she tells him everything she knows, he changes into plain clothes and walks her toward the palace wall. He starts to tell her that it's dangerous to use doors in and out of this place, but before he can even finish the sentence, she's hopped the wall already. He grins and jumps up to follow.
They head to the artist dormitory to confront Jung-woon about his false testimony (which Ji-dam knows was motivated by his fear that he might be next to die). But they open the door to find him propped up against the wall, covered in blood.
He's already dead, and they find a suicide note that makes it seem like he couldn't live with the guilt of having known about Heung-bok's traitorous intentions. But Sun discovers a dying message that Jung-woon left in his own blood. They don't know what it means, but they write it down, and Sun wonders if it's a message meant to indicate the murder weapon.
Ji-dam picks up the knife that's lying on the floor, and her voice starts to shake, "I know the owner of this knife."
Next thing we know, Sun is tearing through a compound and beating up everyone in his path. Ji-dam trails after him, and asks a henchman for the boss—ruh-roh, "Boss" is what she calls Chul-joo.
Sure enough, Sun fights his way through the lackeys to get to Chul-joo, who confirms that he's the boss of this gang. Without a word, Sun just leaps up to attack, and Chul-joo handily defends himself without much effort.
He thinks it's rather rude to be attacking people without explaining why, but Sun is just seeing red and screams, "Why did you kill Heung-bok?!" He accuses Chul-joo of killing Heung-bok and then killing Jung-woon to cover up the first murder, and Chul-joo doesn't even raise his voice to say that he did no such thing.
Ji-dam finally catches up to the boys and asks Chul-joo about the bloody knife then—the one bearing his gang's markings, found next to the body. He finally realizes what the ruckus is about, and they sit down for a chat.
Chul-joo presents one of his men, the knife's original owner who recently lost his weapon and then sliced off his own ear as self-inflicted punishment. Yikes. Ji-dam guesses that someone planted the weapon at the crime scene to implicate his gang, and asks who would do that. Chul-joo says there are too many reasons to count, and that since the gang's north-south-east-west split, this sort of thing is rather common.
They ask if he knows of a knife called hwabutado (the dying message left by Jung-woon), but he doesn't know. Sun takes the murder weapon and heads back out, and Chul-joo blocks Ji-dam's path to insist on some answers now—who is that man, and how close could he possibly have been to Heung-bok that he's wreaking such havoc in the middle of the night? Ji-dam: "Well, you see…"
Chul-joo comes out with hands folded and head bowed, and apologizes to the prince for not recognizing him. Sun says he should be the one to apologize for busting in here, but Chul-joo puts him at ease and adds that if he had lost one of his precious men, he'd already have shed blood over it.
Sun is surprised at how much Chul-joo knows, but he says it's obvious from the strength behind his punches—he's lost someone dear. Chul-joo asks if he wants to visit Heung-bok's grave, which is a surprise. It turns out that he buried Heung-bok at Ji-dam's persistent request, and Sun wonders how to thank him.
Chul-joo hands him a bottle and says that the memorial wine hasn't been poured yet, so Sun pours the wine over the stones and cries silently.
Back at the palace, King Yeongjo is looking through the prince's old drawings. He finds a portrait of Heung-bok and remembers exactly when Sun drew it. It was after the time he threatened to abdicate in the dead of winter, when Sun had spent days in the courtyard, covered in snow.
He had returned to his room in the aftermath, still half-frozen, and sat down to draw a portrait of Heung-bok. Yeongjo remembers the curious smile on his face, as if it was a source of comfort—to know that no matter what happened, it was all okay because he had one friend in the world.
Yeongjo wonders what would've happened if Sun had been born the son of a painter, and says with a sigh that he would've been taught by his father to paint whatever he liked and enjoy life. He adds soberly, "But a king teaches his son to throw his friends away."
He looks back at the throne the same way Sun did, and breaks into a conflicted, bitter laugh at the role he plays because of his position.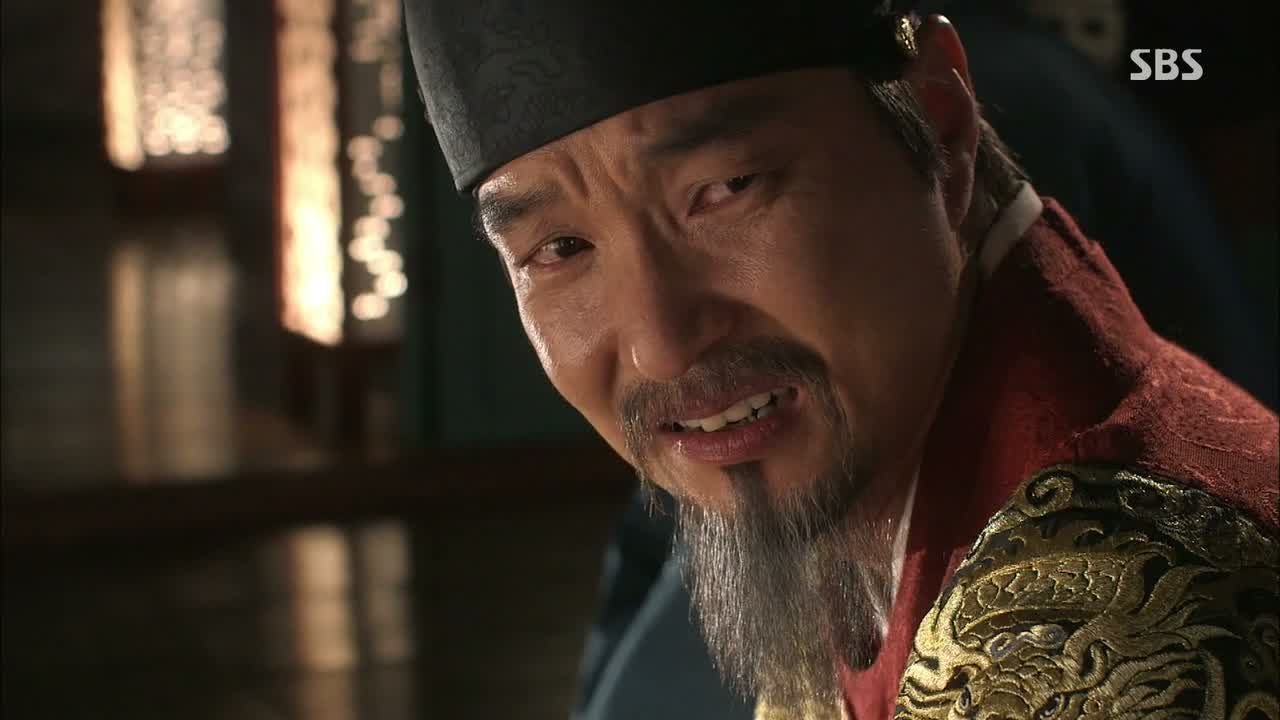 Sun and Ji-dam return the knife to the crime scene and erase Jung-woon's dying message, so that the killer will assume everything went according to plan. Ji-dam offers to go testify to what she knows, but this time Sun stops her, knowing that it'll only make her the next target.
He says he learned this much through the first two investigations into Heung-bok's murder—that if they reveal what they know, they're just buying the bad guys more time to stay a step ahead. He says that this time, they'll move in secret. That's what I like to hear. Yay for the good guys learning a trick or two.
The Noron inner circle convenes to make sure that this second killing went off without a hitch, and the prince's bodyguard swears that he made no mistakes this time. The other ministers think it unnecessary to hunt down Ji-dam, chuckling to themselves: "What damage could one girl do?" I can't wait till she crushes you all. But Prime Minister Kim doesn't underestimate the damage one loose end could do, and orders her found.
Ji-dam takes Sun to her secret writing room, where it kind of looks like she keeps a creepy serial killer wall. But upon closer examination, he finds that it's research for characters, including the hero of the mystery novel he likes so much.
He turns to her slowly, "It couldn't be… you're Bingae?" She just smiles and produces his fan letter asking to meet, and says that she was so curious to meet the person who identified the killer before Part 2 was even out, that she went to the book delivery that night herself.
Sun realizes that's how she saw Heung-bok's final moments. She asks if the book was recovered at the crime scene, and he says it's missing, along with his sketchbook/diary. He asks her to go over everything she knows in detail, but she's way ahead of him, and presents him with a book detailing what she knows of the case so far. I really like the way she keeps surprising him, and the funny look on his face when she does.
He reads through her account, which includes the name of Officer Min, the policeman who took her statement. She's convinced that the police are in on the cover-up, and now Sun's suspicion radar pings on Teacher Park Mun-su, who suggested Police Captain Hong to lead the investigation, claiming that he was trustworthy. He runs out, promising to return later.
Park Mun-su has another visitor that night—it's Chul-joo, who's come to ask questions about Heung-bok, despite Park's insistence that he isn't supposed to show up here or even know who Heung-bok is.
We go back to the night of Heung-bok's death, when Park Mun-su arrives after Ji-dam runs off to find the police. He picks up the sack of books on the bridge and then climbs down to where the body is, joined by Chul-joo. OH, Chul-joo is the one who moves the body from the river all the way to the well, on Park Mun-su's order. They drop him in and close the well shut. I guess Park wasn't lying about that part.
Chul-joo starts to tell Park about the prince coming to see him, but just then, Sun knocks on his teacher's door and storms in. Chul-joo hides out of sight, and Sun gets right to the point, asking what Park Mun-su's motives were for nominating Police Captain Hong or being involved in the investigation.
Park doesn't seem interested in defending himself, but it's Sun who says that his teacher isn't the type of person to be involved in a treacherous plot like this. He pleads for an explanation, and the truth—what is it that Heung-bok discovered that he had to die for?
His teacher asks if he can handle the truth. Sun: "I am the crown prince of Joseon. I cannot be silent in the unjust death of one of my people—the moment I am silent, I lose the right to be the crown prince, and the right to become their 22nd king!" I don't know, maybe it's just me, but I read pride in his teacher's eyes.
He still doesn't tell Sun the truth though, and just says in his Yoda-esque way that the truth is something he must seek himself. He warns Sun not to trust anyone in this endeavor, not even the teacher sitting in front of him now.
It's morning by the time Park Mun-su watches the prince walk away with heavy shoulders, and Chul-joo comes out to ask why he didn't tell Sun the truth, and threatens to do it for him. Park erupts in frustration, insisting that HE's the one who wants the truth revealed more than anybody—that's why he had the body moved, despite knowing it was wrong to do so.
He was hoping to learn something of the enemy with that maneuver, but it was a fruitless turn, and he only lost Jung-woon in the process. He tells Chul-joo that this is no mere murder case, but something that could shake the royal house. He asks for time to think of his next move.
But Chul-joo tells him about his gang's knife being planted at Jung-woon's crime scene, and points out that if he's not just a scapegoat, then someone is doing this because they know about his relationship to Park Mun-su, in which case they're the ones who have to act first.
Jung-woon's body is found by morning, and the police rule it a clear suicide, and his body is carried away as his family wails. Park Mun-su watches from a distance, tears pooling in his own eyes, as he bows solemnly.
Ji-dam and her father tend to the heartbroken gisaeng who loved Jung-woon, and bring her medicine. Ji-dam says all she could do is cover her with a blanket, and begins to cry as she asks, "Father, what are people? What does it mean to live like a person?" She thinks that there must be something more she could do for a friend who lost the man she loves, but can't figure out what.
Sun tells his trusted advisor Chae Je-gong that Jung-woon was murdered and that they're going to reinvestigate both cases secretly, and Chae seems genuinely shocked that someone would dare to go up against the prince so boldly. Sun knows that it's at least someone with enough power to control the captain of the police force, but naturally neither of them would guess in a million years that it could be his father.
Prime Minister Kim comes to see Yeongjo to pronounce the case closed—no one will ever speak of their secret document again. Yeongjo thanks him sarcastically, and Prime Minister Kim doesn't waste a moment to make a demand on behalf of Police Captain Hong.
In no time, the king calls Sun to a meeting with Captain Hong, who plays the part of the contrite servant, here to offer his resignation now that the special investigation is done. Yeongjo tells Sun that they ought to promote him instead, and tells him to go ahead and make Hong the Minister of War.
Sun's eyes widen, and his father just presses him congenially to pour Hong a drink, and Sun tries not to let his blood boil over. But all he can think about is the string of lies that Captain Hong said right to his face.
His father hands him the bottle of wine, and Sun takes it obediently. But then he throws the jug and overturns the table in a fit of raaaage, and steps on Hong's throat as he screams, "DIE!"
Sun cries at the top of his lungs that he will take Hong's life for crushing the powerless people, and Yeongjo watches this unfold with a laugh… that turns into a frightening rage. He shakes with anger as he rises slowly, and says, "You would dare… I'm going to kill you!" Oh. Shit.

COMMENTS
I was not expecting that kind of father-son confrontation so early in the game. It's terrifying (in a good way, since historically they are known to be this unhinged and then some), and I love the tension it adds to all of the smaller conflicts, because at the end of the day, theirs is the relationship everything will come down to. It's just an added layer to see their motivations leading up to each combustible encounter, because it drives the actors' portrayals too.
Lee Je-hoon plays Sun's fury as pure as the driven snow—it's no less scary just because he's one of the good guys, since I actually think he might snap someone's neck if pushed too far. It's topped only by Han Seok-kyu's three-emotions-at-a-time unknowable reactions to everything, which always leaves me feeling unsettled. His laughter-sadness-rage combo at the end was pretty damn scary, but so was his moment of reflection about how nice his son's life would've been, had he been born the son of a painter. It's the self-awareness that makes the terrifying rage so surprising, because he seems like he's fully in control and even sorry… but then if Sun defies him, there is no reasoning with the man.
This was my favorite episode so far, because we already get to see so much change in Sun over the course of one episode. He goes from political patsy to heartbroken friend; he hits rock bottom and gives up hope that his friendship with Heung-bok was real; he has his Godfather moment of signing the royal decree and caving to the very political pressure he thought he'd rise above; and then he meets Ji-dam and lets himself hope again. It's great how much she influences him in one day, and already he seems like he's recovered a part of his old self before losing Heung-bok.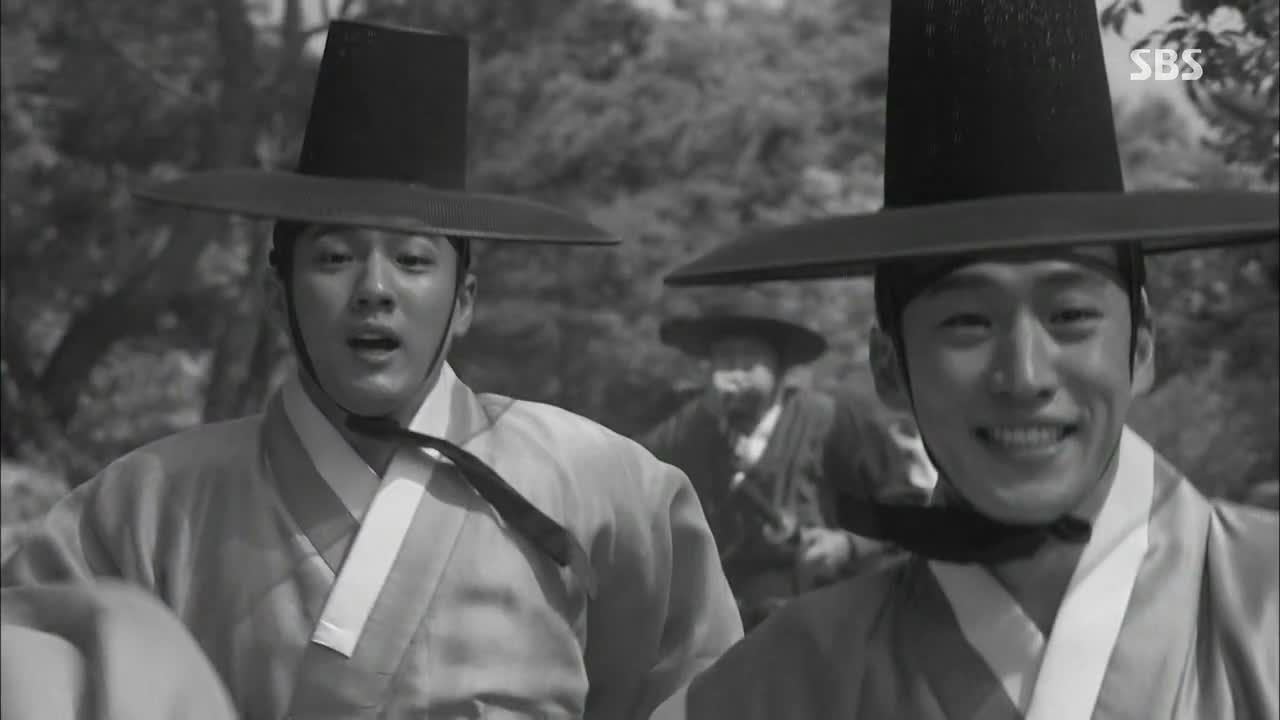 Of course I'll always think that it was cruel to kill off Heung-bok so early, but getting this much development this early on for our hero makes the pain worth it. The drama gains a lot of mileage from casting Seo Joon-young in the role, because they can sort of piggyback on the meta baggage—when Yeongjo basically says that Heung-bok is the very embodiment of all that is good in the world to Sun, I totally believe him, and my heart is already there, going, Of course he is! They belong together! And it's driven home by the extension that the death of Heung-bok means the death of Sun's innocence. As a young prince he could have one friend in the world; as a future king, a friend is considered a luxury outside his station in life. Could there be anything worse than being born into a royal family?
Despite that, I have hope that Ji-dam and Chul-joo will become true friends to Sun. Their dynamic is adorable, especially because the smartypants mystery writer kind of seems like the boss when she's with the boys, and the hothead prince and the gangster with a heart of gold are pretty cute together too (I sort of wish Chul-joo spent more time not knowing Sun's true identity, just to get them being insolent to each other a little longer). Ji-dam does have her head in the clouds, but I like her because she's brave and goes toe-to-toe with the boys. Chul-joo is more intriguing the more we see of him—I know he didn't order the ear-cutting, but he's gotta be one scary mofo if his men voluntarily chop off extremities when they make mistakes. This episode made me excited for what's to come, because I can see myself really rooting for this ragtag gang of mystery-solvers, not only to uncover the truth, but to seek solace in each other and to try to make a better world.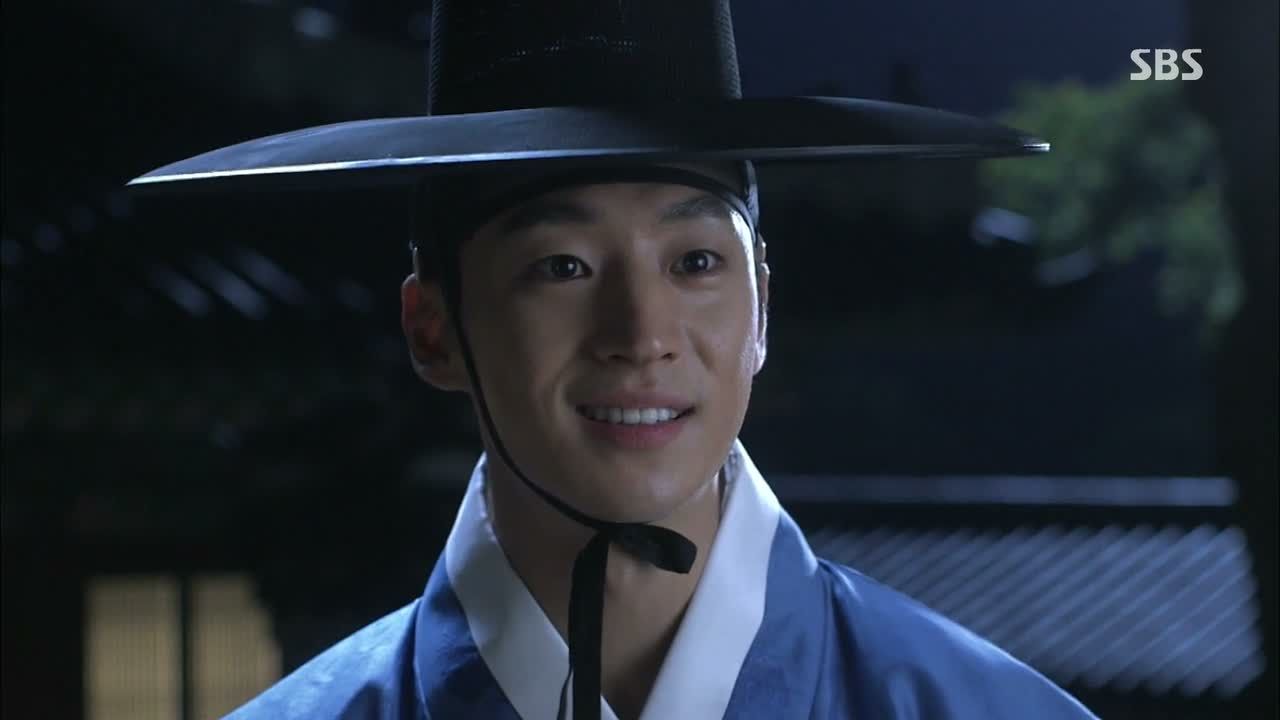 RELATED POSTS
Tags: featured, Han Seok-kyu, Kim Yoo-jung, Lee Je-hoon, Park Eun-bin, Secret Door