Running Man: Episode 216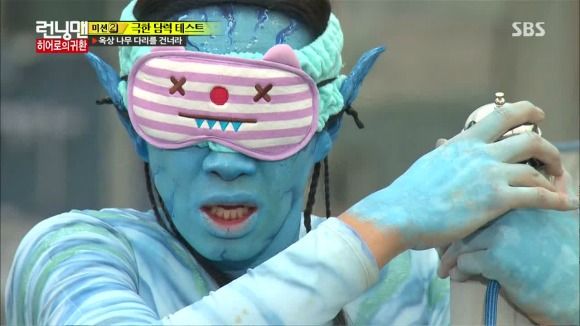 Earth is in imminent danger and our Running Heroes are here to save the day… once they recover their lost superpowers. Our superheroes spend some time living ordinary lives, and go through rigorous tests that test their strength, stamina, and best yet—their bravery. It turns out that being extraordinary can attract some unwanted attention, and they'll discover that there are some things in this world which are greater than their powers.
EPISODE 216. Broadcast on October 12, 2014.
Somewhere deep in Korea, a set of capsules which have been untouched for the past century suddenly come to life. Contained inside are our superheroes, who awake one by one from their cryogenic slumber.
Superman (Jae-suk) is the first to taste fresh air, and is mistakenly called "Superwoman" by his neighbor, Wonderwoman (Ji-hyo). I never knew that Batman (Suk-jin) wore glasses with his suit, and Yooperman tries to lock him back in.
And then it's time to meet Kwangvatar in the flesh. Damn, I knew the show had been joking about the likeness in the past, but he really does look like a true Avatar from the movie. Even his gait and behavior is similar. Wow, just wow.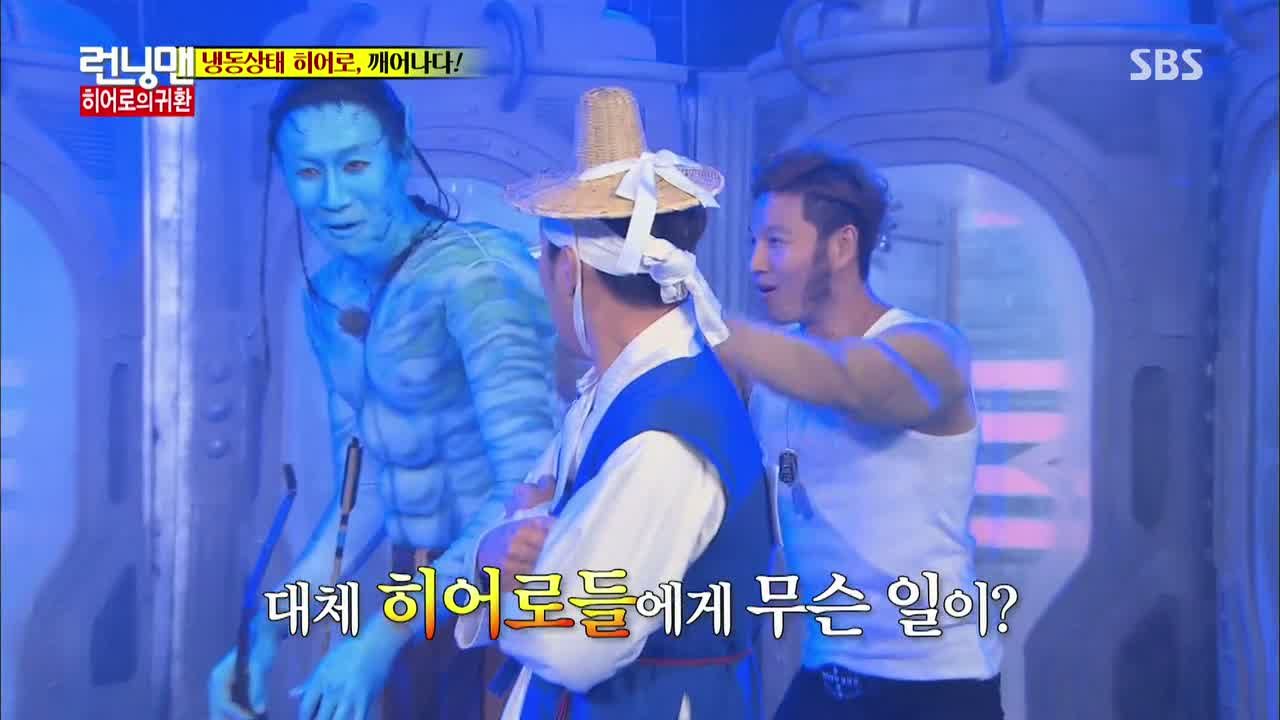 Next up is Sonokong (Gary), a monkey character from a manhwa in the 1960s. Ha, how fitting. Haha is none other than Hong Gil-dong (who robbed from the rich to feed the poor; think Robin Hood), and last but not least is Jong-kook as the classic Wolverine.
I love how the caption tells us: "He isn't Elvis Presley," 'cause now I can't unsee that. Our heroes immediately try to establish the pecking order and brag about their wealth or height, but what they soon discover is one commonality: They all don't have powers. Jong-kook's wooden blades turn out to be great back-scratchers. Heh, some superheroes they make.
Just then, a holographic message from the Antihero arrives: He's the one who put them under for the past hundred years and robbed them of their superpowers. A meteor bound for Earth will crash in ten hours' time, in which they must recover their powers again.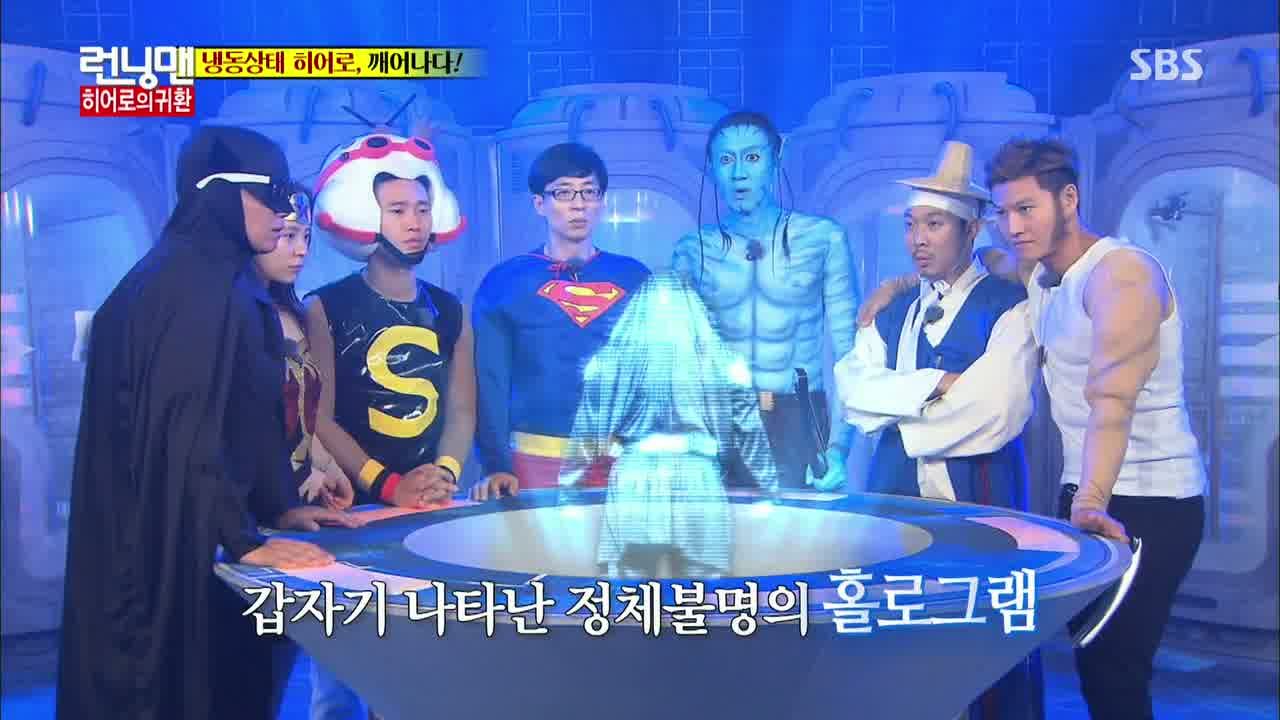 Kwangvatar is called out to listen to secret message, which drums up suspicion among the other superheroes. Citing that his ears are fake, Kwangvatar admits that he really can't hear anything clearly. It certainly seems like whatever he hears is important, though we don't get to hear what that is.
Additionally, Kwangvatar does his best to stay out of the rainy weather, admitting that some of the blue makeup is coming off already. With that, our superheroes head off to answer the cries of help from citizens in need.
Since they're no more powerful than ordinary citizens right now, our heroes are forced to take taxis or public transportation. Yooperman (Jae-suk) claims that he could fly there like a bullet if he still had his powers. When VJ Kwon-ryul asks if he has the means to pay for the taxi ride, Yooperman just laughs.
Yooperman opts to wear his cape over his head to protect himself from the rain, and wanders around asking random passersby if they require his help. It isn't long before he's mobbed by a group of students, then he makes a run for it.
Elsewhere, Kwangvatar can barely lift his head, embarrassed by his get-up. "They think I'm some weirdo!" As for Kookverine, he stumbles upon a pair of citizens who require their help—the newlyweds need to get their car out of the packed parking lot so they can get to the airport. Oh, it's basically like a sliding block puzzle!
I really like the comic book strip layout in this episode, and Kwangvatar approaches a woman standing in front of a set of vending machines. Her son has lost a souvenir coin underneath these machines, but try as he might, Kwangvatar can't lift the machine via his own strength.
He's worried about the paint wearing off of his hands by reaching near the mud, to which the woman asks if his powers will weaken if his pale skin color returns.
Yooperman is still busy helping any citizen he sees, until he hears the cry of a young woman looking for her twin sister. Like the practical hero he is, Yooperman points out: "You could call her." Ha.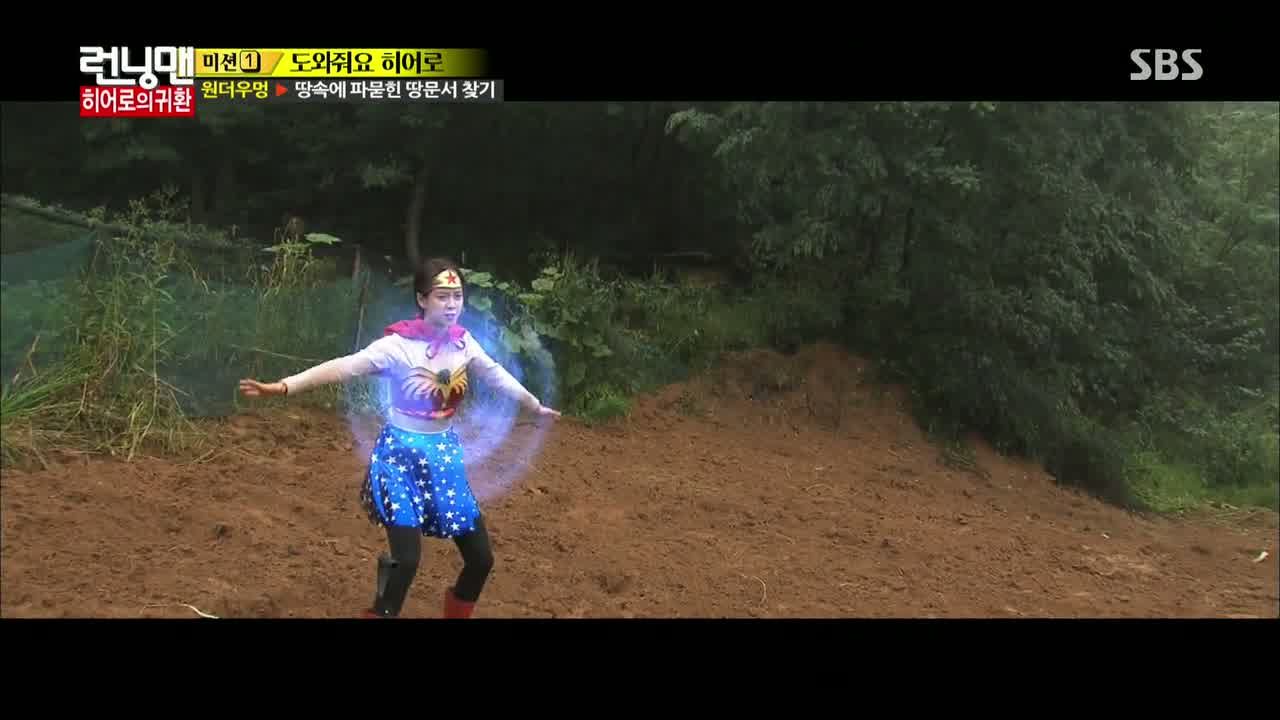 Yooperman even asks what her twin sister might be wearing, but the young woman doesn't give any hints. She has to tell him to get going when he pelts her with endless questions.
Wonderwomong (Ji-hyo) comes to the aid of a rich man who has lost a land deed in the ground. He's kind, too—there's a pair of rain boots and a shovel nearby.
She starts digging into the wide plot of land, and digs, and digs, and digs. Already exhausted, she tells the camera that it used to be a speedy task for her. She tries to gather up her powers… which evaporates into a small puff of vapor. The only other company she has is the neighborhood dog barking at her.
Jitman (Suk-jin)'s task is to fill in as a substitute teacher for a nursery school. He reads a book to the kids, and one child asks if he can't fly: "You're a bat." Smart kid. But he isn't interested in Jitman's sob story about losing his powers.
Jitman invites them to hit his suit to prove that nothing hurts him—-nothing apart from a kick to the family jewels, that is. OW, that's got to hurt.
Ha Gil-dong (Haha) is asked to find a book that contains a student's allowance. He twirls around and makes a whole show, climbing up the ladder, only to back out moments later because he's scared of heights.
Ha Gil-dong discovers the necessary book soon enough, though it contains a good-luck note, not money. Grabbing the student, Ha Gil-dong demands, "Are you kidding me? What's your deal?"
While Gaeokong (Gary) is busy cake decorating, Yooperman runs at top speed down the street to illustrate that he's too fast for the cameras. VJ Kwon-ryul humors him, and Yooperman tells him that he could disappear in a moment's notice, then crouches off-screen.
But if luck would have it, Yooperman runs right into the missing twin sister. Once the sisters are reunited, Yooperman points out that their greeting is too subdued for having seen each other for the first time in years.
Yooperman earns a sticker for his troubles, whereas he returns a kiss on the forehead with his thumb before running off.
People are understandably frightened and shocked at Kwangvatar's appearance. After the initial surprised reaction, a few students help Kwangvatar out with their phones. He tries to raise morale by getting them to sort of cheer "The Earth is ours!"
Kwangvatar's able to find the coin thanks to their help, and it's cute how he makes an effort to get their names right. "They've saved the world!" he declares.
Meanwhile, Wonderwomong has been digging for thirty minutes now, and asks the dogs to tell her where the deed is in exchange for her forgiveness for barking. She follows their direction, and promises them security jobs in the hotel that will be built here if they're right.
And whaddayaknow—the land deed is there, after all. That is pretty lucky.
Over at the parking lot, Jong-kook contemplates on what to do next, much to the newlyweds' exasperation. He then proceeds to push the cars out of the way until the couple's car is in the clear. And can I say how impressive it is to see Jong-kook push those cars by himself?
Now that all of our heroes have done their part, they hurry to make it back before time's up. Most of our heroes make it to the rendezvous point, where Jitman claims that he knows why so many superheroes like themselves go through depression: "Heroes are lonely! Let's form a union."
Jong-kook shares that he had to put his blades back on at one point because people kept mistaking him for cosplaying Elvis Presley instead of Wolverine. He points out that only Clark Kent wears glasses, to which Yooperman argues that it's been a number of years since he's lost his powers.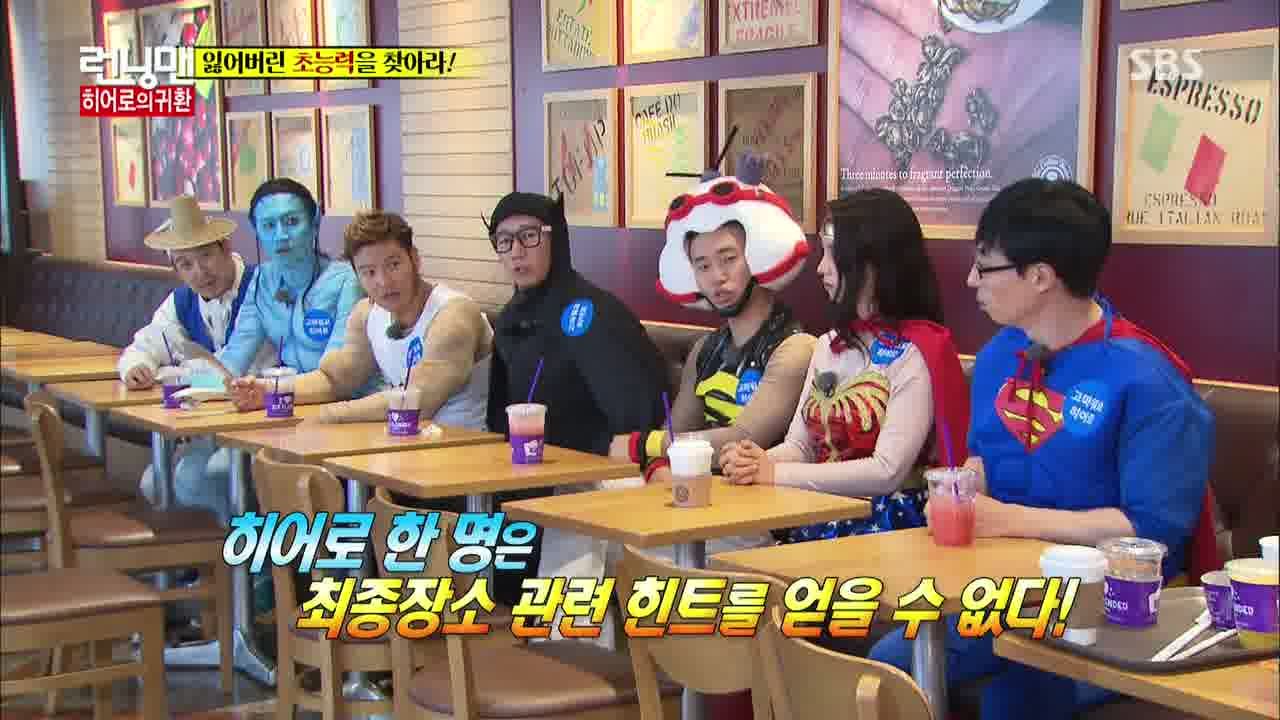 When Kwangvatar arrives, he says people kept looking at him funny or wouldn't meet his gaze at all. What's worse is that he has to fully strip in order to do his business, and he had to ask someone to unzip him earlier.
Haha files in late, and the others tease him for looking like a country bumpkin. Only six of them will acquire a hint to the final mission location, and they're all like, What's there to choose? Haha came late!
So they take another vote, and Jae-suk loudly declares that there's a vote against Kookverine. It's Suk-jin, heh. By the end of it, Kookverine is the one to lose out with three votes from the Betrayal Trio.
The other six read their hint: "Where the lights gather at Han River," then travel to their next location, where Kwangvatar is again pulled aside. What's waiting for him there is a test of nerves: a narrow beam connecting two rooftops. Kwangvatar: "You want us to cross that?!"
"Avatars don't do this!" he continues. "They have no powers. They're just tall! A tall, blue person!" He heads inside, where he's promptly blindfolded and led up the stairs, which just adds to his growing fear.
He's told to grab onto the rope…. but omg, are you making him walk that thing BLINDFOLDED?! Kwangvatar: "Are you people crazy?!"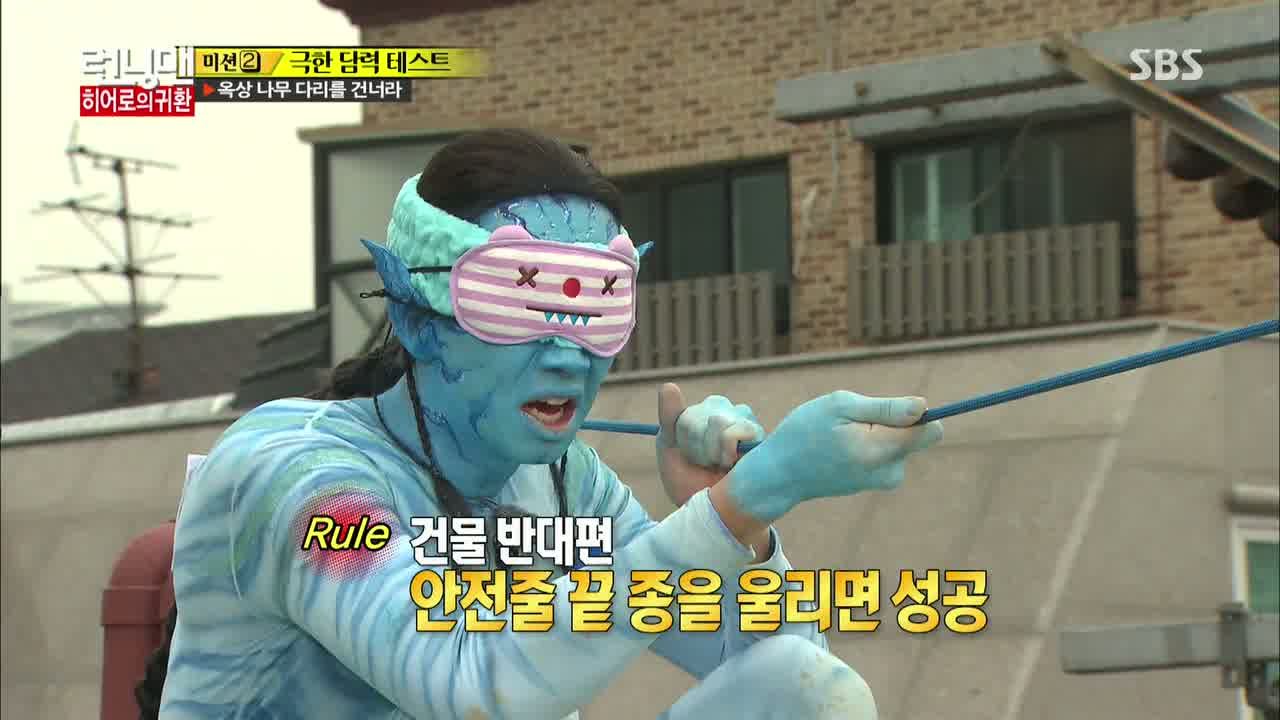 It doesn't matter how Kwangvatar crosses the bridge, just as long as he does and rings the bell on the other end. If he succeeds, he'll acquire another hint. And even though there's plenty of safety measures in place, the PD tells him to be careful: "We'd like not to have an accident on our hands either."
Kwangvatar slowly inches down the bridge, but he successfully makes it to the other side. Or so he thinks because he takes the blindfold off to see that he never actually left the first rooftop. Oh jeez.
Oh thank god they never planned to use that flimsy bridge itself, and Kwangvatar tries to laugh off his embarrassment. He asks the staff, "Can you edit out the part where I laid on the board?"
He asks them to overlay the final cut with an Avatar soundtrack and to reduce his whimpers. Just as requested, the final cut is pretty hilarious.
Jae-suk arrives at the scene next and freaks out at the setup. Kwang-soo is on the other rooftop, pretending to keep his fear at bay. Once blindfolded, Jae-suk tells himself that it could be better that he doesn't see the height at all.
And while the setup may be fake, the fear is entirely real. Kwang-soo tries to talk him down the ledge from the other rooftop, and Jae-suk musters up the courage before taking a teensy inch.
He takes tiny steps forward, and it looks like Jae-suk is about to break down crying when he makes it to the other side. His annoyed expression at the absurd situation that he's been safe the entire time is downright hilarious. This game is officially awesome.
Yooperman takes his anger out on VJ Kwon-ryul, and on the other side, Kwangvatar's like, How can I leave it up to someone like Yooperman to protect the Earth?
I don't think I'll ever tire of our cast members' astounded expressions, as Haha is led up to the roof wearing his blindfold. On the other side, Kwangvatar and Yooperman encourage him to give up (and thus losing the chance to obtain a hint).
Haha musters up the courage to take a few steps despite his annoyance with the staff. Then Jae-suk tries to dissuade him and his courage, which totally works because Haha cries out, "I give up, I give up, I give up!"
His ashamed yet irritated expression is hilarious. As expected SpartAce crosses the tiny bridge without any hesitation. I love how they all mess with Suk-jin, telling him that Jong-kook and Ji-hyo were the only ones who succeeded.
Suk-jin falls for it hook, line, and sinker as he looks like a nervous wreck up on the rooftop. Anxious, he stutters his words out, and they tell him not to slip on the rainy, wet surface. "My image will change once I do this, right?" Suk-jin asks. The answer? "No, not really…"
When Suk-jin crouches down, the others cry out that that's even more dangerous. But Suk-jin wills himself to step forward, saying that he wants to be brave. He gets about a third of the way there before their words get to him and he retreats.
Suk-jin quits, and as the others give him a round of applause, he takes off his blindfold. This is just great—I'll never ever tire of this. Burying his face in his hands, Suk-jin cries, "My son's watching [this show]…"
Caption: "It's okay, it's just because you lost your powers… "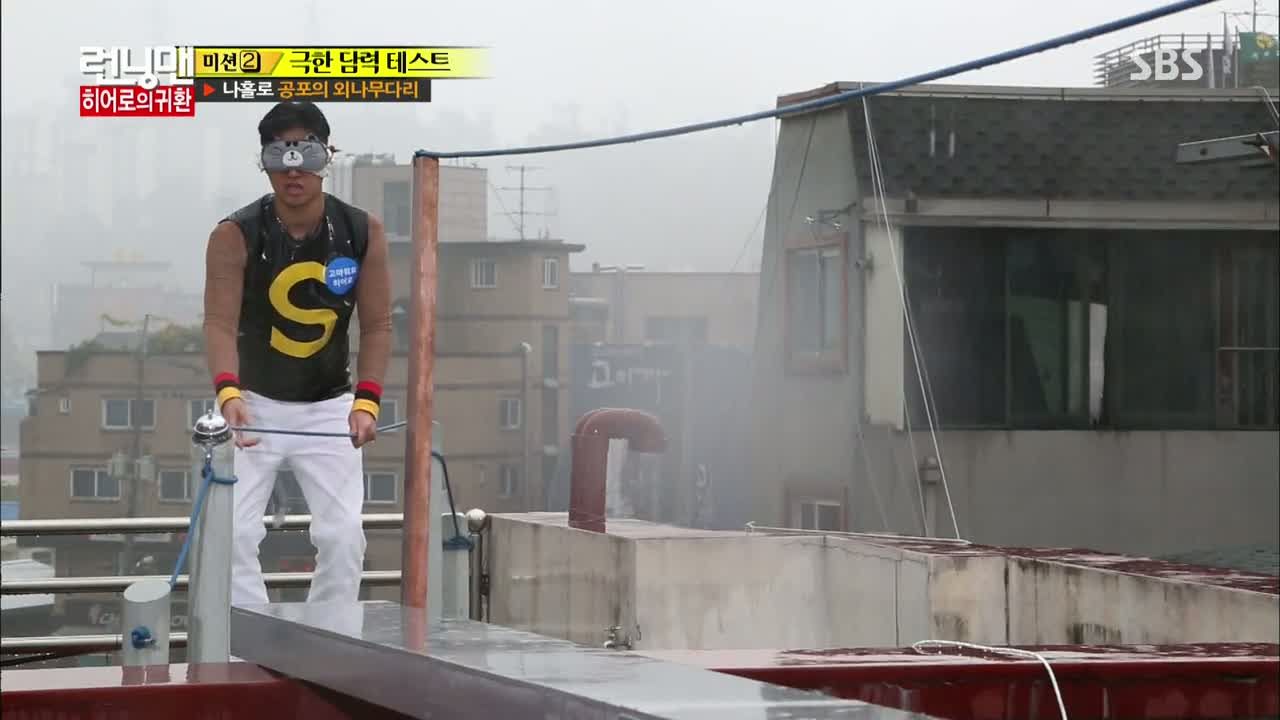 Gary cries at the prospect of crossing this dangerous trek, too, while the Teasing Avengers try to talk him down. He measures the bridge, then freeaaakkks out: "I don't want to do this!"
They walk him through each careful step, advising him to walk sideways like a crab, only for him to walk forward like a dog (both "crab" and "dogs" are homonyms in Korean). Gary eventually makes it to the other side, and bursts angrily when he sees that he's totally safe.
The second hint is a "man-made island," and then it's time for their third mission: bus relay race. Here the first runner will get off the bus and pass along the baton to the next person until the final runner receives the baton and gets on the bus.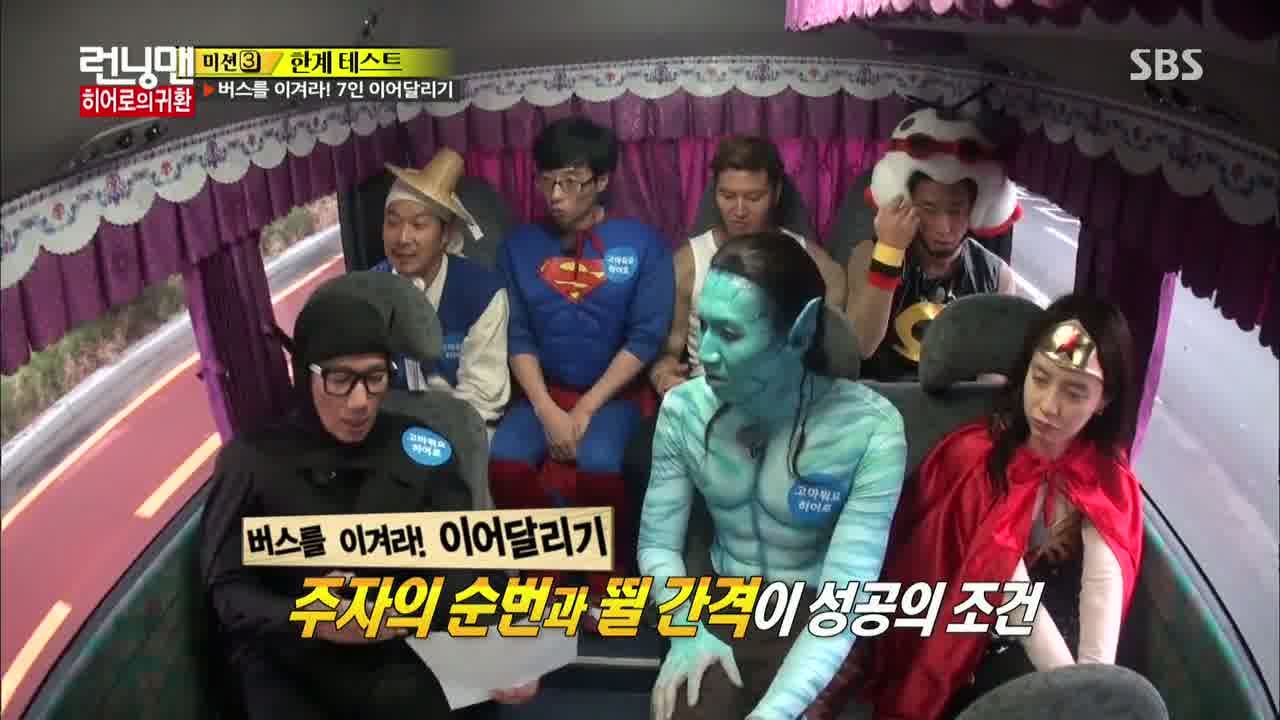 Their idea of having Jong-kook run the longest leg backfires, since he has a bad knee. And if Jong-kook isn't up to it, then where does that leave the rest of our heroes?
Once our heroes get into position, it's time to outrun the bus. Not before Kwang-soo helps a grandma along the street first. The streets are pretty clear, which makes the prospect of outrunning the bus that much more difficult.
Gary starts off the relay and takes off at top speed down the sidewalk. They're slightly ahead of the bus by the time Suk-jin receives the baton—what a fantastic (but tiring) way to show off the cast's athleticism they've built up for the past four years.
The bus trails behind Jong-kook as he runs, bad knee and all, and Kwang-soo quickly (but carefully!) maneuvers through the crowded section in the street. It's hard to tell who's ahead—Kwangvatar or the bus—but then Kwang-soo manages to make the final pass to Jae-suk.
It's down to this final sprint, as Jae-suk flies down the street… and we cut to the others awaiting news of what happened. It's good news—he got on the bus. We see that Jae-suk arrived at the bus stop well before the bus (which got stopped at a traffic light), giving the heroes a win.
Our heroes are given different level hints, and based on their guesses on the final mission location, split into two cars. The Monday Couple and Jae-suk have answered correctly, and in the other car, they believe that Jae-suk is the Antihero.
Everyone arrives at the final location, where the heroes' cryogenic capsules lie waiting for them. Hmm, odd. The Antihero appears before them once again to cackle that they have three short minutes to find and sit in the R-stickered chairs in order to recover their powers.
The catch? Remember that secret message to Kwangvatar? There are only six available chairs. So it's like Superpowers Musical Chairs?
There's no time to argue or say anything when the whistle blows. Haha's first to find a chair, then Suk-jin, Jae-suk, and Jong-kook. Now there are only two remaining, but they're all suspicious—how can a final mission be this easy?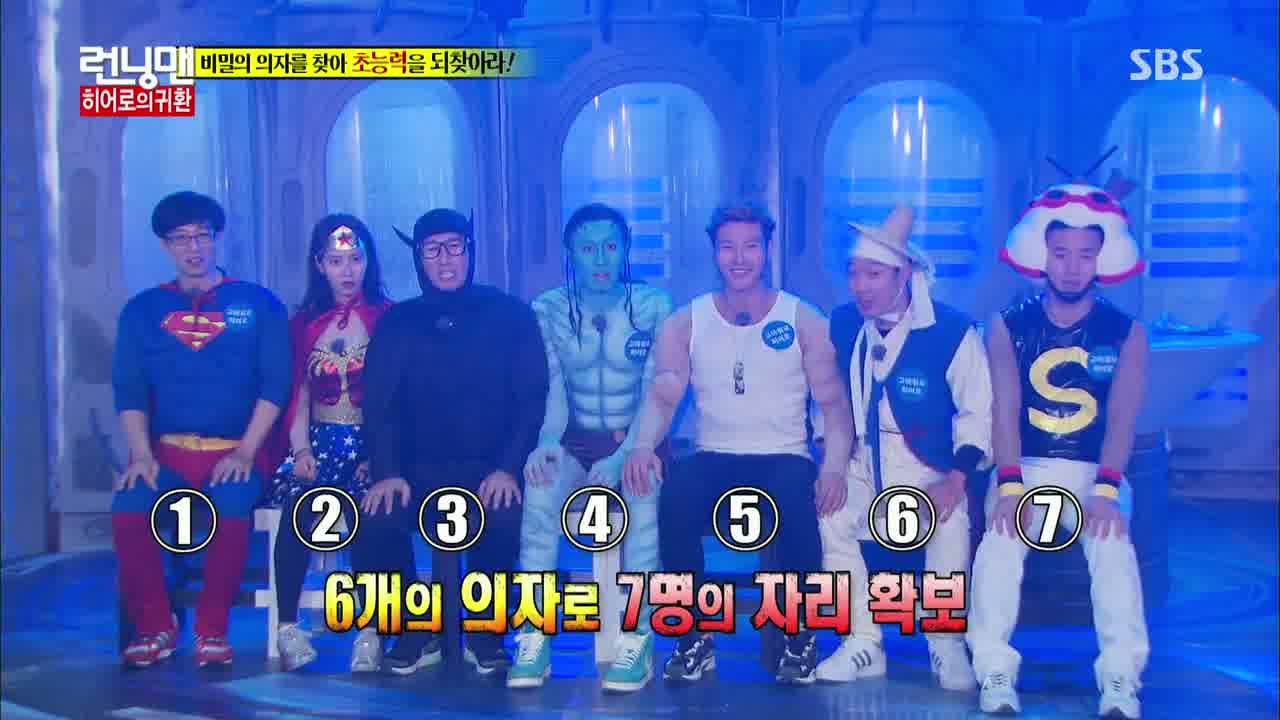 They discover that they have to match the colors on the chairs, and now only 90 seconds remain before the Earth will face destruction. Haha wonders if they have to help one another, and discovers the final chair nearby.
There's a lot of confusion as the timer ticks down, as they try to figure out if they have to match the colors or not. Only 20 seconds remain.
They rearrange the chairs, and can you believe it—there's enough room for all seven of them to sit. Their powers returned, our heroes learn one important Life lesson: All for one, and one for all.
RELATED POSTS
Tags: featured, Haha, Ji Suk-jin, Kang Gary, Kim Jong-kook, Lee Kwang-soo, Running Man, Song Ji-hyo, Yoo Jae-suk