Liar Game: Episode 12 (Final)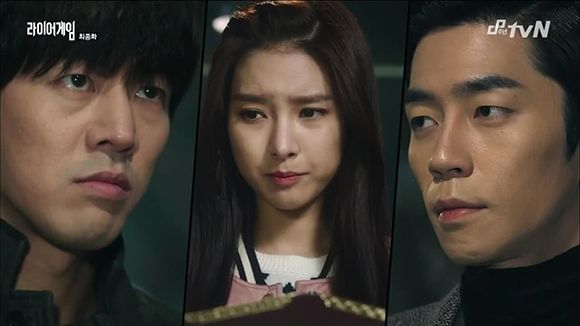 Good news! Liar Game won't be going down as yet another good show ruined by a bad ending, because this finale delivers. And in traditional fashion, everything you think you know about the small set of characters who've become near and dear to our hearts these past six weeks will be thrown on its head. I think I'm still in denial that it's even over, because I've latched on so tightly to the idea of a second season that convincing me otherwise will now be next to impossible—even if the actors sign a contract in blood stating that they'll never touch this material again. If that means I've transcended from fan to superfan, it's only because the drama transcended into a higher plane of existence first. Yes, it's that good.
SONG OF THE DAY
Guckkasten – "변신 (Transformation)" [ Download ]
Audio clip: Adobe Flash Player (version 9 or above) is required to play this audio clip. Download the latest version here. You also need to have JavaScript enabled in your browser.

FINAL EPISODE: "Final Round II"
We rewind to the bathroom conversation between Director Jang and Da-jung, and how she refused to believe in Woo-jin's treachery based off a video testimony that could be made up.
"That's not all," Director Jang continues. "Hundreds of other people were scammed along with your father." He makes a compelling case against Woo-jin when he claims that he plotted with Do-young to get him into the game (it's true that Woo-jin voted him in, but not for those reasons), and that it's no coincidence that Jaime and Dal-goo were eliminated.
Da-jung still doesn't want to believe him, but Director Jang is relentless: "The way I see it, Ha Woo-jin will betray you. The network wants you to win." His advice is for her not to trust Woo-jin, and to shoot him if she feels he's betrayed her.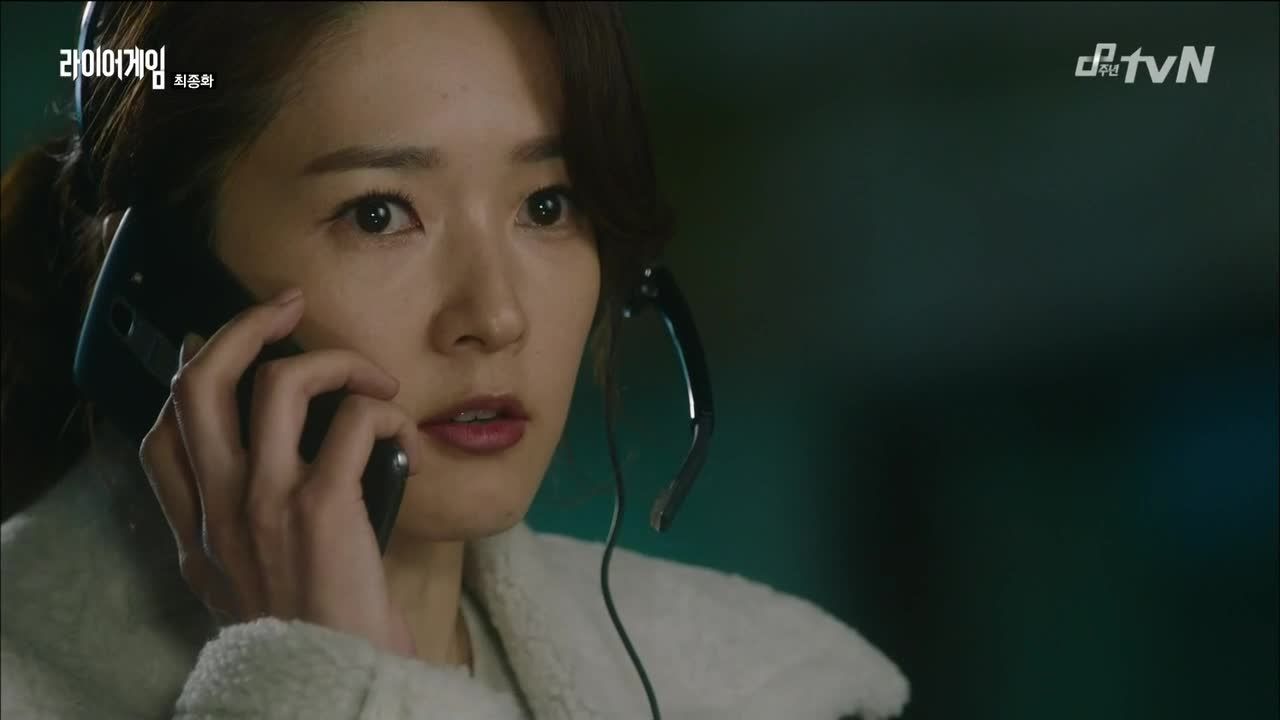 PD Lee takes control of the broadcast when she finds one of her crew members reporting secretly to Director Jang, and tells him that she'll be the only one giving orders to her team.
Director Jang is incensed as he asks her if she'll take responsibility in the event of a broadcasting accident, but PD Lee isn't cowed. "If you try to influence the game in any way, you'll be making a huge mistake," she warns him, before throwing her phone into the briefcase where all crew members have been ordered to deposit theirs. Go PD Lee!
Before the round begins, Da-jung watches from afar as Do-young acts chummy with Woo-jin, which only corroborates Director Jang's lie. While Jaime and the other eliminated contestants watch on nervously, Director Jang announces the modified rules for this extra final round: No dodging will be allowed, everyone gets fifteen hearts, and they have only thirty seconds to either load their gun or choose to shoot.
He gives each of them a chance to say a few words first, starting with Da-jung. "I… don't think all the things Woo-jin has shown me have been lies," she says. Woo-jin: "No matter what I do, trust me." (*melts*)
Do-young laughs at all this gooey sentiment, and tells them that it's time for them to throw away their masks—he wants to see what their true faces look like.
While Do-young chooses to load for the first round, Woo-jin chooses to shoot…
…And aims straight for Da-jung. Oh god. Is this why he asked her to trust him no matter what?
He fires, but it's a no-go. Da-jung looks at him disbelievingly before she loads her gun, though Woo-jin uses his second chance to aim for her again. "Why are you doing this?" she asks shakily, before Woo-jin pulls the trigger.
Again, it's a misfire. Their eliminated teammates reel in shock at what they perceive to be Woo-jin's betrayal, but Jaime sets them straight—if Woo-jin really wanted to shoot Da-jung, he would've loaded more bullets first.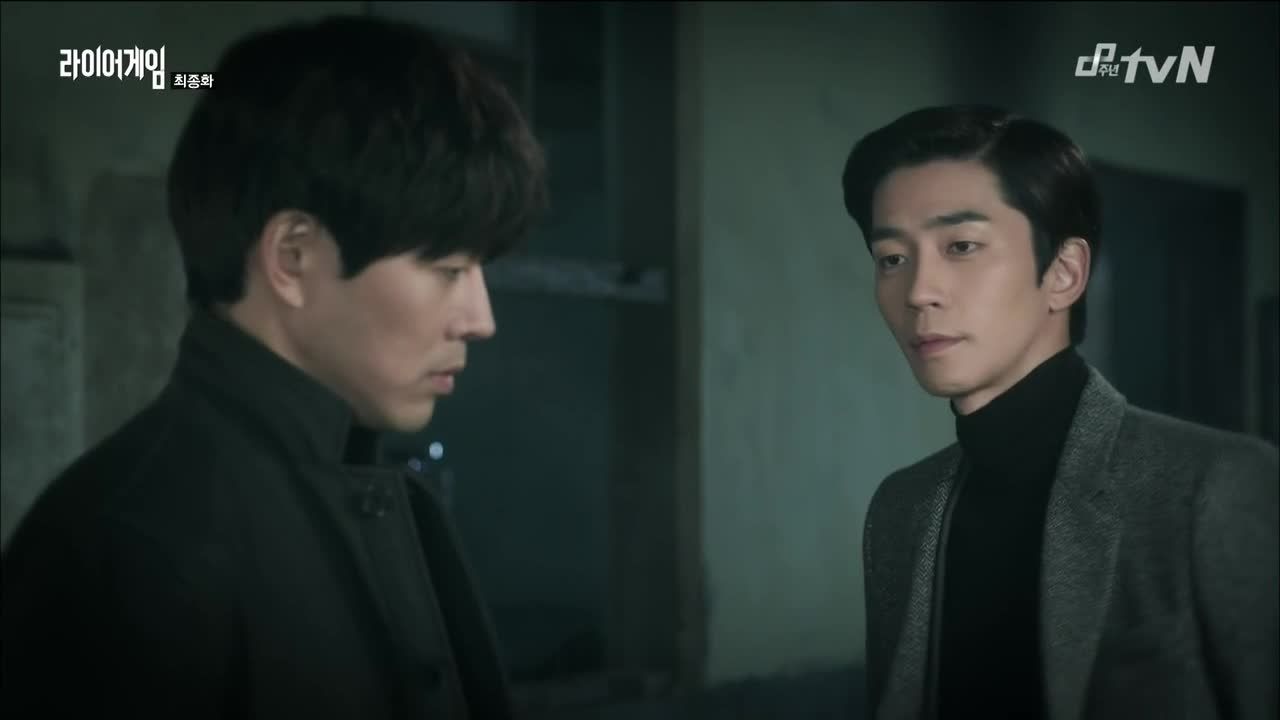 Now we get to hear what Do-young said to Woo-jin when he was acting friendly earlier, and it's not good. He gave Woo-jin a choice: He could save Da-jung's father by eliminating her… but if he eliminates her, he'll lose.
And if he loses, then he'll never hear the answers about his mother Do-young has been lording over him since the beginning. "Do I look like someone who would hold a joker in his hand and not even use it?" Do-young asked through a maniacal grin. Oh, you evil bastard. You evil, evil sonofabitch.
In the present, Woo-jin can only think to himself: "Please hurry, Dal-goo." If Dal-goo can find her father, then Woo-jin won't have to bend to Do-young's threat.
When Woo-jin aims for Da-jung a third time, she asks desperately, "It's not true, right? It doesn't make sense that you conspired with Kang Do-young. You have a reason, right? Please, tell me!" He doesn't, and pulls the trigger. Another misfire.
But I love that Da-jung shuts Do-young down when he offers to tell her about his relationship with Woo-jin with a, "No. I don't trust anything that comes out of your mouth." POINTS.
Woo-jin uses the next round to aim for her again. "Don't do it," she pleads. "I want to trust you, Woo-jin. So please…" But he fires—and this time, it's a hit.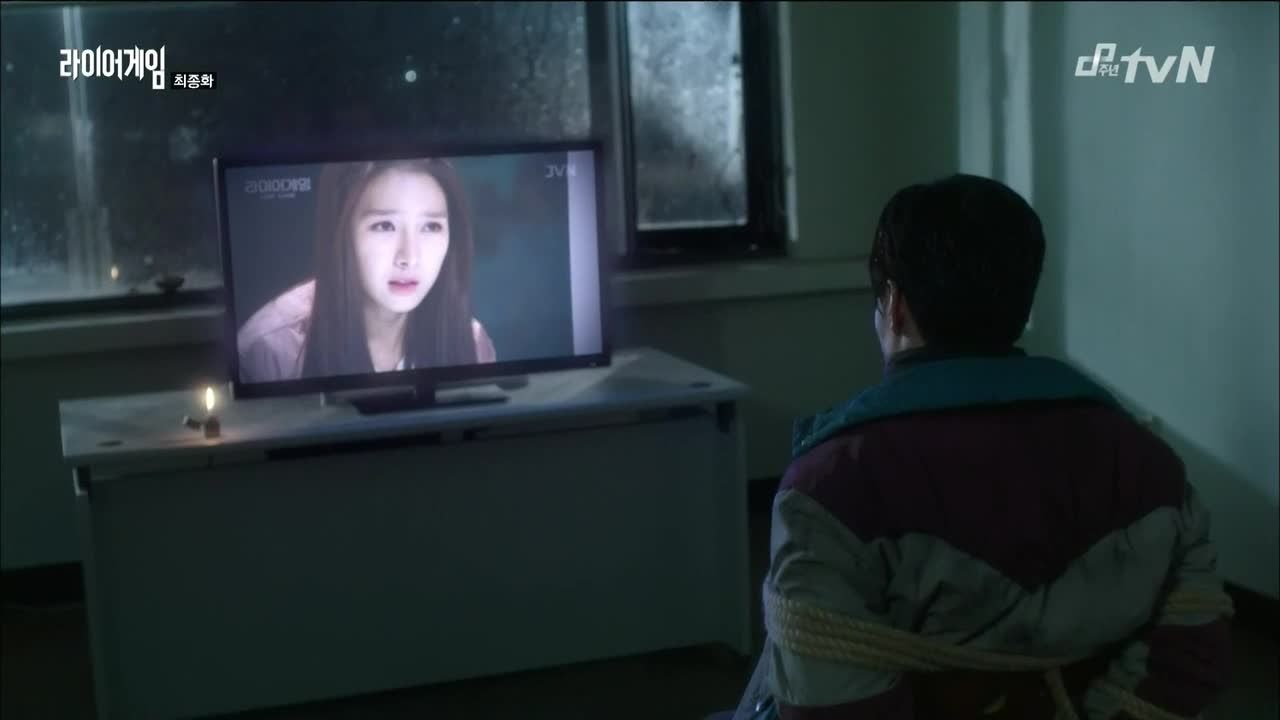 Da-jung looks numb with disbelief, unwilling to believe what's staring her right in the face. Little does she know that Woo-jin is trying to protect her father, who's currently duct-taped to a chair facing the live broadcast. He's been soaked in gasoline, spared for now only because of the thin thread that runs from him to the burning lighter perched nearby.
"If I were my normal self, I would have trusted you until the end, Woo-jin," Da-jung says at the beginning of the next round. With his gun pointed toward her, Da-jung aims right back at him: "But you told me: Reward loyalty. Punish betrayal. I can shoot you too. So please, stop now."
Woo-jin: "Shoot me." All three guns fire simultaneously, resulting in Woo-jin losing five lives, Da-jung six, and Do-young zero. He's in the most advantageous position at present.
Detective Cha did the right thing in calling the production company about Woo-jin's real bullet, but it's not enough for PD Lee to put a stop to the game. Instead, she orders new guns for all the participants and pulls Woo-jin aside during the commercial break.
She claims she doesn't want to get involved in whatever grudge he has against Do-young and Da-jung, but that keeping everyone safe on the show is her responsibility.
Woo-jin just seems confused when she frisks him, before she adds, "I trust that you're not that kind of person, so I'm saying this just in case. Even if you fight with Do-young, don't stoop to his level."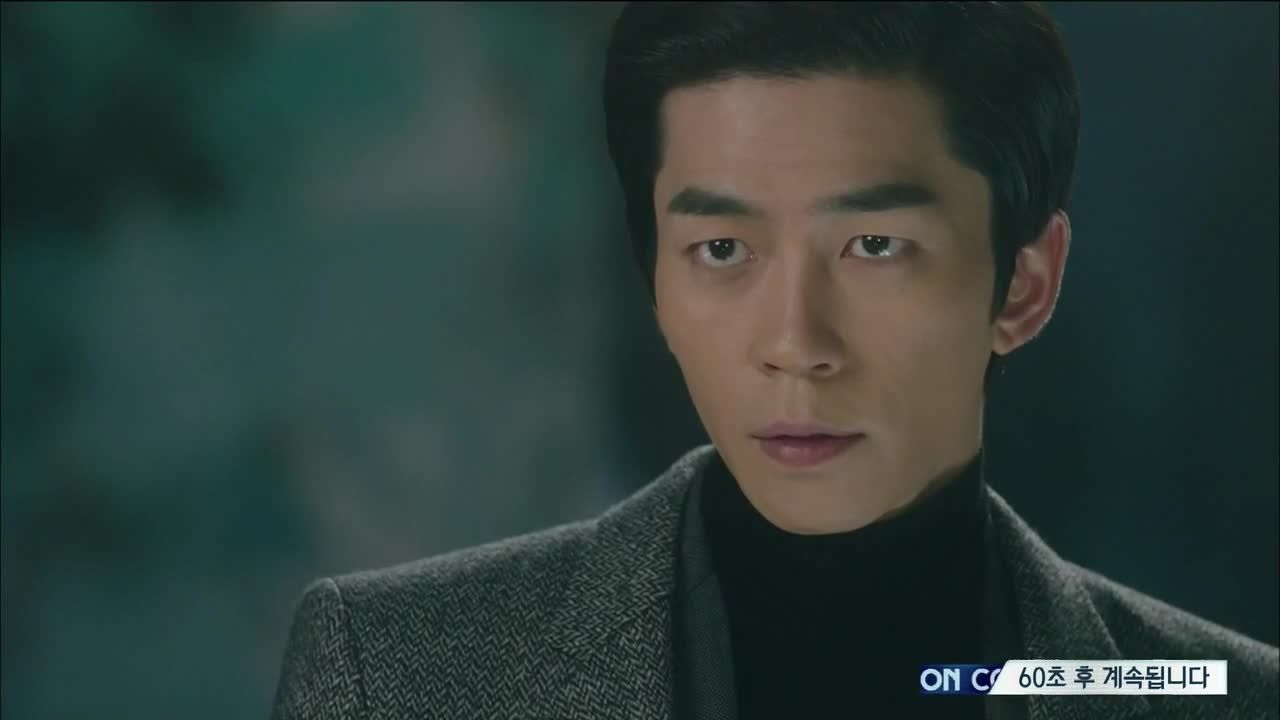 Cut to: Do-young replacing one of the new blank bullets he was issued. Remember that lackey who attacked Detective Cha with a two-by-four? He stole one of the bullets from his gun for Do-young.
But in another twist, Do-young wasn't exchanging one of his fakes for the real thing… he exchanged one of Woo-jin or Da-jung's bullets. Ack!
Do-young calls Woo-jin out for stalling in his decision. Meanwhile, Detective Cha is prevented from entering sans warrant, even though he has probable cause to believe there's a real bullet inside one of the guns.
Before the shooting begins, Director Jang asks Do-young to go into more detail about his past with Woo-jin. Do-young obliges without going into too much detail, and claims that there was once a kind woman who looked after orphaned children as if they were her own—but due to circumstances outside of her control, the orphanage had to shut down.
A flashback reveals that Woo-jin's mother had done everything in her power to save the orphanage, even resorting to begging. At the orphanage, she was greeted by all the children as "Mom," causing Woo-jin Lite to jealously proclaim, "She's my mom!"
But Mom had only reinforced the idea that she was every child's mother, and that she loved them all equally. Even though they weren't related and had different personalities, Do-young says, the two boys recognized a certain sameness in each other.
Back in the past, we see Woo-jin goading Do-young to play a trust game over the well where they'd have to lean in at the same time over the edge. If one of them didn't lean, the other would fall in.
They played that way, leaning in and pushing back off each other so that they could stay safely(?) on the edge. "Mom treated those two the same. She loved them," Do-young says in the present. Woo-jin just yells for him to stop.
Do-young agrees to save the rest for later, but can't resist adding, "We were special. Mother recognized that immediately. I wish I could see her."
"Then why did you kill her?" Woo-jin growls. "Why did you kill her?!" he aims his gun at Do-young, who claims to be innocent—why would anyone want to hurt Mom? She was angelic and selfless, just like Da-jung.
"Mother aways said this: 'It's not so wrong for people to trust one another.'" Do-young adds, which only adds fuel to Woo-jin's fire, since Mom had posed that statement to him in question form before she died.
As much as Woo-jin wants to shoot Do-young, he's reminded of the choice he has to make, and shakes in rage as he redirects his aim at Da-jung and fires.
However, Da-jung doesn't return betrayal with betrayal, and turns her gun on Do-young. Bang. Bang. Bang. Bang. Bang. Do-young is down five hearts.
When she's asked why she didn't shoot at the person who shot at her, Da-jung professes her trust in Woo-jin—she knows he must have a reason for aiming at her. Awww.
Do-young isn't fazed, and answers simply when Woo-jin asks why he dragged Da-jung into this. "Woo-jin, you know now that the three of us were there."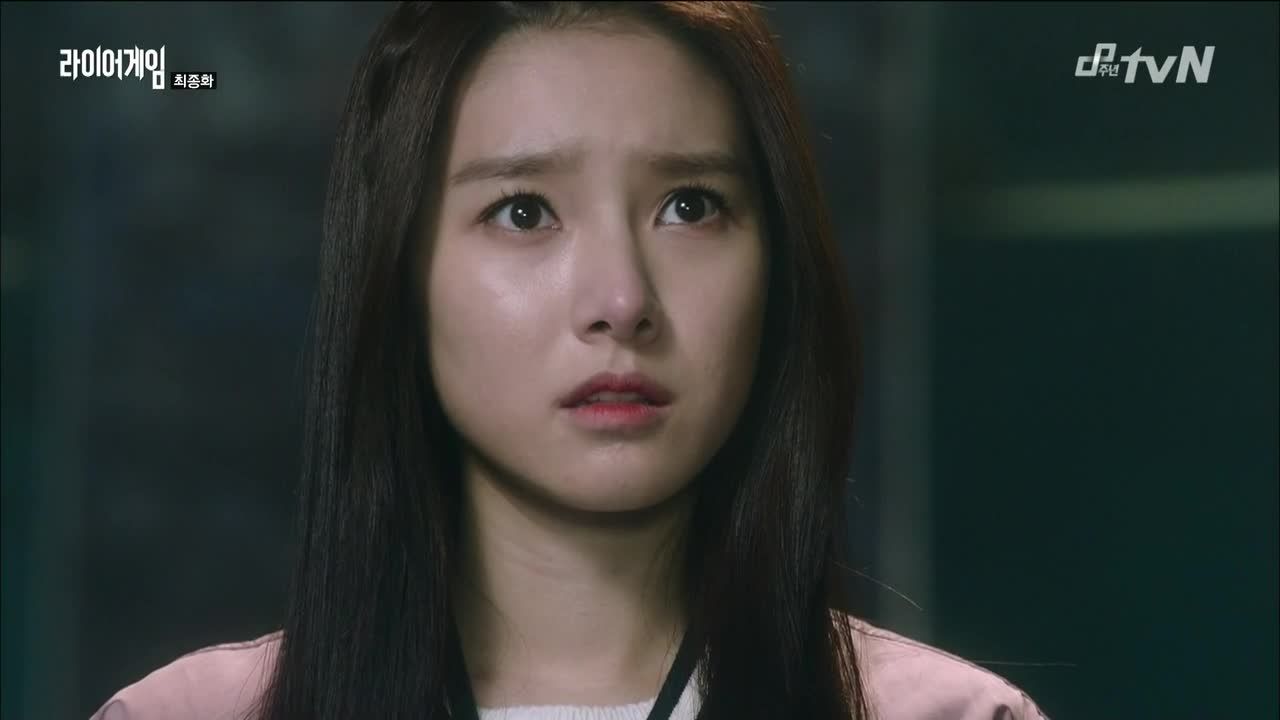 Da-jung's eyes go wide as Do-young tells her that she was probably six at the time and too young to remember. Or her father lied to her. Where did he tell her she was going, anyway? Summer camp?
Dad screams behind his gag as he watches the broadcast unfold. Whoa. Did he once abandon his daughter?
Dal-goo makes it to the orphanage and finds Dad tied to a chair, but is delayed in his rescue when a lackey surprises him with a chair to the back. And then just starts bludgeoning him.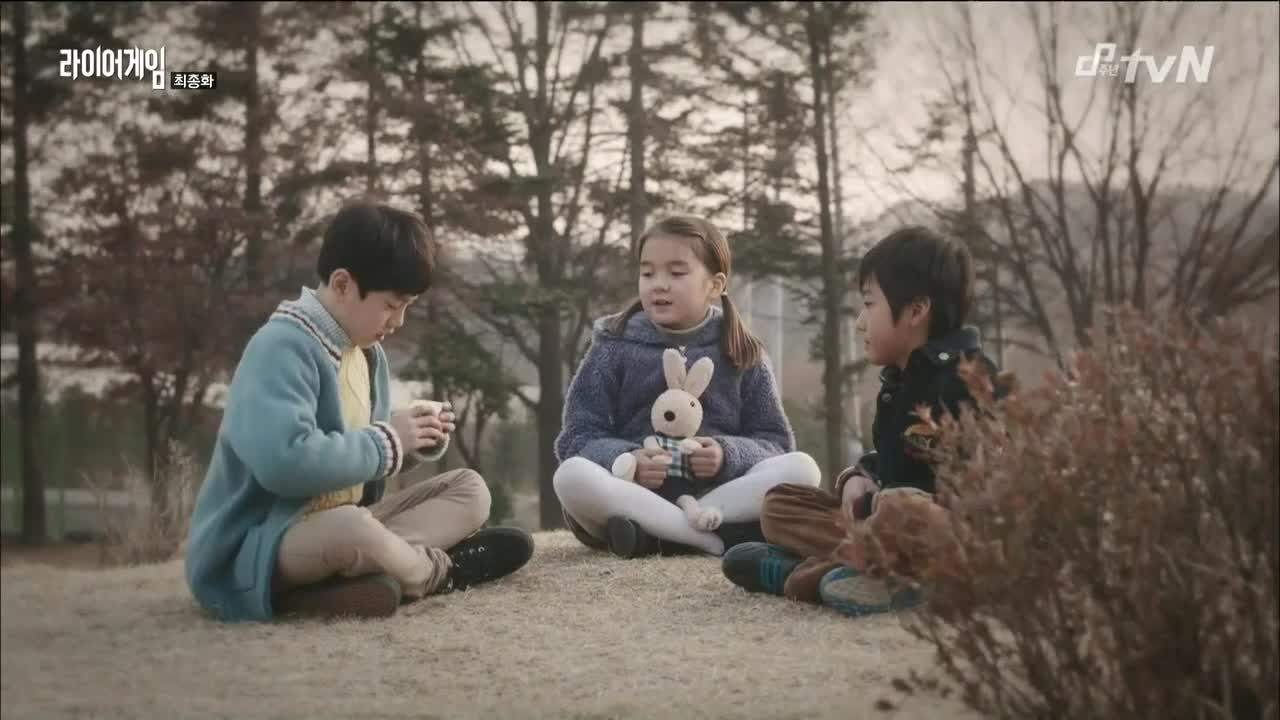 Do-young tells Da-jung that she was a cute kid back then, even though she followed the two of them around constantly, always pestering them to play with her. She especially wanted to try the Well Game, even though they told her it wouldn't work with three people.
But as he continues with the story, he mentions how Mom was so trusting that she made a mistake in trusting someone she shouldn't have.
Flash back to a shady man accompanying her to the orphanage with gifts for the children, and how he noted with too much interest how smart Woo-jin and Do-young were after watching them solve a Rubik's Cube in record time. Then he'd promised to give another to whichever boy proved smartest.
The shady ajusshi had approached Mom about adopting both boys, claiming that the orphanage would be compensated well for it. Even though Mom sensed something strange, she only offered the boy who wasn't her biological son.
So afterward, the ajusshi approached the eavesdropping Do-young: "Did you hear that, kid? Ajusshi just bought you."
In the present, Do-young says that Woo-jin knew very well that the ajusshi was a bad man. "He was an adoption broker who sold kids for money. Mom sold me… to that man. Da-jung too."
Dad is beside himself at Do-young's reveal, and seems past the point of realizing that every move he makes brings the lighter one step closer. Now it's not just his life at stake, but Dal-goo's too.
Woo-jin tells Da-jung not to believe what Do-young says, but Woo-jin can't answer her when she asks if she was there at the orphanage with them. Do-young explains that her father gave her up when her mother was sick, thinking that Da-jung would go to a better home—or that he would return for her if her mother got better.
Da-jung covers her ears with her hands to shut out the horror when Do-young asks if she wants to hear the sad story of the girl who got adopted instead of her. "Or… should I tell you what kind of hell I endured?"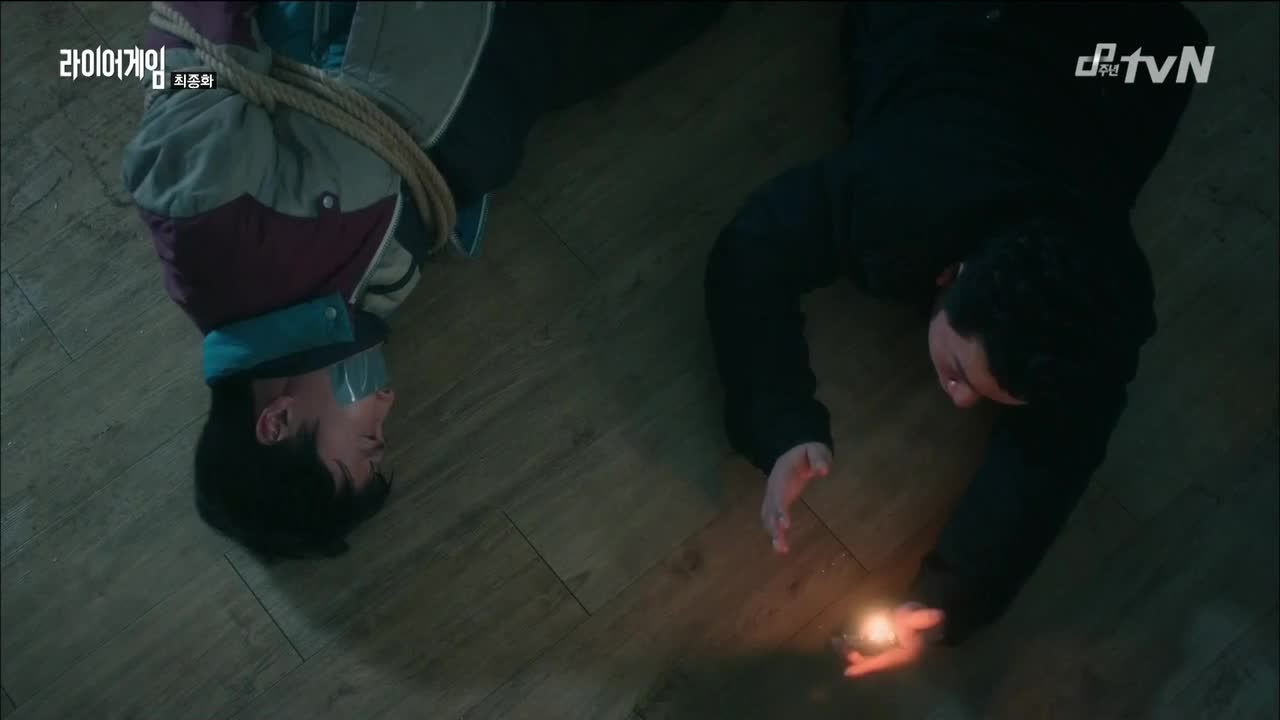 Dal-goo manages to break free of the lackey's control by biting his leg and fighting him off. Dad tips his chair, sending the lighter falling toward the ground, but Dal-goo dives in time to catch it right before it ignites the fuel. Phew.
Meanwhile, Do-young calls bullshit on Woo-jin's claim that there was no way to know the ajusshi was bad news—Woo-jin knew from the very first moment. "Isn't that why you tried to kill him?" Do-young asks.
Now the greater plan starts falling into place. When Do-young first returned to Korea, he approached the ajusshi to make him the president of a paper company named—you guessed it—L Company. Since he made the ajusshi his puppet, he instructed him to pull the scam on Mom…
"Crazy bastard," Woo-jin growls, ready to throw down with him. He has to be restrained by the crew while Director Jang brings the focus back to the game.
The eliminated members of Team Woo-jin get a call from Dal-goo confirming that he rescued Da-jung's father, but find themselves unable to get the message to Woo-jin when they're still in the studio.
While Detective Cha stages a protest outside about the real bullet inside, PD Lee goes back through the footage of the gun-switching to catch anything she might've missed.
As the next round begins, Do-young tells Woo-jin ominously that they'll finally be able to finish the game they left hanging in their childhood—the game that Da-jung still doesn't remember—as he coerces them in closer for the last turn.
In the meantime, Jaime rushes in front of Director Jang to tell Woo-jin that Dal-goo rescued Da-jung's father, but can only send him a thumbs up when she's restrained by the crew.
Woo-jin gets the message, which means that he can now tell Da-jung that he's been having to shoot at her because Do-young was holding her father hostage.
"Thank you for trusting me," he tells her. "Now, let's end it." They both point their guns at Do-young, while he points his at Woo-jin. Meanwhile, PD Lee frantically searches the behind the scenes footage and spots Do-young switching out the bullets.
Do-young says it's Woo-jin's loss—he'll never find out the truth now. Woo-jin just tells him to shut up before they all fire.
Because Mini Do-young blamed himself for being sold (since he didn't ever say "Mom" like the other kids), he warned Da-jung not to make the same mistake. Perhaps he hoped that Mom might take pity on her if she called her that.
Da-jung had initially refused, sure that her father would come back for her, but Do-young made her cry by telling her how unlikely that'd be. But when Woo-jin joined them, Do-young took the initiative to suggest the Well Game, but with a decidedly Liar Game-esque twist.
Just like the painting and the brief memory flash in Woo-jin's mind, the three children stood around the well with their hands interlocked and their backs turned. The idea was that they'd each pull one hand away from the kid they'd rather be gone—so one of them would fall into the well if both hands holding them let go, or none of them would fall if no one let go.
It was then that Do-young told Woo-jin that his mother sold him and Da-jung off for money, sowing distrust between them right before the pivotal countdown… but in the end, Do-young was called away by Mom (who didn't feel the need to make all the children get away from that yawning hole of death), and the game was left unfinished. "This isn't over," he told them. "Let's play later."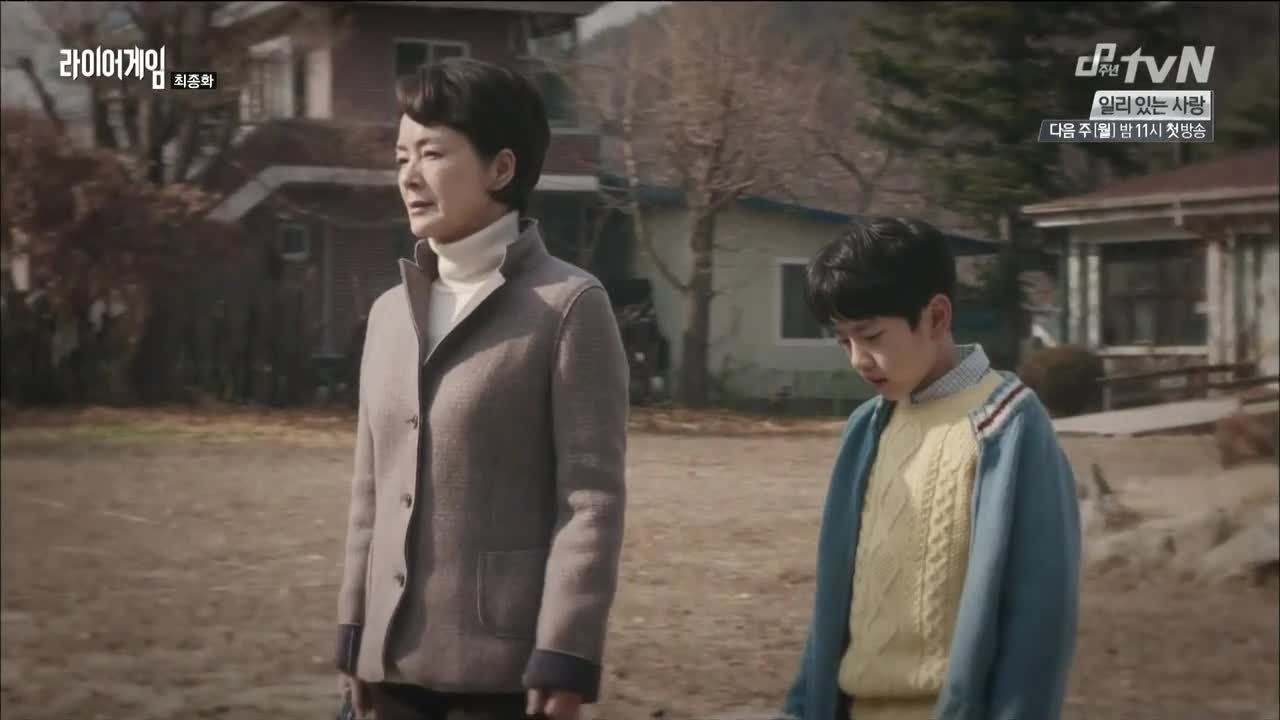 But Da-jung's father did return for her, leaving Woo-jin and Mom to face the closing of the orphanage alone. But Woo-jin's trust in his mother would be forever shaken.
Bang. Bang. Bang. Shot after shot is fired, just as PD Lee realizes that Do-young switched out the fake bullet… at Da-jung's podium.
She jumps to her feet just as Da-jung prepares to shoot Do-young, who knows what's coming and turns toward her to meet his end. Woo-jin has to only take one look at PD Lee to figure out what's going on, but it's too late—Da-jung pulls the trigger…
And Woo-jin, with only milliseconds to react, throws himself at Do-young to save him. The bullet lands in Woo-jin's arm as the two tumble to the floor.
Do-young is left in complete shock as PD Lee orders the cameras to hone in anyway. Da-jung is declared the winner of Liar Game. Wait, what?
Some time later, Woo-jin wakes up in the hospital with Da-jung at his side. She shows him the news article Reporter Gu broke on Do-young's true identity, and that he's being investigated by the police for various crimes.
He's not the only contestant recovering there—Sung-joon managed to barely survive his elevator plunge. (While I've clearly learned nothing from years of drama watching. It's never a death until you see a body. Derp.)
When Woo-jin visits Do-young in prison, he's asked what expression he saw on Do-young's face before Da-jung shot. He looked like he was… waiting.
"Is it over now?" Woo-jin asks. "This isn't the end. It's just the beginning. This was only a test. Just because you two won doesn't mean they'll stop," Do-young replies. Woo-jin asks who "they" are.
They're the ones who made him this way, according to Do-young—and they'll start another game soon. As for what Do-young, his aim this whole time has been to take the system down from within, without anyone suspecting.
Woo-jin asks why Do-young is telling him this, only for Do-young to recall what Woo-jin told him about how a human would never be able to fully control their microexpressions.
"In the end, I'm a failed experiment," Do-young says. Then he suddenly grips the table as he adds gravely that if no one stops "them," the chaos they'll cause will set the world on fire.
Just like that, he gets up to leave. But before he goes, he turns back to Woo-jin and says, "Let's meet again."
Da-jung finds Woo-jin contemplating the meaning of life at the abandoned orphanage, and jokes about her possible future as a philanthropist now that she's won all that money.
They both smile as Woo-jin extends his hand to help her up in the same way he did when they first met. (For the second time, anyway.)
A series of vignettes accompany Da-jung explaining what happened after the show ended, and that the grand prize wasn't paid—instead, each contestant received five hundred million won/five hundred thousand dollars.
But it was enough for everyone to start over. Da-jung was able to live with her father again and go back to school, Bulldog and Actor Gu were able to return to their old professions, and Jaime and Dal-goo started their own love line.
Da-jung quotes an American philosopher named Mortimer Adler (I tried to find the quote she might've misquoted with no success), about our lives being dictated not by our past traumas, but by our future goals. And that she can trust whoever she damn well pleases even if she gets betrayed.
After burning everything in Do-young's dossier but the picture of the two of them with Mom, Woo-jin walks the streets and thinks, "If someone says not to trust anyone, should we believe them? Or… in order to trust that one person, do we have to doubt everything?"
Woo-jin misses the newsflash that Do-young went missing during a prison transfer, but can't ignore the caller when his phone rings: It's Liar Game. Da-jung and multiple others receive the same call.
The voice on the other end is Do-young's, who speaks only after the black bag is removed from his head by mysterious masked men.
"Whoever received this call is invited to the real Liar Game. The show is over, but the real game begins now. Never… trust… anyone." Do-young laughs maniacally through his busted lip.
Flash forward to the third round of this new game, with the contestants fretting over how to proceed. Then a voice cuts through the noise with a familiar line: "I have a way to win."
Who else would it be? It's the one and only Ha Woo-jin.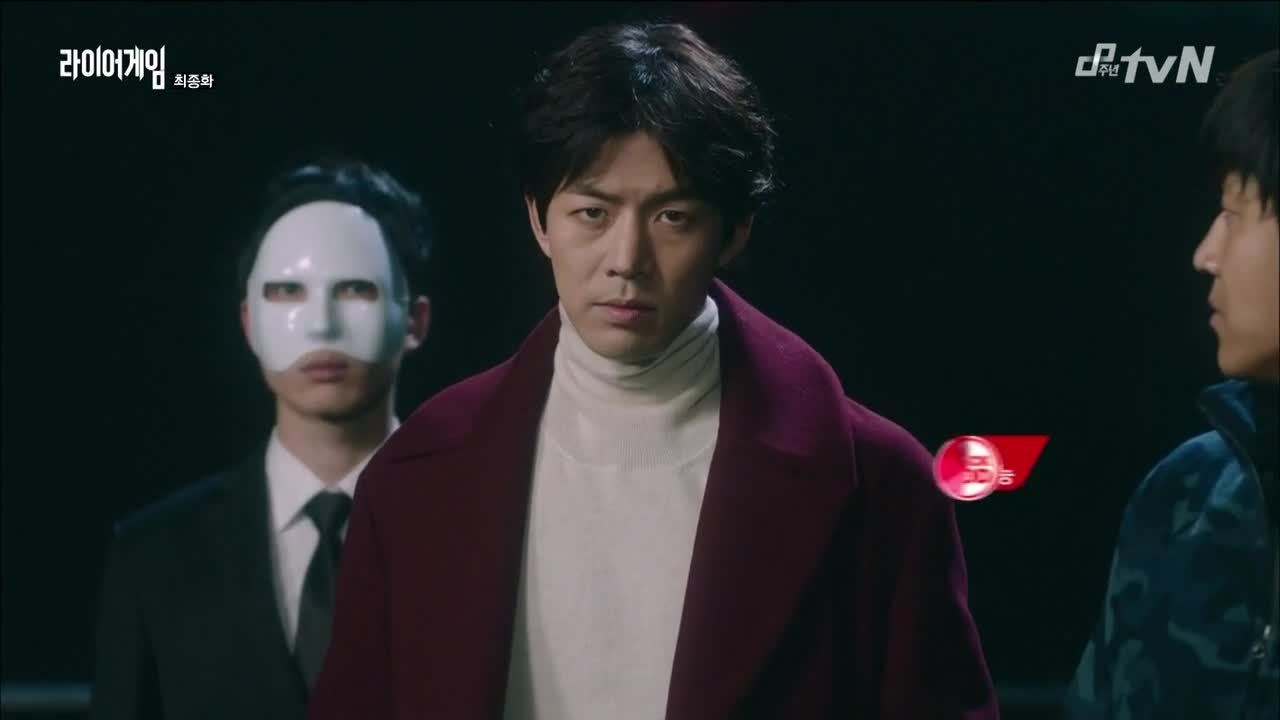 COMMENTS
Bravo, Liar Game. Bravo. Pulling off a finale that delivers on everything that's been hinted at/promised up to this point is no small task, and we've seen shows do so much worse when their only job was to coast to the finish line. Here, the mysteries brought up in the eleven solid episodes preceding this seemed too many to count, and certainly too many to properly address in a one hour finale. Yet here we are.
Granted, I'm still confused about a lot of things, which has been absolutely agonizing. My job is to break down these hour long episodes into bite-sized discussion points, or at least to paint a coherent picture of the events as they unfold, but I've never found that a harder task than I have with this show. It's not a bad thing, don't get me wrong, but it puts me at a distinct disadvantage when it comes to summing a monstrosity like this up in a neat little section when just studying individual focal points could take up more space than the entire recap. Which all goes to say that I'm not a wizard, but I'll don the cape and try my best just the same. The rest I happily leave to you all, because this is the first show since White Christmas that begs to be studied from anywhere but the inside of a vacuum.
Poor Do-young. That's something I didn't think I'd find myself saying, but what a way to create a complex character out of what could've so easily been a stock villain with a megawatt smile. It's been amazing to watch everyone's progression through the show, but Do-young's arc was a work of art, what with him being simultaneously as tragic as he was malicious and just a teensy bit misunderstood. I do love that his character came full circle both figuratively and literally, and that the reveal that he wasn't just in the game for pure revenge didn't mean he was an automatic good guy. He did some really, really unforgivable things.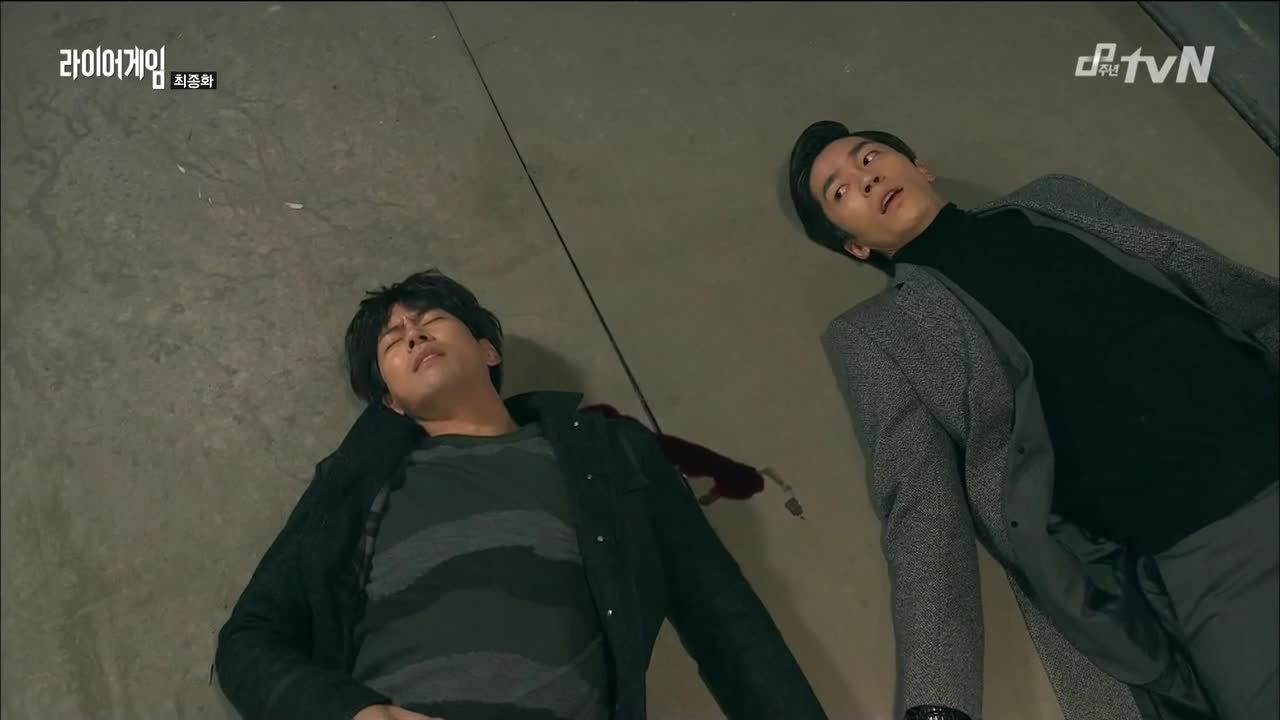 There's no way of knowing just how much Mom was culpable for based on the information we've been given, since Do-young's account of her being a child-selling devil and Woo-jin's memory of her as naive and selfless are so vastly different. It's possible that Woo-jin had a bad feeling about what Mom was up to based off the scene where he let go of her hand after telling her he didn't want to come back to the orphanage, but Do-young can't exactly hold him accountable for not taking action when he was just a kid. After all, Do-young's elaborate setup with the L Company CEO was made for the chief purpose of getting Mom to pay for what he thinks she did to him. And she was certainly no innocent, but I'd be willing to give her the benefit of the doubt that she might not have known that she was selling children into some sick, psychological experiment that left someone like Do-young calling himself a "failed experiment" just because he couldn't shed every last vestige of his humanity.
The fact that Do-young was man enough to admit as much to Woo-jin said so much about him, but I loved how it all came back to trust in the end. Do-young wasn't out to torment Woo-jin, he just had a very warped determination to return to the last part of his past not colored by unspeakable pain. I'd almost go so far as to say that Do-young set up the final roulette game out of fondness for times past more than anything, only this time he actually wanted to throw himself down the well and end it all. That's why Woo-jin saving him was so perfect and unexpected for that moment, since the three of them were playing a more high-stakes version of the trust game they'd put on hold so long ago.
Only this time, Woo-jin proved to Do-young that he wouldn't have let him fall down to the depths—not then, not ever. At least not on his account. It also says a lot for Do-young that he wasn't the kind of crazy who wanted to take everyone down with him, since in the end he was fully ready and willing to put himself out of his misery. Which is just sad, regardless of the horrors Do-young inflicted on others. Having such a sorry past doesn't excuse him, but it helps to understand him. And for Woo-jin to go from the "Never trust anyone" professor to a beacon of trust and hope for others, so much so that he showed Do-young what trust was by taking that bullet for him? That's the stuff true heroes are made of.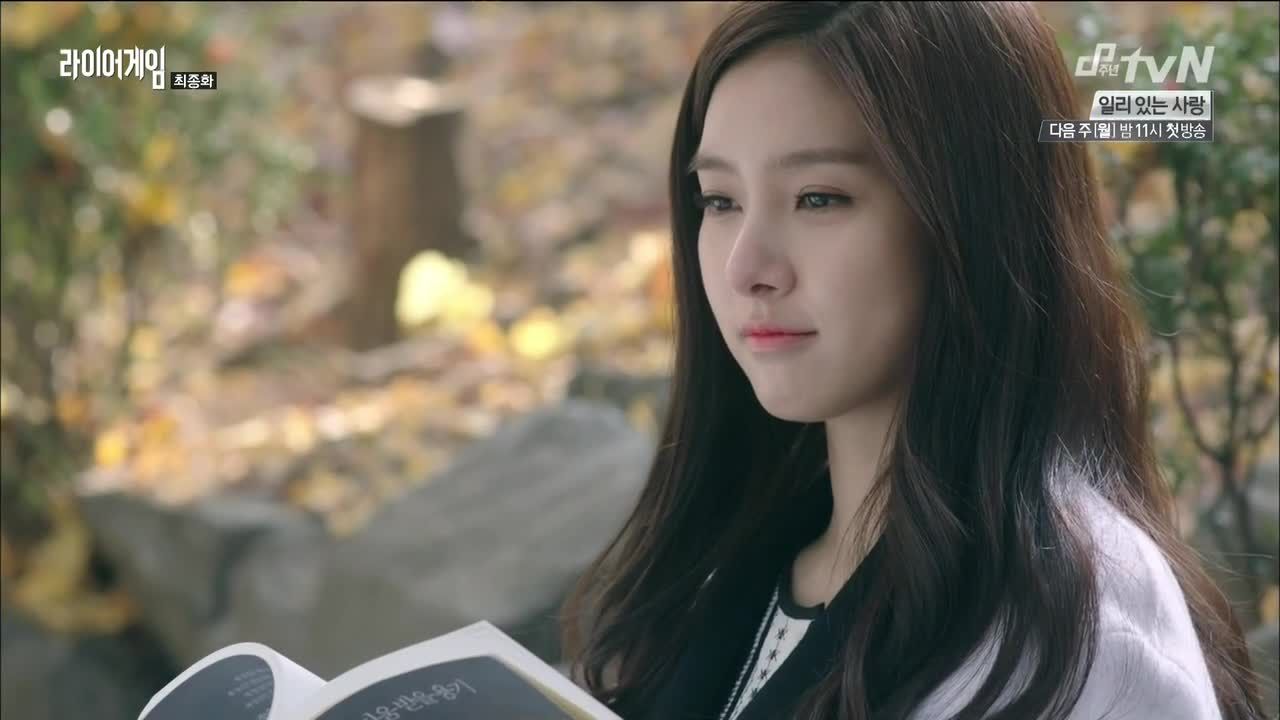 Not to mention the whole undercurrent of Do-young having been in this to fight whoever "they" are from the inside, which led to a subtle moment of understanding passing between the two men when Do-young warned Woo-jin to stop the people behind his currently frayed mental state before they did something even more horrifying to others. Which might explain why Woo-jin found himself back in the game at the end. I'm trying to keep speculation for a second season down to a minimum because my heart will just break otherwise, but how cool would it be if the two of them worked together to stop whatever devils are behind all this shadiness?
But Woo-jin didn't just change overnight when it came to trust, nor did anyone else previously on the fence—Da-jung gave them reason to hope again. While I love the individual treatment each of the final contestants received, the most startling and heartwarming transformation is still Jaime's. She could've just as easily reinforced the stereotype that all drama women who wear heavy makeup are bitches (who can be measured on a sliding scale based on how dark their lipstick is), but was instead given a full, meaningful arc with actual bearing on the story.
And while I bemoaned the lack of romance between our two leads, I've also got to admit how refreshing it was to have romance removed from the bigger equation entirely, since it gave the two prominent female characters who weren't Da-jung purpose outside of fighting over who gets the man. And though Jaime and Da-jung, or Da-jung and PD Lee, wouldn't make it to anyone's Best Female Friendships list, the fact that they learned how to coexist and cooperate with each other feels like we've stepped out of the darkness and into the light. That's how it felt to watch all of Liar Game, actually. And if that's not a reason to give such a deserving and revolutionary show six seasons and a movie, I don't know what is.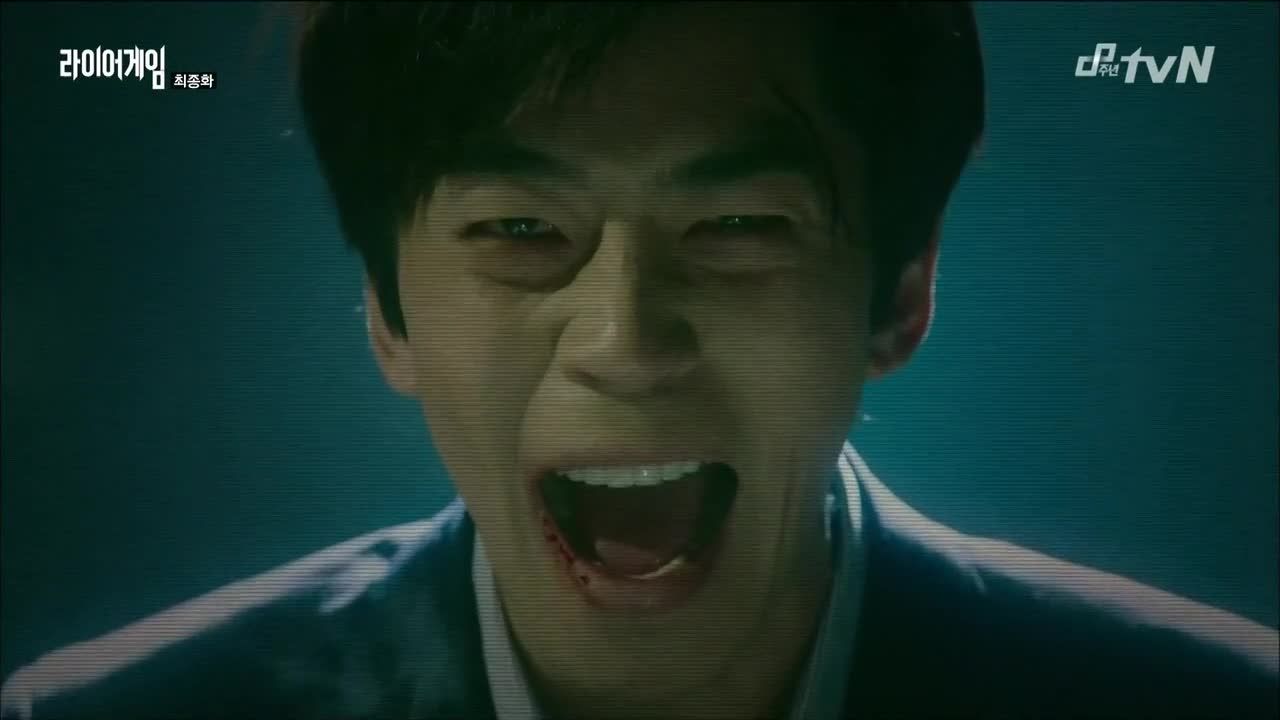 RELATED POSTS
Tags: featured, Kim So-eun, Lee Sang-yoon, Liar Game, Shin Sung-rok