Three Musketeers nixing follow-up seasons?
I can't say that I'm surprised, but it's still a bummer to hear that Three Musketeers may very well not get any more seasons, after being hyped up as a three-season, multimillion-dollar blockbuster project for tvN.
According to a recent interview published by one media outlet, a source with the production stated that Season 2 was essentially dead in the water, and that "the actors know that a Season 2 will not happen." It's a stronger declaration than we've been hearing so far, which has been wishy-washy at best. (Frankly I think we all know it's not going to happen, but producers are unwilling to put the nail in the coffin and are holding out for hopes that are growing increasingly unlikely.)
Consider, for instance, what was stated a week ago when a rep with CJ E&M said that the production is still talking about a second season. Initially the station announced producing it in early 2015, but those plans have since been postponed and while talks continue, they have not resulted in decisions. With tvN's energies focused on its mega-hit Misaeng and the drama to follow that, Heart to Heart, they won't have the time to put into Three Musketeers till after that, which pushes it to mid-year at best.
The manager for one of the cast members affirmed that at the outset, some cast members were contracted for the first season only, while others were contracted for all three. Thus the latter actors were told that it would create no problems if they committed themselves to other projects, essentially releasing them from their Three Musketeers obligation, if unofficially.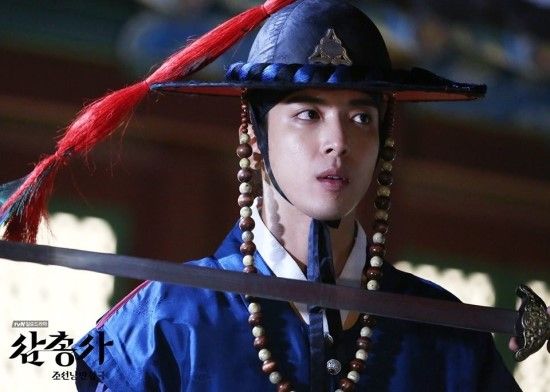 Soon after that story hit the net, there were, of course, statements made countering the claims, stating that there was never any decision to stop production or nix a second season. However, I do notice that if you're reading the direct quotes closely, it's quite possible that everything is technically true without contradicting that initial story. The newer claims assert that there were no official decisions made, that Season 2 has not been cancelled (outright), and that the actors and crew all still hope for a Season 2 to happen.
The general understanding is that the low ratings were the biggest reason for the change in plans. Certainly tvN hoped that Three Musketeers would be a runaway hit and justify the price tag—and when it was being planned, that didn't seem unreasonable to hope for, because tvN was churning out hit after hit and ratings seemed like they were only going to keep climbing. Of course, that streak didn't last, and while the drama's 1% ratings weren't terrible, they were much lower than the producers wanted.
I suspect the producers were prepared for this possibility before Season 1 ended, and at least wrapped up its main storylines by season's end. As someone who thoroughly enjoyed the show, I'm glad that at least we got to have closure for the biggest points. There were certain threads left open, of course, to serve as bridges to future seasons, but the basic story of the rookie guard Dal-hyang joining up with the Three Musketeers was fulfilled in a satisfying manner, and I'm content enough with that.
I don't think it was a bad idea for tvN to have experimented with the multi-season idea, although it proved just how much riskier it is to make that kind of commitment before your show has established itself. Well, maybe the next case will be a more successful outing… although to be honest, I would really not mind if Korean dramas stuck to their one-and-done structure to series. Complete stories are a beautiful thing!
RELATED POSTS
Tags: sequels, Three Musketeers